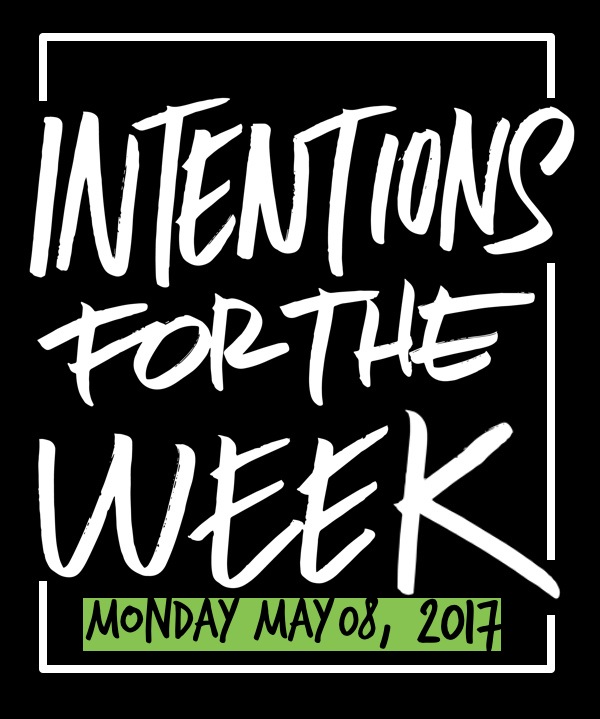 Happy Monday, friends! Hope you're doing well. I found out that we have 24 days left of school and I have this tremendous pressure on myself to get as much done as possible (while I can!) before Cooper is off for Summer break. Childcare/working gets a little tricky during the Summer!  Let's see what my Intentions are for the week….
Intentions for the Week:
make kombucha
harvest kale/braise it
drop off library book + cd
school field trip- clean up car/move stuff around
mother's day cards + gifts
clean up laptop screen
catch up on invoicing
follow up on past dues
catch up on social media
make summer bucket list
recipe testing/writing
collect items to donate to thrift store
follow up on Emma's package
volunteer at thrift store
write letters/send/pick up mail at P.O. Box
paint toenails
yoga x 2
hike
baseball x 2
finish camp sign ups
first communion & all the things that go with that! yay Cooper!
book haircut appointment
grocery shopping/plan for BBQ after baseball game
eat healthier/drink more water!!!!
Last Week's Intentions:
keep working on the 100 days project
return library books 
return Old Navy dress (thinking about bleaching it…)
grocery shop
kick ass at laundry and get to ground ZERO
make a new recipe/map out May calendar 
send out letters
research more garden stuff  

(went to

nursery

!)

put all of my books away (I have so many stacks around the house!)
order more bags from ThredUp
catch up on emails  

(behind!!)

catch up on bookkeeping

(

still

have work to do)

catch up on social media
finish vision board

(I didn't even open my computer file! oops)

put away winter clothes
packaging supplies for Etsy 

(got more

prints

/samples)

yoga  x 2  
baseball x 2     

lost: 1  won: 1

plan for BBQ/sleepover? on Saturday
post my April 2017 currently post/share April drawing
What about you? What are you up to this week?
Share your intentions in the comments!