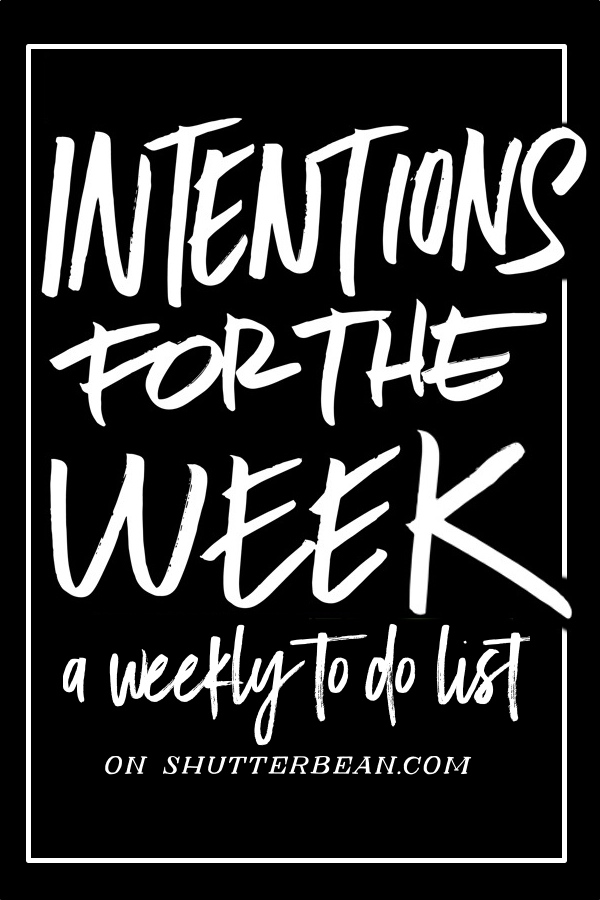 Hello, Monday.
We're at it again.
This weekend I did quite a few organizing projects. I evaluated my workspace. We went into the city. I bought some plants. We celebrated our 12th anniversary with sushi. Hopefully, we gained some energy for this coming week because it's going to be a busy one.
I also spent some time looking through old journals and finding little notes I left myself.
Since my Mom died, I haven't felt like keeping a journal. I've fallen off track with bullet journaling. My biggest intention this week is to stay on top of my calendar and lists. Anytime I deviate from this, my life gets messy and I can't keep up.
I can't just wing it. I need to engage.
Here's my spread for the week: 
Plus, I am working on a bullet journal class sometime soon and I need to practice
(here are my bullet journal layouts & supplies btw)
Intentions for the Week:
stay on top of the calendar
clear space on computer & phone
prep for meetings
post pics of my office FINALLY
whiskey event/pack for overnight trip
birthday dinner for boop
catch up on invoicing
continue to work on tax prep
return to homegoods
return coveralls
repot ficus
ship out orders for The Handwriting Club
book flights
hike with Casey
make good food choices
take an exercise class
invite a friend out for coffee
make someone happy
send a few letters
drink more water (this helps)
help a friend in need
Last Week's Intentions:
change all the clocks in our house to the right time!
edit/upload One Potato photos
invoices
laundry
prep for meeting this week
prep for taxes
catch up on social media
work on the handwriting club
repot plants 

(I got some of the supplies + plants)

finally

paint nails

ship out orders for The Handwriting Club
work in the kitchen (lemon shrimp & french onion soup maybe!)
work on office photos
post pictures from Cavallo Point?
drink water
go on a hike with Casey (it rained!)
carve out time to make some art
make good food choices
rest when I need to!
Mantra for the Week: