I recently shared some of my favorite Bullet Journal Supplies. As promised, I'm gonna show you some of my favorite Bullet Journal Layout Ideas!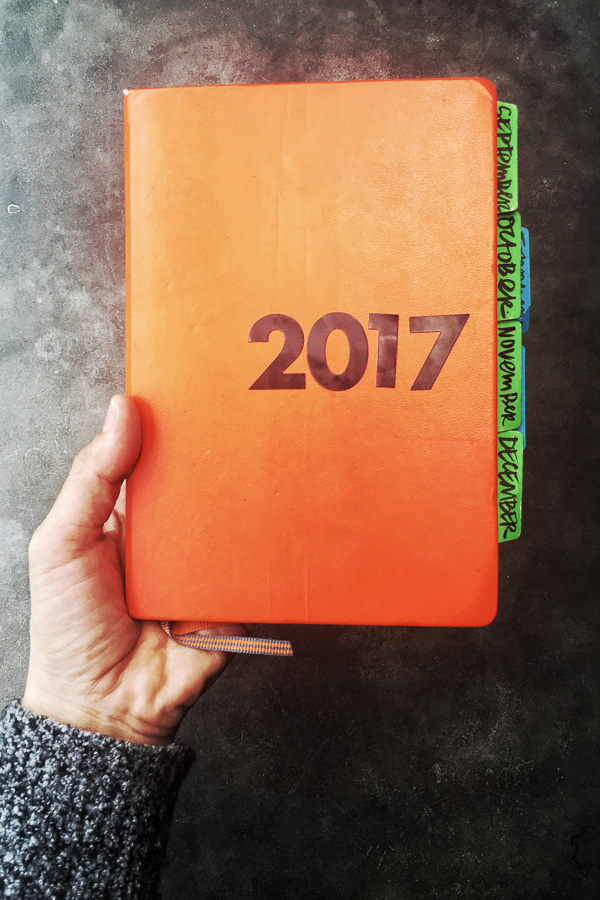 It's an evolving process, but here's what I've got going on in the notebook  I started last September.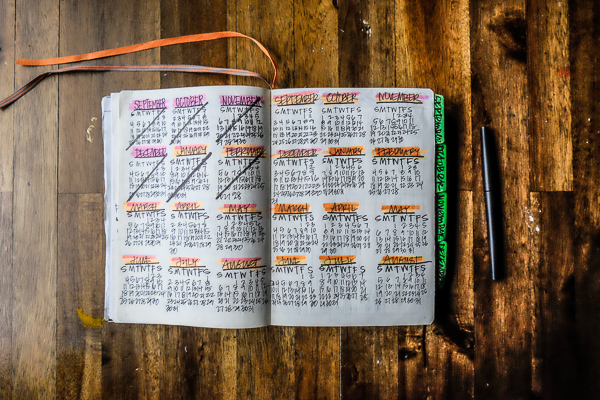 THE CALENDAR YEAR SPREAD
Yes, I wrote out a two-year calendar spread by hand. It was quite the challenge, but I have somewhat of a sense of pride when I look at it. I just don't look too close. I highly recommend doing it if you need chillout time. Make sure you start in pencil first then follow up in pen. Using the dotted grid on my journal made it so much easier to figure out spacing.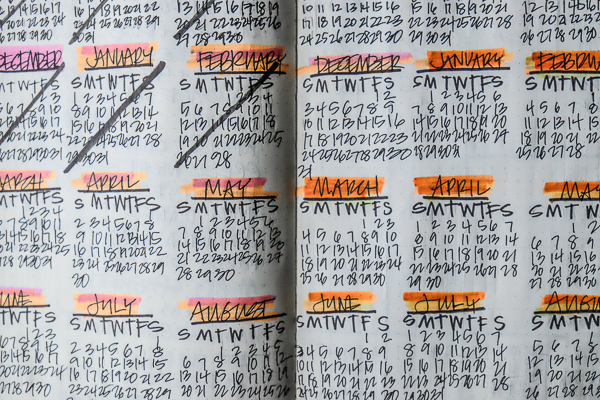 The year calendar lives in the front of my journal, right behind my index.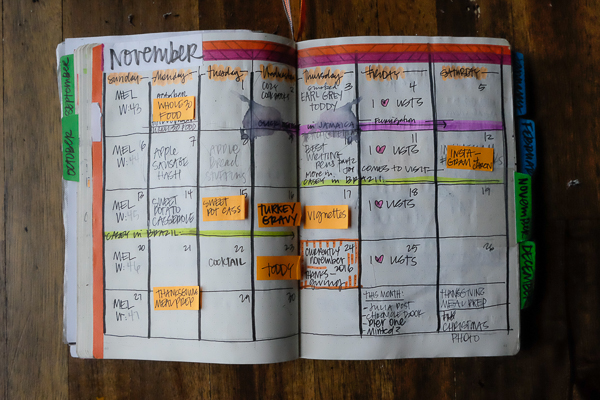 THE MONTH SPREAD
The month takes up two pages. I mostly use this to keep track of blog posts. All of the other calendar stuff, like appointments and such go in my google calendar online.
Remember how I use tab dividers? That's how I separate months. In each month, we have our week spreads. With each week spread, we have a weekly to-do list (more on that in a sec!).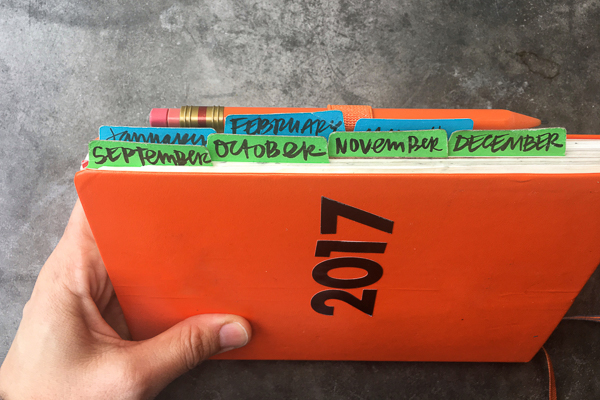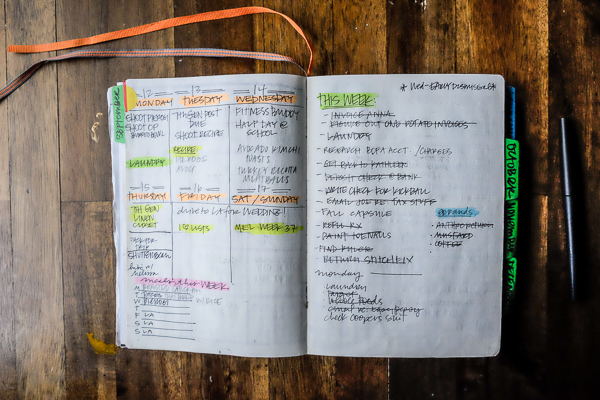 THE WEEKLY CALENDAR SPREAD:
This week view calendar spread above was my first attempt at configuring. It crammed my week up and I didn't like seeing the dates stacked like that, so after weeks of tinkering, I worked out a spread that my brain likes.
This is what I draw every Wednesday or so to forecast the week ahead of time.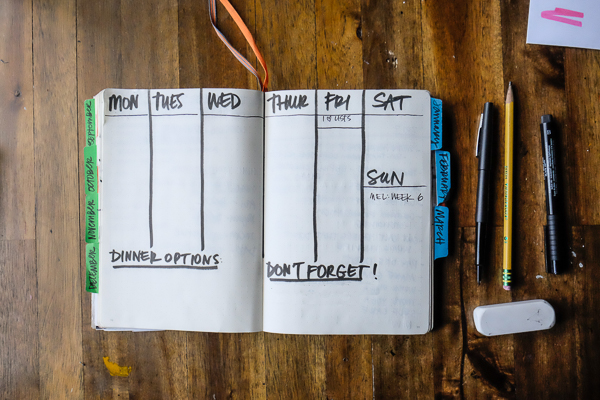 Three days of the week fill each page in columns with the weekend stack on the right edge. I spent several weeks trying to track my meal plan in the columns and just couldn't get into it.
As for how I fill up the columns, sometimes I put things in the morning time in the morning/afternoon towards the bottom. I still need to settle in on how I fill that out, but I've found that coloring certain things or drawing on the pages helps certain things stick out.
Below, I was trying to figure out how to incoporate meal planning into the schedule.
I didn't do a good job keeping it up.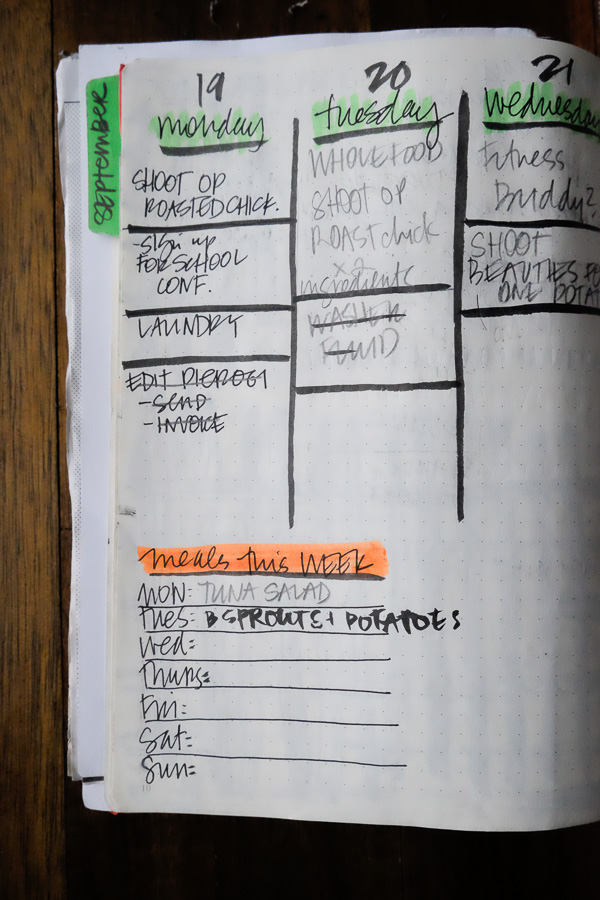 So I now create a list of dinner options based on what we have in the fridge.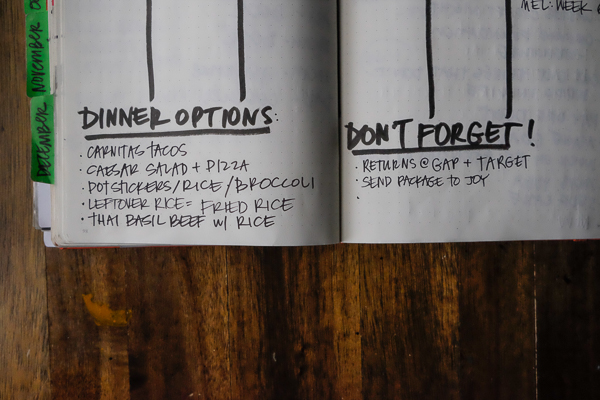 These are things I fill in on a Sunday.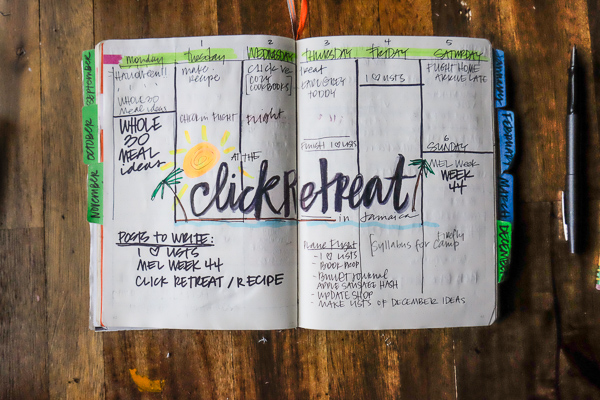 Sometimes I decorate…. Sometimes I forget my own rules.
Sometimes I forget to write things in. Sometimes I forget to look at my calendar. That's when my life falls apart.
Sometimes I can close my eyes and remember something because I can see a picture of it written down in my brain.
This how my photographic memory works.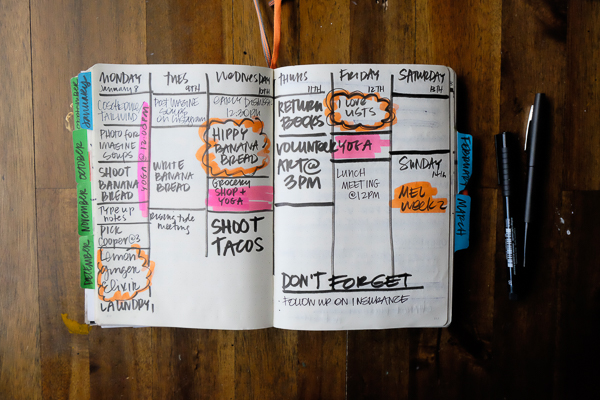 Here above I made all of the posts for Shutterbean (the blog you're reading!) in ORANGE.
The times I went to yoga were highlighted in pink. That was a good yoga week.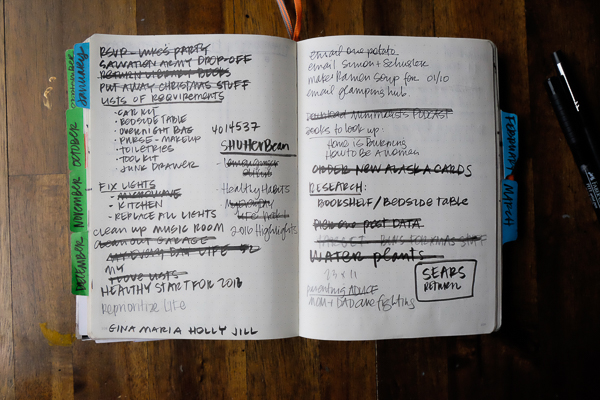 THE CURRENT WEEKLY TO DO SPREAD:
The two-page spread AFTER the week is what I like to call my brain dump.
I make lists. There's always an errand list/blog list/research/housework list.
You know how much I love lists.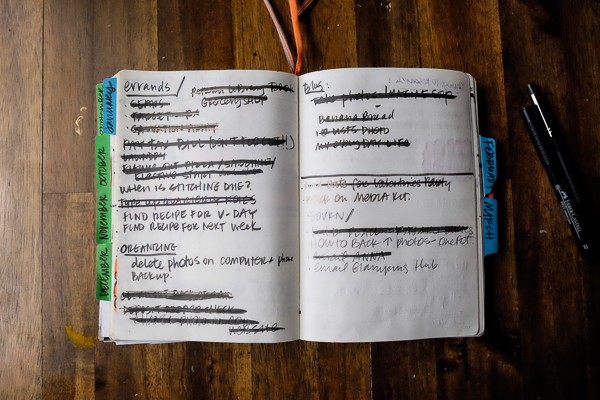 This is where my system deviates a bit from the traditional bullet journal concept. I didn't like making check marks and creating a list day by day.  But,  I do really like crossing things off…and whatever is left on this spread gets put on the top of my to-do list/brain dump for the next week.
LET'S LOOK AT SOME OTHER LISTS: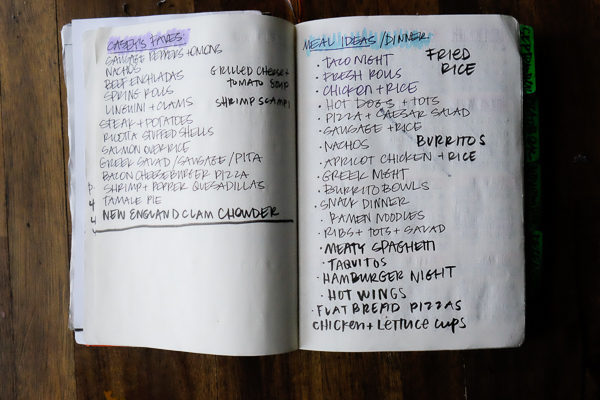 THE MEAL ROTATION SPREAD
Basically what I refer to when I need to come up with dinner. I started writing down my family's personal favorites so I know what I'm working with.
WHOLE 30 SNACK IDEAS SPREAD
Remember when I wrote that Whole 30 Snacks post?
This is the list that turned into this—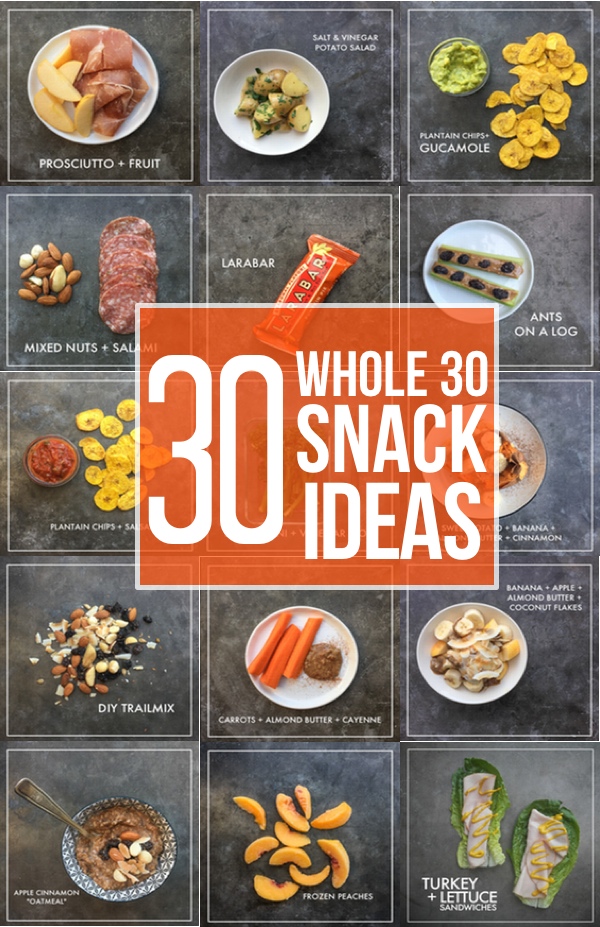 Snack lists are great to remember when you're hungry and you need a good/healthy idea.
And then we have this list, also in the back: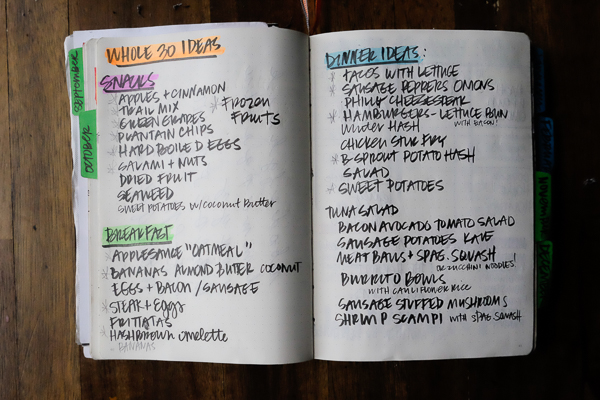 WHOLE 30 MEAL IDEAS LIST
Which turned into this Whole 30 Meal Ideas post.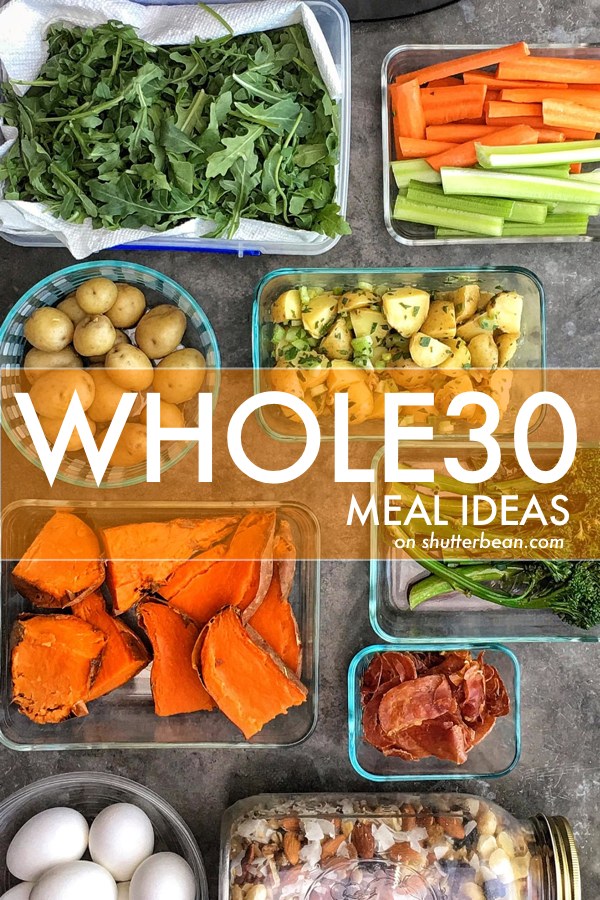 And we finish with one of my most used lists: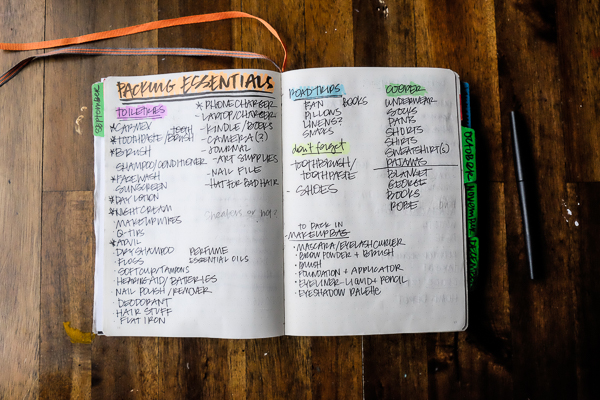 THE PACKING ESSENTIALS SPREAD
So I have something to reference when I'm packing. It helps so much!
That's the system I've been working with for the past six months.
Stay tuned for more soon!