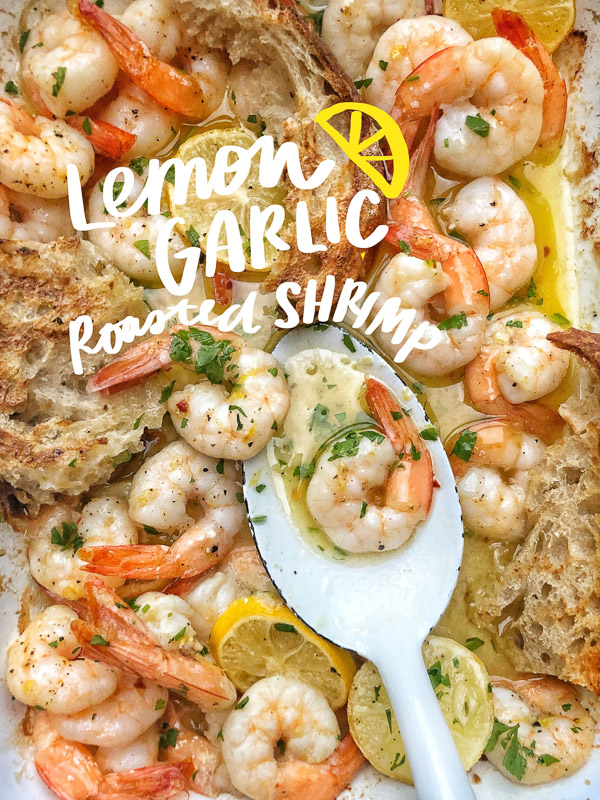 New post! Lemon Garlic Roasted Shrimp!
I remember watching some kid devour shrimp cocktail at a restaurant a few years ago and someone commented, "KIDS GO CRAZY FOR SHRIMP!"
um.
Not mine.
But then something happened a few weeks ago. My son tried some buffalo wing style shrimp (oof) and loved it. Now he wants shrimp when we're out to eat and hogs all the shrimp tempura. Be careful what you wish for 😉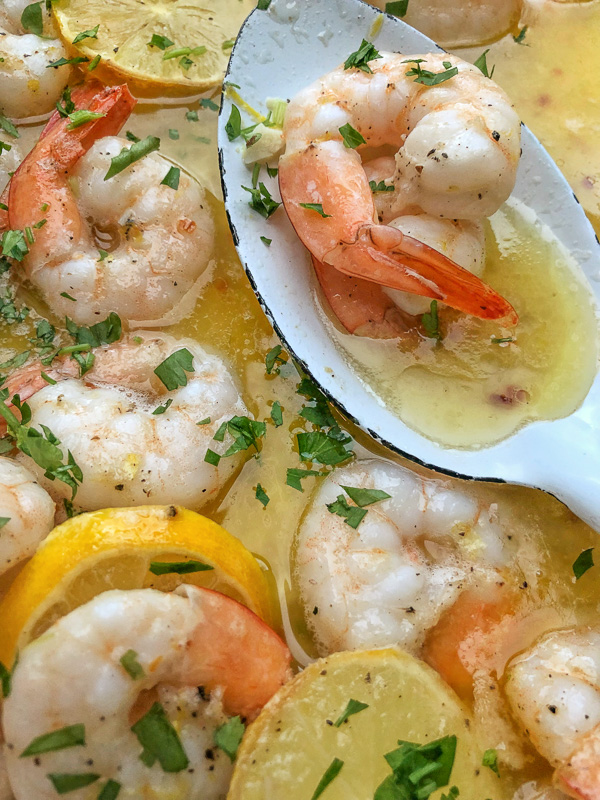 But we're into shrimp right now. I am not getting overly excited but
OH
MY
GOD
I
CAN
MAKE
SHRIMP
FOR
MY
FAMILY
NOW
and everyone will eat it.
If you think I'm overreacting, I just sat here and thought about it.
It's been 9 years since I've been able to make a shrimp dish for my whole family.
I suppose this is when I chime in with a Better late than never.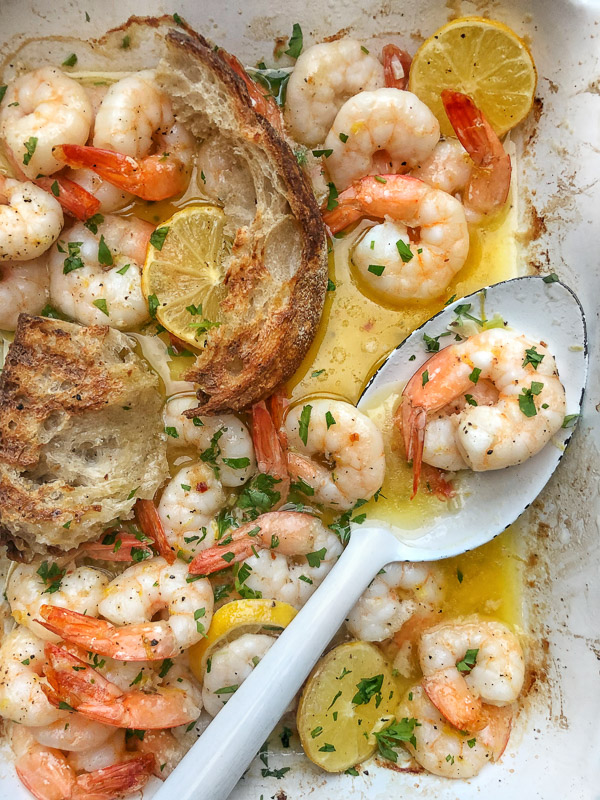 My Mom used to make this dish. Of course, she did, it was one of the simplest recipes from her beloved Ina Garten! I love that food can sometimes feel like a hug from your Mom. I sure needed it the past few weeks.
Oh, and did I mention this sauce on this dish? It's lemon buttery garlicky goodness. You're going to want to sop up every last bit with bread. Promise.
Ingredients are gathered.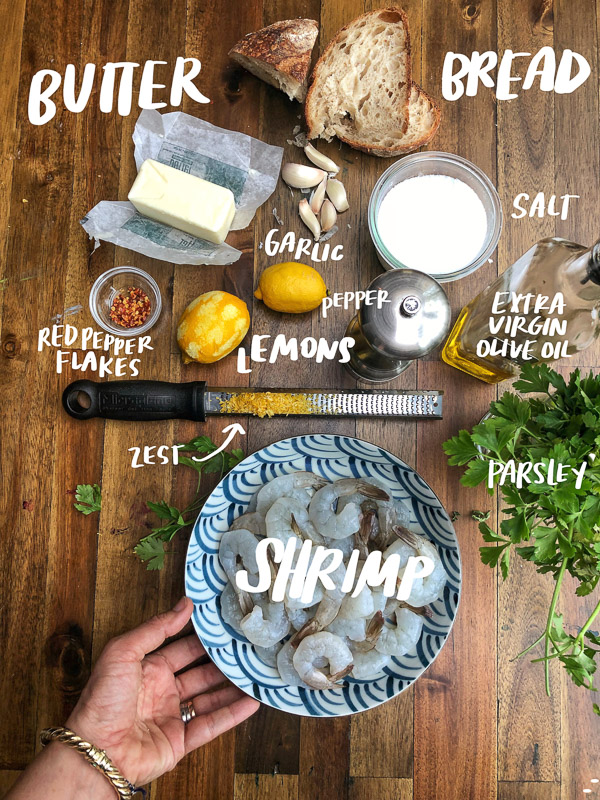 Melt butter. Add garlic, olive oil, red pepper flakes, salt, pepper and finish with lemon zest.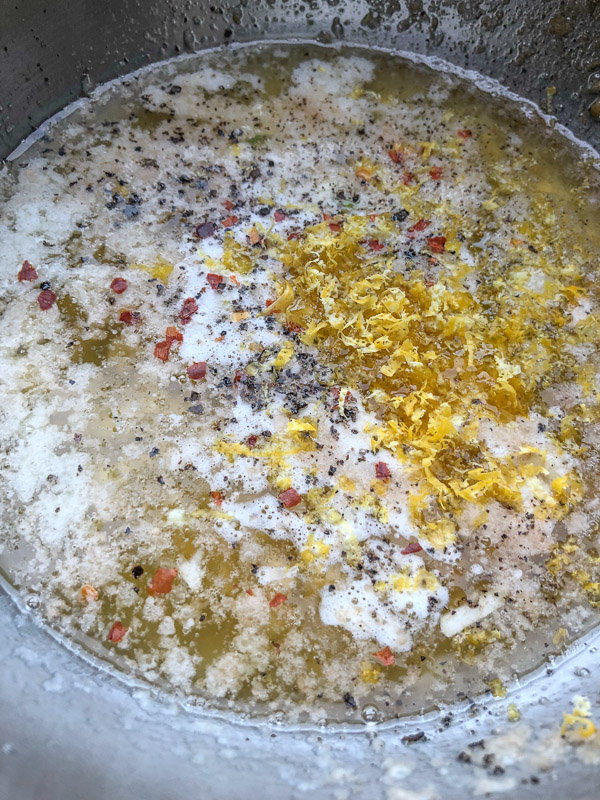 Arrange the shrimp.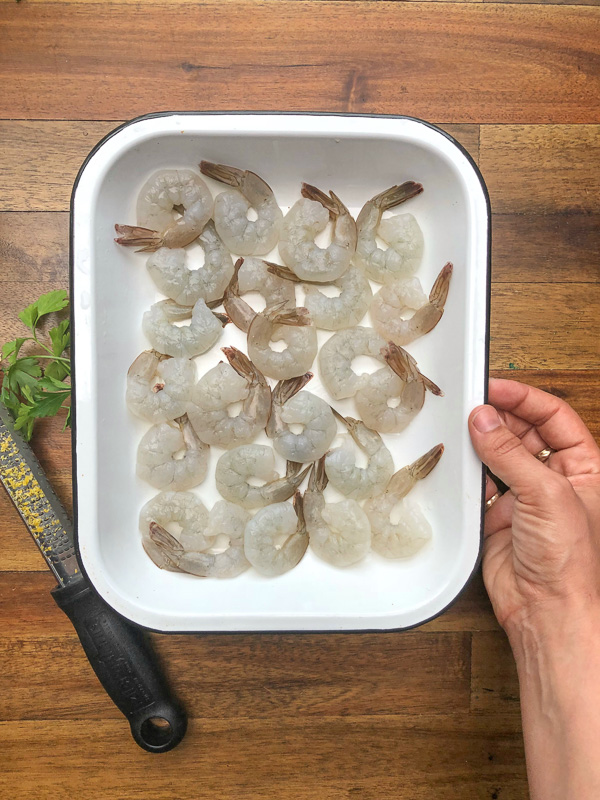 Pour on the sauce.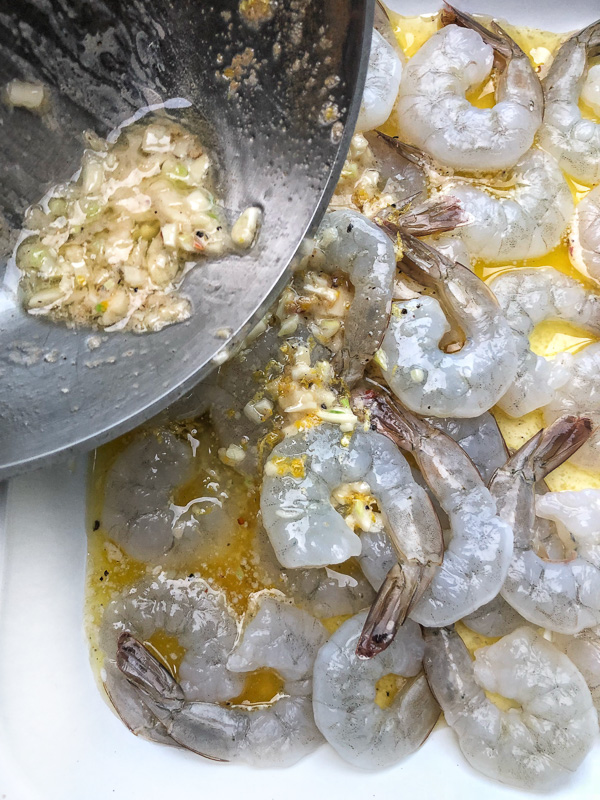 Add some lemon slices. Season with salt & pepper. Pop into a hot oven.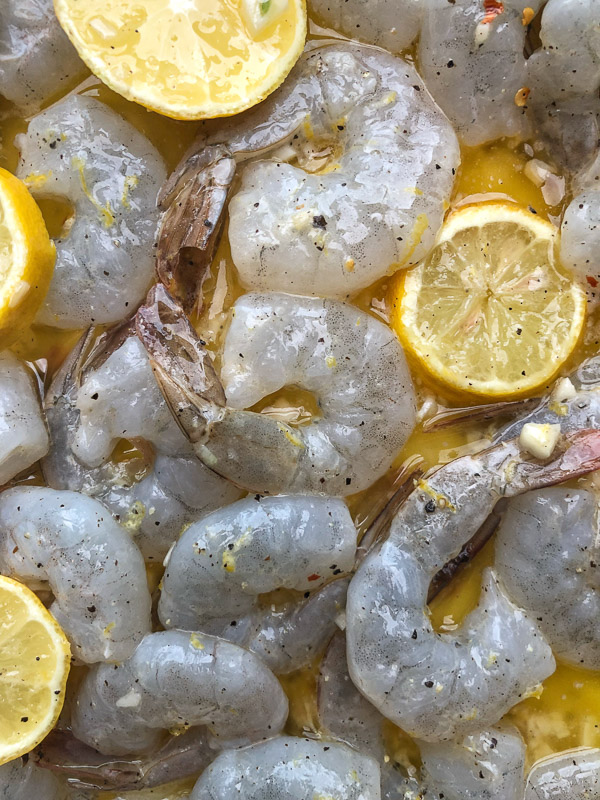 Oh wait! Let's style it.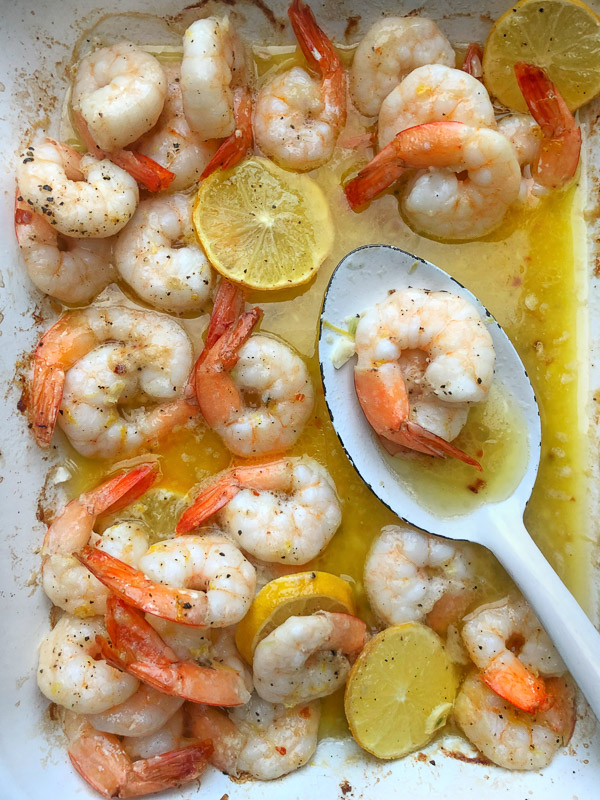 Boom! Parsley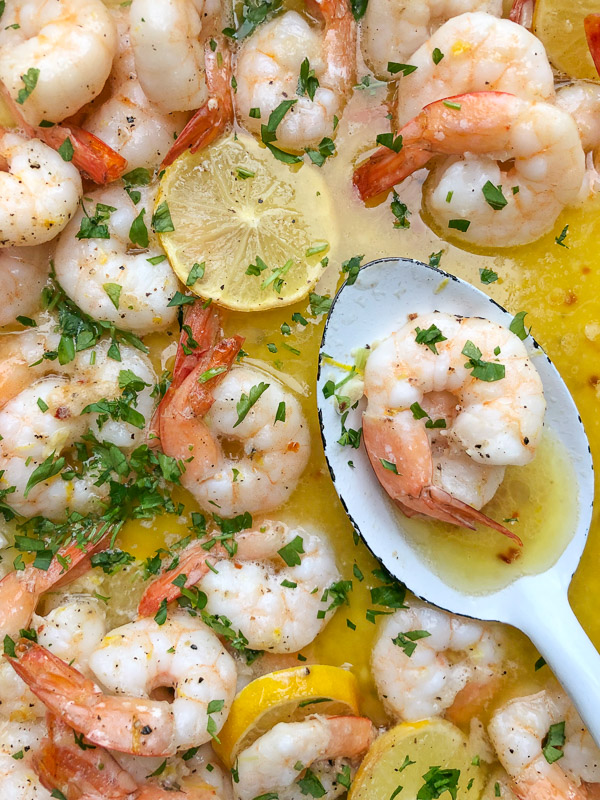 You can serve this a few ways. Cooper had his over rice. Casey had his over leftover pasta.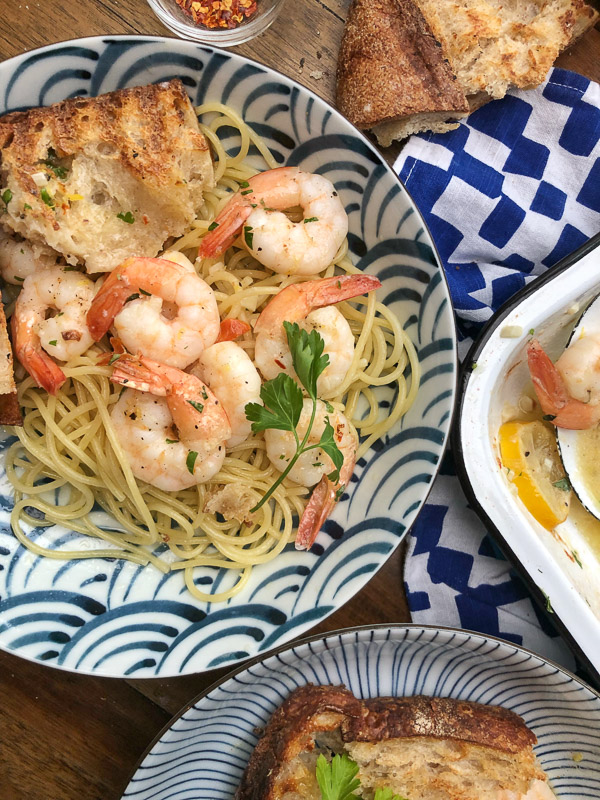 I roasted broccoli and dipped it in the sauce.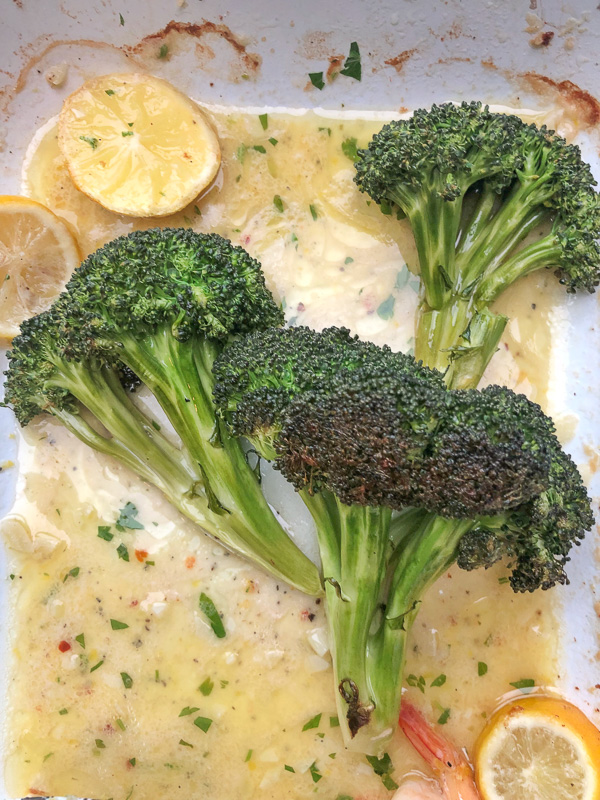 We all get what we want.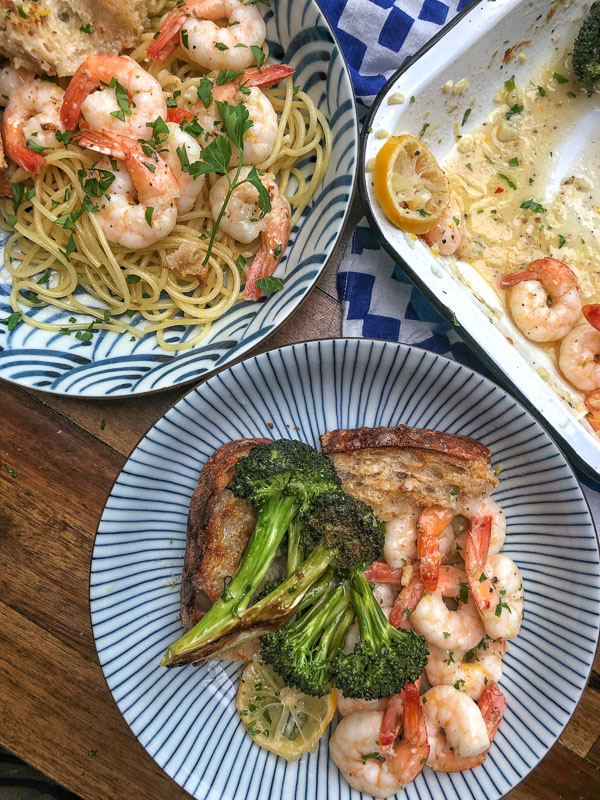 All of us eat shrimp now.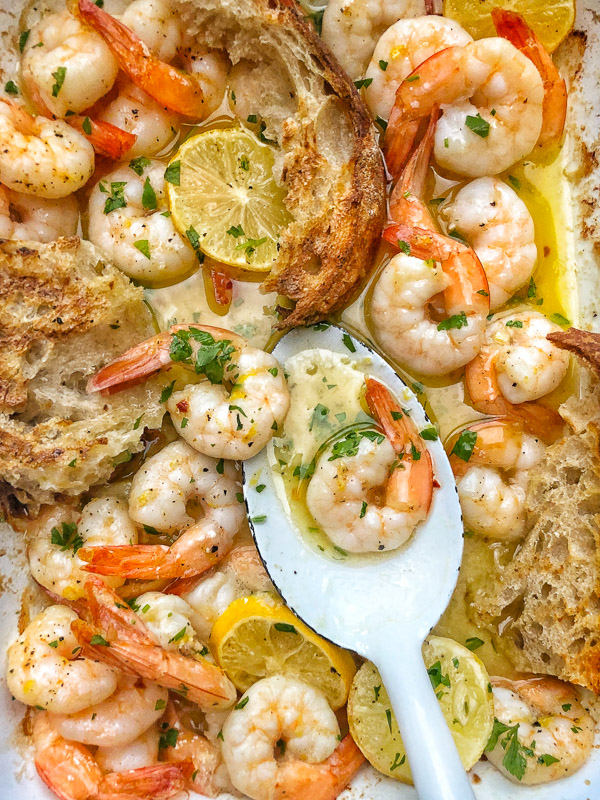 And can I just say again it's probably cuz THAT SAUCE IS RIDICULOUS.
Lemon Garlic Roasted Shrimp

recipe adapted from Make it Ahead by Ina Garten

1 large lemon
fresh chopped parsley, for garnish

Preheat the oven to 400 degrees.

Melt the butter over low heat in a medium (10-inch) saute pan. Add the olive oil, garlic, red pepper flakes, 1 teaspoon kosher salt, and 1/2 teaspoon black pepper and cook over low heat for one minute. Remove from heat and add the zest of one lemon into the butter mixture.

Arrange the shrimp snugly in one layer in a 10 × 13-inch baking dish with only the tails overlapping. Pour the butter mixture over the shrimp. Season with salt and pepper. Slice the ends off the zested lemon, cut into 5 slices, and tuck them among the shrimp. Roast for 12 to 15 minutes, just until the shrimp are firm, pink, and cooked through. Sprinkle top with chopped parsley for garnish. Serve hot with the toasted bread for dipping into the garlic butter.