Currently April 2019
Goodbye, April. You were a breath of fresh air.
Thank you.
I enjoyed the days without rain. It made me appreciate our garden and how it has changed in a matter of days.
Tonight I had an interesting trip down memory lane reading past posts:
Where does the time go? Some of this feels still close and some of it feels so far away.
I will always look at any content on my blog like this since my Mom died:
Anything before November of 2017 was read by Mom.
Anything after, not.
I think about that every time I sit down at the computer typing up my reflection of the month.
Maybe one day my child will read this and see what happened during these years of his childhood?
And if that's the case, HI, COOPER. I hope you send me funny cat memes when we're both OLDER!
I hope that the autobill on my credit card didn't get messed up after my death and you can still read this.
I trust in whatever is supposed to happen, will.
Here's my APRIL spread in my Currently Workbook!
I worked on this while I was on vacation in Pacific Grove with my family for Easter.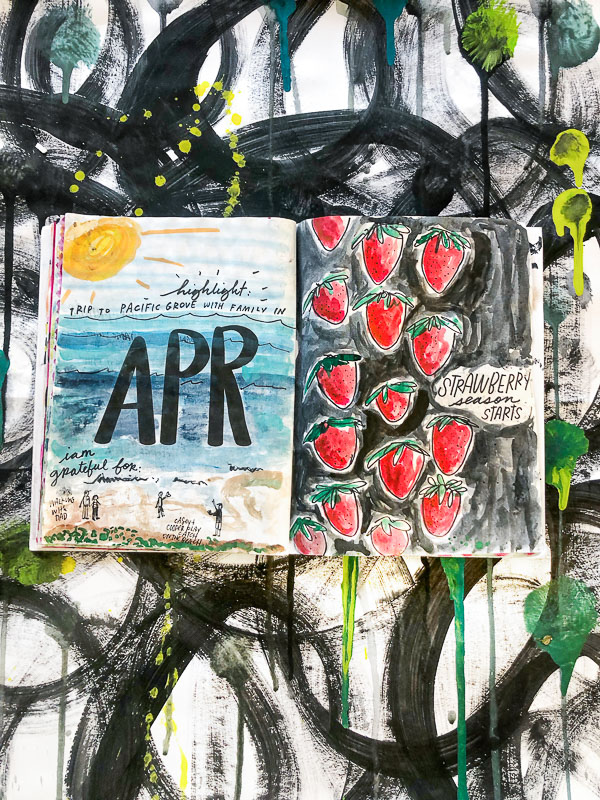 You can read all about my creative project this year–> CURRENTLY WORKBOOK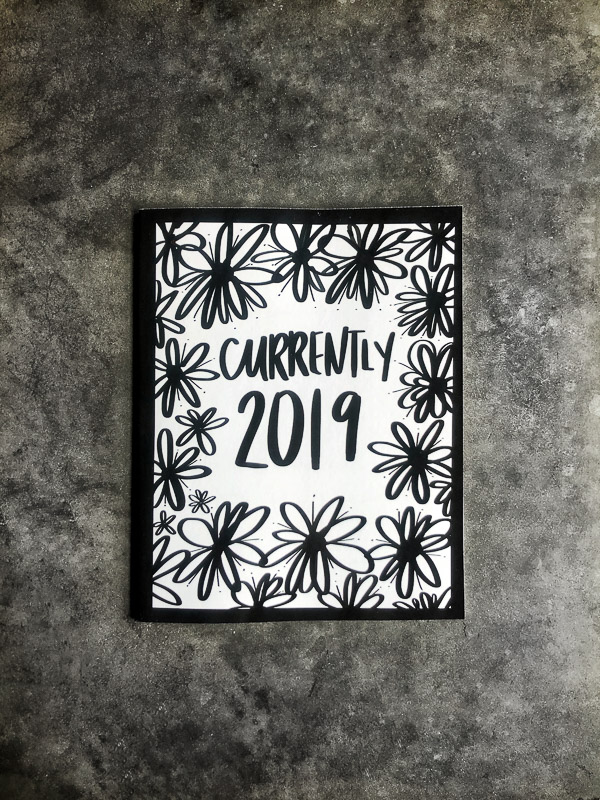 Highlights of April…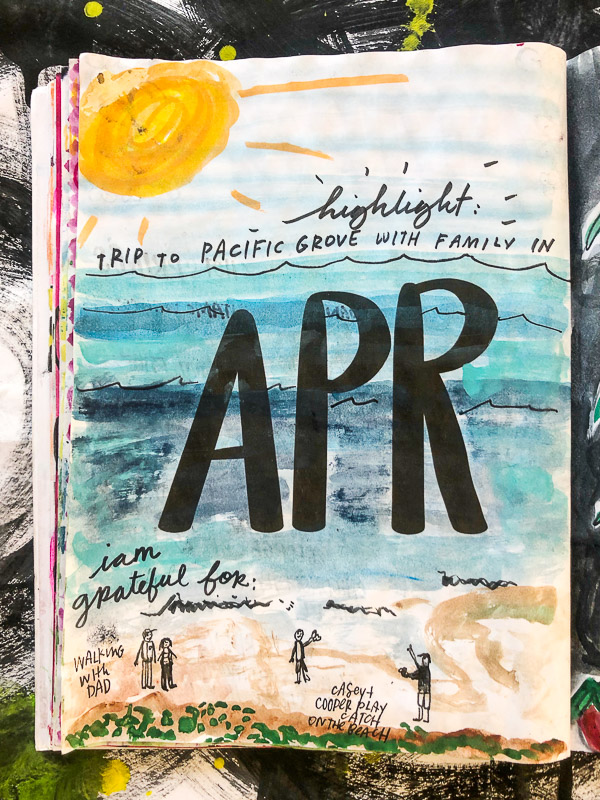 My kitchen saw a lot of strawberries this month when I worked with California Strawberries!
I appreciated having all the red around.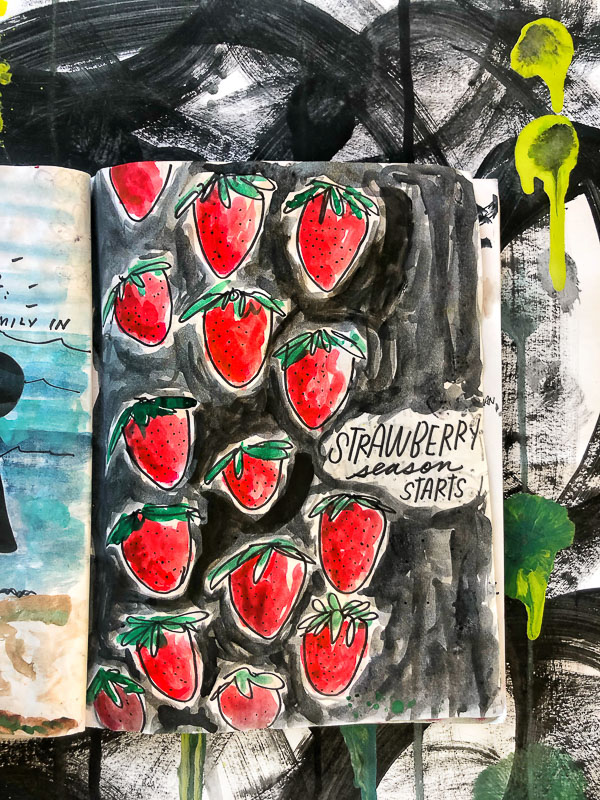 Next page!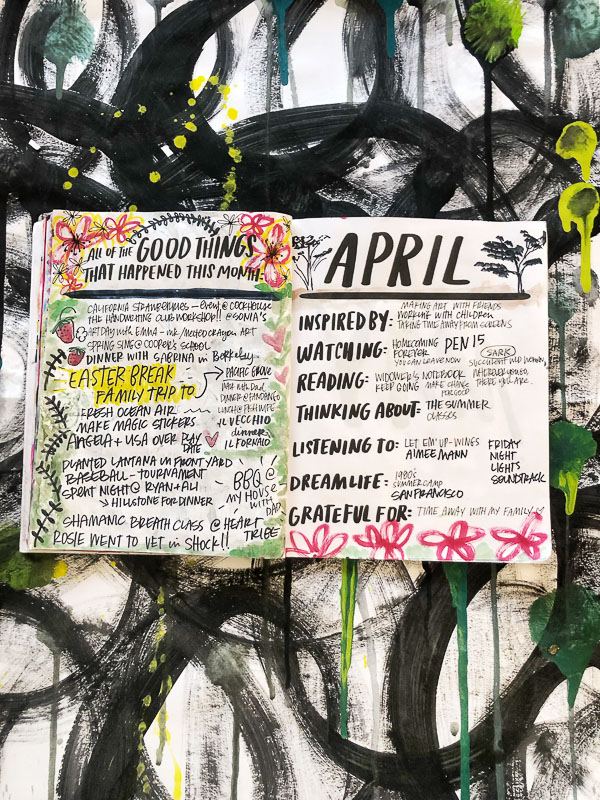 All the good things that happened this month.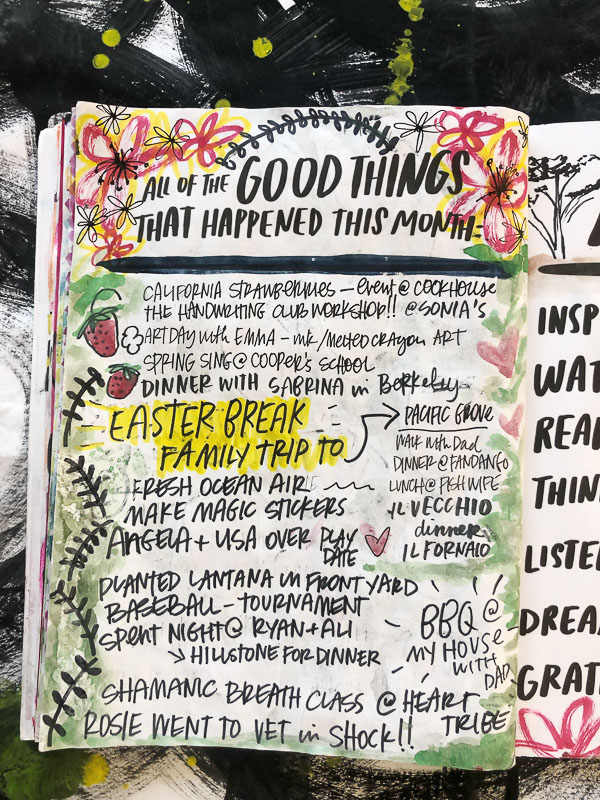 Let's get into it!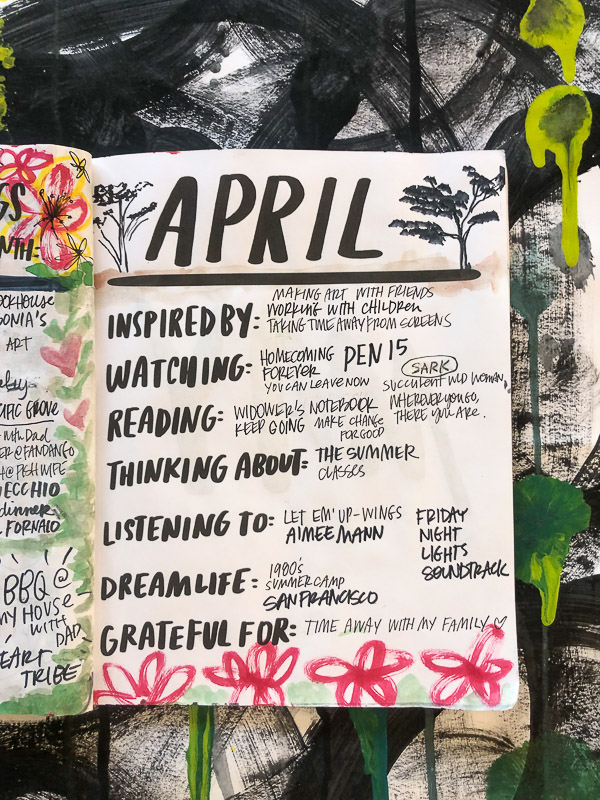 Inspired By:
Making art with friends and children!
I taught a handwriting class with kids + moms from school. It was a school auction item!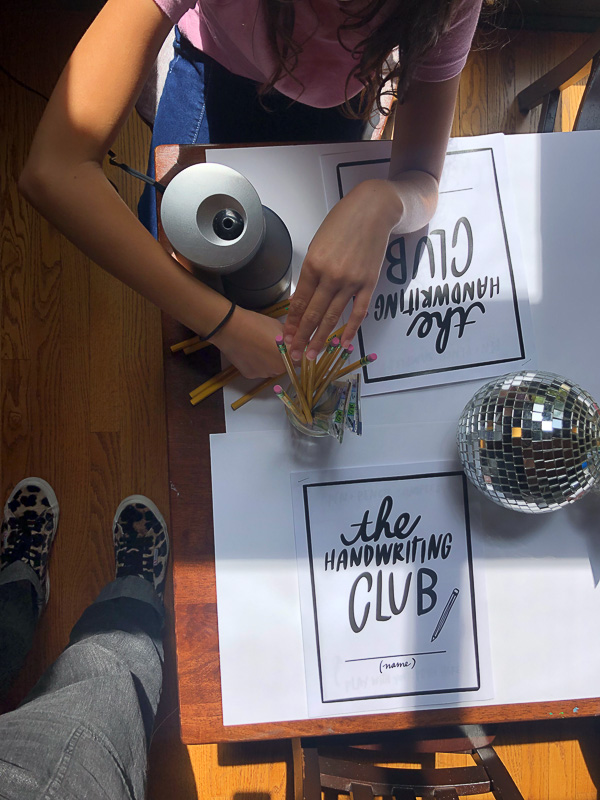 It was so neat!  I can't wait to do it again.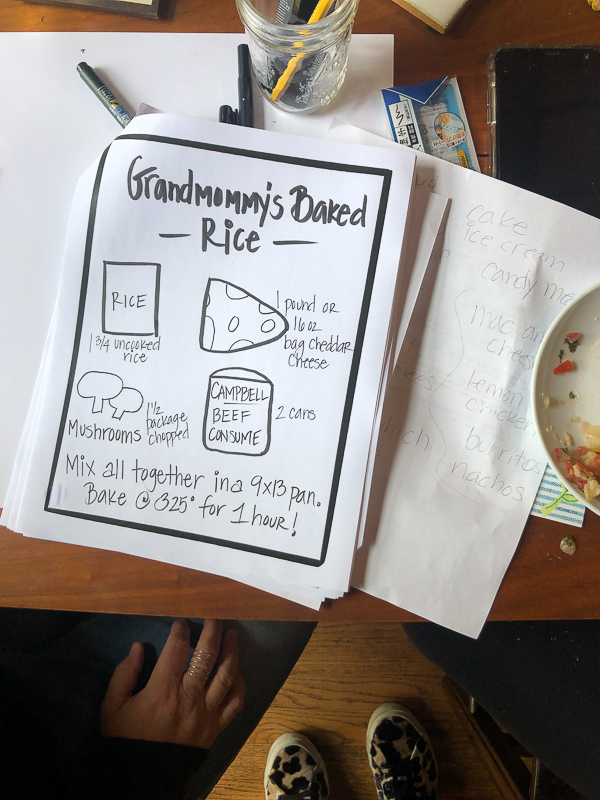 My friend Emma came over this month and we had a mental health day together.
We made melted crayon art in my family room.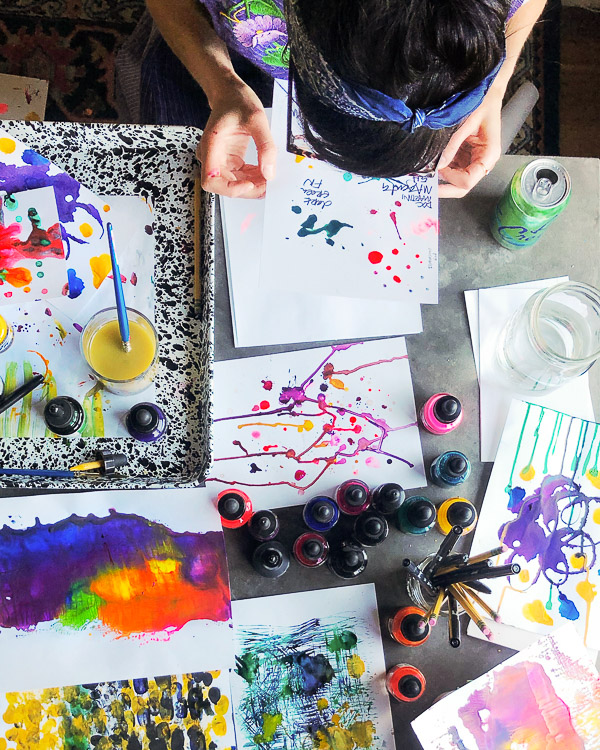 I started selling MAKE MAGIC stickers in my Etsy Shop. 
Here's one on top of my crayon art. I love how combining mediums can make magic.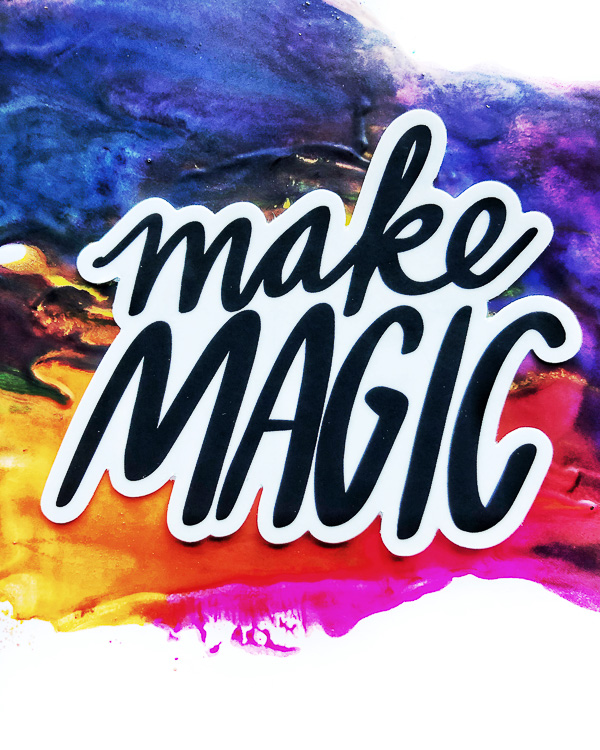 I was finally able to meet one of my art heroes in person this month-Sabrina Ward Harrison!
What a gift it is to learn how someone who inspires you is inspired by YOU TOO.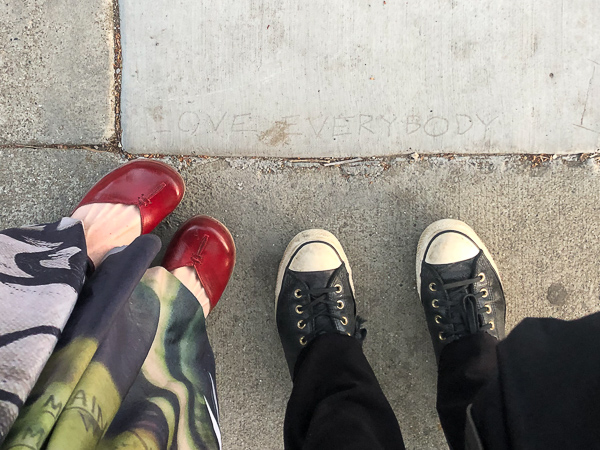 My friend Jessica visited!!  She filled me with happiness!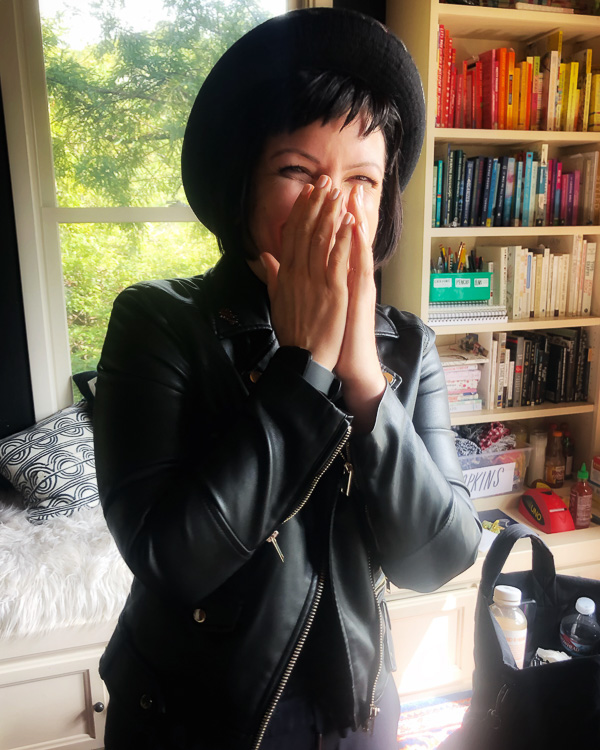 Our family trip to Pacific Grove inspired Art! Here's a collection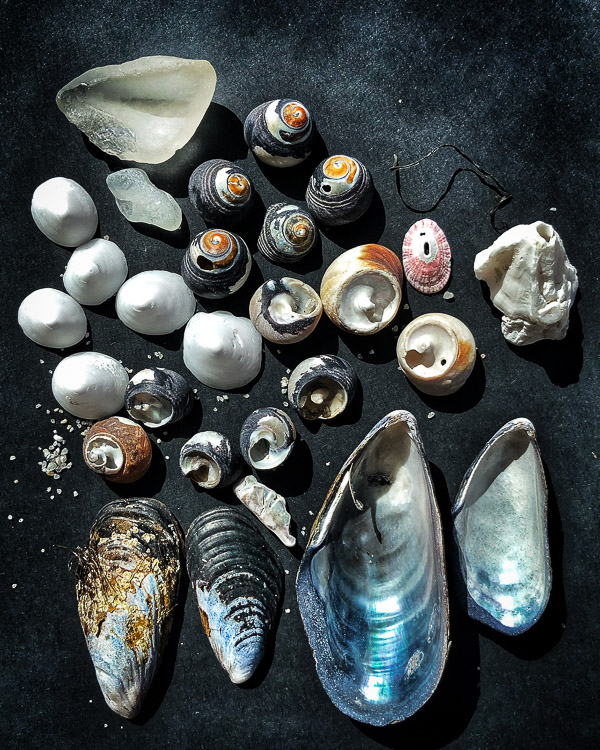 The sound of waves crashing, the smell of the sea air and time with family is so good for the soul.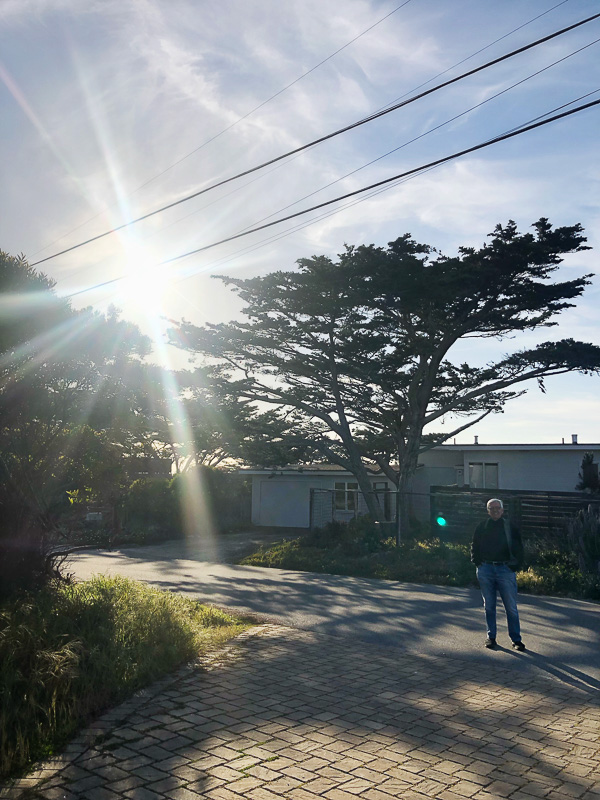 April 2019 in my garden:


Watching:
All the shows we watched this month:
Pen 15  (LOVE IT, still working our way through it)
Homecoming (binged on it. WOW. That was a thought provoker! I'm excited to see what happens next)
Forever (still working through it! Love the premise. My husband needs to stop falling asleep while we watch)
You Can Leave Now (it's so silly/absurd but there are times where Casey and I are giggling).
I watched the first episode of Shrill and I'm excited to keep going!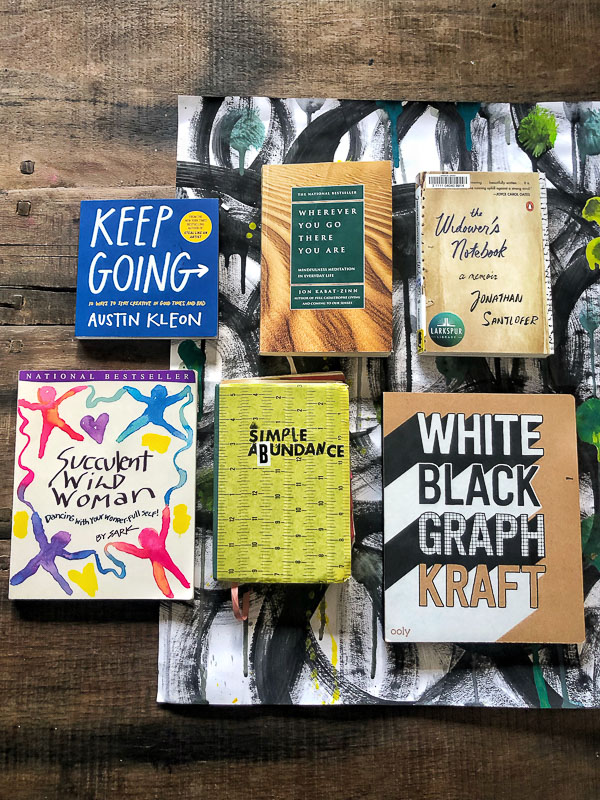 Reading:
Keep Going– I love anything by Austin Kleon!  If you're experiencing creative burnout this is good.
Wherever You Go, There You Are – picked this up while on vacation! love it!
The Widower's Notebook – slowly working my way through this as I try to understand what grief might be like for my Dad.
Simple Abundance – I always pick this up during the month when I need to. It was a gift from my Mom.
Succulent Wild Woman – one of my faves. Reading it again as I am older has been a trip!
White Black Graph Kraft – I picked this booklet of paper up while on vacation and I'm obsessed. It gives you many pages of white/black/graph/and brown kraft paper. Perforated pages make pulling the pages out so easy. Great for artwork on the go.
Thinking About:
My brain is focused on projects and I'm feeling some stress so my brain sometimes daydreams about Summer vacation to get me through. WORK WORK WORK WORK with the hope of PLAY sometime soon. That's how I get through it. My Dad calls this compartmentalizing.  Basically, I am trying to compartmentalize and not stress until I need to. Sometimes it works well.  Sometimes I totally fail at it.  Right now it's working OK and I'm just pushing through!
I'm also working my way through the 100-day challenge on Instagram.
Every day I write a new word and a meditation/something to think about re: the word.
I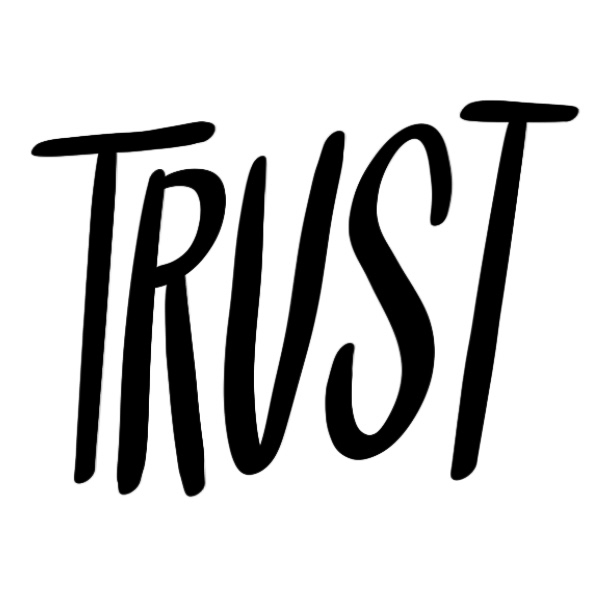 that a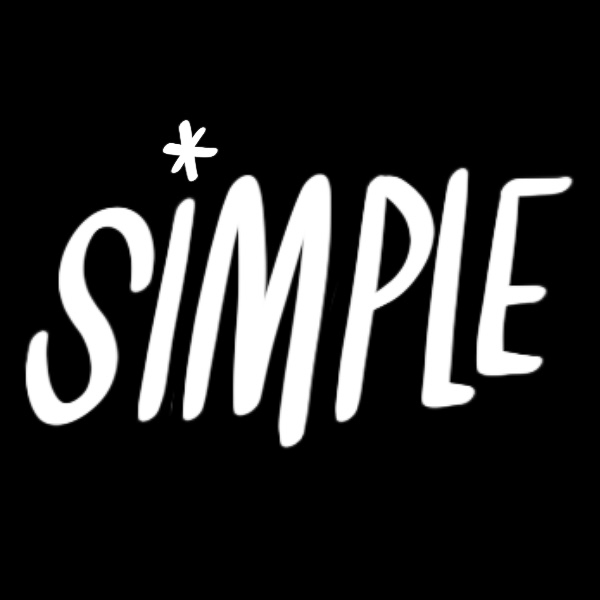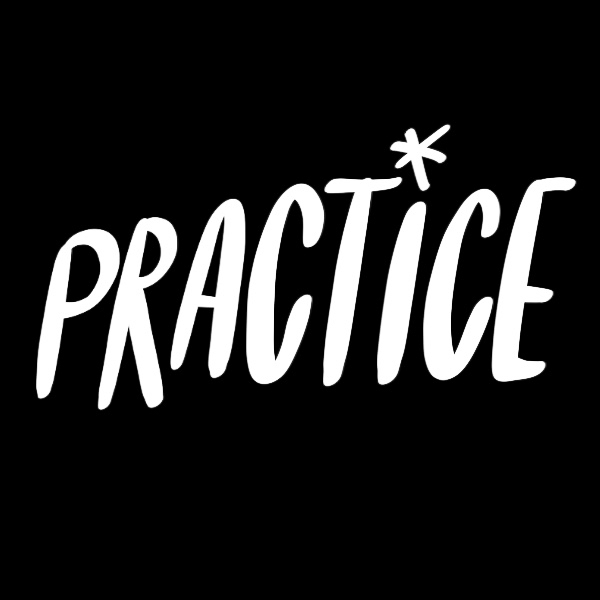 can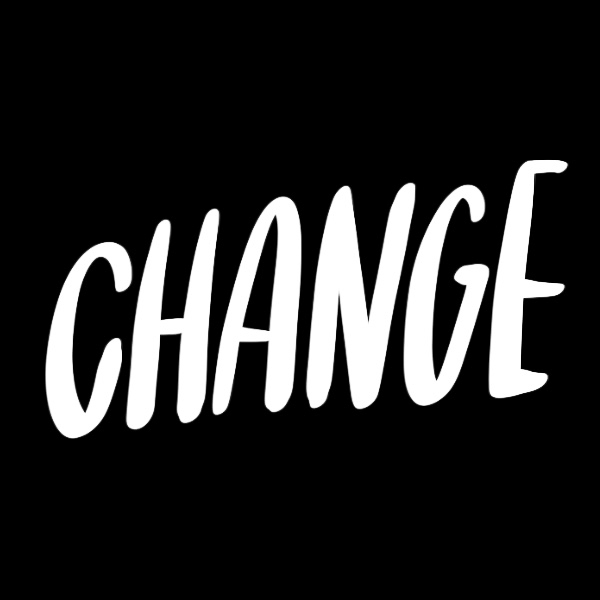 MY LIFE!
I know it did last year
Listening To:
Songs on repeat this month:
I've also been listening to the Magnolia Soundtrack a lot. I need to watch that movie again!
It's funny because I went through an Aimee Mann phase last April. Must be an April thing.
Dream Life:
My dreams have been so weird this month. Most of them take place in another time. Like think of Stranger Things meets What Dreams May Come.
This month Cooper and I saw my mom's doppelganger while we were out driving. It made real life feel like dream life or a glitch in the Matrix.
Eating/Drinking:
I spent the month not eating bread.  40 days, actually.
I was doing it for Lent.  It was hard but then it got really easy. I always forget how disciplined I can be when there's a goal.
I ate a lot of tortillas instead of bread. Lol.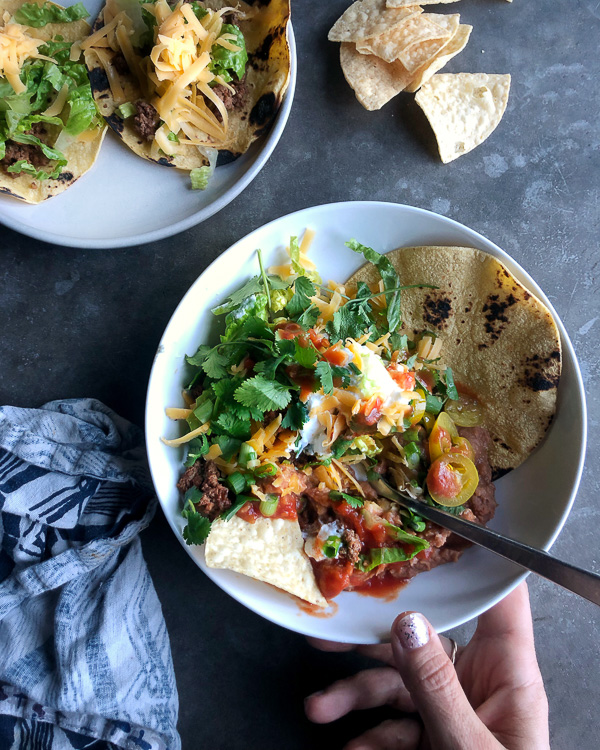 Chilaquiles worked their way back into my life.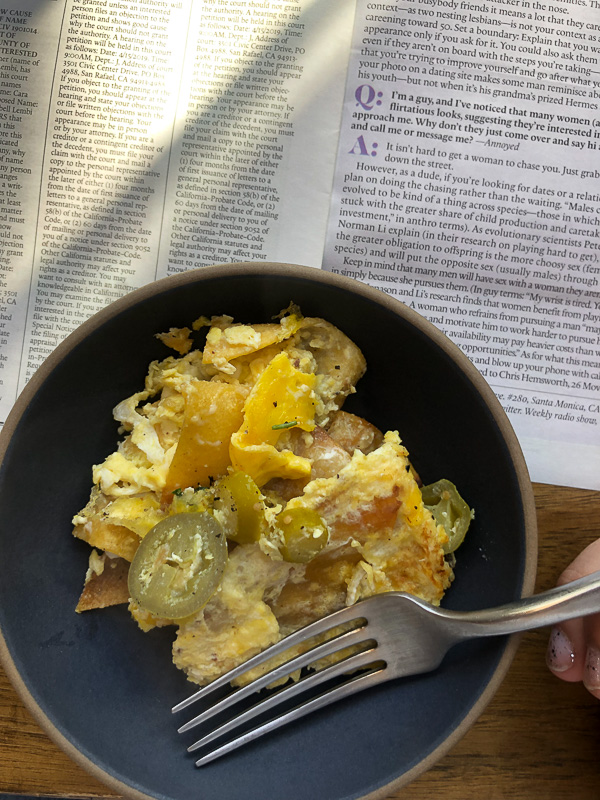 I got creative with leftovers.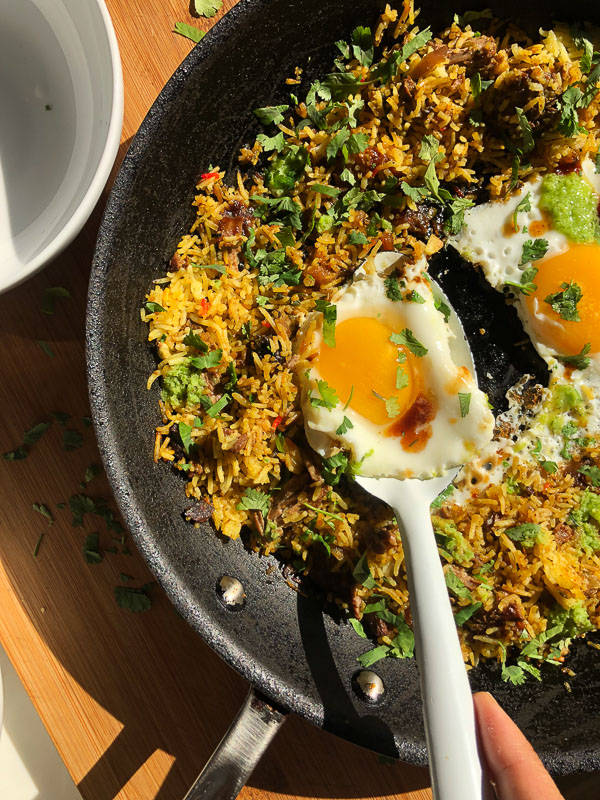 I made a bunch of strawberry snacks in April.
5 Simple Strawberry Snack Ideas!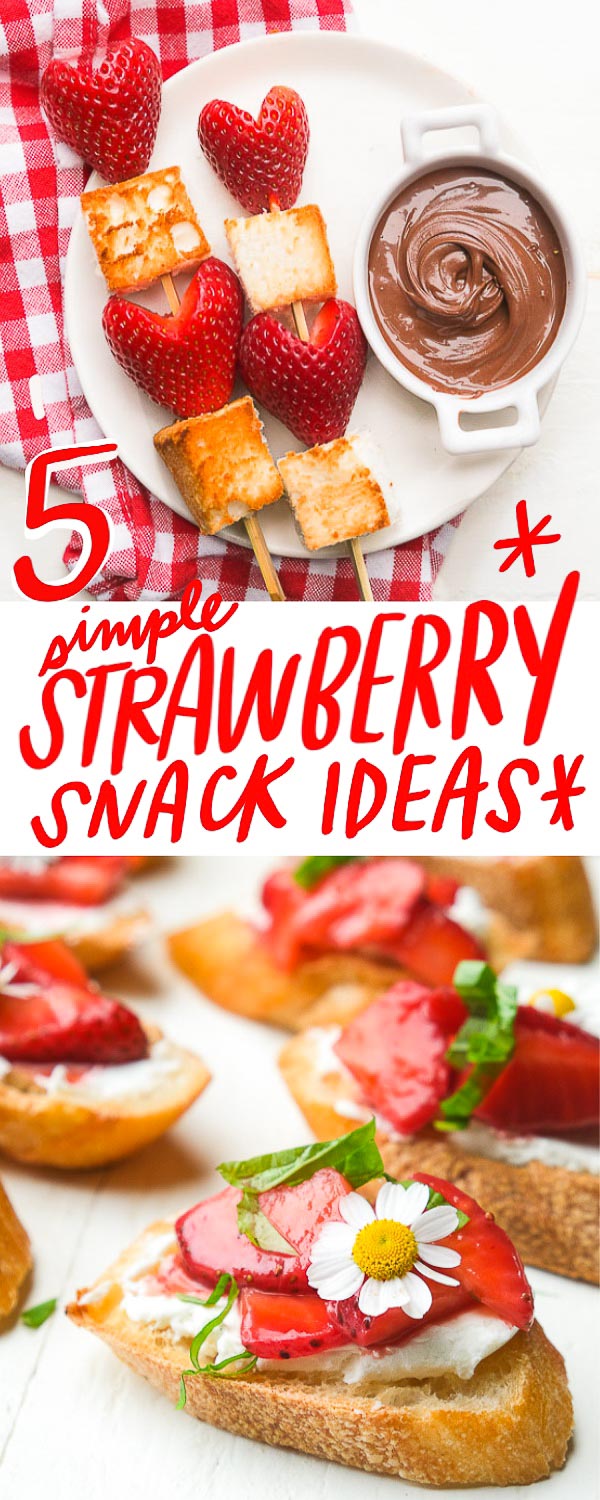 They are Cooper's favorite fruit and I love turning them into hearts for him.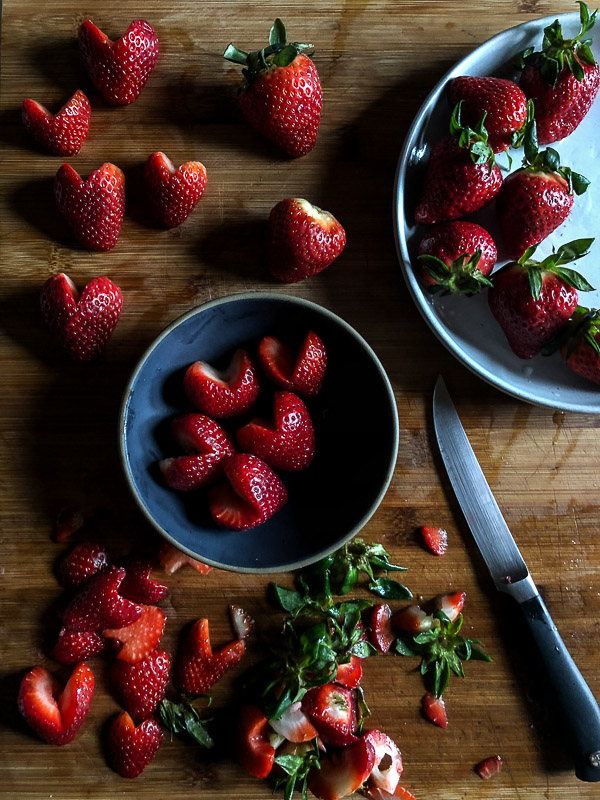 And then we went on vacation!
BRING ON THE: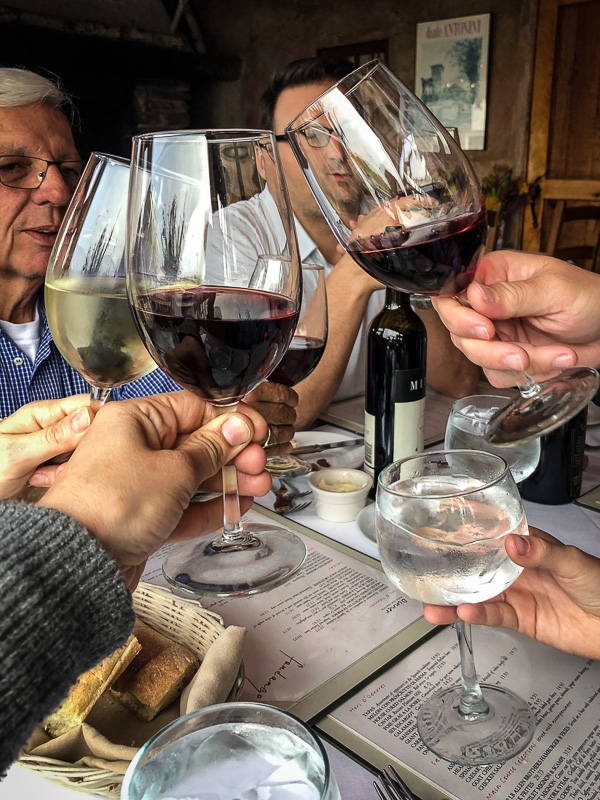 and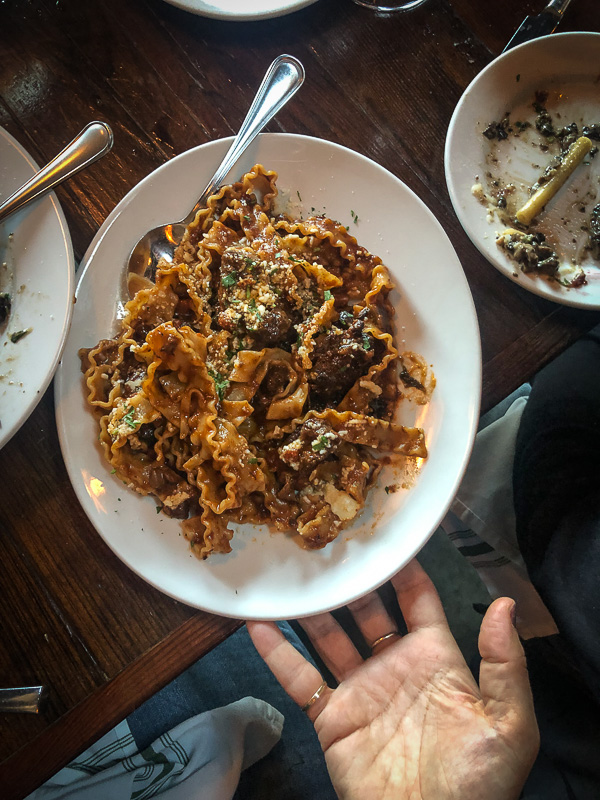 and no food journaling while I was away!!! OOF.
I started doing meal prep to get me back on track again. It worked.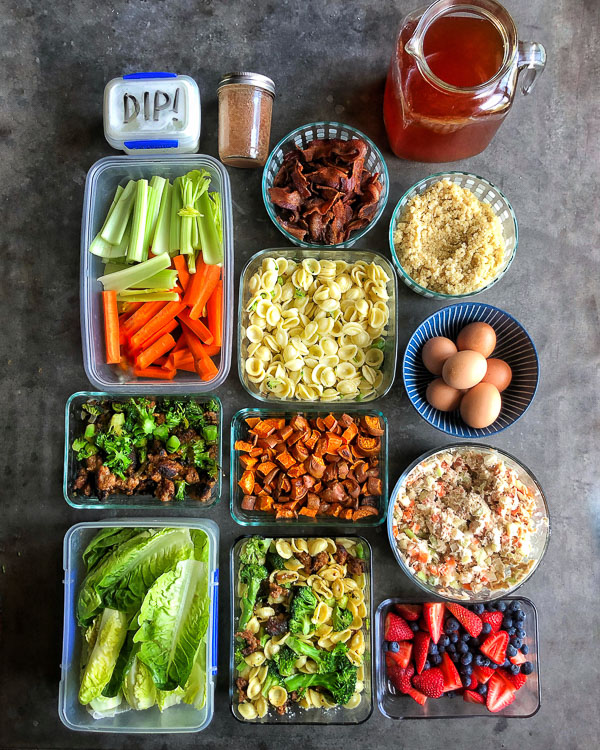 April was a good reminder to slow down before you burn out completely.
Quote below from the Minimalist Podcast—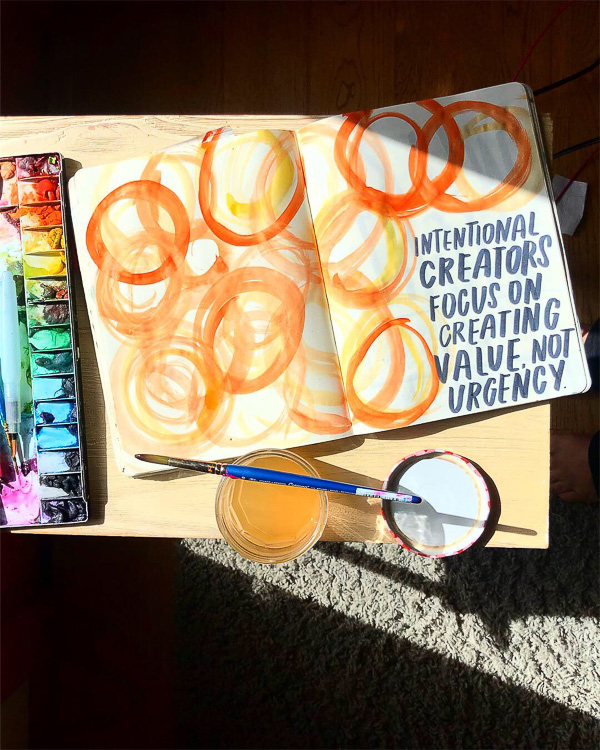 Self Portrait for April: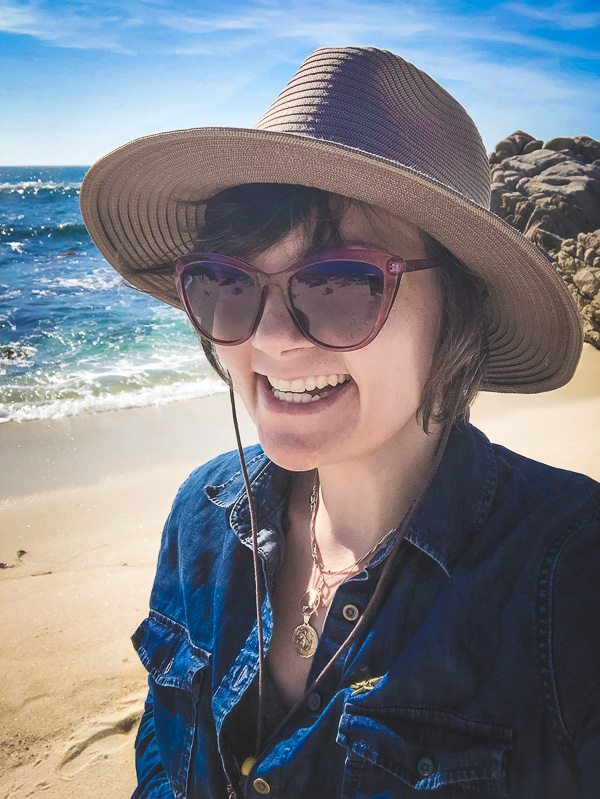 wearing my Dad's hat 🙂
Goodbye, April. Hello, MAY! Let's see what's in store for you!