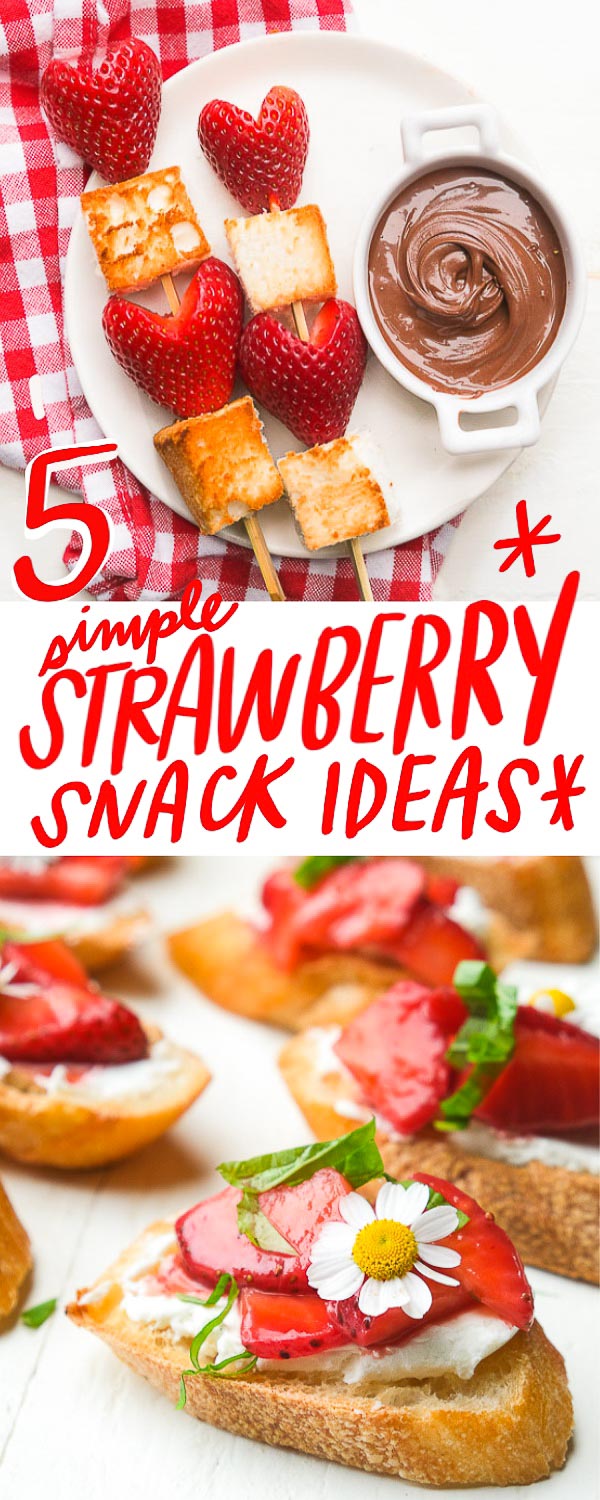 One of the best things about living in California is access to AMAZING STRAWBERRIES. Every year I go crazy and buy a whole bunch the second they are in season (NOW!) and then all of a sudden I have to figure out how to a million ways to use them all up.  It's cool. I like a challenge!
This month, California Strawberries is searching for the Strawberry Snack of Summer and is hosting a #GetSnackingChallenge on Instagram. You can enter by tagging your strawberry snack ideas with #GetSnackingChallenge – grand prize is $1000!  
Challenge accepted!
Thanks to my partnership with California Strawberries, I am going to show you 5 Simple Strawberry Snack Ideas for those of us who love strawberries and have to put them in EVERYTHING this time of year.
When I have a lot of strawberries in my kitchen, I like to: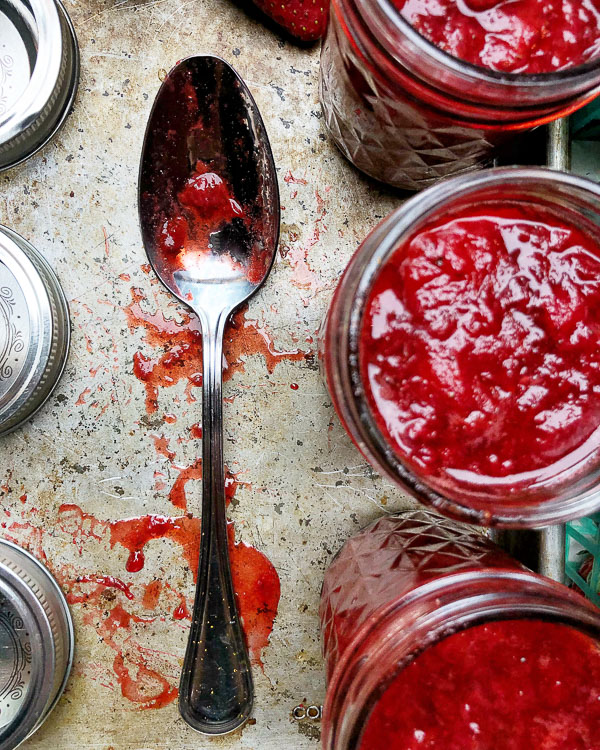 Make a jam.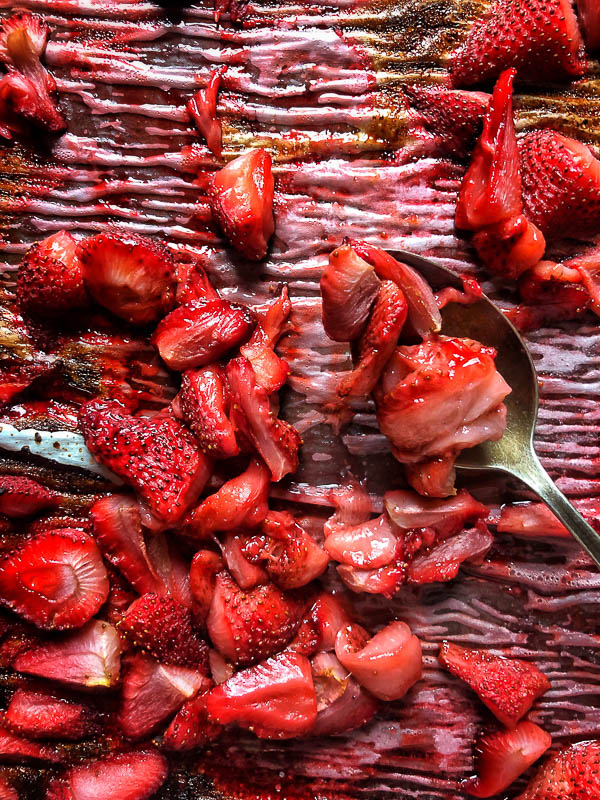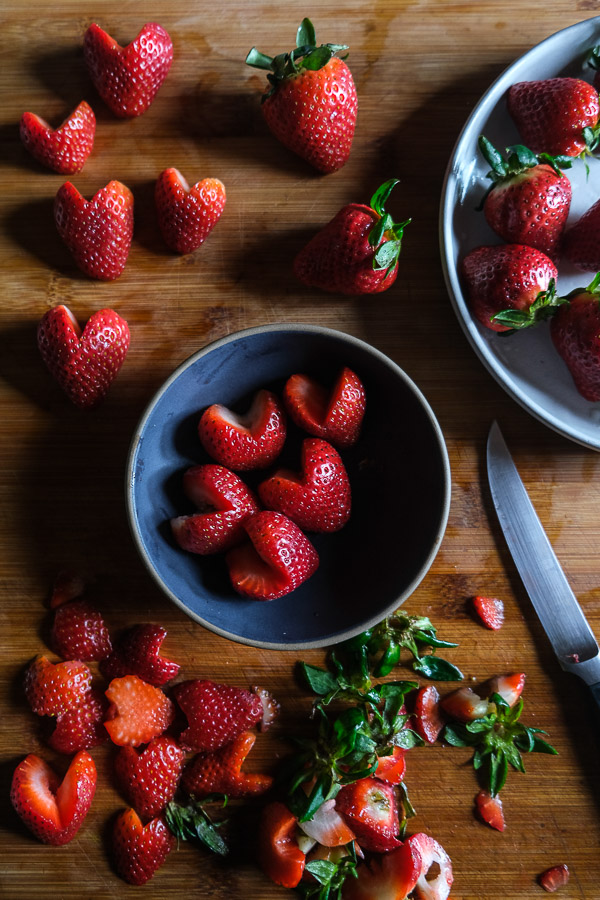 Make Snacks!
One of the simplest ways to make strawberries fun is to turn them into hearts!
Here's a little instructional video if you want to see how it's done.
It's a really fun way to serve a strawberry. Kids love it!  Heck, I LOVE IT.
Did you know that ONE serving of 8 strawberries has more Vitamin C than an orange?!  One serving provides 110% of your daily Vitamin C needs! That's great news for us parents!
OK! Here are 5 Simple Strawberry Snack ideas for the #GetSnackingChallenge.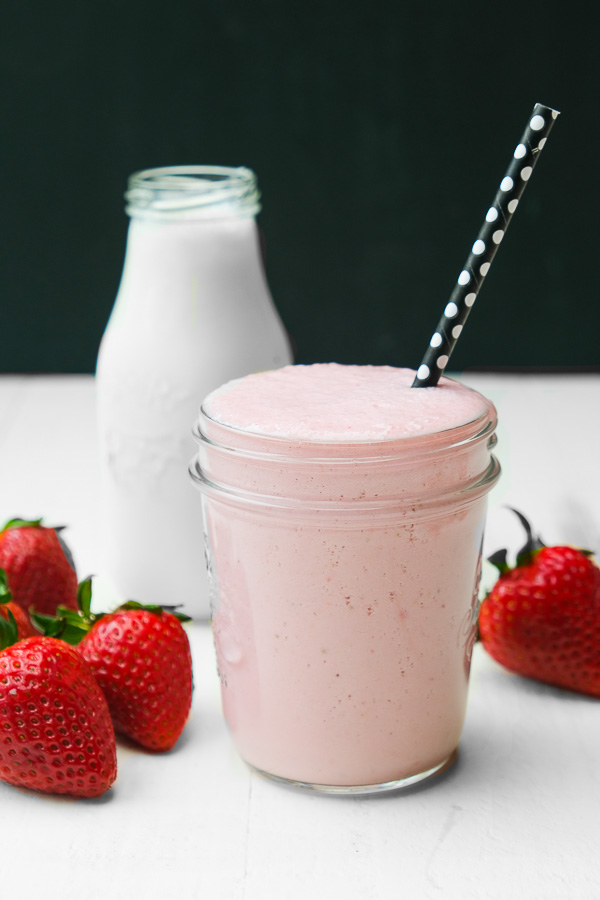 The first simple recipe is Strawberry Milk!  This is a great afternoon snack or in addition to breakfast in the morning.  The pink color makes it FUN!  You can adapt this recipe with whatever milk you drink at home. Adjust proportions to taste. In the end, you get a frothy pink milk that tastes like a milkshake but without having to use ice cream.
Strawberry Milk
makes enough for 2
2 ½ cups whole milk

8 strawberries, hulled and stems removed

1 tablespoon maple syrup
Blend ingredients in a blender until well combined. Divide into two cups. Serve each with a straw.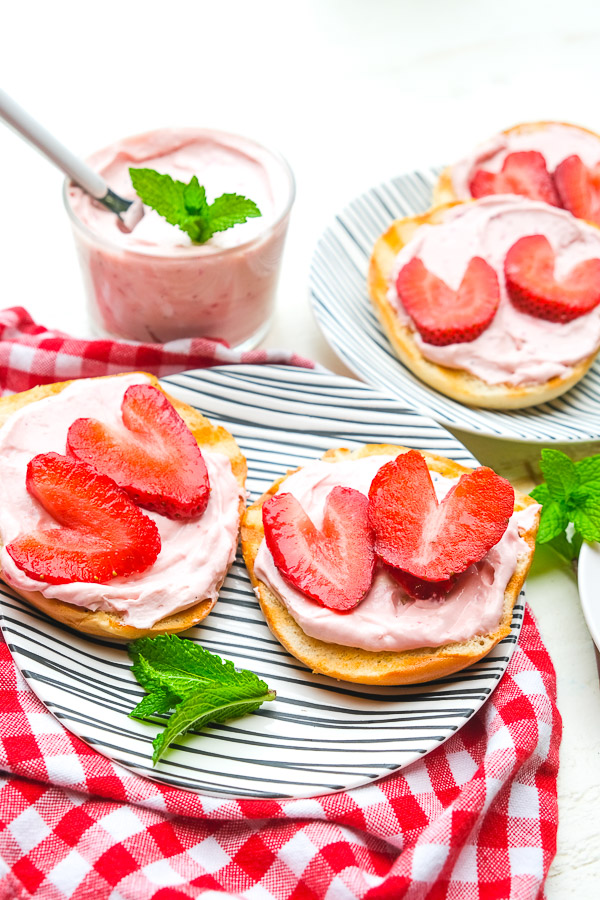 Have you ever had Strawberry Cream Cheese? It takes a little like strawberry cheesecake!  It's a fun way to switch up your bagel and cream cheese snack/lunch routine.  You might find me dipping graham crackers in the bowl of strawberry cream cheese. Instant cheesecake 🙂
Strawberry Cream Cheese
makes about 1 ½ cups
8 oz. cream cheese, at room temperature

2 fresh strawberries, hulls and stems removed

1 tablespoon maple syrup
Mix cream cheese, strawberries and maple syrup in a mini food processor until well combined. Add more maple syrup if needed. Enjoy on toasted bagels or with graham crackers.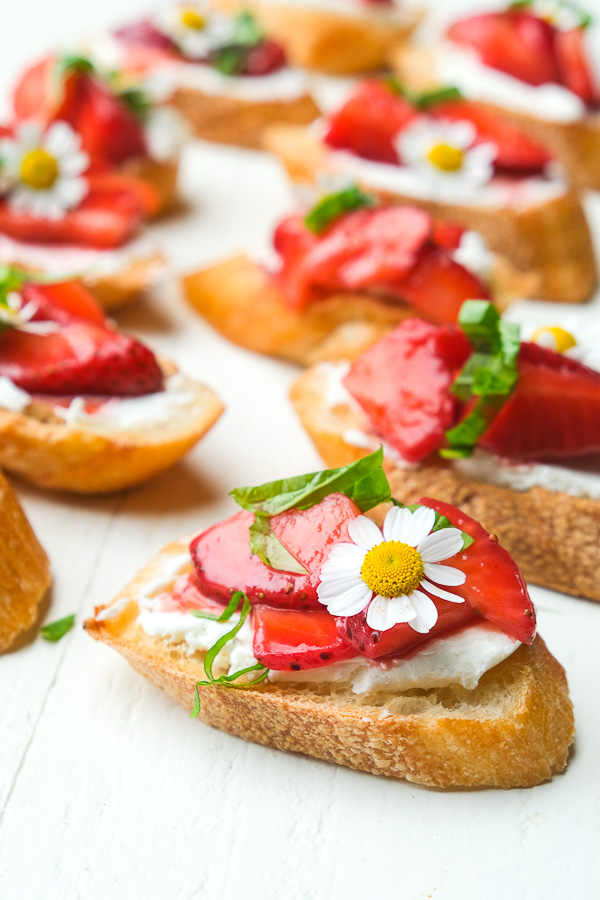 When the weather is right, we turn the grill on and toast crostini for bruschetta. A simple snack of toasted bread with goat cheese and balsamic glazed strawberries with basil can turn into a fancy appetizer, a whole dinner or an afternoon treat.
Strawberry Bruschetta
serves 3-4
½  French baguette, thinly sliced on the bias

1-2 tablespoons extra virgin olive oil

½ pint strawberries, thinly sliced

1 tablespoon balsamic vinegar

4 oz. goat cheese, at room temperature

3-4 fresh basil leaves, julienned for serving
Preheat oven to 350 F.
Put bread slices on a baking sheet and brush slices with oil on both sides. Season lightly with salt and pepper, bake until pale golden, about 10-15 minutes. If you are grilling the crostini, heat over medium-high heat and grill each side for 3-4 minutes.
Put cut strawberries in a bowl with balsamic vinegar and let sit for 10 minutes. Spread 1 tablespoon of goat cheese on each crostini, top with a few basil shreds and then place a spoonful of strawberries on top. Sprinkle salt on top of the crostini & serve.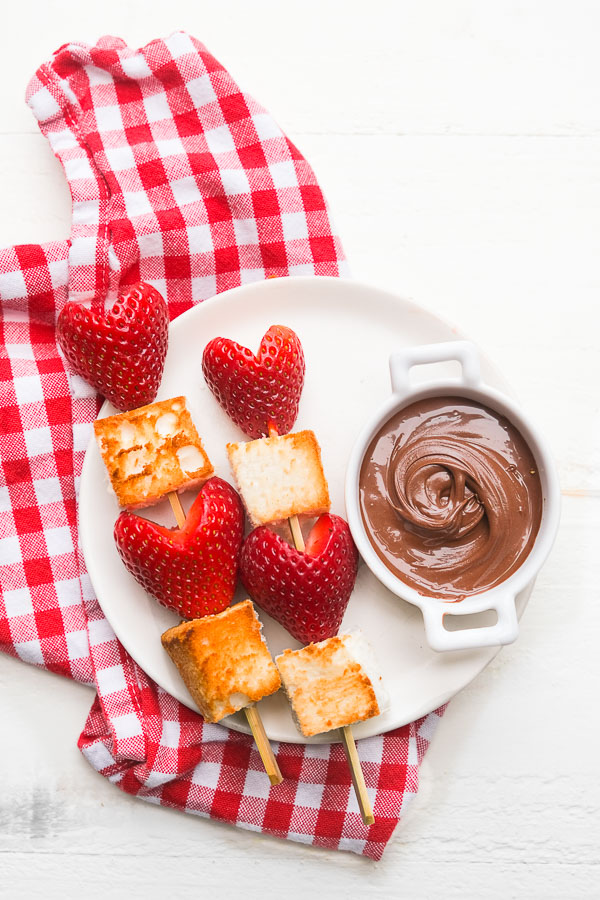 If you have any leftover angel food cake (or any cake for that matter!) toast it up and make fruit kebabs with it. Melted some milk chocolate in the microwave and do the dip!
Strawberry Kebabs
serves 2
8 strawberries, cut into hearts

8 cubes toasted angel food cake

⅓ cup milk chocolate chips
Assemble strawberries and angel food cake on wooden skewers, two strawberries and two pieces of angel food cake to each skewer. Place chocolate chips in a microwave-safe bowl, cooking on HIGH for 30 seconds, stir and cook for another 30 seconds or until chocolate is melted. Serve with strawberry kebabs.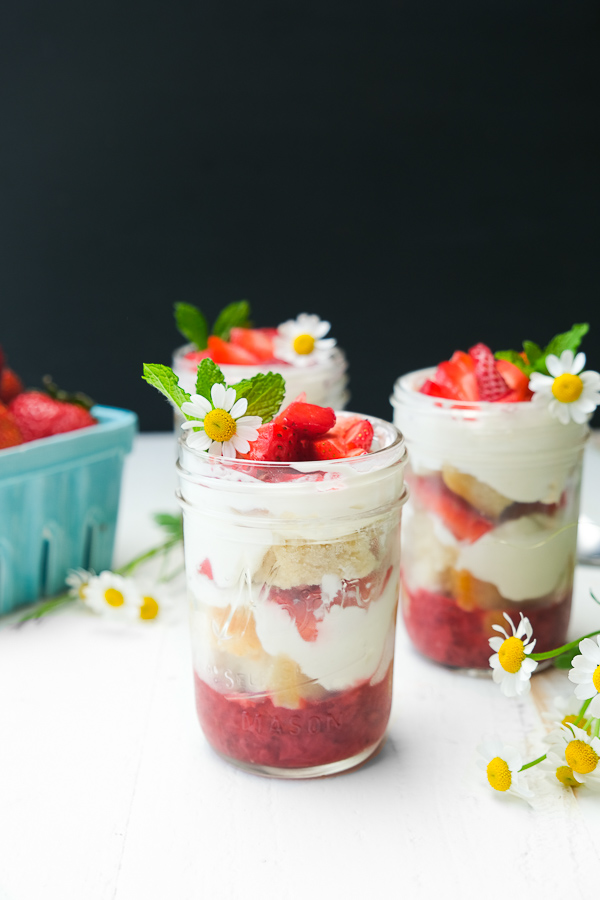 Want to put some homemade strawberry jam into a dessert? Make portable trifles in jars. You are going to love digging through layers of pound cake, whipped cream and fresh strawberries with a spoon! It's a great treat to bring on a picnic. Make sure you bring a cooler. Don't forget the spoons!
Strawberry Trifle
makes enough for 4
2 cups sliced strawberries

1 teaspoon sugar

4 tablespoons fresh strawberry jam

3/4 cup whipping cream

1 teaspoon vanilla extract

½ store-bought pound cake, cut into small cubes

fresh mint, for garnish
Toss strawberries with sugar in a medium bowl and let sit for 10 minutes.  Line the bottom of 4 smalls jars with a scoop of strawberry preserves.
In a medium bowl, whip the cream with vanilla with a hand mixer until stiff peaks form. Set aside.
Top with a few pieces of pound cake. Top pound cake with a dollop of whipped cream followed by a heaping spoonful of strawberries.  Follow with another layer of pound cake and whipped cream. Cover and chill in the fridge for 2-4 hours before serving. To serve, top with a few sliced strawberries and mint for garnish.
More strawberry snacks to enjoy:
Thank you to  California Strawberries for sponsoring this post and fortifying our life with strawberries this week.  Don't forget to enter the #GetSnackingChallenge with California Strawberries on Instagram. Let's see your strawberry snack concoctions!