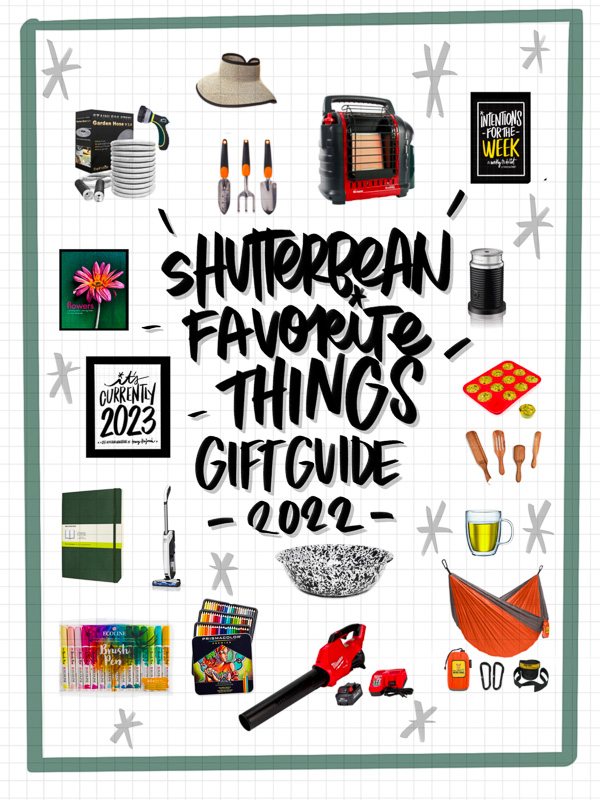 Hello! Welcome to my Favorite Things Gift Guide of 2022. I went through some of my past lists to glean some ideas for you in case you need some good recommendations. Everything that's on these lists are things I own & LOVE!
I broke it down into a few sections. Kitchen things, Outdoor Things, Fun Art Things.
Here you go!

Favorite Kitchen Things:
1. Hoover Cordless Vacuum– I don't know what I would do without this cordless vacuum! I use it almost every single day. I like to walk around barefoot in my house and the only way I can do that is if the floor is clean and it never is cuz I live with men.
2. Linnea 2023 Poster Calendar- My Mom loved this calendar and since she's been gone, I've bought one every year and have it in my kitchen. Keeping the tradition alive! The illustrations are so pretty and I get excited to see what the artwork is each month.
3. OXO Dishsoap dispensing brush: I saw a good cleaning hack online where you keep this soap brush in your shower with equal parts white vinegar and dishwashing soap to scrub your tub/tile down while you're in the shower. I love it and do it! This soap dispensing brush has been a game-changer in my house.
4. Hamilton Beach Air Fryer– One of the most used kitchen gadgets in my kitchen (second is my Instant Pot!
). It helps me put dinner on the table FAST.
5. Ice Shaker 26.oz Insulated Tumbler – This is my favorite water container!! I've been through a lot of them and this one is THE G.O.A.T. It keeps things cold for SO LONG and I also like that it has a straw. I have a Make Magic sticker on mine because magic happens when I drink enough water!
6. Spurtle Set I love everything that Lucinda Scala Quinn does. I got a few spurtles a few years ago and they're my favorite pieces to use while cooking. I tell yeah that breaking up meat when I'm browning it for Thai Basil Beef with a spurtle is so dang easy.
7. Bodum Clear Mugs– I don't know about you but I like seeing what the color of my tea looks like. I love this cup so much that I get excited to see it when it's clean and in my cupboard. My brain says USE IT NOW, TRACY and so I do.
8. Silicone Muffin Pan– I fell hard into egg bites this year. If you also like to make things in muffin shapes and you don't want anything to stick, this silicone muffin pan has been a real lifesaver in my kitchen. Everything pops right out!
9. Enamelware Basin– I use this as my junk bowl/compost bowl in the kitchen. I had a plastic one many years ago but it broke so this enamelware one has replaced it and it is DURABLE and pretty.
10. Timer Cube– I have two of these timers. One sits on my kitchen counter (I use it to time myself cleaning) and the other one sits on my desk so I can employ the Pomodoro technique while I'm working on my computer.
11. Nespresso Frother– My 3PM turmeric latte ritual is very important to me and this frother is to thank.

Favorite Outdoor Things:
1. Flexible Garden Hose– This incredible metal hose has been such a pleasure to use. It never tangles or crimps and it's lightweight and easy to put away. I love it!
2. SunHat Visor– I don't really like wearing hats but I do like visors I don't like the look of visors so THIS HAT DOES THE TRICK for me. I love that it's easy to roll up. I take it on the go when we have baseball games.
3. Fiskars Garden Tools Set – We all need a basic set!
4. Milwaukee Portable Heater– We got this during the pandemic so we could entertain outside and it's AMAZING. We also take it to really cold baseball games and put it in front of us to stay warm.
5. Milwaukee Pole Saw– Cutting down dead branches is my therapy. Casey got me this pole saw this year and I saved so much money doing tree cleanup myself!
6. Milwaukee Battery Powered Leaf Blower – I am obsessed with this thing. I actually looking forward to leaves dropping so I can have leaf-blowing therapy. It is so incredibly calming and EXTREMELY SATISFYING to blow leaves into piles. I highly recommend.
7. Hammock- If you've been turned off by the weave in hammocks (it hurts after a while! and leaves marks!), then you will like this one. You feel absolutely weightless and snug in your own private cocoon.
8. Milwaukee Weed Wacker– We live on a hill that gets a lot of tall grass that needs to be cut down. I get so much exercise doing this…and I save money. Win-win.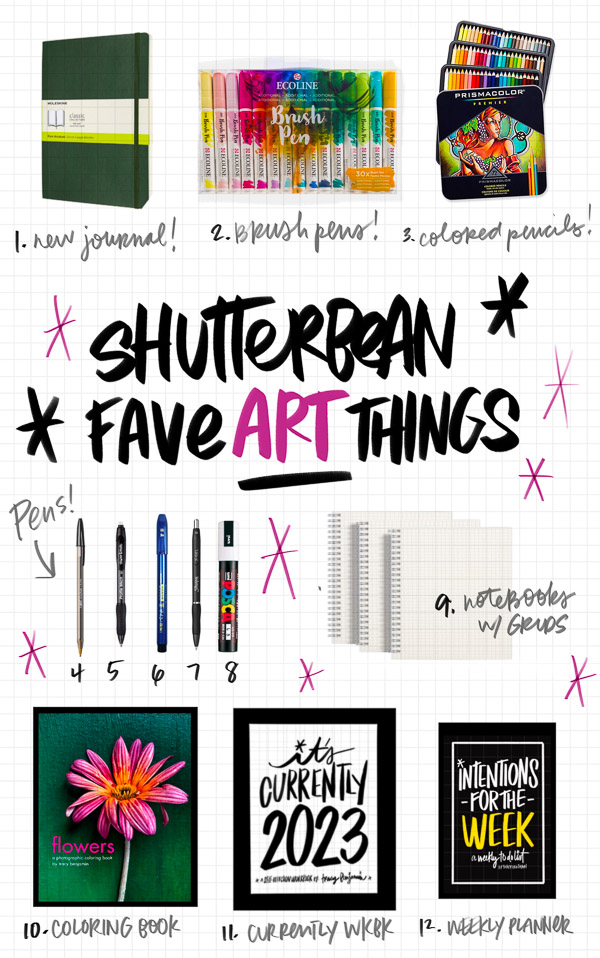 FAVORITE ART THINGS:
1. Moleskine Classic Notebook– I use one of these every year for my sketchbook/morning pages/journaling. A few years ago I accidentally ordered a green one and now it has become a tradition. A black notebook could easily get lost in my office.
2. Ecoline Brush Pens– I tried these at an art store and nearly CRIED because they are so inky and delicious. Buy them. You won't regret it!
3. Prismacolor Pencils- I will forever be in love with these pencils. THEY ARE THE BEST.
4. Bic Crystal Extra Bold Ballpoint Pen– My new favorite ballpoint pen! I LOVE THESE THINGS. They're nostalgic and inky!
5. Papermate Mechanical Pencils .7mm – Every year I find a new mechanical pencil I love. Bonus points for when they're inexpensive!
6. Zebra Brush Pen Fine Tip – I use this one to write in my currently workbook & intentions for the week planner.
7. Sharpie S-Gel Bold – My own child turned me onto these pens! I use them to write my morning pages.
8. Uni-Posca White Paint Pen– If you love writing on dark things, this pen is a dream. Super pigmented and doesn't lag.
9. Spiral Grid Notebooks – I write down my TO-DO lists on these notepads. I love them.
10. Currently 2023 Workbook– This is how I keep track of what happens every month! (here's a link for international shipping!)
11. Flowers Coloring Book – I've been using this coloring book to check in with myself at night! It helps me get through the sensation of wanting an alcoholic beverage at night.
12. Intentions for the Week – How I plan for my week!! (here's a link for international shipping)
If you need some light in your life…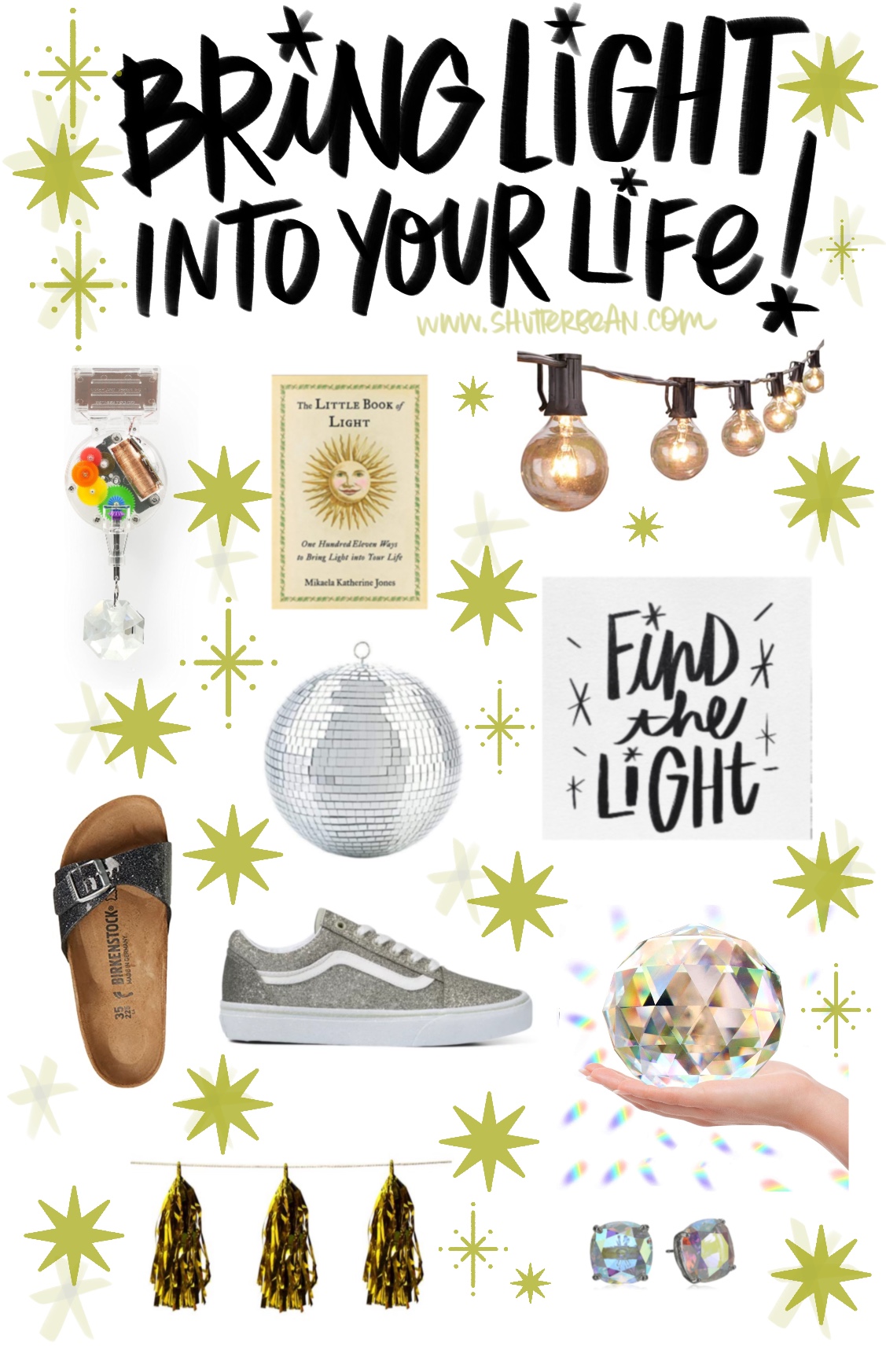 If you plan on doing any shopping online, you should sign up with Rakuten because you get cash back from your purchases. They also will give you the good promo codes for shops online. All you have to do is log in to your account, go through their website, and earn. They'll send you a check quarterly. A lot of big online retailers are on there, so I ALWAYS make sure to see if I can get cash back from a sale. Use my link and get $40 when you start using it!