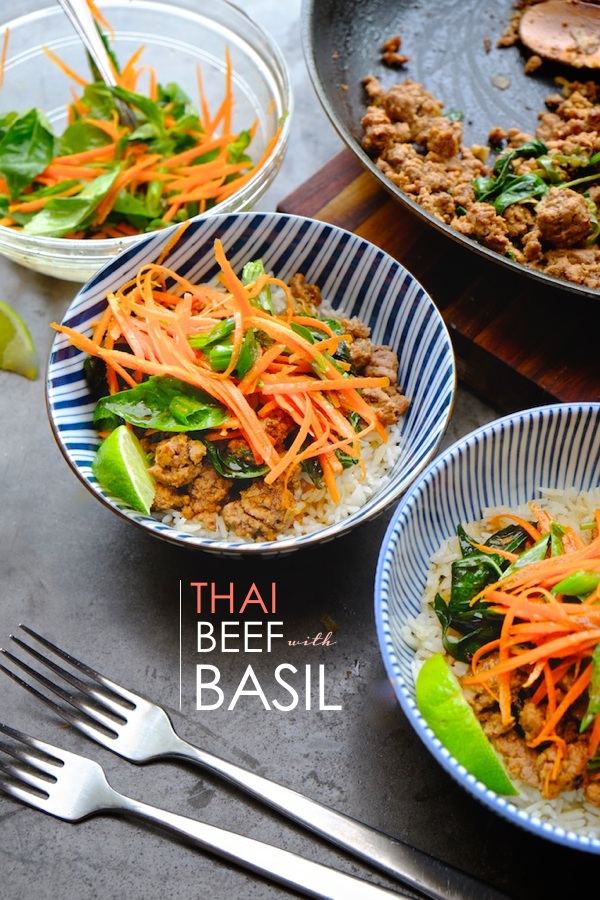 New recipe alert! Thai Beef with Basil!
My husband loves ground beef and I never choose to make it because there's something about breaking up bits of meat that bugs me. I don't know what it is, but I find it kind of annoying. It feels like it takes forever to break it all up…or maybe I just get particular on how uniform the pieces need to be? I might go as far to say that I dread it (dramatic!).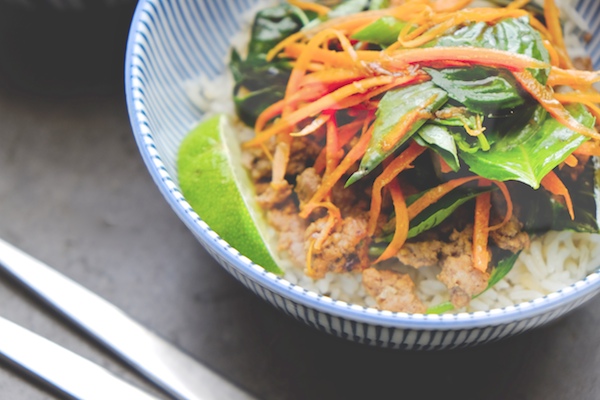 So, I've been slowly working ground beef into the rotation. Casey appreciates it and Cooper will eat it (only if I say it's steak).
I made this Thai Beef with Basil dish from Bon Appetit for dinner on Saturday and it went over really well. Of course, I had to pick out the basil and separate the carrots on Cooper's dish, but he gobbled it up like a champ. Casey said it was a winner.
I think it will probably be a part of our weeknight dinner rotation. It's pretty easy to whip up and I didn't even hate breaking up the beef. The point is to have a nice char on the meat, so it's kind of a set it and forget it situation. You can break it up really well towards the end.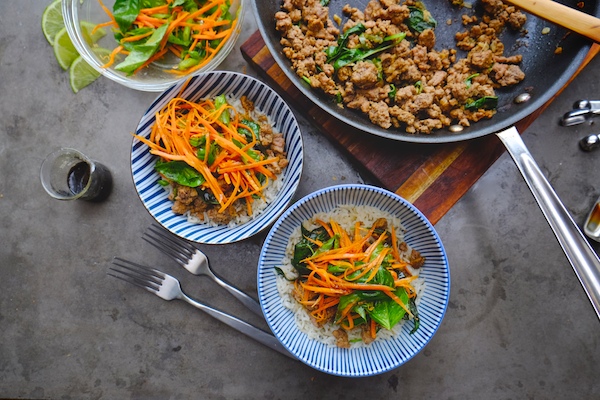 We have leftovers and I'm gonna reheat them for dinner tonight and top them with a crispy fried egg and a drizzle of sriracha. The big question I have is….. Why didn't I do that on the first go-round??
And we're off!
I forgot to put the jalapeño in the frame. Please forgive.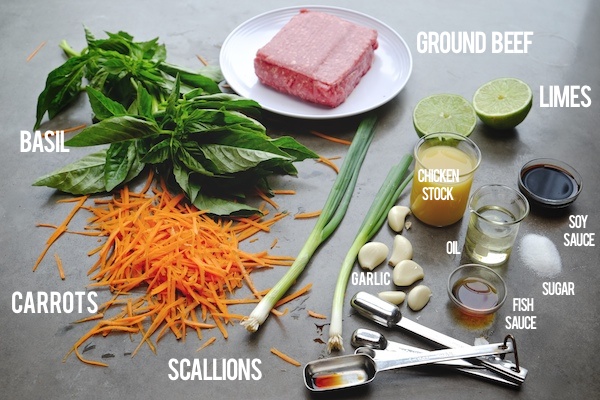 Slice the garlic!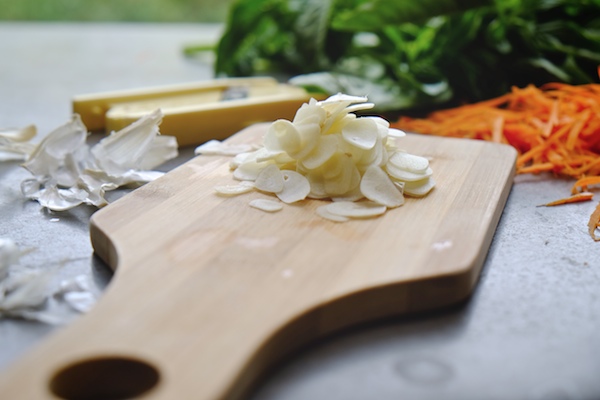 Slice the jalapeño. Take out some seeds if you want to go easy on the heat.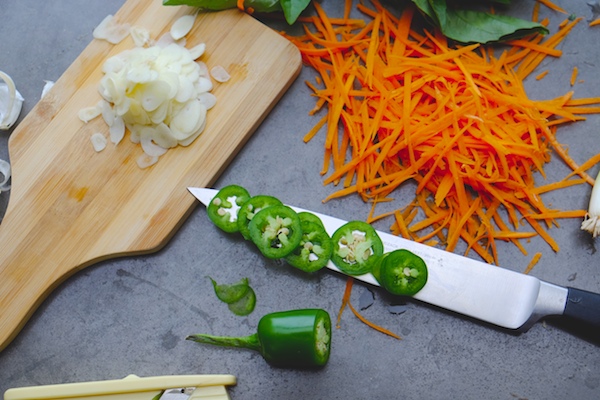 Jalapeño and garlic go into a pan with a little oil.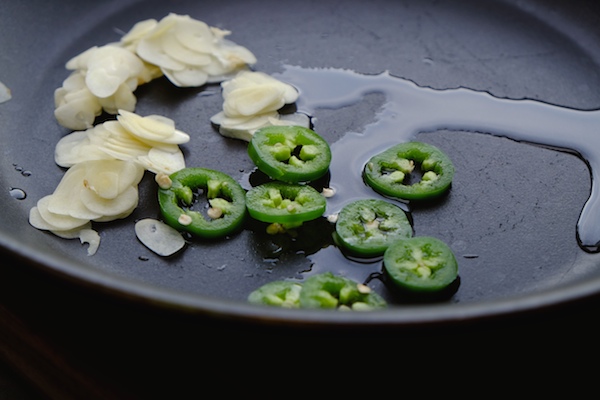 We cook it for 30 seconds…until fragrant.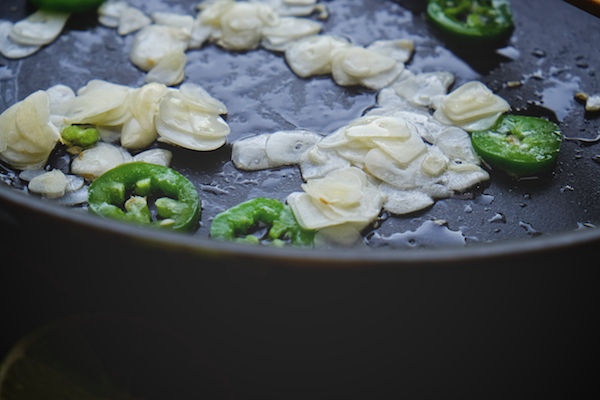 The part I dread…but really…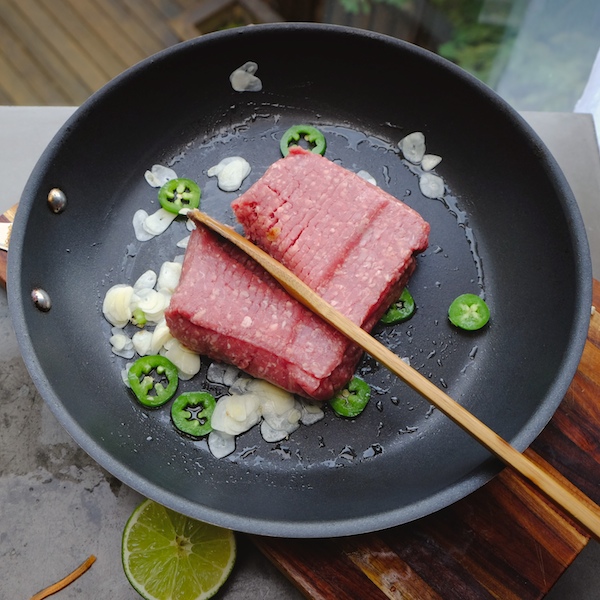 That gives us time to make our little carrot slaw: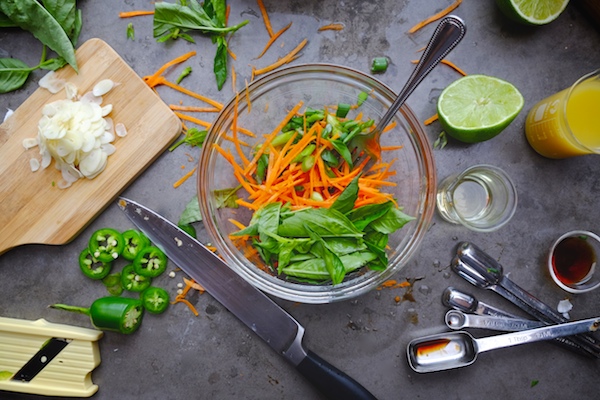 Ground beef gets cooked. Parts are nice and brown and crispy. The jalapeño softens and a few of the garlic slices get nice and crispy.
Now we add in the chicken stock. This moistens up the beef and imparts flavor.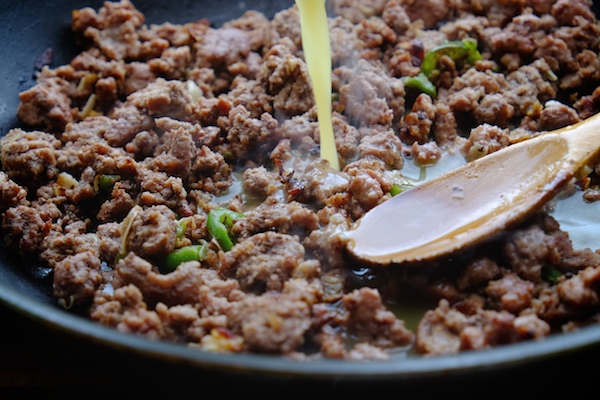 Hello BASIL. I wish I had Thai Basil but not this time.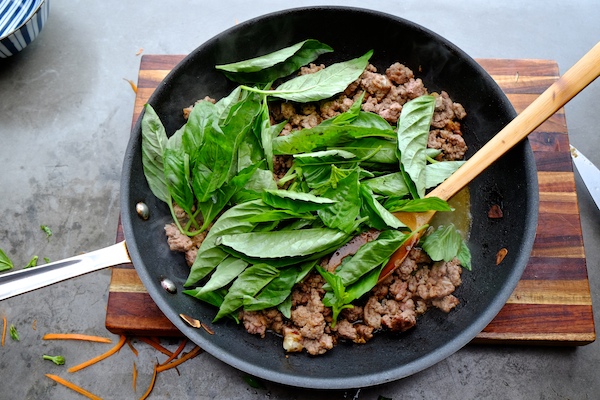 It wilts/softens and adds a nice fragrance to the beef.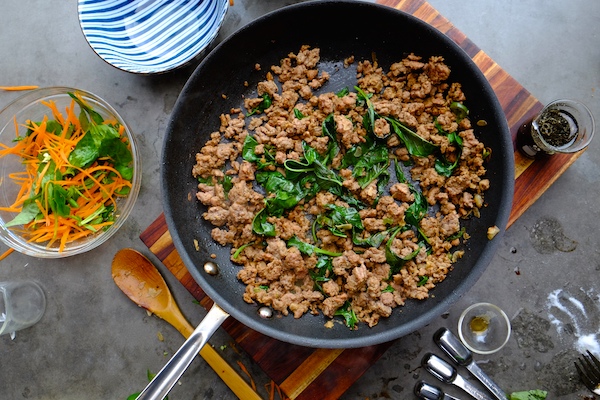 We combine soy sauce, fish sauce, lime juice and sugar to make our soy dressing.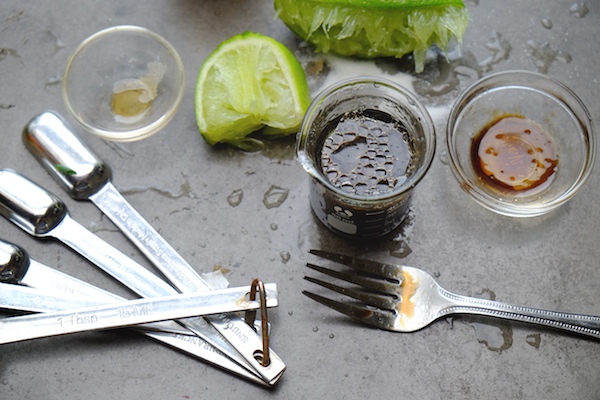 Spoon out some rice.
I made rice with my rice cooker and I used a combination of coconut milk and some chicken stock instead of water.
It turned out great!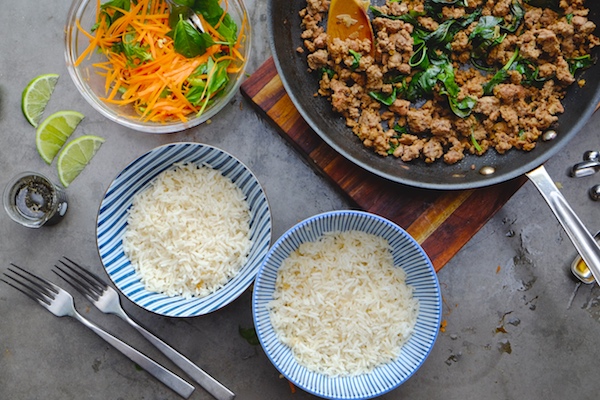 We spoon some of the Thai Basil Beef over the coconut rice.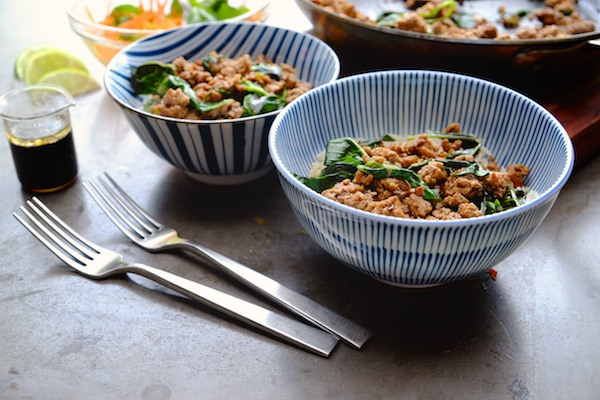 We pile on the carrot slaw and drizzle some of the soy sauce on top.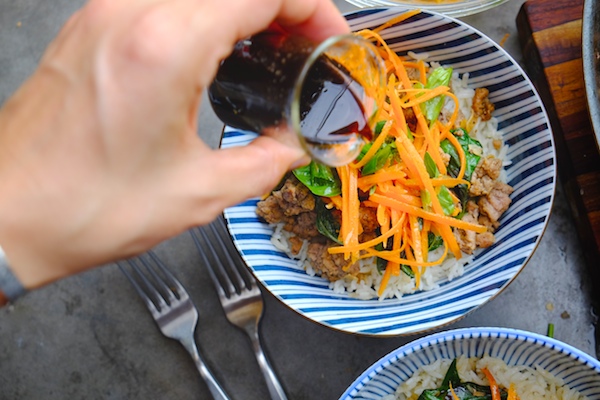 You could add a fried egg on top…or maybe some sriracha.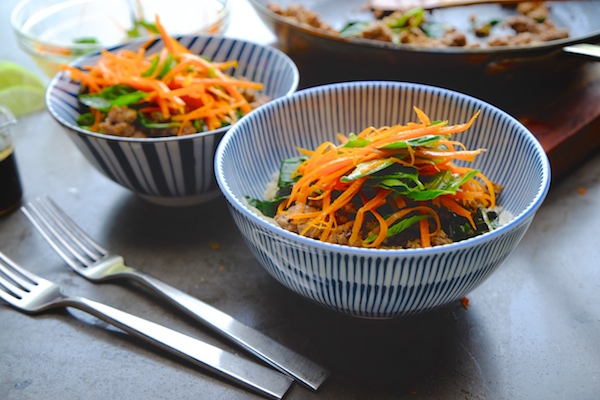 The warm rice and meat are cut with the cool carrots. I had two helpings… because I'm hooked.
Also- I've made a few Thai-inspired dishes in the past.
Check out this Chopped Salad with Tofu or this Thai Beef Salad with Herbs!
Thai Beef with Basil

serves 4

recipe from Bon Appetit Magazine

2 tablespoons vegetable oil, divided
6 cloves garlic, thinly sliced
1 jalapeño, thinly sliced (take out the seeds if you want less heat)
1 lb. organic ground beef
kosher salt & fresh ground pepper
1/2 cup chicken stock
3 cups fresh basil, decided
2 medium carrots, julienned & coarsely grated
2 scallions, thinly sliced (both white & green parts)
4 tablespoons fresh lime juice
2 tablespoons soy sauce
1 tablespoon fish sauce
1 teaspoon sugar
steamed coconut rice & lime wedges for serving

Heat 1 tablespoon oil in a lark skillet over high heat. Add garlic and jalapeño and cook until fragrant, about 30 seconds. Add beef, season with salt and pepper and cook, breaking up with a spoon and pressing down firmly to help brown, until cooked through and nicely crisped in spots, 8-10 minutes. Add broth and 2 cups basil leaves and cook, stirring until basil has wilted, about 2 minutes.

Toss carrots, scallions, 1 tablespoon lime juice, 1 cup basil leaves, and 1 tablespoon oil in a small bowl.

Mix soy sauce, fish sauce, sugar, and remaining 3 tablespoons lime juice in a small bowl until sugar dissolves.

Top rice with beef and slaw and drizzle with soy dressing. Serve with lime wedges.