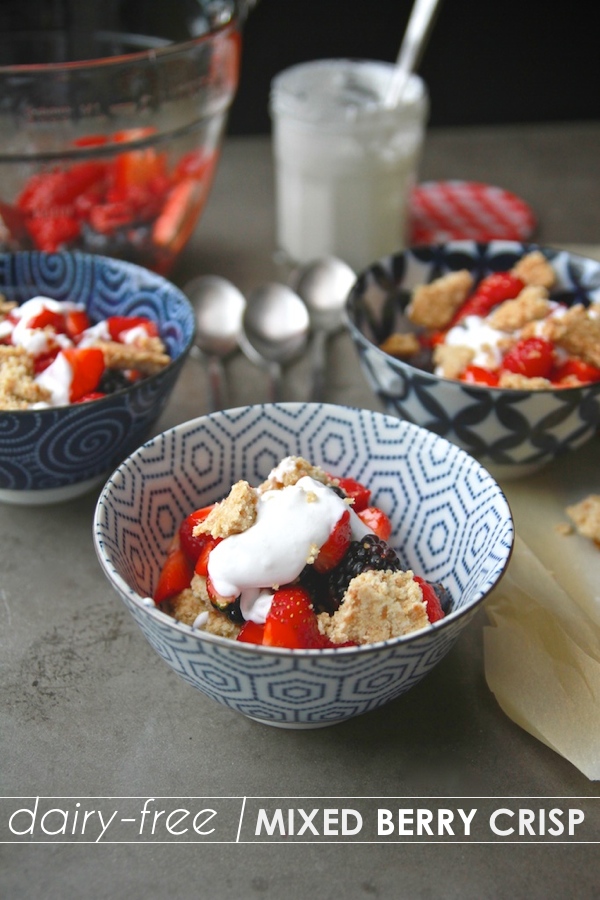 A few months ago my sister-in-law made some chocolate cookies that had a healthy dose of almond meal in them.  I thought they were incredible while my  husband and his brothers complained that they tasted "too healthy!"  Too healthy?? What?!  They tasted indulgent to me. It got me thinking… do I like desserts that taste healthy? If there are healthier substitutions in a recipe does it easily trick me into feeling OK with eating dessert?
Disclaimer: I sometimes have paralyzing food guilt.
(I'm working on it!)
When I substituted coconut oil for the butter in this recipe, I wondered if it was too healthy. But then I gave some to my dad, brother, and husband and two out of the three asked for more before they were done with their first helping. I guess we're cool then!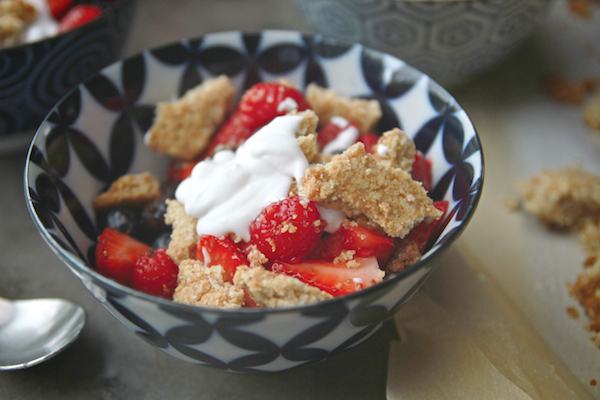 So here's this Dairy Free Mixed Berry Crisp for you!  It's super easy to make (because it's deconstructed!) and can be made well in advance. The berries have been mixed with balsamic and a small amount of sugar so they're bursting with juice. They're not baked!  When you spoon them into a bowl, the berry juice will saturate some of the crumbly topping. My mouth is watering just thinking about it.  The crumbly topping is slightly savory and nutty because of the almond meal. It mimics graham cracker crust but without the butter. Dollop some whipped coconut cream on top and you're GOOD TO GO. Dessert for breakfast. Breakfast for dessert.