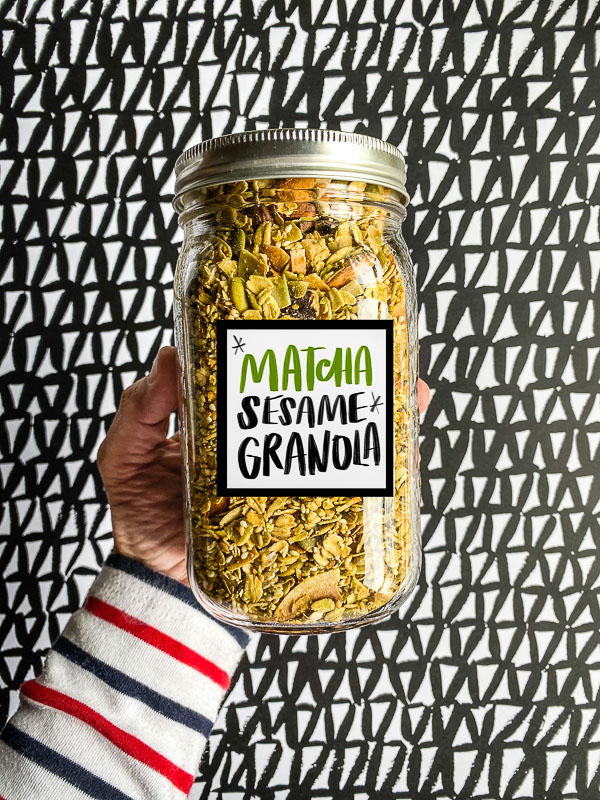 Granola therapy is needed this time of year. What is granola therapy?
It is the soothing act of:
mixing a bunch of ingredients
dumping said ingredients on a baking sheet
toasting them all til lightly browned
perfuming your house with sweet notes of oats & maple syrup
waiting for granola to cool
tasting bits of crispy coconut shreds laced with matcha
transferring granola to a jar
listening to every ingredient make its own symphony against glass
inhaling the bits that don't make it into the jar
you repeat the process a whole bunch of times
and have a HUGE payoff for minimal work.
That's granola therapy.
It's forgiving.
Just don't burn it.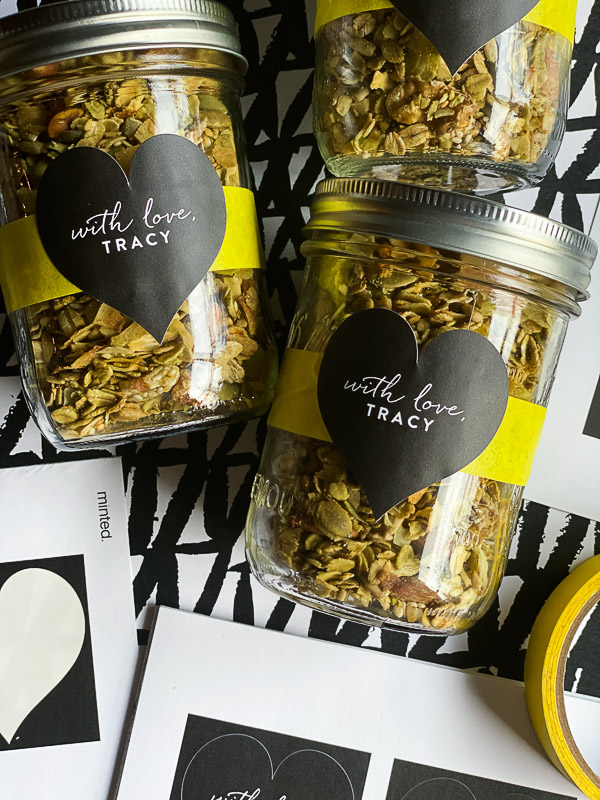 It's been a while since I've been wowed by a granola recipe. This Matcha Sesame Granola recipe is FANTASTIC! There's a bit of matcha powder mixed in. You can taste it most in the toasted coconut. It adds a nice floral tea note to the mix. What I like most is the combination of things added. I'm a sucker for coconut in my granola and I LOOOOVE sesame seeds as well.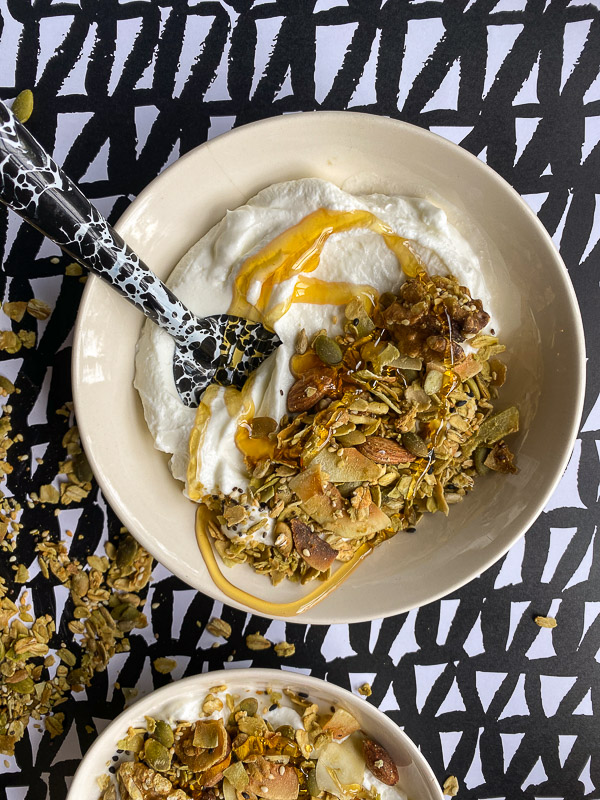 Making granola as gifts is a thoughtful gesture for your friends who simply cannot eat another cookie. You're giving your loved ones the gift of a healthy breakfast and during this time of year, that's GOLDEN.
Happy granola therapy to you! Make sure you save a bit for yourself too.
Ingredients are gathered.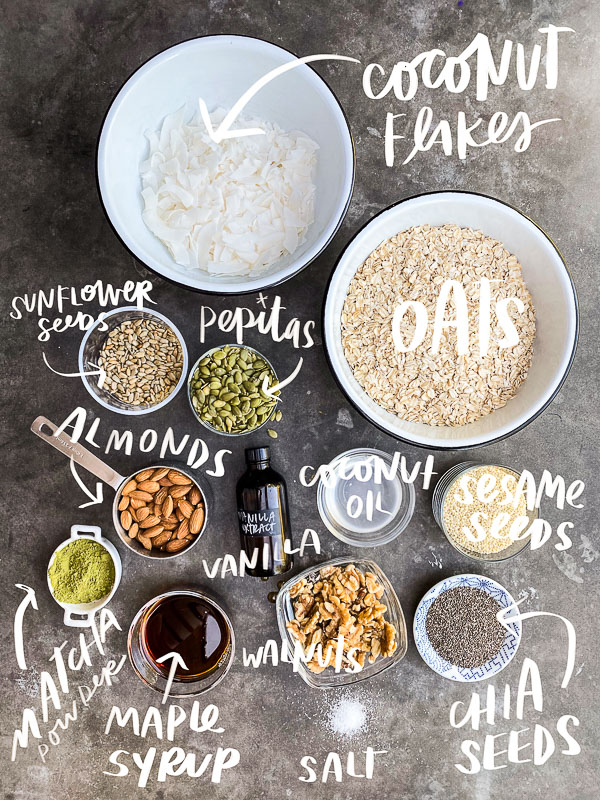 All the ingredients are tossed into my favorite bowl.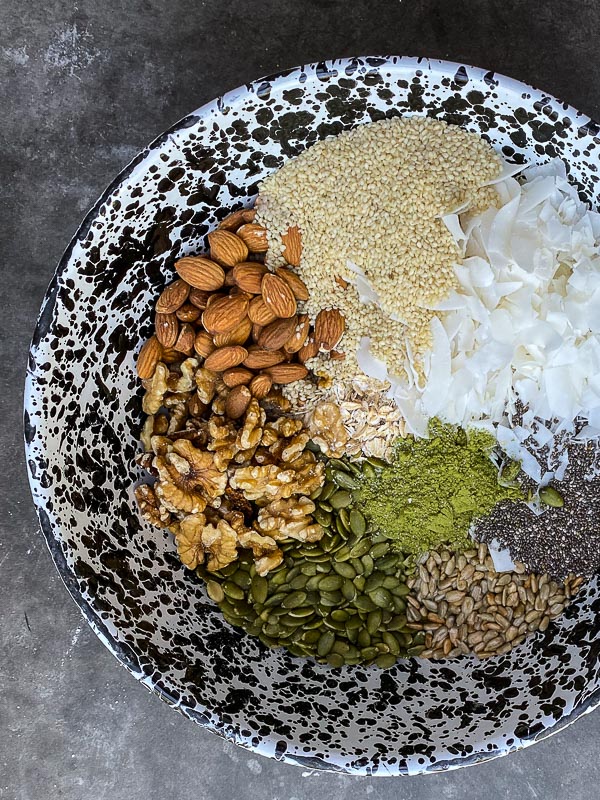 Maple syrup and coconut oil go in! STIR.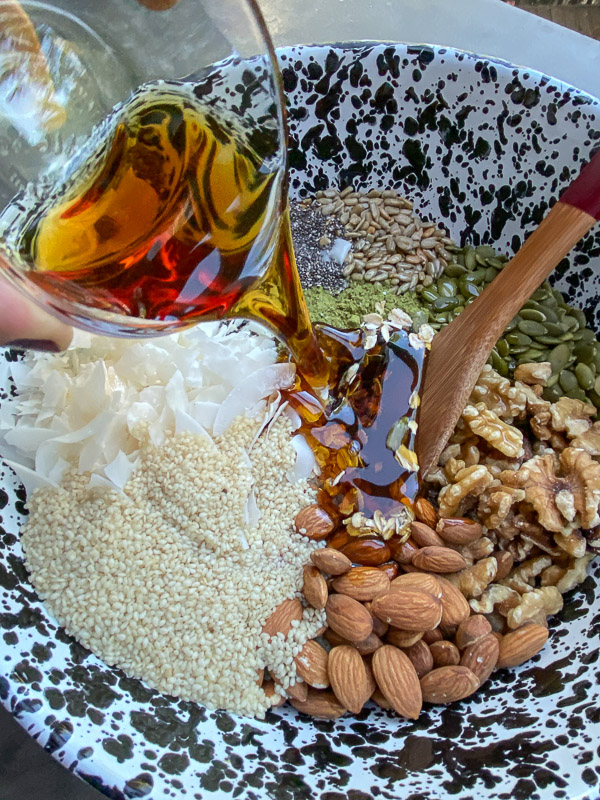 We stir to coat, transfer to baking sheets and bake!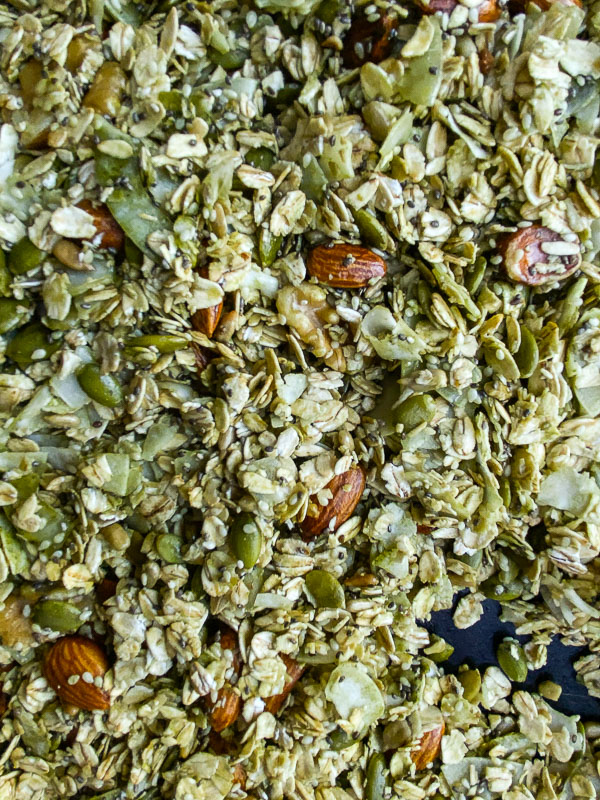 We remark on how some of the sesame seeds coat the walnuts and we call dibs on those pieces.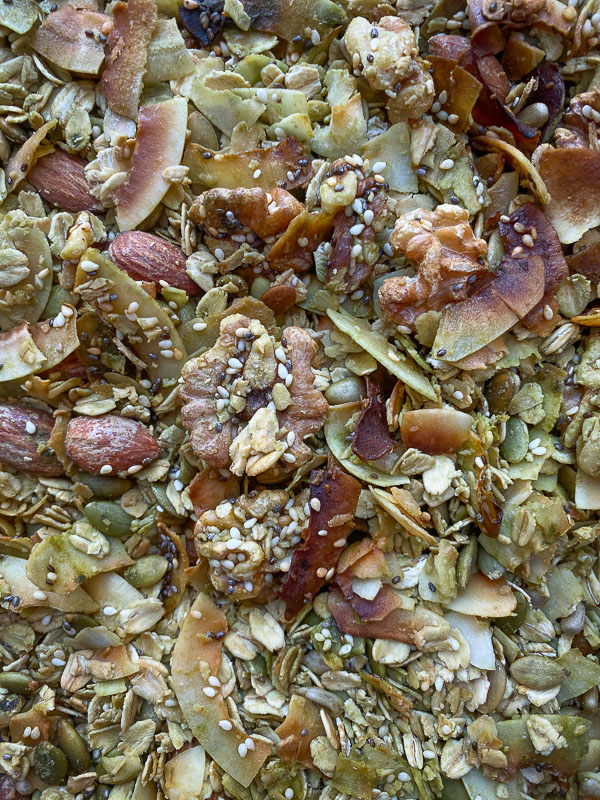 You'll have to get some mason jars to fill up!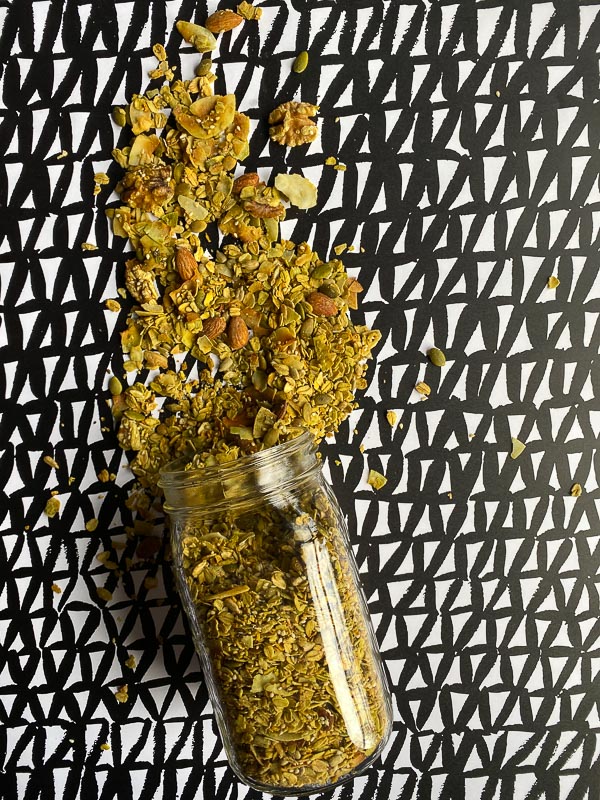 But first, try some.
Make yourself a bowl of yogurt with the granola and a drizzle of honey.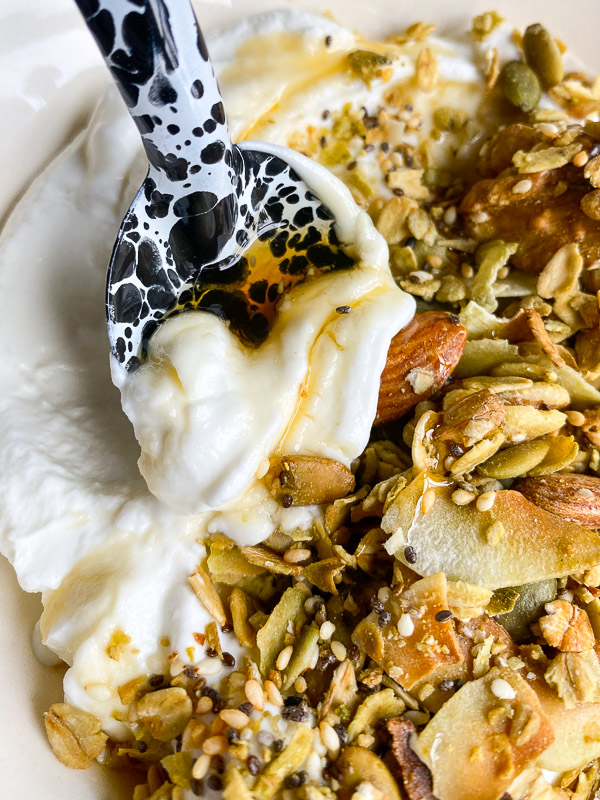 Package up the rest!
I'm using some custom stickers I ordered from Minted.
Aren't they cute? I like that I can use them all year long.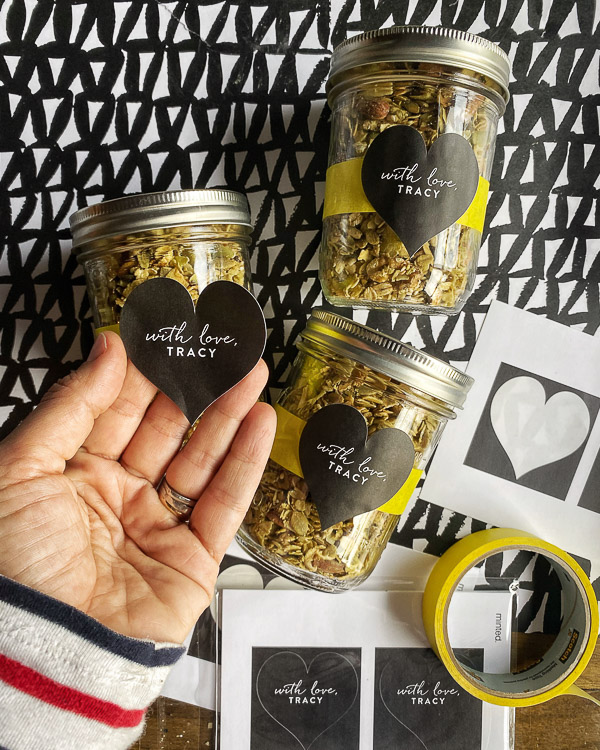 And if you have leftover granola, make granola cookies!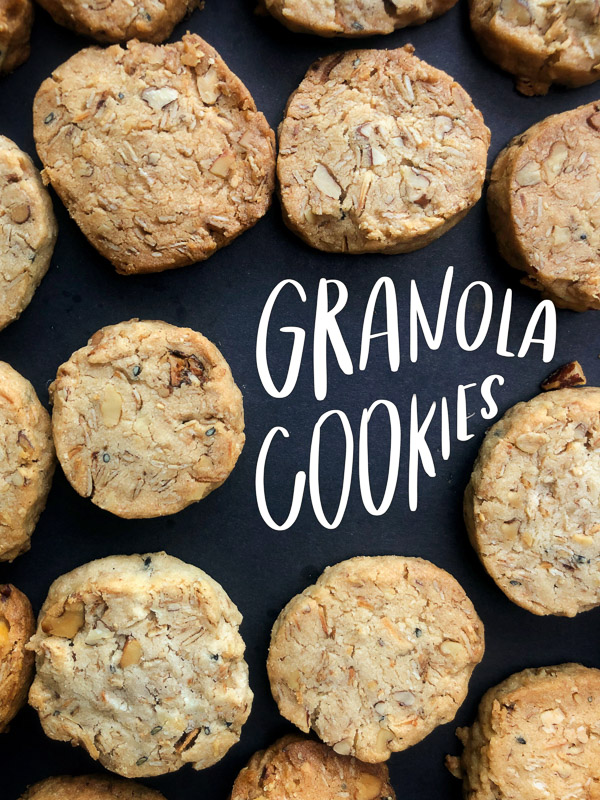 GRANOLA THERAPY FOR ALL.
Matcha Sesame Granola

makes about 15 cups

recipe adapted from Whole Food Cooking Every Day

5 1/2 cups rolled oats
4 cups unsweetened flaked dried coconut
1 cup whole raw almonds
1 cup walnuts
1 cup raw pumpkin seeds
1/2 cup raw sunflower seeds
1/2 cup unhulled sesame seeds
1/4 cup chia seeds
1/4 cup culinary-grade matcha tea powder
1 teaspoon kosher salt
3/4 cup maple syrup
1/2 cup melted extra-virgin coconut oil
1 tablespoon vanilla extract

Preheat oven to 300F.

Combine the oats, coconut, almonds, walnuts, pumpkin seeds, sunflower seeds, sesame seeds, chia seeds, matcha and salt together in a large bowl. In a small bowl, mix maple syrup, melted coconut oil and vanilla together until well combined. Pour the syrup mixture over the oat-nut mixture and mix well to combine.

Divide mixture between two baking sheets and spread out evenly. Bake for 15 minutes, then stir, rotate the trays, and return to the oven for another 15 minutes, or until granola is golden and fragrant. Store the granola in airtight jars for up to 6 weeks.