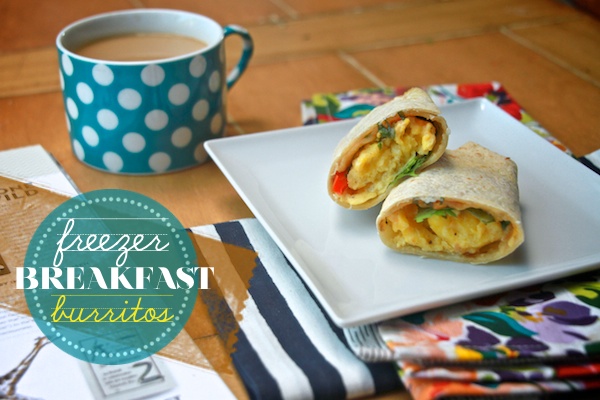 I just worked my way out of a breakfast rut thanks to these Freezer Breakfast Burritos.  I've been stuck eating toast & coffee for breakfast for the past two weeks. For a few days, avocado made an appearance on my toast (always welcome!). I also had a wild three day run of sunflower seed butter on toast (I love that stuff). But after awhile, it all gets kinda oooooold. If I have time during the week, I might make an egg… but that usually means I'll come home to a pan sitting in my sink, full of water and eggy residue. Not pretty. The protein of an egg really helps fill be me up before lunch time…which helps keep my snacking in check….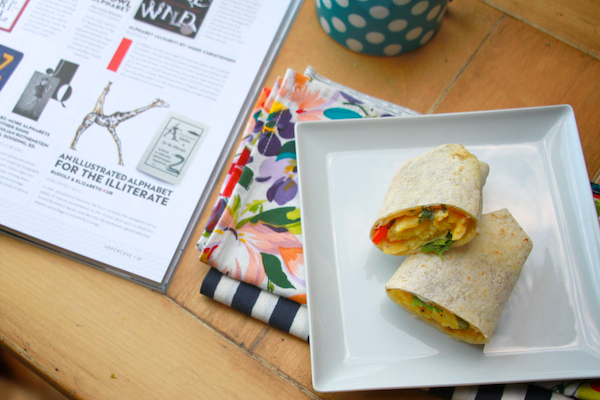 Cue this Freezer Breakfast Burritos sitch. What a way to turn it around! I'm a huge fan…but my husband is an even BIGGER fan. You know those pointy/spongy #1 fingers you get at baseball/football games? He might as well be wearing one of those when he eats one of these. And this recipe didn't have any meat in it! Wahoooo!
Two to three minutes in the microwave and a minute or two to let it cool off and breakfast is served! The best part is that you can put ANYTHING you want in them. Customize your own breakfast burritos! Make your own concoctions. Hide vegetables in them. Add chorizo. Put some sausage and bacon in. Make it all mushroom-y and spinach-y. Go crazy!  Breakfast/breakfast for dinner just got waaaay easy.
And we're off!
Ingredient gathering. I wanted a ton of veggies in my burrits. If you listen to the podcast, I don't need to explain the word burrit.
Totes burrit maj.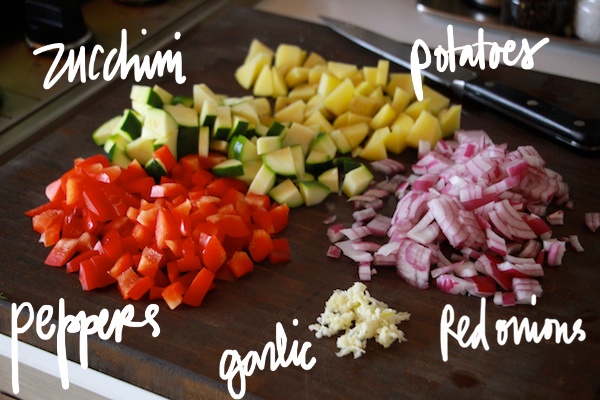 Zucchini and potatoes take a little longer to cook. They go in the skillet/pan first with some oil. Cook them.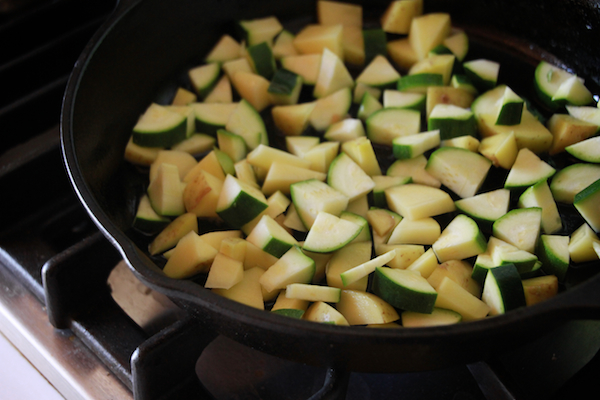 When they soften, add the peppers and onions. These two items burn/char faster than zucchini & potatoes.
That's why I waited to put them in. Life lessons.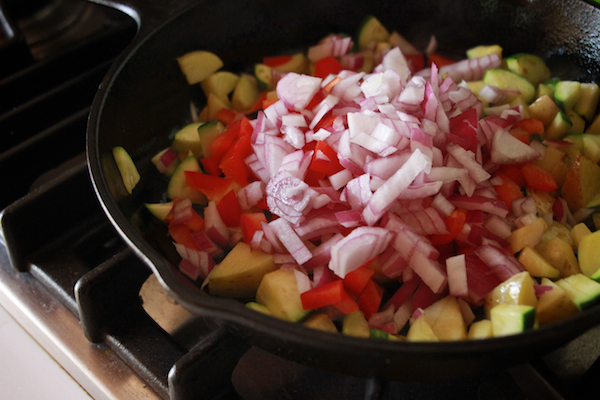 And once everything is cooked nicely, we add 2 cloves chopped garlic and cook for 2 minutes. Done.
More life lessons…burning garlic is the opposite of fun.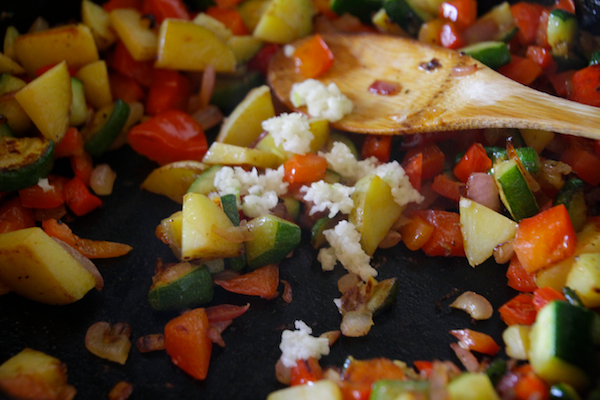 I should mention that hot sauce goes in this here veggie mix. Just a few dashes and some salt and pepper.
Boom.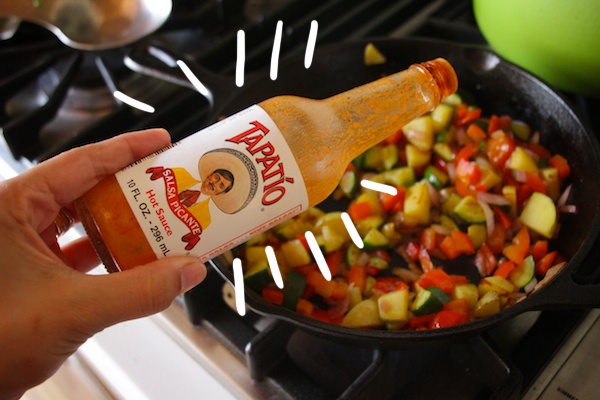 Eggs. We will need 12 of them. This averages out to 1 egg per burrit. Maybe that's why the husband eats 2…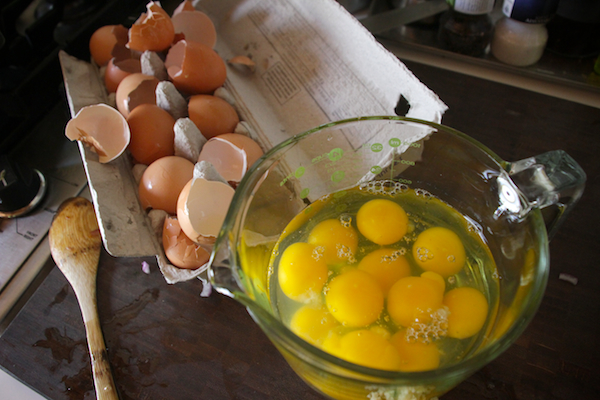 Take the vegetables out of the pan. Wipe the pan. Add the eggs in.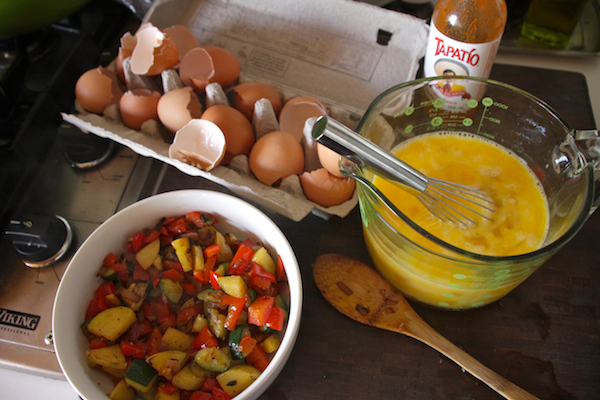 We're going to cook them to perfection. Not too much! Just so that they're set and still moist.
I know how you love that word…moist.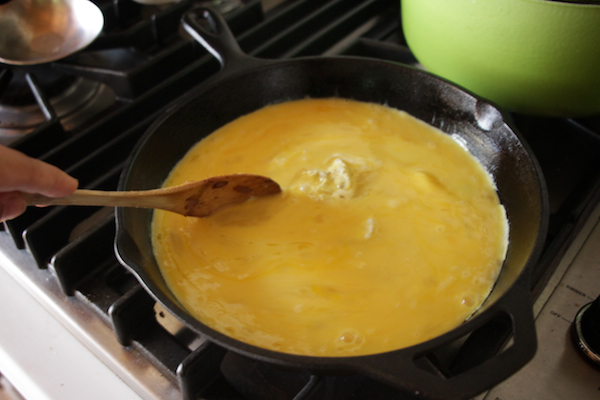 Now it's assembly line time. I always think of Henry Ford when I hear the words ASSEMBLY LINE.
Thank you, Henry Ford.
So, look at what I have here. All the good stuff.
I heated up the tortillas in a damp towel in the microwave so they would be pliable for burrit-making.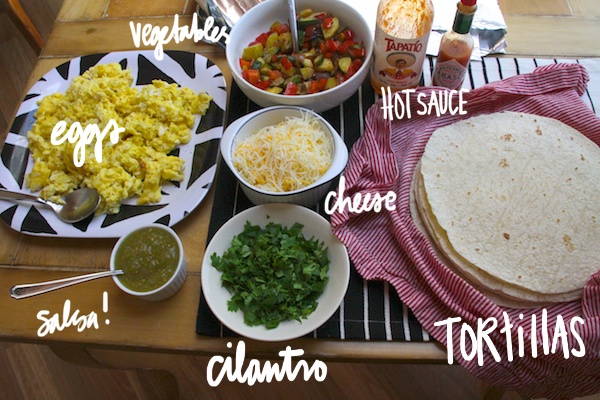 Layer on some egg, vegetables, cilantro, cheese, salsa & hot sauce. The trick is to go a little heavy on the salsa. If you're a little heavy handed then the eggs will not overcook. They'll steam up quite nicely in the microwave and still retain their moisture.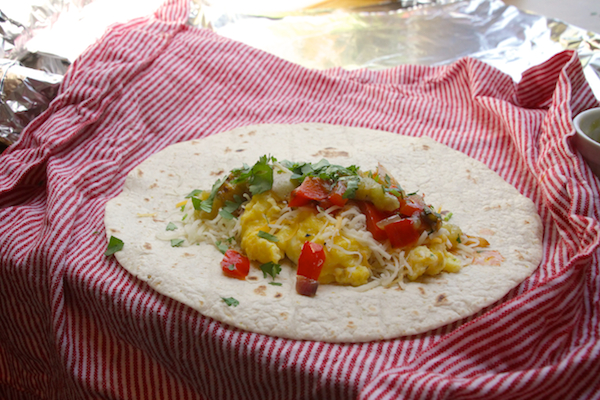 Roll it up!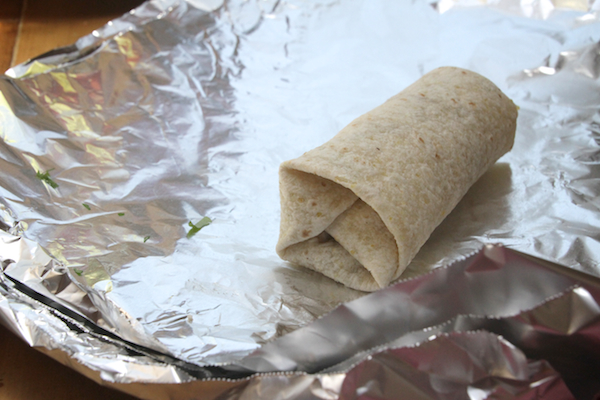 Wrap them up in foil.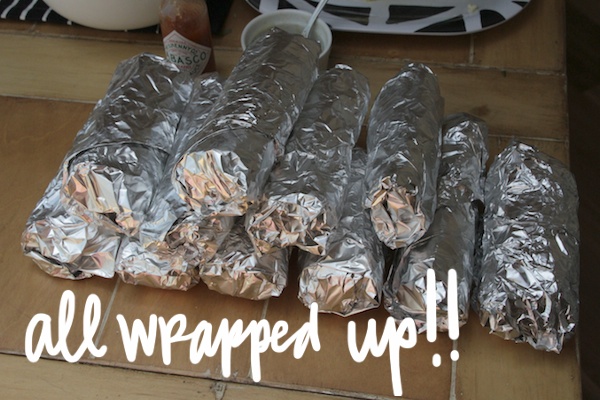 Put them in a bag.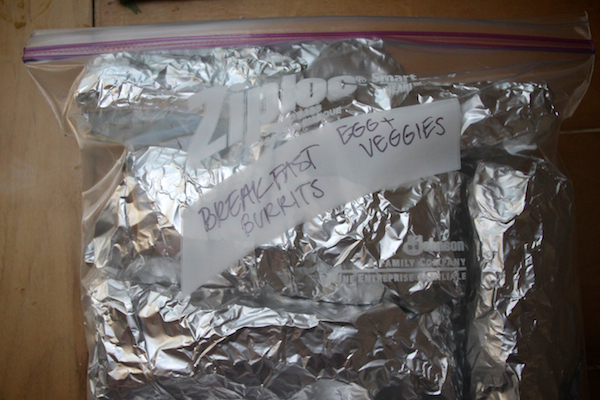 Heat them up in a microwave! DONE.
Here's an action shot.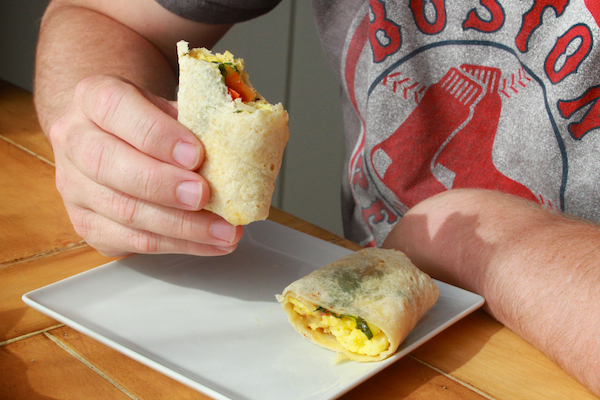 I'm totes gonna get Casey one of those #1 hands. It might have a Red Sox logo on it…
Oh! I did regular freezer burritos once. Remember those???
Freezer Breakfast Burritos

makes about 12

1 zucchini, chopped
2 medium Yukon gold potatoes, peeled & chopped
2 red bell peppers, chopped
1/2 red onion, diced
2 cloves garlic, chopped
salt & pepper
hot sauce
12 large eggs
12 flour tortillas

Additional toppings:

1 1/2 cups shredded cheddar cheese
1/2 cup green salsa (use your favorite kind!)
1 cup fresh chopped cilantro
hot sauce

In a medium skillet/pan heat 2 tablespoons olive oil over medium high heat. Add the zucchini and potatoes and cook for 8-10 minutes,  stirring occasionally until potatoes soften. Add the red onions & bell pepper and continue to cook for 5-7 minutes until all the vegetables are cooked through. Toss the vegetables with garlic, season with salt, pepper & a few dashes of hot sauce and cook for 2 minutes. Transfer sauteed vegetables into a bowl, clean out skillet and add 1 tablespoon of olive oil. Pour the eggs in and scramble until set, about 4-5 minutes. Set aside eggs.

Wrap tortillas in a damp cloth and microwave for 1 minute.

Place a spoonful of both eggs & vegetable mixture in your tortilla, add a sprinkle of cheese, a dash of hot sauce, a spoonful of salsa and fresh cilantro on top. Roll each burrito tightly and cover each one in aluminum foil. Place burritos in a freezer safe bag. They should last in the freezer up to 3 months.

To reheat burrito, unwrap the aluminum foil, wrap burrito in a paper towel and microwave for 2-3 minutes on high. If using an oven, 350F for 10-15 minutes should do the trick!