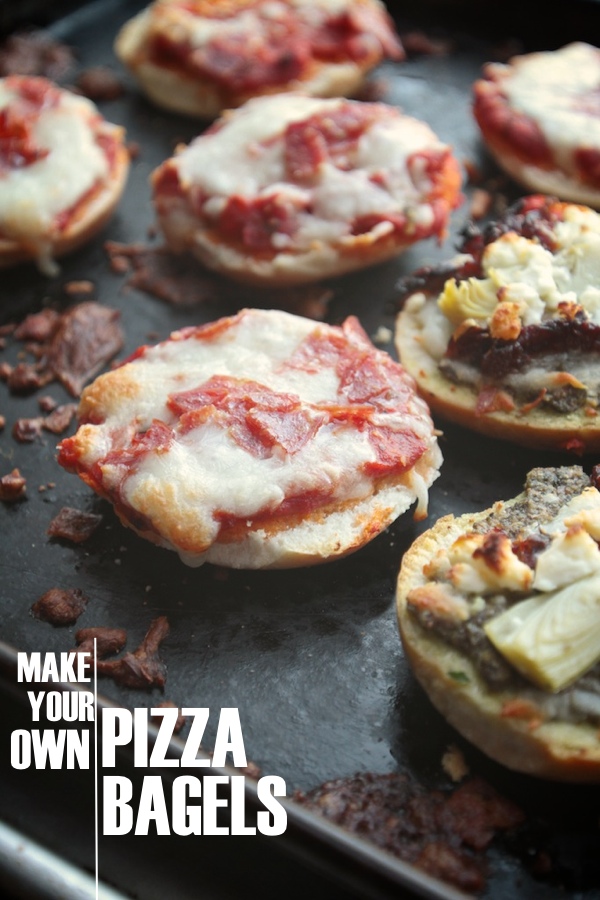 New Post- Homemade Pizza Bagels!
My niece was visiting this summer from Massachusetts (Hi Cam!) and we were having a conversation about what she likes to eat and I was surprised to find out that pizza bagels were high up her list. Pizza Bagels! I totally forgot about pizza bagels. How could I forget about pizza bagels??!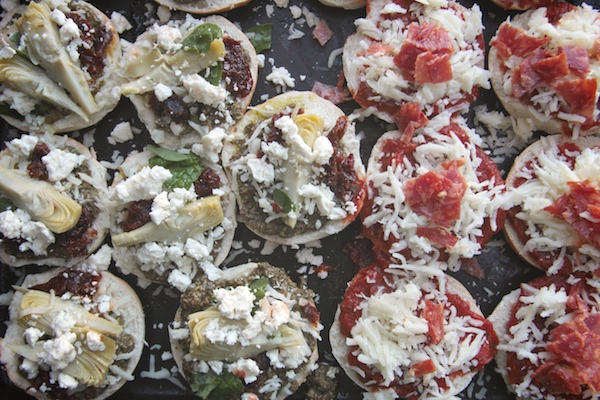 In the attempt to create an easy/make ahead meal that's great for school lunches, I bring you PIZZA BAGELS. Much like my freezer burritos and breakfast burritos recipes, these pizza bagels are great to have in your weeknight arsenal. They're a freezer staple! They're also good for those nights when Casey and I want to eat food Cooper doesn't like. I'll just throw a few of these pizza bagels in the oven and he's easily taken care of.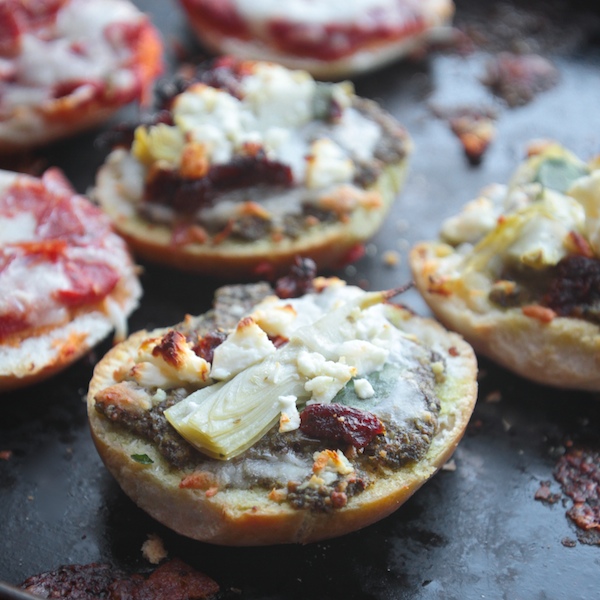 Don't feel like making a whole pizza? Don't feel like cooking…really? Just take out a few pizza bagels from the freezer, heat up your oven and 14 minutes later dinner is served. It's all so simple. Crunchy, doughy, bite-sized goodness.
I split this batch into two different types of pizza bagels because I'm not a huge fan of pepperoni like Cooper is. I do love a good Greek Pizza so we both have our favorites.
Pizza bagels are now filed under: WEEKLY MEAL PREP IDEAS and Lunchbox Favorites, and good for Football Season Bites!
And we're off!
Gather our ingredients. Really…you can do whatever you want!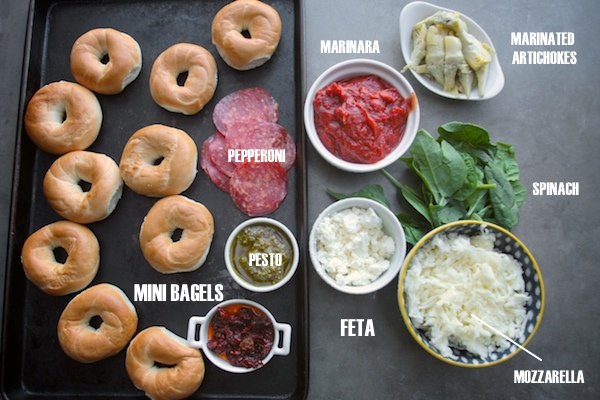 Slice up your bagels. I got mine at Trader Joe's. So convenient.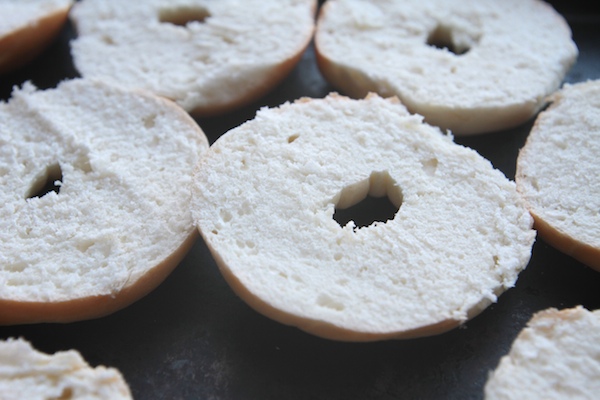 To prevent hot marinara and cheese dripping through the bagel hole and onto your hands/lap/whatever, I cut up a little pepperoni slice and covered the bottom of each half.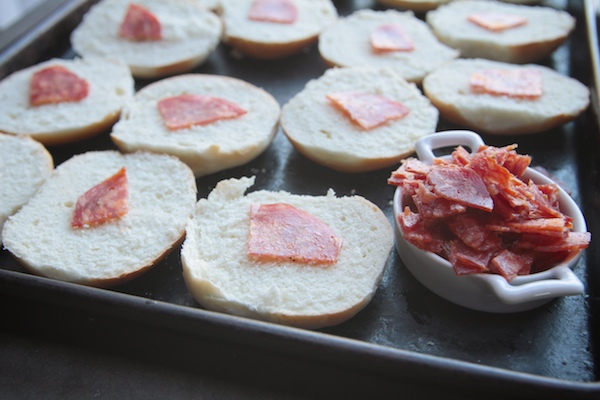 For the Greek pizzas, I used a piece of spinach.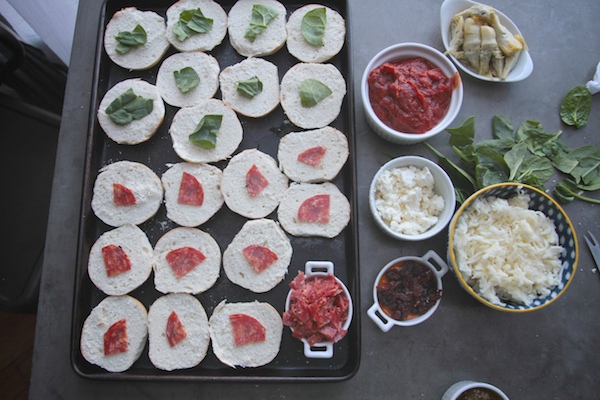 Mozzarella & pepperoni on top of half of the batch.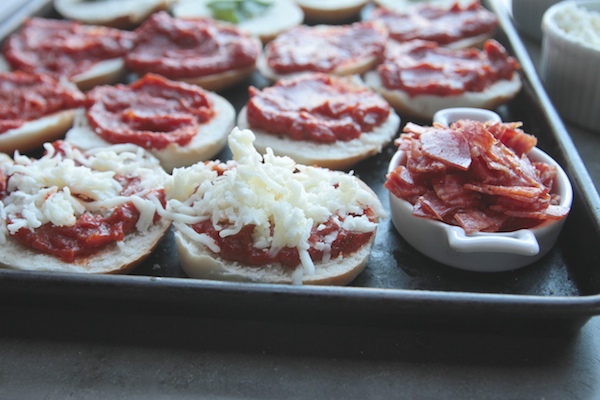 Spinach down. Pesto on top of the Greek version. I suppose we should call it Mediterranean.
Let's not get technical…they're BAGELS.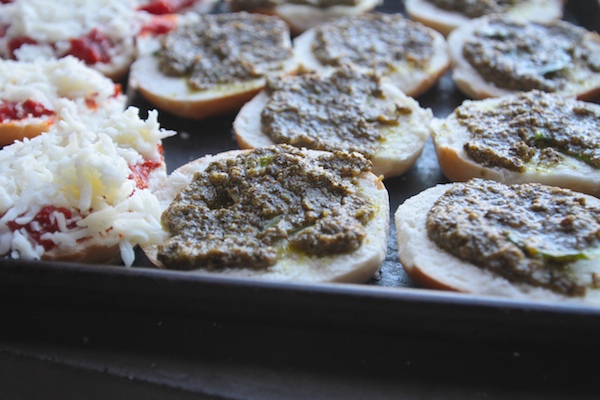 We top with more spinach, mozzarella, feta and artichoke hearts. Top with sun dried tomatoes.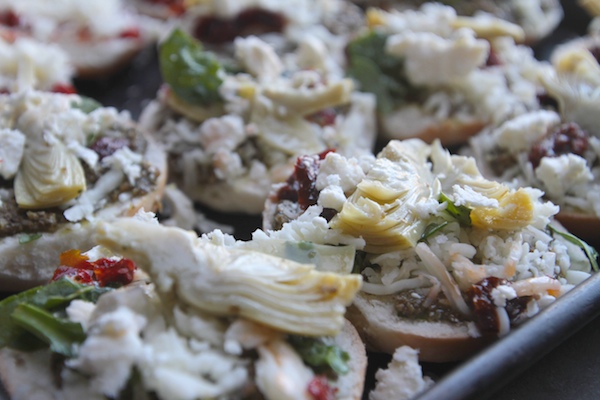 We have a batch ready to go into the freezer.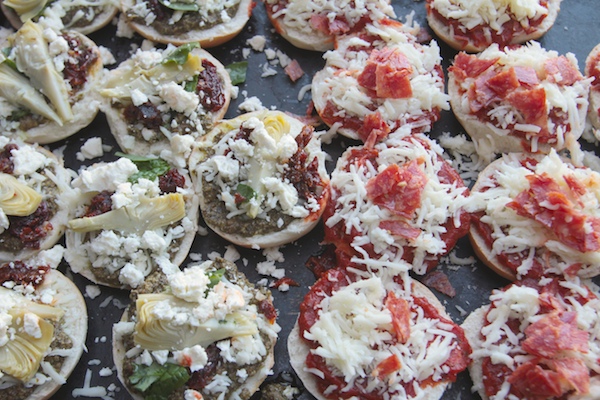 Wrap it up! I assembled these on a baking sheet. It helps to push the topping down into the bagel.
This will prevent toppings from falling off.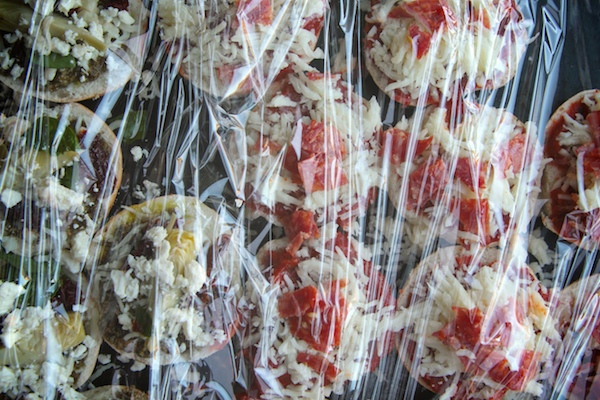 Freeze them for a couple of hours before you package them up.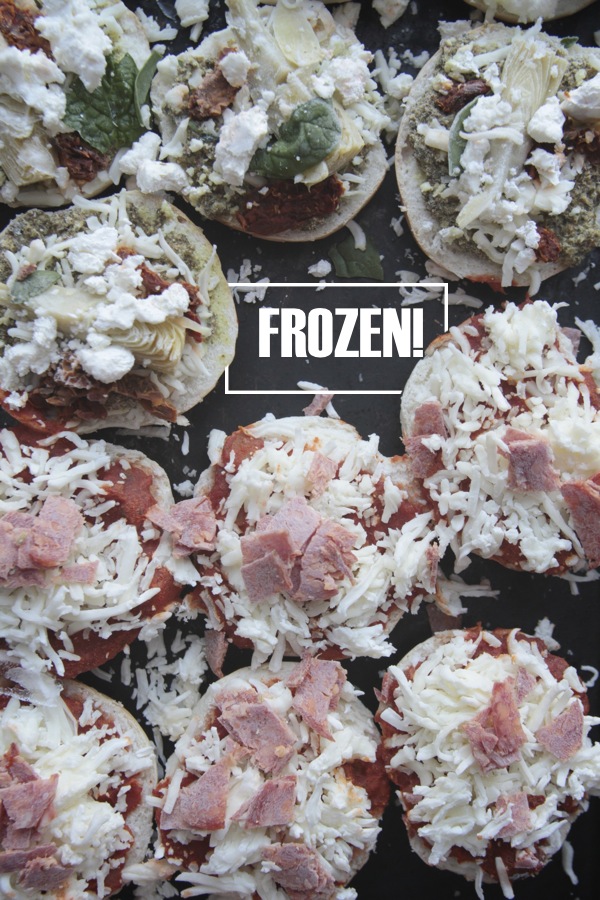 Off to the freezer. Write the date on your package of pizza bagels.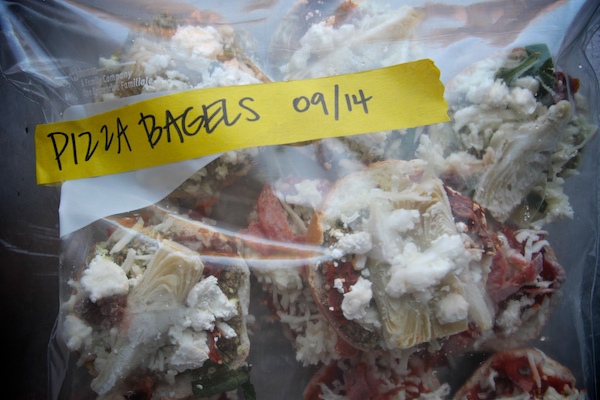 Pull some out of the freezer and bake! MAGIC HAPPENS.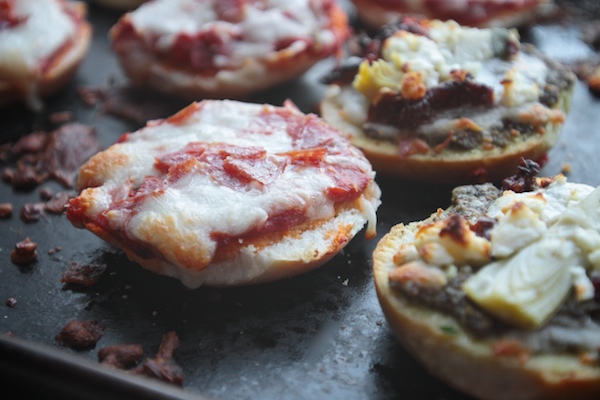 Make your life easier and MAKE SOME. I promise that your future self will thank you.
Homemade Pizza Bagels

PEPPERONI PIZZA BAGELS

makes 10

5 mini bagels, sliced in half
1 cup marinara sauce
1 1/4 cups shredded mozzarella
8 slices pepperoni, divided

Finely chop 6 pepperoni slices and set aside. Take 3 slices pepperoni and cut into quarters. Lay sliced bagels out on a baking sheet for easy assembly. Place a quarter slice of pepperoni over the hole of each sliced mini bagel. Top with 1-2 tablespoons marinara sauce, followed by 2 tablespoons mozzarella. Finish each bagel with about a tablespoon full of chopped pepperoni. Cover bagels with plastic wrap and freeze for a minimum of two hours. Remove from the freezer and wrap tightly in freezer bags. To bake, preheat oven to 400F. Cook pizza bagels on a baking sheet for 14-15 minutes, until cheese is bubbling and edges are golden.

GREEK PIZZA BAGELS

makes 10

5 mini bagels, sliced in half
1 cup pesto
13 spinach leaves
1 1/4 cups shredded mozzarella
1/4 cup crumbled feta
10 marinated artichoke hearts
3 tablespoons chopped sun-dried tomatoes

Lay sliced bagels out on a baking sheet for easy assembly. Place a small piece of spinach over the hole of each sliced mini bagel. Top with 1-2 tablespoons pesto, followed by a whole spinach leaf. Top with 2 heaping tablespoons of mozzarella and finish each bagel with 1 artichoke heart, a sprinkle of feta cheese and sun-dried tomatoes. Cover bagels with plastic wrap and freeze for a minimum of two hours. Remove from the freezer and wrap tightly in freezer bags. To bake, preheat oven to 400F. Cook pizza bagels on a baking sheet for 14-15 minutes, until cheese is bubbling and edges are golden.

**If you plan on making pizza bagels from fresh/not frozen pizza bagels, reduce cooking time to 10-12 minutes.**