It's pretty obvious that I'm a big fan of Trader Joe's. No, they didn't sponsor this post. They did give me a bunch of raffle tickets for using my own bags yesterday. One day I will win that raffle. ONE DAY!

Because I'm somewhat obsessed with shopping at Trader Joe's, people always tweet me asking what they should get when they're going to a Trader Joe's & they've never been before. BTW-I think it's so awesome that some of my Canadian friends make special trips across the border to stock up on items. Love it! Canada deserves their own Trader Joe's. For real.
This is the post I will reference when someone asks what they should stock up on.
These are my favorite Trader Joe's Pantry Items: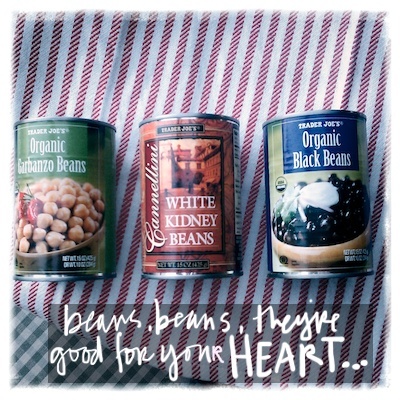 Beans. They can be the base for most meals. I make sure to stock our cabinets up with them. At my Tj's they're sometimes less than a dollar or maybe just a little over. They make it into my cart almost every single trip even if I don't need beans. Two of my staple recipes are Black Bean Tacos or Tuna & White Bean Salad. They all start with beans!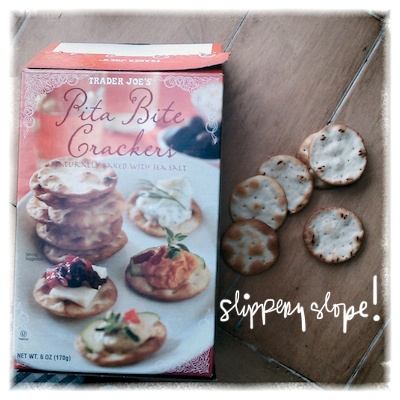 You look at this box and you think "Hmm! I could totally serve these at a party. Oooh! I should have a party. They even gave me 4 different appetizer suggestions on the box!" Then all of a sudden your "party" is a party of one on the couch …where you're eating every last cracker even though you promised yourself only a handful and now you can't possibly be stopped. These are dangerous….AND SOOO GOOD. Consider yourself warned….and you're welcome.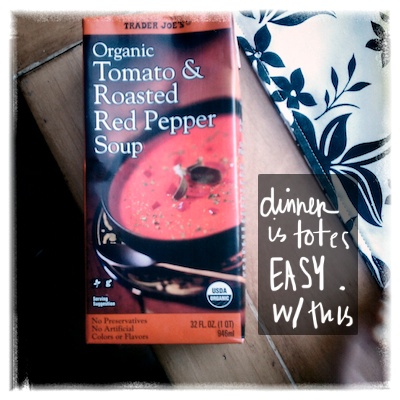 I've always loved this soup. I've tried just the TJ's plain tomato soup and it doesn't compare. There's something about the red pepper in it that makes is a winner for me. When I come home from work and Casey asks what's for dinner and I don't feel like cooking much, I heat up this soup (with a few added spices and fresh basil if I have some). Sometimes I add a sprinkling of cheddar cheese up in. It's gooooooood.  I also make us grilled cheese sandwiches on sourdough bread because it instantly makes my husband's day better. Good wife-ing.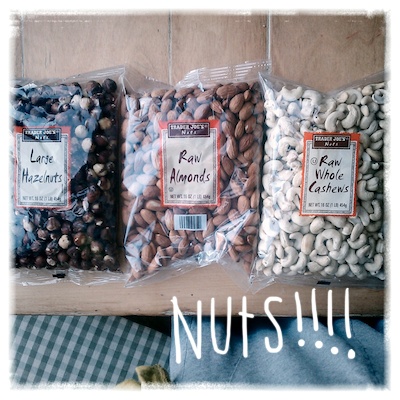 NUUUUTS. Can I be frank with you? I'm CHEAP. Buying nuts in bulk is usually expensive. I like buying my nuts at Trader Joe's. I always have and always will…until I find a cheaper alternative near me.
Plus they always have every nut I need.
You best believe all the nuts in these Honey Nut Squares came from Trader Joe's!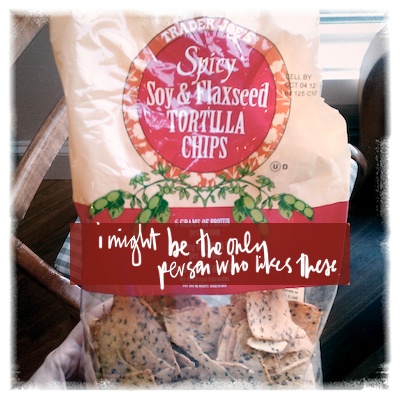 I feel like I might be the only person who likes these chips. But that can't be…because they keep making them. I know I am the ONLY person in my house that eats them. For a week Cooper LOVED them and now he considers them "TOO SPICY." The nerve. Now when I finish a whole bag, I only have myself to blame.  I think I was introduced to these chips when I was low carb living. They have tons of fiber, which helps cancel out carbs (or something!). I like my chips to have polka dots (aka flaxseeds). When Mondays are tough, I throw cheese on top of a pile of them and call them nachos.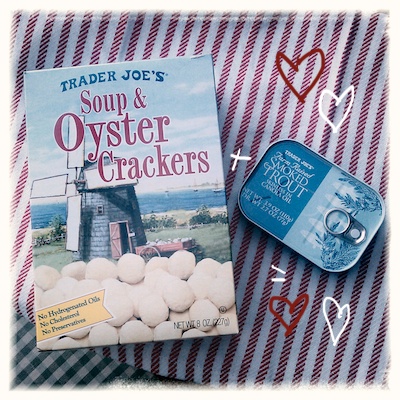 Oyster crackers. Nuff said. Cooper loves them. Smoked Trout! That's my new favorite thing. I bought them once because I saw a potato salad recipe that called for smoked trout. I didn't make that potato salad for some reason (lazyness?) and one night I opened up a can of smoked trout and proclaimed it dinner. Sometimes I open up two cans (one for me, one for Casey) add some crackers and say "DINNER IS SERVED!" This is real life.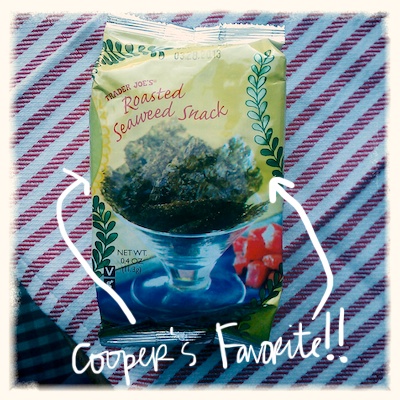 We went to a birthday party a few months ago and Cooper was introduced to these seaweed wrappers. He LOVES them. This and Kale Chips are the only green things he will eat. It's always interesting to see how big of a mess Cooper can make while eating them.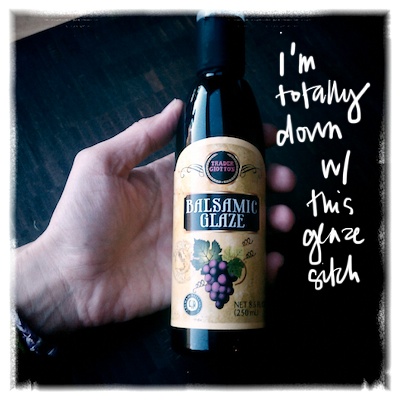 For the past few years, I've been buying really pricy balsamic reduction (I know, I could totally just make it!) so when I ran out and saw this at Trader Joe's recently, I had to try it. It's good, people. The best part is that a couple of drops on a cucumber made Cooper eat three cucumber slices. When I make this Strawberry Goat Cheese Bruschetta again, I'll use this reduction.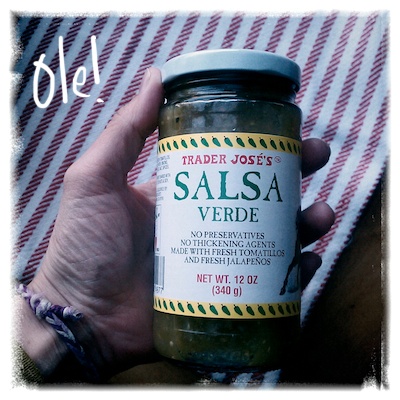 This green salsa is a staple. When I'm making tacos on the fly, I usually will pair Trader Joe's corn tortillas, carnitas, onions & cilantro. Sometimes I add feta if I have some in my fridge. Whatever, I know it's not Mexican. It tastes good. It's an easy/satisfying dinner. I'll also take the carnitas from TJ's and bake it in the oven in a casserole dish with this salsa. I add a little bit of rice, beans & cheese on top and broil it until all the cheese is crispy on top. NOM.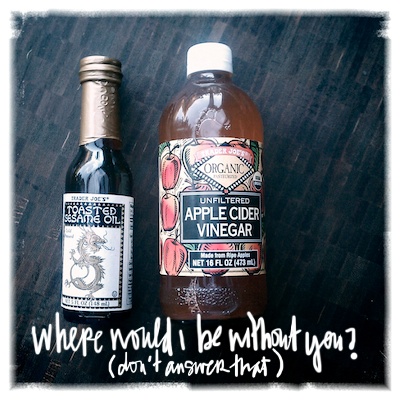 If you've been on my blog for a long time, you know that I love recipes that include sesame oil.
This Kale Salad would be NOTHING without this sesame oil.
Also.
This apple cider vinegar makes this potato salad possible!
Hooray for staples.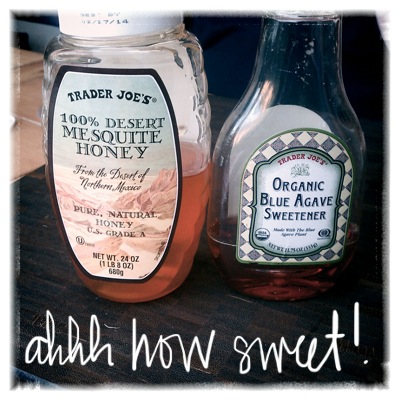 Honey and agave can be expensive other places. At Trader Joe's they're totally accessible.
I once had to buy agave syrup at Target and it was like $7. That's totes expensive in Trader Joe's land.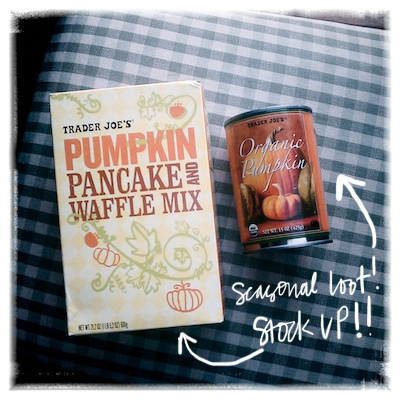 I usually stock up on seasonal items. My Candy Cane Joe Joe stash has been gone for awhile now…they never last! Cooper LOVES the pumpkin waffles I make from this mix. I add some pureed pumpkin when he's not looking. I got a little too aggressive with pumpkin hoarding this year. Whatever.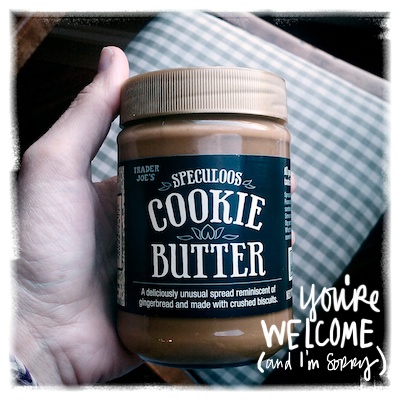 Saving the BEST for last. If you listen to the podcast, you know how obsessed I am with this stuff. Think the texture of peanut butter….BUT cookies. It's insanity. Great on carrots, apples, spoons & pretzels. I've heard people putting them on Chez-Its and goldfish crackers. Oh man.
These are the items I have in my pantry now. If they survived the move…and I stocked up on them for the new house, it means they're winners.
What are your favorite items from Trader Joe's?
Don't you just hate it when they discontinue one of your favorite things? 
Also it's a huge bummer that puff pastry is considered a seasonal item. Just sayin'