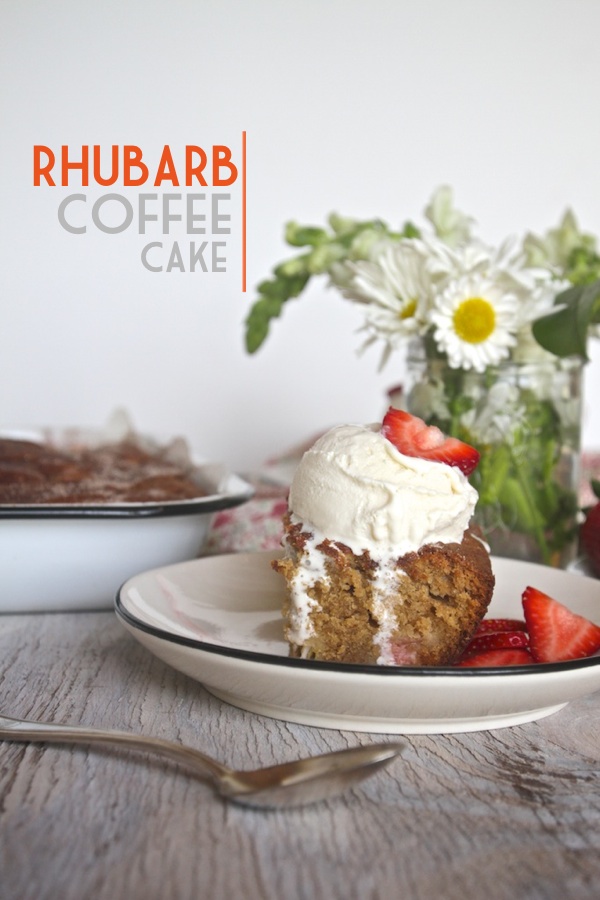 I suppose it's time to stop procrastinating and think about what we're making for Easter.  You ready?
I think I am I think I am. I think I am…going to eat all of these cadbury eggs…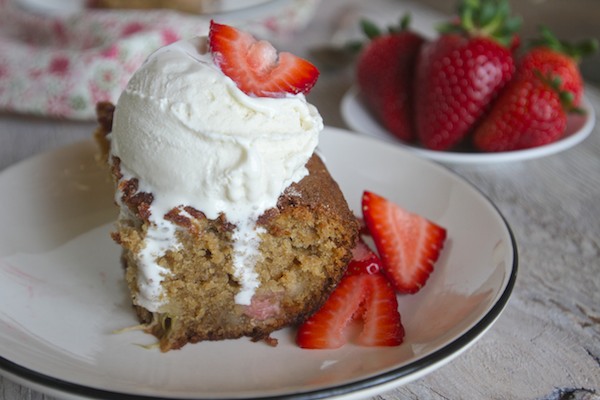 To me, Easter is a very good excuse to eat ALL DAY LONG. My grandma used make an epic Easter spread with grilled lamb, salad, the CRISPIEST potatoes, green beans, you name it.  The highlight was always her amazing Italian Easter pie that was equal parts cheese, crust, sausage and egg.  My brother and I would park ourselves in front of a tray and eat wedge after wedge in between handfuls of nonpareils. I'm gonna hafta get that recipe and some nonpareils.
Easter is also about coffee cake. A cake you can eat before or after your epic meal. A cake that can be served with coffee or a big scoop of ice cream and fresh berries. A cake that gives you leftovers to send home with guests or eat hoard in your kitchen to snack on all week long…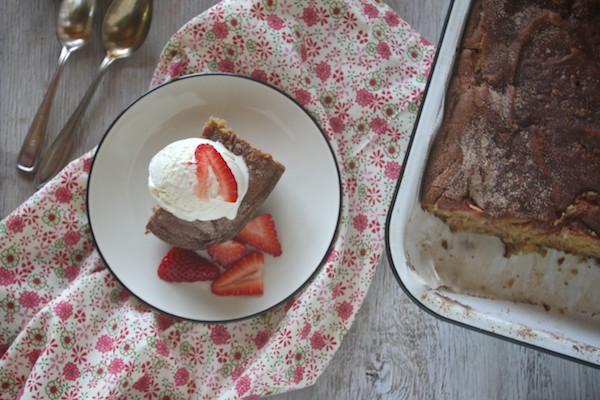 I think this Rhubarb Coffee Cake is a good choice for Easter. The crispy cinnamon laden top stands upon a light and fluffy crumb cake studded with tart rhubarb chunks. I call dibs on an edge piece!
 And we're off!
Gather your ingredients. It's a very humble coffee cake. Rhubarb is the star! It doesn't take much to highlight it.
I suppose you could add strawberries in the batter if you'd like. I was able to trick Cooper into thinking that the rhubarb chunks were strawberries (he wouldn't ever eat anything called rhubarb).  He begged me for more… Actually he told me that a ghost ate the corner. Can you believe that?? I wonder where he gets his sneakiness comes from…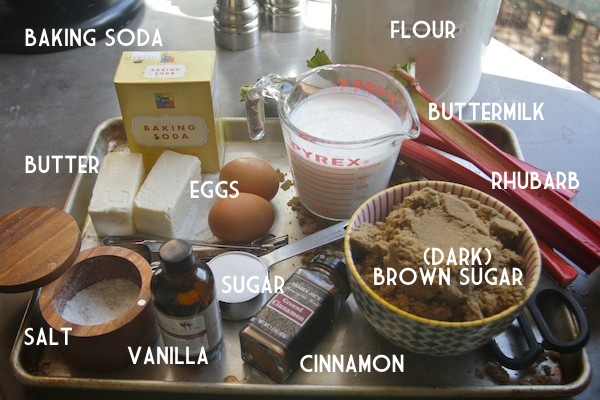 We chop up the rhubarb into 1/2 inch pieces.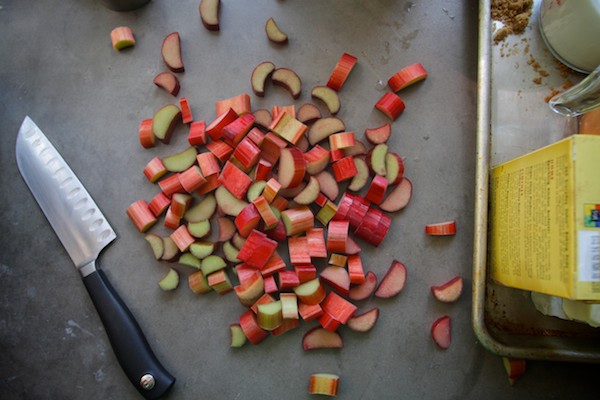 We mix all the dry ingredients together in a large bowl and whisk to break up clumps.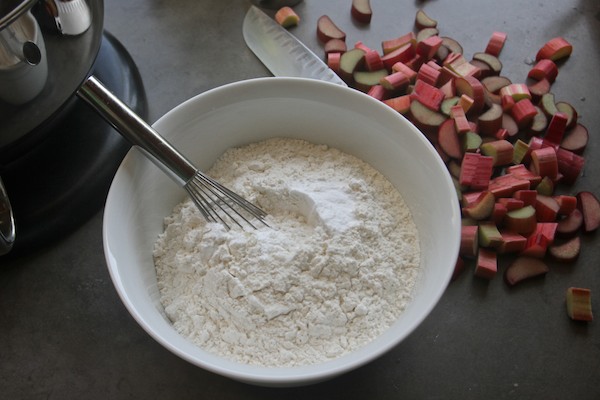 We cream the brown sugar & butter in KitchenAid Mixer. You can see that I'm wearing a green shirt in the reflection. Pro tip! If you're taking food photos, wear a white or black shirt as a colored shirt will reflect on/in your subject.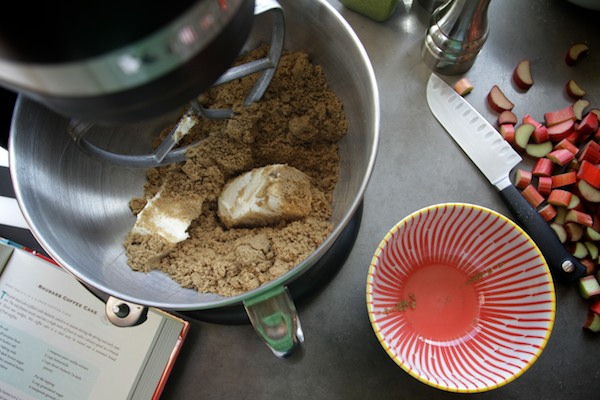 Cream the butter & sugar. Such an amazing smell… Add an egg in one at a time and mix. Then add in the vanilla.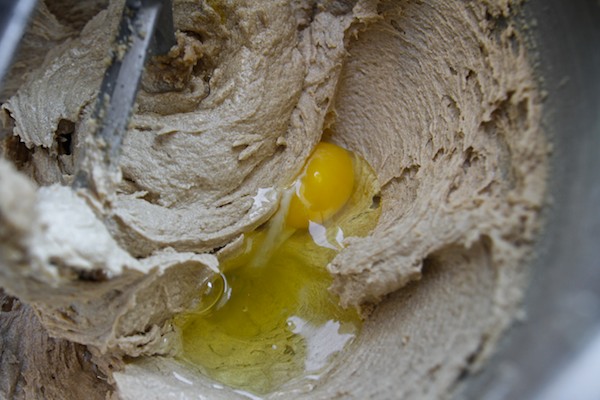 Now the buttermilk. It may clump up the mixture slightly. No worries! It all works out in the end.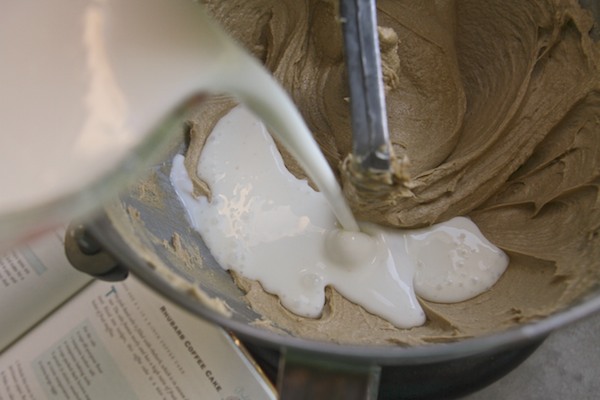 Mix in the dry ingredients in thirds.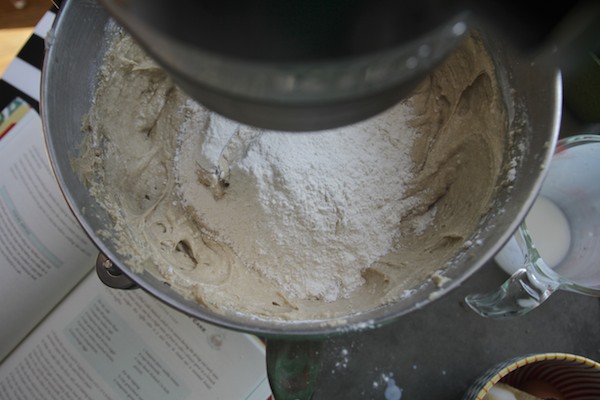 Fold in the chopped rhubarb.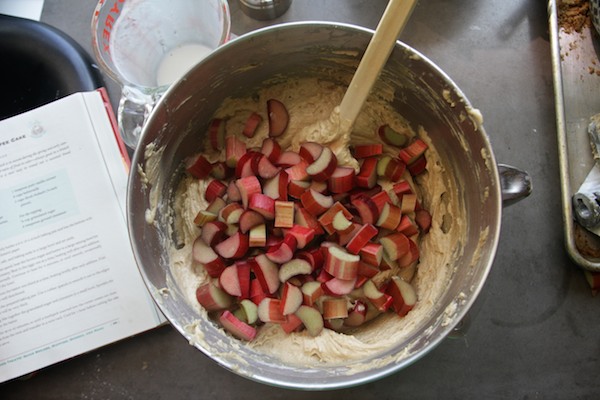 Transfer batter into a parchment lined/buttered baking dish.
Mix the sugar with the cinnamon. We're gonna top our cake!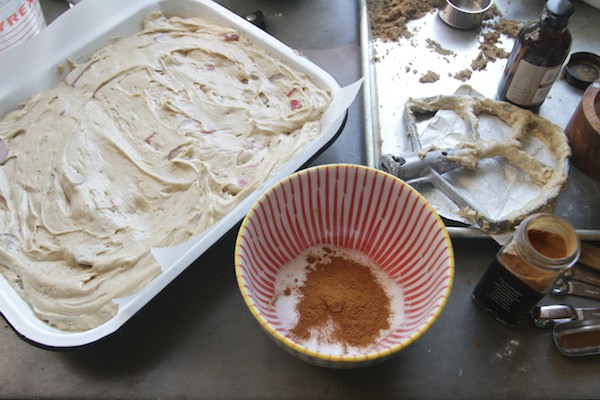 Before we bake…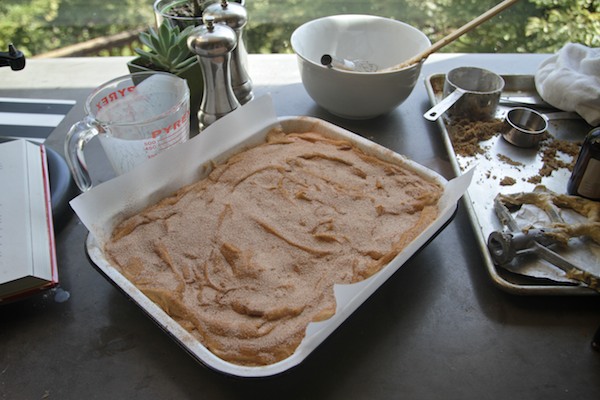 Baked! Yum Yum gimme some. The sad part is that we have to wait for an hour before we cut into it.
AN HOUR FEELS LIKE A LIFETIME. But be patient. It's all good.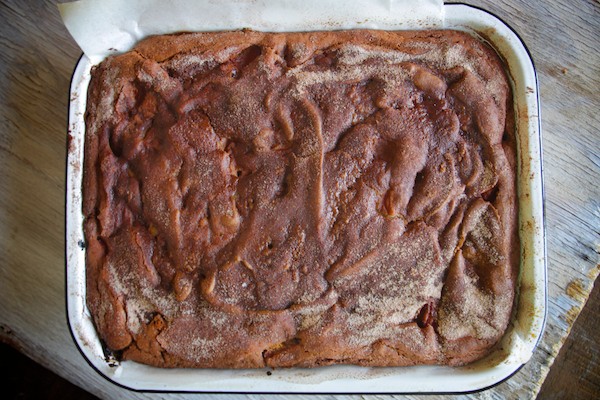 Let's make it fancy. I topped mine with vanilla bean ice cream & sliced strawberries.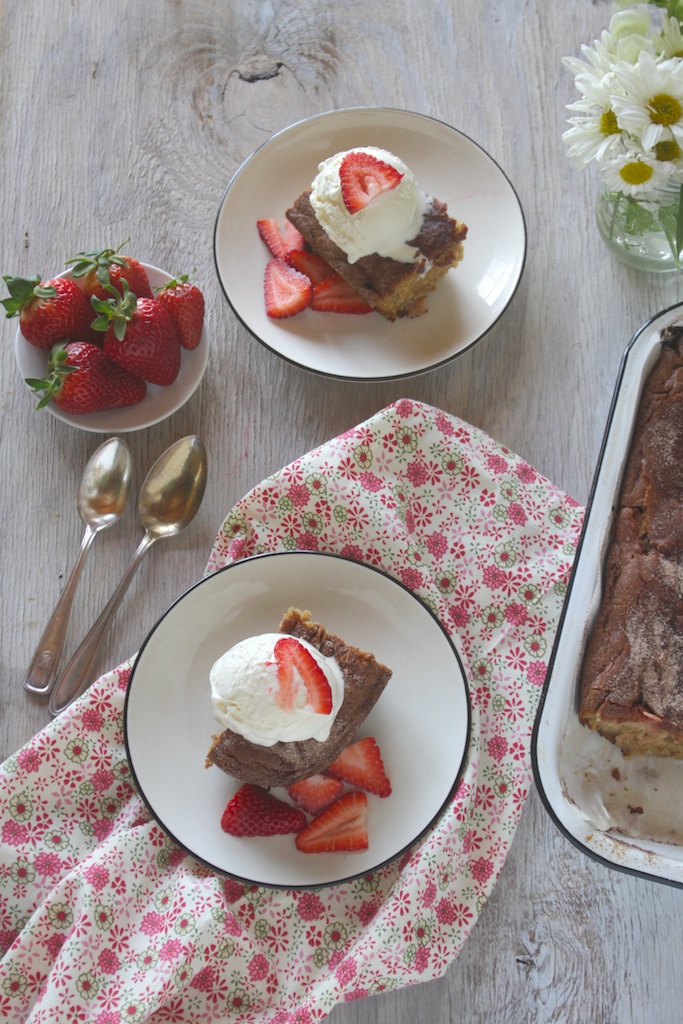 The cake might be slightly warm after an hour. Melty ice cream makes me swoon…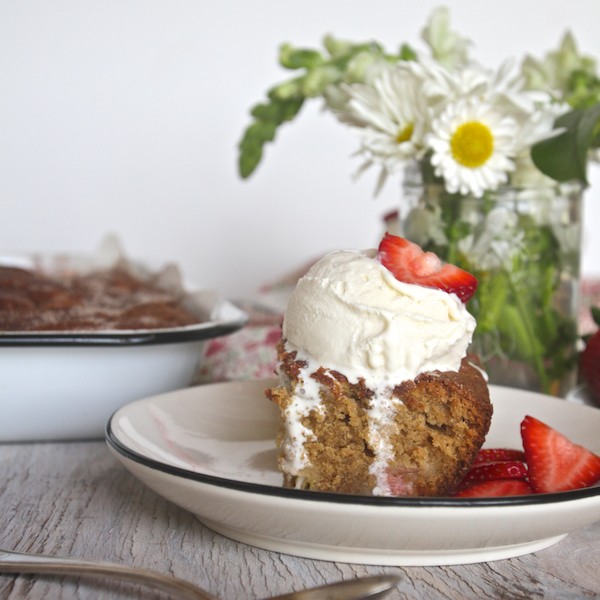 Get in there!
If you're looking for more Coffee Cake Inspiration, check out:
Rhubarb Coffee Cake

makes one 9 x 13 inch coffee cake

recipe slightly adapted from Bubby's Brunch Cookbook

for the cake:

4 cups all-purpose flour
1 teaspoon kosher salt
2 teaspoons baking soda
3 cups packed dark brown sugar
1/2 pound (2 sticks) unsalted butter, at room temperature
2 extra-large eggs
1 teaspoon pure vanilla extract
2 cups buttermilk
5 cups diced rhubarb (1/2 inch pieces)

for the topping

1/4 cup granulated sugar
1  1/2 teaspoons ground cinnamon

Preheat oven to 350F. Lightly butter a 9 x 13 x 2 inch baking pan and line the bottom with parchment paper. Butter the parchment paper.

Make the cake:

Stir the flour, salt, and baking soda in a large bowl and set aside.

Using a mixer set on medium speed, beat the brown sugar and butter in a large mixing bowl for 3 minutes, or until light and creamy. Beat in the eggs on at a time, beating well after each addition. Beat in the vanilla and buttermilk. Continue to beat for 2 minutes, or until smooth, occasionally scraping down the sides of the bowl.

Mix the flour mixture into the batter one-third at a time, beating briefly after each addition. Fold in the rhubarb until it is well distributed.  Pour the batter into the prepared baking pan. Use a rubber spatula to smooth it out to the edges of the pan. The batter will be very thick.

Make the topping:

Stir together the granulated sugar and cinnamon in a small bowl. Sprinkle the topping evenly over the batter.

Bake the cake for 40-45 minutes, or until toothpick inserted into the center comes out clean. My cake took about 50 minutes, so be sure to keep checking. Remove the cake from the oven and transfer to a wire rack. Cool for 1 hour before cutting the cake into squares to serve.  Serve with strawberries & ice cream if you so desire.