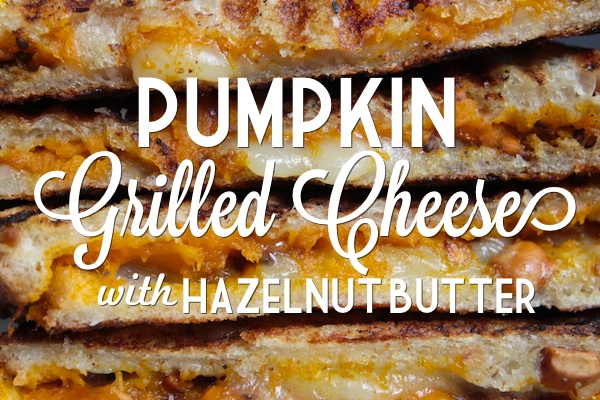 I'm gonna get this out of the way immediately—my husband didn't like this grilled cheese sandwich.
I, on the other hand loved it so much I almost finished two of the four sandwiches I made. Uh huh.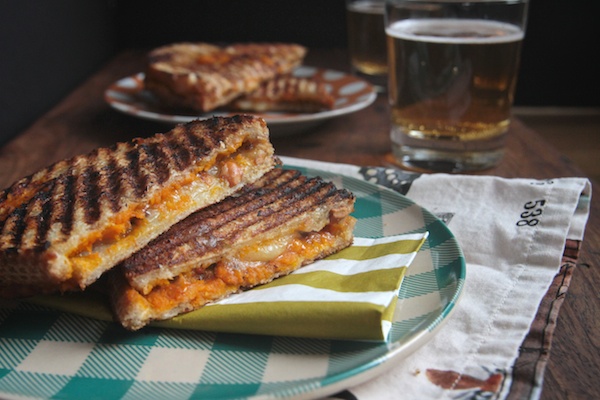 Let me tell you why.
This grilled cheese sandwich is buttery & crispy and just when you think you're crunching into a bite of the grilled bread, you realize it's a hazelnut. The hazelnut brown butter makes it extra crunchy. I love extra crunchy. Who doesn't? That dude who ordered his hash browns to be NOT crispy at that restaurant we went to. That's who!

You'll find creamy sweetness from the pumpkin, a hit of sage and a subtle note of anise in this sandwich. There's something kinda sausage-like about it, yet it's 100% vegetarian.
Maybe that's why I loved it. Maybe that's why the husband didn't…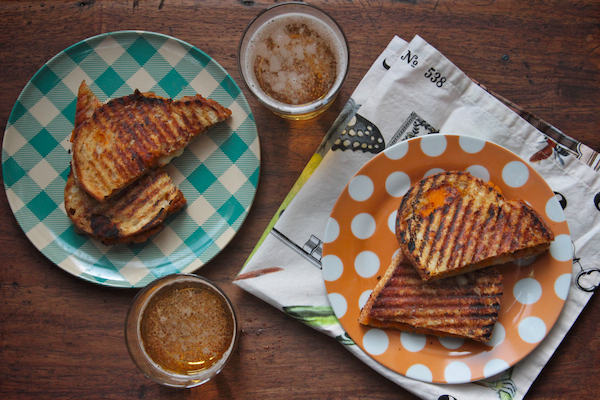 You can't always please others, riiiight?
I was just about to get into how you should please yourself…but things got dirty.
AHHHH.
And we're off!
OK. First item on the TO DO LIST. Roast a pumpkin.
Cut it up into 4 pieces. Salt & pepper with olive oil.
ROAST.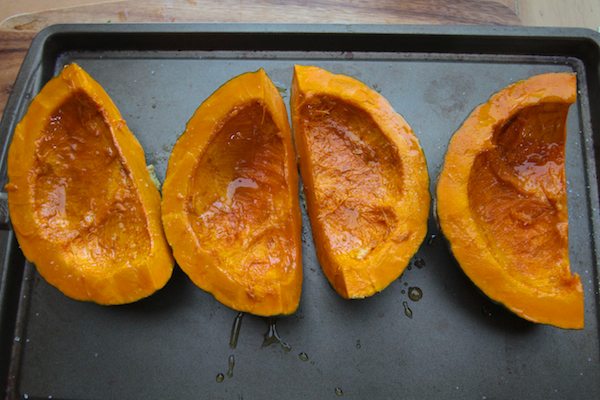 While the pumpkin is roasting, throw some hazelnuts in the oven. It takes about 6-8 minutes at 350F.
When they're done, put them in a towel and let them sit for a bit. Use the towel and rub off the skins. EASY.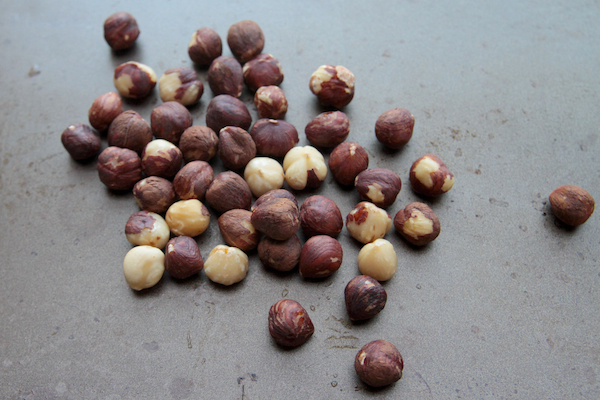 Let's get stuff assembled while the pumpkin roasts.
We need to work on the hazelnut brown butter.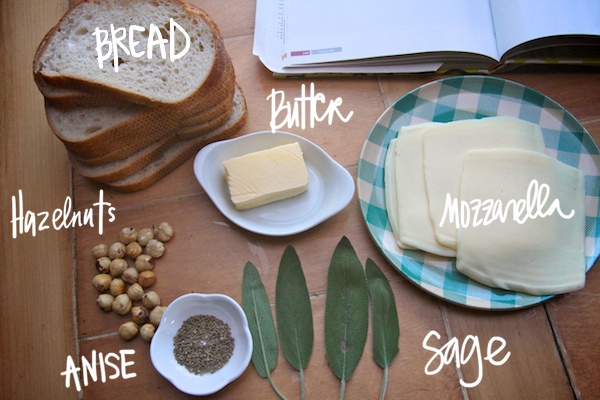 Put the nuts in a small saucepan. Brown them a bit. Then chop them.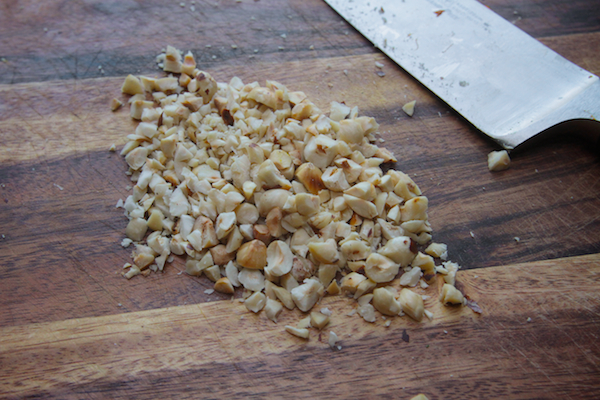 Add the nuts back to the pan with the anise. Shake things up. We're just getting the anise heated up.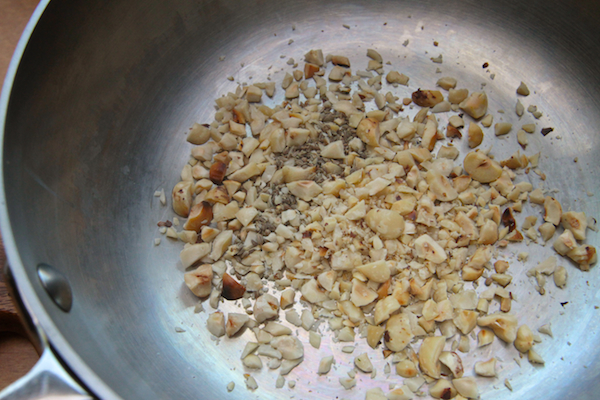 Now add in the butter and the sage. We're gonna brown it.
BEAUTY.  Let it sit for a bit and then remove the sage leaves.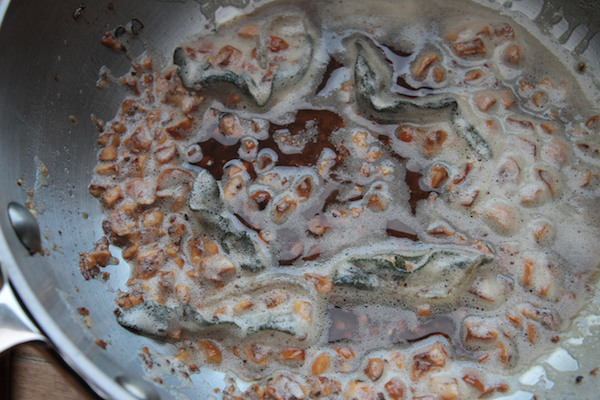 This is your hazelnut brown butter.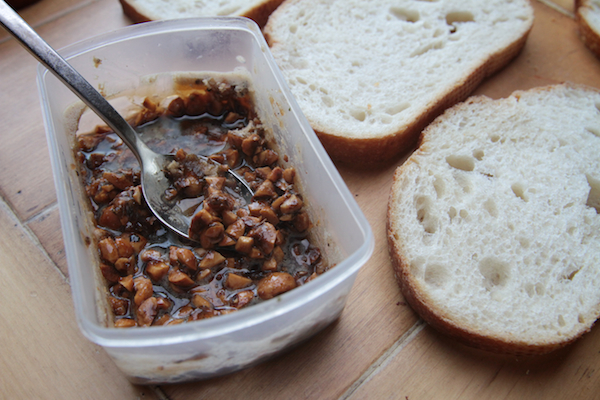 Pumpkin is done roasting. Scrape the insides out into a bowl. Add a little bit of olive oil to the pumpkin.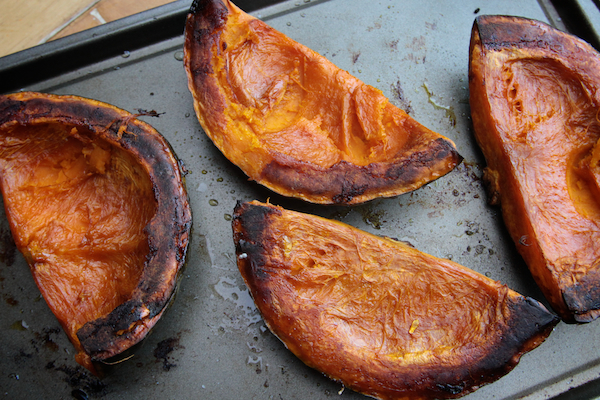 Get your bread ready.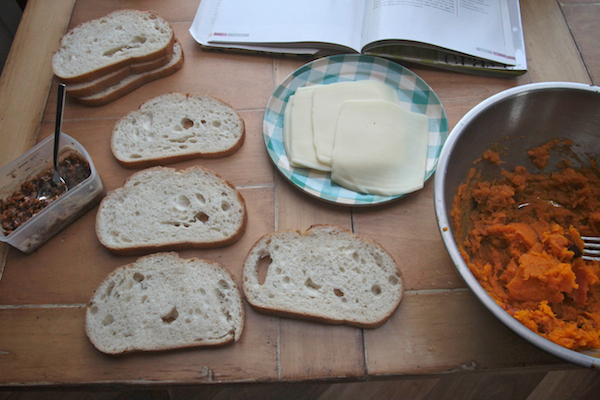 Top one side with cheese & hazelnut butter.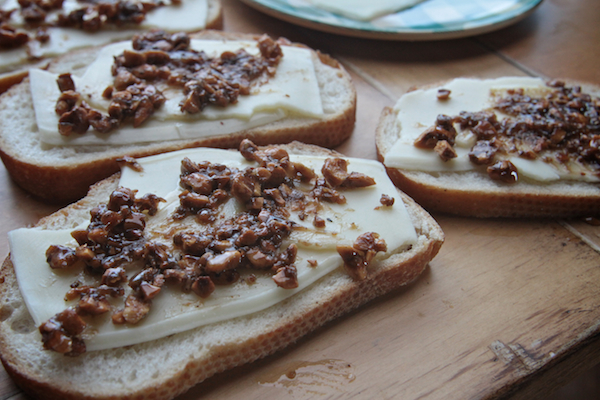 Add the pumpkin on top.  Put the other piece of bread on top.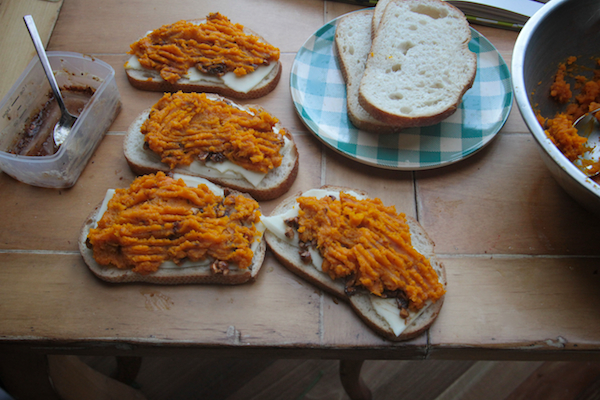 Butter both sides and grill on a grill pan or a sandwich press.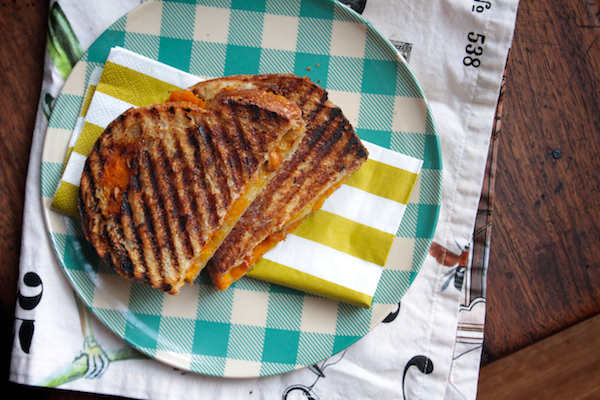 I have a feeling YOU will like it. I know you will.

Pumpkin Grilled Cheese w/ Hazelnut Butter

makes 4 sandwiches

recipe slightly adapted from 'wichcraft: Craft a Sandwich into a Meal

1 pound pumpkin, seeded & cut into 4 pieces
2 tablespoons extra-virgin olive oil
kosher salt & freshly ground black pepper
8 oz. of mozzarella, thinly sliced
8 slices sourdough bread
4 tablespoons Hazelnut Butter (see below)
1-2 tablespoons salted butter

Preheat oven to 350F.

Toss pumpkin slices with 1 tablespoon olive oil on a sheet pan. Season pumpkin with salt & pepper and place in the oven. Roast for 25-30 minutes, until soft.

Preheat grill pan. Removed the pumpkin from the oven, add to a large bowl and mash with a fork. Season with remaining tablespoon of oil and salt & pepper to taste.

Place a thin layer of mozzarella on 4 slices of bread. Top with an even spread of hazelnut butter, followed by a layer of pumpkin. Cover with the 4 remaining bread slices. Butter both sides and grill 2-3 minutes per side on grill pan. Once cooked, remove, cut into halves & serve.

Hazelnut Brown Butter

(makes about 1/2 cup)

4 tablespoons shelled hazelnuts
1/2 teaspoon anise seeds
3 tablespoons salted butter
4 sage leaves
kosher salt
freshly ground black pepper

In a skillet over medium-high heat, toast the hazelnuts until deep brown in color, about 3-5 minutes. Remove from the skillet, finely chop, and return to skillet. Add the anise seeds and allow them to toast for a few seconds, constantly shaking the pan to avoid burning. Add the butter and sage and stir constantly. Season with salt & pepper and continue to stir until the butter has a nutty brown color. Transfer butter to a container, remove sage leaves and refrigerate. Once the butter has cooled, stir to ensure that all ingredients are evenly mixed. Use immediately or store in the fridge for up to4 weeks.