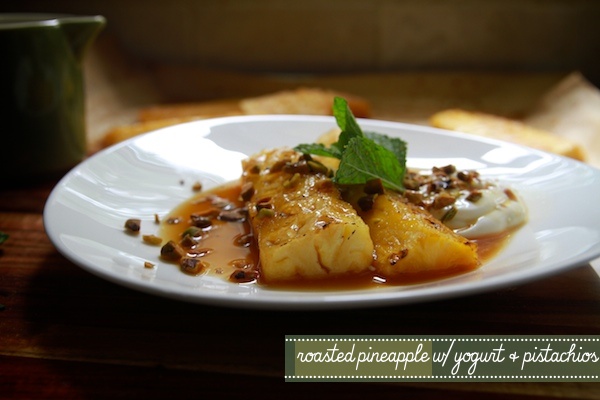 I'm kind of in a rut; I have no desire to cook or bake. Wait. I take that back. I have no desire to clean my kitchen. I DO want to work in the kitchen. I just want someone to always clean up after me. That would be the life. That's how chefs live, right? Does that mean I need tattoos and clogs? I don't know what I would want on my body for the rest of my life, ink-wise. I'm working my way out of cherry blossom phase so I'm soooooooo glad I didn't get those… Also! Clogs. Totally comfy…still totally not sexy.  I love sensible shoes but I want them to look less like clogs.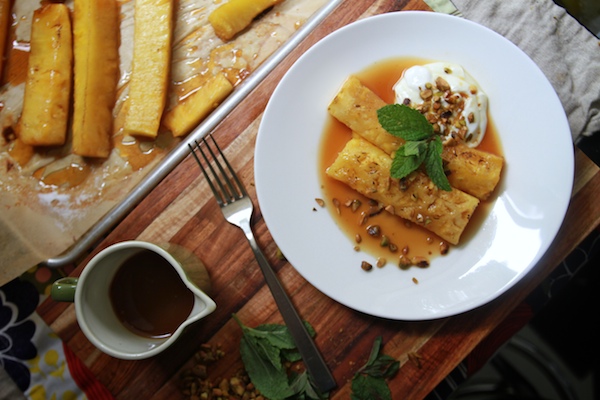 Let's be real. I'm not a professional chef, but you already know this. I'm just a girl who loves to get my kitchen dirty and make things with my hands. I'm love pineapple and Greek yogurt and simple desserts that I can accomplish in no time, yet take a tremendous amount of credit for. Who doesn't want that?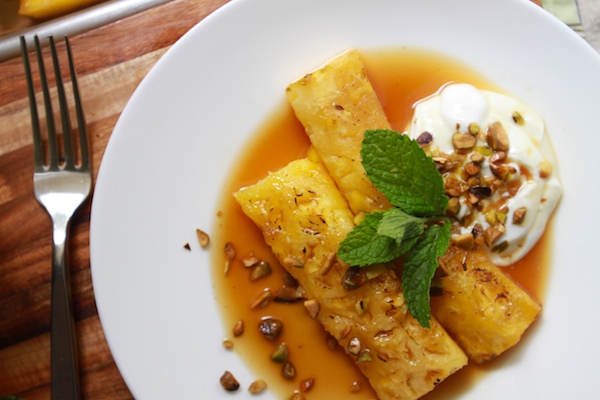 I made this quick little roasted pineapple yesterday because I had 30 minutes to kill. If I had people over for dinner, it would have been a fantastic ending to a meal of shrimp tacos. I would have gotten the "what's your secret?" question with this dessert.
The secret is that I will be eating this for breakfast for the next few days and loving EVERY LAST BITE. And when I'm soo over eating it with yogurt & granola, I'm going to turn it into a smoothie. That's a fact.
And we're off!
Ingredients….I started off with honey Greek Yogurt. Then I stopped. Too much sweetness! The original recipe called for creme fraiche, which I would have totally bought but I decided not to leave my house so YOGURT will do. I always have plain Greek yogurt! It's one of my staples.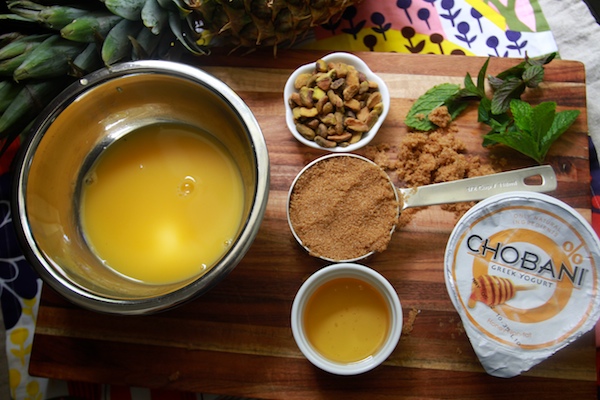 Pineapple wedges. Husband always eats the core. Weird husband. Too bad he doesn't eat kale stems.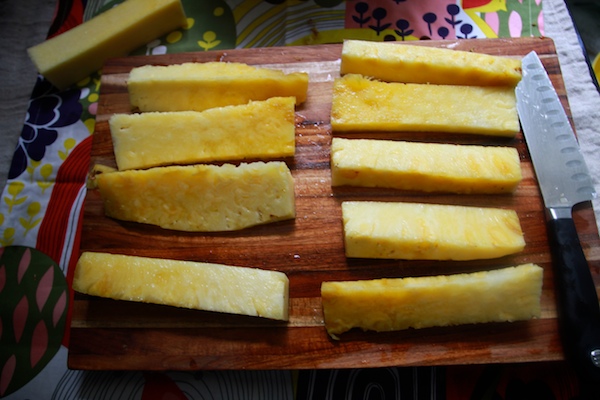 Orange juice, brown sugar & honey. Instant marinade!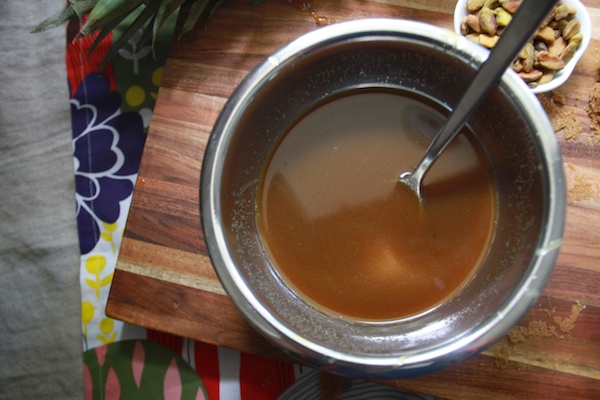 Pour it over your pineapple wedges. Let it sit for a bit. 10 mins or so…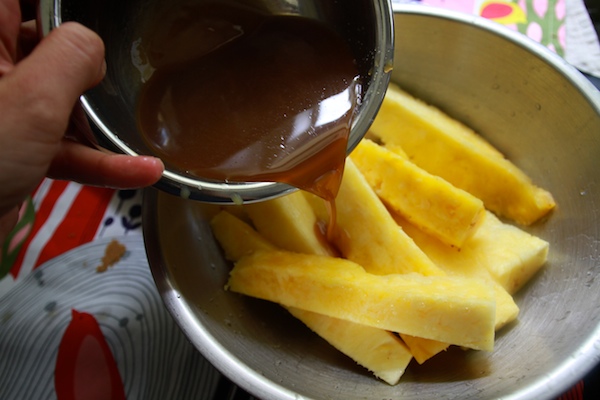 Transfer to a parchment lined sheet. ROAST IT. Turn it. Roast it more.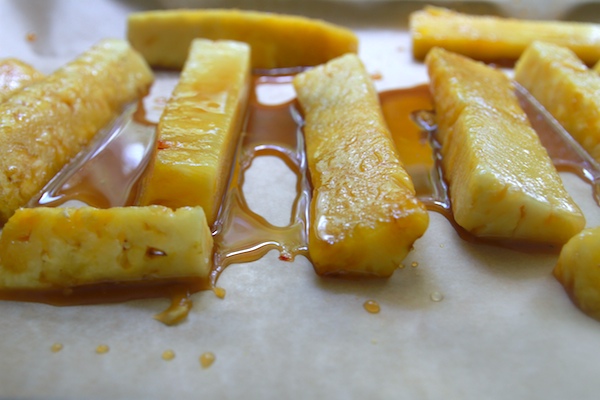 Hello roasted pineapple.
I'm gonna serve you up on a plate with thick yogurt, roasted pistachios, mint & a little drizzle of sweet orange sauce.
Show that pineapple who's boss. I know I did.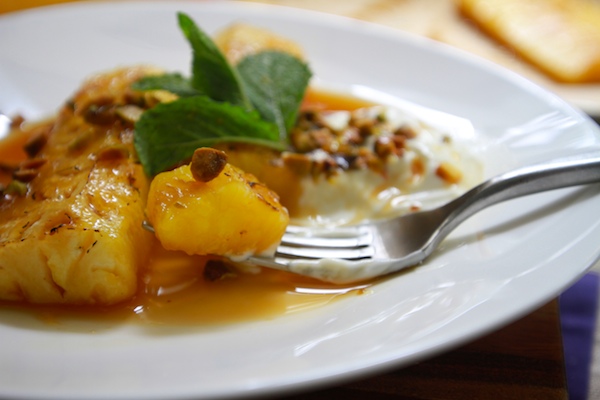 I think you'll love the orange sauce. It brings some sweetness tang to the roasted pineapple. The pistachios are a nice little crunch and the Greek yogurt is soo dang creamy! I'm loving everything about this dessert.
Roasted Pineapple w/ Yogurt & Pistachios

serves 4-5

recipe adapted from Bon Appetit Magazine

1/3 cup (packed) dark brown sugar
1/2 cup orange juice
1 tablespoon honey
1 medium ripe pineapple, peeled, cored, cut lengthwise into 8-10 wedges
1/4 cup Greek yogurt
1/3 cup roasted pistachios, coarsely chopped (I used salted)
2 tablespoons torn fresh mint leaves

Preheat oven to oven to 450°. Line a large rimmed baking sheet with parchment paper. Stir first 3 ingredients in a large bowl until sugar dissolves. Add pineapple; toss to coat. Let marinate, tossing occasionally, for 10 minutes. Place pineapple, one flat side down, on prepared sheet; reserve marinade.

Roast pineapple for 15 minutes. Turn, brush with marinade, and roast until tender and caramelized, 10–15 minutes. Drizzle remaining marinade over; let cool slightly.

Divide pineapple among plates. Spoon Greek yogurt alongside. Garnish with nuts and mint