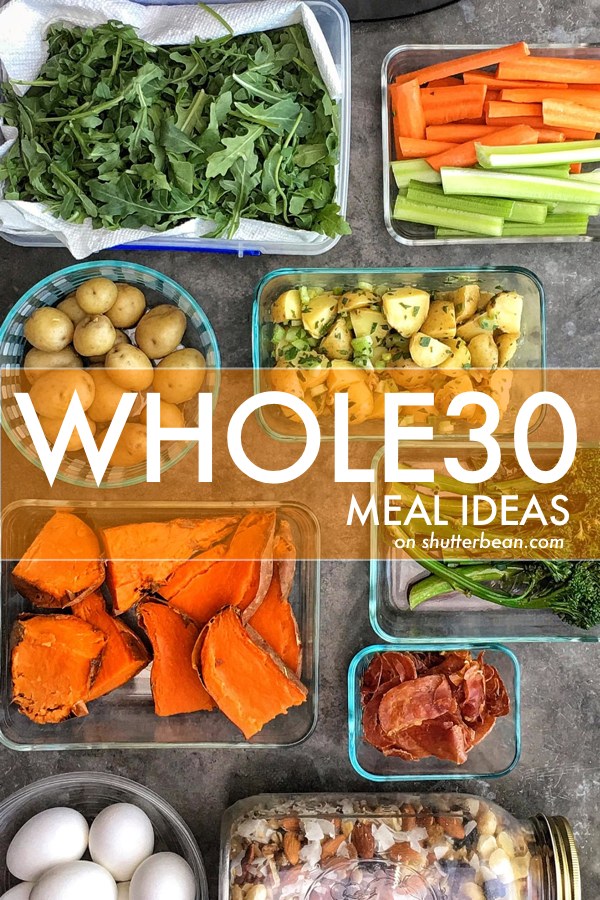 OK. We talked Whole 30 Snacks last week. Today let's talk about some of my Whole 30 Meal Ideas.
I have ideas for you. PLENTY OF THEM!!!
I'm pretty sure that if I do the Whole30 in another season, I'll have a completely different set of options, but this is what I ate from mid September to mid October.  One of the things that changed during this process was how I ate. Instead of having three decent sized meals, I preferred to have one really large meal and two smaller meals with a few snacks thrown in to tide me over. It was a big adjustment eating more meat (we have it like twice a week tops).  The good thing about having more protein was that I was less hungry. Hence, the two smaller meals. Adjustments!
Here's what a typical Whole30 meal looks like for me:
Meat, potato & greens.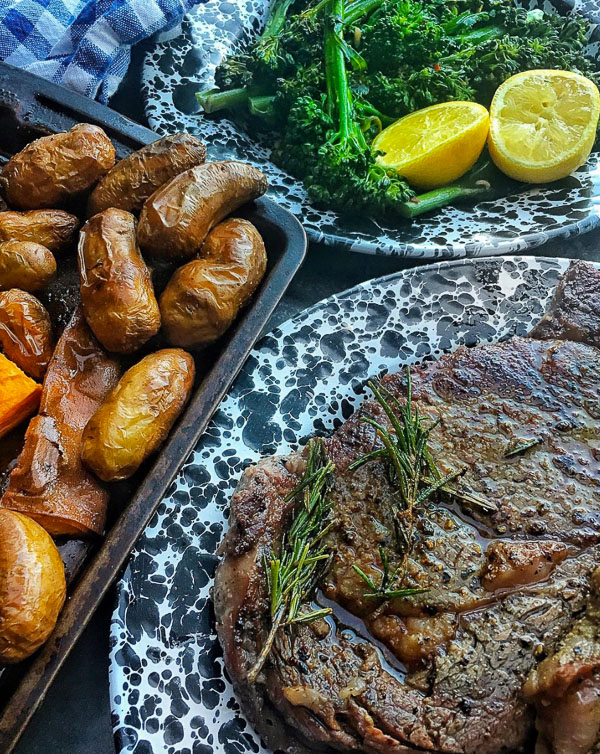 Sometimes I just eat a bowl of greens.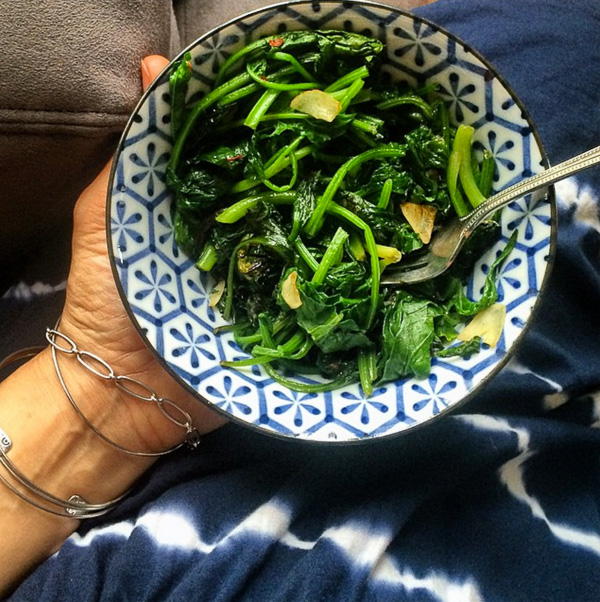 Sometimes it's a salad with some meat in it.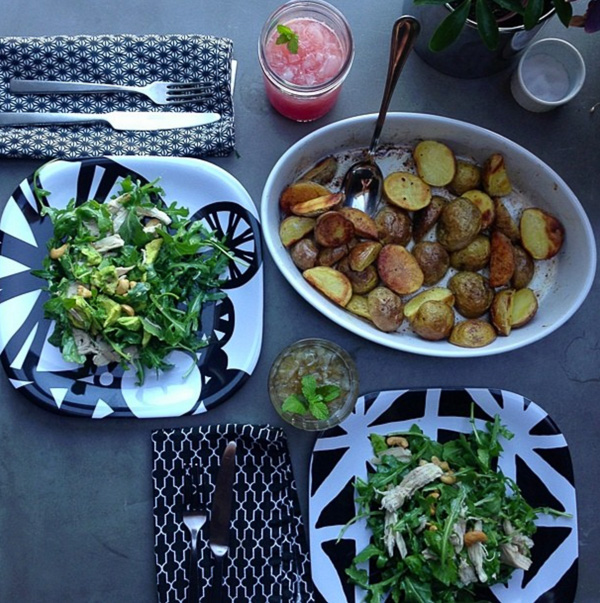 Either it's a legit meal or a snack turned into a meal.
Sometimes is stuff like this: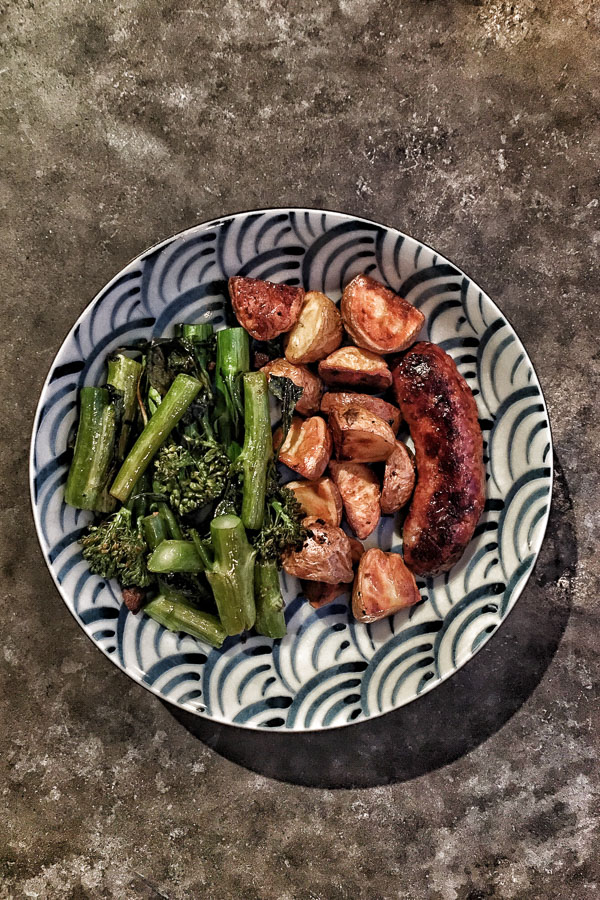 Here I roasted Italian Sausage (make sure you find ones without sugar added) and broccolini as well as potatoes! I think everything was in the oven at 400F for about 20-30 minutes.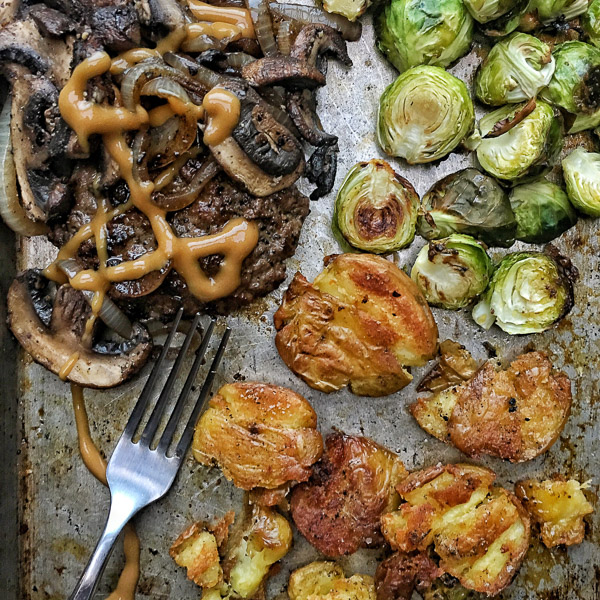 This was burger night! Under that mound of mushrooms & caramelized onions, we have a burger drizzled with hot mustard. I made roasted brussels sprouts & crispy smashed potatoes.
Another burger night: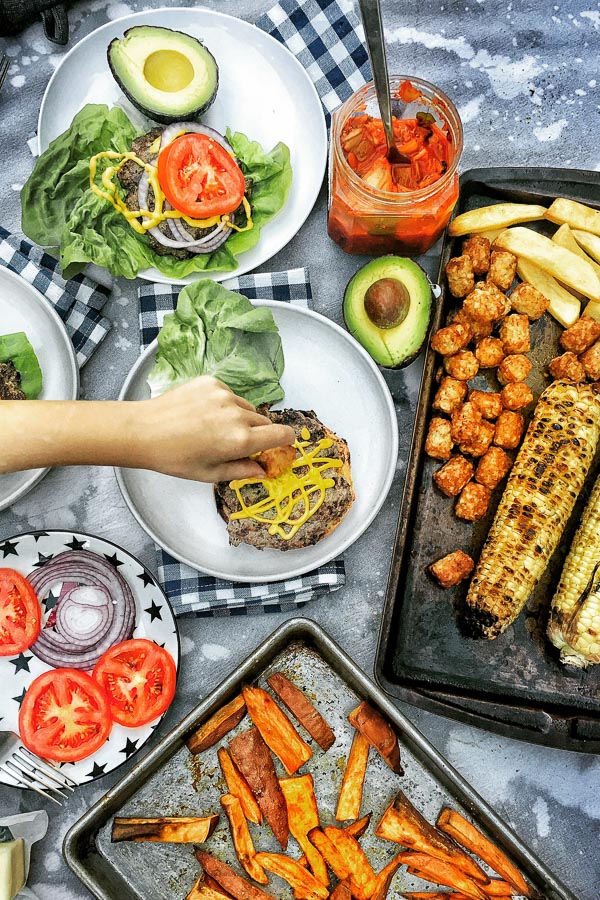 My burger is in the top left and those sweet potato fries were all mine.
I put kimchi on top of my burger because KIMCHI IS DELICIOUS.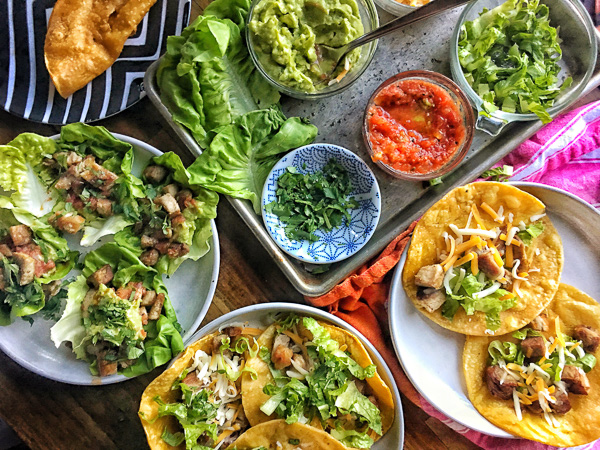 TACO NIGHT!!! I did really miss corn tortillas though….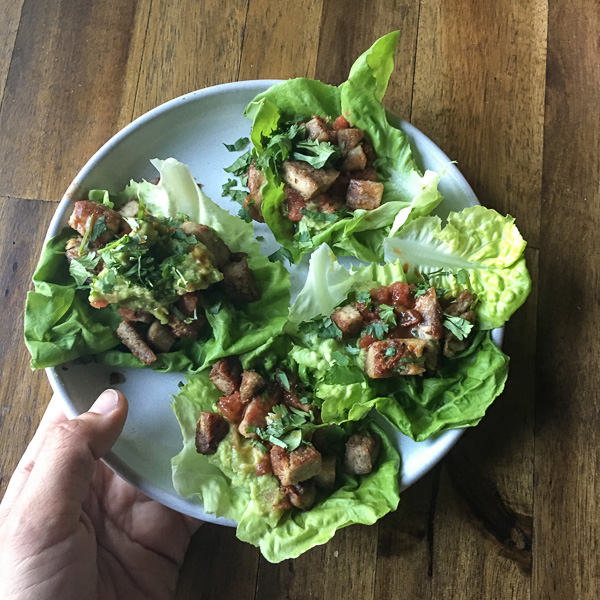 I made carnitas (used this pulled pork recipe) and wrapped it up in lettuce with salsa, cilantro and guacamole.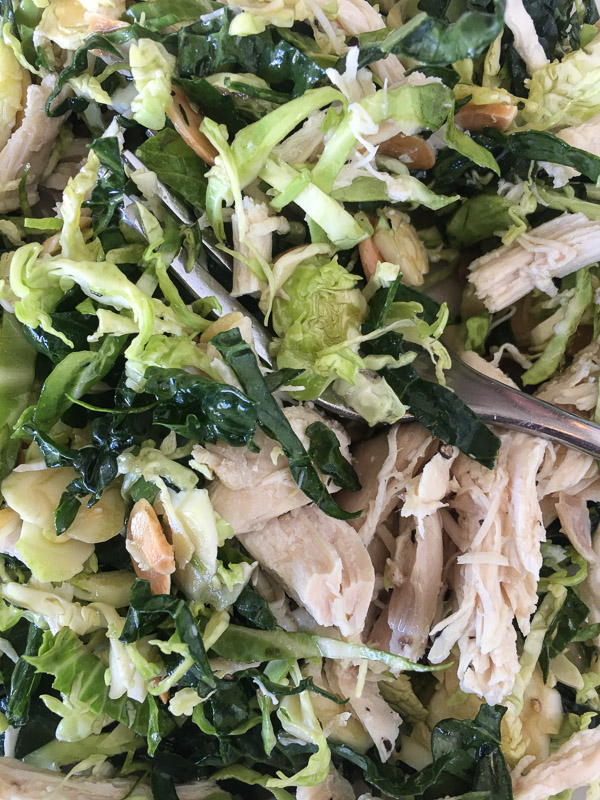 Went out to eat. Ordered a kale & brussels sprouts shredded salad and had them throw some rotisserie chicken in there. There was a lemon dressing. No cheese!
If you want something like this, check out Addictive Brussels Sprouts Salad. You can substitute nutritional yeast for the cheese if you'd like.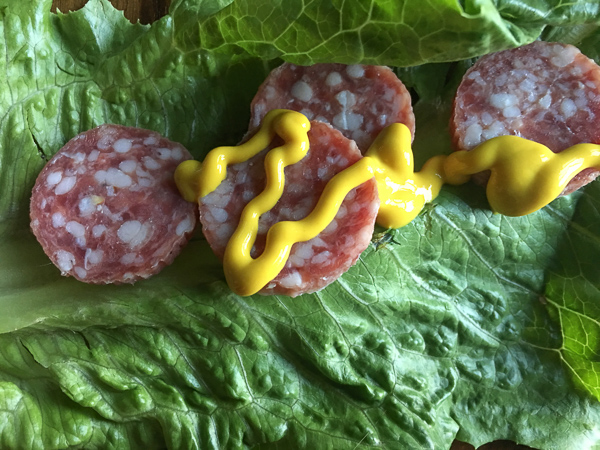 For a quick meal, I wrapped cold cuts in lettuce with mustard. For those of you asking, I found some Applegate salami that doesn't have sugar in it.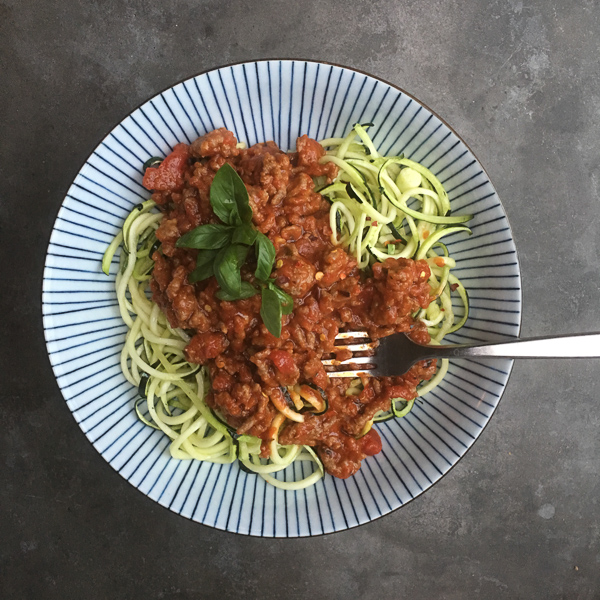 I made zucchini noodles with meat sauce with my spiralizer . I actually prefer zucchini noodles to regular noodles. Is that weird? To me, it's ALLLLLLL about the sauce!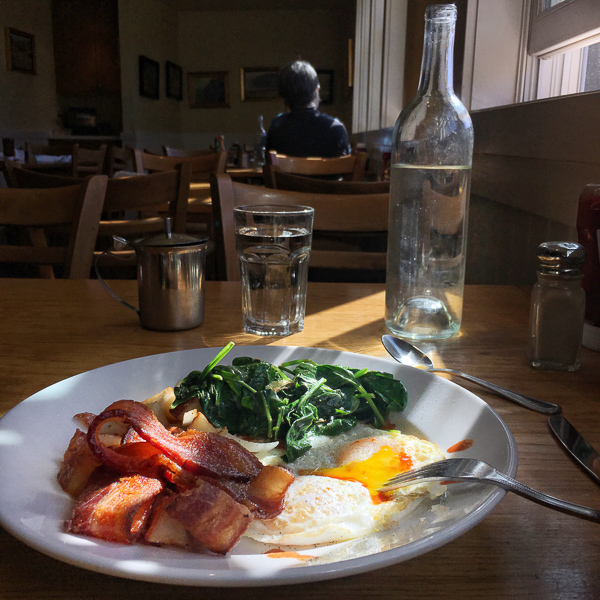 Went out to breakfast. Ordered eggs, bacon, home fries and a side of garlicky spinach.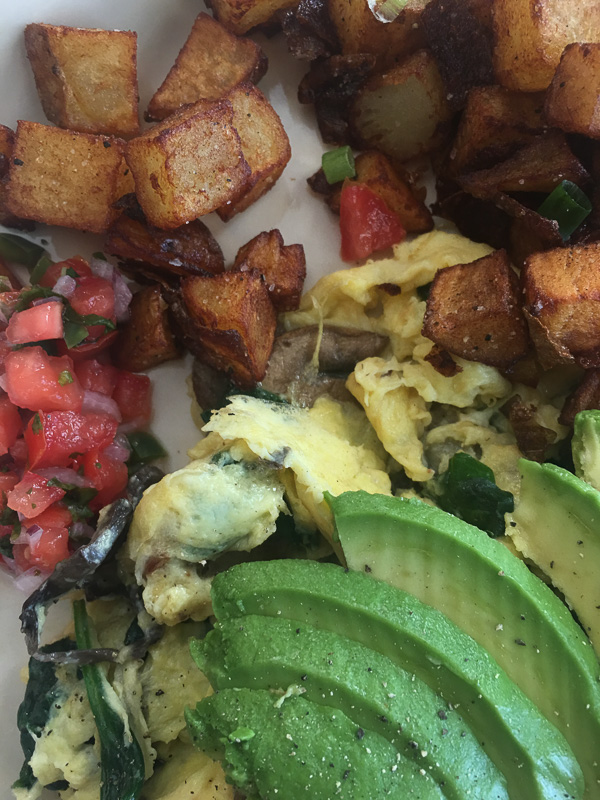 Here's another breakfast I ordered while we were out. I had a spinach, mushroom sausage scramble with avocado, home fries and a side of salsa. No so bad, right?
Here I made home fries at home added kale, red pepper flakes a drizzle of vinegar and then topped it with a fried egg.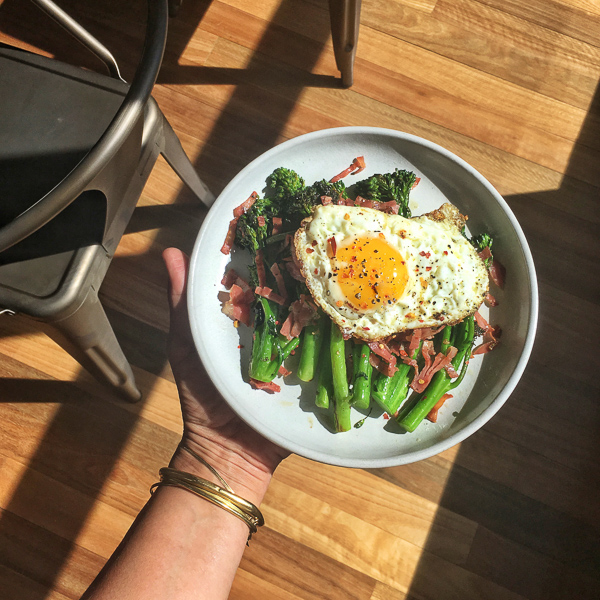 Crisped up prosciutto in a skillet. Sautéed broccolini in the leftover fat. Added garlic and the topped it all with a fried egg.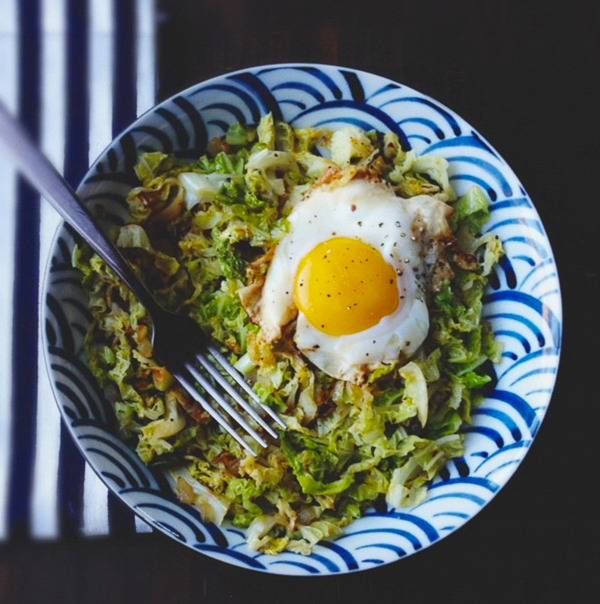 Cabbage + onions with garlic sautéed and slightly crispy with a fried egg on top makes a great breakfast or dinner. Or breakfast for dinner.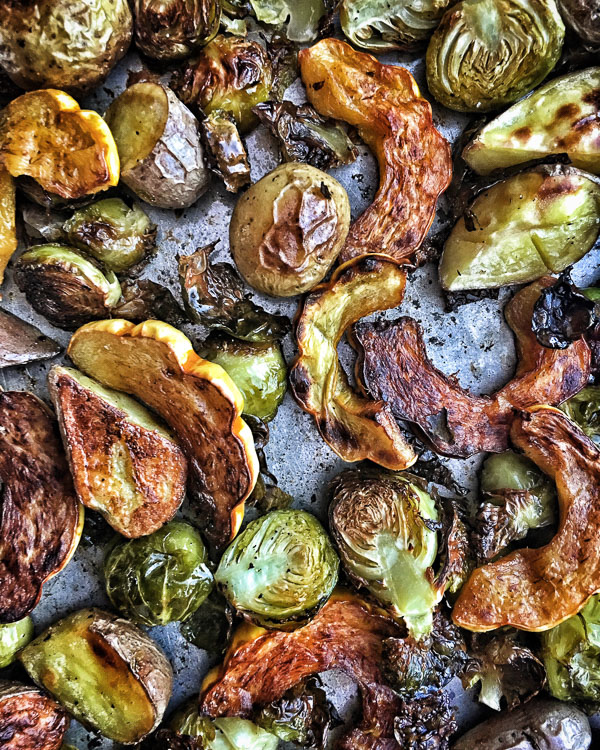 There were a few nights where I just ate roasted vegetables. Giant bowls filled with roasted vegetables.
That's it!
This one above has delicata squash, brussels sprouts and potatoes.
Now that I see cranberries in the stores, I might make this combo of brussels sprouts, apples, butternut squash, onions and cranberries.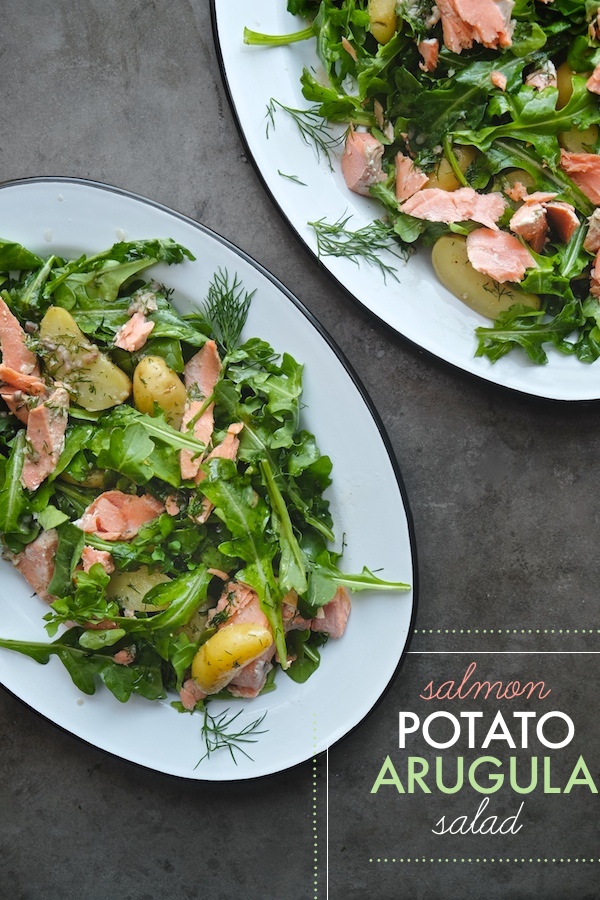 For a salad with some sustenance, I'd eat this Salmon Potato Arugula Salad.
See, you don't have to eat eggs at EVERY meal 😉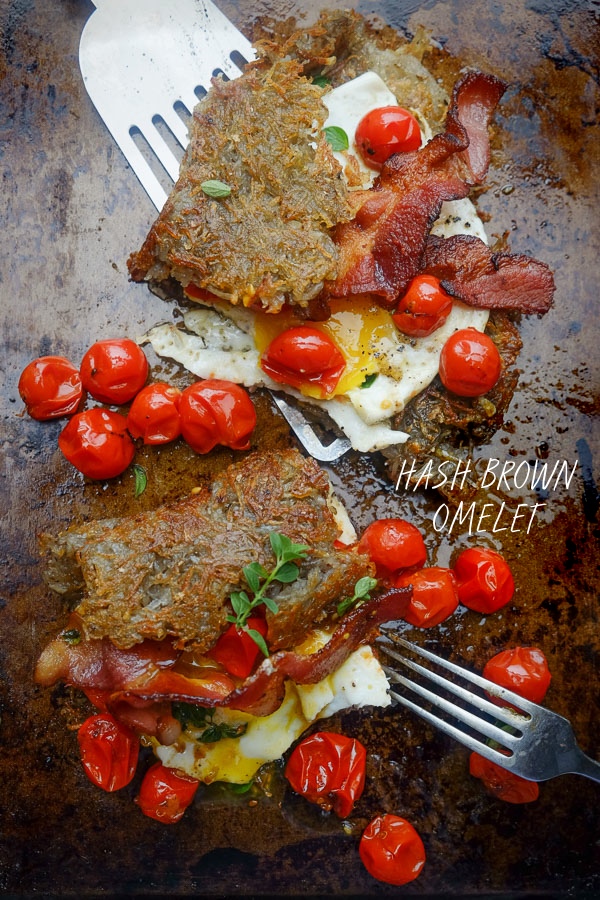 I loved this hash brown omelette.   SO GOOD.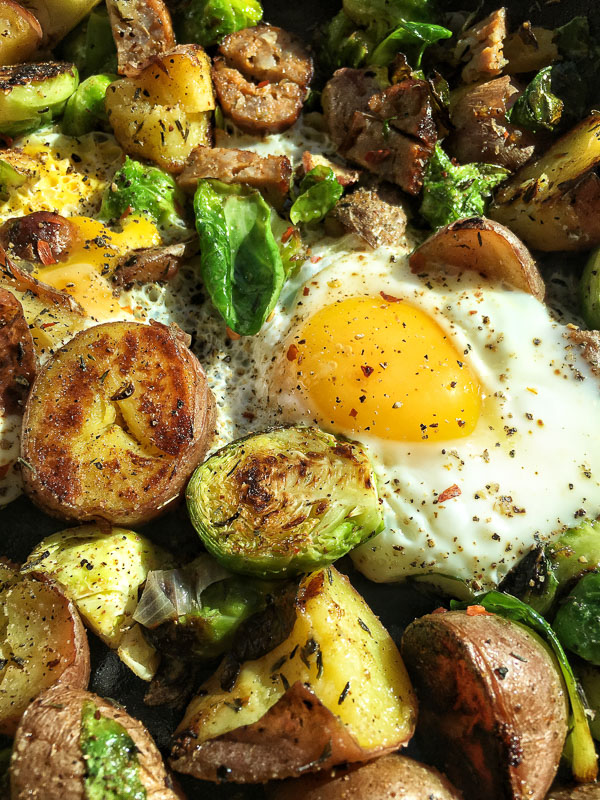 A few years ago I made a brussels sprout potato hash. It was vegan and it was amazing. I brought it back into the mix during this Whole30.  The thyme and the lemon make it killer.
I think I threw some leftover sausage in there.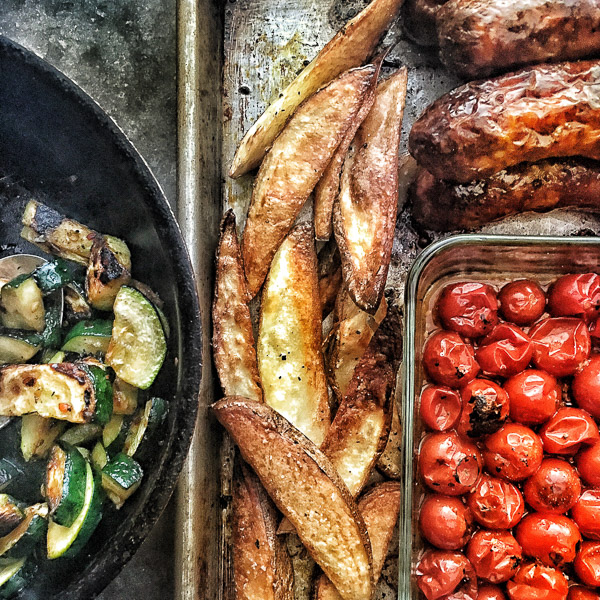 Here's another yummy dinner. I put sausages, potatoes and tomatoes in the oven. They all got roasted. Then I sautéed some zucchini in a pan on the stove with red pepper flakes and garlic. It was a very satisfying dinner! Especially those potatoes!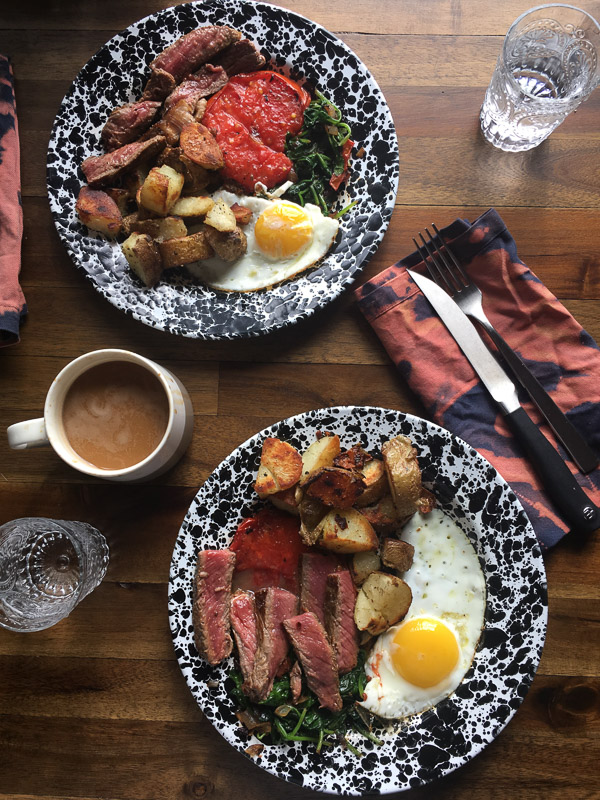 Steak, eggs, potatoes & spinach. Oh and throw in some pan fried tomato too!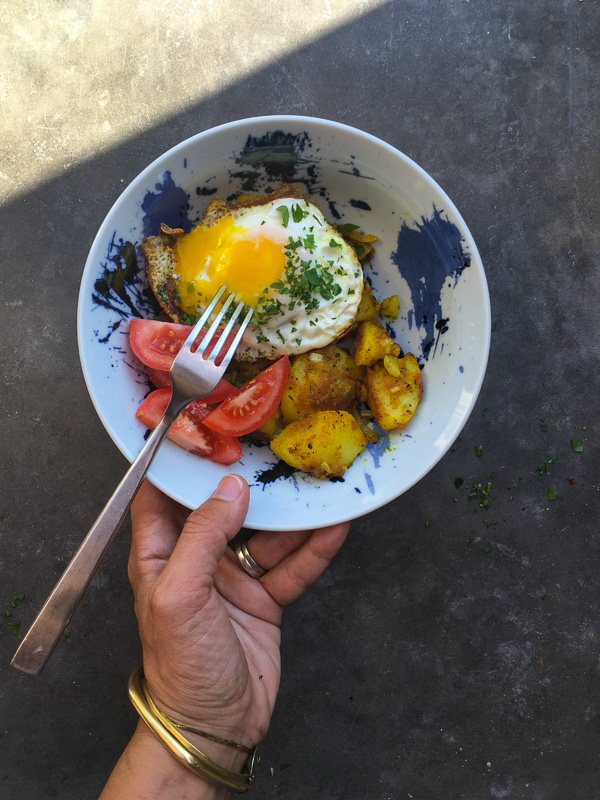 Home fries with tons of curry, an egg, cilantro & tomatoes. The flavor profile was a nice change of pace. I really had some Chicken tikka masala and naan cravings to manage.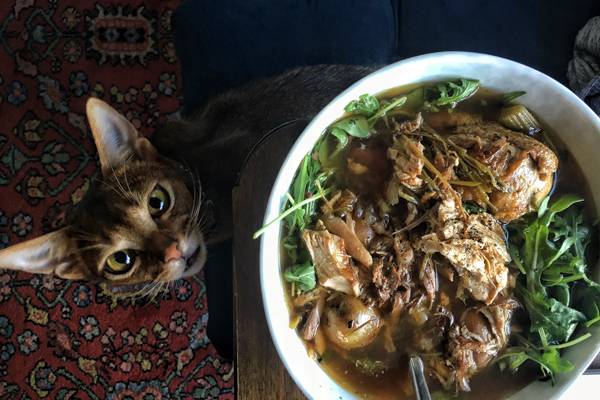 I made a few batches of bone broth during this Whole30. It was nice having bone broth in the afternoon in place of a sweet treat. It was a warm and satisfying. For lunch, I would put some in a bowl with arugula. The arugula wilts and adds a nice peppery bite. I'll show you how I make bone broth soon!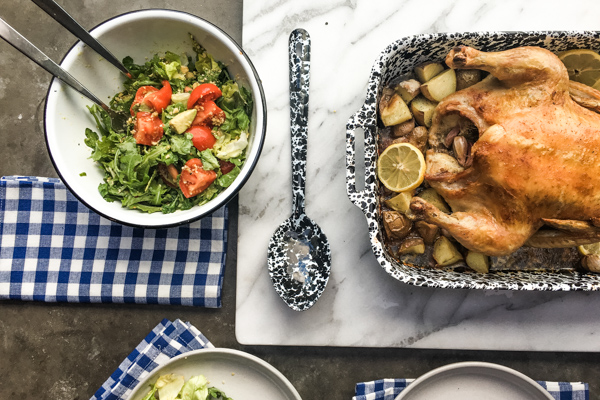 Can't go wrong with a roasted chicken, potatoes & my mom's green salad.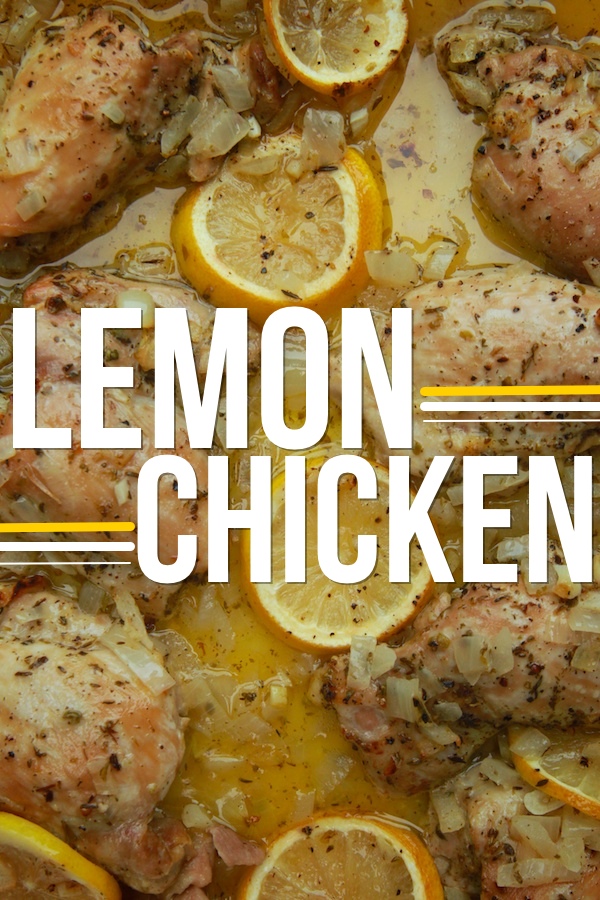 I totally forgot that my Lemon Chicken is Whole 30 compliant.
I think it would be good over some cauliflower rice.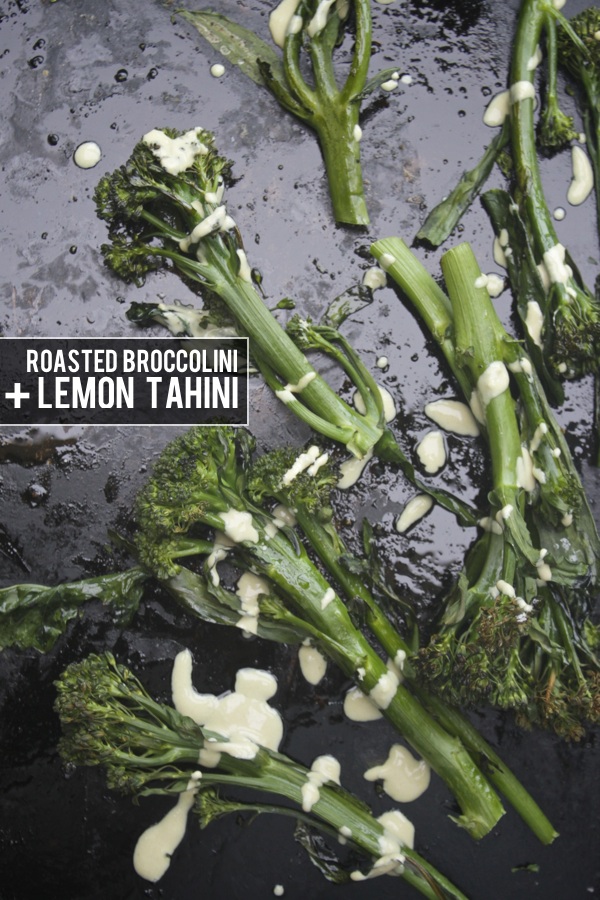 A lot of the time, I just roasted broccolini. This lemon tahini sauce is Whole30 compliant!\ It's really good on potatoes.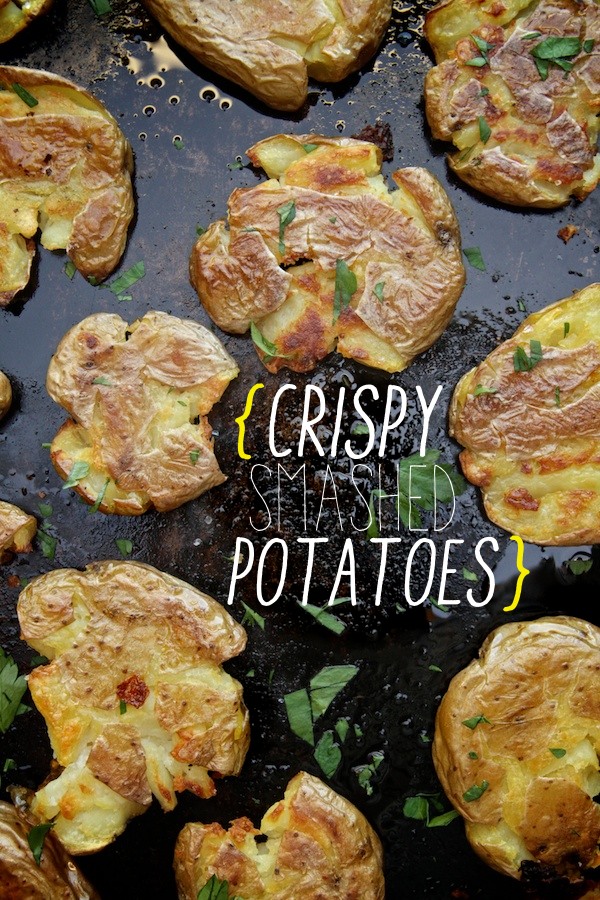 Speaking of potatoes….
Bookmark this one. Because it's a game changer.
I wanted to show you what meal prep kinda looked like around here during the whole 30.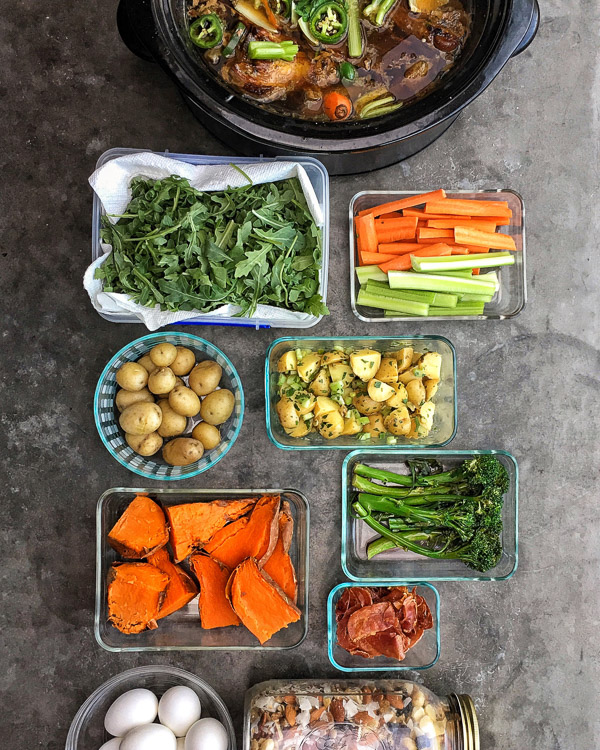 There's bone broth, washed arugula, cut up carrots & celery, potato salad, cooked potatoes, roasted sweet potatoes, roasted broccolini, crispy prosciutto, hard boiled eggs & trail mix.
I made a combination of this dijon potato salad & this salt & vinegar potato salad and it was bonkers! I ended up adding celery to the mix.
It's important to have things on the ready so you'll make the best choices possible.
Like this salad I mixed up in minutes.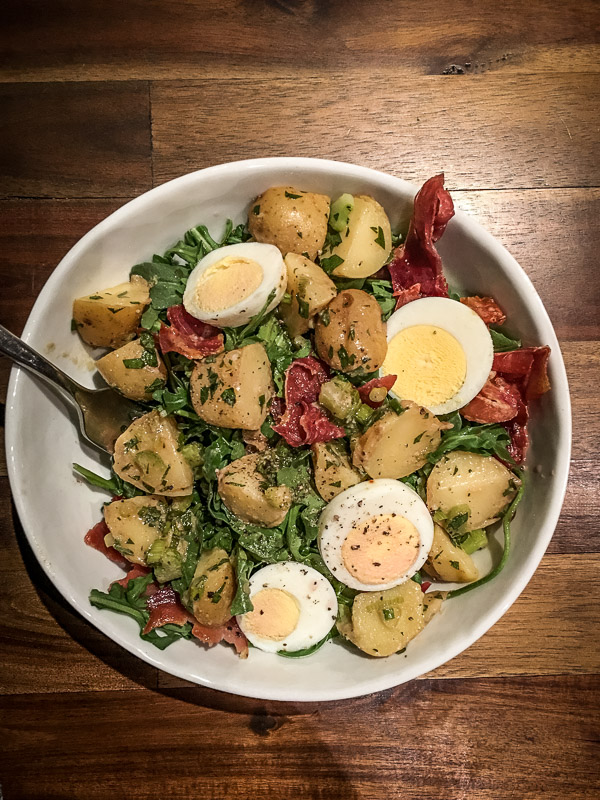 From that particular meal prep session I made:
Arugula, crispy pancetta (you can see how to make it in this post), potato salad and some fresh herbs. I made it with a vinaigrette.
Other things I would add to the meal prep so I could have quick lunches & dinners: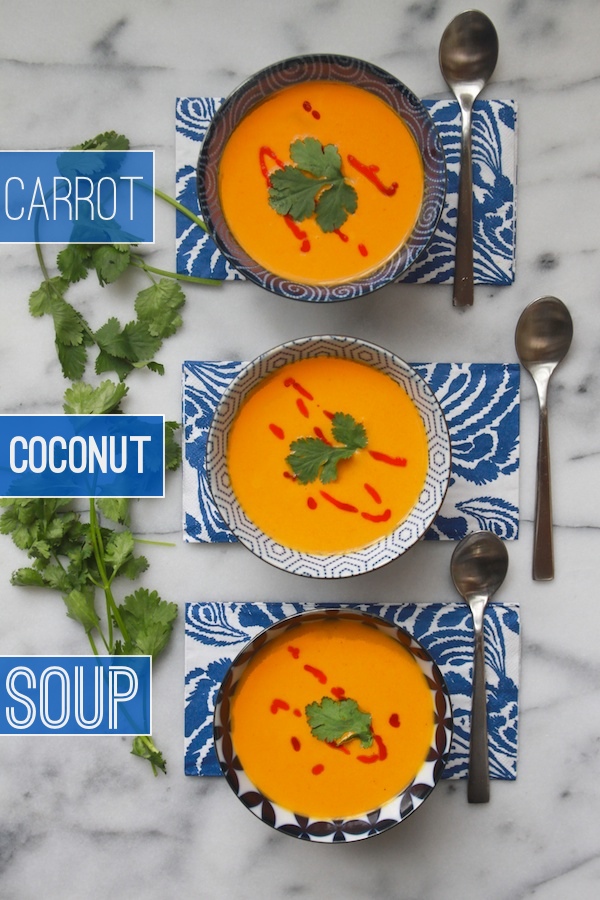 You can turn Coconut Carrot Soup into a Whole30 soup by using ghee or oil instead of the butter. Find a sriracha that doesn't have sugar in it and I think you're cool.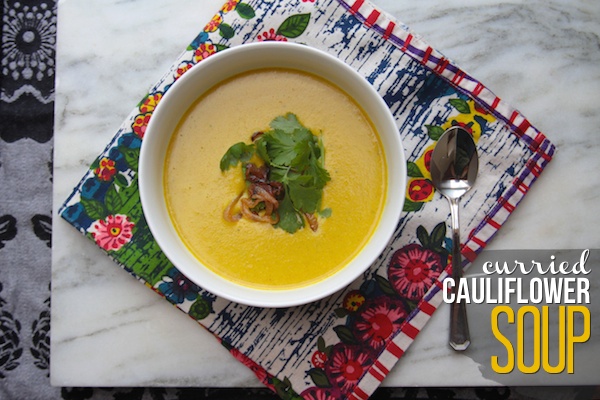 Now that the weather is colder, I'd like to add this Curried Cauliflower Soup into my rotation. It's so creamy thanks to cashews!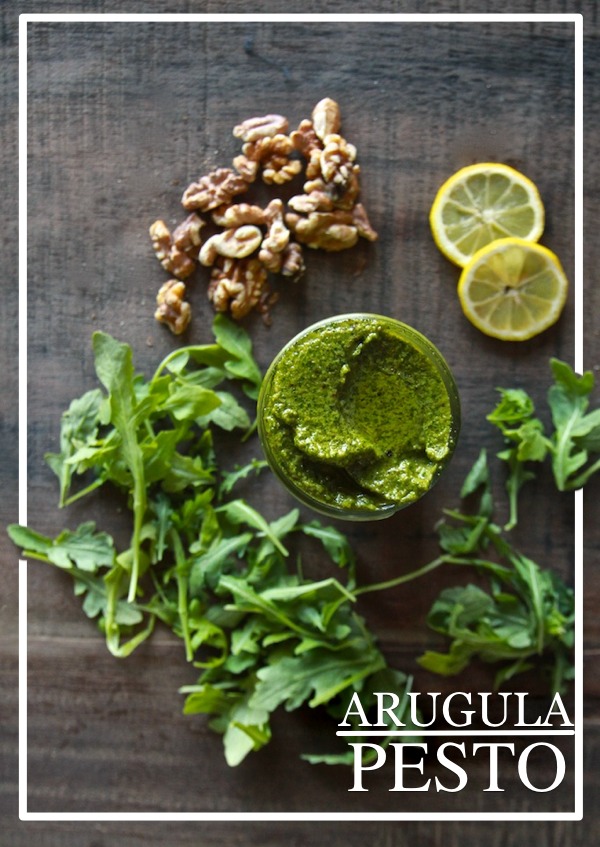 Arugula Pesto is a great addition to your Whole30 game. You can put it on eggs and potatoes. It would be great on steaks or grilled portobello mushrooms!
Caramelized Onions are really good to have on hand. Great in soup, on eggs, on steaks or with sausage & peppers.  They're great with mushrooms too.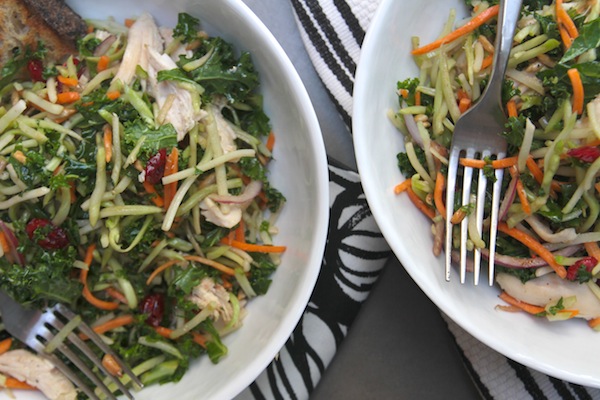 I like a salad with a lot of texture and variety. This Broccoli Kale Slaw is great because it's got so many different flavors going on. It will hold up well the next day too.
Kale Slaw with Red Cabbage & Carrots is another good one for this time of year. I love when you can sneak some apple into a salad.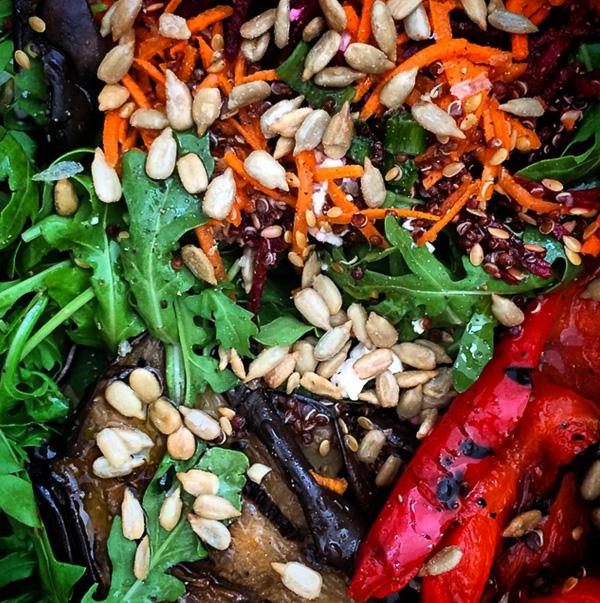 There's also my reset button salad which would be Whole30 if you don't add in the feta or quinoa.
Roasted vegetables are a nice addition.
You could make this Portuguese Kale & Potato Soup with Whole30 compliant kielbasa. This Sausage soup will still be awesome without the beans.
And of course if you want to turn snack into dinner, you can refer to one of these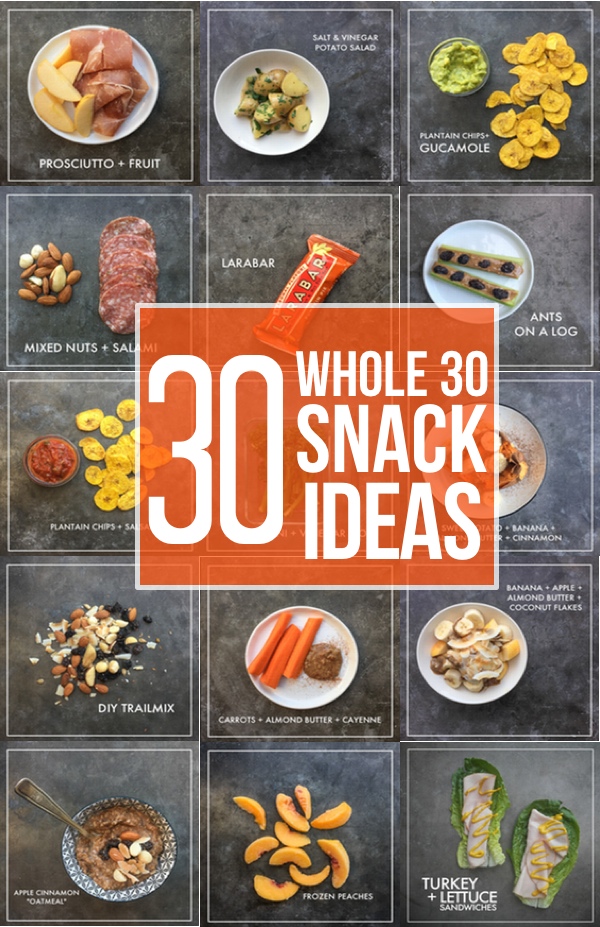 Thanks for checking out my Whole30 Meal Ideas post!
What are your favorite Whole30 meals? What am I missing?!