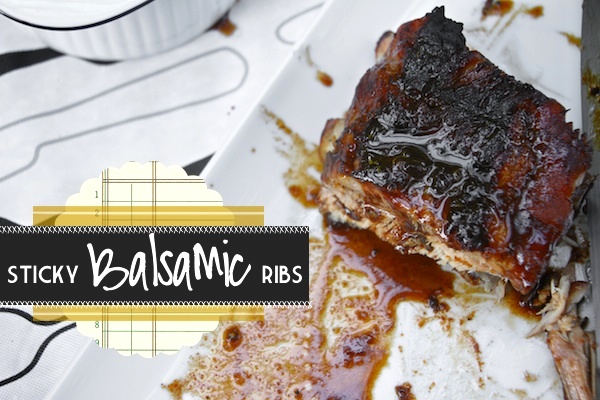 While I was letting these ribs sit in the fridge to marinate, I got it in my head to invite some friends over for dinner. Casey panicked and interrupted my phone call with, "What are you gonna feed them for dinner??!" As in…he didn't want me to share his ribs with anyone. I thought it was cute.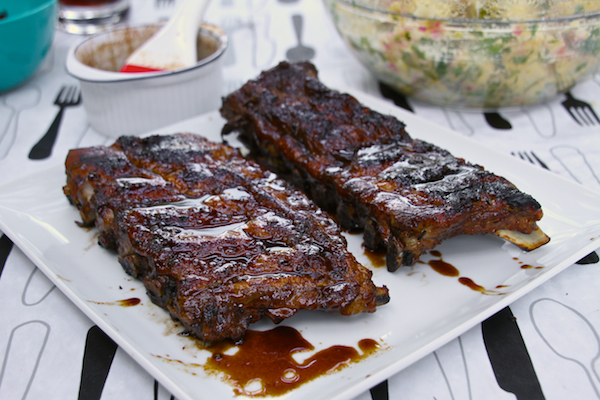 He was lucky they didn't pick up the phone. But really…I was the lucky one. I randomly made a batch of taquitos a few hours before dinner  just so I could fill  him up and eat more ribs. I'm selfish/smart like that.
There's no shame.
These Sticky Balsamic Ribs are fantastically tender, sticky tangy, sweet, easy to make & eat…everything ribs should be!
Sharing is optional.
And we're off!
Ingredient gathering tiiiiime. We're making the rub first.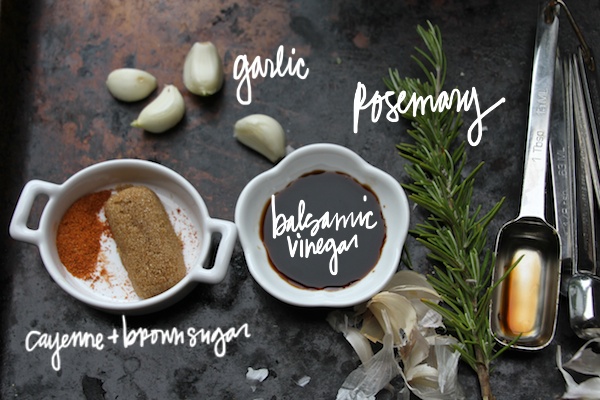 Bash garlic and salt with a mortar & pestle.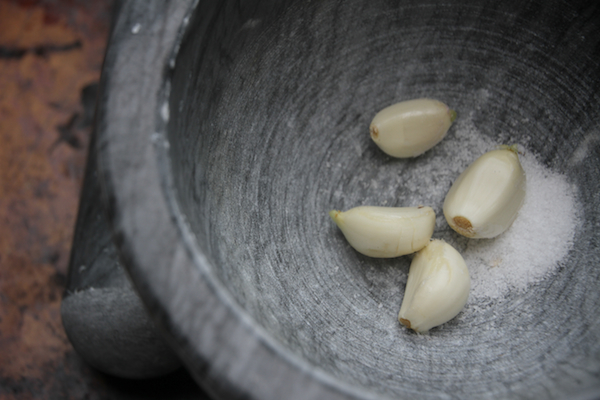 Add in the cayenne, brown sugar & pepper.
Don't forget the rosemary. I almost did!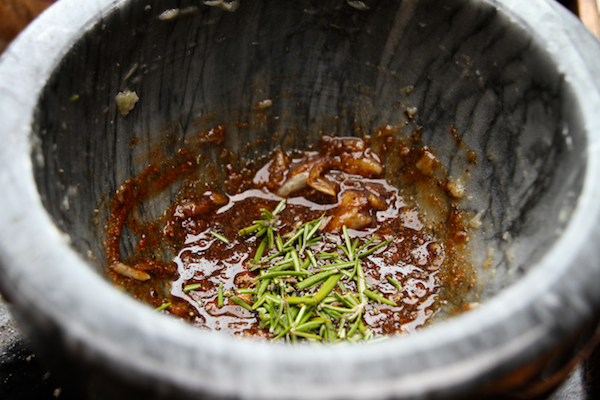 Now rub it all over the ribs & both sides. Wrap it up and let it have some time in the fridge.
As many hours as you have time for!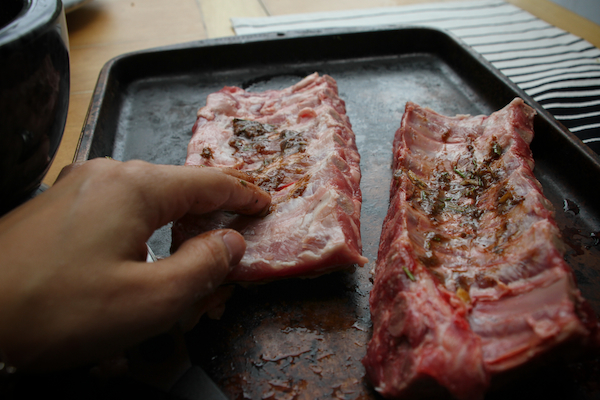 Put the ribs in a deep baking dish. Add water. Roast in the oven for 1 1/2 hours.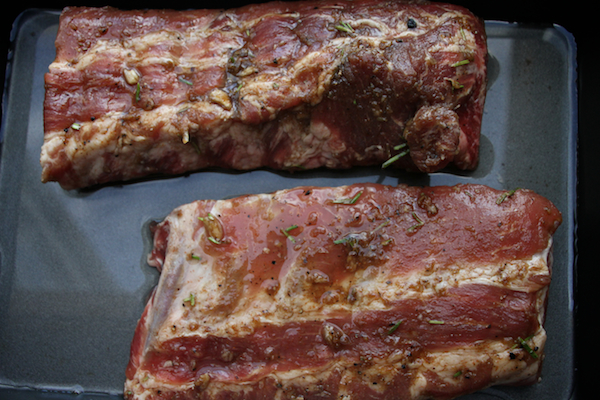 Now it's sticky balsamic glaze time. All this goes into a pot. Reduce!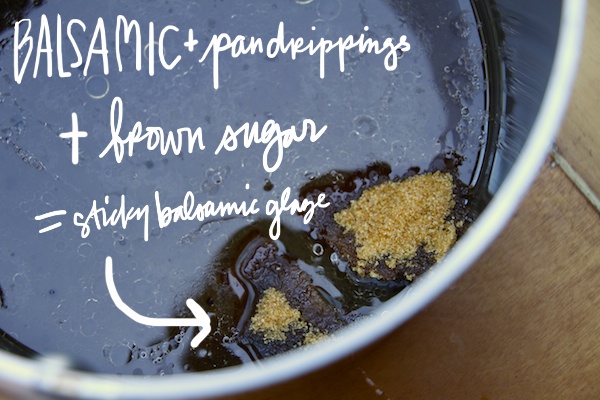 When the ribs are done in the oven, rub that glaze all over.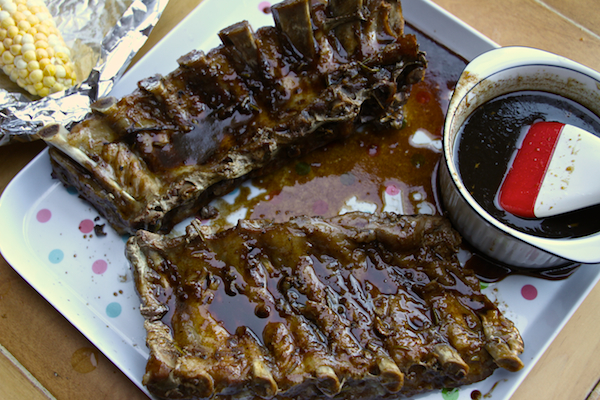 Grill! Keep basting the ribs with the glaze.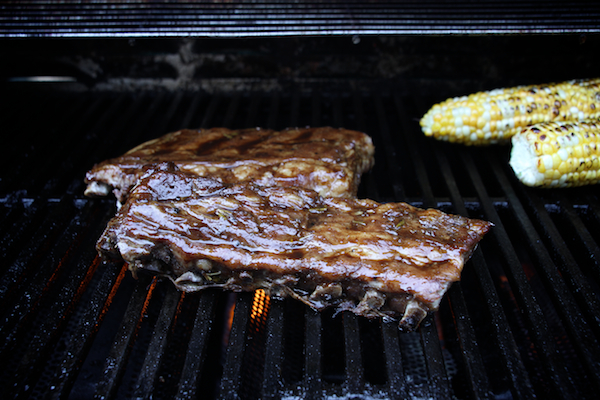 Real life application!  Tomato salad, grilled corn & Dijon Potato Salad.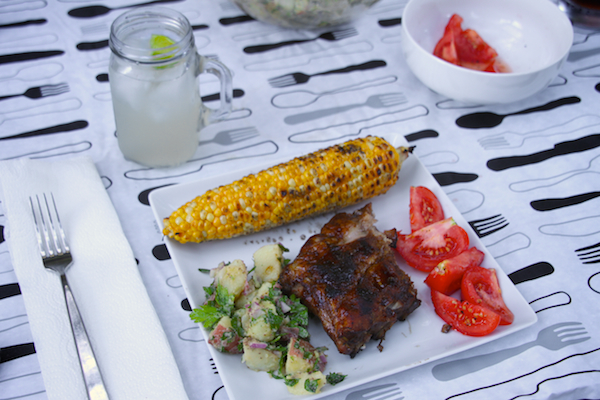 Summer living!
Sticky Balsamic Ribs

serves 3 (if someone isn't a glutton)

recipe adapted from Gourmet Magazine

For the ribs:

 4 large garlic cloves
1 tablespoon finely chopped rosemary
1 tablespoon packed dark brown sugar
 1 tablespoon balsamic vinegar
1/2 teaspoon cayenne
1.5-2 pounds baby back pork ribs
1 cup water

For the glaze:

1 cup hot water
1/2 cup balsamic vinegar
1/2 cup packed dark brown sugar

Marinate and roast ribs:


Mince and mash garlic to a paste with 1/2 teaspoon salt. Stir together with rosemary, brown sugar, vinegar, cayenne, 1 teaspoon salt, and 1/2 teaspoon pepper. Rub evenly all over ribs and transfer to roasting pans. Marinate, chilled, 8 to 24 hours.

Preheat oven to 425°F with rack in the middle.

Pour 1/2 cup water into the roasting pan and tightly cover pans with foil. Roast ribs, switching position of pans halfway through, until meat is very tender, about 1 3/4 hours. Remove pans from oven and transfer ribs to a platter.

Make glaze and grill ribs:
Add 1/2  cup hot water to each roasting pan and scrape up brown bits. Skim off and discard fat, then transfer liquid to a 10-inch skillet. Add vinegar and brown sugar and bring to a boil, stirring occasionally. Boil until reduced to about 1 cup, about 15 minutes.

Prepare grill for direct-heat cooking over medium-hot charcoal (medium heat for gas)

Brush some of glaze onto both sides of racks of ribs. Grill, turning occasionally, until ribs are hot and grill marks appear, about 6 minutes.

Brush ribs with more glaze and serve remaining glaze on the side.