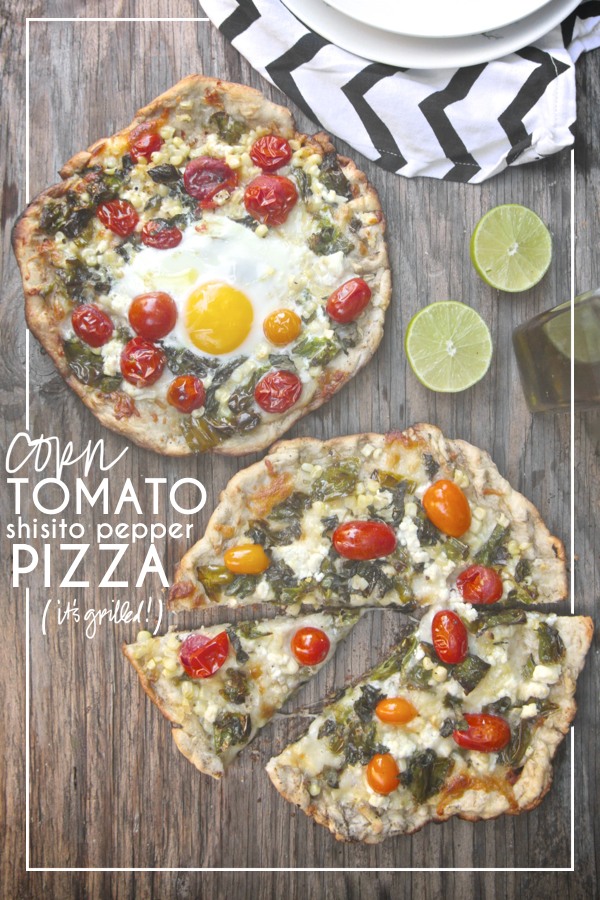 New post! Corn Tomato Shishito Pepper Pizza
Ever since I made the Grilled BBQ Chicken Pizza a few weeks ago, I haven't stopped thinking about all of the possible pizza combinations I'd like to attempt this summer. Confession: I have a separate google doc for that endeavor. I wonder how well my grill will work during the winter….when I'm standing out in the rain with umbrella. I think the crunch and crisp of a grilled pizza is definitely WORTH IT. That reminds me…I need a good pair of rain boots.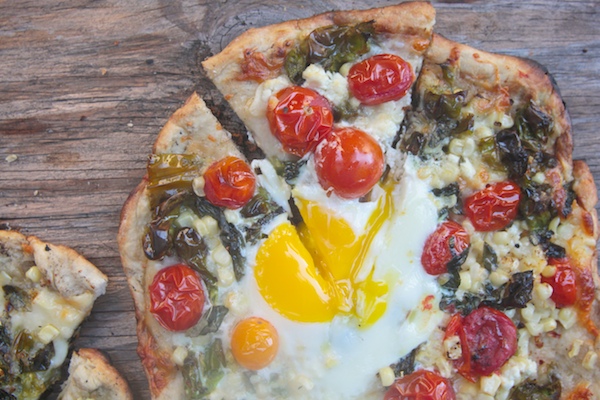 I bought shisito peppers at the market with the sole intention of grilling them so they're salty, supple and smokey. Have you had blistered shisito peppers? They're exceptional! But then I thought…wait can we make a whole meal out of them? I mean…if we eat enough, then YES. But why don't we take them to the next level and PUT THEM ON A PIZZA.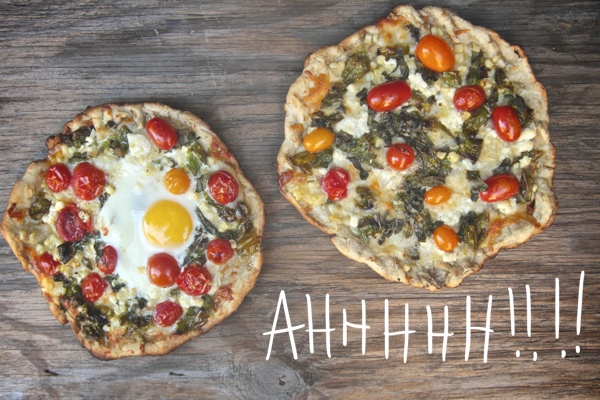 So, I did just that. We exploit summer's bounty and we add fresh corn, tomatoes and basil. There are several slices of garlic nestled into the cheese to pump of the flavor. And we finish with a squeeze of lime to brighten it up. Oh and I totally #putaneggonit ! Because #WHYNOT
And we're off!
We start with my favorite no knead pizza dough. Start the dough at least two hours before you're ready to make the pizza on the grill. If need be, you can put the dough in the fridge to stop the rising and then let it warm up to room temperature for about 30 minutes before you're ready to grill.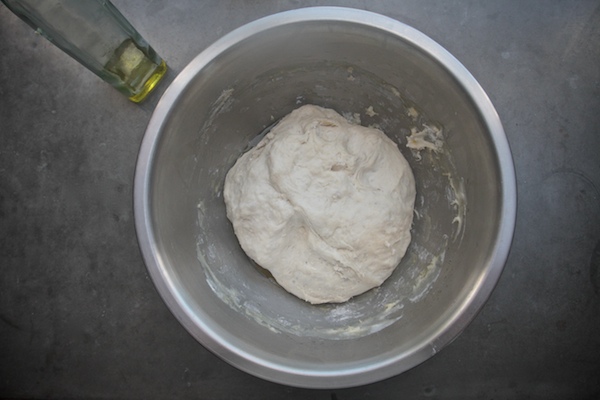 The recipe for the dough makes 4 ten inch pizzas.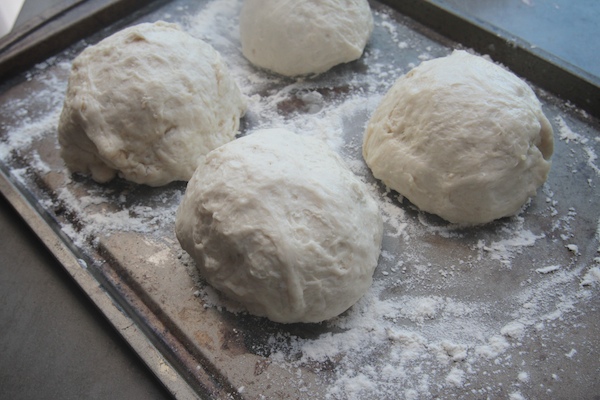 But the toppings here are for TWO pizzas. You can make two large pizzas… or you can have a party and make 4.
It's especially nice when you have someone who likes something you don't GIVE THEM THEIR OWN PIZZA.
I obviously have strong feelings about this. #pickyeaterchild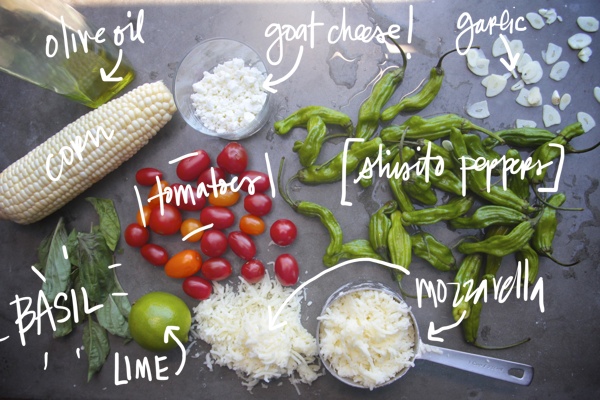 First item of business is to grill our shisito peppers. Put them in a bowl, add glug of olive oil on top and season liberally with salt and add a little fresh cracked pepper to the mix.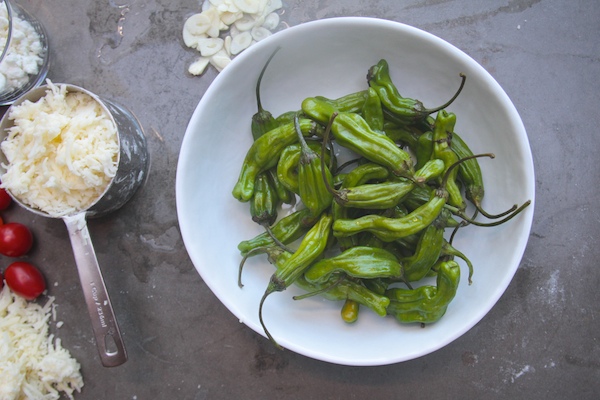 To get your grill ready for pizza grilling, one side must be super hot and the other side a low-medium.
Put the peppers on the high side.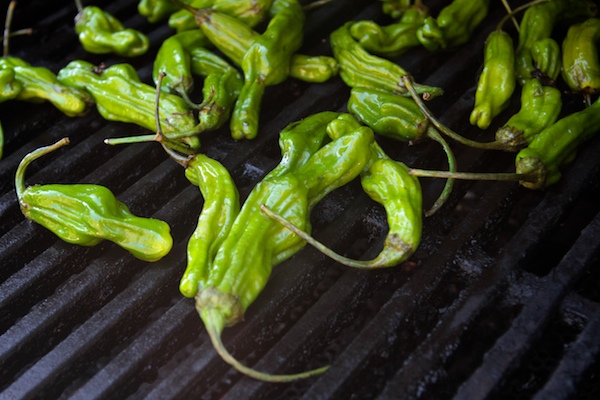 Toss them around on the grill. They were large enough to not fall through my grates! After a few minutes they are nicely blistered & charred. Put them in a bowl. Let cool and then chop them up. Make sure you take the stems off.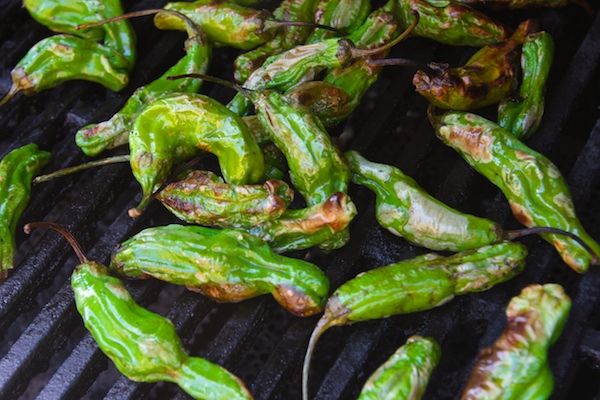 And we grill the PIZZA.
Sometimes I like to add a little olive oil to the top of the dough. Totally not necessary, but why NOT?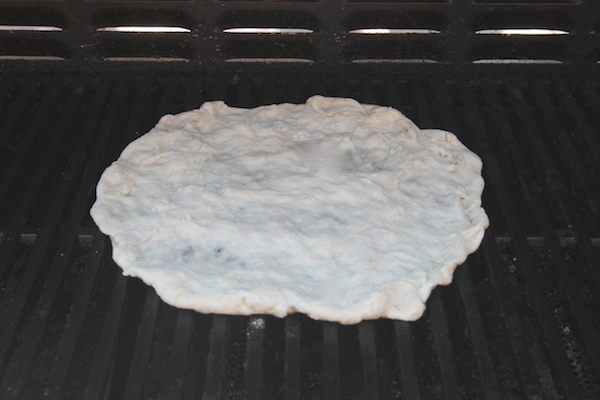 After 4-5 minutes the dough will release from the grates and have a little char on it.
We flip it over…and we TOP IT. I'm learning that it's easiest to do this off the grill.
I used a broiler pan because if you ask your husband to bring you out a baking sheet, that's what he brings you. 🙂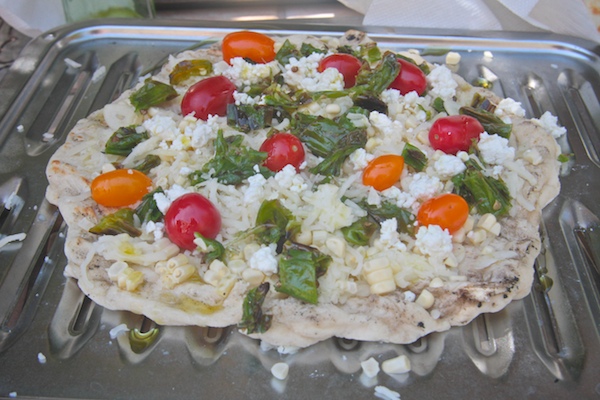 And we GRILL.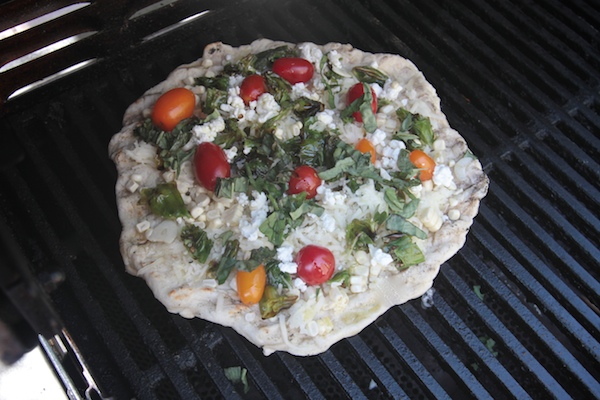 At this point I was like….maybe I should put an egg on it?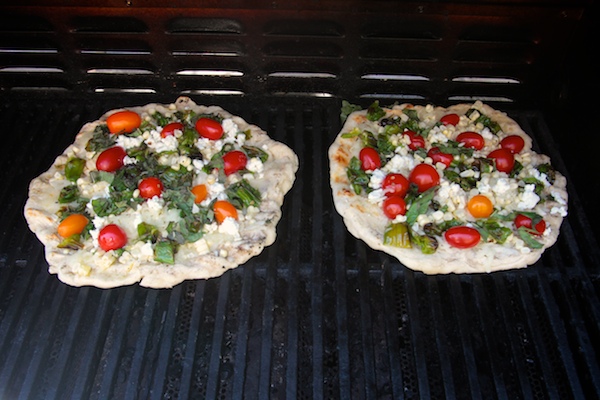 SO I did!! In hindsight, I probably should have done it a little sooner because the bottom got a little charred.
But OMG IT WAS THE BEST DECISION I'VE EVER MADE.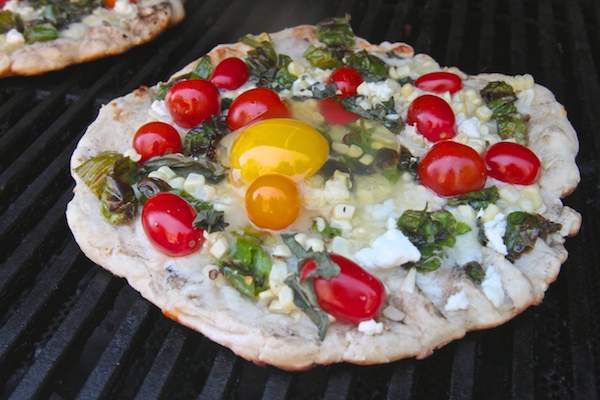 After the pizza comes off the grill, squeeze from fresh lime on there. It makes the flavors POP.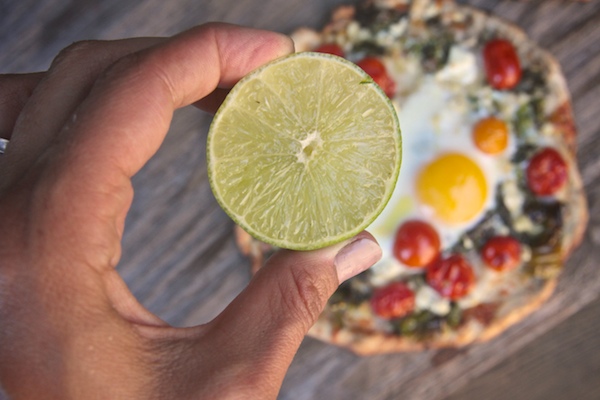 Look at those roasted tomatoes!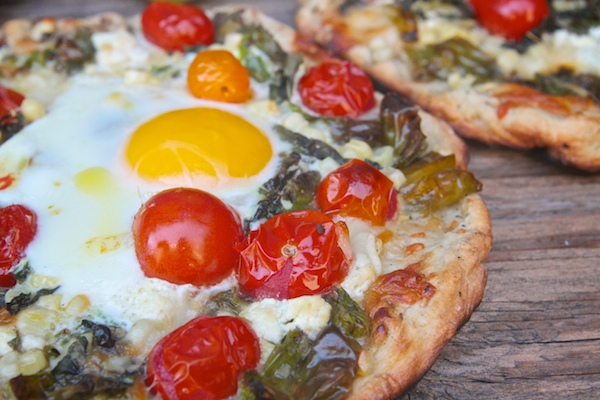 Cut into that bad boy!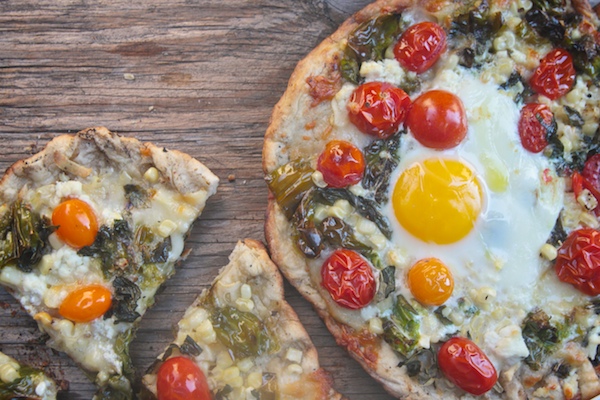 This might be my new favorite pizza!
Corn Tomato Shisito Pepper Pizza

makes 2–10 inch pizzas

no knead pizza dough (use half to make 2 pizzas)
1 lb. shisito peppers
2 glugs olive oil
sea salt & fresh cracked pepper
2 cups mozzarella cheese
2 cloves garlic, thinly sliced
1 cup fresh corn (from about 1 ear)
large handful cherry tomatoes
1/3 cup goat cheese
5-6 fresh basil leaves, roughly chopped
fresh lime juice, for serving
egg, totally optional but super exceptional

Preheat grill, making sure one section is on high and the other is at medium heat. In a medium bowl, toss shisito peppers with 1 glug olive oil, a generous sprinkling of sea salt and fresh cracked pepper. Place peppers onto hot side of grill and cook, tossing occasionally until skins are charred and blistered, about 4-5 minutes. Remove from heat, let cool slightly and then chop peppers, making sure to remove stems. Set aside.

Shape each pizza into a 10 inch round and place on the hot section of the grill. Cook pizzas for 3-4 minutes (dough should not stick) and flip pizza over. Move pizzas over to cooler side of the grill and top each pizza with half mozzarella, grilled shisito peppers, garlic, corn, tomatoes and goat cheese. Cover grill and cook pizzas for 7-9 minutes, or until crust is browned and cheese has melted. Take pizza off of the grill, top with a generous squeeze of lime juice and serve.

If you'd like to put an egg on your pizza, place the cracked egg in the center after topped pizza has been on the grill for about 2 minutes. The grill will create an "oven-like" environment and the egg should steam on top. You might need to cook the pizza for additional time. Just make sure you don't burn the bottom.