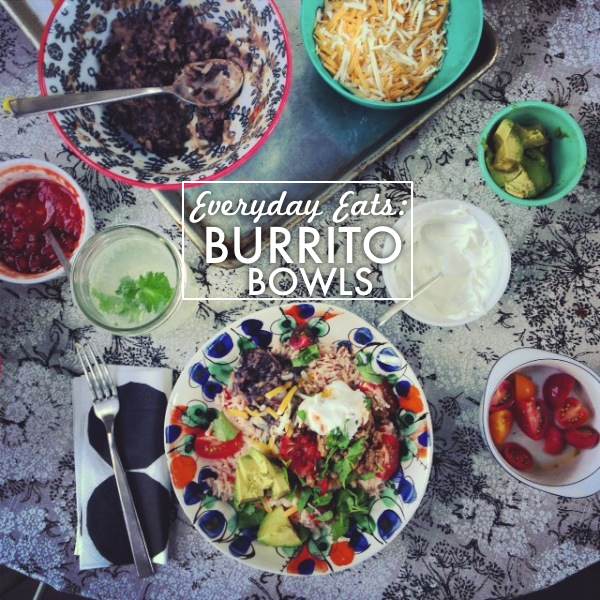 I'm starting a new series here called EVERYDAY EATS  because I really want  to show you my quick/easy/go-to meals that we enjoy on weeknights at home.  These posts won't be photographed step-by-step like my other formal recipes because Ain't Nobody Got Time For That!  The best part is that most of these meals will take less than 30 minutes to make. My goal is to give you some meal inspiration while I keep track of what we enjoy at home. It's easy for me to forget what we've enjoyed, so it's my hope that by the end of the year I'll have a whole lineup of weeknight meals I can reference. Let's do this!
We start with BURRITO Bowls. I made these for my brother-in-law & nephew last week. We almost opted to go out to dinner or order takeout because I didn't really feel like cooking at the end of the day, but then I realized that it's been a long time since I cooked for Casey's brother, James and my nephew Spencer was in town  so I sucked it up and made us dinner!
My objective was to feed hungry DUDES quickly on a weeknight and the dudes in Casey's family are all about rice, beans & meat. If I was making this for myself, I'd probably add kale to my black beans and maybe grill some chicken or shrimp instead doing the taco meat thing. I might even turn it into a salad while everyone else is eating rice! The point is, you can make it your own way & adapt like mad!  You can also go heavy in one department and light in another. My personal servings always contain less carbs & more vegetables. The dudes in my family are on the opposite spectrum. Duuuuudes!
Also- Cilantro Limeade is a great pairing with this!
Burrito Bowls

serves 4-5

MAIN COMPONENTS:

"Spanish Rice"
Taco Meat
Quick & Easy Black Beans

"SPANISH RICE"— This is my VERY LOSE interpretation of Spanish rice.

I made a batch of white basmati rice (about 3 cups!) in our rice cooker  (best wedding present ever BTW!). When completed, I stirred in about 1/3 cup medium chunky salsa to the mix. If you use a chunky salsa, it's nice to have tomato, green chiles and onions in the rice. Hello texture & flavor! I added a few dashes of hot sauce to spice it up and then I let it hang out in the rice cooker until I was ready to assemble the bowls. Chopped cilantro is a welcomed addition to this spanish rice. It makes it taste even better. This takes about 30 minutes or so.

TACO MEAT

I browned  1lb. ground beef  in a skillet over medium heat, I drained the fat and then added a packet of taco seasoning, 1/2 cup water, half of a chopped yellow onion, and cooked until done water was reduced and onions were translucent. 10 minutes total.

QUICK & EASY BLACK BEANS

On the stove, I emptied a 15 oz. can of black beans, added 1/2 diced yellow onion, two cloves chopped garlic, 1/4 cup chopped cilantro, 1 teaspoon  ground cumin, 1 teaspoon dried oregano and a few dashes of hot sauce into a medium saucepan. I let that cook on the stove over medium heat for about 10 minutes until beans broke down, making sure to stir constantly. Finish with salt & pepper! It's actually better if you don't rinse your beans out before you cook them. And if you find them too thick, add a little bit of water while you're cooking.

TOPPINGS:

1 1/2 cups shredded cheese

1 1/2 cups shredded lettuce
1 cup chopped cherry tomatoes
1/2 cup sour cream or Greek yogurt
1 chopped avocado
1/2 cup salsa
hot sauce
1/2 cup chopped cilantro
fresh lime juice

(these are rough estimates but make sure you have at least these amounts…)

ASSEMBLY:

In a bowl, layer the rice, scoop on black beans & taco meat. Add the cheese on top, so it will melt  from the heat of everything below and follow with your favorite toppings. Sour cream & hot sauce are a must!