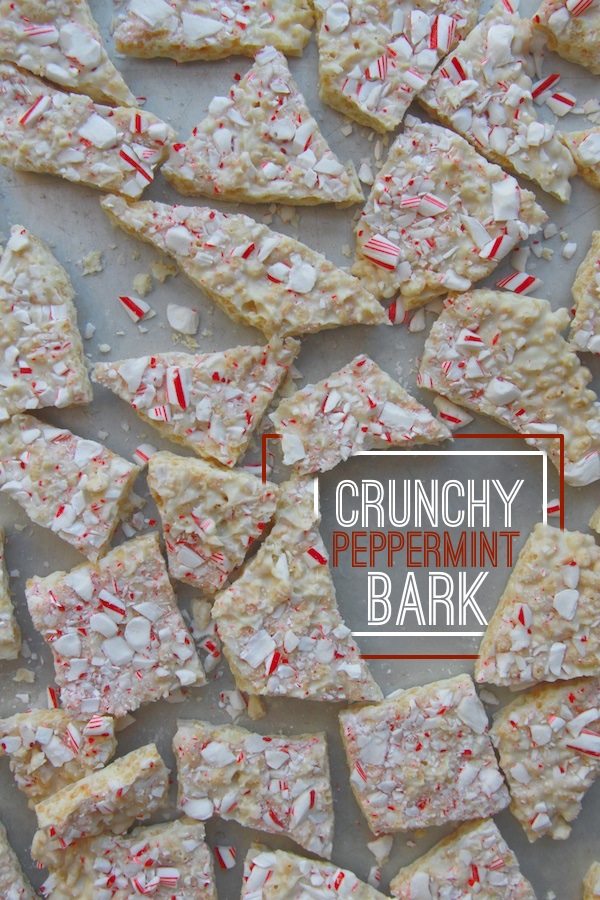 When I posted this recipe 6 years ago I didn't know it would become such a staple in my Christmas gift giving repertoire. I also didn't know much about food styling & food photography!  It's amazing what can happen in 6 years, right? Like…I have a 5 year old! CRAZY. I decided to rehash this recipe because I feel like it NEEDS to be shared.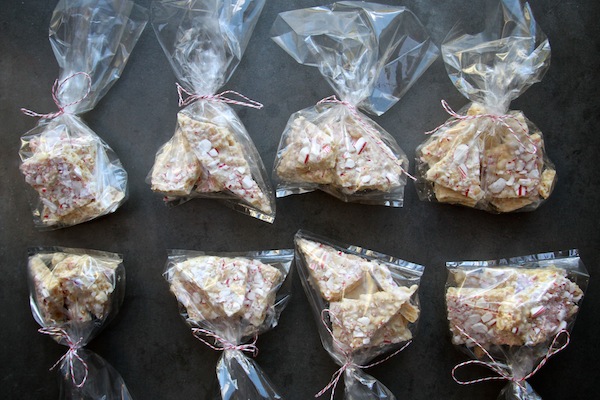 It seems like everyone has a good peppermint bark recipe, but most of the ones I encounter have a full chocolate base…and that makes me…THIRSTY.  I can only each a small bite and them I'm out.  I love this recipe because it's different and I can't stop eating the bark when I start…It's because it's creamy & crunchy because of the combination of good white chocolate, Rice Krispies & mashed up candy canes.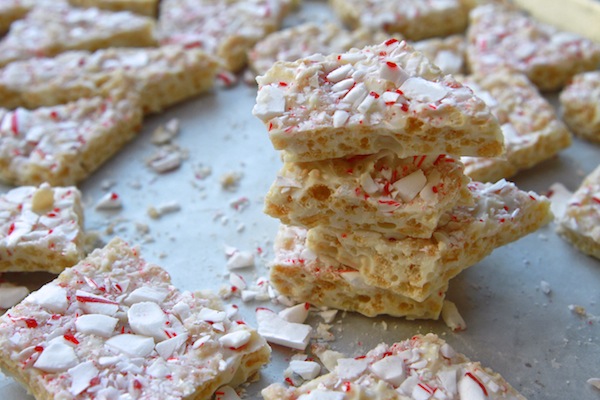 It's always a hit with the company I keep. Everyone dips into their stash the moment I gift it to them. That crunch is ADDICTIVE. You'll see. I have another bark recipe coming this week that's a riff off of this one. I can't wait to share that one with you so please stay tuned!
And we're off!
Since I've been making this recipe for the past few years, I have some tips. I used to hunt ALL OVER THE PLACE for bricks of white chocolate. One year my favorite grocery sold it and then they stopped and I had to pay a crap ton of money for a brick at the only place I could find them. I have found that you can definitely use white chocolate chips for the recipe. I fell in love with Guittard's Au Lait Chips.  I buy a few bags and make at least two batches. The quality is very good and they melt really well.
Originally, the recipe called for peppermint candies, but I've found that candy canes work just as well. I use about 6 per batch. I always bash up more though because I make A LOT at once.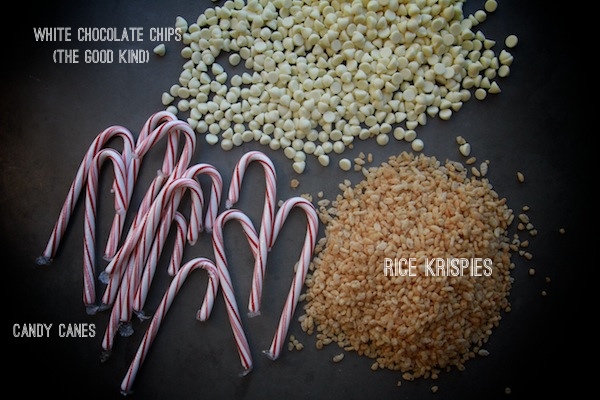 Candies get unwrapped. Now put them in a plastic bag. BASH.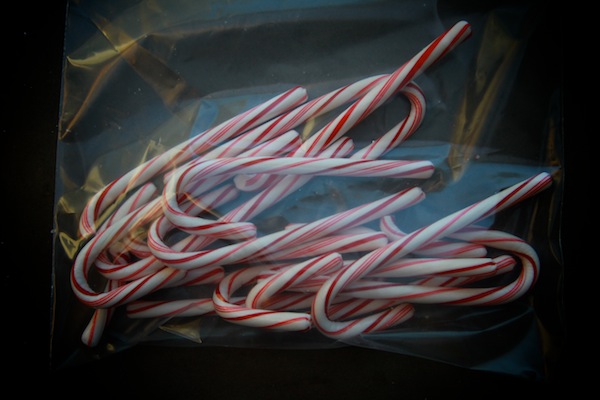 Transfer all the bits to a bowl. If you have any dust separate that and mix it in whipped cream and put it on your hot chocolate for a tasty treat!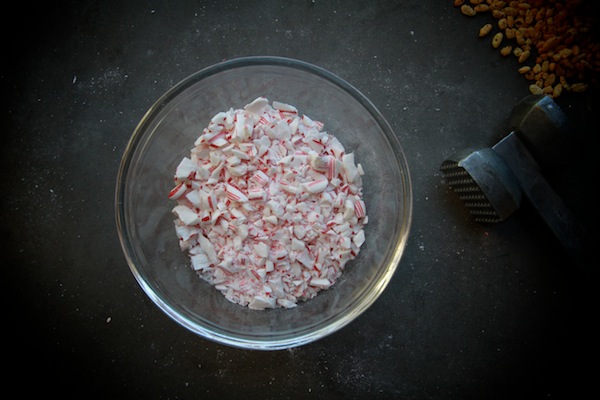 Also–another shortcut! I microwave the chips in a microwave safe bowl. Three increments of 30-40 seconds on high.
Done.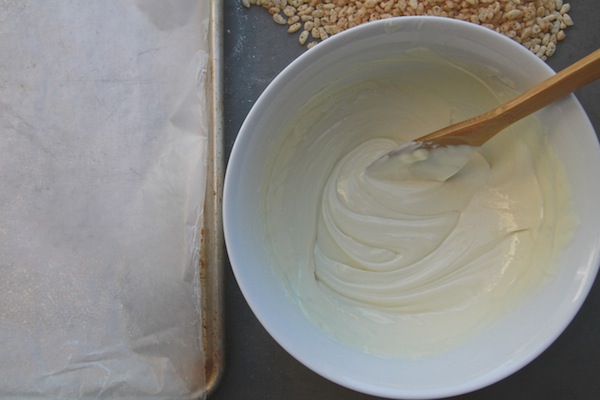 Mix the cereal in with the white chocolate. Line a baking sheet with waxed paper.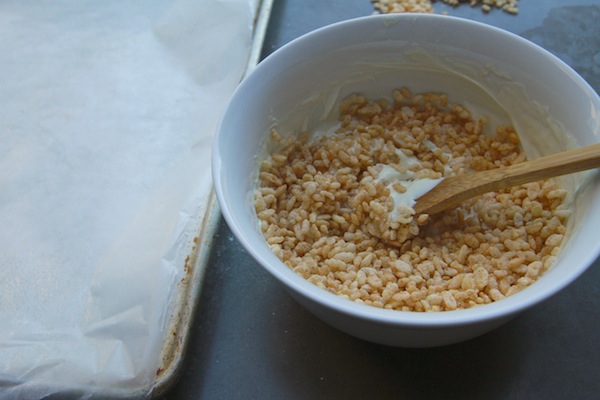 Spread the mixture on the sheet. We're gonna make a rectangle.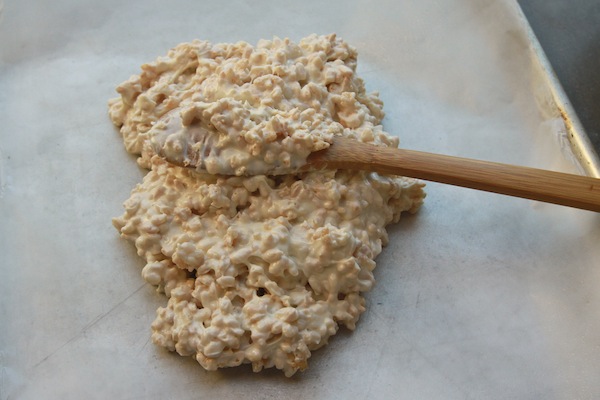 Rectangle is done. Don't worry about smooth edges.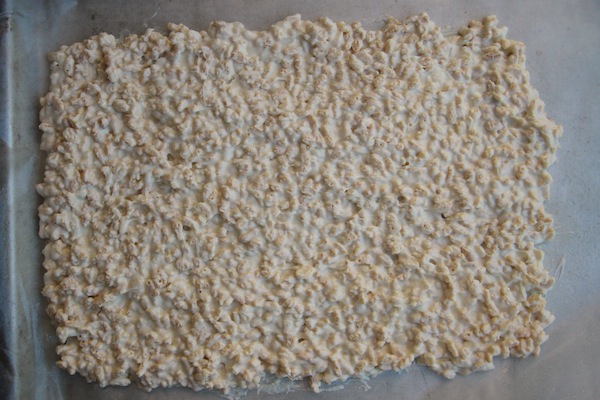 Now we add the crushed candy canes on top. So easy.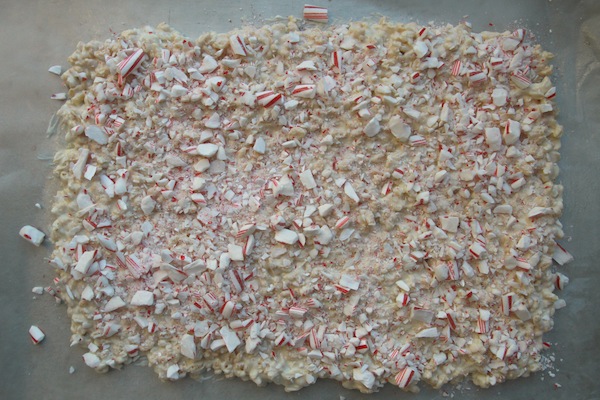 You take another piece of wax paper and you push the candy canes into the bark. This is so they stick.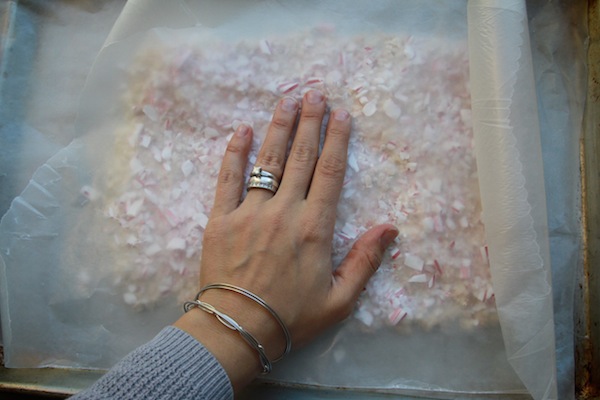 You let them set up in the fridge for about 20 minutes. Take the wax paper off and break into pieces!
I always use my hands. It's kinda fun.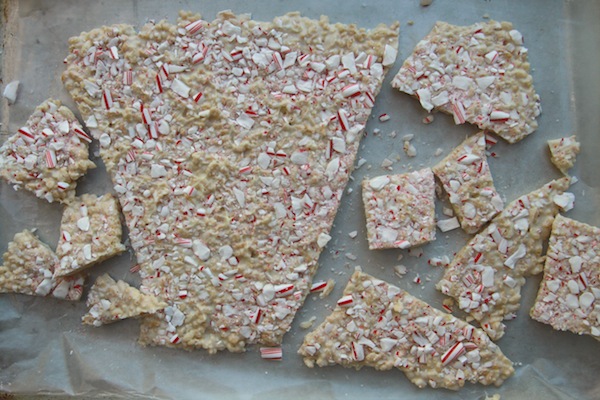 No two pieces are alike. I usually pack 4-5 pieces up in little baggies. Makes enough for 8 gifts.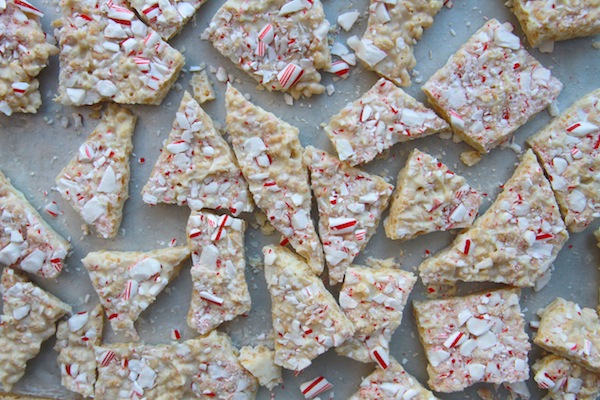 Your holiday gift giving just got reeeeeeeeeeal easy.  Oh! If you're looking to branch out, add chocolate drizzle on top!
OR!
Before you put the candy canes on, put the bark in the fridge for 20 minutes. Then pour a layer of dark chocolate on top. THEN add the candy canes and throw the mixture back in the fridge.
Crunchy Peppermint Bark

makes about 35 pieces

recipe adapted from Everyday Food

1 pound white chocolate, chopped (use GOOD white chocolate chips)
2 cups puffed rice cereal
6-7 candy canes, unwrapped
nonstick cooking spray

Spray a 10-by-15-inch rimmed baking sheet with nonstick cooking spray; line with a piece of waxed paper. Crush candies in a Ziploc bag—strain out the powder.

Place white chocolate in a heatproof bowl set over (not in) a saucepan of simmering water. Heat, stirring occasionally, until smooth, 4 to 6 minutes. Alternately, you can melt in a microwave safe bowl in the microwave. Heat for three 30-40 second intervals on high power until melted. Remove from heat; stir in rice cereal.

Transfer mixture to prepared pan; with a spatula, spread to edges of pan.

Sprinkle with crushed candy; with a piece of waxed paper covering the entire surface, press in gently (paper prevents hands from sticking to candy and chocolate). Chill until firm, 20 to 30 minutes (no longer, as candy will begin to soften).

Peel waxed paper off. Break bark into 2-inch pieces. Store at room temperature in an airtight container, up to 1 week.