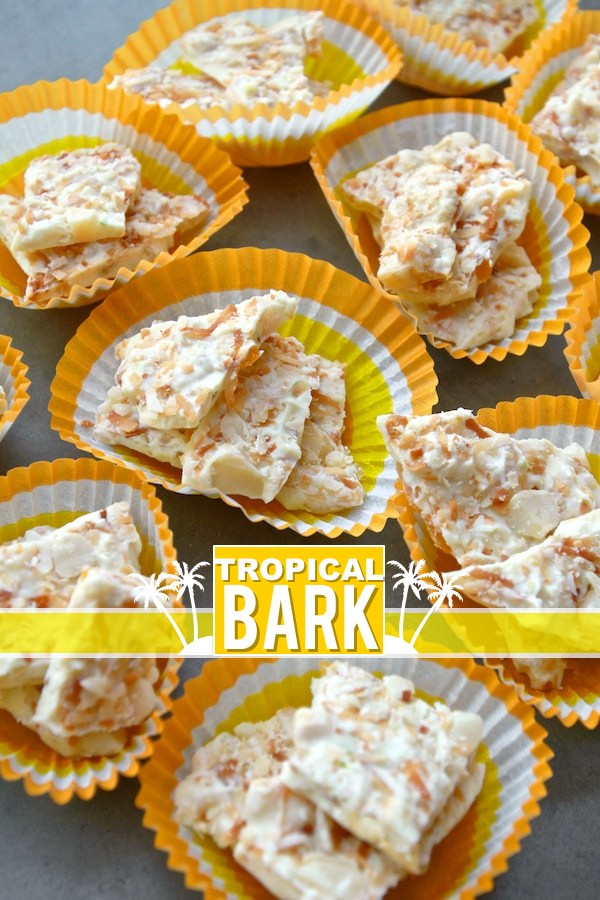 I realized that I never really announced that this week is BARK WEEK on Shutterbean! BARK WEEK…like Shark Week but for Bark. Bark like the candy, not like the dog sound.  Last week I rehashed my Crunchy Peppermint Bark recipe which fueled my current bark obsession.  Monday was all about Cookies & Cream Peppermint Bark and today I'm introducing you to another new favorite— TROPICAL BARK.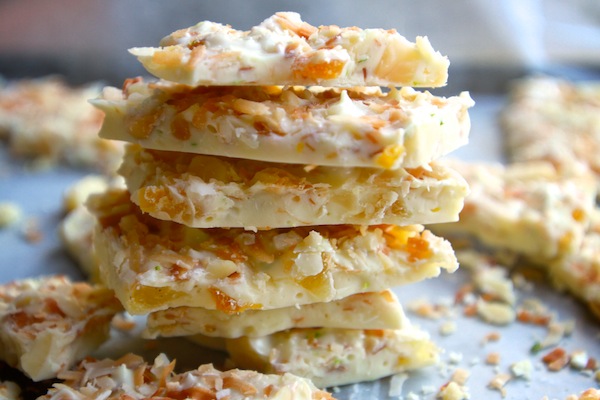 We shy away from peppermint in this bark and go the Aloha route with toasted coconut, salty roasted macadamia nuts (OH BOY!) and we add the yellow and orange jewel tones of candied mango and pineapple. It's creamy, dreamy and conjures up a quick island vacation in your mouth.  Is that even possible? Maybe. That subtle hint of lime zest makes it uber tropical! I highly recommend candied ginger if you have it. I'm going to add it to the next batch because I have some pantry stocking to do….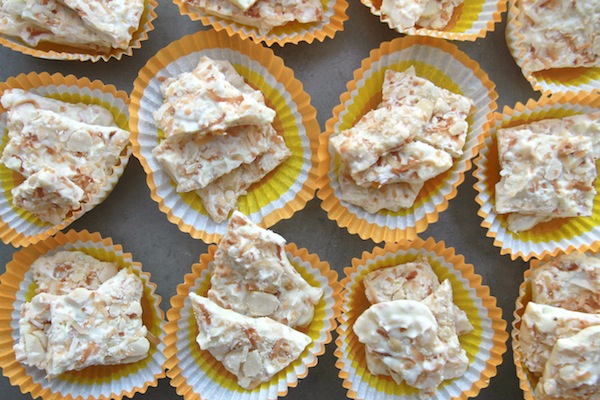 I'm glad we're on this BARK TRAIN together. Woooooot Woooooooot! Edible Gift-Town, next stop!
And we're off. Let's gather our ingredients.
Toast the coconut! I used sweetened coconut for this. I browned it on a baking sheet in the oven at 350F for about 8-10 minutes. It took longer because the coconut is moist. I know how you love when I use the word moist.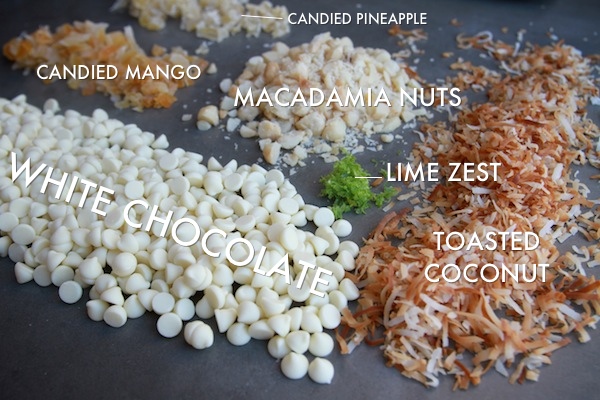 Microwave safe bowl! I used these white chocolate chips. Melt in the microwave! Use a double boiler if you feel like it!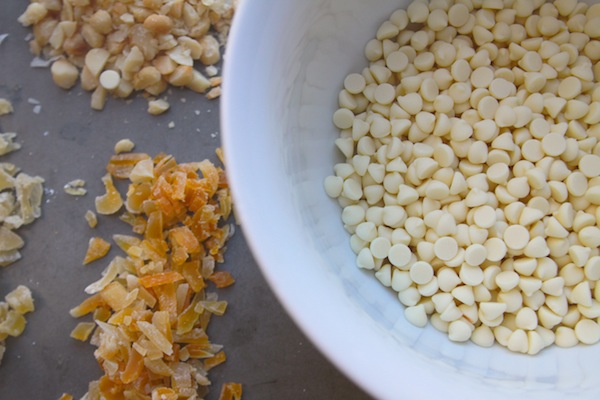 Stir in the lime zest! The more the merrier.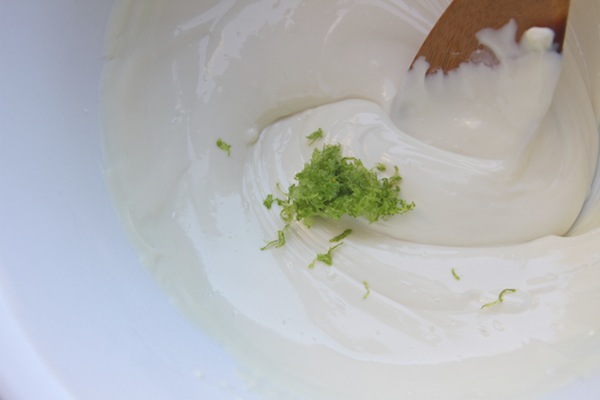 Now add in half of the nuts & coconut. Then add in the candied fruits. Stir!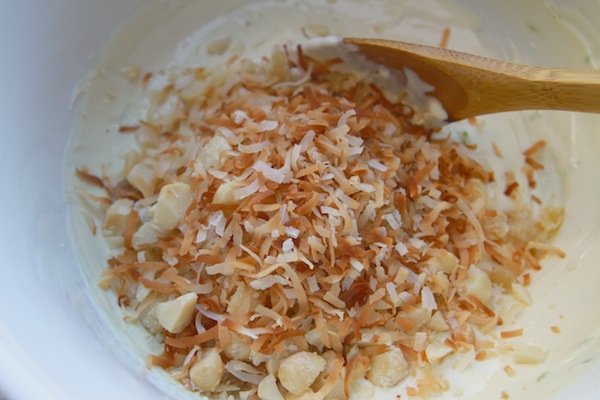 Waxed paper goes on top of a baking sheet pan sprayed with cooking spray. Spread out the bark batter.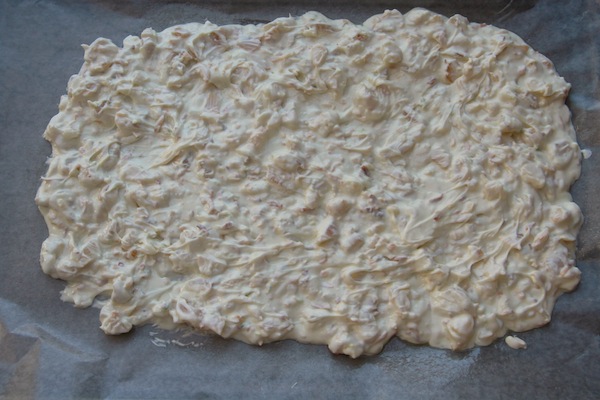 Add the rest of the nuts & coconut on top. Top with a piece of waxed paper and push the topping into the bark.
Lift off paper and set in the fridge for 15-20 minutes.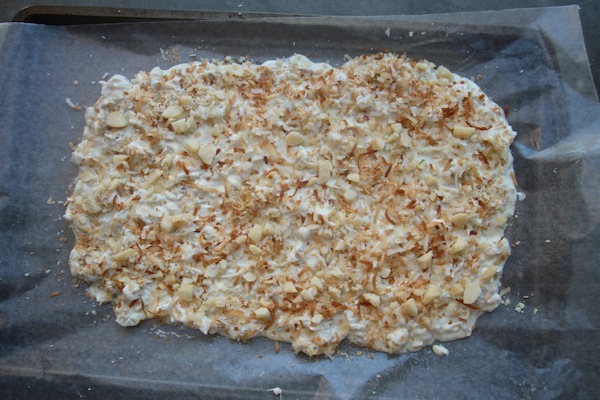 Break the bark with your hands!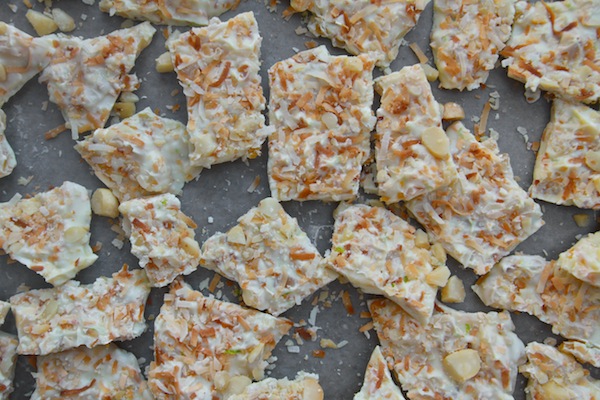 Here's the underside of the bark. Smoooooooth operator. The top is full of character and FLAVOR.
Aloha, Tropical Bark! Mahalo for making my mouth happy.
Tropical Bark

makes about 35 pieces

1 pound white chocolate, chopped (use GOOD white chocolate chips)
1 tablespoons lime zest (from 1-2 limes)
1/2 toasted sweetened shredded coconut
1/2 cup toasted chopped salted macadamia nuts
1/3 cup chopped candied pineapple
1/3 cup chopped candied mango
nonstick cooking spray

Spray a 10-by-15-inch rimmed baking sheet with nonstick cooking spray; line with a piece of waxed paper.

Place white chocolate in a heatproof bowl set over (not in) a saucepan of simmering water. Heat, stirring occasionally, until smooth, 4 to 6 minutes. Alternately, you can melt in a microwave safe bowl in the microwave. Heat for three 30-40 second intervals on high power until melted. Remove from heat; stir in lime zest until evenly distributed. Add half the toasted coconut and macadamia nuts followed by the candied pineapple and mango. Stir until ingredients are evenly coated with white chocolate.

Transfer mixture to prepared pan; with a spatula, spread to edges of pan.

Sprinkle with remaining coconut and macadamia nuts; with a piece of waxed paper covering the entire surface, press in gently (paper prevents hands from sticking to candy and chocolate). Remove wax paper from the top and chill until firm, 15 to 20 minutes (no longer, as candy will begin to soften).

Break bark into 2-inch pieces. Store at room temperature in an airtight container, up to 1 week.