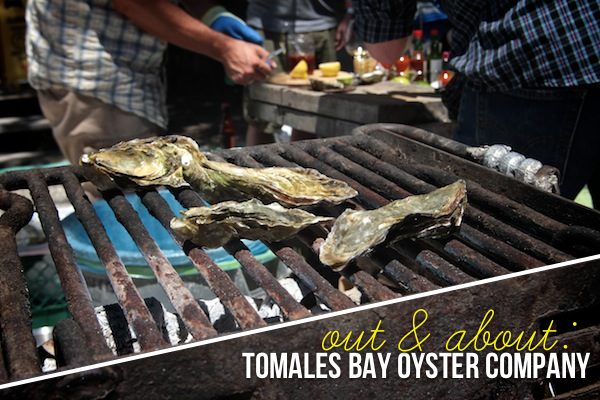 I think I might have mentioned that my husband Casey started a wine tasting group. Did I mention that? I think I was supposed to show you pictures of our first tasting party but I never did that. Must remedy that soon. Please forgive. Anyways! A few weeks ago we went to Tomales Bay Oyster Company for a white wine-themed get together/lunch with oysters & the like. As a person who doesn't care for white wine (I know! I KNOW. It doesn't matter what white wine I try, I still don't/won't like it), I chose to focus on the food for our little get-together; it's what I do best!  For those of you seeking fun/unique places to go in the Bay Area, I highly suggest checking out The Tomales Bay Oyster Company.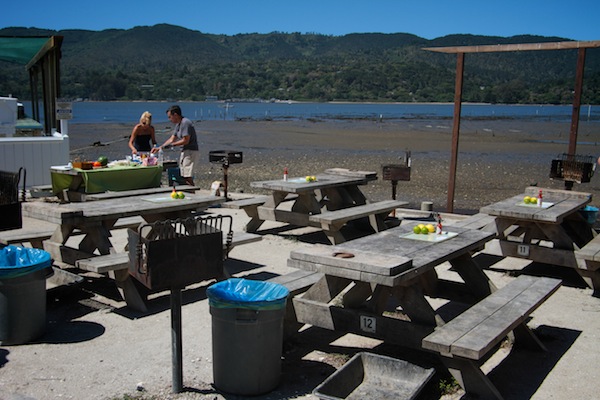 So how does it work? The Tomales Bay Oyster Company is located in Tomales Bay (who would have thought?). It's a section of land right along the coast where they rent out picnic tables (for up to 10 people) with BBQs attached. They sell oysters, clams & mussels (if they have them) and you make a day of it!
Here's the info from their website:
Group rate is $75 per table and includes the oyster shucker's starter package! Each Table is provided; one shucking knife, set of shucking gloves, fresh lemons or limes, Ice,Tabasco or Tapatio Hot Sauce and One Dozen Farm Fresh Oysters!
Here's what our day looked like: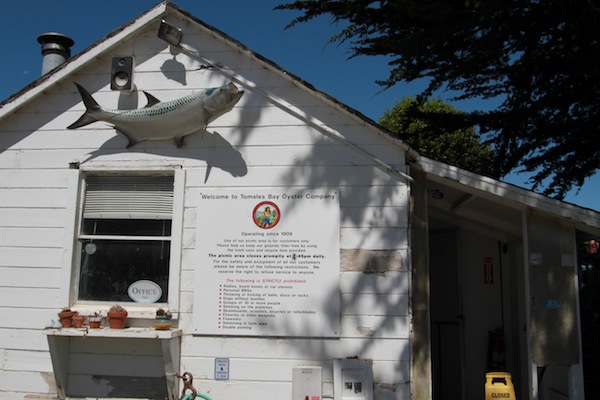 This is where you get your oysters/clams/mussels & check in for your reservation. You might not need a reservation if you come in the afternoon when people have left. I say that it's better to be safe than sorry. You could always stop by and pick up some goodies and hit the road. Parking is kind of scarce so carpooling is advised!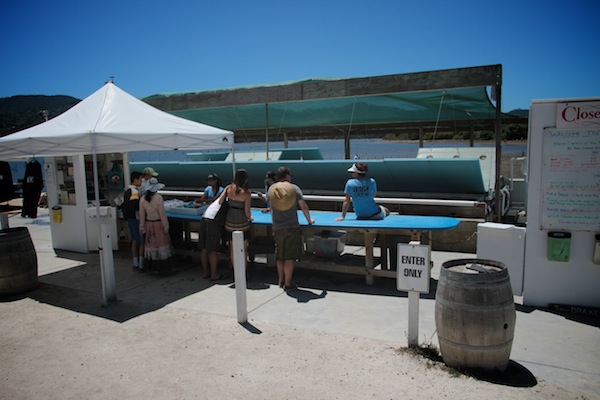 Here was the lineup that day. I brought a pot to steam mussels in case they had them, but alas! Nope.
Oh well.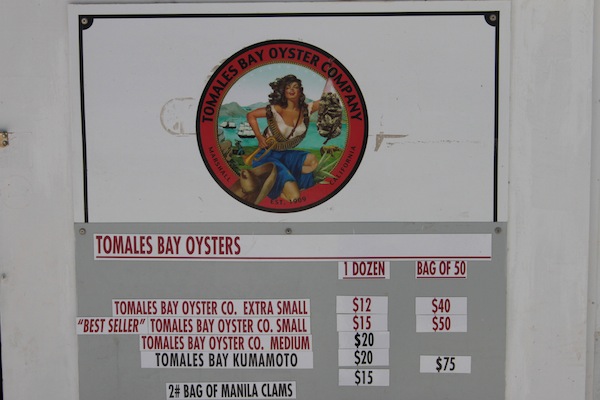 We ended up getting the "Best Seller" Tomales Bay Oysters-Small, the Medium  & the Kumamoto.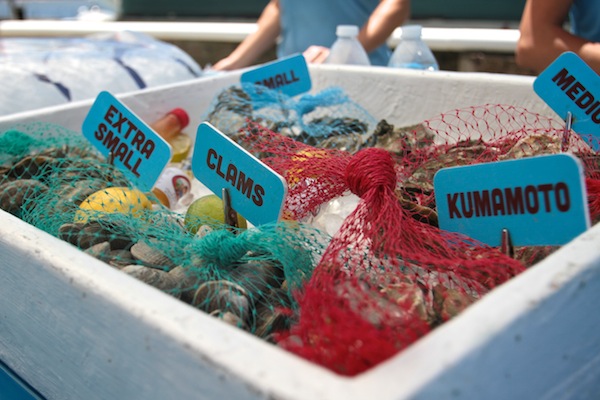 My favorite part of any endeavor?!  Setting up camp! I've been camping like three times in my life and this is always my favorite part.  Gee…I wonder why!  I love an excuse to gather supplies & pack things into the car..it's just the unpacking that I dread. Tabasco sent me a caddy (filled with different Tabasco flavors!) and I brought that along with.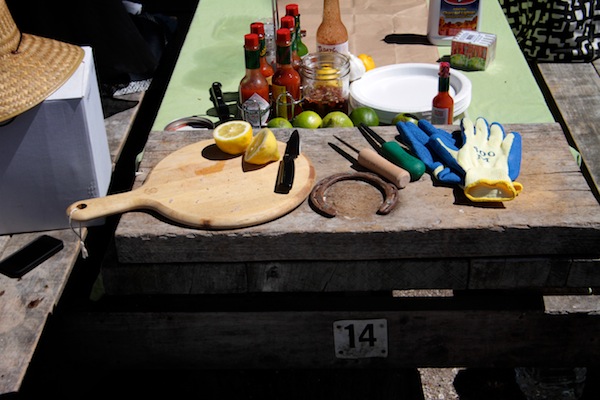 If you plan on using the BBQ at your table, bring some charcoal. Say hello to my friend Matthew! He got the fire started.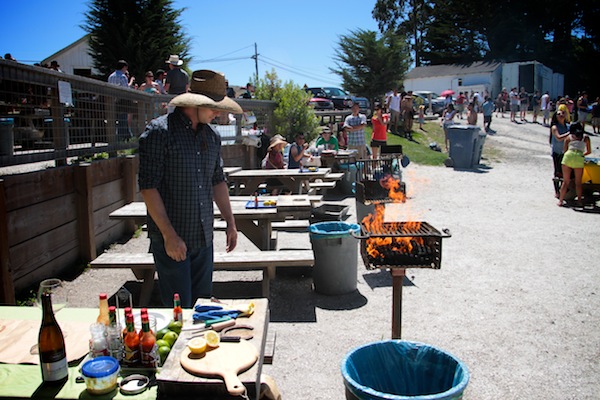 I brought ingredients to make a mignonette.  It was awesome on the raw oysters we ate.
In addition to that, we have lemons, limes, Tabasco and Tabasco butters for the BBQ oysters. I'll share that recipe soon. It was a real winner!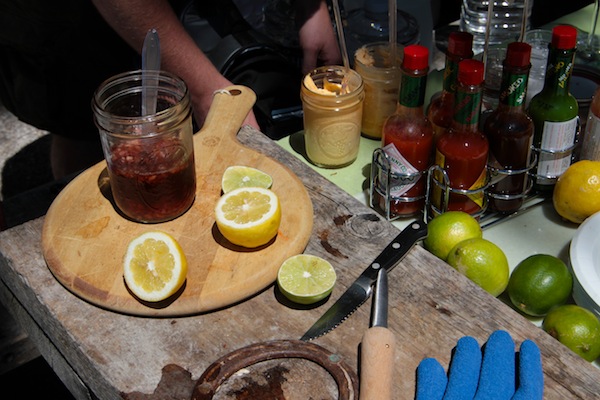 I also decided that garlic bread would be JUST the thing for our oysters. So, I brought a loaf of ciabatta and a tub of my garlic bread butter with us. I cut into the bread and smeared the butter on top. Off to the grill it went…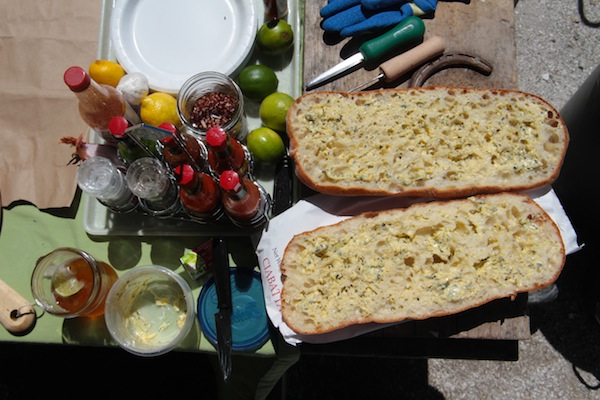 We also put together a cheese plate with fruits, crackers, nuts & sliced cured meats. I took apart a brown paper grocery bag and it turned into a makeshift cheeseboard.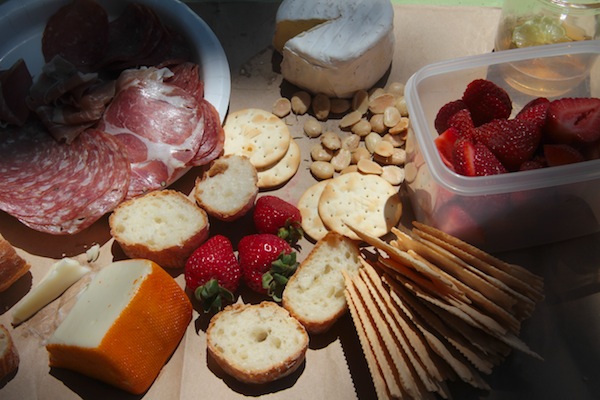 One of the best parts of Tomales Bay Oyster Company is that their staff is super friendly. They'll teach you all about oysters & give you a demo on how to shuck them– if you ask. Once I got the hang of it, I became quite obsessed with opening them.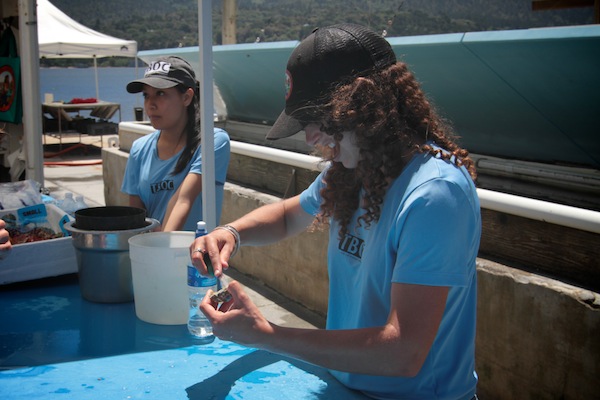 As you can see, at each table you'll find a cutting board. Perfect place to get to work on your oysters. I would suggest bring another cutting board if you want to cut food so you're guaranteed it's clean.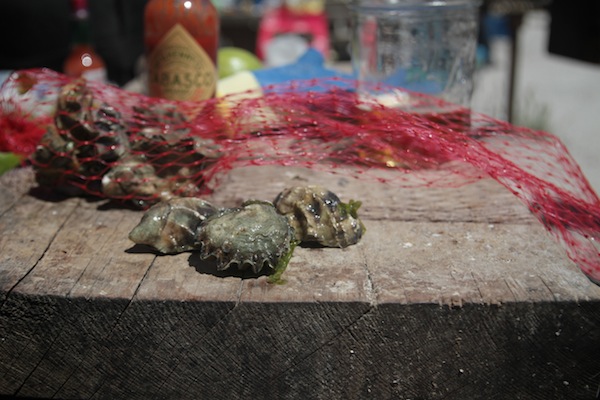 Here are the gloves they supply with your reservation.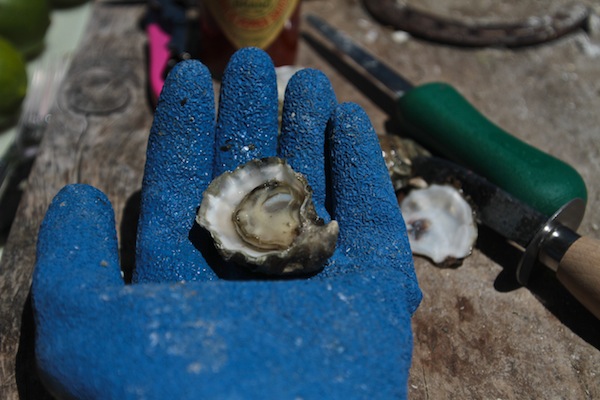 One thing I wasn't expecting? The awesome people watching. Some guys brought a bean bag toss setup. At one point it felt like we were watching that volleyball scene from Top Gun. You know what I'm talking about, don't lie. It was pretty competitive!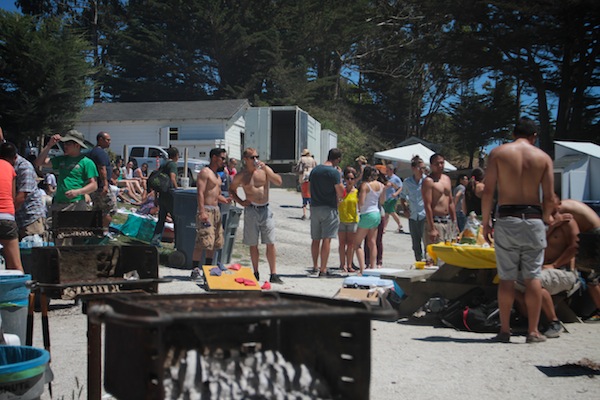 Here's a fancy group next to us. We gave them A LOT of charcoal.  They offered us beer. We traded paper plates for birthday cake at one point. People are friendly! And it's also cool to walk around and see what other people brought as their oyster outing staples.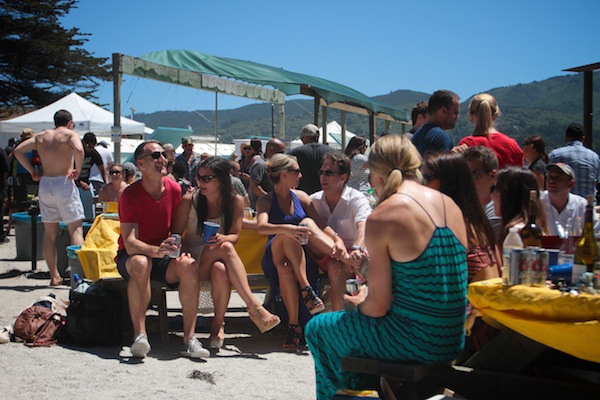 Our table in action!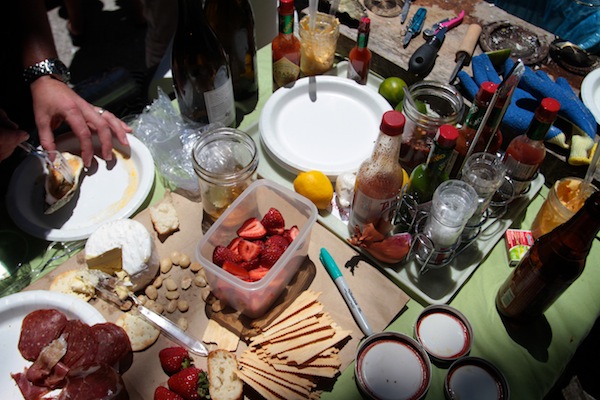 Here we are grilling oysters AND garlic bread.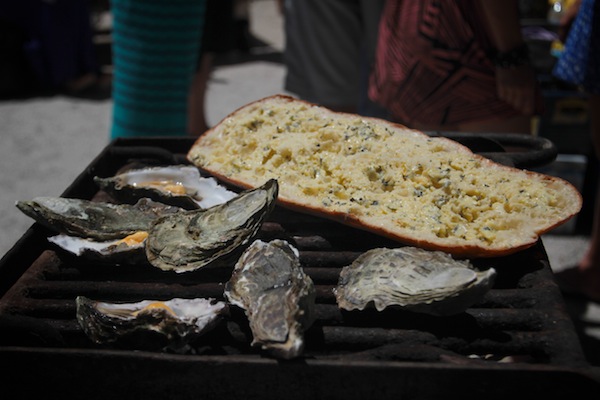 We found it helped to put the bigger oysters on the grill for a few minutes before trying to open them.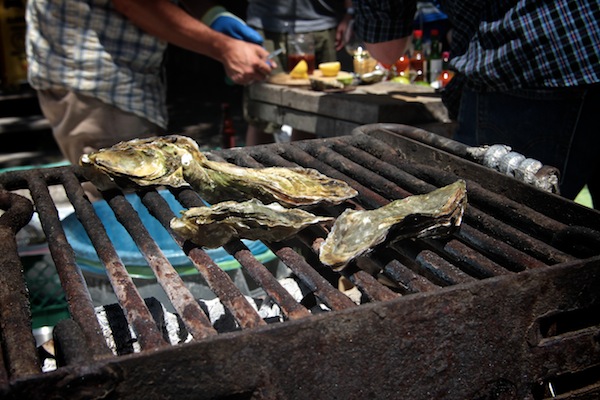 Delicious Tabasco butter….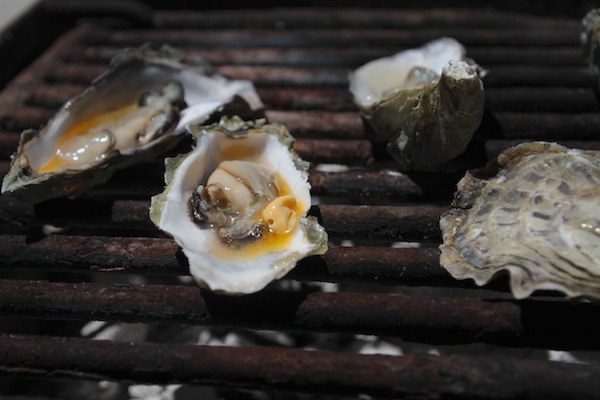 The whole area is charming. Here's the office. Our table was right next to it (#14). It turned out to be the best table in the area. There was a perfect amount of shade & sun so that all of our friends had what they wanted. We also didn't have any tables to the left of us so it felt like we were pretty secluded.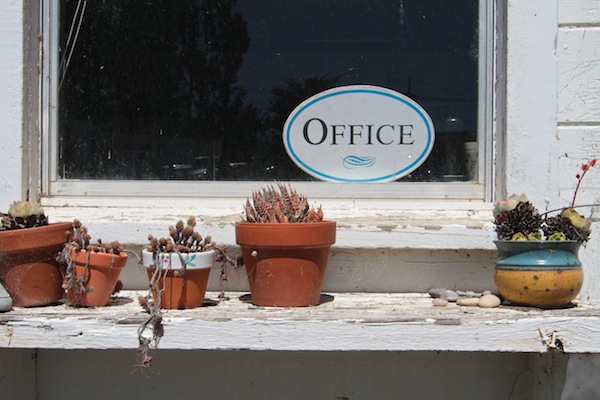 Throughout the day, the tide slowly came in so there was a nice moment where we were able to venture out near the water.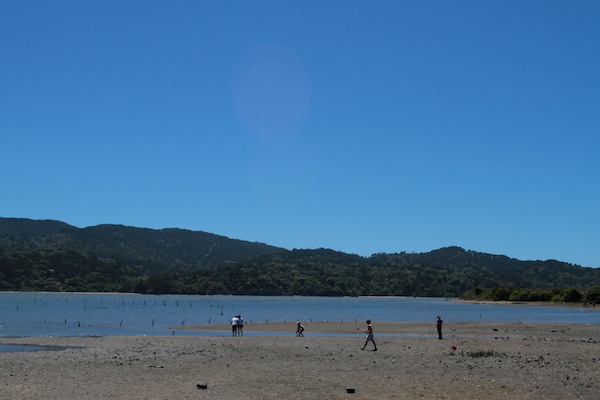 I think out of all of the oysters we tried that day, the Kumamotos were my favorite.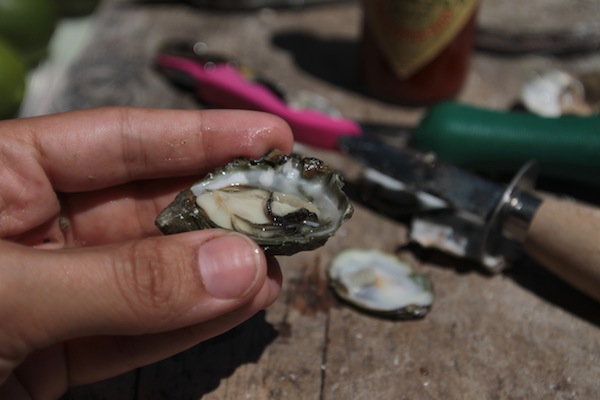 ACTION SHOT!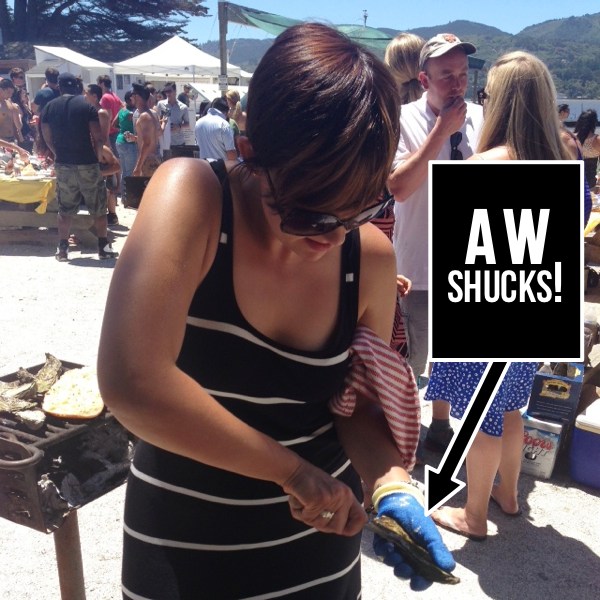 Here are the wines that were tasted!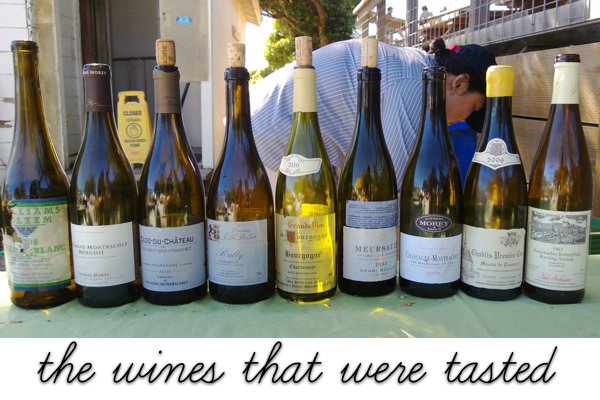 2008 Williams Selyem Limestone Ridge Chenin Blanc
2007 Domaine Thomas Morey Chassagne-Montrachet 1er Cru Morgeot
2010 Château de Puligny-Montrachet Bourgogne Blanc Clos du Château
2010 J.M. Boillot Rully La Chatalienne
2010 Paul Pernot Bourgogne Blanc
2002 Henri Boillot Meursault 1er Cru Les Charmes
2008 Domaine Vincent and Sophie Morey Chassagne-Montrachet 1er Cru Les Baudines
2006 François Raveneau Chablis 1er Cru Montée de Tonnerre
1983 Paul Anheuser Kreuznacher Krötenpfuhl Riesling Auslese.
WHAT YOU SHOULD BRING:
plenty of ice & a cooler
water
drinks of choice & a designated driver (in this case, ME!)
charcoal for the grill
a salad– I brought my Farro Salad because it could easily withstand the heat
an extra oyster shucking knife (if you have one!)
mignonette & butter
garlic bread, crackers, cheese, fruits/snacks
sunblock & hat
wet wipes (they became essential when we wanted to easily wash our hands)
salt & pepper
a sharp knife
bottle opener
plates/napkins/cups/utensils for eating & serving
cutting board
dishtowels & beach towels

15479 Highway One
Marshall, CA 94940
415-663-1242