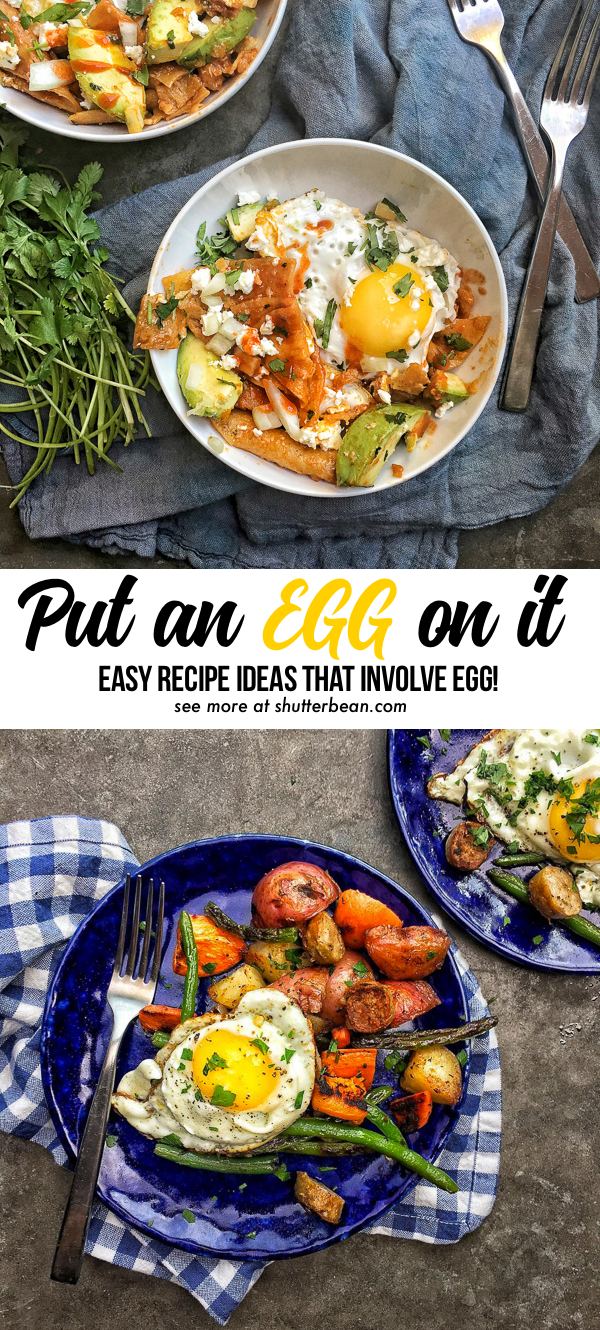 It's only Thursday and I'm  already thinking about breakfast for this weekend. At least one of our weekend breakfasts has something with eggs in it. There's nothing like a leisurely breakfast with eggs and coffee.  If you're already thinking about breakfast this weekend or you've (always) got eggs in your fridge, here are some of my favorite ways to
PUT AN EGG ON IT: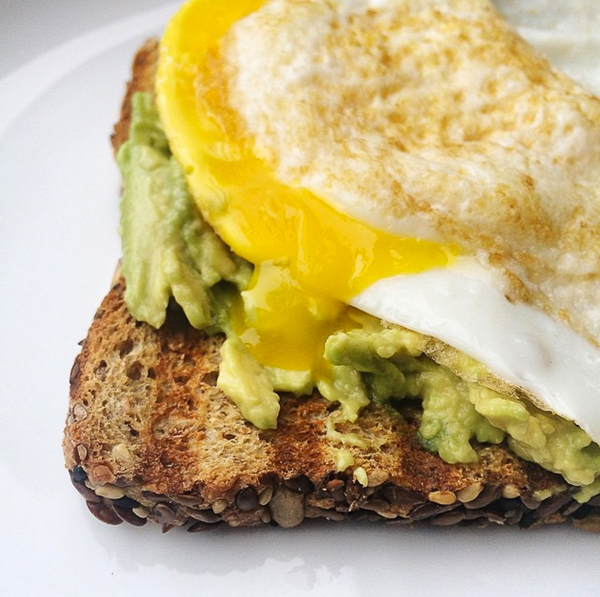 Avocado toast….with an egg on top! Salt & pepper please.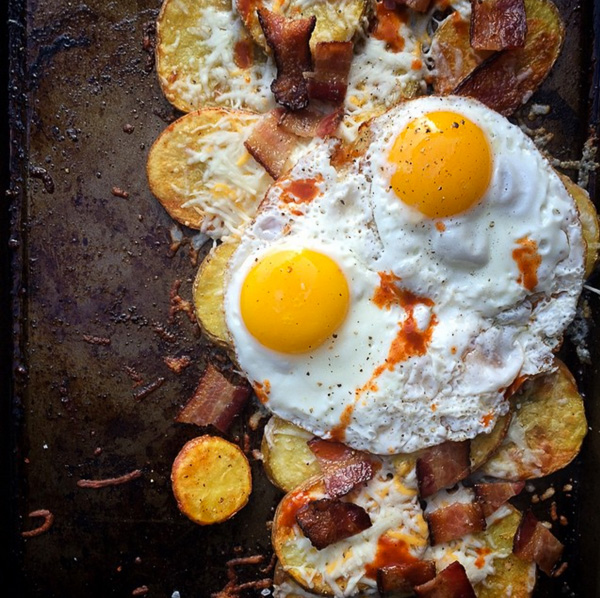 Breakfast nachos….I MEAN.
Scrambled eggs with spinach and a nice sprinkling of grated Parmesan.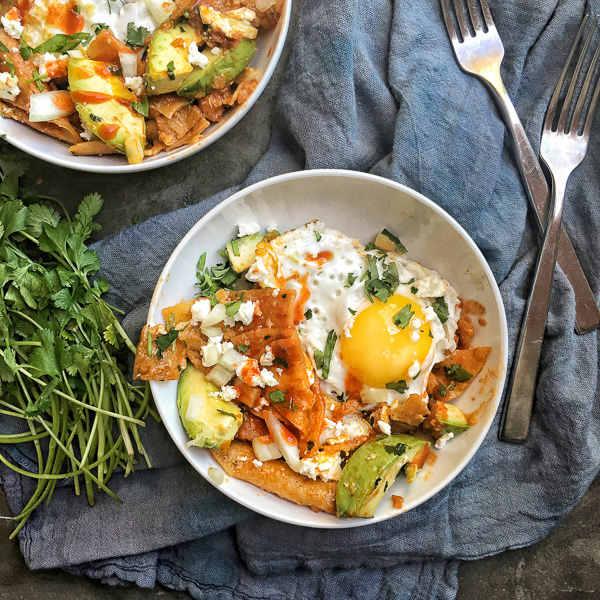 Eggs on top of chilaquiles. COME TO MAMA.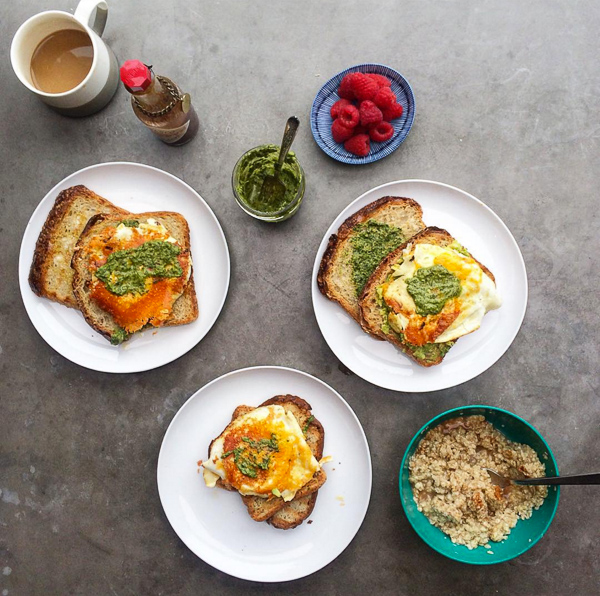 Toast with pesto & cheesy fried eggs. (I put cheese on the top of it at the very end of cooking time to melt).
(I put cheese on the top of it at the very end of cooking time to melt).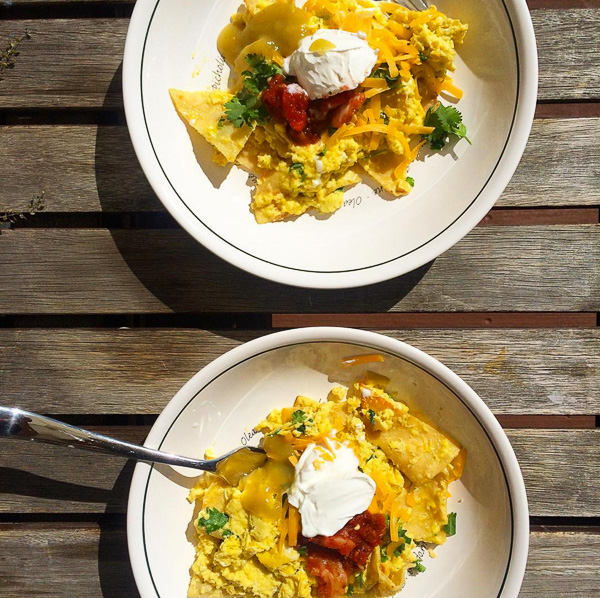 Fry some tortillas up, add eggs, salsa, cilantro and top with sour cream and cheese.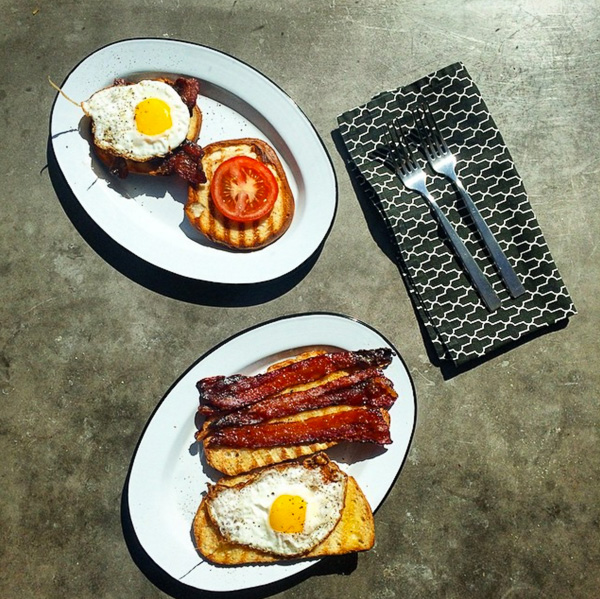 Bacon + egg sandwiches. Throw a tomato in there. Better yet, make it a B L A T with egg!  That A in BLAT stands for avocado.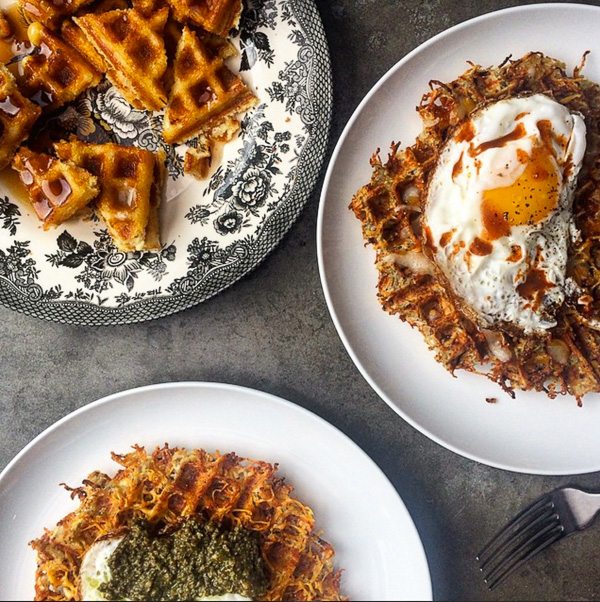 Eggs on Hashbrown Waffles.  That's right. You read that correctly.
You can make hashbrown waffles.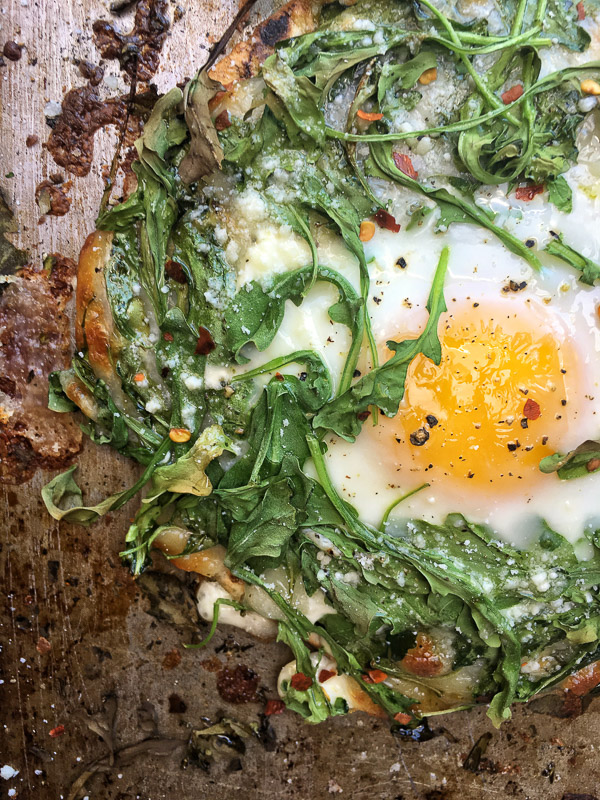 This is what happens when you combine a pita, pesto, cheese, arugula & egg.
It's the perfect thing to throw together for a weeknight dinner.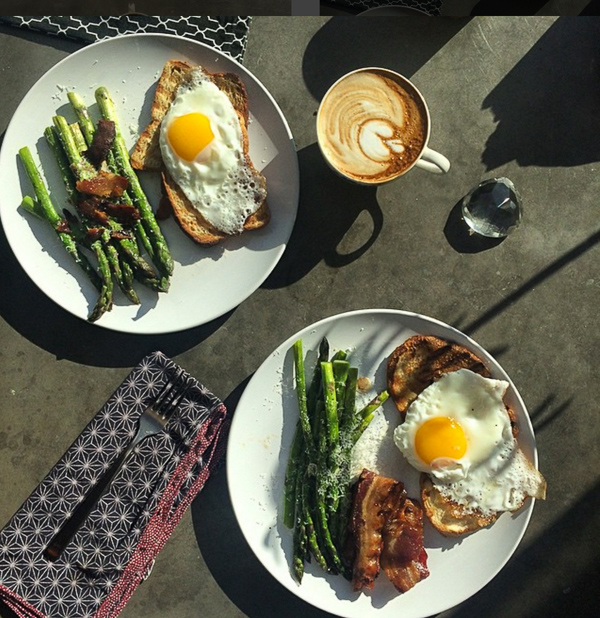 Roasted asparagus with some Parmesan served with a fried egg on toast & a side of bacon.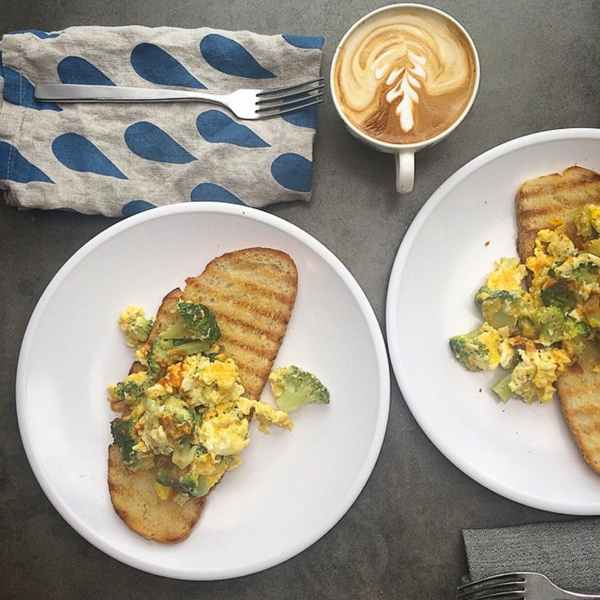 Scrambled eggs with broccoli cheddar and hot sauce served on toast.
FYI I donated my toaster 4 years ago and we strictly use a panini press in my house.
Best decision ever. We use it almost every single day.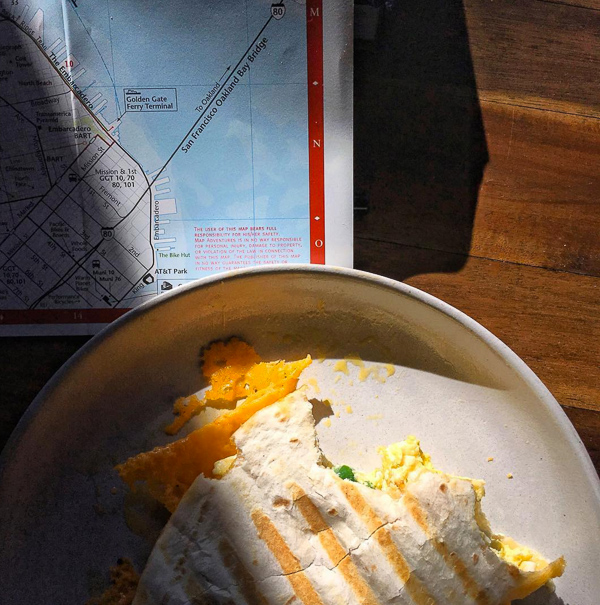 Speaking of panini…. I made a cheesy omelet here and threw it into a grilled tortilla.
Instant breakfast quesadilla.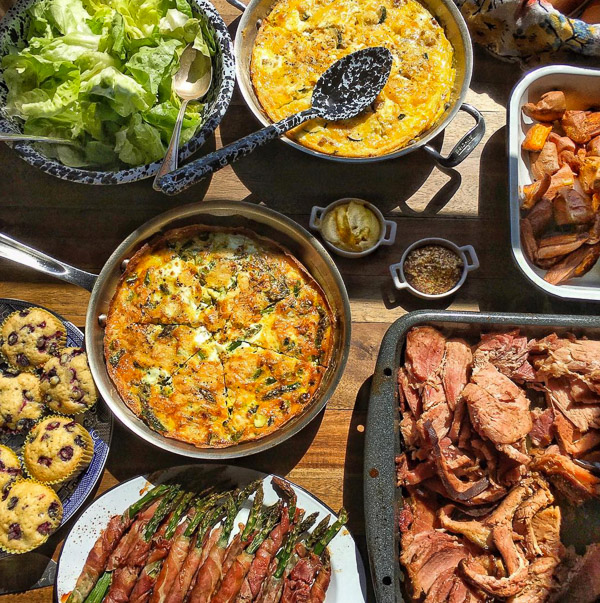 Don't forget the power of a frittata.  I love making them because we have leftovers for future lunches throughout the week.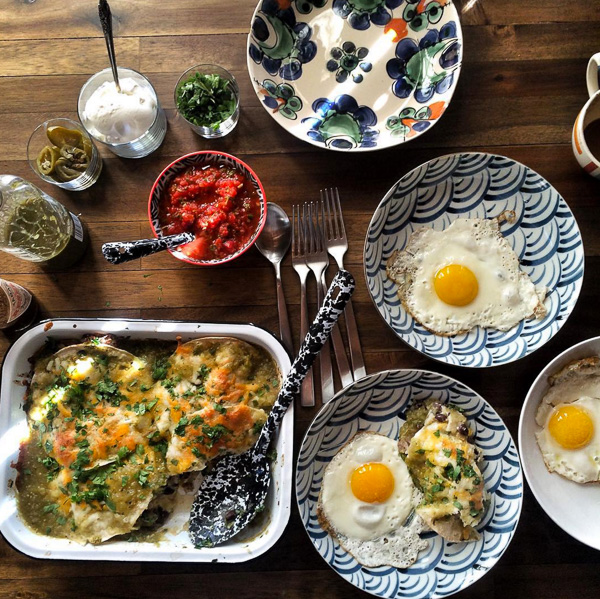 You can make an enchilada casserole for breakfast. It serves a nice group of people. It's really good paired with fried eggs.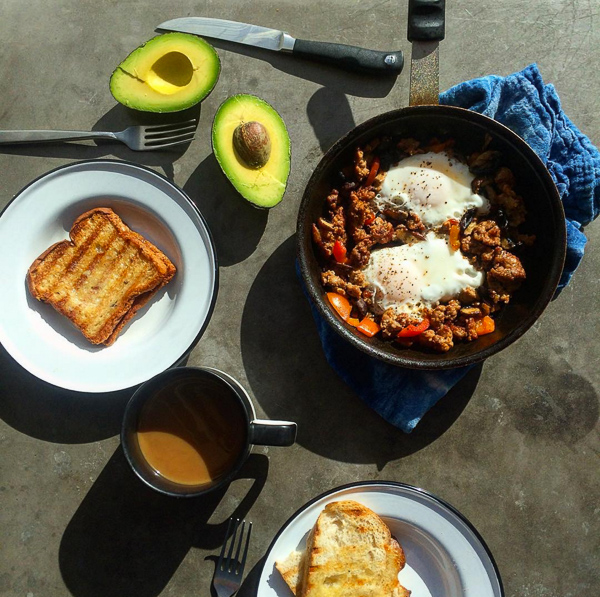 Sausage and peppers & fried eggs!  Don't forget the toast!
My grandma used to make me sausage, egg & pepper sandwiches on a french roll.
Man, I miss my grandma.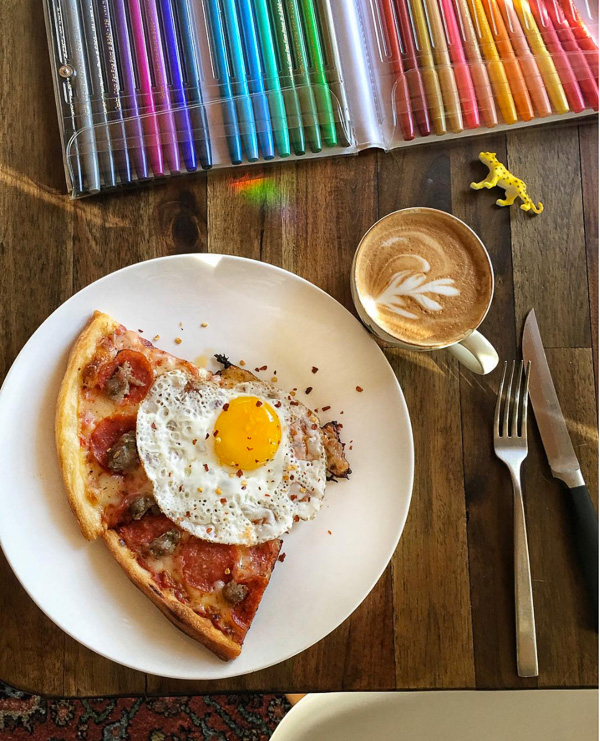 Leftover pizza + fried eggs are what hangover breakfast dreams are made of.
Almost worth the hangover.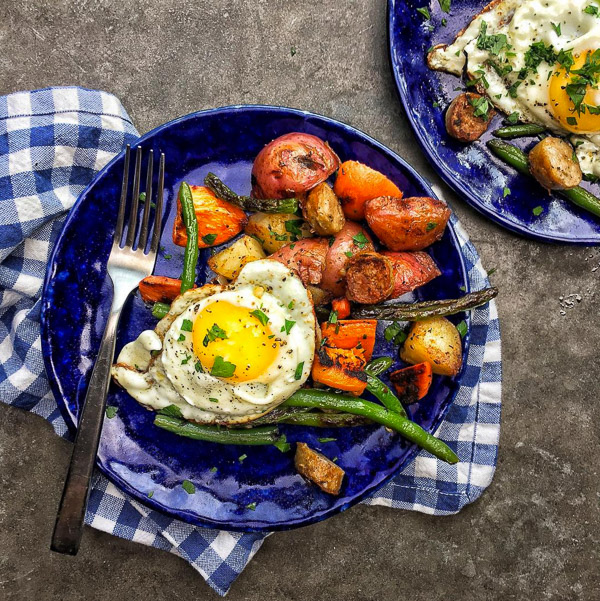 Roasted vegetables + eggs for breakfast = happy healthy brain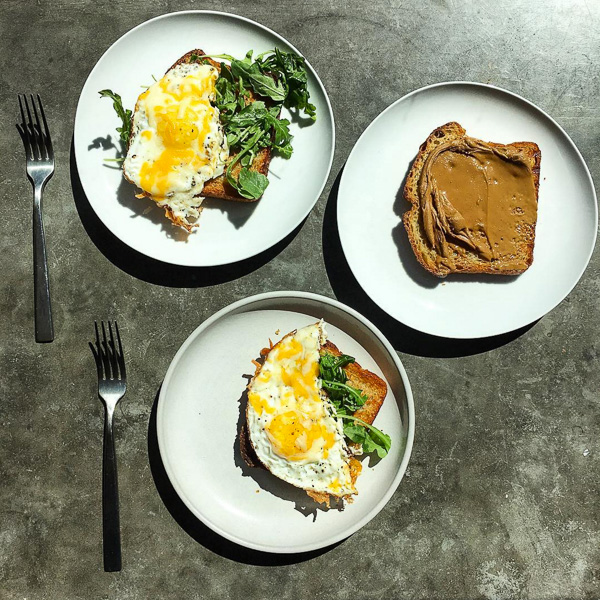 Don't look at that piece of toast with the peanut butter.
Look at the two toasts with arugula, egg & cheese.
Look at how I added green to that plate! See, you can totally slip some health into your breakfast.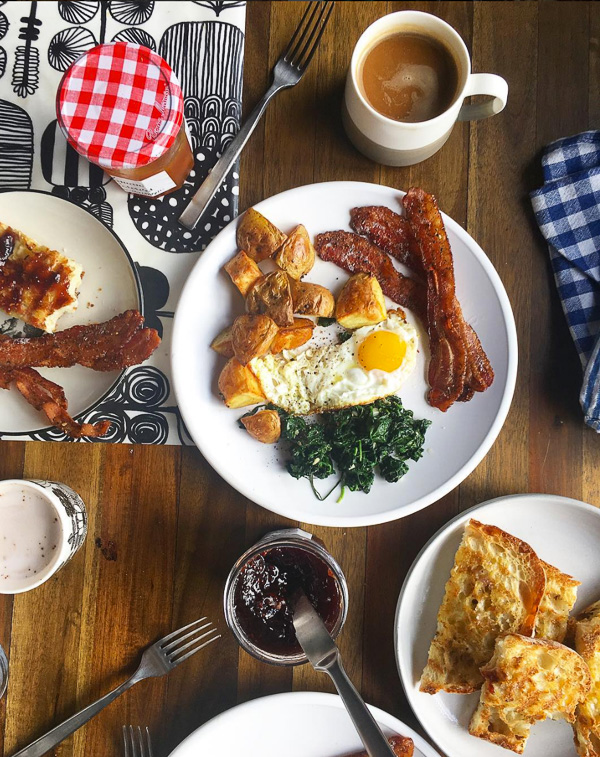 All of my favorite things.
Sauteed spinach, bacon, roasted potatoes & a side of toasty bread and jam. Don't forget the egg!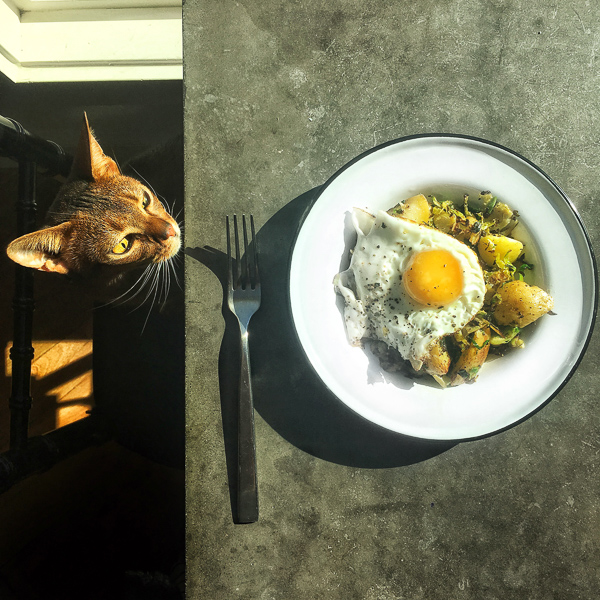 Nevermind my insatiably hungry cat, Ella.
Check out this brussels-sprout hash situation with a fried egg on top.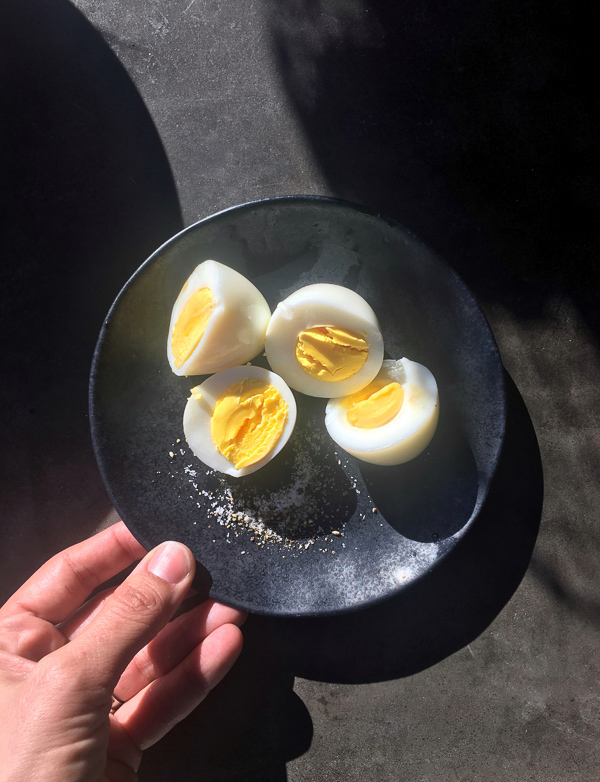 When in doubt, just hard-boil some eggs and add a little salt.
Perfection!  Also, I'm loving hard-boiled eggs in my new Instant Pot.
High pressure/manual for 6 minutes with 1/2 cup water (and the eggs on top of the basket). Manual release and immediate ice bath. The shells peel off like A DREAM.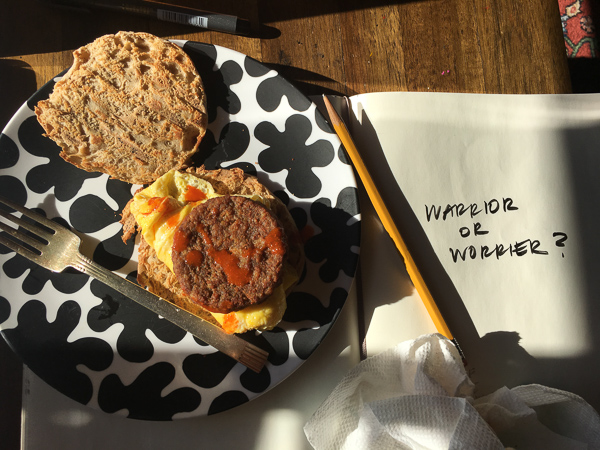 This is my current warrior breakfast.
A whole wheat English muffin with scrambled eggs (and cheese), a soy sausage patty and Tapatio.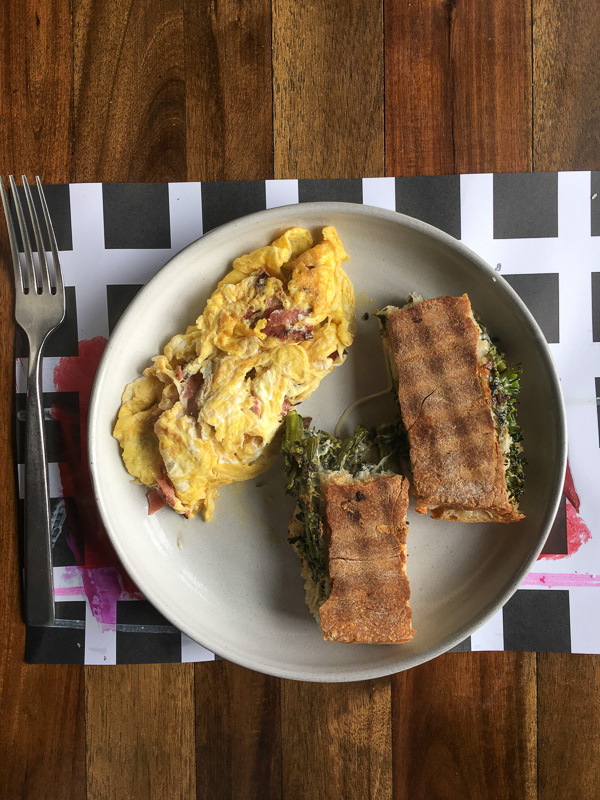 I was reading somewhere lately that someone puts salami in their eggs.
OMG. YOU NEED TO TRY IT. If you fry it up a bit before you put the eggs in, it tastes like bacon.
I paired it with leftover broccolini panini that I reheated in the panini press. YUM.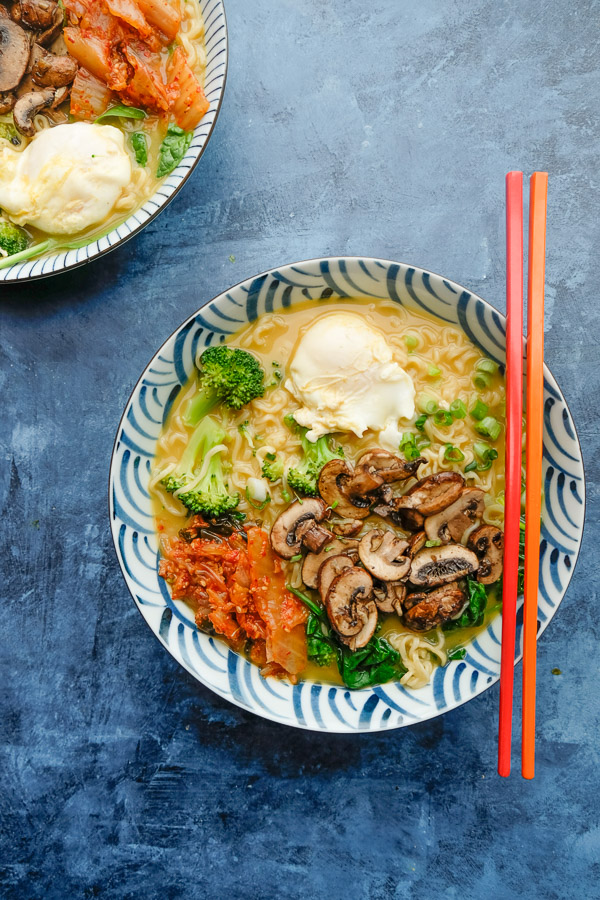 Don't forget you can put an egg in ramen!
I've got a good mushroom ramen recipe and a salmon one as well in my archives.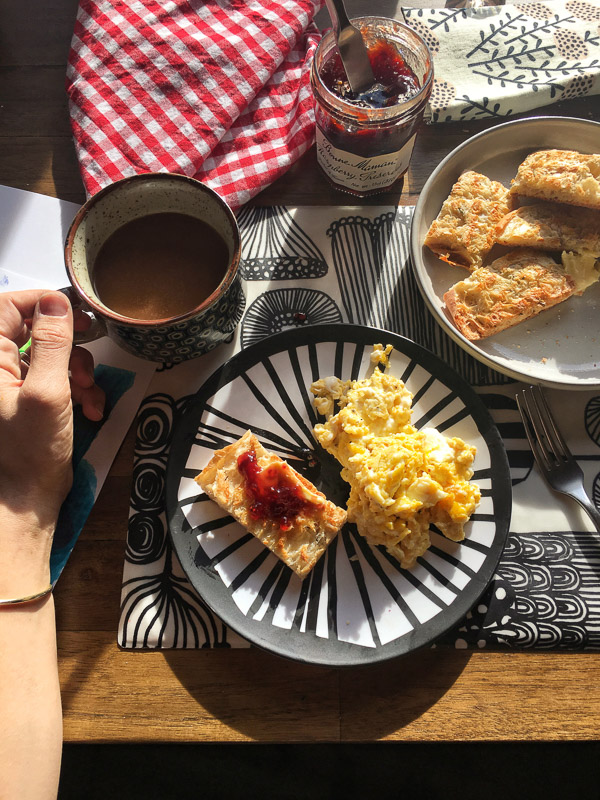 Simple is sometimes best.
Scrambled eggs with toast & jam is such good comfort food.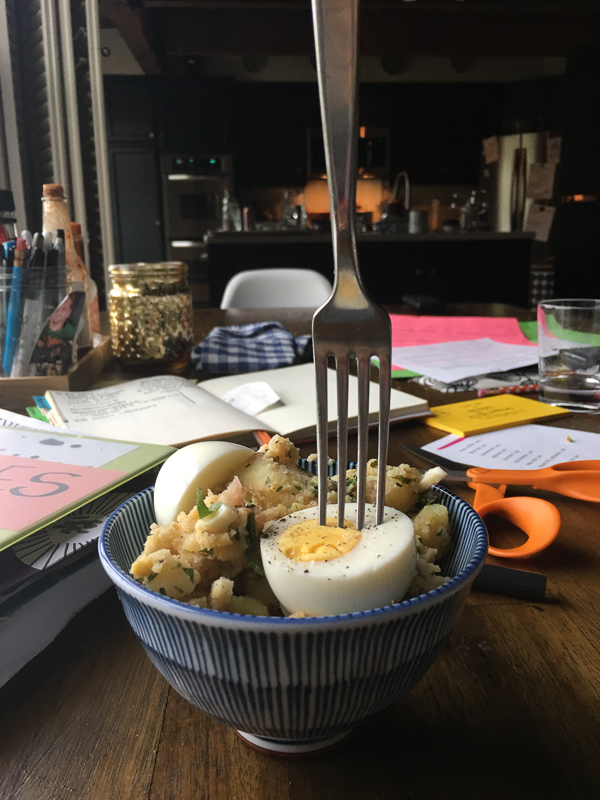 Go ahead, throw some hard-boiled eggs on your favorite potato salad.
CALL IT DINNER while you're at it.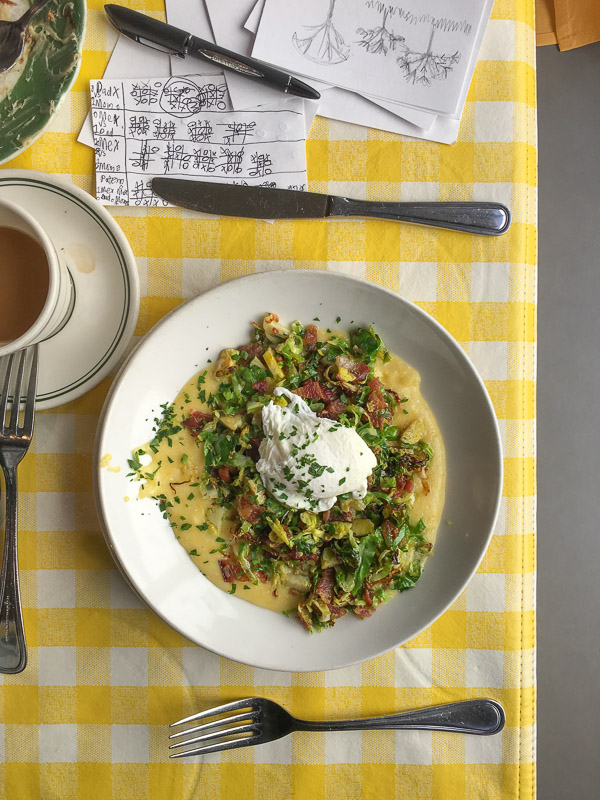 Brussels Sprouts + Bacon on top of polenta with an egg on it at my favorite breakfast place- Topsy's in Petaluma. Don't worry. I am going to recreate this one soon.
There you have it!
Don't forget: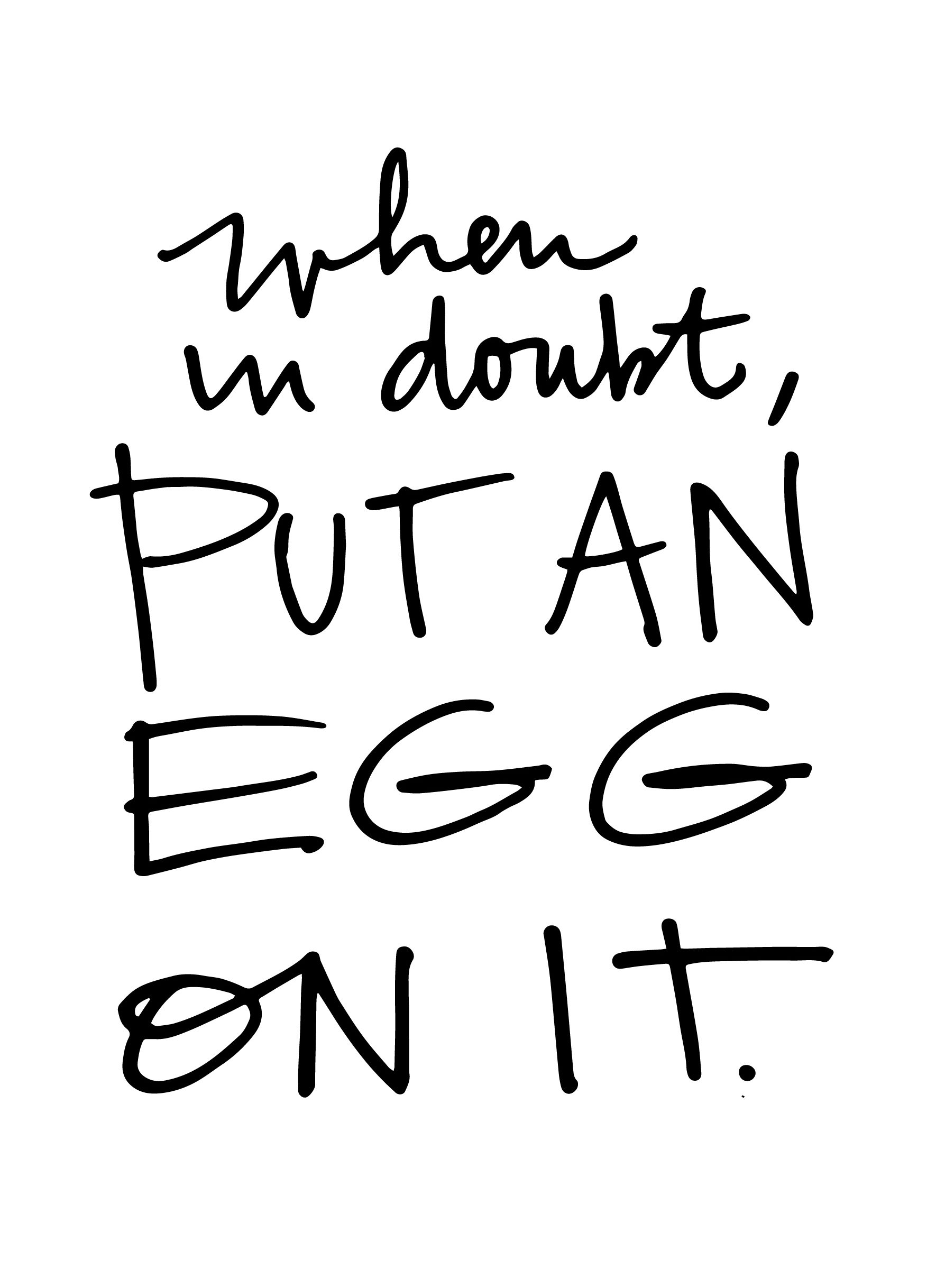 For more breakfast ideas, check out #shutterbeanbreakfast on Instagram