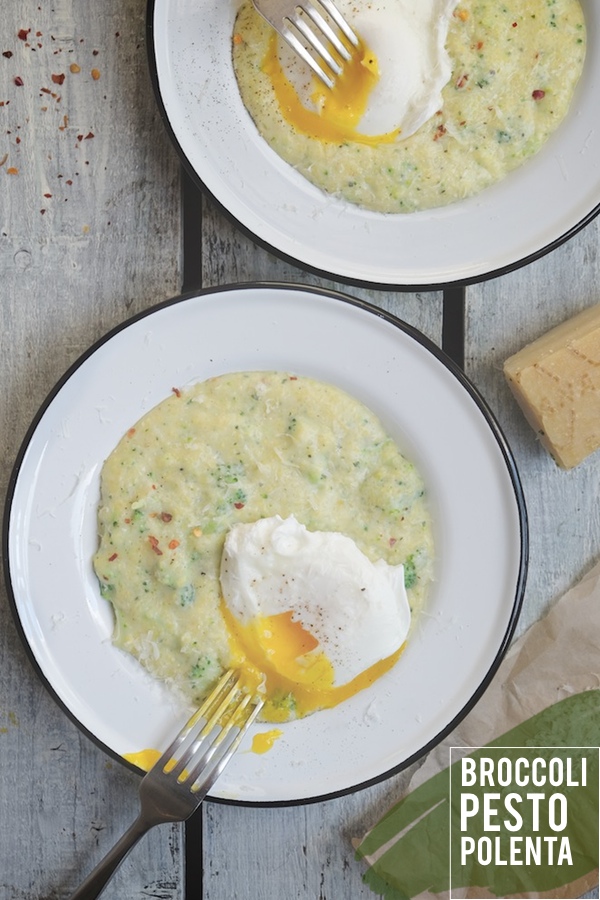 Whenever I ask my husband what he wants for dinner, most of the time it's–
"Something hearty and warm."
This always ruins my I just wanna big salad for dinner cravings.
I secretly love when he's had a big work lunch because then he wants something "light and healthy," and I'm like coooool buddy, but also how can we work bread into that equation?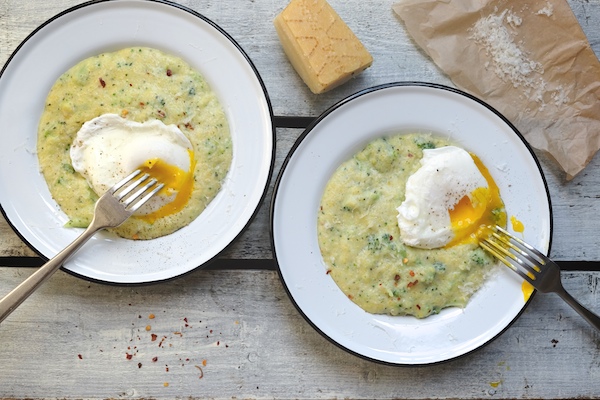 So, let's combine greens with something hearty and warm and make broccoli pesto polenta.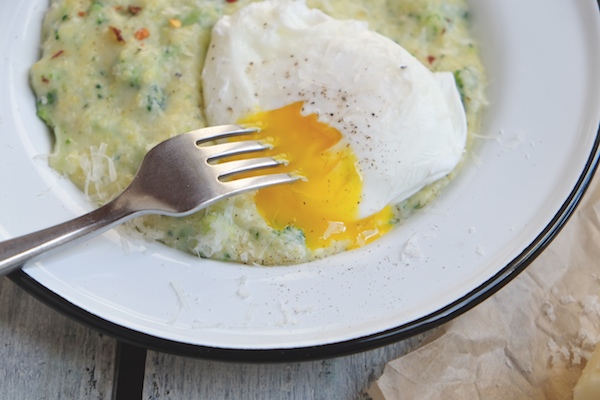 And while we're at it, let's put poached eggs on top because we can call it breakfast for dinner.
Something warm, hearty and GREEN. And if you had a big lunch at work, then you just get a smaller bowl.
I won't let you ruin dinner for me.
And we're off!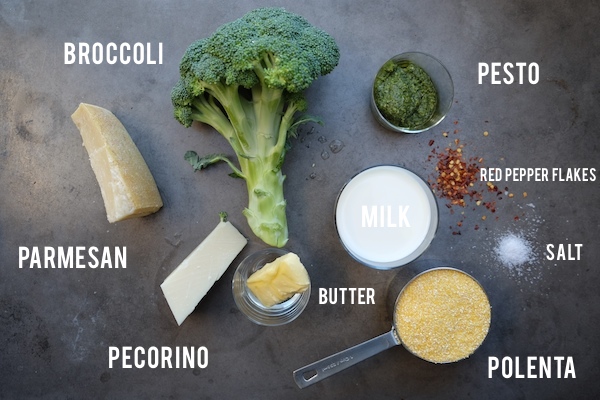 First we are going to boil water for the broccoli.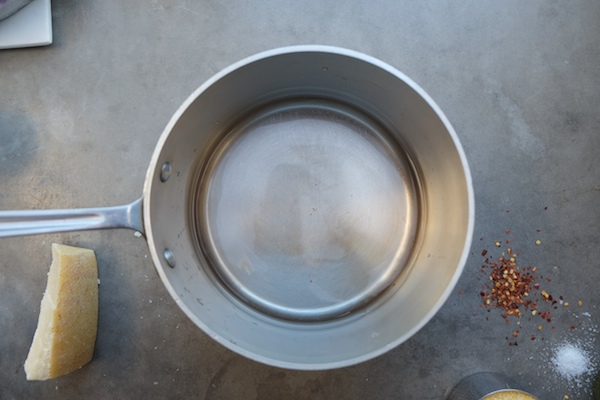 It goes in. We cook it. We take out the broccoli and reserve the water.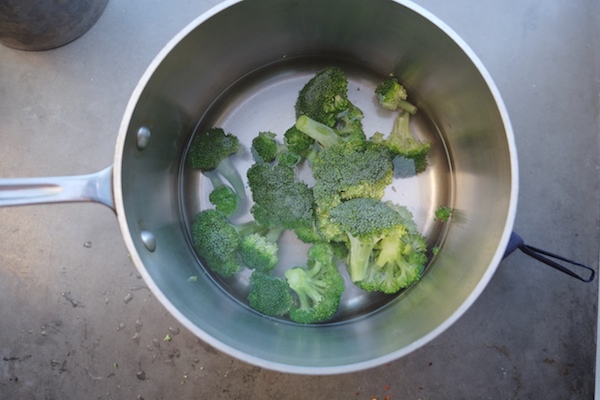 Choppin' broccoli. She's chopping! CHOPPING BROCCOLI.  Had to.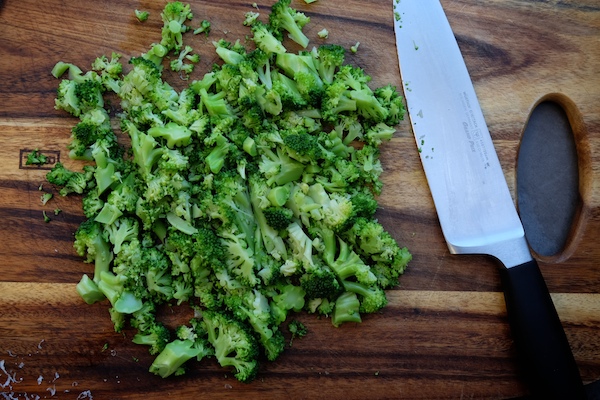 We get the broccoli water back up to a boil. Now we pour the polenta in a nice stream.
Lower the heat to medium. Stir. Stir stir. We cook it for 15-20 minutes.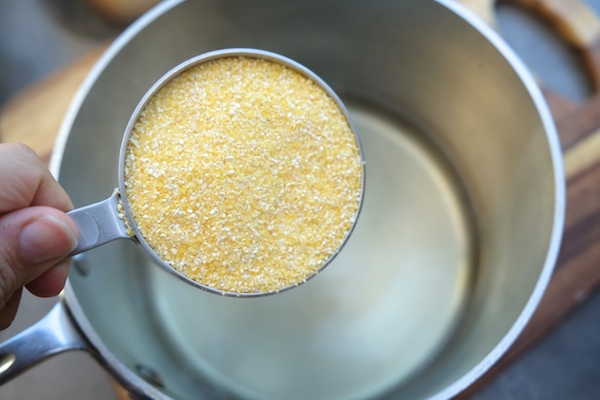 Make sure your cheese is grated. I used a cup of each…but you know…the more the merrier.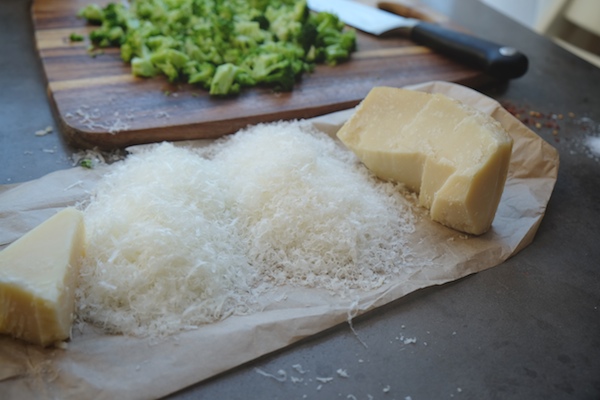 Now we stir the butter and the milk into the polenta. This makes it extra rich and creamy.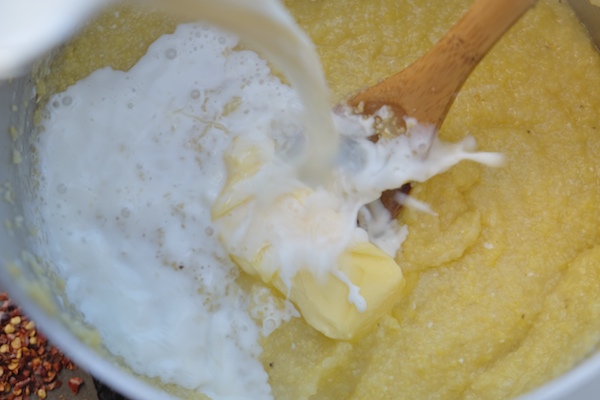 After the polenta is nice and creamy, we stir in the pesto, broccoli and red pepper flakes.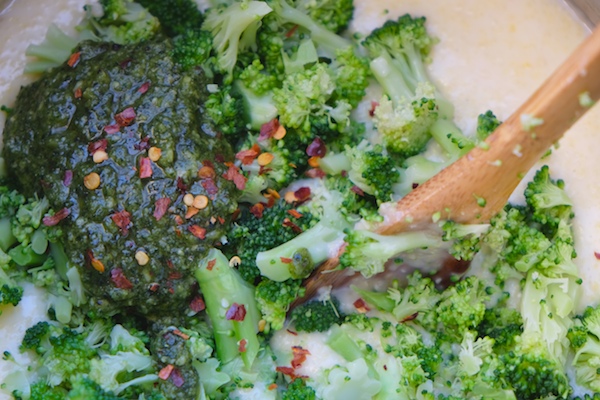 Cook that down for a bit. We want to thicken it up again.
NOW CHEESE.  Stir it in. Let it cook for another few minutes while…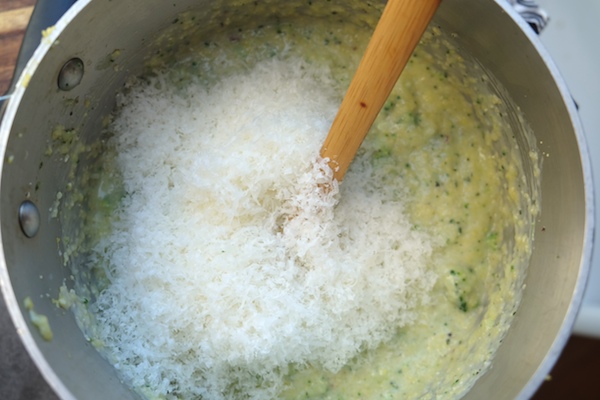 You poach an egg!
I happen to love Alton Brown's recipe for poached eggs.  When I cook more than one I don't do the whirlpool technique. It stresses me out like you wouldn't believe.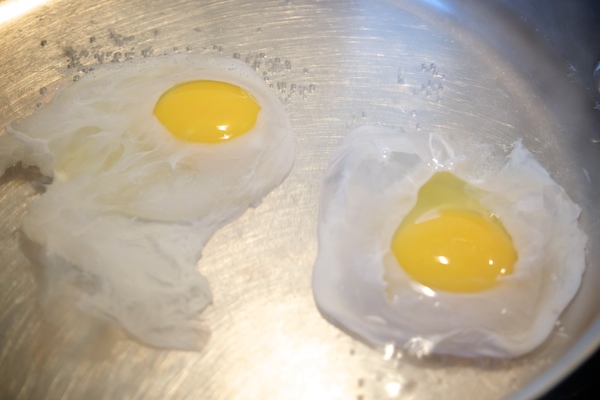 Spoon the broccoli pesto polenta into a bowl. Top with extra cheese and a few sprinkles of red pepper flakes.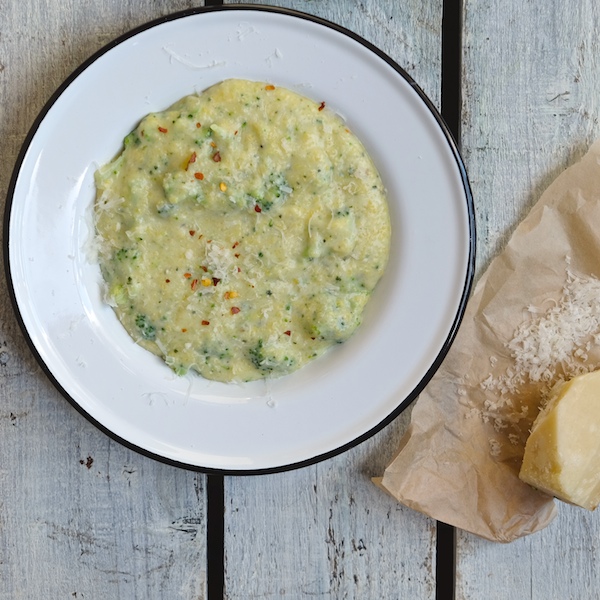 Get that poached egg on top.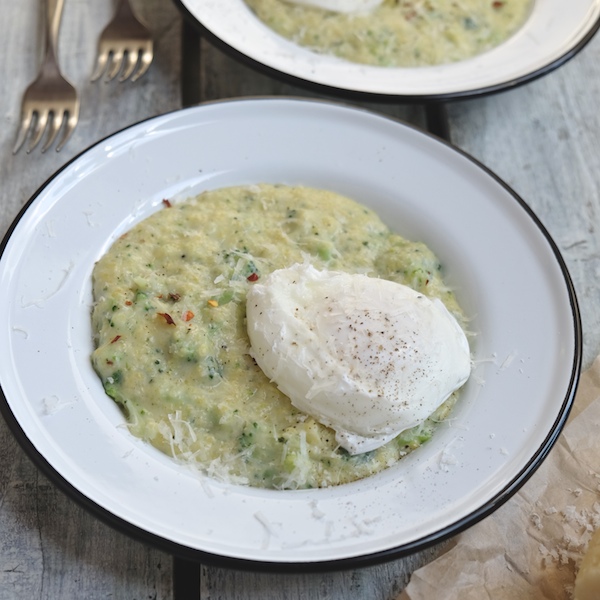 Poke it!!  Oh and drizzle with a little olive oil.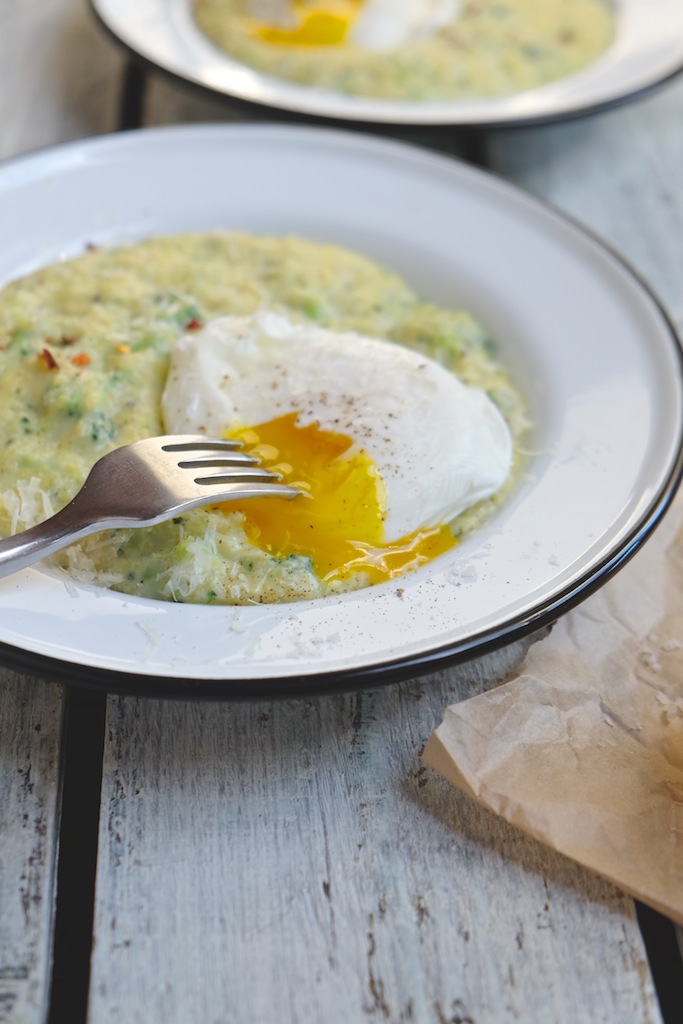 The delight you have for cracking into the top of creme brûlée is the same delight I experience when poking an egg.
Broccoli Pesto Polenta

serves 4

1 cup polenta
1 teaspoon kosher salt
1 lb. broccoli florets
3 tablespoons unsalted butter
3/4 cup milk
1/4 teaspoon red pepper flakes
3 tablespoons pesto
1 cup grated pecorino
1 cup grated Parmesan, plus more for serving
4 poached eggs, for serving
extra virgin olive oil, for serving

Boil 4 cups water withe salt in a medium sauce pan.  Gently place the broccoli florets in the boiling water, reduce heat to low and cook covered with the lid for 4 minutes, or until broccoli is cooked and just tender. Strain broccoli from the broccoli water and let it rest cutting board until cool enough to handle. Chop broccoli into small pieces and set aside.

Return the broccoli water to a boil and stir in the polenta in a slow steady stream. Reduce the heat to medium and cook polenta for 15-20 minutes, stirring constantly so the polenta doesn't stick to the bottom. You'll know when it's ready when the polenta starts to soften and thicken. Stir in the butter and milk and continue to cook for another 5 minutes. Polenta should be smooth creamy. Stir in the pesto and chopped broccoli followed by the red pepper flakes and both the grated Pecorino and Parmesan. To serve, spoon polenta into four bowls and top with additional grated Parmesan, and a pinch of red pepper flakes. Nestle a warm poached egg on top of each bowl of polenta a drizzle each egg with a little olive oil.