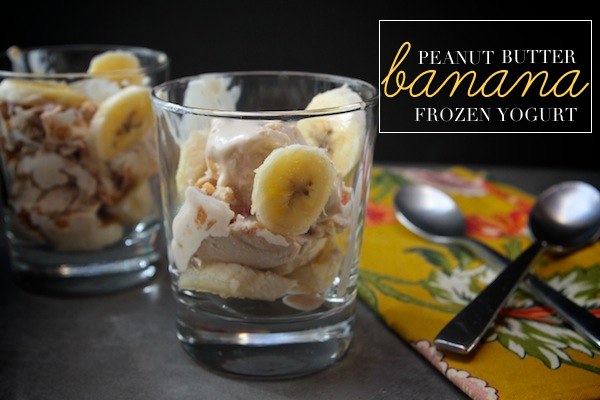 When we were in Hawaii, we got into this crazy routine of going to frozen yogurt every night after dinner. We became regulars for a week and it was glorious. Casey's favorite flavor was Taro. He got it every night without fail. Mine? Peanut butter. Unfortunately, there were only two nights out of 6 where they had peanut butter and one of them was Peanut Butter Banana. It was EPIC.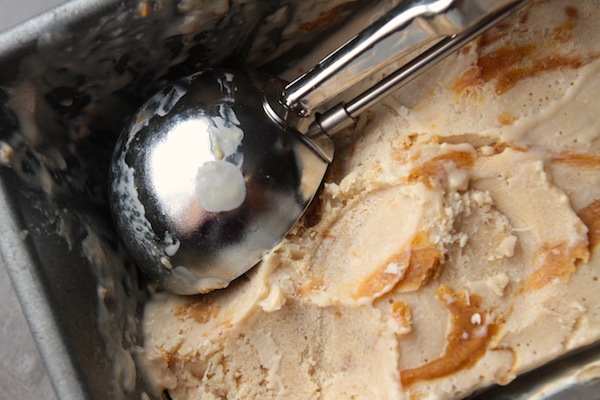 And then we came home and I have craved that fro-yo since. I've dreamt about it… and here it is.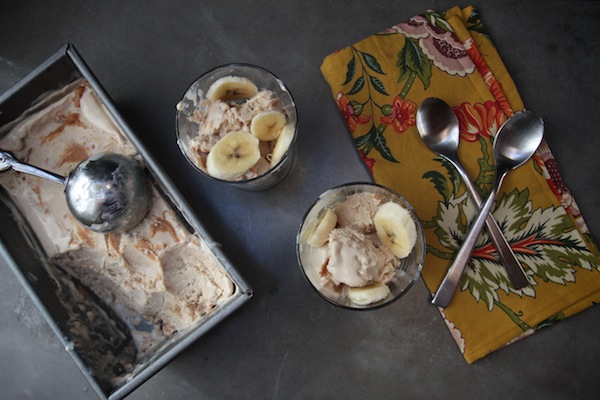 One thing I added (because I can!) was a swirl of peanut butter. I added a little bit of brown sugar in the swirl to make it a little sweet and slightly crunchy. It's sweet, slightly tangy and slightly salty. It's divine!
Now if you'll excuse me, I'm about to have one of those CALGON TAKE ME AWAY moments, but with fro-yo.
And we're off!
Ingredient gathering. This works really well with frozen bananas! They make it creamy and give it a good consistency. I once made banana ice cream out of nothing but  frozen bananas. It's a great party trick. Try it!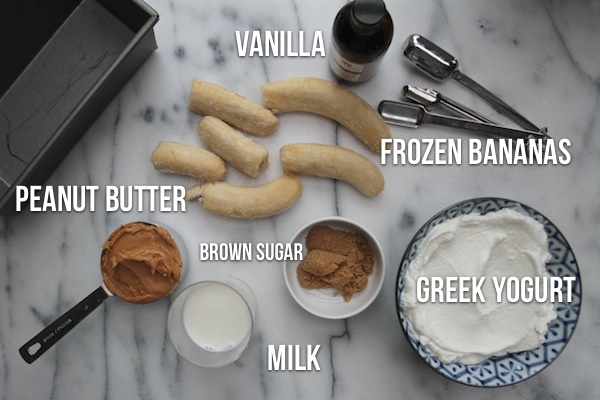 We start with peanut butter. I used Skippy Natural. Skippy is my jam. I grew up on it. Jif? Not so much. Sorry.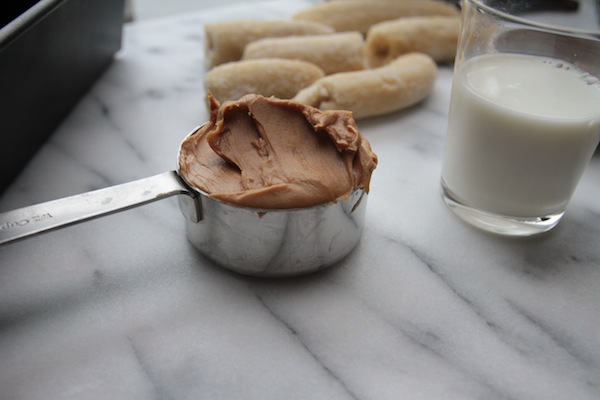 Everything goes into a blender. I use my Vitamix!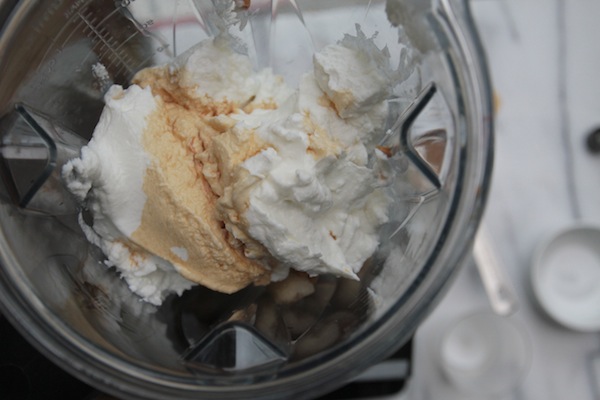 Blend until smooth!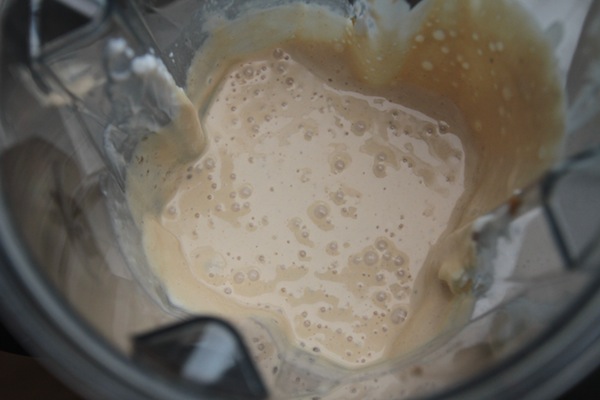 Pour into your container. I used a loaf pan for this.
I'm about to order these for the fro-yo I'm gonna binge on this summer. It will probably be easier & portable!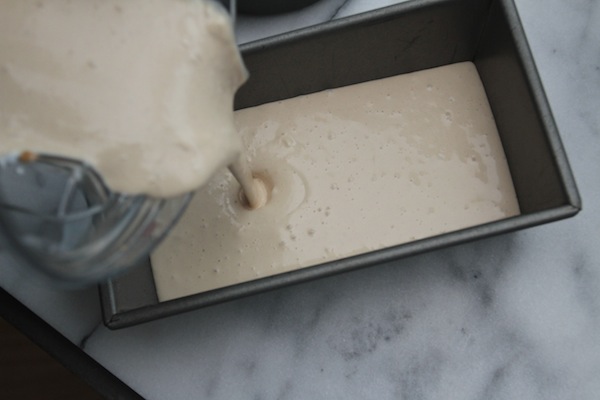 Put the frozen yogurt in the freezer. Let it chill for about an 1 1/2 hours. Now we make the peanut butter swirl!
Melt peanut butter & brown sugar in the microwave for about 30 seconds on high. Stir!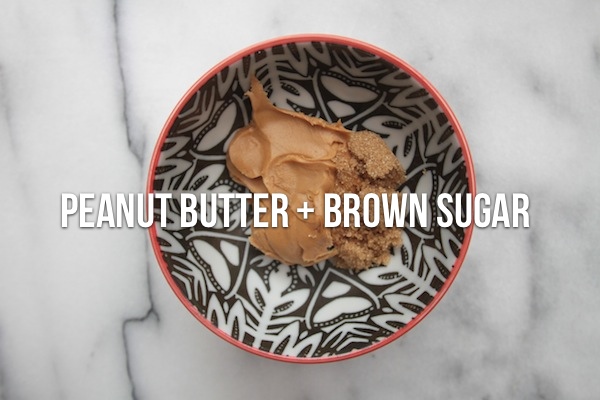 Drizzle the peanut butter into the fro-yo and stir.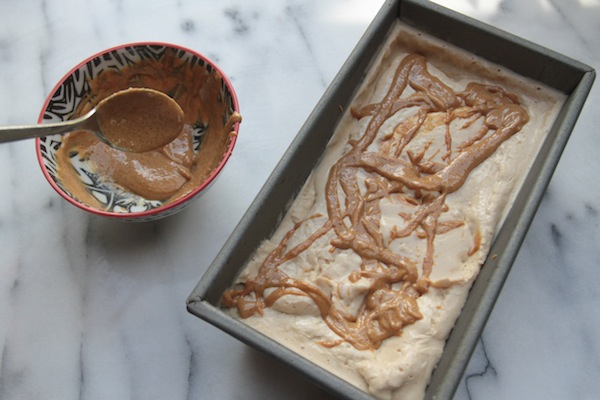 Marble effect!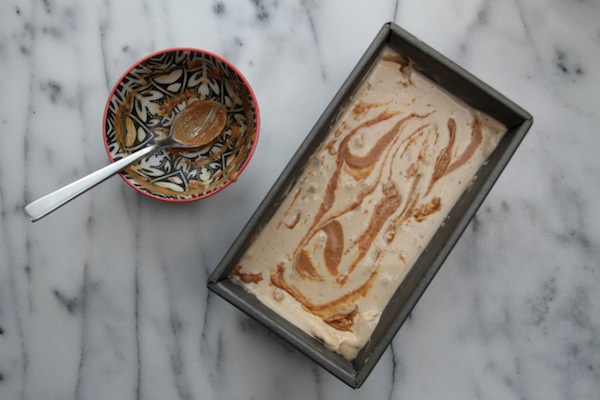 After the frozen yogurt has set in the freezer it's time to serve up! I added banana slices to the cup.
Think PARFAITS!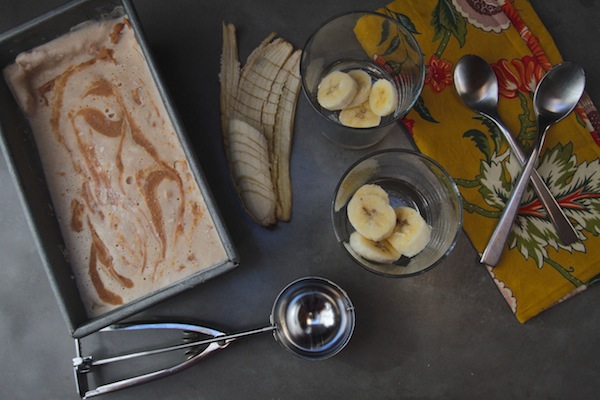 Other good toppings include & are not limited to: Golden Grahams, graham crackers, peanuts, chocolate chips, marshmallow fluff, hot fudge, whipped cream, walnuts and almonds!! The list goes on…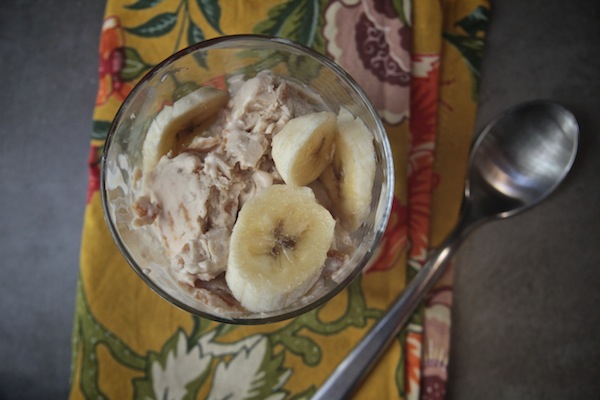 The lesson is…when you can't get the frozen yogurt you want, MAKE YOUR OWN.
Peanut Butter Banana Frozen Yogurt

makes about  1  1/2 pints

4 frozen bananas

2 cups Greek yogurt (nonfat is OK)
1/2 cup creamy peanut butter
1/2 cup whole milk
1/4 cup brown sugar
1  1/2 teaspoons vanilla

for the peanut butter swirl

1/4 cup peanut butter

1 tablespoon brown sugar

Mix frozen bananas, yogurt, peanut butter, milk, brown sugar and vanilla in a blender until smooth. Place mixture into a loaf pan and freeze for 1 1/2 hours. Meanwhile make the peanut butter swirl. Place peanut butter and brown sugar in a microwave safe bowl. Heat for 30-40 seconds on HIGH, or until peanut butter is nicely melted and smooth. Drizzle the peanut butter mixture on top of the frozen yogurt and lightly swirl into the frozen yogurt, making marble patterns. Cover the frozen yogurt and freeze for another 3-6 hours, or until firm.