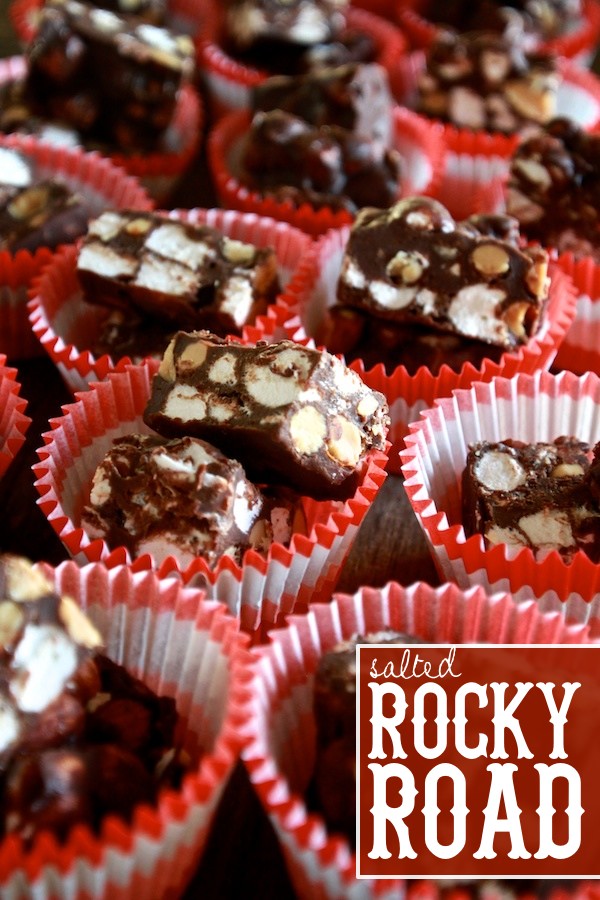 Rocky road is hands down one of my favorite ice cream flavors. It's not the chocolate or the marshmallows I crave. Nope. For me, it's all about the toasted almonds. They seal the deal. Every year my mom makes a batch of Rocky Road Fudge and her famous coffee cake for Christmas dessert. I generally allocate my calories towards the coffee cake because HELLO. It's COFFEE CAKE. Who can resist? This means I usually pass on the Rocky Road. Sad face.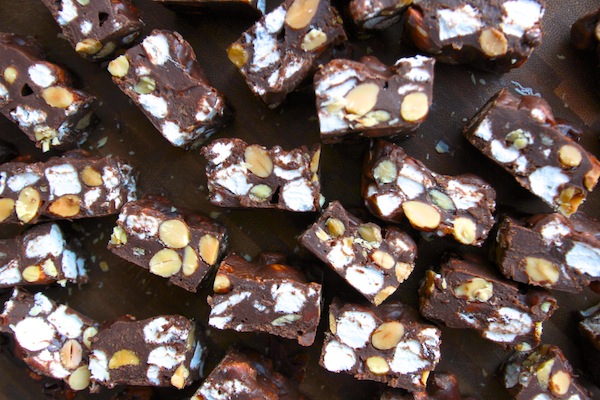 This year I (forcefully) stepped in and volunteered to make her Rocky Road recipe. But I'm doing something I've always dreamed of doing….swapping the raw cashews of my mom's traditional recipe with SMOKED ALMONDS.
Now we have Salted Rocky Road Fudge!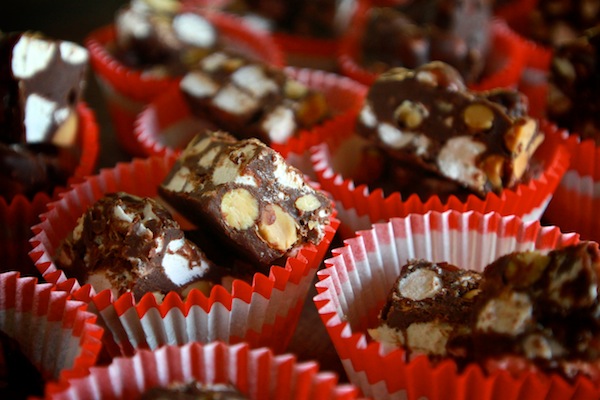 It adds the perfect amount of salt to balance the sweetness of the chocolate. Before I'd only have one piece of fudge–if that. Now? I'm like 4 pieces in…willing myself to walk away. It's the almonds! They add incredible depth because they're roasted & smoked. You get the creaminess of the fudge, the pillow puffs of marshmallows with delightful crunches of almonds. Watch out coffee cake, there's a new guy in town. I can't wait to see what my family thinks.
And we're off. Another SUPER EASY recipe. You should be able to pull these off in no time if you're looking for a last minute treat.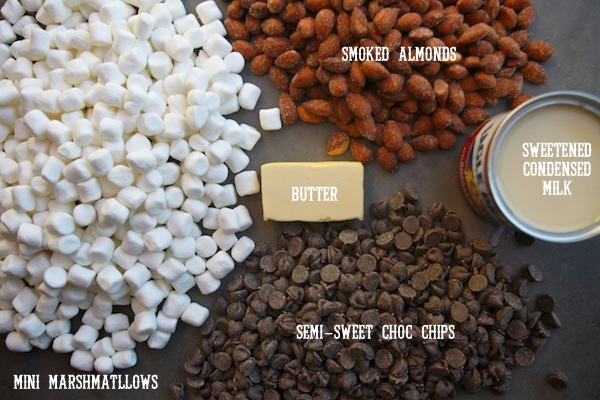 Add the chocolate, butter & sweetened condensed milk to a heat-resistant glass bowl.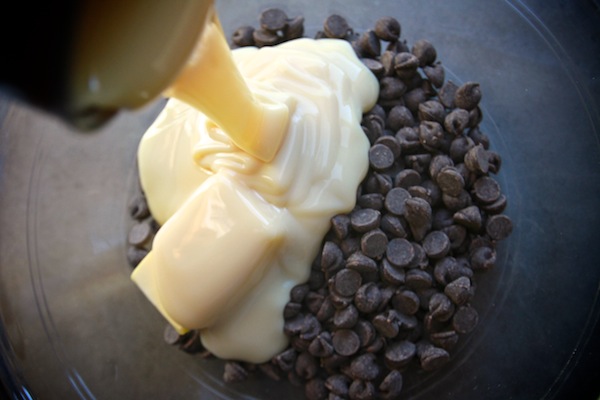 Put the bowl over a pot filled with simmering water. Instant double boiler! Stir until melted.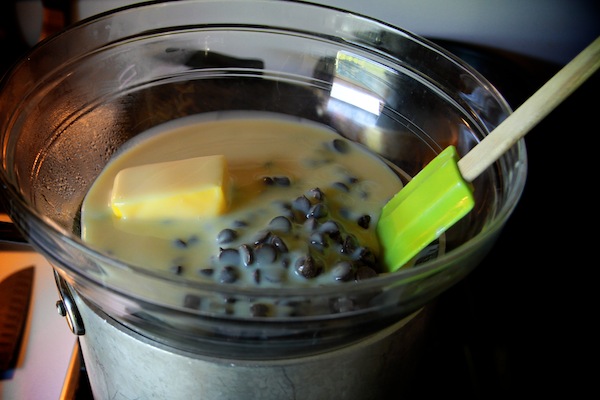 Mix the marshmallows and smoked almonds together in a big bowl. Line a 13 x 9 baking pan with waxed paper.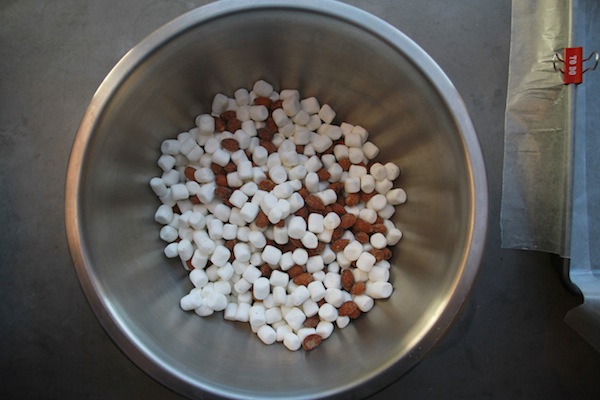 Chocolate is melted.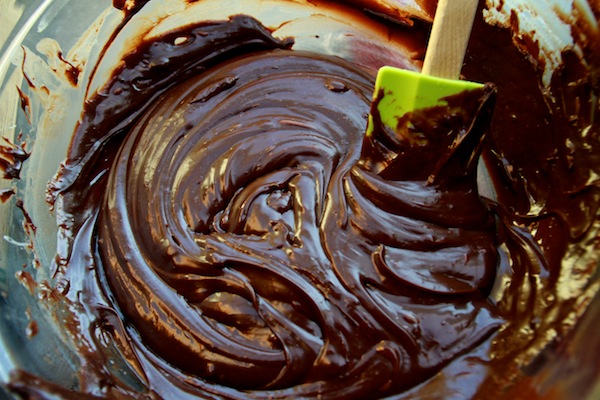 Mix mix mix.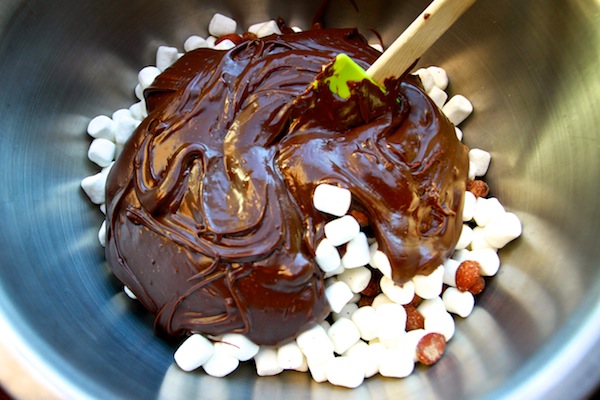 Now we are ready to transfer.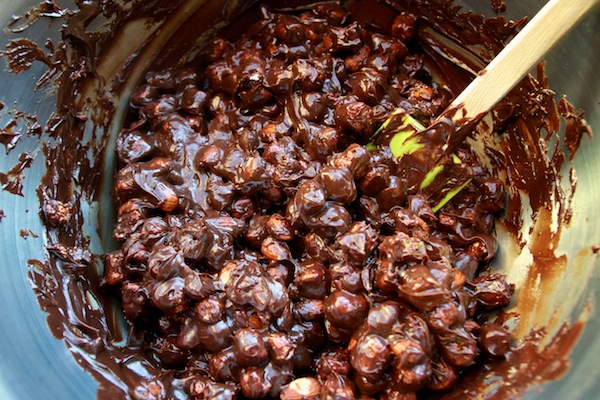 Spread evenly in the pan.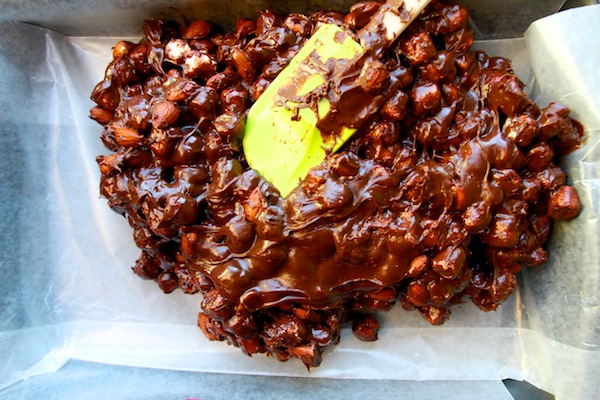 Pop in the fridge and cool for 2 hours. Now we cut!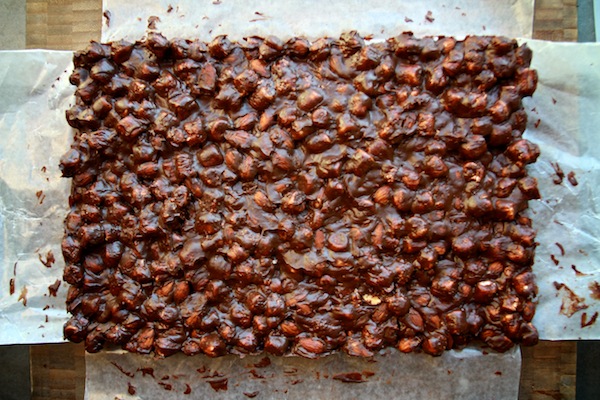 Make squares.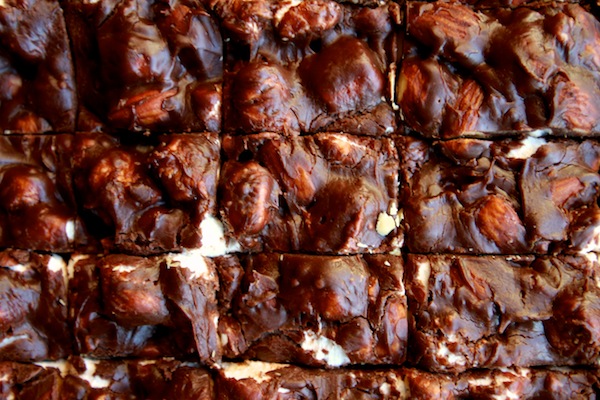 Take a few samples for yourself.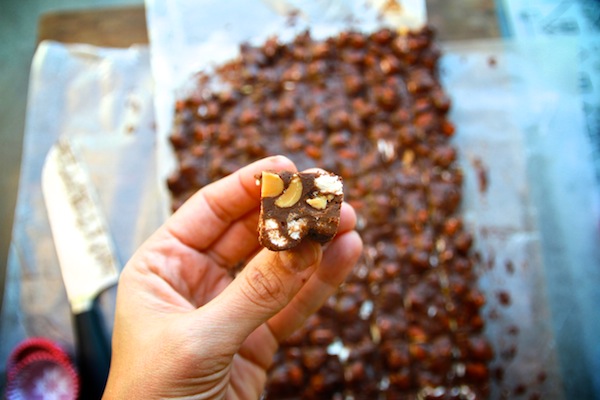 Cut up the squares. Wrap them up or keep them in the fridge/freezer if you wish!
I bet you just can't stop at one.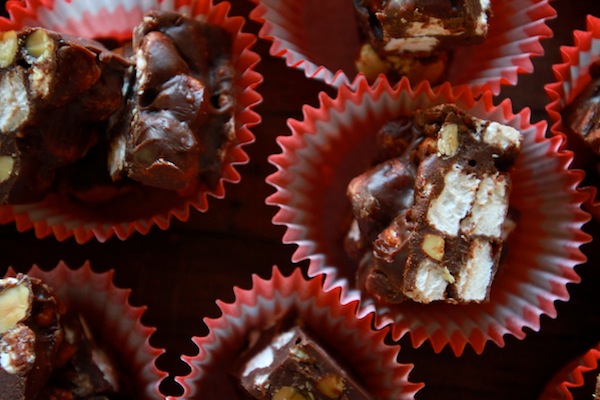 You're gonna want at least 5. Trust.
Salted Rocky Road Fudge

makes about 50 pieces

1-12 oz package semi-sweet chocolate chips
1 -14 oz. can sweetened condensed milk
2 tablespoons unsalted butter
2 cups smoked almonds
1-10 1/2 package miniature marshmallows

In a double boiler, melt chocolate, condensed milk and butter; remove from heat. In large bowl, combine almonds and marshmallows. Fold in chocolate mixture. Spread rocky road in a waxed paper lined 13 x 9 inch pan. Chill for at least 2 hours (or until firm. Remove from pan, pell off wax paper, cut into squares. Cover and serve at room temperature.