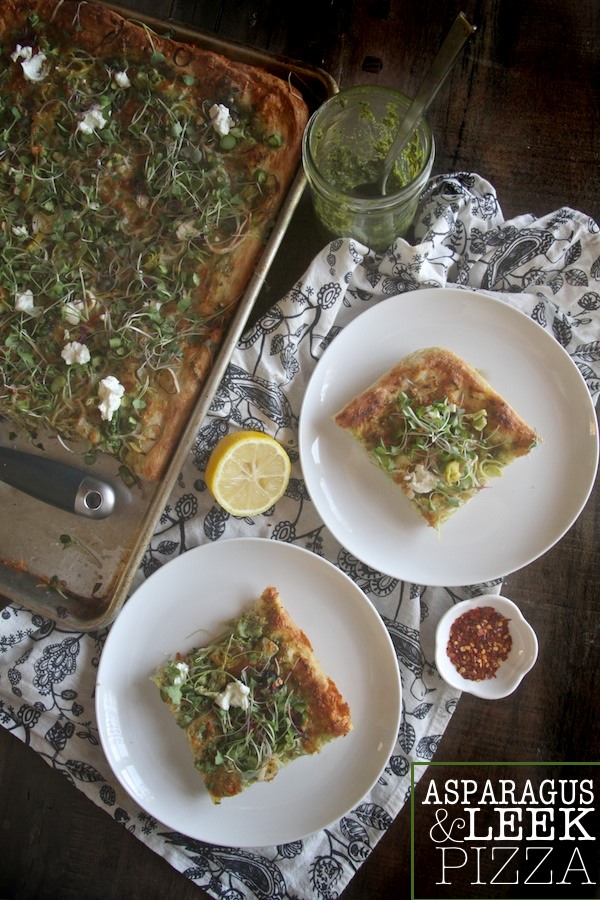 New post! Asparagus Leek Pizza
You know it's Spring when asparagus assaults you at the front door of your local market. I love how they're all lined up in bundles with thick blue rubberbands waiting to be plucked. Not to be a creep or anything but I sometimes like to watch people grocery store pick out their produce. It's always so sweet when I see older men pick up a bundle of asparagus. It makes me wonder how they will prepare them. How many years have they been enjoying asparagus? What if they just warmed up to them last year? What if they remind them of their childhood? My mind always feels happiest when I'm grocery shopping.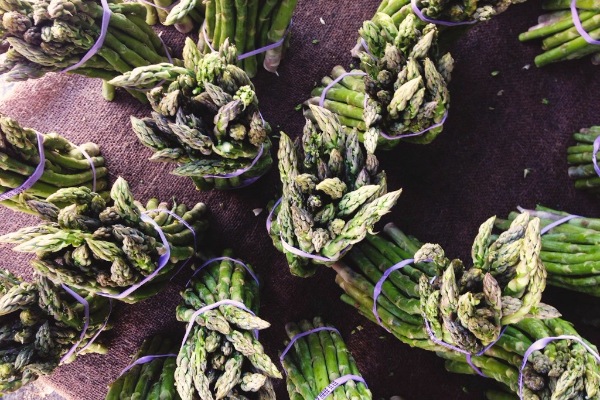 It's Spring! Clovers are all over the place, daisies are coming up around our house and the leaves are about to show their sweet faces on our trees outside. SO MUCH GREEN. Why don't we eat SO MUCH GREEN then? Both asparagus & leeks are in season right now and I've showcased them on a pizza.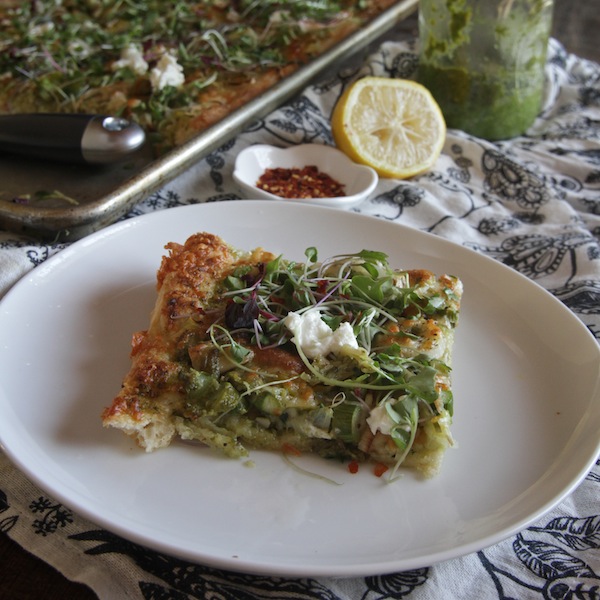 Pesto, roasted garlic, roasted asparagus, leeks, dotted with goat cheese, microgreens have a party on top of carb heaven-PIZZA. It's super flavorful; I couldn't stop eating it! It's incredible.
And we're off! The first step is to roast garlic. Cut the top off the head of garlic. Lay it on a parchment lined piece of aluminum foil. Drizzle with olive oil and season with salt & pepper. Seal it up and roast in the oven at 400F for 20-30 minutes until soft. All good things start with roasted garlic.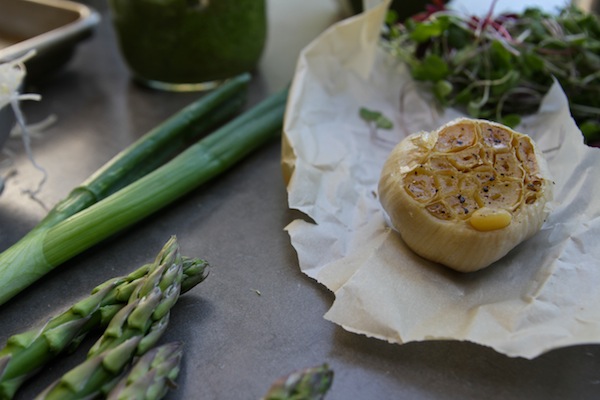 Gather your ingredients. I used a whole batch of No Knead Pizza Dough. This makes the pizza a little more doughy–and more foccacia like. You can definitely use half of the recipe or your favorite pizza dough for a thinner crust. It's up to you! You can always go the store bought dough route. No judgement here!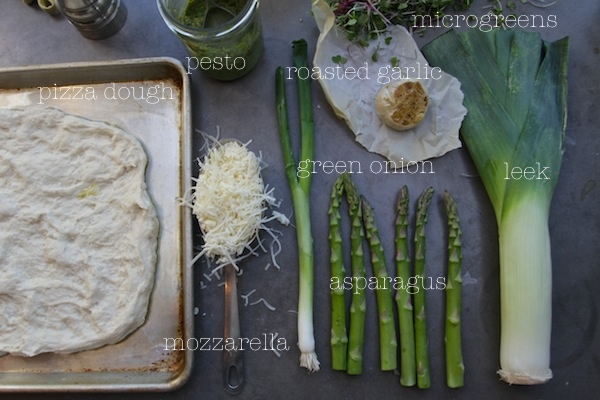 We're gonna chop the leeks and the asparagus. They get nice & roasted on top of the pizza.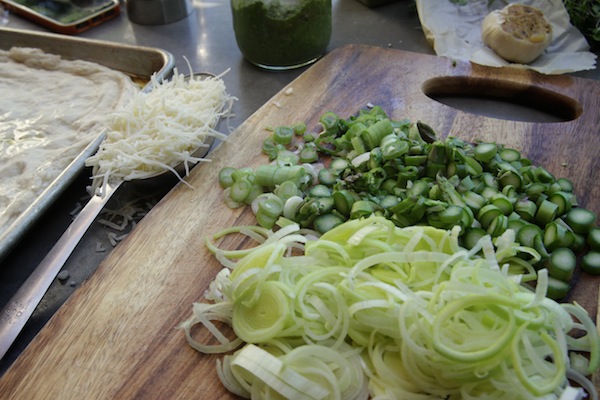 We pop the garlic out of the roasted garlic head, making sure not to mix the skins in.
We spread it over the prepared dough so it's like butter.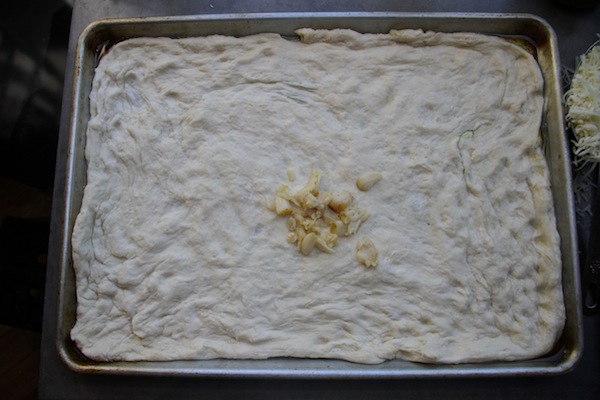 Pesto goes on next.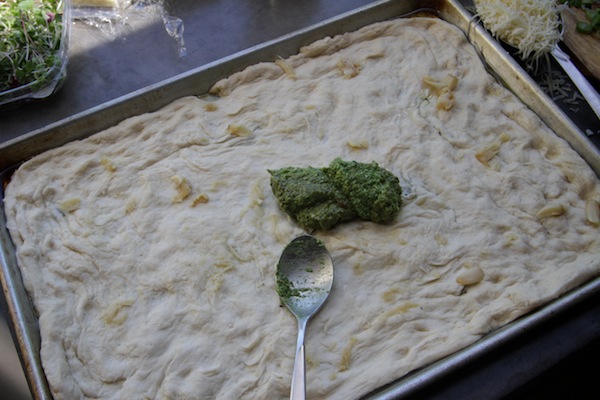 Spread it out!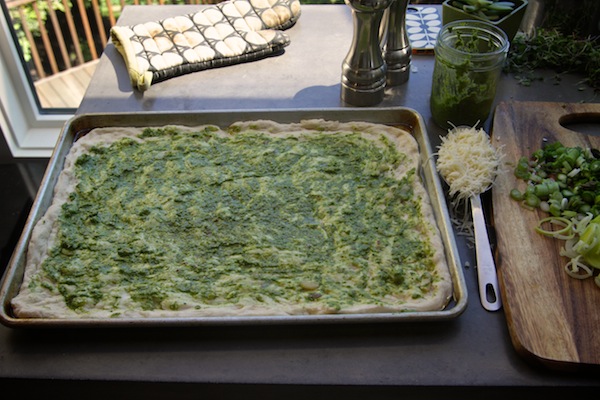 We add half of the cheese onto the pesto. Then we top with the green onions, leeks & asparagus.
I added more asparagus to my pile because WHY NOT. The more, the merrier!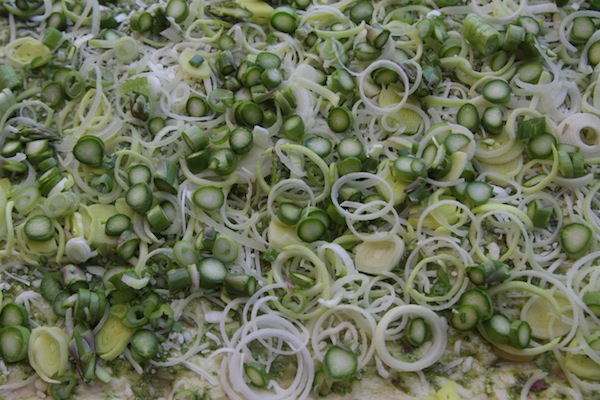 Followed by the rest of the mozzarella. And we bake!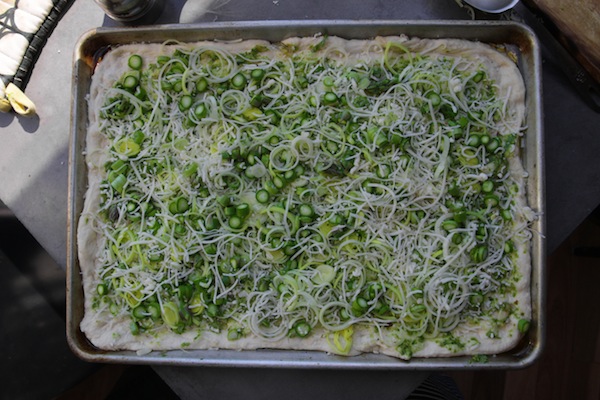 Angels sing. But we're not done yet!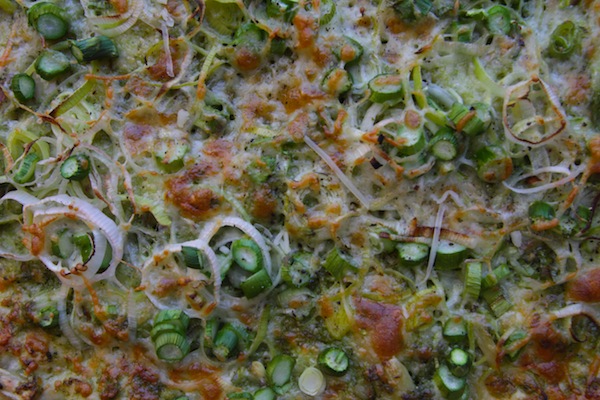 Let's add some goat cheese to the hot pizza. I like how it just barely melts on the hot pizza.
It adds a little sharpness. I remember there was a time when I didn't like goat cheese.
I CANNOT BELIEVE THAT.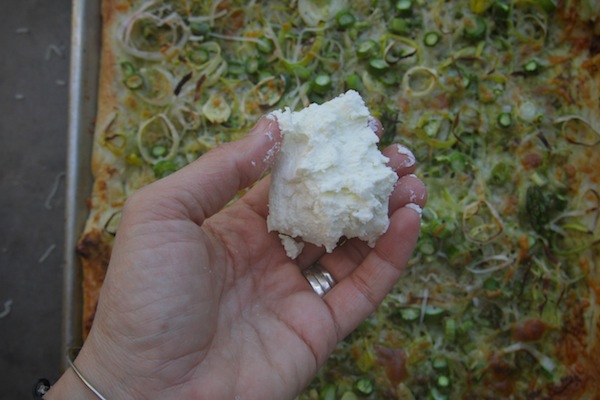 Pizza is now topped with goat cheese followed by a handful of microgreens.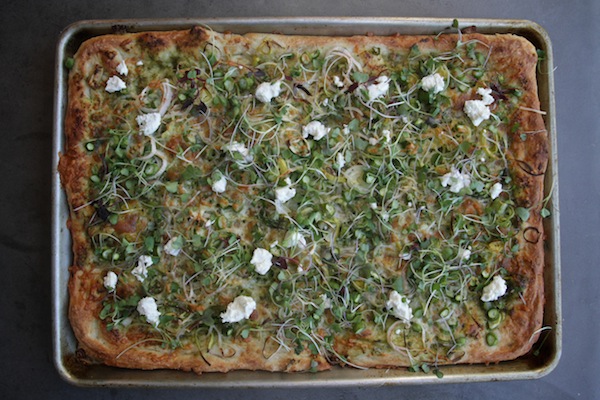 It's PRACTICALLY SALAD.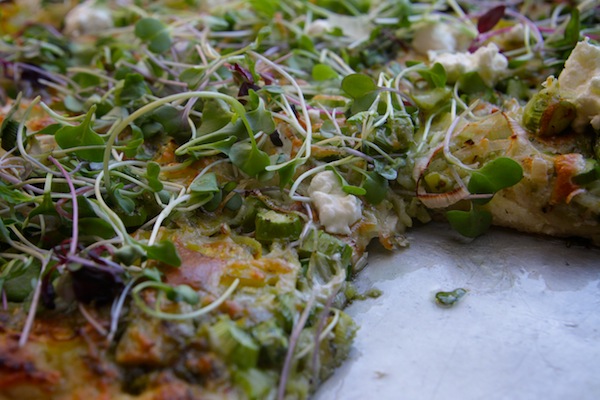 Salad pizza. For the SPRING! Red pepper flakes for garnish and a squeeze of lemon to brighten it up!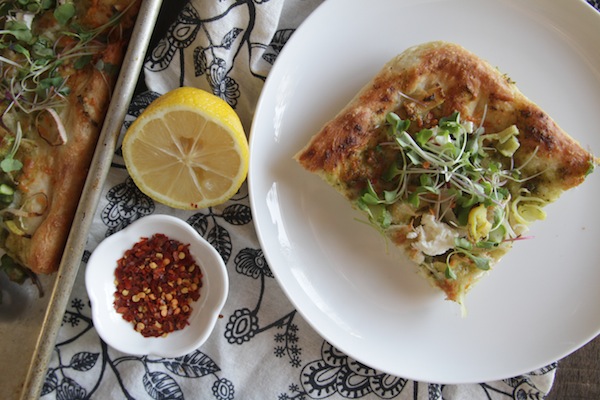 Because every season should be celebrated with pizza.

Asparagus Leek Pizza

1 recipe no knead pizza dough
1 head garlic
olive oil
sea salt & fresh cracked pepper
1/3 cup homemade pesto
1 cup shredded mozzarella
1 leek thinly sliced (white part only)
8 asparagus, thinly sliced (into little coins)
1 green onion, finely chopped (both green & white parts)
2 oz. goat cheese
red pepper flakes, for garnish
a handful micro greens, for garnish
fresh squeezed lemon, for garnish

to roast garlic

Preheat oven to 400F. Line a piece of aluminum foil with parchment paper. Cup the top off of head of garlic and discard, drizzle garlic lightly with olive oil and season with salt & fresh cracked pepper. Wrap garlic up into a small package, sealing tightly and place on a baking sheet. Roast in the oven for 20-30 minutes until garlic is soft. Set aside and let cool.

to make the pizza

Preheat oven to 500F. If using the no-knead pizza dough recipe, use entire batch or save one in the refrigerator (use a zip lock bag) for up to 1 day. Oil a 13×18 inch rimmed baking sheet liberally with good extra virgin olive oil. Then gently plop the dough on the pan and stretch and press it out to the edges. If it springs back wait five minutes and then proceed. The dough is very thin. If it tears, piece it back together.

Press firmly on the head of garlic to release the roasted garlic. Spread roasted garlic evenly over the top of the prepared dough followed by a layer of pesto. Sprinkle half of the mozzarella on top of the pizza followed by the leeks, asparagus and green onion. Finish by topping the pizza with the rest of the mozzarella, and sprinkling fresh cracked pepper on top. Place pizza in the oven and bake for 18-20 minutes until crust is lightly browned. Scatter bits of goat cheese on top of the hot pizza, followed by microgreens. Serve with red pepper flakes and squeeze top with fresh lemon juice to finish.