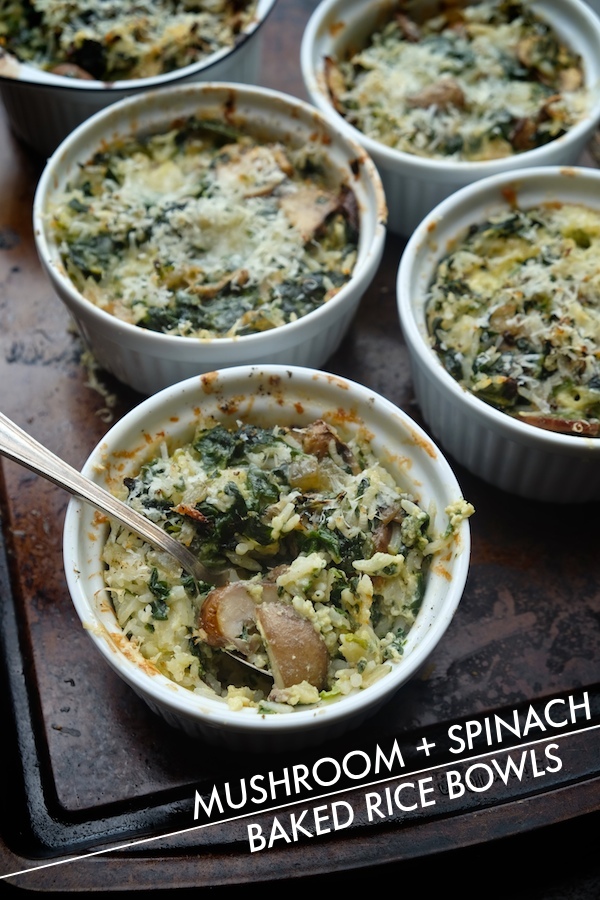 I almost always make rice for my weekly meal prep because both Casey and Cooper can never get enough rice. When we have leftovers, it's easier to make great dishes Bacon Fried Rice and these Cheesy Mushroom and Spinach Baked Rice Bowls. Potato leftovers make, great breakfast hash. Remember? Leftovers breed creativity! Think: Mushroom & Spinach Baked Rice Bowls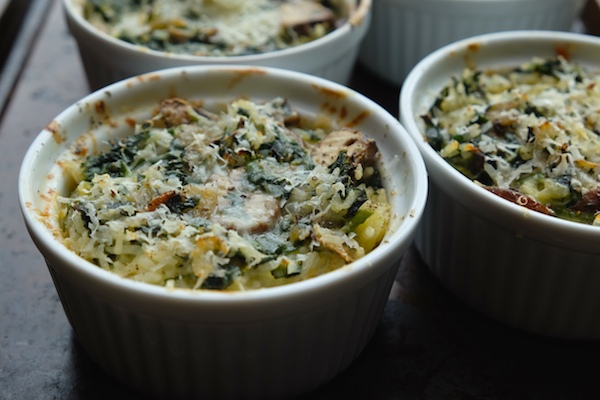 Crispy baked rice with parmesan, mushrooms and spinach. IN RAMEKINS!!!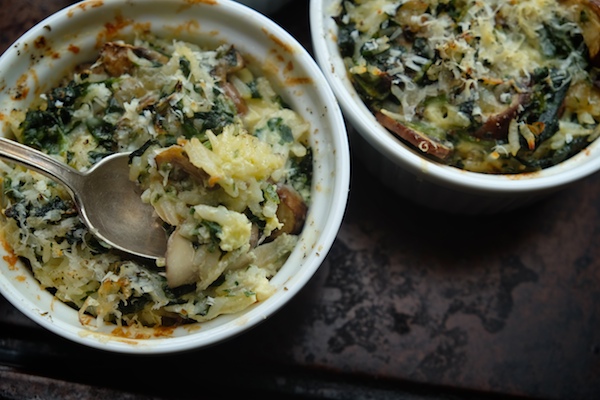 Serve with a squeeze of lemon and all is right in the world. Look at you, rocking dinner.
Proud of you!
And we're off!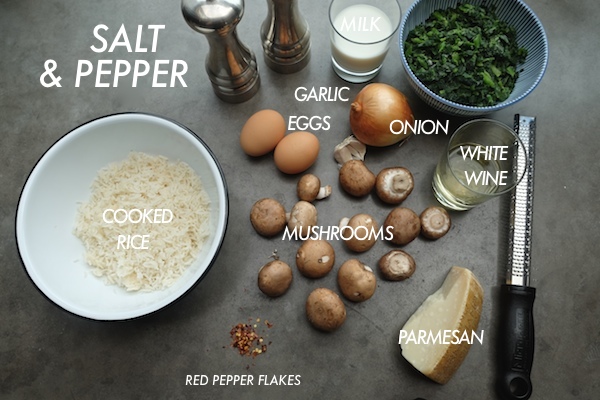 First we grate the Parmesan. There's something so satisfying about grating cheese with a Microplane!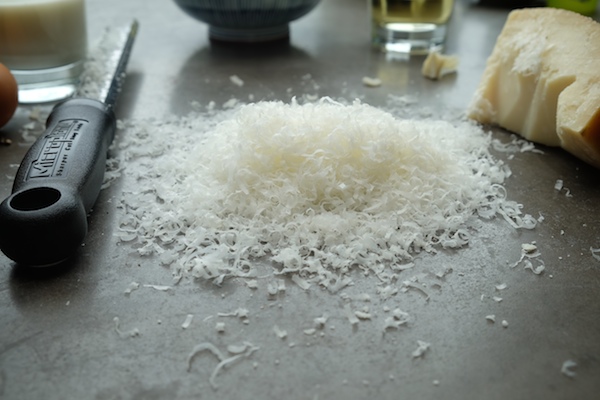 Egg, cheese and rice gets mixed with milk. Set aside.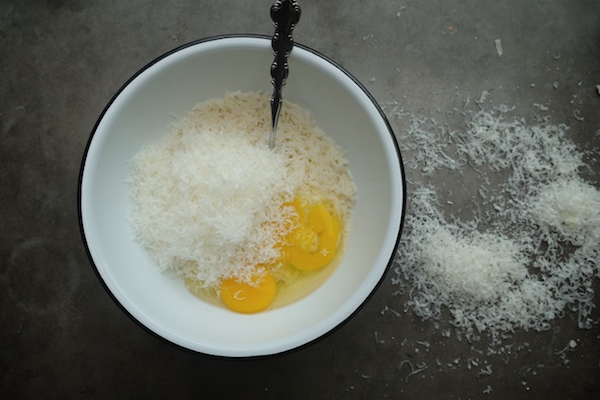 Slice the mushrooms thinly. Mince the garlic and chop the onions.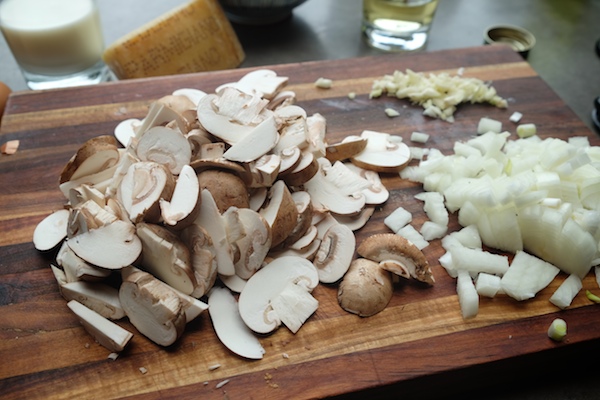 First we are going to sweat our onions in butter. Get them soft.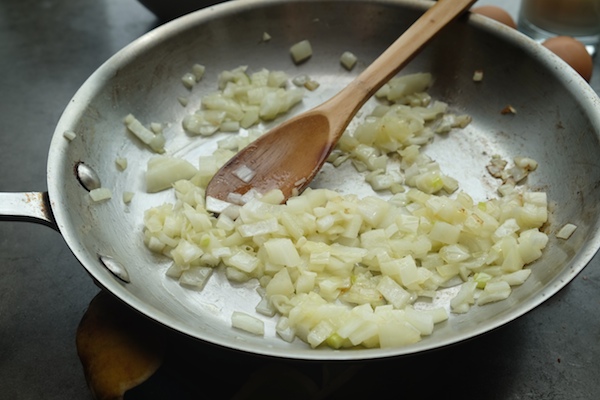 Add the mushrooms in and cook until softened.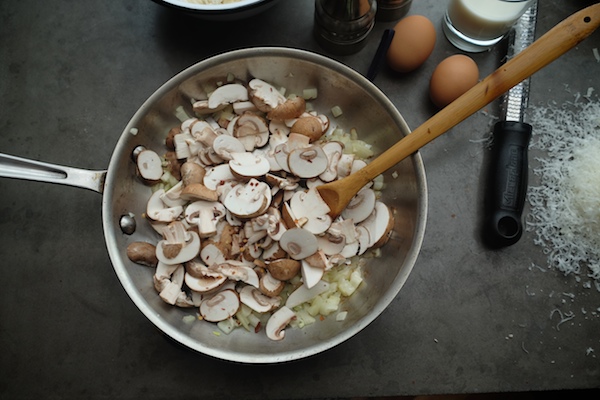 Stir in garlic, pepper flakes, pepper & salt. Cook for another minute or so. We want to cook the garlic but not burn it.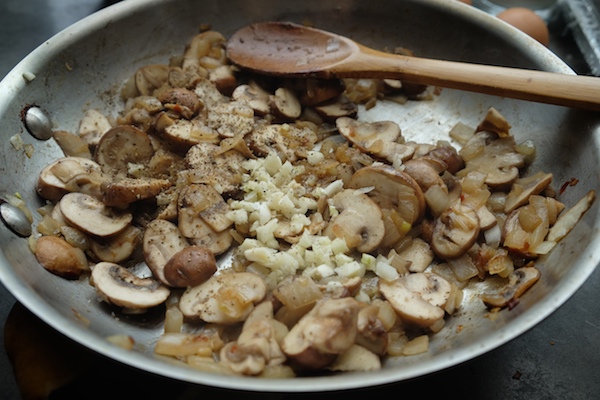 White wine goes in.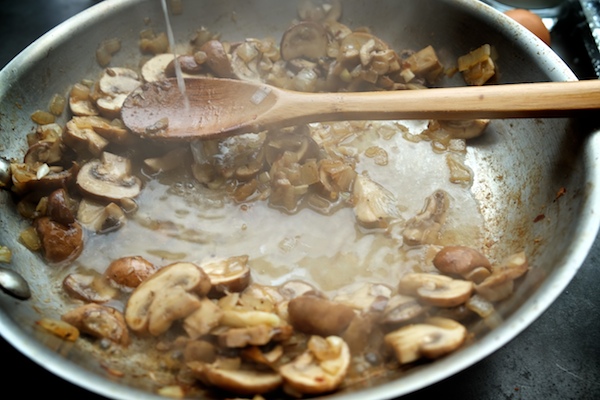 Frozen spinach goes in. It immediately melts! Cook for another few minutes. We want to reduce some of the liquid.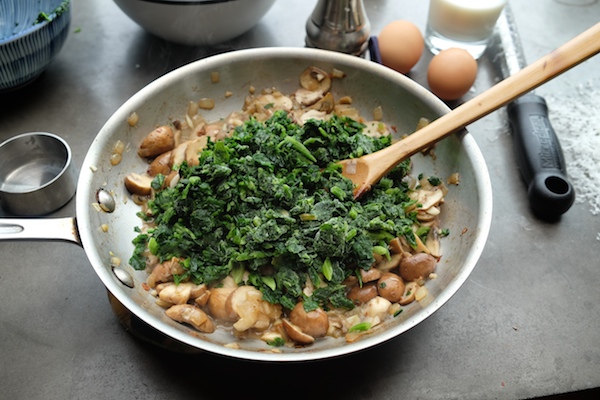 Butter up ramekins. Get your ingredients ready. Let the mushroom spinach mixture cool off for a bit.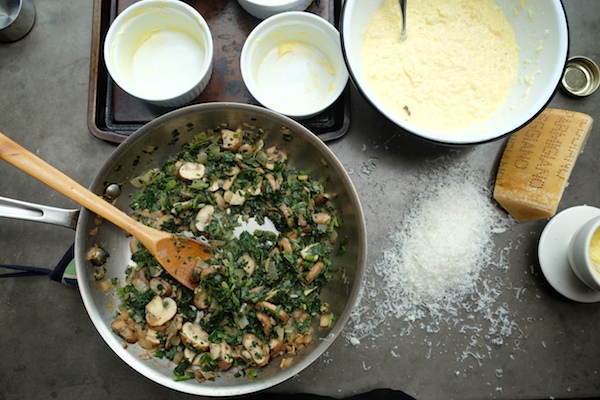 Mushroom spinach mixture gets mixed into the rice mixture.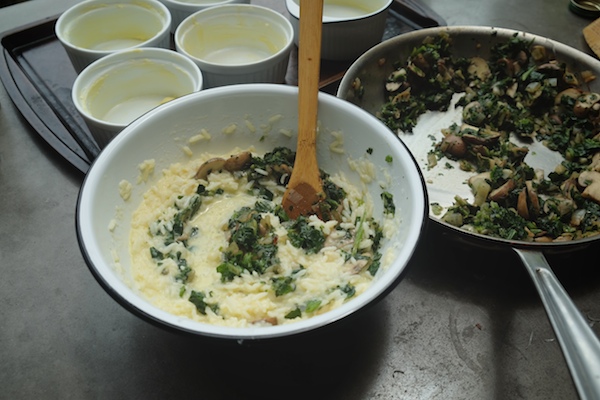 Done.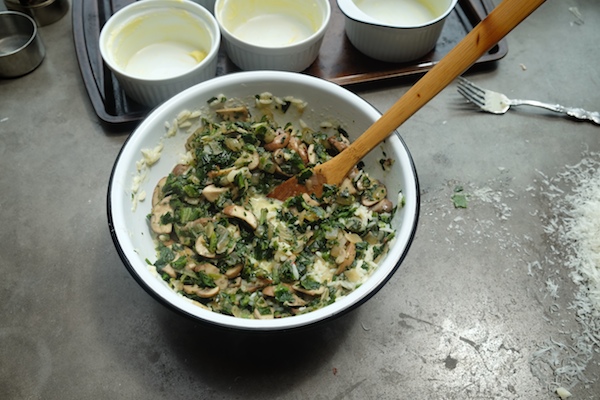 Spoon the rice into the buttered ramekins.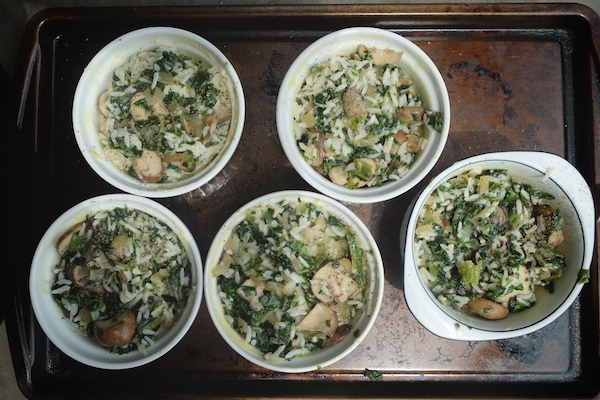 Top with cheese!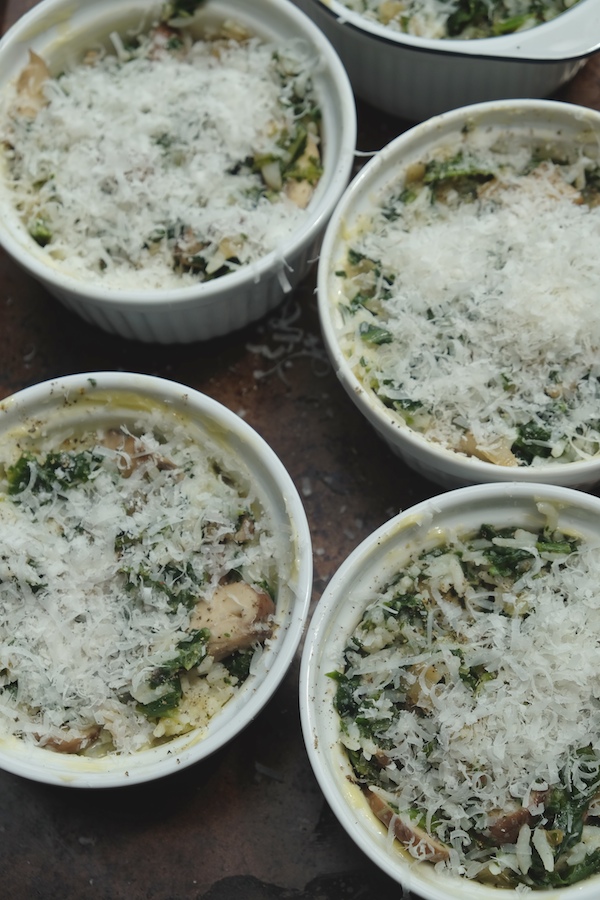 BAKED!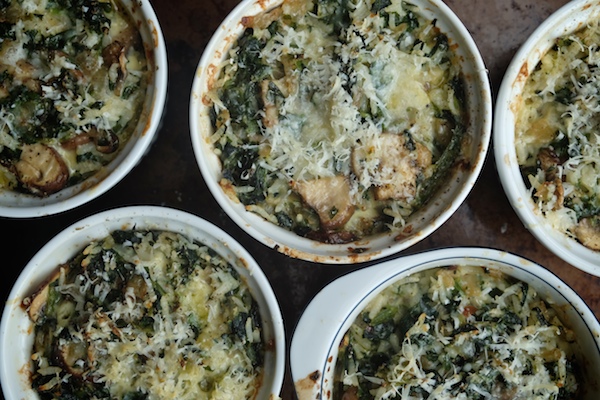 I serve it with fresh lemon wedges. It's a nice way to add a little acid to the dish.
Brings out the flavors!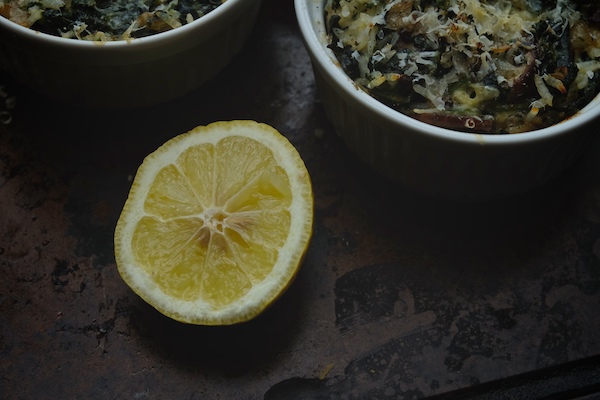 Well well well. What do we have here??!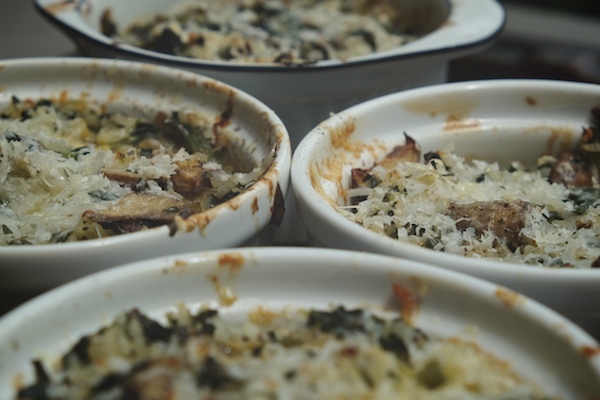 Ramekins filled with amazingness.
Mushroom & Spinach Baked Rice Bowls

serves 4

recipe adapted from Everyday Food Magazine

2 cups cooked rice
2 large eggs
2/3 cup whole milk
1 1/4 cup grated Parmesan cheese
kosher salt & fresh cracked pepper
2 tablespoons unsalted butter
1 medium onion, roughly chopped
8 oz. crimini mushrooms, thinly sliced
pinch red pepper flakes
3 cloves garlic, minced
1/2 cup dry white wine
2 cups frozen spinach
fresh lemon wedges, for serving

Preheat oven to 375F. Butter 4- 1o ounce ramekins with 1 tablespoon butter. Set aside.

In a large bowl, combine rice, milk, eggs, and 1 cup cheese. Season with salt and pepper and set aside.

In a larget skillet, heat 1 tablespoon butter over medium heat. Add onion and cook for 4 to 5 minutes until the onions are translucent. Add the mushrooms and cook another 5 to 7 minutes to soften the mushrooms. Add the garlic, red pepper flakes and season with salt and pepper. Cook for another minute, making sure to not burn the garlic. Pour the wine into the mushroom mixture and stir in the frozen spinach. Cook for another 3 to 4 minutes to reduce the moisture. Set mixture aside to cool for 5 minutes.

Stir the mushroom spinach mixture into the rice mixture until well combined. Spoon the rice mixture into the buttered ramekins. Place the ramekins on a baking sheet and top each ramekin with the remaining 1/4 cup Parmesan cheese. Bake until warmed through and golden brown on top, about 25 to 30 minutes. Serve rice immediately with lemon wedges.