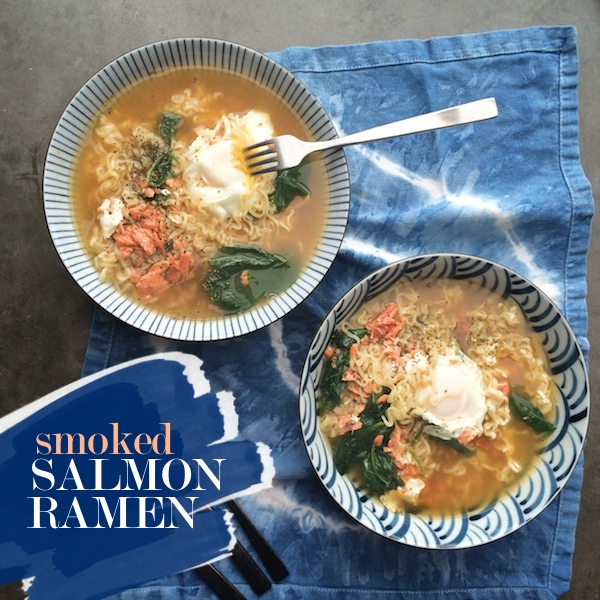 I find the most food inspiration when someone else cooks for me. That's why I love going to my friend Leslie's house.  She's beyond confident in the kitchen and she always comes up with such amazing combinations out of the most modest ingredients. It feels like a real treat; she makes me always feel welcome.  She also introduced me to the hot smoked sockeye salmon from Trader Joe's and I'm forever grateful.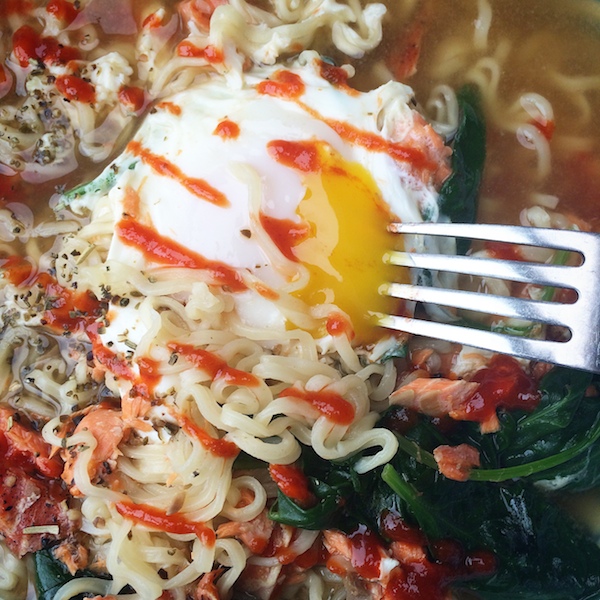 She made me smoked salmon ramen back in December and I was instantly hooked. It takes a tiny bit of finesse to get the egg just right but on my second attempt, it was absolute perfection.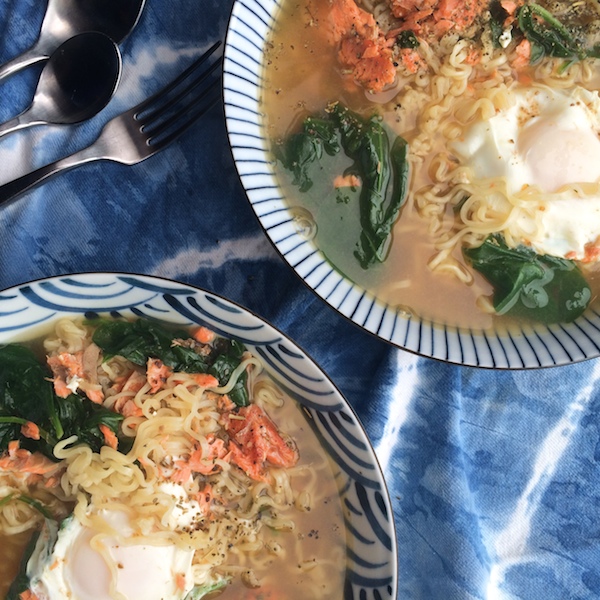 Just a few additions can really enhance a package of ramen. Spinach, smoked salmon, a little bit of sea kelp seasoning (or furikake if you have it) and a runny egg makes for a wonderfully quick meal– perfect for Mondays! You're just three minutes away from deliciousness.  Promise me you'll add sriracha?
And we're off!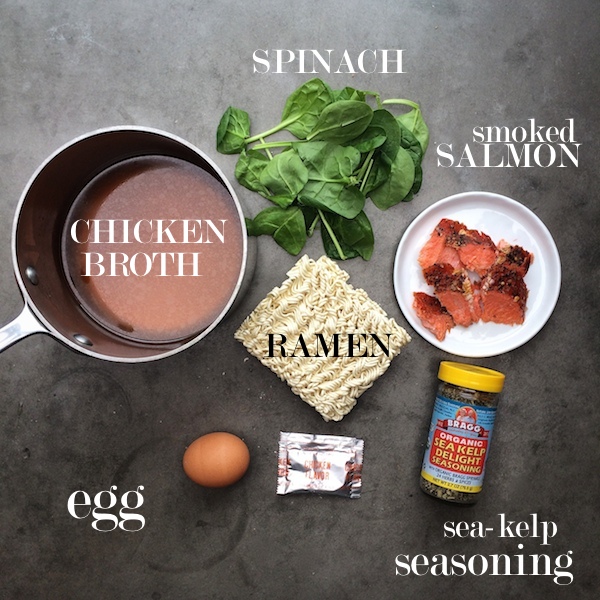 I made my own chicken stock and pulled it from the freezer for this soup. I use only half of the seasoning packet from the packaged ramen. Leslie told me that the Oriental Flavor Ramen has the best flavor. I'm going to try that next as all I had was the chicken.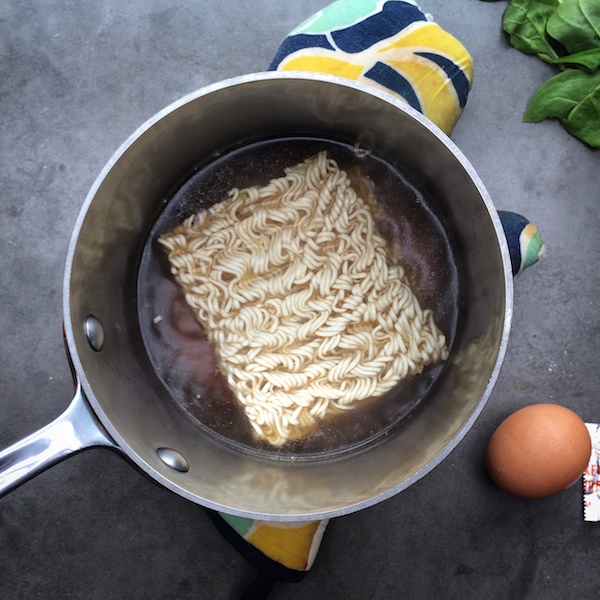 After you boil the stock, place 1/2 of the seasoning packet into the broth, followed by the noodles, spinach, sea kelp seasoning and the smoked salmon. You're going to want to make a little nest to place the egg on top of.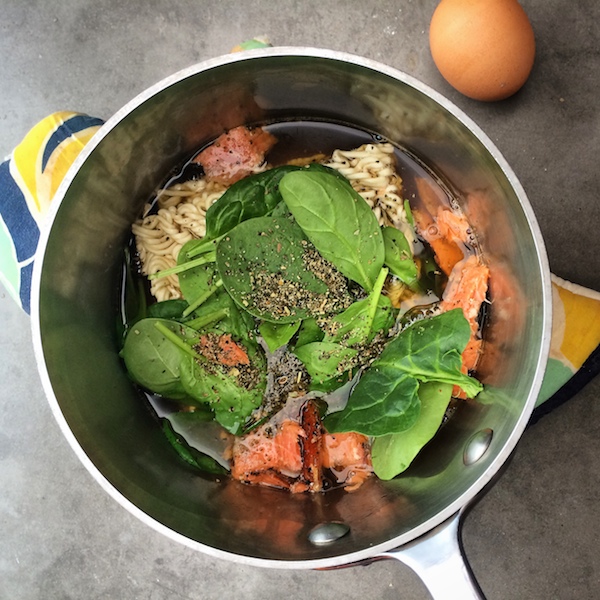 Nested. I actually added two because I was sharing with Casey…
Then we put a lid on the saucepan and let it cook for 3 minutes.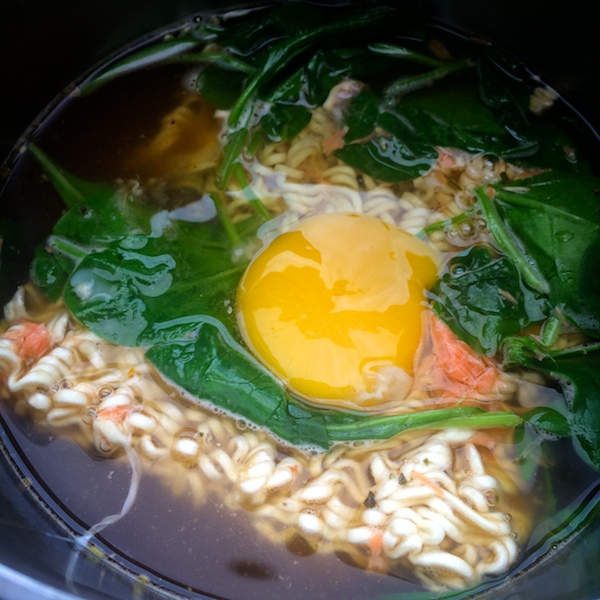 The eggs get steamed but they remain runny on the inside.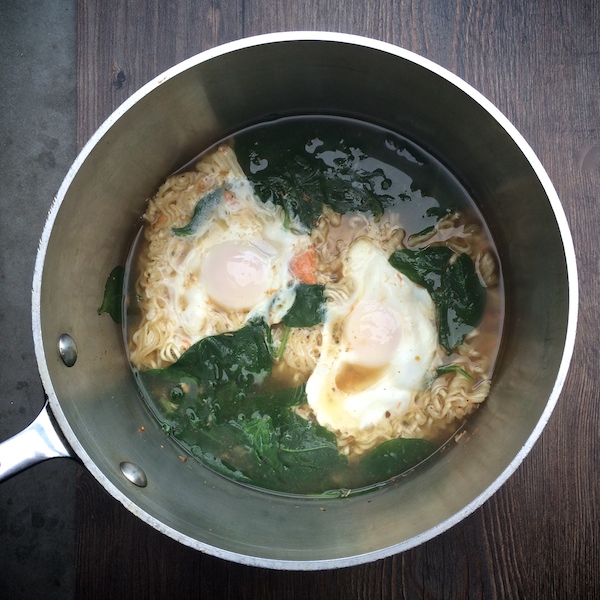 All you need is sriracha.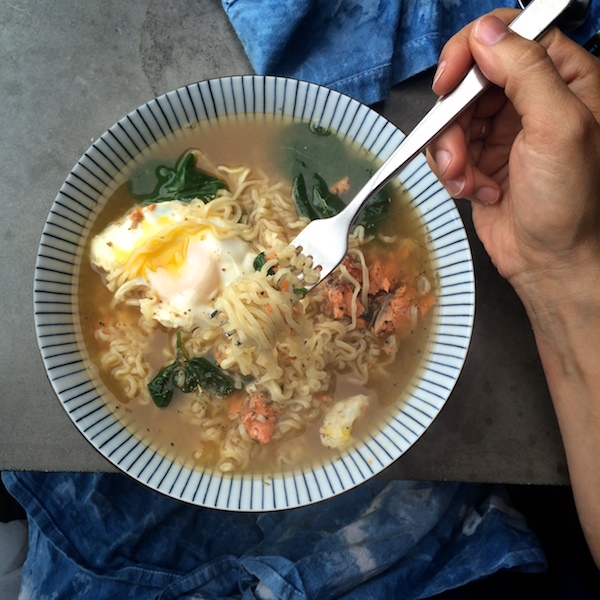 Waiting for it….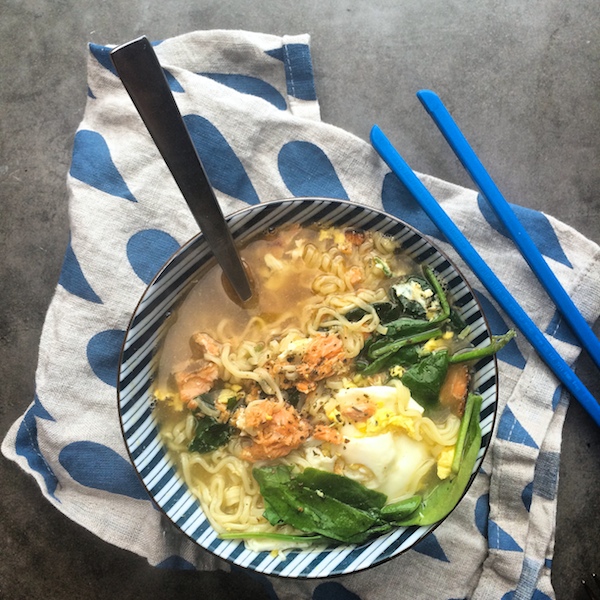 There we go.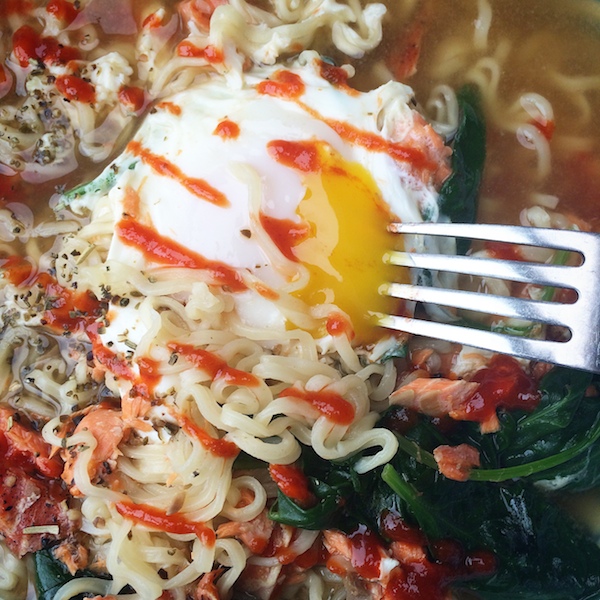 Get in there.
You're gonna want to make this every night this week.
Smoked Salmon Ramen

serves 1-2

2 cups chicken stock
1 package ramen noodles (use 1/2 seasoning packet)
a very large handful fresh spinach leaves
1/2 cup chopped hot smoked salmon
a few dashes of sea kelp seasoning
1 egg
sriracha, for serving

Boil chicken stock in a saucepan, add noodles, spinach and smoked salmon. Season with 1/2 packet ramen flavoring and a few dashes of  sea kelp seasoning.  Slowly crack an egg on top, nestled into the noodles and spinach and place lid on saucepan. Cook for another 3 minutes, until noodles are cooked and egg has set. Serve immediately with a drizzle of sriracha.