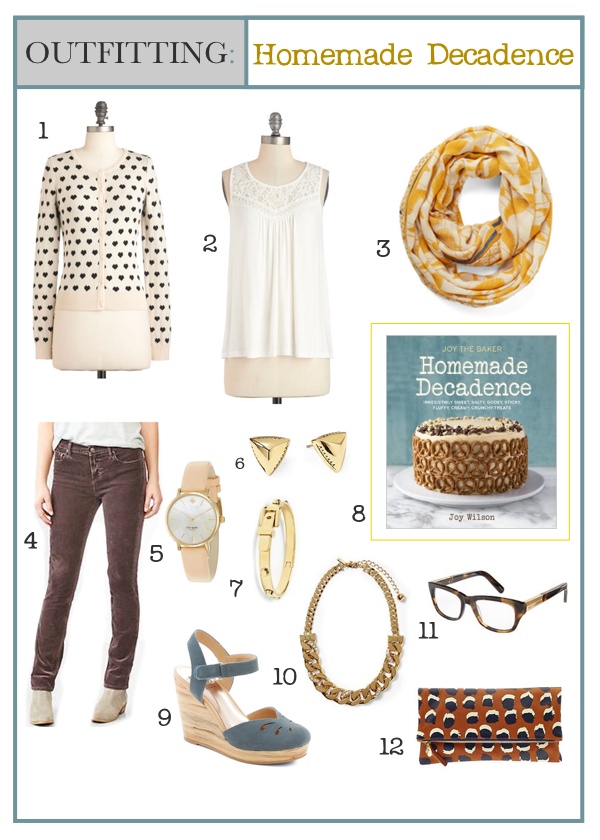 ONE/TWO/THREE/FOUR/FIVE/SIX/SEVEN/EIGHT/NINE/TEN/ELEVEN/TWELVE
Today the Joy the Baker Homemade Decadence cookbook is out into the world!!! Wahoo! Go MAJ GO!
I was pretty excited to put an outfit together around this Joy's cover design. That cake up there? I've had it…it's so freaking dreamy.  Chocolate, peanut butter AND pretzels?? Oh my word.  I didn't want to just mimic the color scheme of this cover, I wanted to pick some things that I know Joy would like wearing. She loves a good clutch, she looks great in glasses, an unexpected lace situation is her favorite, she wears wedges like nobody's business, and she loves her some gold.  I should also mention she looks great in tight pants. I may have leg envy…  My maj is always mixing some crazy patterns together, so that's why I decided to pattern clash with the cardigan, scarf and clutch. Hope you love it, maj.
HAPPY BOOK RELEASE DAY!!!!  YOU DID IT!! Proud of you, boo!
Can't wait to see you when you get to the Bay Area on your book tour! xo