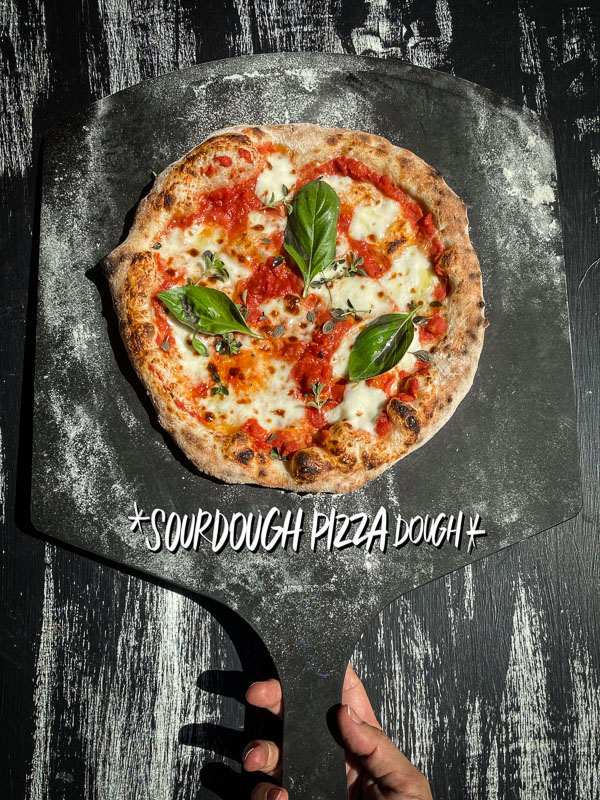 If you got into the sourdough revolution like me, have you made Sourdough Pizza Dough? If you haven't, you should!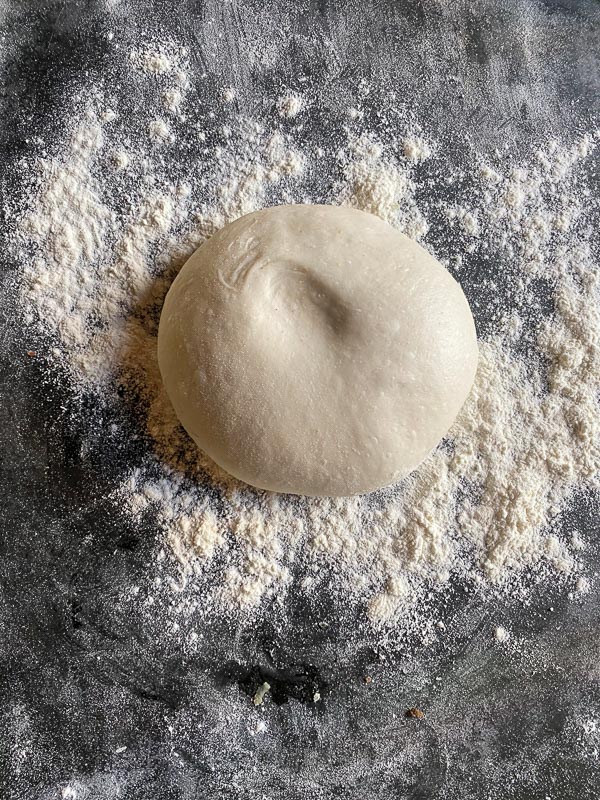 This recipe makes three pizzas. Great for our family of three 🙂 We all can do whatever we want with our pizzas.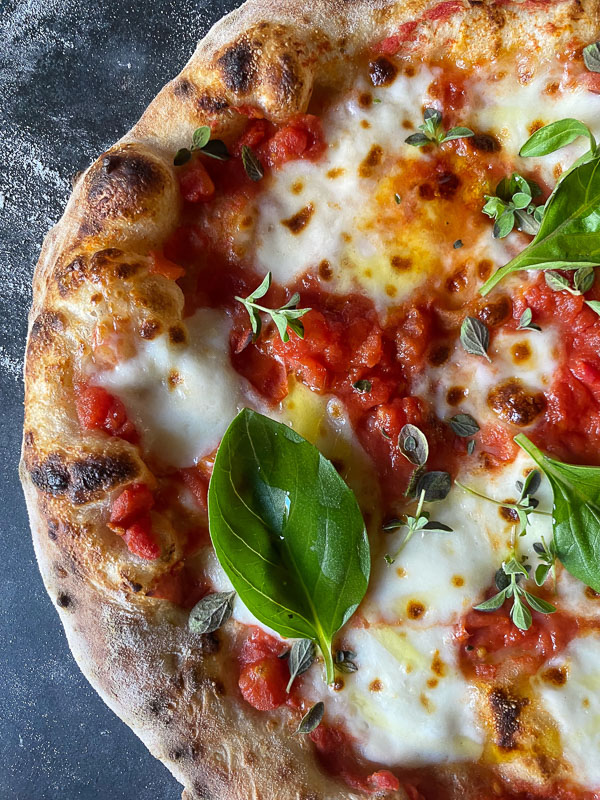 All you need is to get your sourdough starter fed, some flour, and water and you're good to go. It's less time-consuming than making sourdough bread and you can make a legit dinner with it!
Ingredients involved: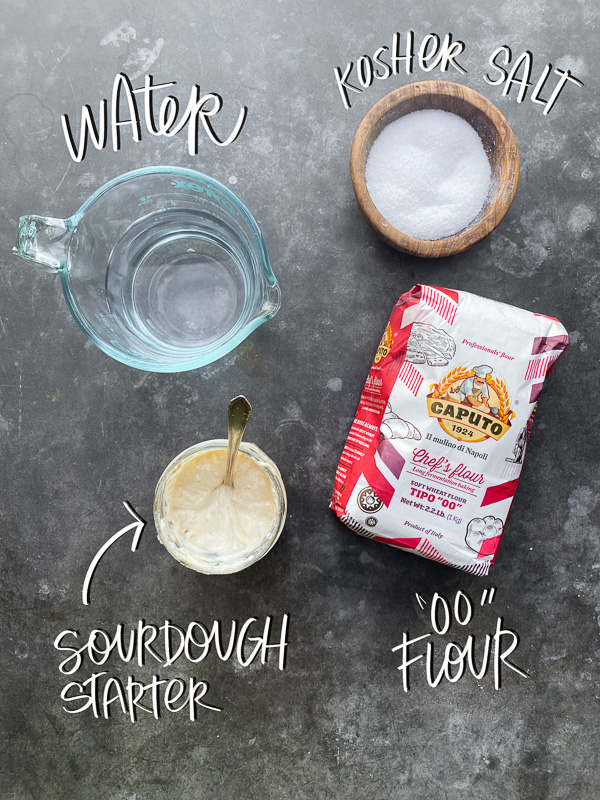 Start by mixing flour and water. We like using "OO" flour for our pizzas.
Then the starter and salt go in.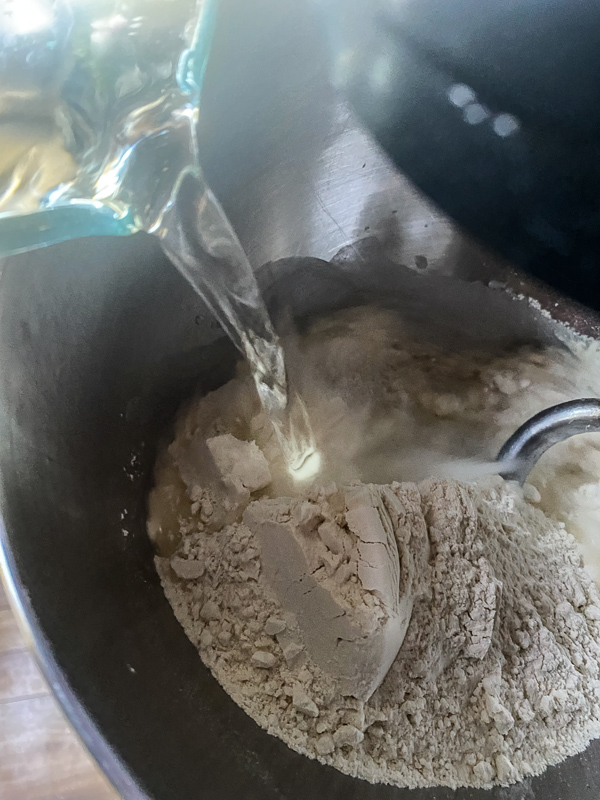 Kitchen-Aid mixer to the rescue! Mix for 12 minutes.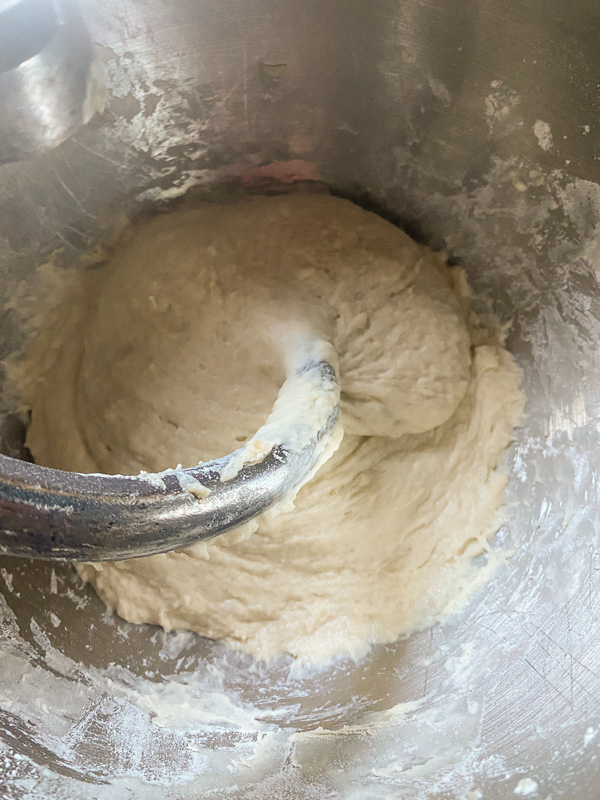 Get the dough together. Knead it a bit on a floured surface.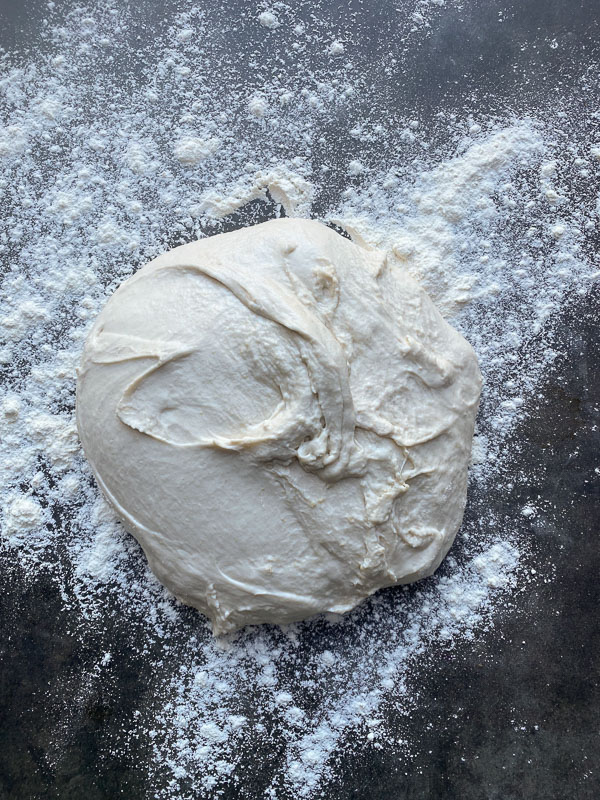 Put the dough in an oiled bowl. Cover it with a towel and let it rest 6-8 hours.
You can put it in the fridge overnight (up to about three days- makes it more flavorful!)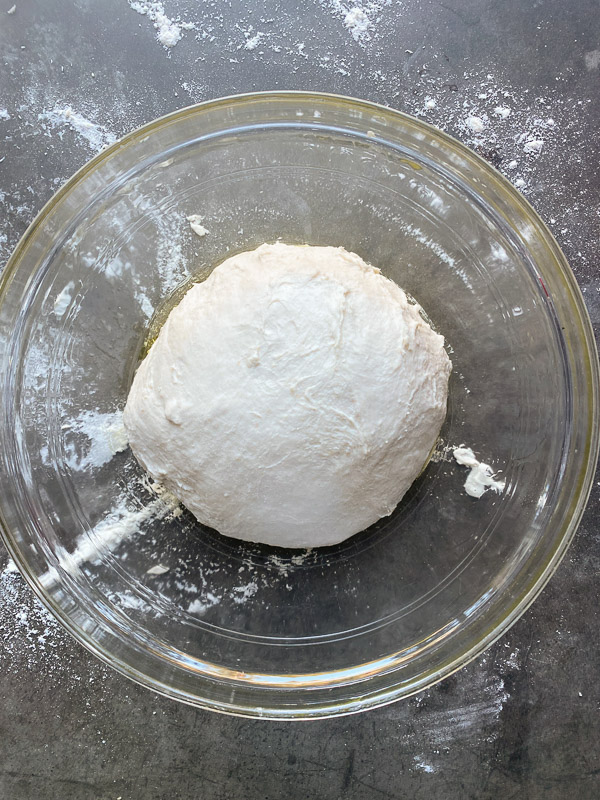 When you're ready to use the dough, take it out.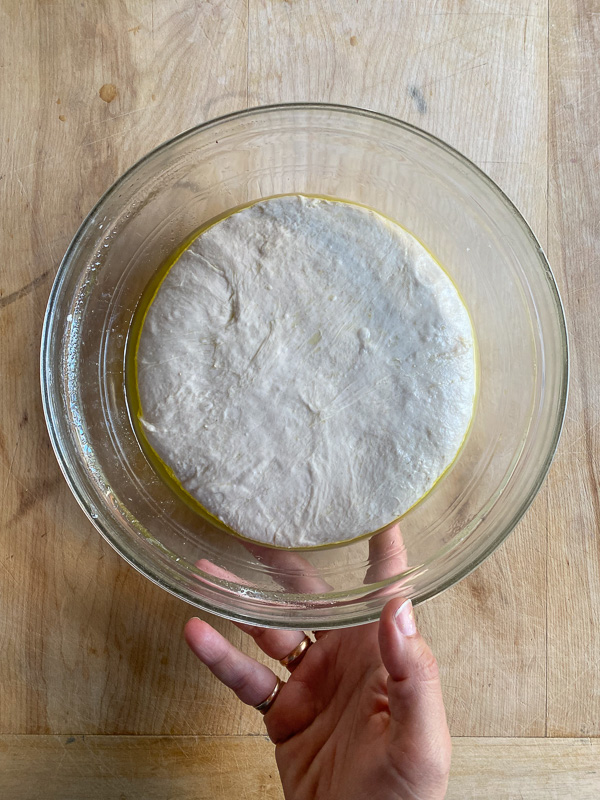 Measure out into three equal balls.
A kitchen scale makes it more accurate!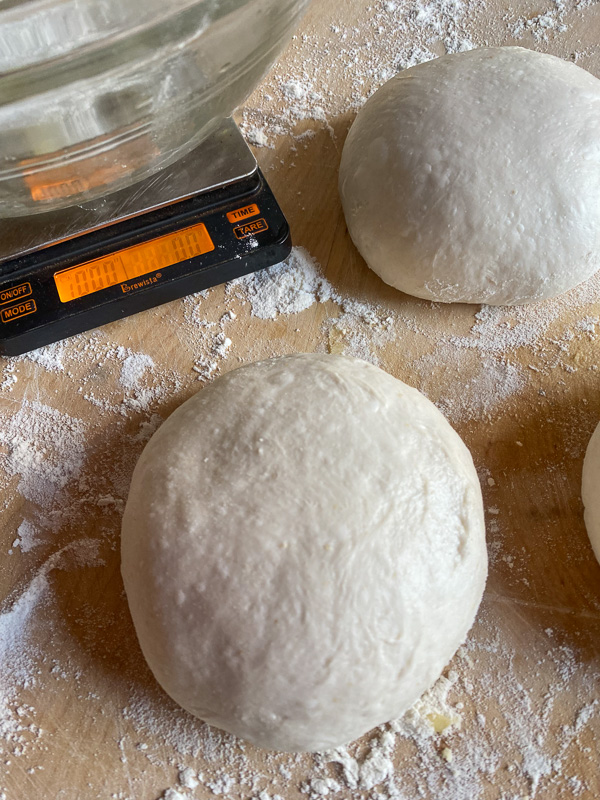 Hello, dough balls!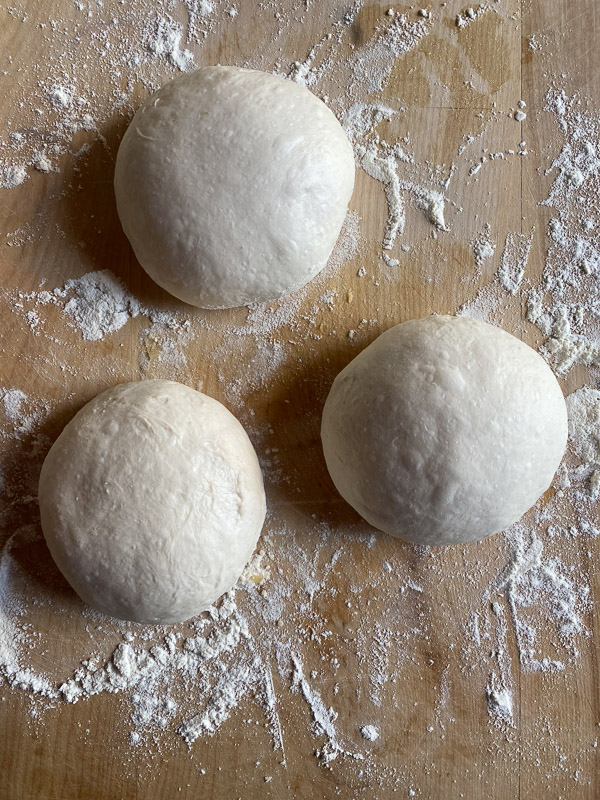 Shape your dough and top it!
We haven't ordered pizza delivery in almost a year because we bought an Ooni pizza oven during the pandemic.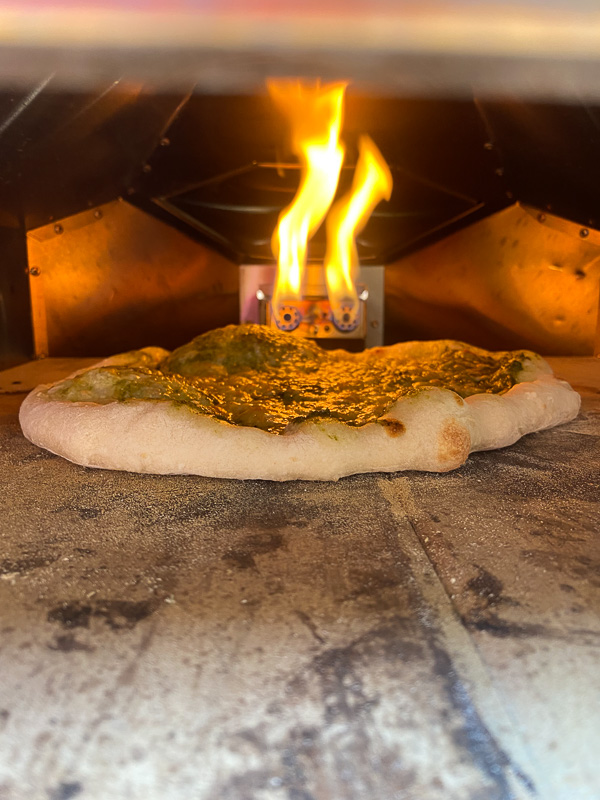 Another favorite tool has been pizza scissors! I find them so much easier to use than a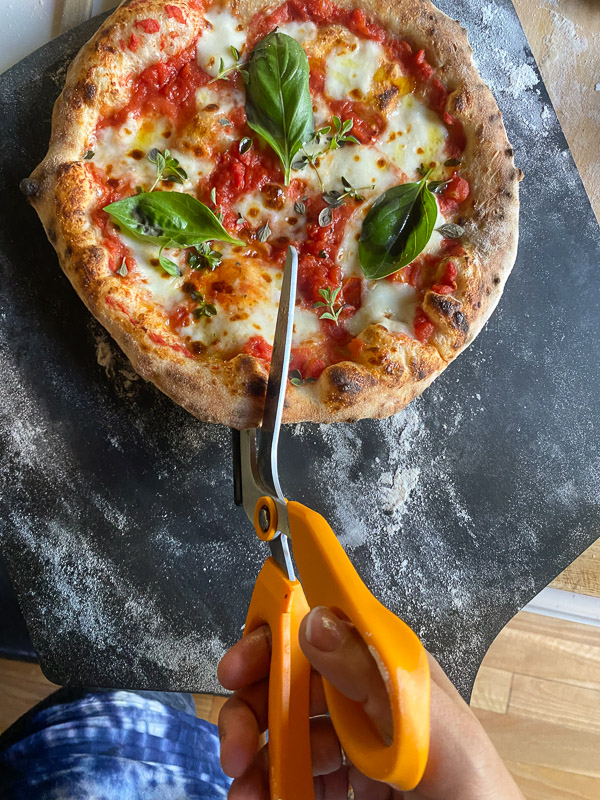 Happy pizza-making!
And if you need more pizza topping inspiration, check out my pizza section!
Sourdough Pizza Dough

recipe slightly adapted from The Cheeseboard Collective

makes 3 10-inch pizzas crusts

3 to 3 1/4 cup "00" flour
1 1/2 cups water
1 1/2 teaspoons kosher salt
1/4 cup (4 oz.) sourdough starter

Put 3 cups of the flour in the bowl of a stand mixer (with dough hook attachment) and add the water to the bowl and mix on low speed until the ingredients are thoroughly combined. Scrap sides with a spatula to make sure all of the flour is incorporated. Let the mixture rest for 10 minutes. Add the salt and sourdough starter and increase the mixer to medium speed and knead for about 12 minutes, or until the dough is slightly tacky and soft. If the dough doesn't gather fully around the hook, add a little bit of the extra flour so it will pull away from the sides. Transfer dough to a lightly floured surface and knead by hand for about 5 minutes.

Form the dough into a ball and place it in a large oiled bowl. Turn the dough over to coat it with oil. Cover the bowl with plastic wrap or a damp kitchen towel and let rise in a cool place for 6-8 hours, or until the dough has doubled in size. For an overnight rise (if not ready to use right away), cover with plastic wrap and keep in fridge covered for up to three days. Let come to room temperature (about 2 hours) before using.

To shape the pizzas, transfer the dough to a lightly floured surface and divide into 3 pieces. Gently form each piece into a loose round and cover with a floured towel. Let rest for 20 minutes. Shape each round into a 10-inch disk. Top pizzas with toppings of your choice. If using a regular oven, bake at 500F for 18-20 minutes or until the edges are slightly charred.