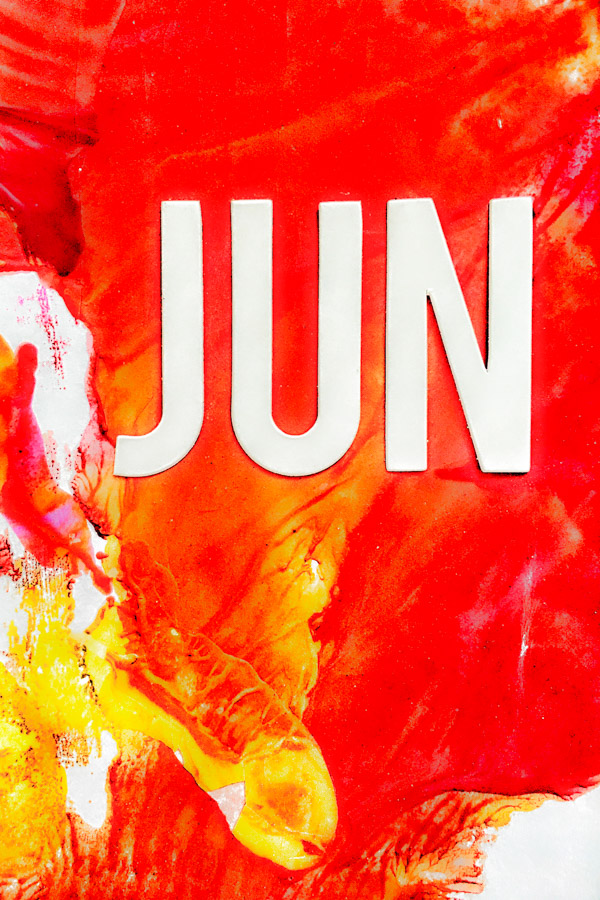 Currently: June 2017
I am currently typing this with headphones on. I'm listening to the Big Little Lies soundtrack while my child sits next to me with poison oak all over his face. It's swollen. He's miserable. Husband has a nasty cold but is also working on a house project that will hopefully be done soon. My garage looks like a tornado it it and  laundry keeps coming at me left and right. Just when I finished all of the laundry from camping, I had to wash EVERYTHING because of poison oak. I would take that any day over lice…  Sorry to be all June gloom on ya. That's just how some months/weeks are.
Other than that, June was filled with fun family visits, a Father's day get-together, a live Kenny G performance with my dad, baseball camp, a camping trip, and a trip to the city via ferry. Throw a few heat waves in there and we have JUNE!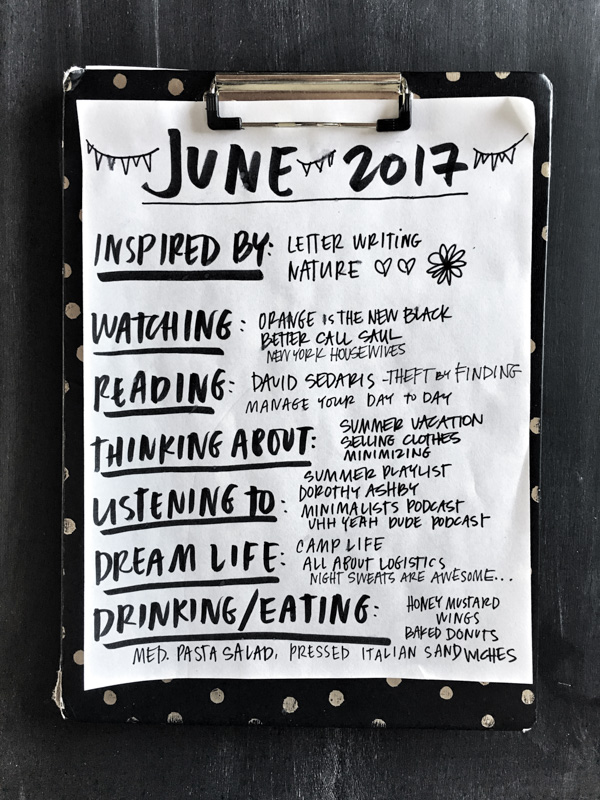 Inspired By:
Mostly the letters I've been receiving. Thank you to everyone who has sent me mail.  I have a lot to catch up on!!!  I put most of the postcards up on my wall in my office so that I could look at them and smile.
Tracy Shutterbean
P.O. Box 604
San Anselmo, CA 94979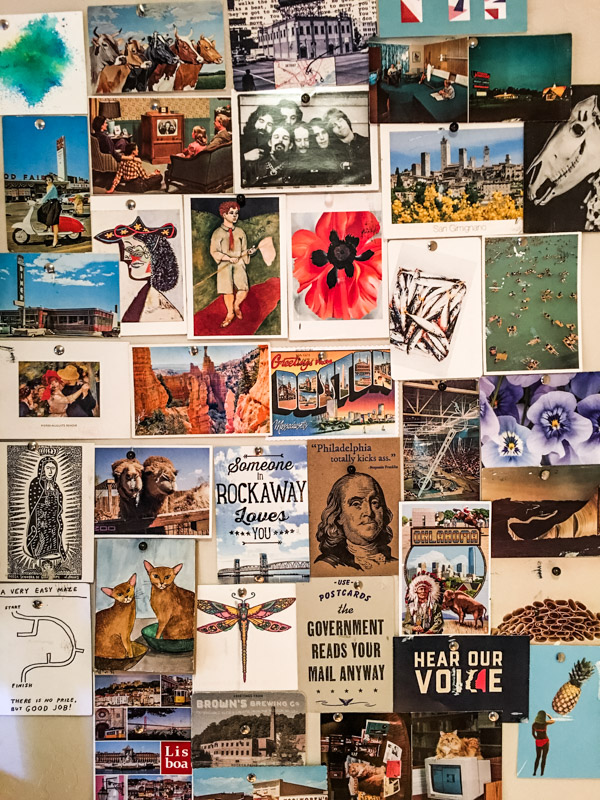 I also created a little workspace to assemble all of my shipping supplies for selling prints.
Having this space means I have new rules for myself.
This is the space I do most of my writing/computer work/art in.
That means I don't have all of my crap all over the house anymore. YAAAAAAAAY.
My guest bedroom is still a guest bedroom!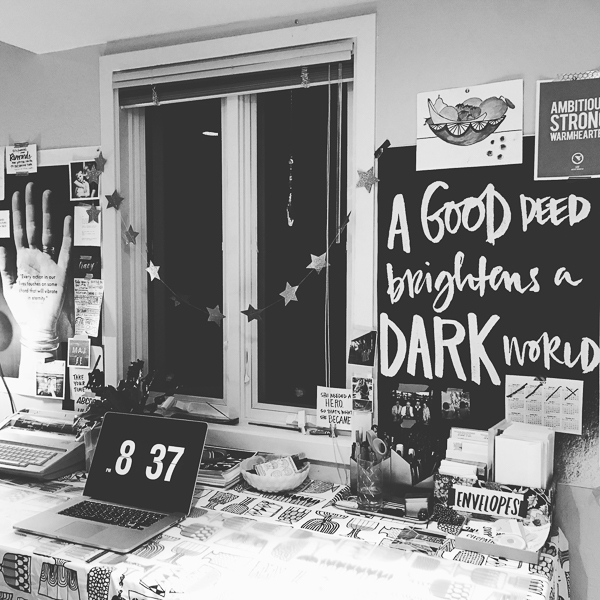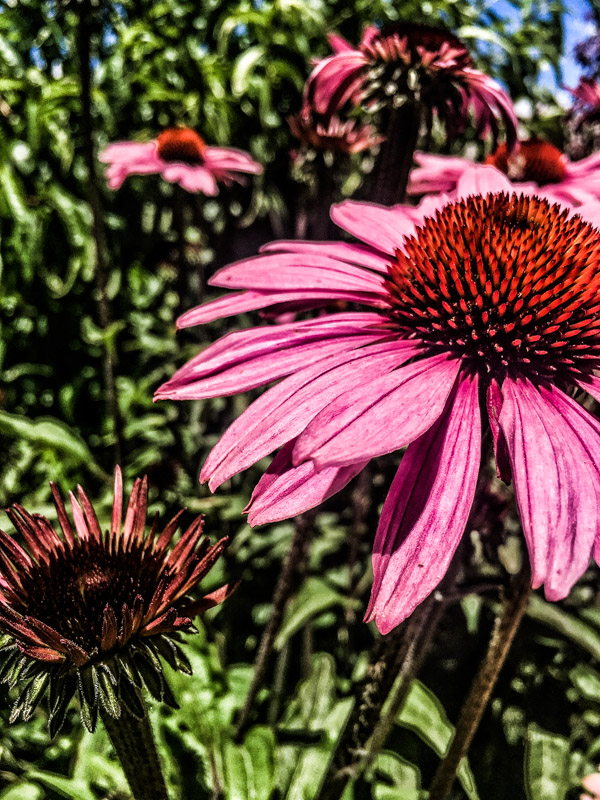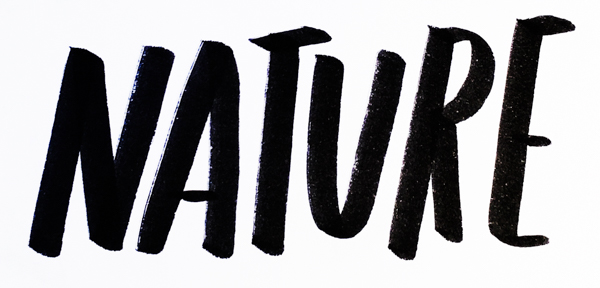 Being out in nature is always inspiring, isn't it?  We went through some hot spells here in Northern California that made us SUPER uncomfortable to be outside. Right now there's a cool breeze and I'm loving it. My garden is popping off with some flowers and that makes me so happy.  It's rewarding to see my hard work pay off.
Watching:
We are two episodes away from finishing this season of Orange is the New Black. I'm actually really enjoying this season. So much chaos in prison with all the rioting. I always love when you get a glimpse of a character's life before prison. Anyone else enjoying the season?
We also finished this season of Better Call Saul, so we are bummed that it's over for the year. It makes me miss Breaking Bad (although it was so uncomfortable at times!) less. Bob Odenkirk is one of my favorite actors.
I suppose this Summer we'll start the new season of House of Cards. We also are looking forward to starting Glow. Anyone watching that?
And yeah… I've been watching the Housewives NYC while I do laundry (which seems like all the time) because it helps me space out. Ramona is going crazy as per usual.
Reading:
I've been reading Theft by Finding by David Sedaris on my kindle
every night before bed this week. I love that his journal entries are pretty short. HE IS SO FUNNY and astute. Highly recommend if you want some light/funny reading.
I've also been reading bits of Manage Your Day to Day
when
I feel like I'm losing grip on my life (which is like always).
And I mentioned this on my Instagram stories- A Daily Meditation Book for Women Who Do Too Much. I read this one every few days, or when I need a good pep talk. Highly recommend.
Thinking About:
Summer vacation…. Going to Tahoe in the summer is what I look forward to all year long. I am catching myself daydreaming about packing for the trip, and hanging around the house drinking wine with a giant cheese plate and a good book.
I am also trying to get rid of all the clothes we don't wear this Summer.
So, when I'm doing laundry, I've been putting things aside that we don't wear.
I've been thinking about:
How many items of clothing does Cooper really need?
If we have less clothing does that mean I'm doing laundry all the time?
If I am doing laundry more often, but it's less laundry, what's that like?
Meanwhile, I signed up for Poshmark and am testing out selling items.
I have to make time to post more items. I have a whole laundry basket filled with stuff!!!
Listening To:
Still on a big time Dorothy Ashby phase. I think it's starting to bug Casey. HA!  I was listening to it on my phone while we were camping (I was making dinner outside and the mood felt right!) and he asked me if I could change my elevator music. Ooof. My coping mechanism is not someone else's coping mechanism. NOTED.
Honestly, I haven't had a lot of time to (myself) listen to things. I'm trying to get up-to-date on Uhh Yeah Dude and have been periodically listening to The Minimalist Podcast. I need to make more time to go hiking (where I do most of my podcast listening) soon! Here are some of my favorite podcasts if you're looking for some. If you read the comments, you'll find some good recommendations in there too.
Dream Life: 
Summer Camp life still haunts my subconscious. Sometimes I wonder if something happened at Camp in my childhood that I can't let go of? Maybe it had to do with treading water for 20 minutes? Or the rum cake?  I think I just REALLY REALLY loved camp when I was young because I was away from my family for a week. I mean, we all could use a break from each other, right?
In these dreams, I'm never the camper. I think I'm always on staff. Camp director? Maybe. It's always out in nature. I've got a clipboard and I'm always figuring out logistics. Also, being 37 years old means that I am having occasional night sweats thrown into these camping escapades. Cooooooooooooool. Any tips?
Eating/Drinking:
Keeping it simple this month (and also occasionally tracking what I eat through an app on my phone- MyFitnessPal). Which has been good and hard. Tracking calories makes me CRABBY but it's also a good reminder that I have to go slow and be MINDFUL or what I am eating. It's about getting into a good pattern/routine. I know the second we have an event to go to, I AM SCREWED.
This month I made: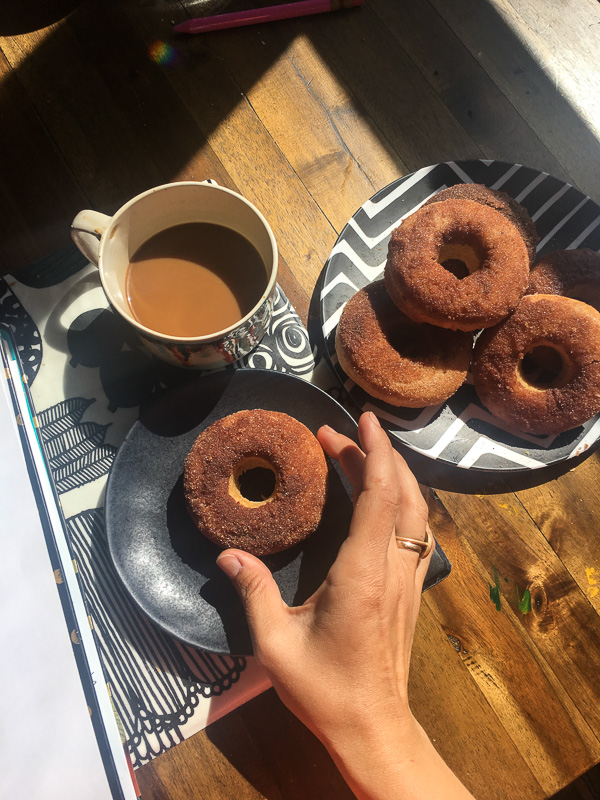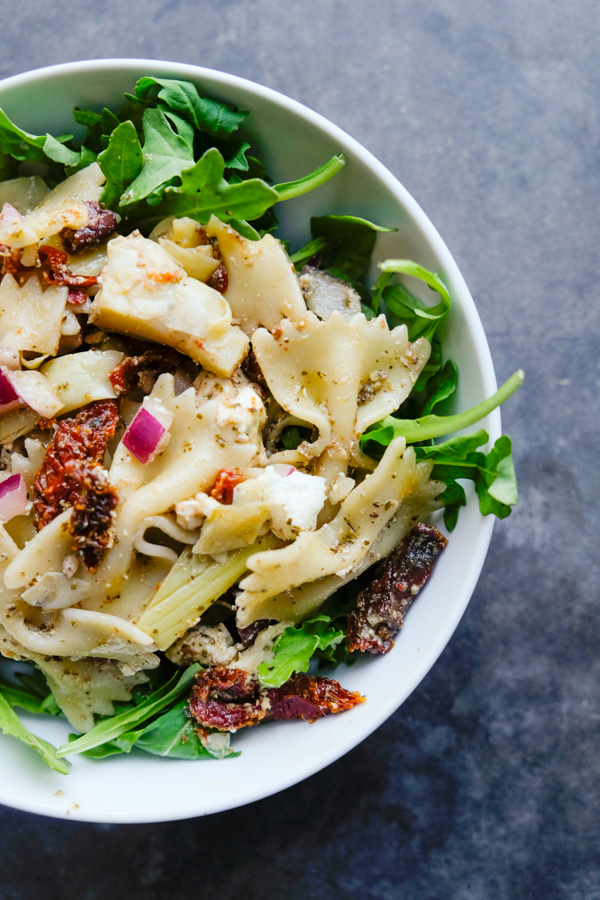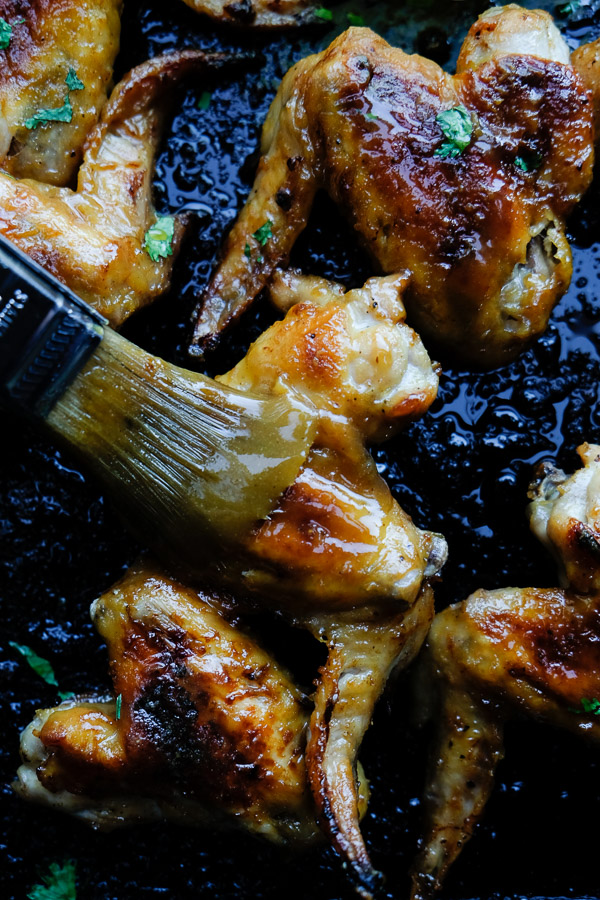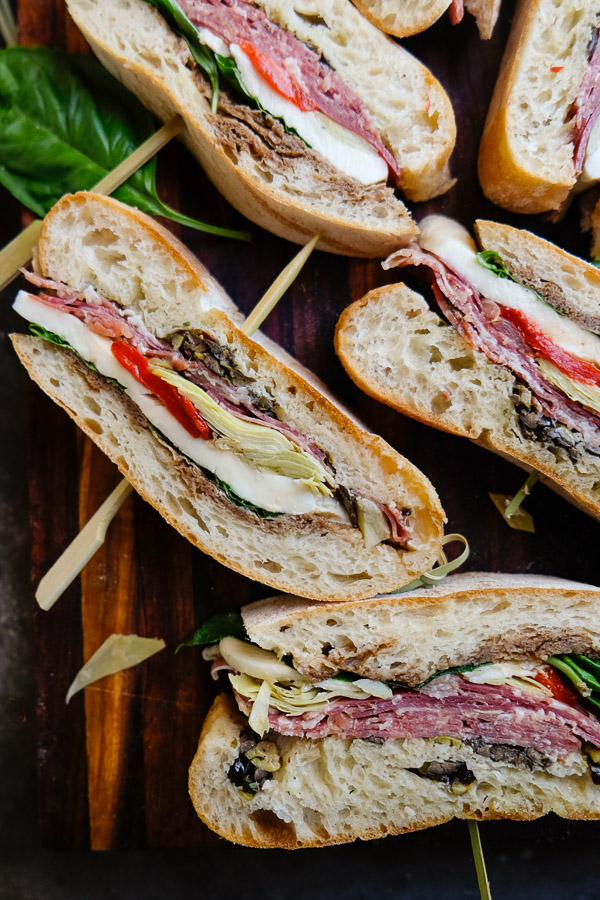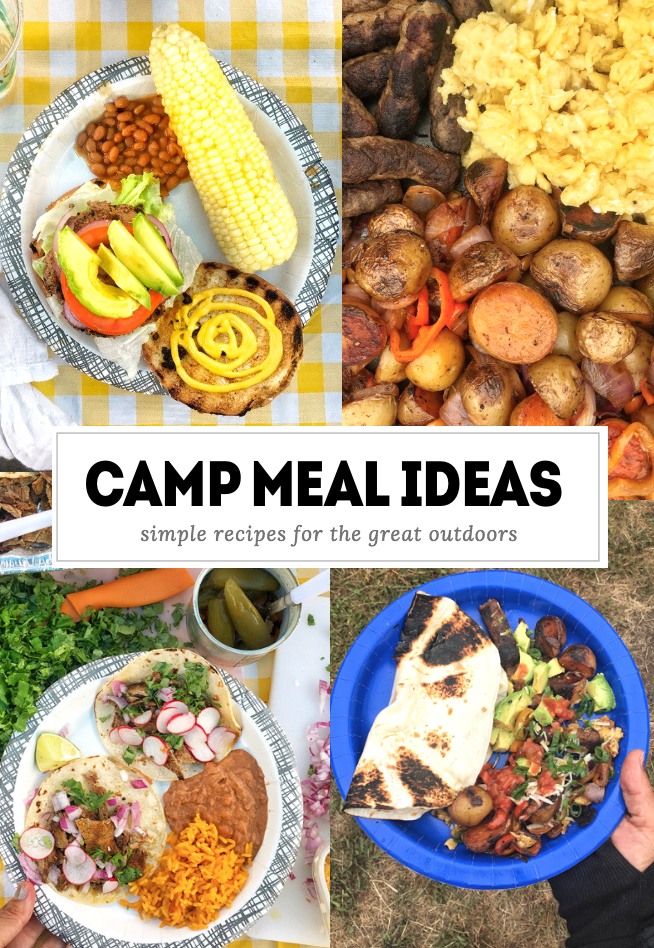 And a bunch of food while we went camping!
Monthly portrait:
This one was taken by Cooper on our ferry ride into SF.
He insisted we sit near the snacks. He's definitely my child.
June Spread from my Journal:

Goodbye, June.
HELLO JULY.
How was your June?
What are you looking forward to in July?