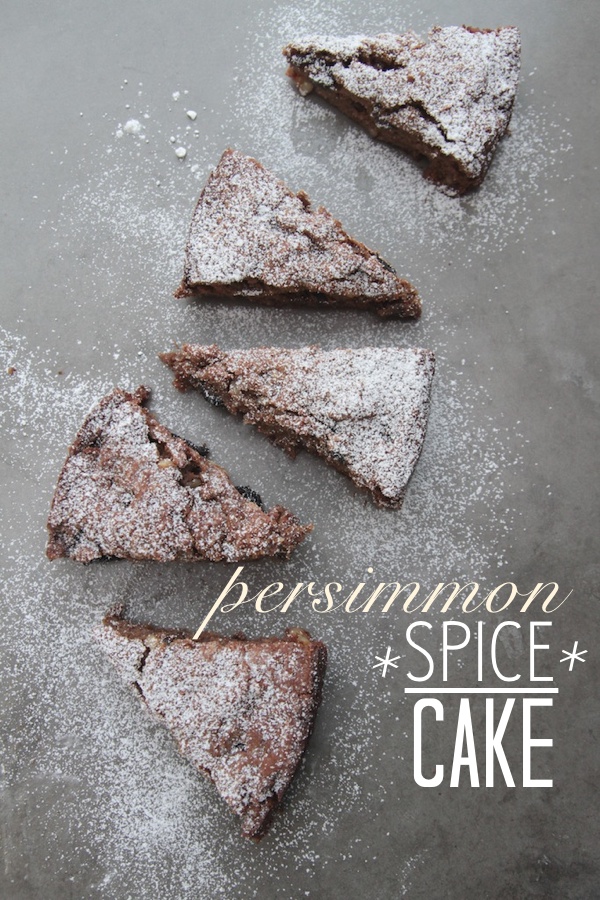 I always make big plans for special breakfasts on holidays.  Last year I made Breakfast Tacos (I spiced it up with soyrizo) for Christmas morning and this year I was thinking of making a ton of bacon, scrambled eggs, mushrooms and grilled sourdough but who am I kidding?!!  We're all just gonna eat my mom's sour cream coffee cake for breakfast.  Well…FIRST breakfast…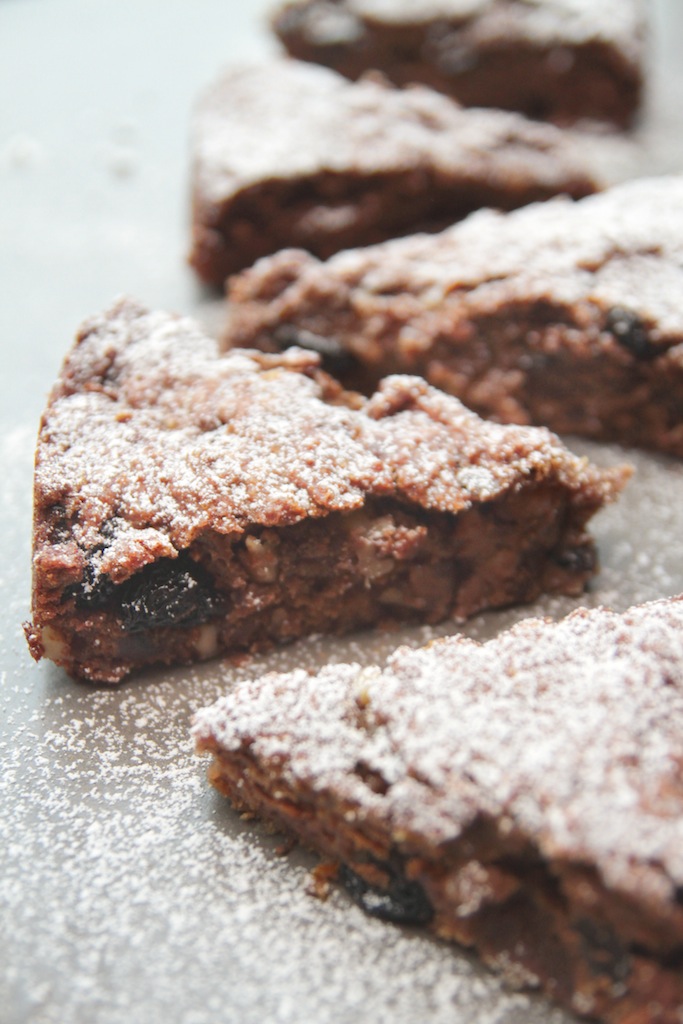 Coffee cake is always a great addition to your breakfast game lineup.  It's nice to have out in the morning when people do that I'm hungover/up too early zombie shuffle into your kitchen looking for coffee.  Hand them a mug and serve them up a slice. First breakfast is for those of us who wake up EARLY with the kids. We're a special breed.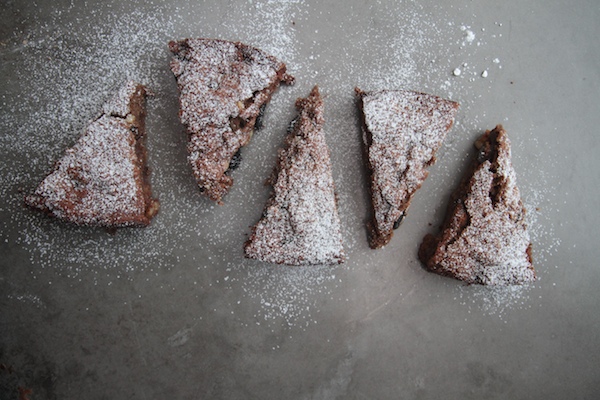 Casey and I picked at this cake for a whole week. One slice turned into two…and then a few slivers here and there and suddenly it was gone. It's slightly dense, super moist (sorry!), studded with juicy raisins, sweet dates and toasted walnuts.  It's not too sweet. It's perfect. It's definitely going in the coffee cake rotation!
And we're off!
Say hello to these persimmons. They're super ripe.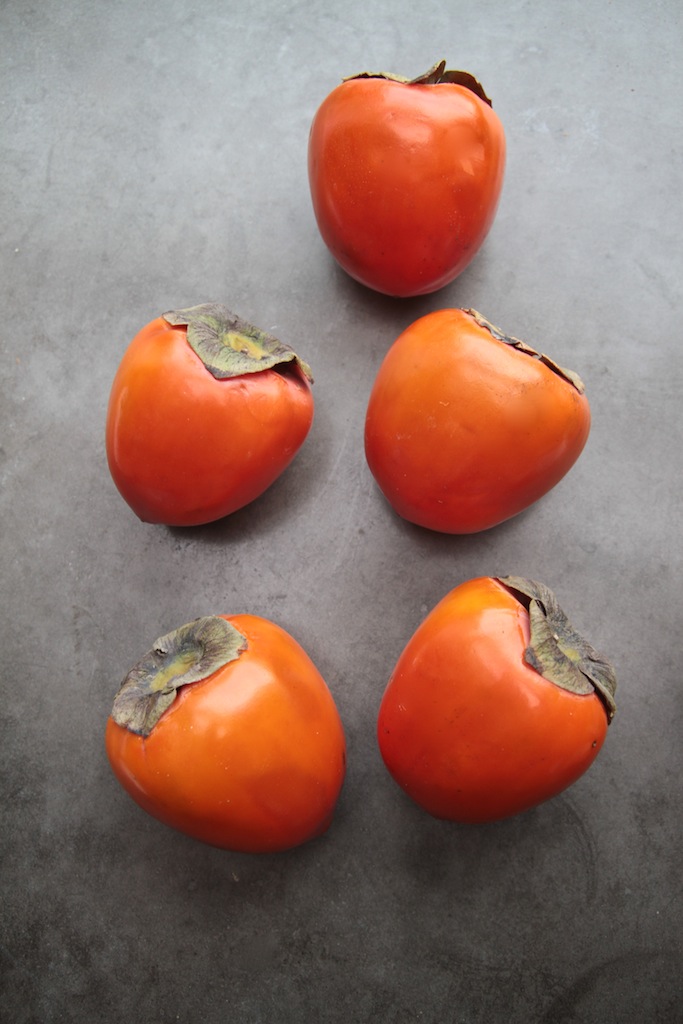 We cut off the tops and scoop out the "meat" from the skin with a spoon.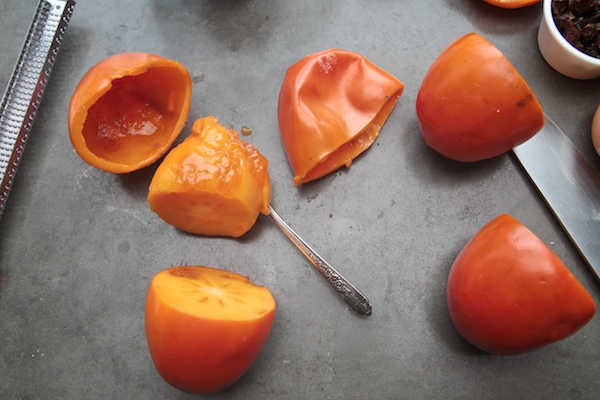 We are going to puree the persimmons! (here I'm using my Vitamix Blender)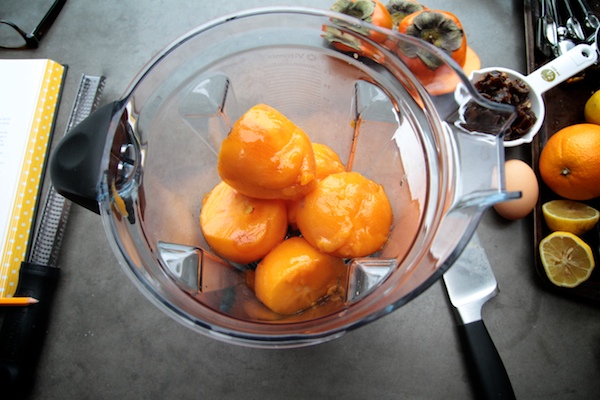 Squeeze lemon juice into the mixture.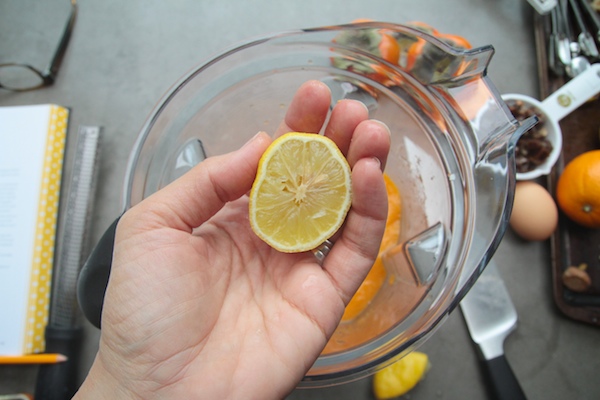 Done.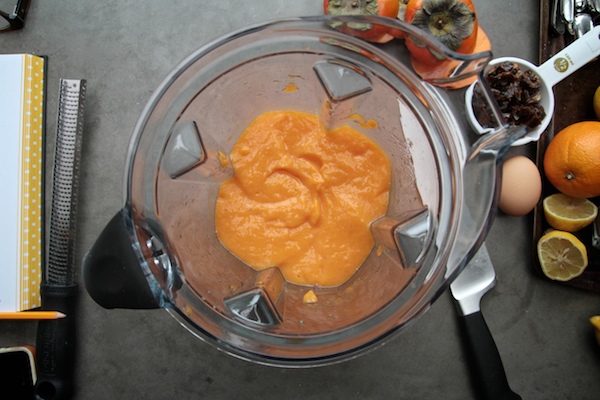 Set the puree aside in a bowl/measuring cup. Whisk in vanilla and baking soda.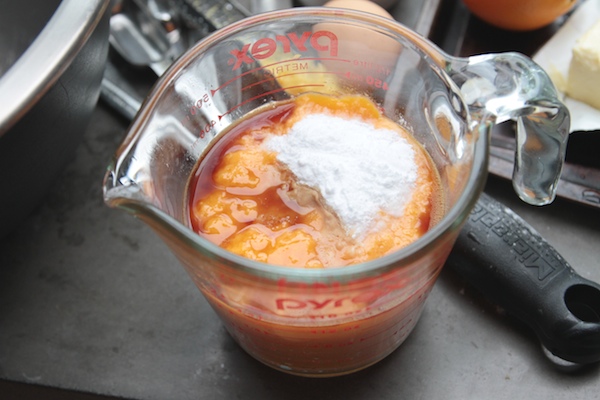 Ingredient party!
Taking a poll: How do you feel about me putting words on the ingredient shots?
YAY or NAY?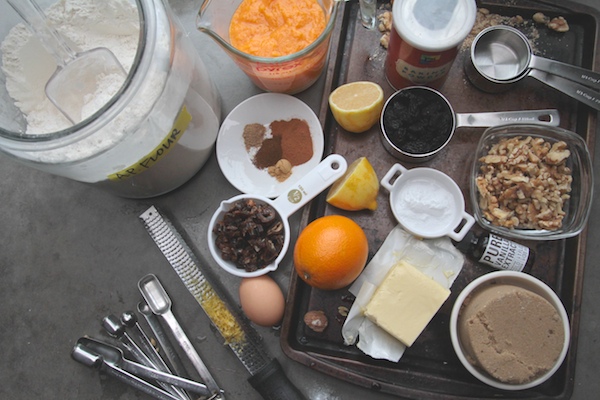 We cream butter with brown sugar and both the lemon & orange zest.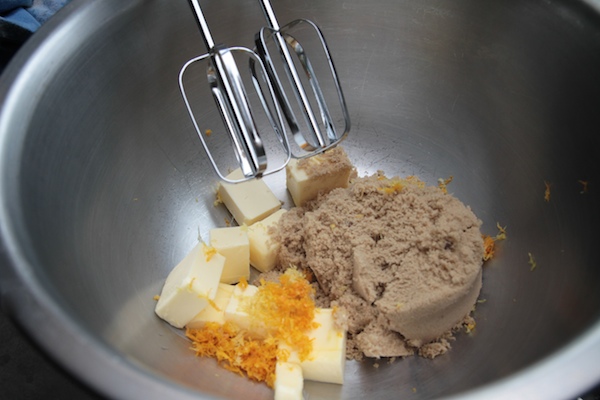 Now we add the persimmon puree and the egg. Mix.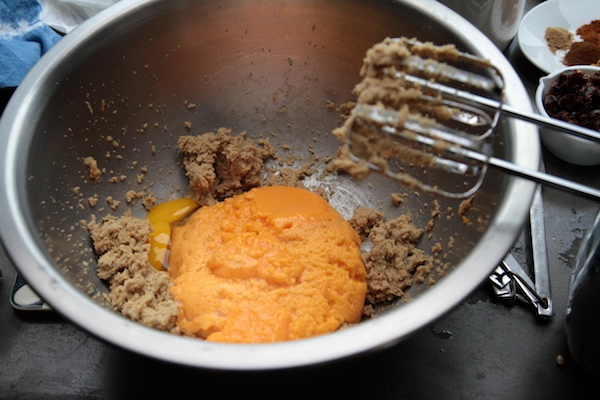 Dry meets wet.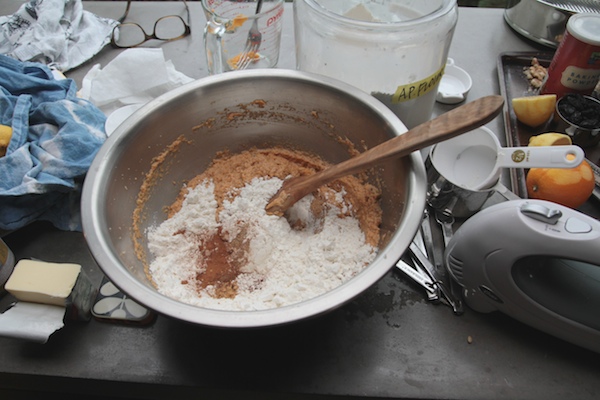 Dates, raisins & walnuts get folded in.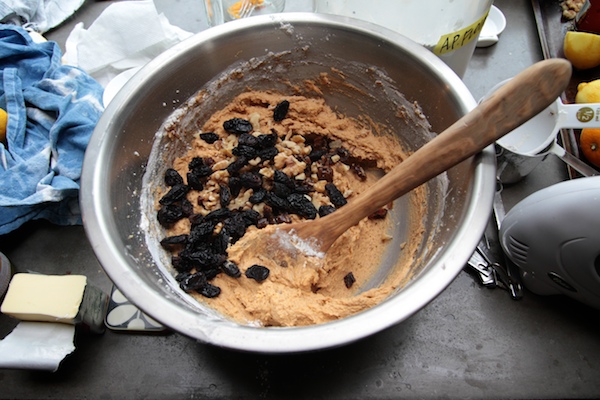 We transfer the batter to a 10 Inch Springform Pan.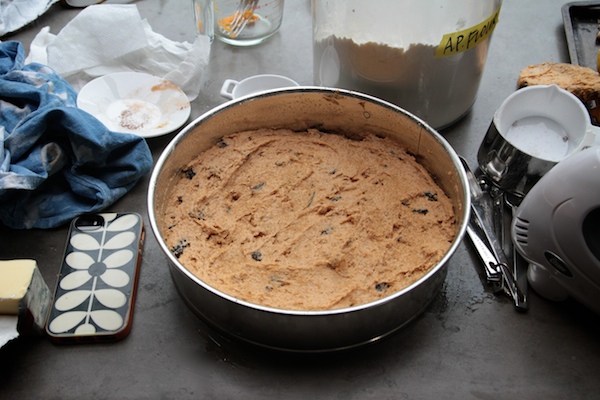 We top with turbinado sugar.  And bake!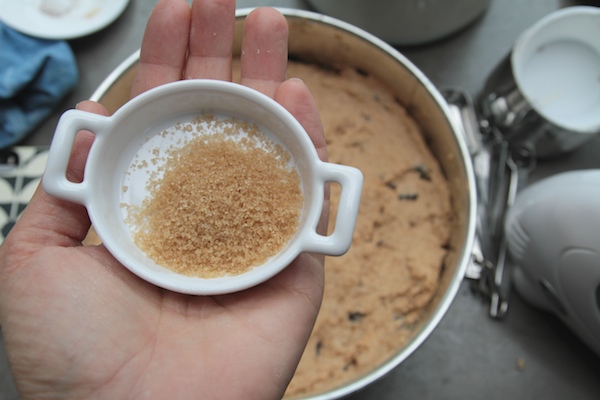 I couldn't help myself….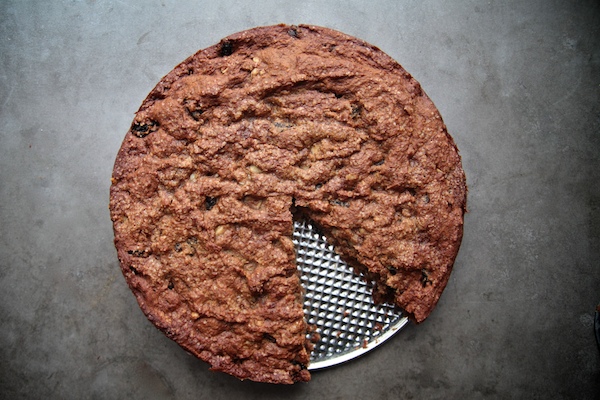 We top with confectioner's sugar and the rest is history!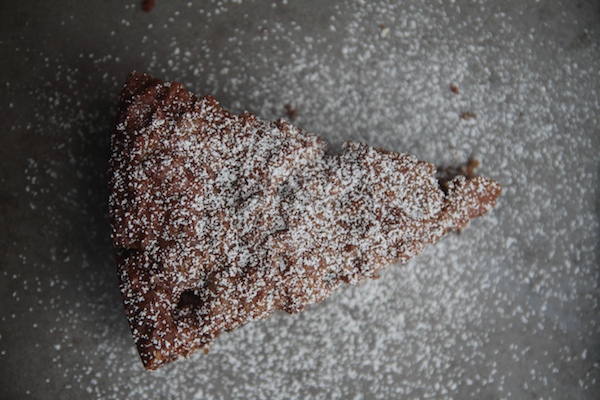 Here are a few of my favorite coffee cakes for you to serve up!
Persimmon Spice Cake

recipe adapted from Huckleberry: Stories, Secrets, and Recipes From Our Kitchen

makes 1 10 inch cake

1/2 cup raisins
3-4 very ripe Hachiya persimmons
1 lemon, zested and juiced
2 tablespoons orange zest
1 tablespoon vanilla extract
2 teaspoons baking soda
1/2 cup unsalted butter, cubed, at room temperature
1 cup brown sugar
3/4 teaspoon kosher salt
1 egg
1  1/2 cups all-purpose flour
1 teaspoons baking powder
1 teaspoon ground cinnamon
1/2 teaspoon nutmeg
1/4 teaspoon ground ginger
1/2 teaspoon ground cloves
1 cup walnuts, toasted and chopped
1/2 cup coarsely chopped dates
2 tablespoons turbinado sugar
1 tablespoon confectioner's sugar, for serving

Preheat oven to 350F. Spray a 10-inch springform pan with cooking spray and set aside.

Remove the stems from the persimmons and scoop out the flesh of each persimmon with a spoon and discard peels. Transfer persimmons and lemon juice to a food processor or blender and process until smooth. Transfer mixture to a bowl and stir in vanilla and baking soda and whisk to combine. It may foam and thicken. Set aside.

In a stand mixer fitted with a paddle attachment, cream the butter, brown sugar, salt and both lemon and orange zest on medium-high speed, until light and fluffy, about 2 minutes. Incorporate the egg and then the puree mixture. Be sure to scrape the sides of the bowl well. Pause mixing and add the flour, baking powder, cinnamon, nutmeg, ginger and cloves. Mix until well incorporated, making sure not to overmix. Fold in the walnuts, raisins and dates by hand.

Scoop batter into the prepared pan and sprinkle with turbinado sugar. Bake for 45 minutes, or until cake tester comes out clean. Allow to cool for 15 minutes in a pan. Release cake from springform and dust the top with confectioner's sugar.

This cake keeps well, tightly wrapped, at room temperature for up to 3 days.