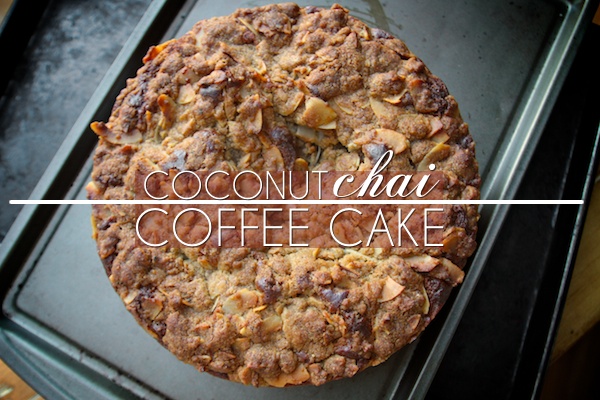 Coconut Chai Coffee Cake. This recipe had me at Coconut…really. Anything with coconut and I'm ALL IN. Especially when it comes to cakes, rice & bars.
Major bonus points for CHAI, COFFEE & CAKE. Three glorious things that start with the letter C.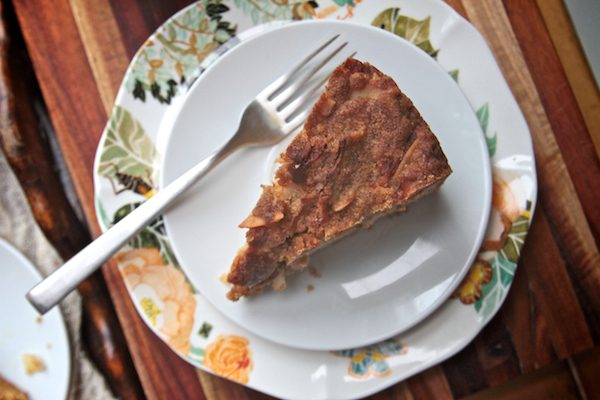 Crunchy coconut topping gets a kick the the pants with chai spices. It's like drinking tea and eating cake at the same time.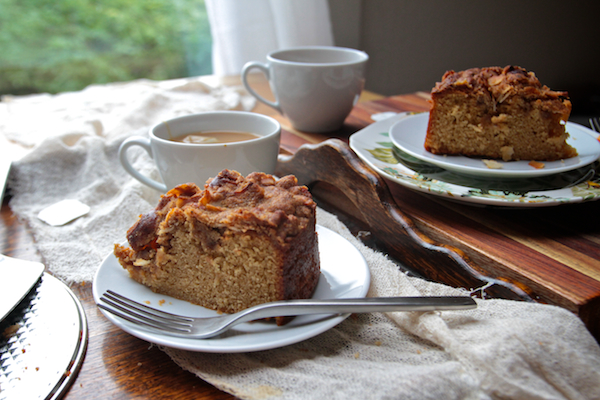 Coconut is already kinda buttery but when it's mixed with butter…OMG. Fist pumps. Angels sing. Hallelujah. I just can't STOP EATING THE TOPPING, get it away from me. Yeah..that.

This recipe comes from Aida Mollenkamp's Keys to the Kitchen Cookbook. I am utterly OBSESSED with it. It's one of those cookbooks where you find yourself marking almost EVERY. SINGLE. RECIPE to try. Not only does it have a ton of recipes, there are SOOO many great tips & tricks packed into this beautifully designed cookbook. It's a graphic designer's DREAM. Oh, and guess what?! I have an extra copy, so if you would like to win one for yourself, leave a comment below telling me one of your most useful tips in the kitchen! I'll pick a winner at random on Wednesday October 24th. Good luck and let's eat the heck out of this cake together, mmkay?
And we're off!
First we start with the Streusel Topping. It's all about the coconut & chai spices!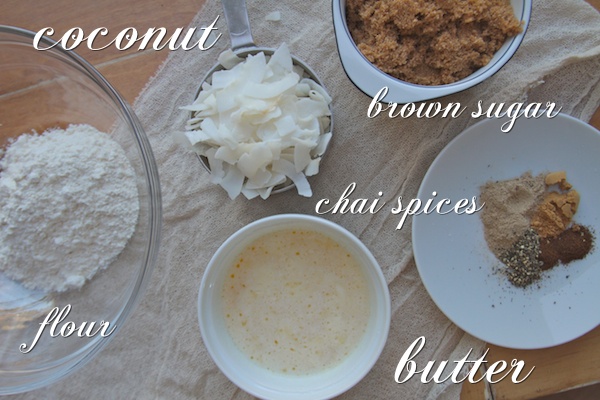 Hello Chai spices! Cardamom, ginger, cloves and BLACK PEPPER?! That's right.
Every now and then you get a small little bite of black pepper and it totally SEALS the deal of this cake.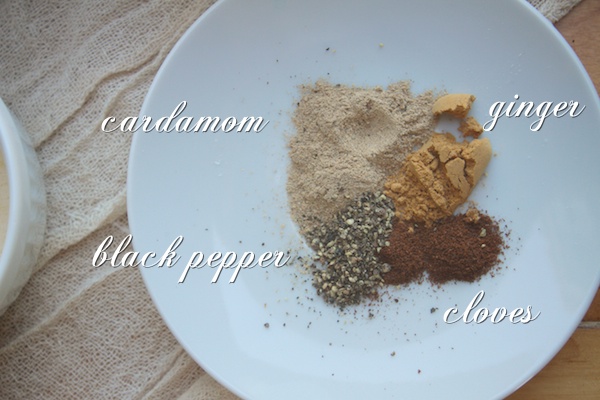 All of the ingredients get mixed into a bowl.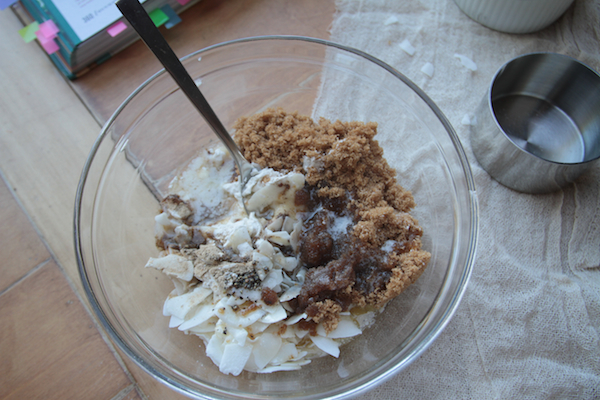 Instant topping! Put it in the fridge. We'll use it later.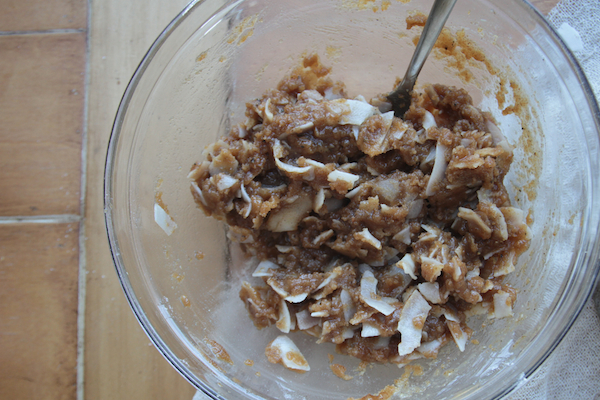 Now we get on with the cake part. Baking soda, powder, salt & flour get mixed up and set aside.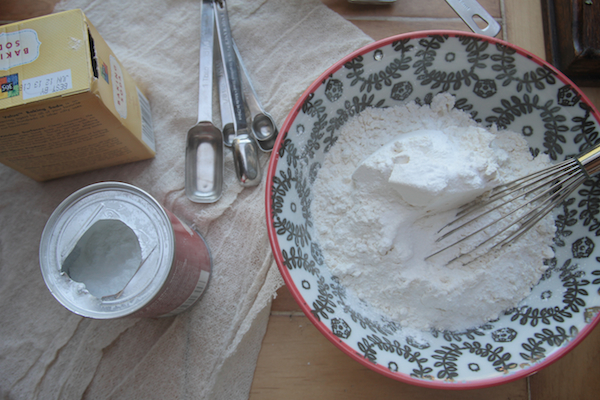 We have our sugar & wet ingredients next.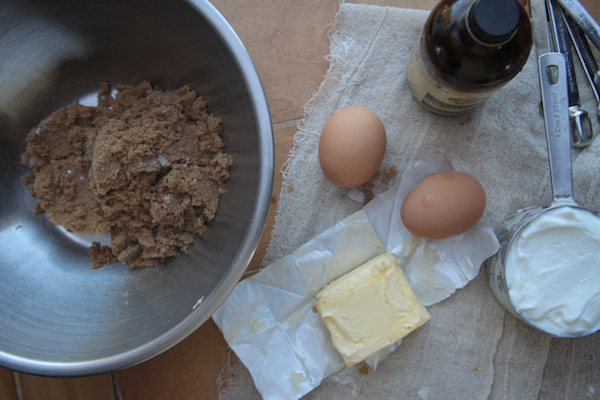 Butter & sugar get creamed and yogurt gets added to the mix.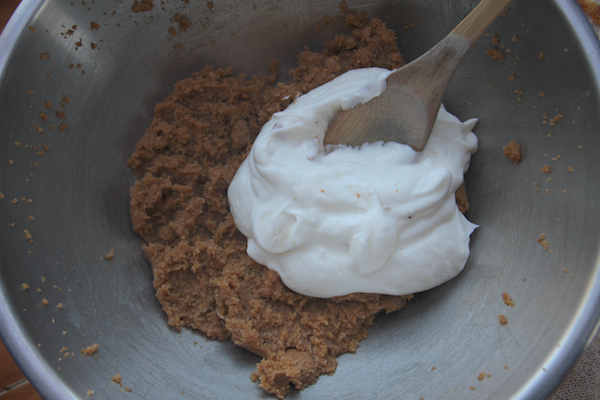 Then we have our vanilla and eggs.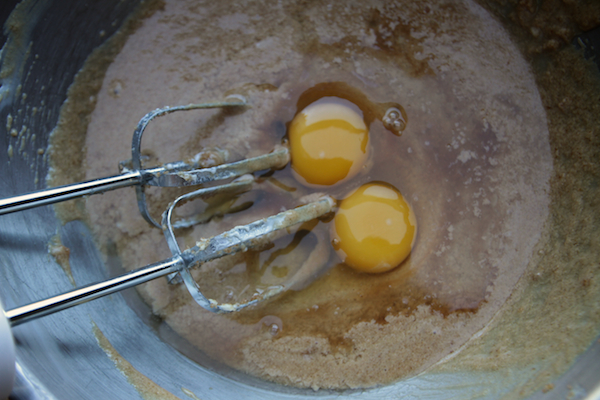 And then we add the dry to the wet.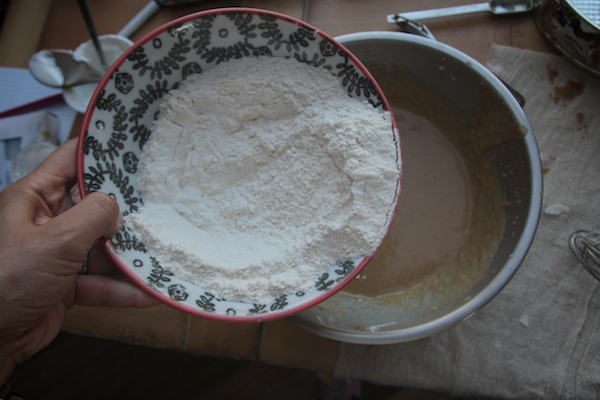 Hey batter batter!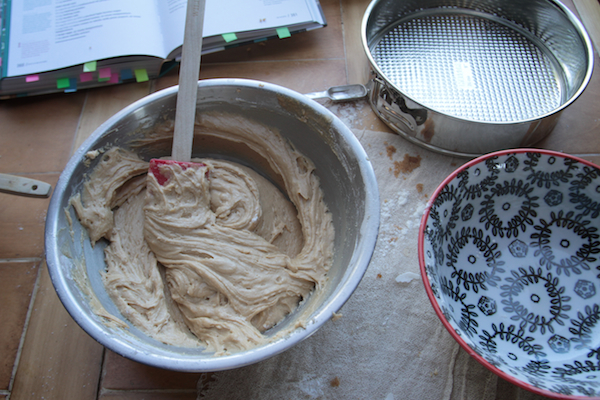 Smooth it out into the spring-form pan.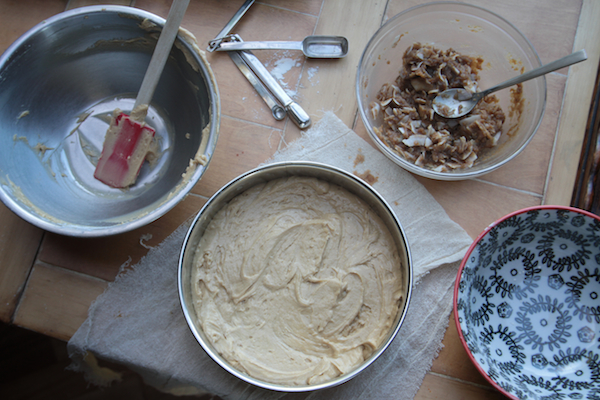 Top with the topping and press it into the batter. Now BAKE.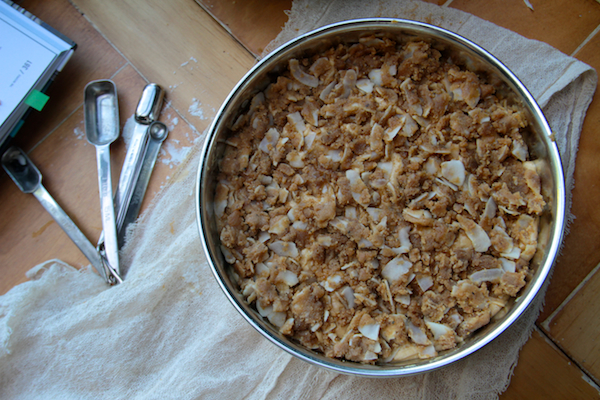 Yup. Pretty much. I couldn't resist…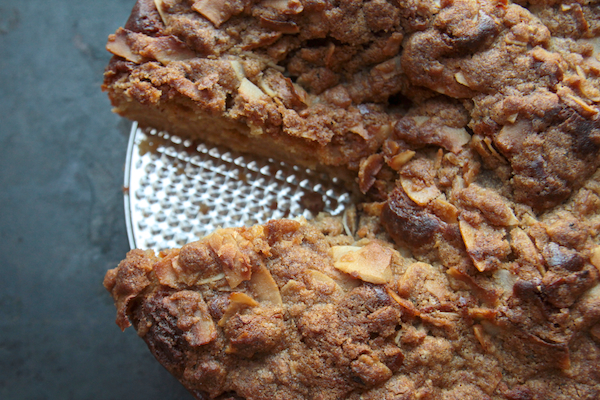 A slice of coffee cake for me and one for you.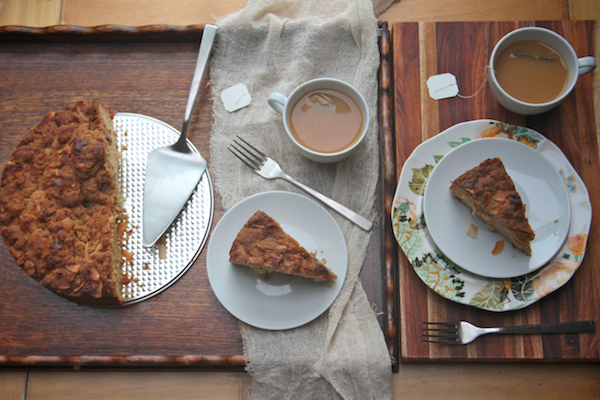 We're drinking hot chai with it because it's soo dang literal!
With the colder weather coming up, I can't imagine a better afternoon treat or breakfast for those dark mornings we're experiencing right now.
Side note- WHY IS IT SO DARK? I should really just accept that it's this time of year. But…COME ON.
Buy your copy of "Keys to the Kitchen" from one of these fine online retailers: Amazon, Anthropologie, Barnes & Noble, Chronicle Books, and check out these bloggers participating in Aida's Virtual Dinner Party:
Bev Cooks – Dixie Caviar –  Edible Living – Family Fresh Cooking – Girl Hunter – Heather Christo Cooks – Hip Foodie Mom – Hola Jalapeño –  Ladles and Jellyspoons – Love & Lemons – Matt Bites –  Shutterbean – Sprouted Kitchen –Southern Girls Kitchen – Stir and Scribble –  Tartlet Sweets – The Culinary Life– Three Many Cooks – Turntable Kitchen – Two Peas and Their Pod – Vanilla Garlic – Weelicious – What's Gaby Cooking – With Style & Grace

Coconut Chai Coffee Cake

makes 8-12 servings

recipe from Aida Mollenkamp's Keys to the Kitchen

Streusel Topping:

1/2 cup unsalted butter, melted, plus more for coating
1/2 cup unbleached all-purpose flour, plus more for coating.
3/4 cup packed light brown sugar
1 cup unsweetened flaked coconut
1 teaspoon ground cardamom
1 teaspoon coarsely ground black pepper
1 teaspoon ground ginger
1/4 teaspoon ground cloves
1/2 teaspoon kosher salt

Yogurt Cake:

2 cups unbleached all-purpose flour
1 1/2 teaspoons baking powder
1/2 teaspoon baking soda
1/2 teaspoon kosher salt
1 1/2 cups packed light brown sugar
1/2 cup unsalted butter, at room temperature
1 cup whole milk plain yogurt (or sour cream) at room temperature
2 large eggs, at room temperature
1 teaspoon vanilla extract

For the Streusel:

Heat the oven to 350F and arrange a rack in the middle. Coat a 9 inch spring form pan with butter and flour and set aside.

Combine the streusel ingredients in a small bowl and mix until well incorporated and clumped. Refrigerated until read to use.

For the Cake:

Whisk together flour, baking powder, baking soda, and salt in a medium bowl until aerated and lumps are broken up; set aside.

Put the brown sugar and butter in the bowl of a stand mixer fitted with a paddle attachment and beat over medium speed until light in color and airy. Add the yogurt (or sour cream) and mix well. Add the eggs and vanilla and mix until evenly combined. Remove the bowl from the mixture and stir in the flour mixture until just moistened through.

Transfer the batter to the prepared pan and spread evenly. Sprinkle the streusel over the top and press in to adhere. Bake until a toothpick inserted in the center comes out clean and just a few crumbs remain, 50-55 minutes.

Transfer to a rack and cool at least 20 minutes before unmolding & serving.