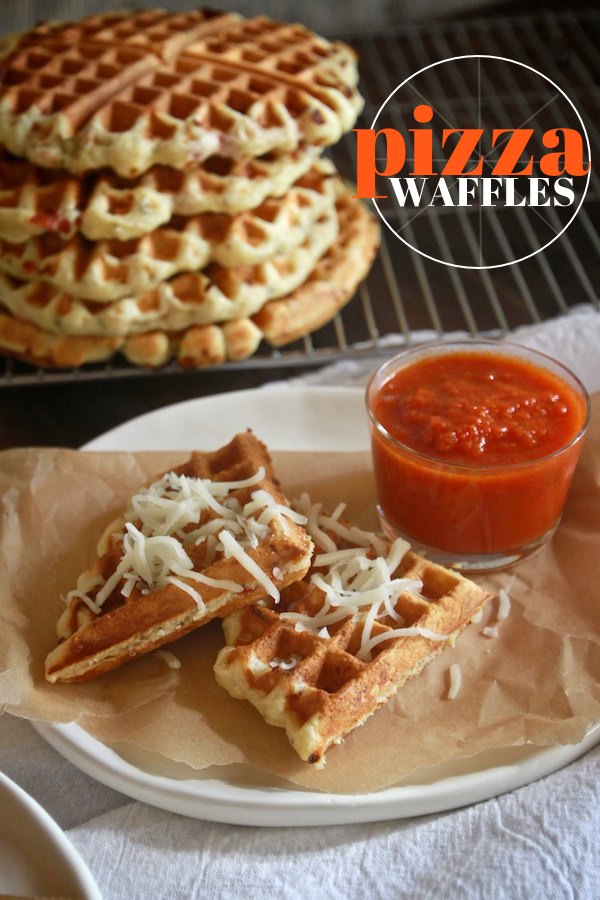 Pizza Waffles!! HELLO, crispy savory waffles fortified with Italian herbs, Parmesan cheese and mozzarella. I see you getting dipped into warm marinara. Look at you, you saucy little thang! Breakfast for dinner has reached a whole new level.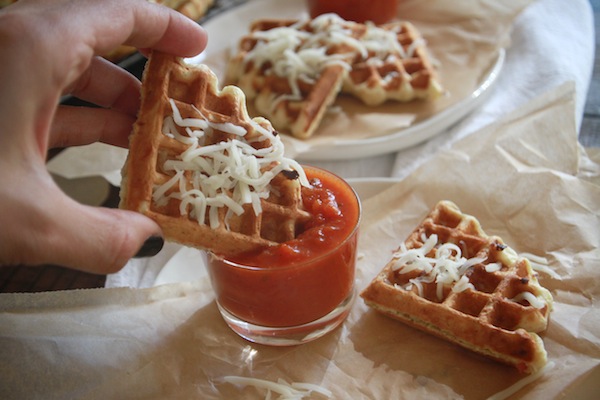 One of my readers (Hi Julie !!) left a comment on the Malted Waffle recipe last week saying that she adapted the recipe to make PIZZA WAFFLES. The second I read that I KNEW I had to have them. I mean…RIGHT?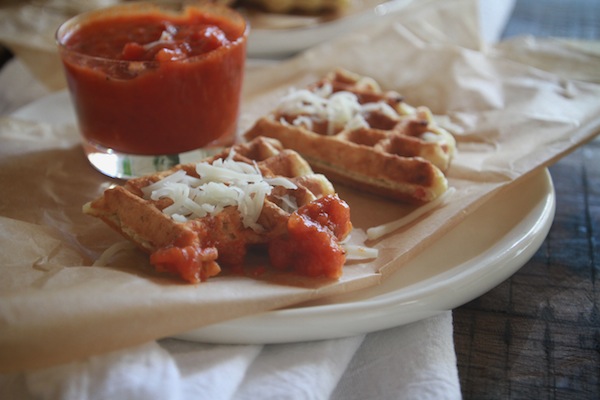 Here they are. Look at these beauties! How can we possibly top this level of deliciousness? How about we sandwich mozzarella in between two waffles and GRILL them in my panini press. Now we're taking it to ANOTHER LEVEL.
And we're off! Ingredient gathering. So simple!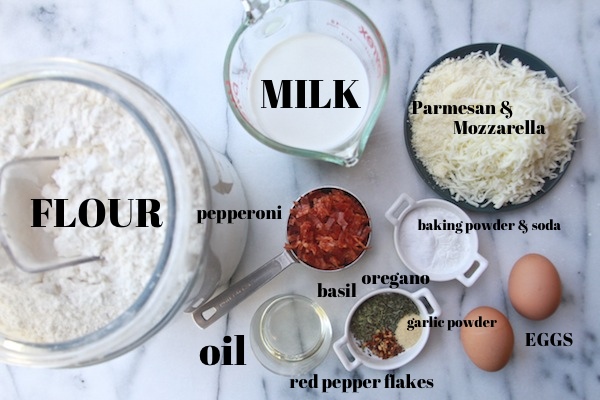 We put a blend of herbs (dried basil & oregano) with red pepper & garlic powder into our flour mixture.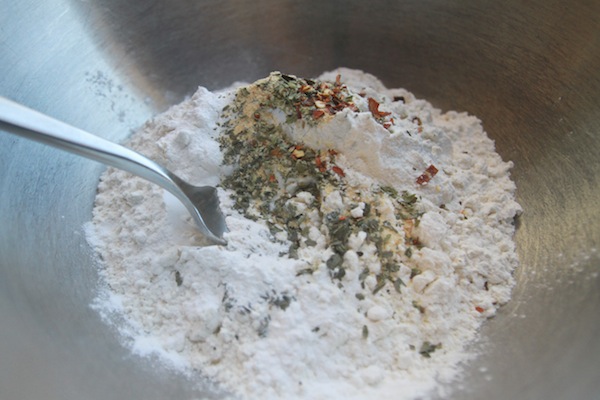 We toss the cheese & pepperoni in there to coat. This prevents it from sinking into the batter.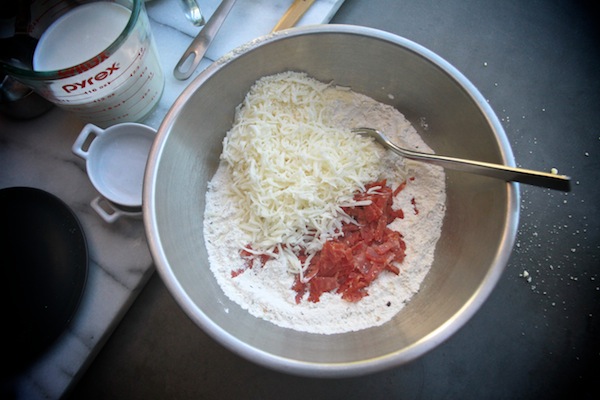 We mix the eggs, oil & milk together and marry that into the flour pepperoni cheese mixture.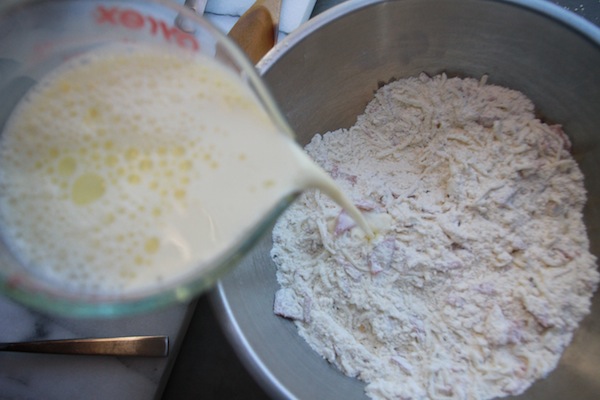 Heat up your waffle iron! Spray it with cooking spray and start making your waffles!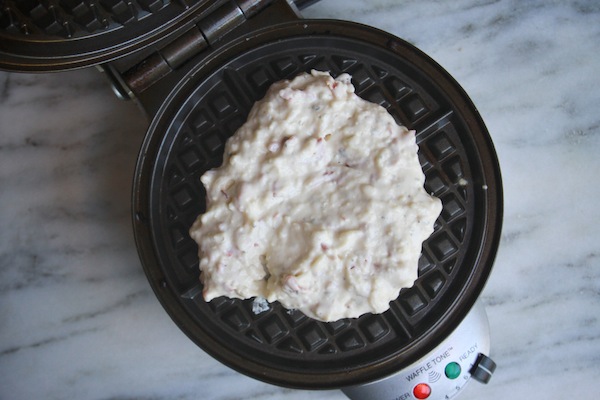 Waffle. Repeat. Waffle. Repeat. The cheese melts inside…and some of it gets crispy on the outside.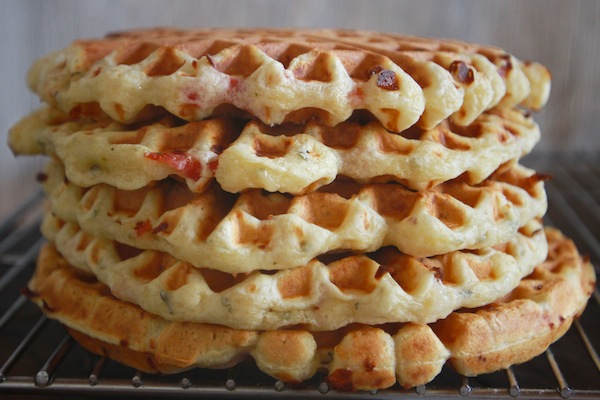 We're ready to serve! Add a little extra cheese on top if you so desire. Serve with warm marinara sauce.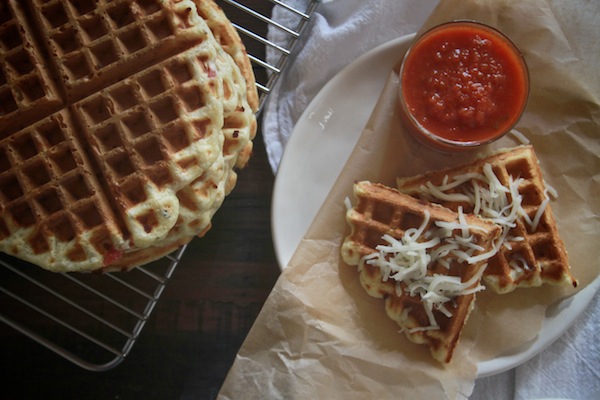 Ahhh yes.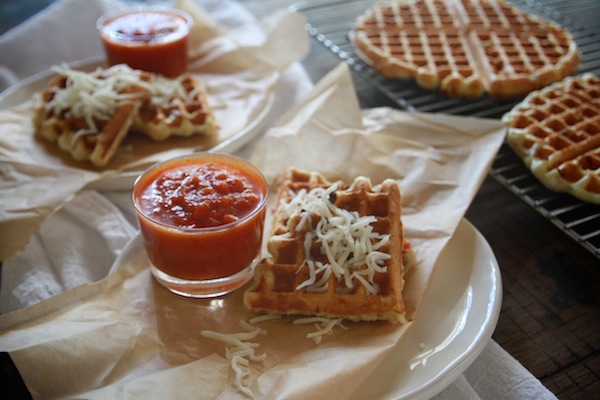 Check out that pepperoni!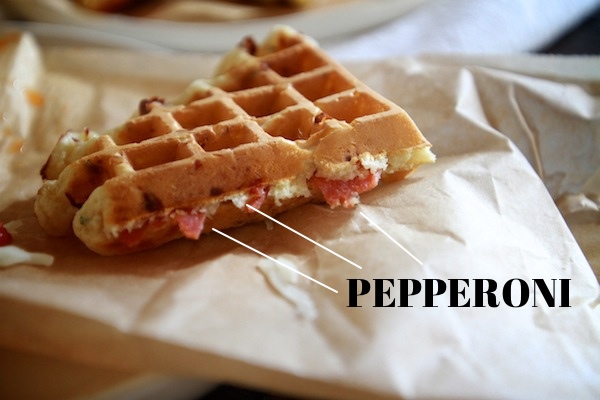 PIZZA WAFFLES FOR LIFE.
Pizza Waffles

makes 6-7 waffles

2 cups all purpose flour
2 teaspoons baking powder
1 teaspoon baking soda
1/2 teaspoon salt
1 1/2 teaspoon dried oregano
1 1/2 teaspoon dried basil
1/4 teaspoon red pepper flakes
3/4 teaspoon garlic powder
1/2 cup shredded mozzarella
1/2 cup grated Parmesan
1/2 cup finely chopped pepperoni
2 large eggs
1 1/2 cups milk
2 tablespoons vegetable oil
marinara for serving

Preheat waffle iron. In a medium bowl, combine the flour, baking powder, baking soda, salt, oregano, basil, red pepper flakes, and garlic powder and whisk until blended. Add the cheeses and pepperoni and mix to coat with the flour mixture (this helps avoid clumping).

In a large bowl, whisk the eggs, milk and oil. Add the dry ingredients to the wet mixture and whisk just until combined, taking care not to over mix.

Grease hot waffle iron. Pour about 1/2 cup batter into the waffle iron and cook 3 to 5 minutes, or until waffles are golden and cheese is melted. Repeat with the rest of the batter. Serve with warm marinara sauce.