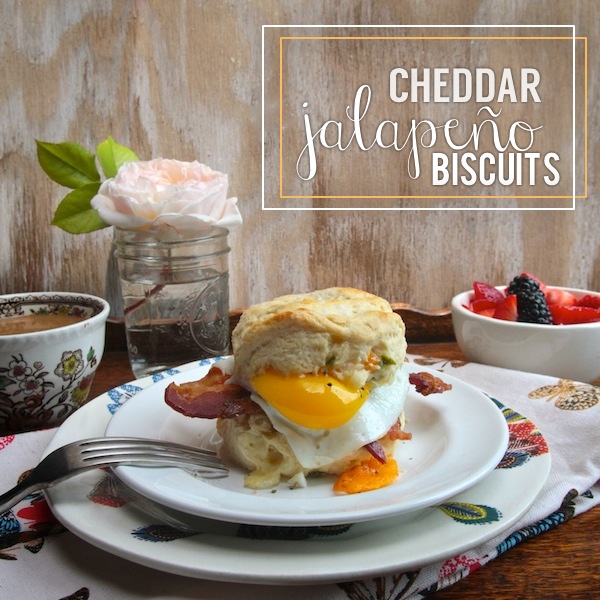 This is my ideal breakfast for Mother's Day. A tray with a fresh flower, a small bowl of fruit, an Americano (or cappuccino from my husband), and a Cheddar Jalapeño Biscuit with a runny fried egg & bacon tucked in. What's missing? A card from my son, a card from my husband, maybe a little gift and a quiet morning reading this book in bed. You paying attention, honey?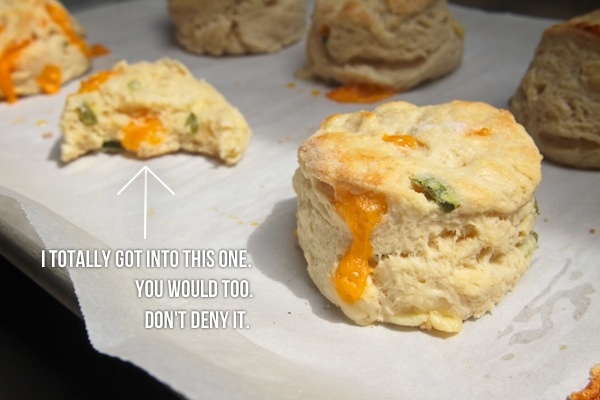 Mothers love biscuits. I'm a mother so I have a little bit of street cred here. Actually, mothers love any breakfast that they don't have to cook themselves. They love to be  appreciated  for all the hard work they do and don't mind if you spend a day putting them on a pedestal. They also are not required to do any cleaning on their day. A handmade coupon for LOADING/EMPTYING THE DISHWASHER is awesome. But please include like 20 of them in your coupon book. I guarantee Mama won't forget to cash those in. Also, moms love it when you take the initiative and plan a whole day around them. Make note of that. NEVER EVER have them make reservations for their own dinner out to eat. If you do, you're fired.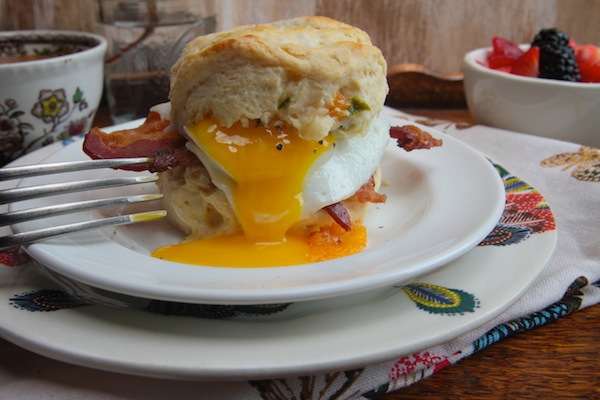 These Cheddar Jalapeño Biscuits are obsession-worthy. They're light & fluffy. They've puffed high and they pull apart so easily. When you bite into melty cheese & spicy jalapeño, MAMA MIA! (see what I did there)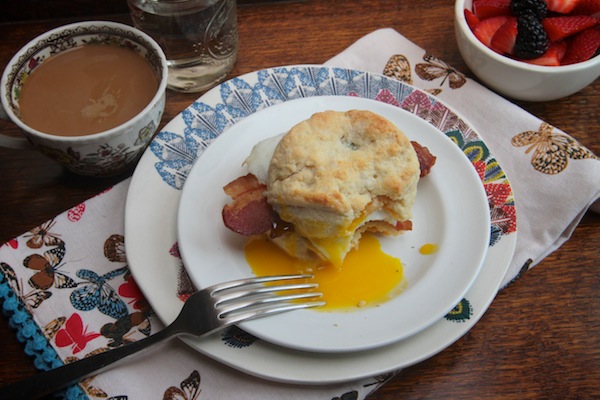 I suggest making a breakfast sandwich with them. Here I paired one with a perfect fried egg and some crispy bacon. It has all of the flavors you want & need. And if you're looking for something on the sweeter side, try smearing a little honey butter on top. Mamas deserve extra butter.
Calories are not counted Mother's Day. It's a rule us mothers have.
And we're off!
I had a biscuit fail earlier yesterday before I made these. Totally sad. I lost a lot of butter. Thank god I had extra butter.
So I needed a win! I turned to the Joy The Baker Cookbook. Because she's my go-to baker.
I also can text her while I'm baking. It's like having the best life line in Who Wants to Be a Millionaire.
Except with emojis.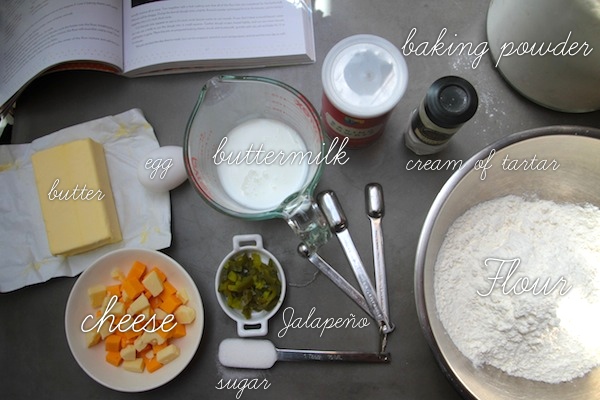 Egg gets mixed in with buttermilk.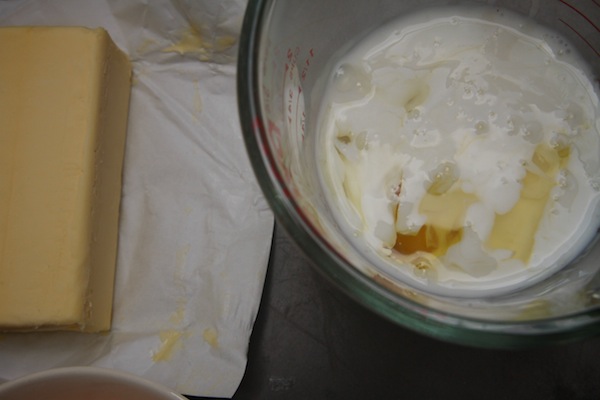 Flour, baking powder, cream of tartar, sugar & salt go in. Mix it with a fork.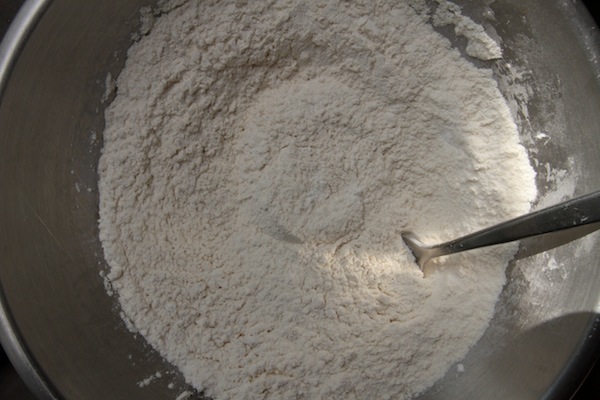 Butter gets cubed! It goes in the flour mixture. Use your hands. Mix the butter into the flour.
You want pea sized chunks and some that resemble oats!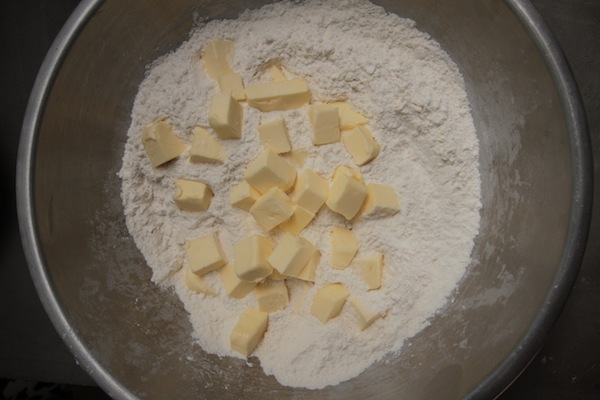 When the butter is fully incorporated mix the cheese & pickled jalapeño. Stir to coat!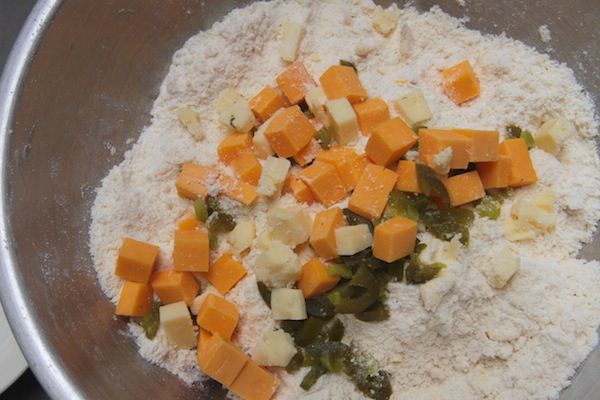 Now make a well. Add in the buttermilk/egg mixture. Stir the dough!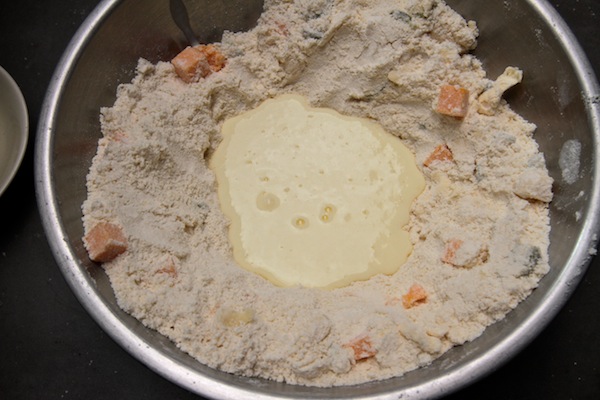 Transfer dough to a well floured counter.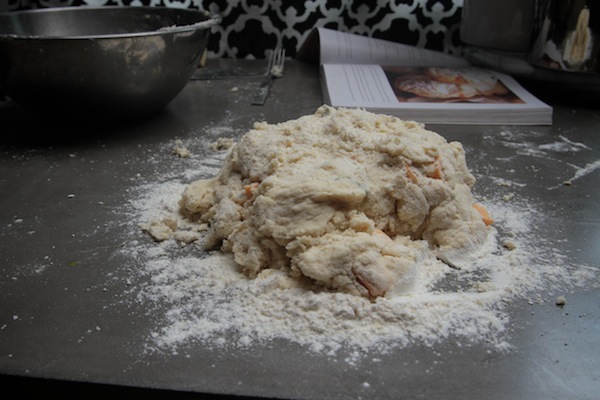 Cut your biscuits!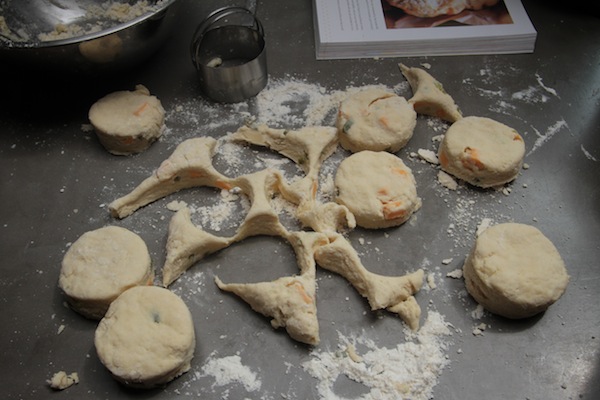 Put the biscuits on a parchment lined baking sheet.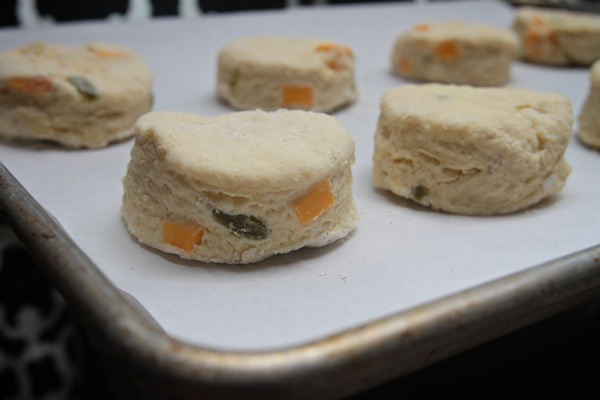 Brush the tops with buttermilk & sprinkle a bit of sea salt on top. Now bake!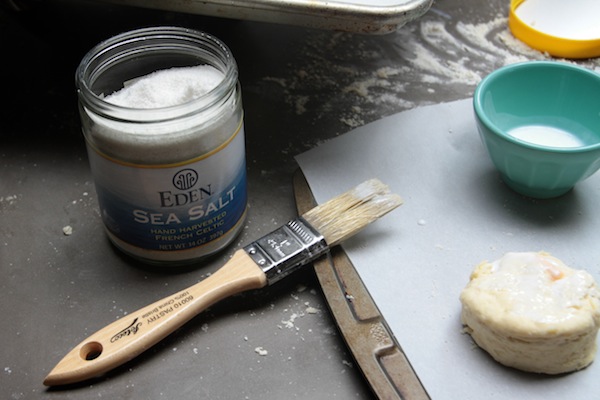 Let's take a moment…WHAT!?!!!!!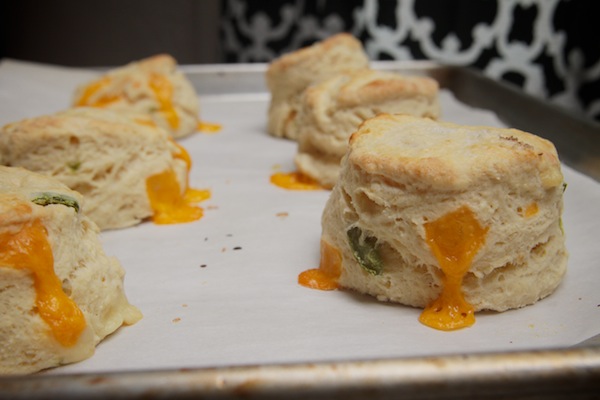 I picked this biscuit for my breakfast sandwich because…well…look at that crispy cheese!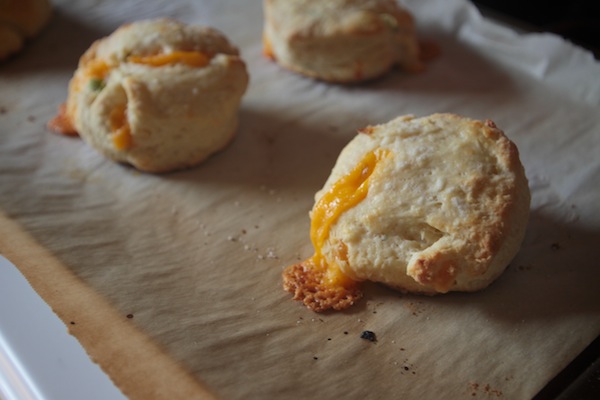 I fried up some bacon…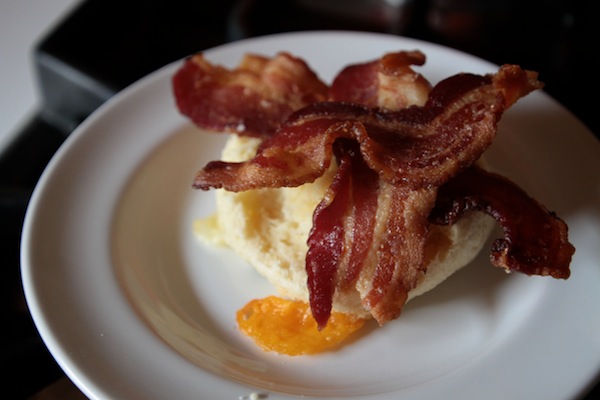 I made a fried egg…  Can you see that piece of melty cheese in there?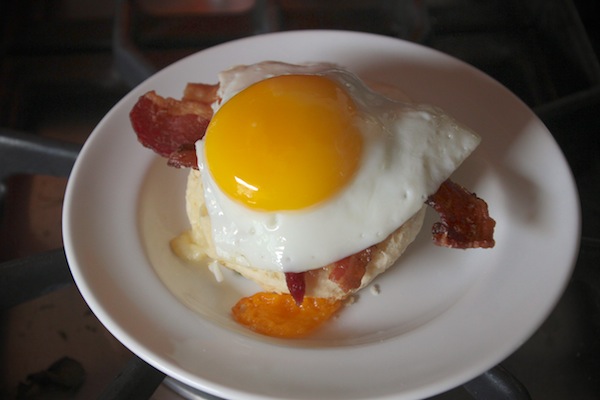 And now it gets the Mother's Day treatment! Before we put a top on it…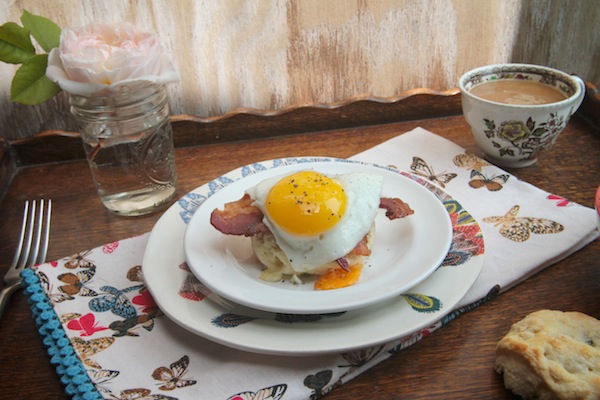 And now topped.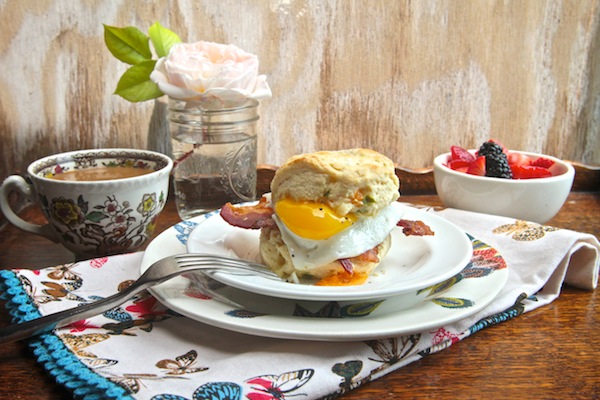 Let's just stare at the screen and forward this to whoever is in charge of our Mother's Day this year.
Cheddar Jalapeño Biscuits

makes 10-12 biscuits

recipe adapted slightly from Joy The Baker Cookbook

3 cups all-purpose flour
1 tablespoon granulated sugar
41⁄2 teaspoons baking powder
3⁄4 teaspoon cream of tartar
3⁄4 teaspoon salt
3⁄4 cup cold buttermilk, plus more for topping
1 egg
3⁄4 cup cheddar cheese, cut into small cubes
1/4 cup pickled jalapeño, diced small
3⁄4 cup (1 1⁄2 sticks) unsalted butter, cold, cut into small cubes
Coarse sea salt for topping

Place a rack in the center and upper third of the oven and preheat oven to 425 degrees F. Line 2 baking sheets with parch­ment paper and set aside.

In a large bowl, whisk together flour, sugar, baking powder, cream of tartar, and salt.

In a small bowl, whisk together buttermilk and egg.

Toss together the cheddar cheese, jalapeño, and chives. Set aside.

Add butter to the flour mixture. With your fingers or a pastry blender, work the butter into the flour, breaking the small cubes into smaller bits. Once the butter is well incorporated into the flour mixture, the flour will resemble coarse meal. Some chunks will be the size of small pebbles, others will be the size of oat flakes.

Toss the cheese mixture into the flour mixture. Create a small well in the center of the flour mixture and add the but­termilk mixture all at once. Toss together with a fork making sure that all of the flour bits are moistened by the buttermilk. Mixture will be shaggy. Dump the biscuit dough onto a lightly floured counter and knead just to bring it together into a 11⁄2-inch-thick circle.

Cut biscuits into squares or use a 21⁄2-inch circle biscuit cutter to cut rounds. Gather dough scraps, knead lightly, and cut out more biscuits until batter is gone. Place biscuits on prepared baking sheets, brush with buttermilk, sprinkle with sea salt and bake for 12 to 15 minutes.

Biscuits are best the day they're made, but can be wrapped, stored at room temperature, and served the next day as well.