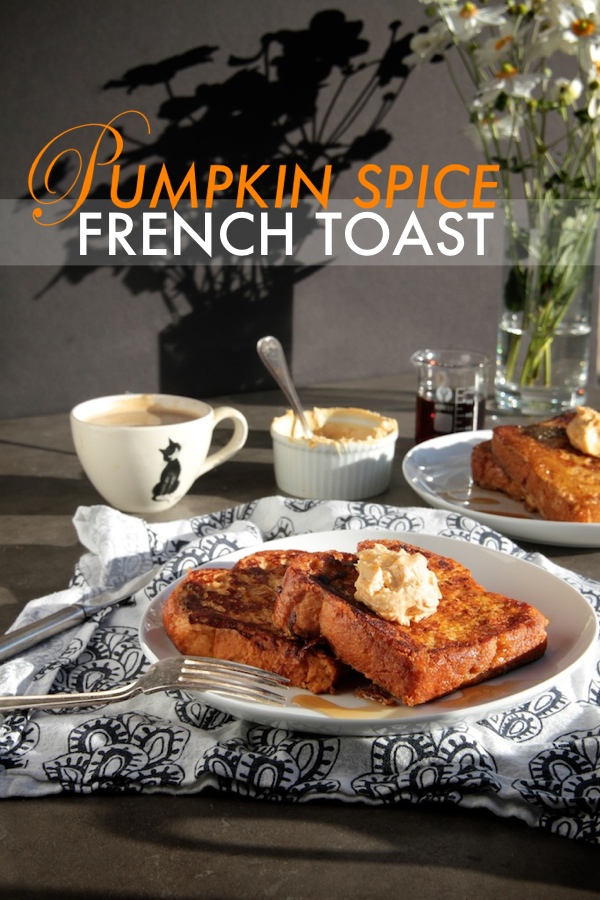 New post! Pumpkin Spice French Toast
I love french toast. I always have and always will. I almost never order it when we go out to eat because I will eat all of it. It's also because half way stuffing my face with french toast, my inner food voice is like WAIT we wanted savory for breakfast! What are you doing?! And then there's this little feeling of regret. Regret that I should have ordered a side of bacon.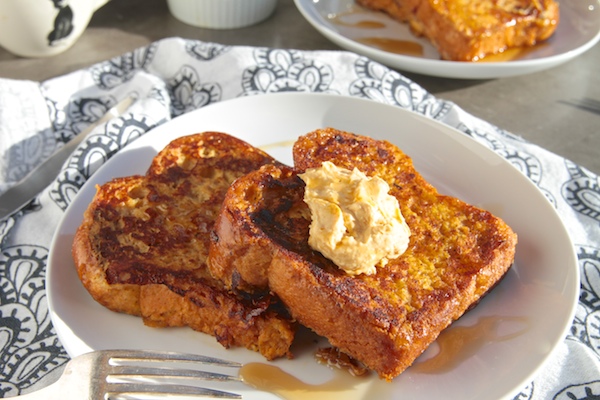 Cooper is also Team French Toast; I love that about him. Even though he's totally picky and won't eat things like PASTA, I know that he does carry the bread gene and that makes me happy. Casey is not a fan of custardy egg things. Womp womp. He's definitely warming up to mushrooms so there's maybe there's hope?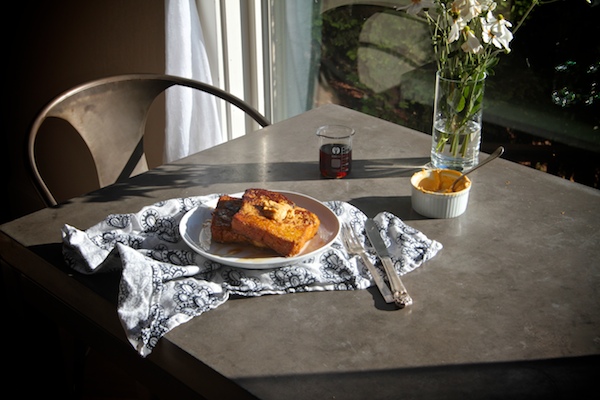 A few weeks ago I bought a loaf of brioche bread to make french toast. I'm surprised that I had the willpower to actually make french toast. Brioche and challah both make me weak in the knees. I grabbed a jar of pumpkin butter, added extra cinnamon and pumpkin spice to my french toast custard base and whipped up these hearty/eggy/pumpkin spice french toast slices. Because I like to push things over the edge of deliciousness, I made a batch of pumpkin cream cheese. A little dollop on top of the french toast and a drizzle of maple syrup and all is right. Hello, dreamy Autumn breakfast! I am so into you.
And we're off!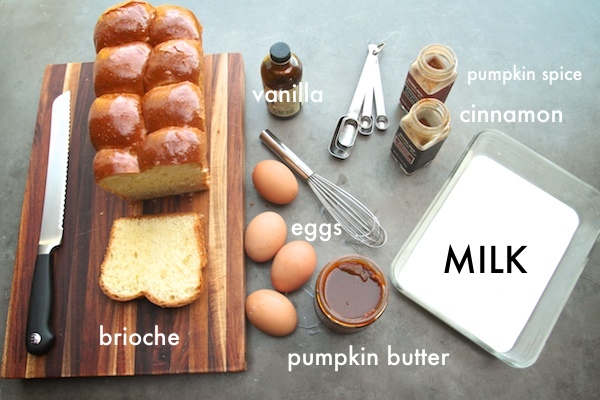 Slice up the bread. It works best when the bread is a little stale. Use it when it's a day or two old.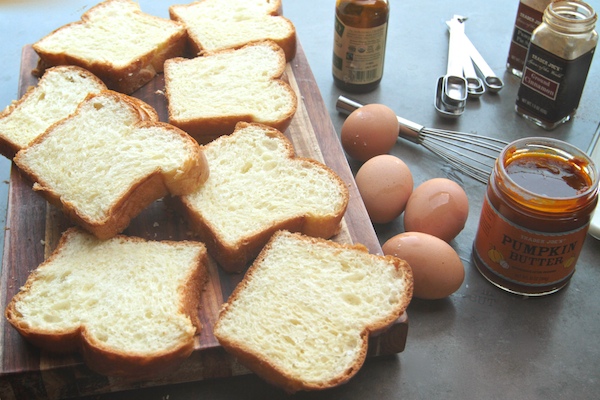 PUMPKIN BUTTER!!!!!! I bought a jar from Trader Joe's. You could definitely make your own!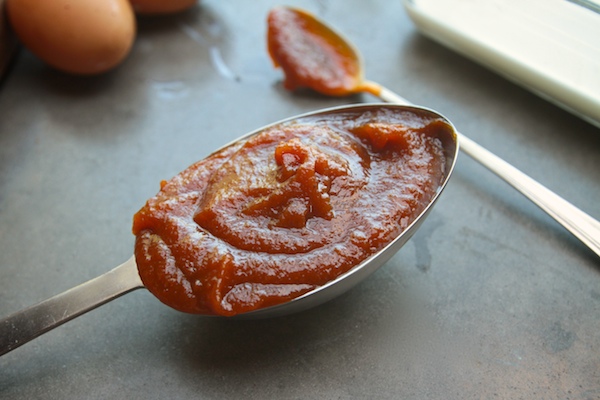 Stir in the ingredients. WHISK WHISK.
Here's the thing. The pumpkin butter needs to be well incorporated. That's the key to get it tasting like pumpkin spice!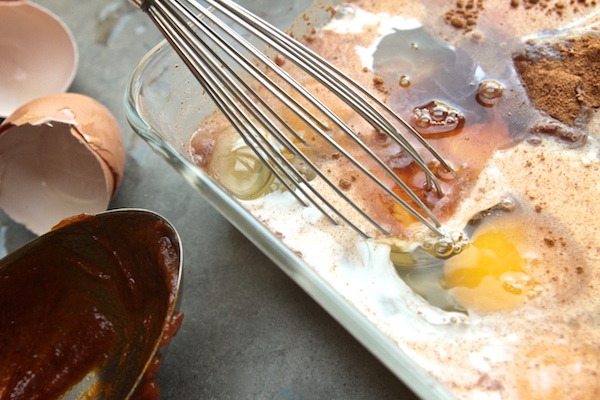 Dip. I usually let it sit for a little less than a minute. I don't like it took eggy. Just enough.
Plus it wastes the custard. MORE BREAD PLZ.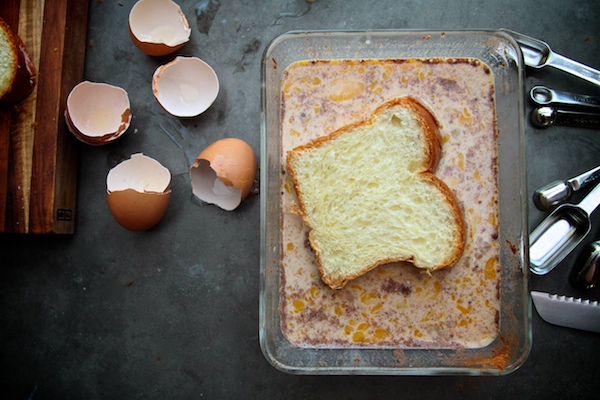 I heat up a cast iron skillet with some SALTED butter. It makes it sooooooooo dang good.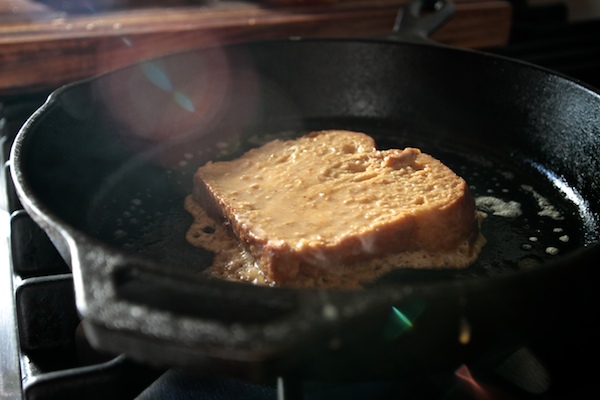 About 3-4 minutes per side on medium high heat.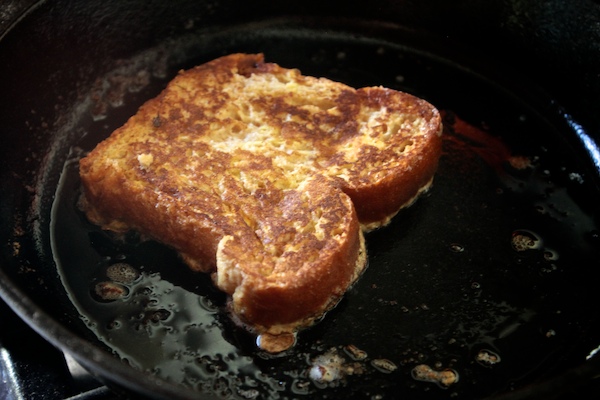 And yessssss done! I added pumpkin cream cheese to the top and BAM.
If you don't have the time or ingredients to make your own pumpkin cream cheese, mix some pumpkin butter in the cream cheese and add some extra spices.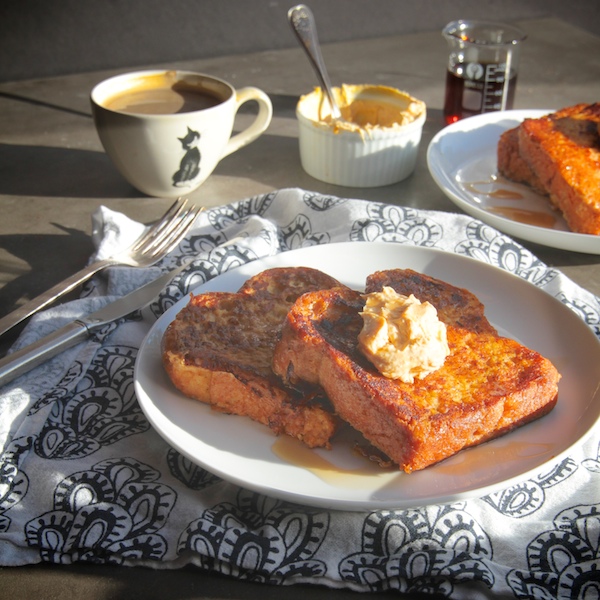 Breakfast is served.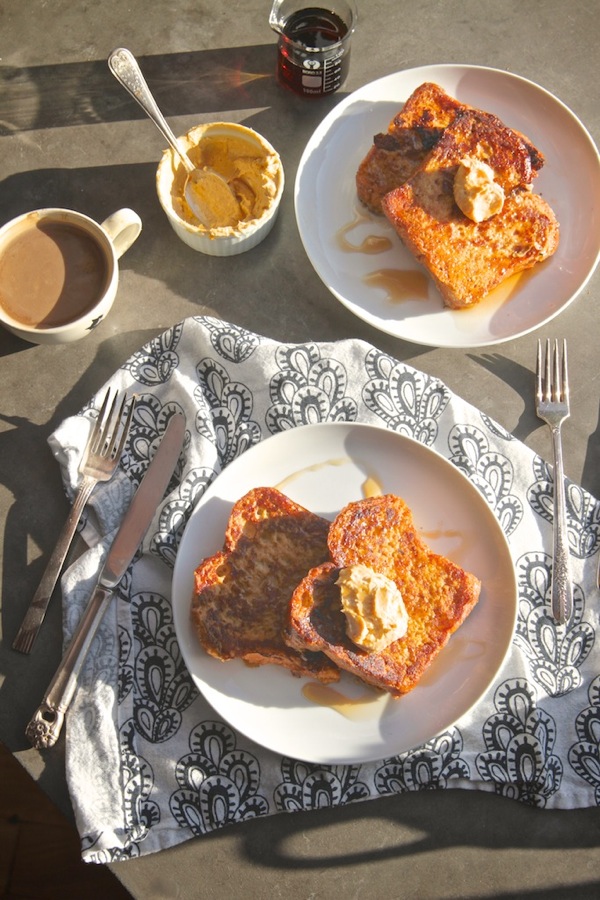 Team French Toast wants YOU. It told me so.
[/donotprint]
Pumpkin Spice French Toast

serves 4

8 pieces brioche bread (sliced about 1 1/2 inches thick)
4 eggs
1/2 cup pumpkin butter
1 cup milk
1 teaspoon pure vanilla extract
2 teaspoons ground cinnamon
1 teaspoon pumpkin spice
2 tablespoons salted butter
1/2 cup pumpkin cream cheese, for serving
maple syrup for serving

In a shallow dish, whisk the eggs, pumpkin butter, milk, vanilla, cinnamon, and pumpkin spice together until mixture is well incorporated. Dip a slice of brioche into the egg custard soak about 30 seconds on both sides.

Meanwhile, heat a cast iron skillet over medium-high heat with 1 tablespoon of butter. Place two prepared pieces of brioche in the skillet and cook for 3-4 minutes per side, or until french toast is lightly browned and egg has set. Repeat with remaining french toast and butter. Serve warm with a dollop of pumpkin cream cheese on top and a drizzle of maple syrup.