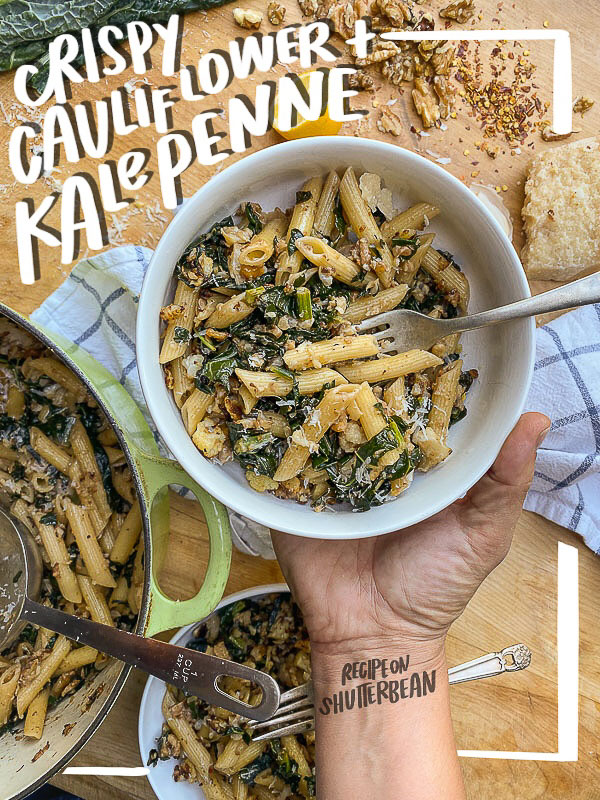 I have a handful for vegetarians in my life and this recipe for Crispy Cauliflower and Kale Penne from my friend Allison's book The Pasta Friday Cookbook
is THE DISH I can't wait to make for them! Heck, I ate all of the leftovers so it might be something good to add to my meal prep routine too. Definitely a good #meatlessmonday situation, if you ask me.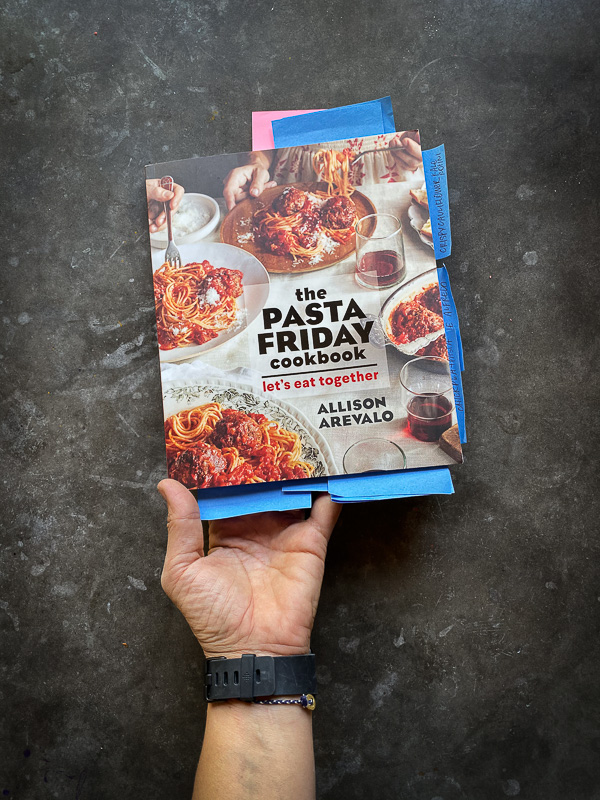 If you're looking for an amazing pasta cookbook to inspire get-togethers, feeding masses and EATING pasta and amazing salads, you should totally check out The Pasta Friday Cookbook !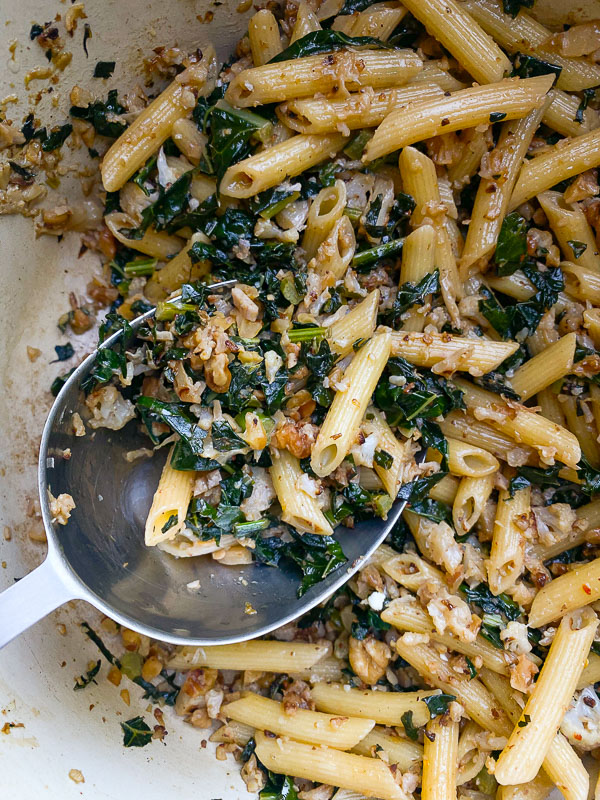 This recipe provides all of the things I love in a pasta dish:
GREENS (kale!)
VEGETABLES (crispy cauliflower bits!)
fun things like walnuts & lemon zest
cheese
It's a treat for your tastebuds!
Also really good if you're in a family like mine where YOU are the one who hogs all of the vegetables in the pasta dish.
That would be me. I like more vegetables than pasta. What can I say?
If I didn't have to share, I'd probably half the penne in the recipe and go for allllllllll the vegetables.
That's just me. That's my adventure! You're welcome to choose your own.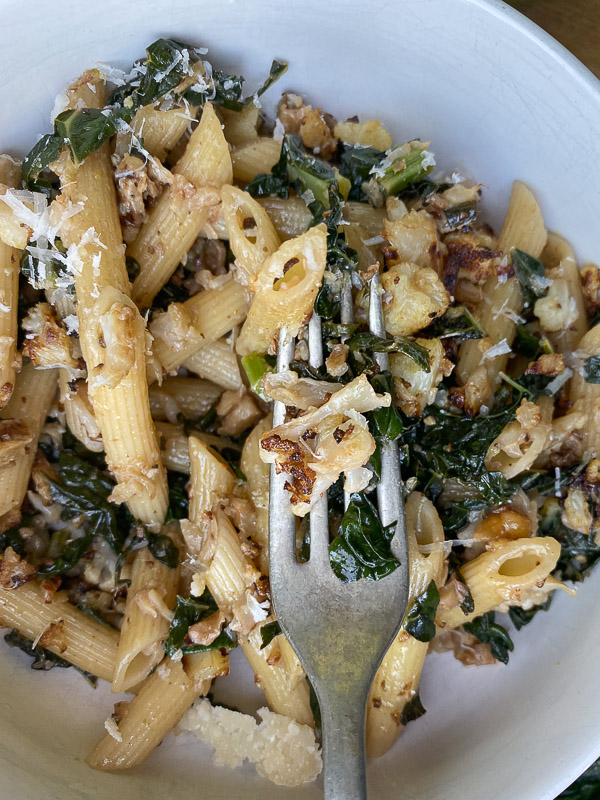 Also, please watch this video of Oprah discussing how awesome cauliflower is the new thing.
View this post on Instagram
So good, right?
This recipe provides BOTH. I bet Oprah would approve.
Ingredients are gathered.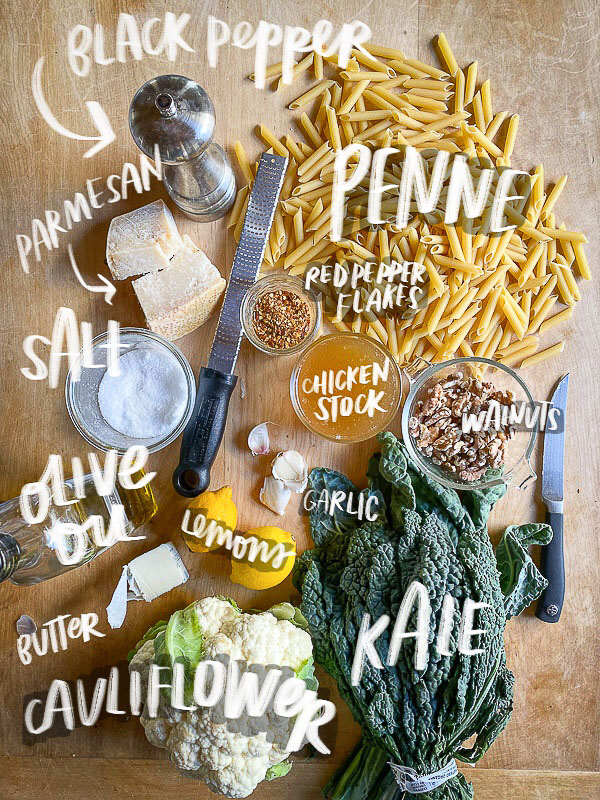 The smell of fresh lemon zest in the microplane
.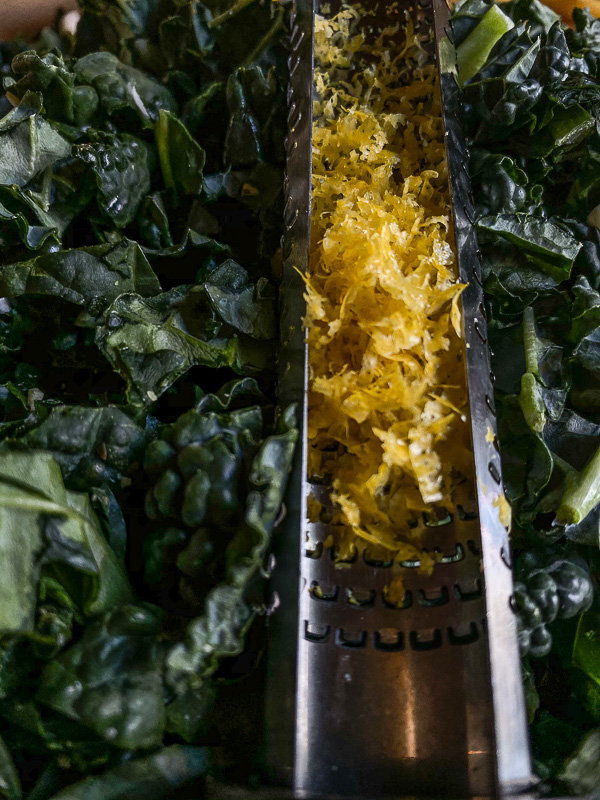 Chop therapy action with the kale & cauliflower.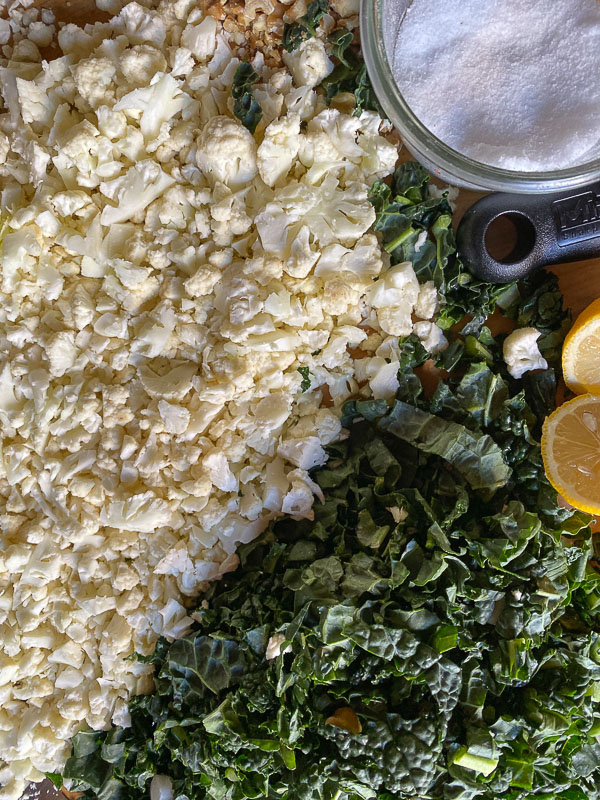 Cauliflower gets cooked/browned/set aside.
Kale and nuts enter the picture with garlic and the chicken broth.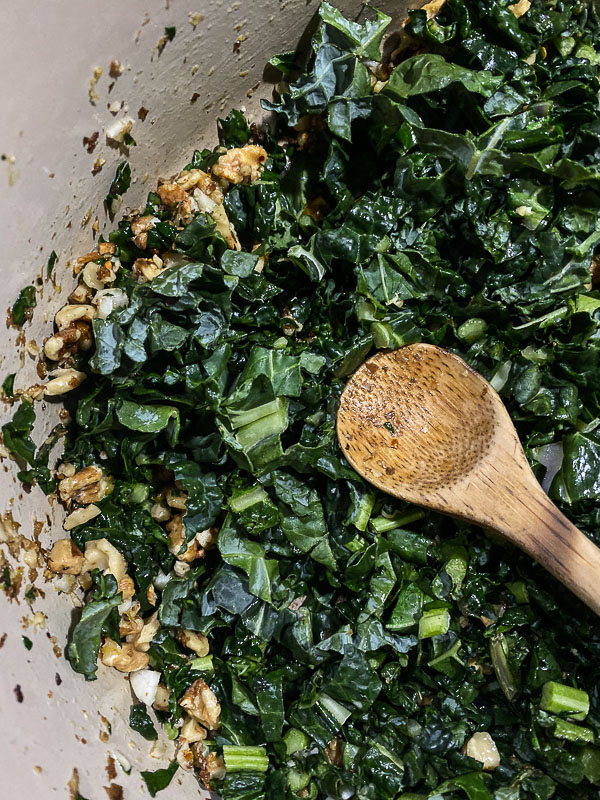 Cauliflower comes back in and says what's up.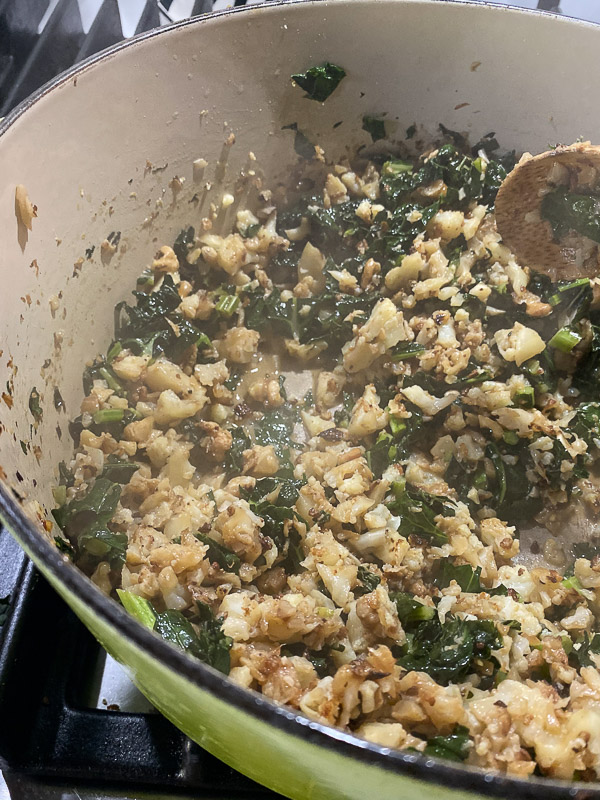 Lemon wants to join in. We love lemon, of course it's invited!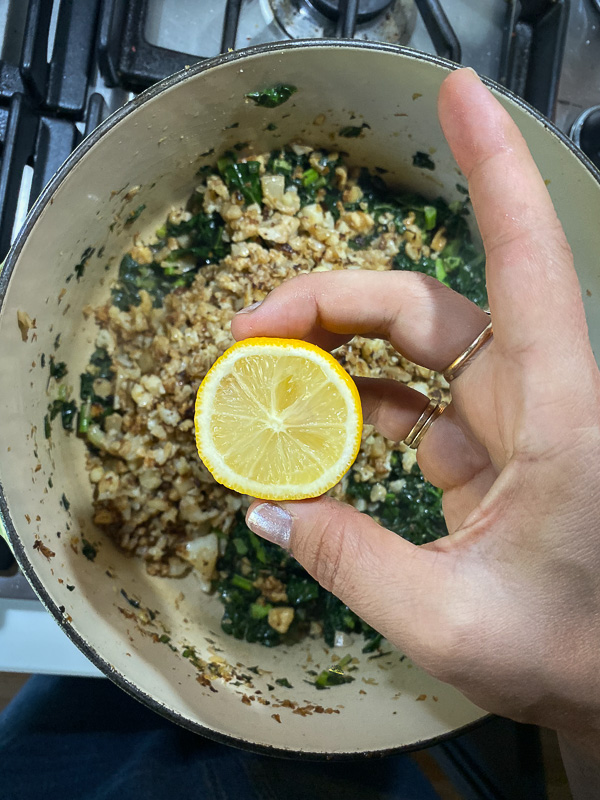 Butter and pasta make everything better.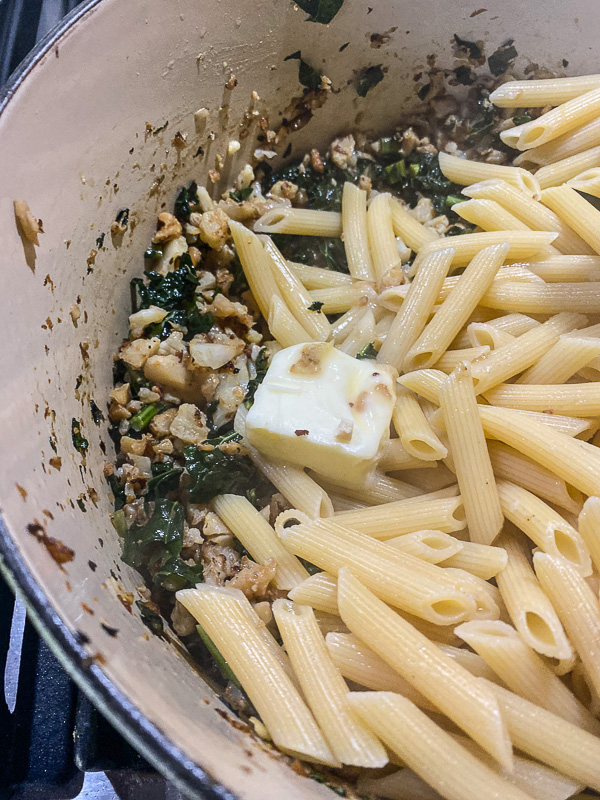 Feast your eyes on this VEGETABLE LADEN PASTA DISH.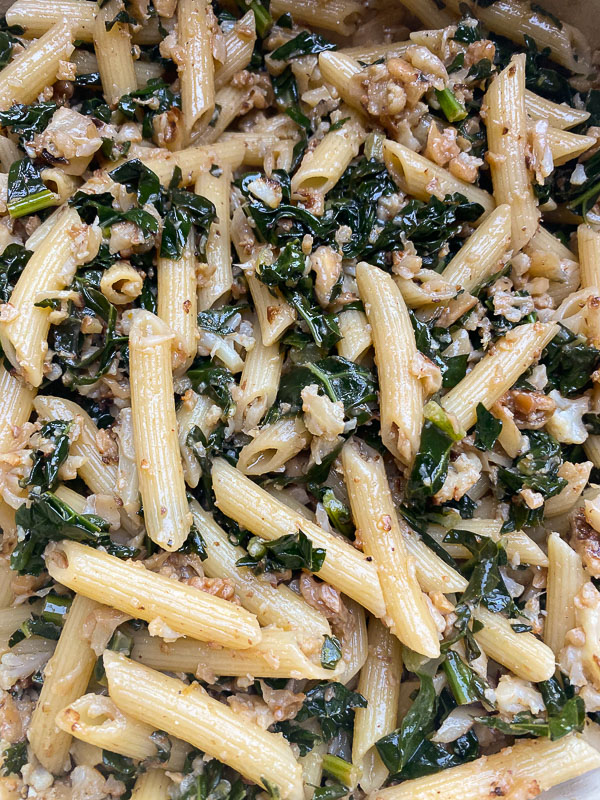 Cheese says hey.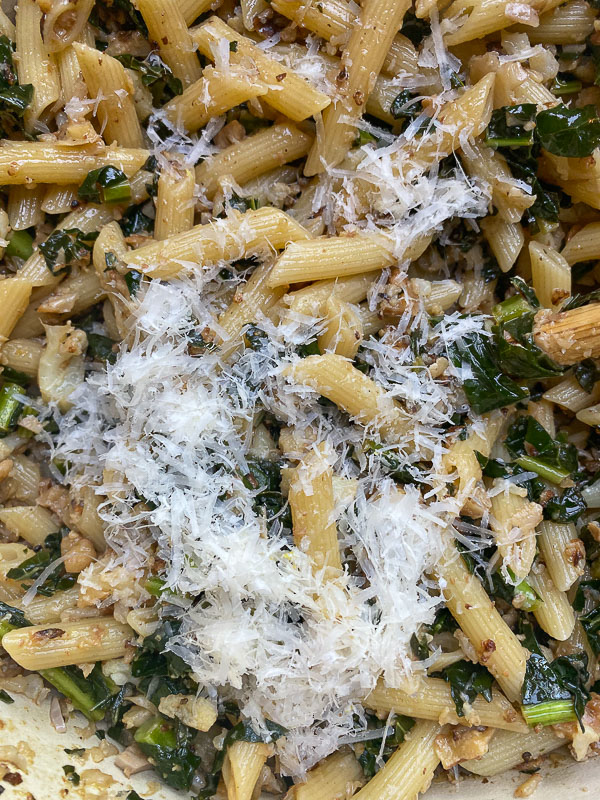 Best served in a bowl when you need some comfort.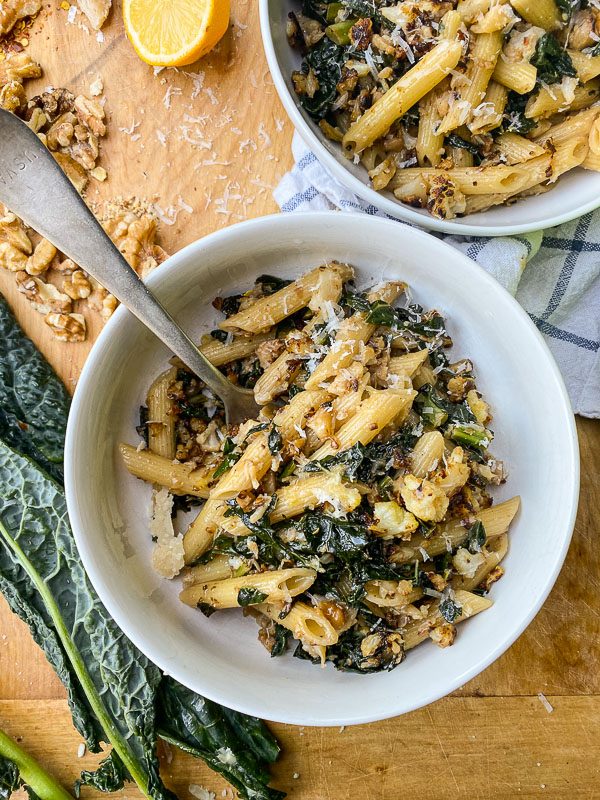 Pretty close to salad, no?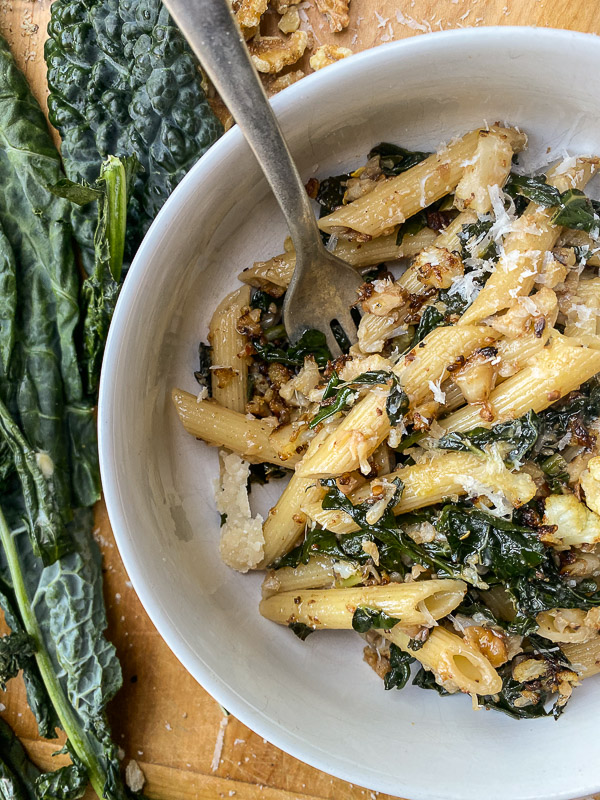 Crispy Cauliflower and Kale Penne

serves 4-6

recipe from The Pasta Friday Cookbook

kosher salt
1/2 cup extra-virgin olive oil, divided
1 large head of cauliflower, finely chopped
1 lb. penne
3/4 cup coarsely chopped walnuts
3 cloves garlic, minced
2 teaspoons grated lemon zest
1 teaspoon dried red chili flakes
2 large bunches tuscan kale, stems trimmed, ribs and leaves finely chopped
1 cup chicken stock
1/2 cup fresh lemon juice
1/2 cup grated Pecorino Romano (I used Parmesan)

Fill a 6-quart pot with water. Bring it to a boil and add 2 tablespoons of salt. Heat 1/4 cup of olive oil in a large, heavy pot over medium-high heat. Add the cauliflower and 1 teaspon of salt, and stir. Cook without stirring for 5 minutes. Stir, then cook the cauliflower for 5 minutes more, until goldn brown but not burnt. Transfer cauliflower to a bowl.

Add the pasta to the boiling water and cook until slightly firmer than al dente, 1 minute less than it says on the package. Drain, reserving 1/2 cup of the cooking water.

While the pasta is cooking, pour the remaining olive oil into the pot you cooked the cauliflower in and decrease the heat to medium-low. Add the kale walnuts, garlic, lemon zest, a pinch of salt, and a few grinds of black pepper, and stir to combine. Add the stock and cook for about 5 minutes, or until the kale is soft and wilted. Add the pasta and butter, and toss to combine, adding the cooking water if it looks dry. Top with the grated cheese.