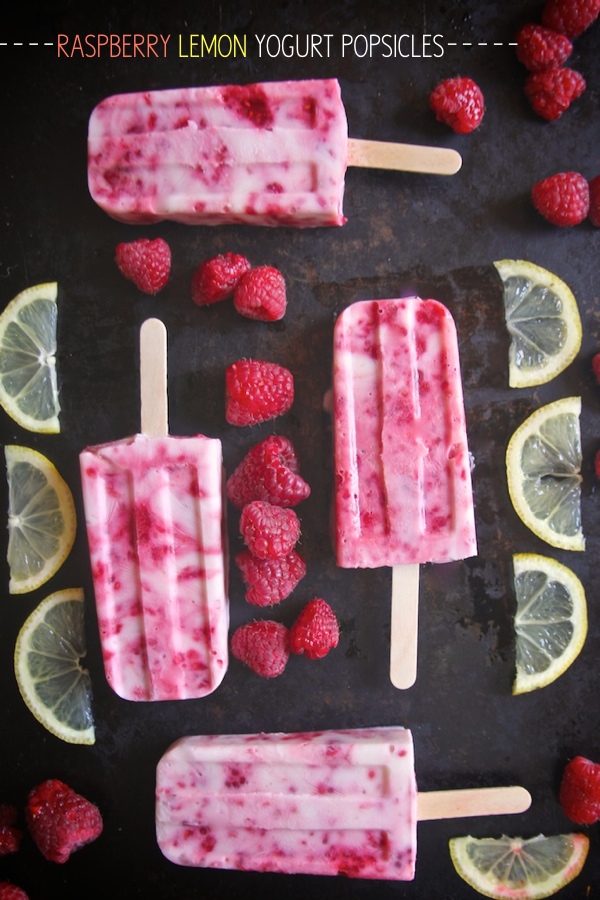 I have this trait that's both positive and negative… it's this thing where I really want to prove someone wrong. It's kind of like when someone calls Marty McFly a chicken; he can't help but retaliate. This trait gets triggered the most when I'm parenting because I have a child who can be quite stubborn at times. His stubbornness comes out a lot when we're eating. One week he loves broccoli. The next? DON'T EVEN SAY THE WORD (don't do it!!). Raspberry jam is his favorite jam but will he eat a regular raspberry?? No, sir. Imagine me putting a raspberry on top each of my fingers showing him how fun it is. I did that and he was still not convinced.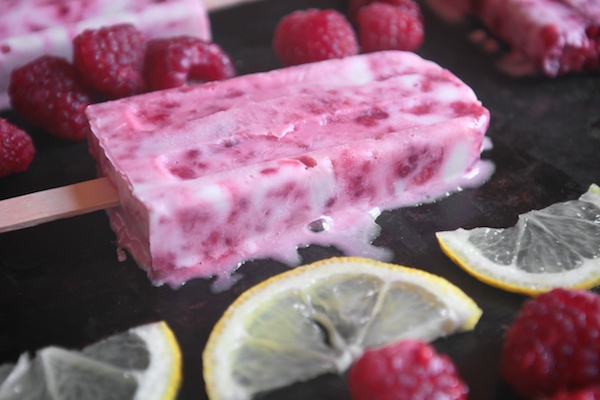 This is when my brain locks into MUST PROVE HIM WRONG mode.
Oh yeah? You don't like raspberries? How about I pack almost two containers of fresh raspberries into some popsicles (his favorite treat) and swirl in some leftover lemon curd for good measure? Let's see how that goes.
It went something like this.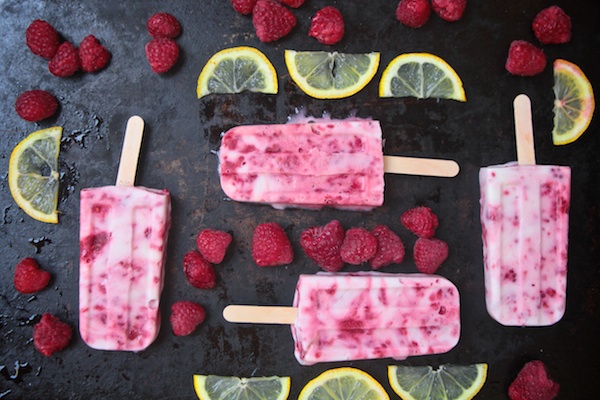 Him: MOM! These are NOT RASPBERRIES. Why did you say they are when they're not?!
Me:  They are raspberries. 

Him: NO THEY ARE NOT because I LIKE THEM. Can I have a popsicle for breakfast tomorrow?
We pick our battles, folks.
And we're off!
Let's gather our ingredients. If you use a regular yogurt, you might not need to thin it out.
Allllls I had was Greek.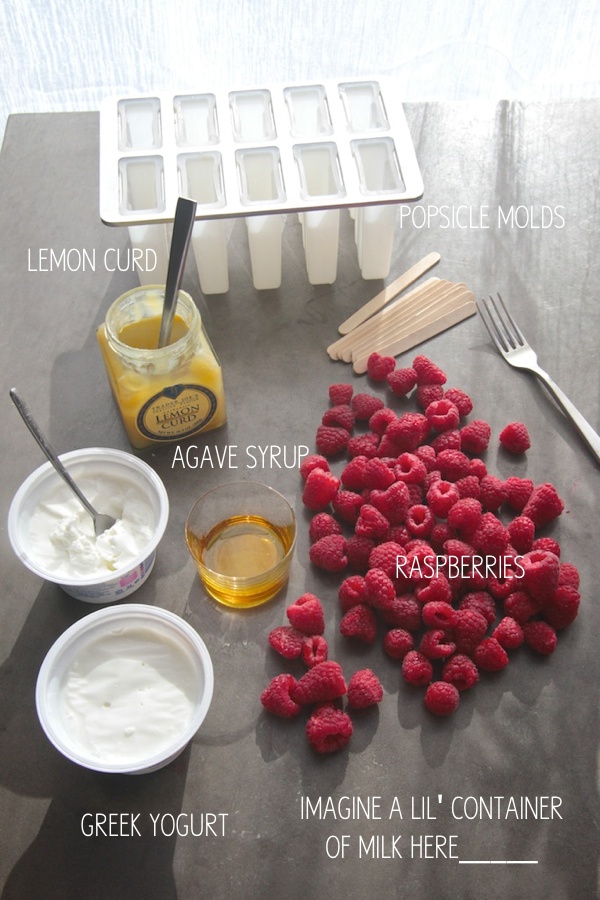 We mash our raspberries with a fork. Proof they're raspberries, COOPER.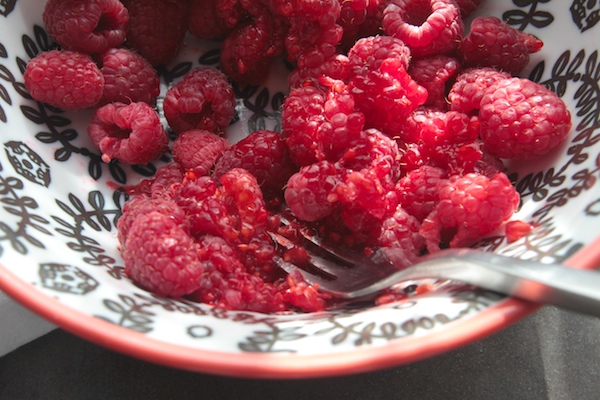 We add a spoonful of sugar to make the medicine go down… Sorry to get that stuck in your head.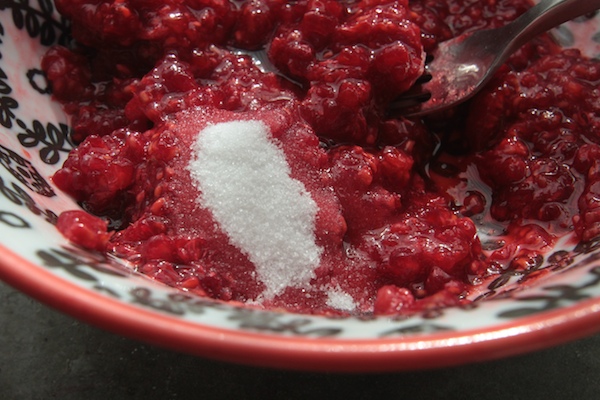 Yogurt base time! Agave syrup goes in. Honey and maple syrup are both suitable substitutions.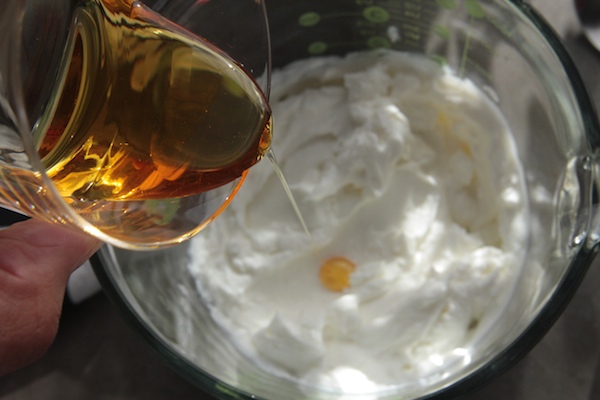 Stir it with an old tarnished vintage fork. Just kidding, use you whatever you want.
Your hands are questionable though.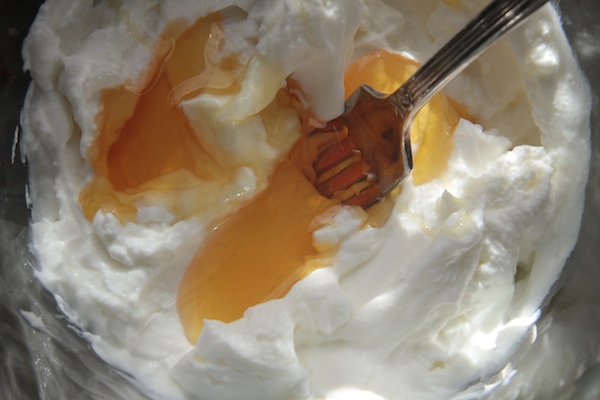 Ahhhhh. There's the milk I forgot to put in my photo above. GOT MILK? Yes. Yes I do.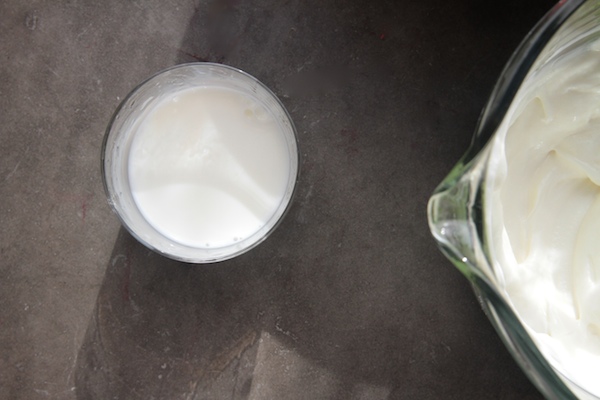 Pour it into the yogurt. Let's thin it out.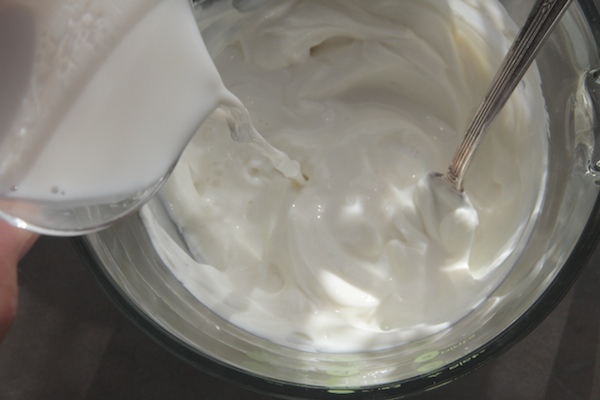 OK. We're almost there.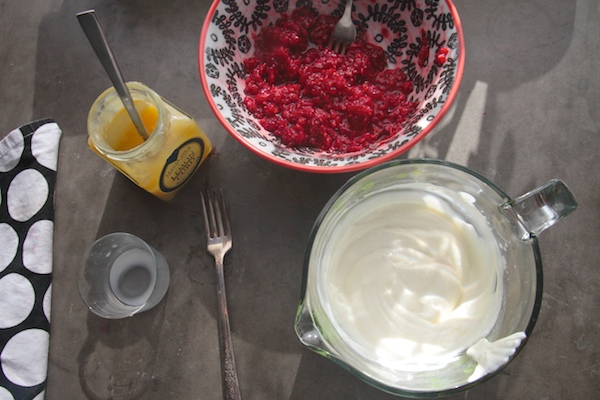 Take the raspberries and lemon curd and GENTLY/subtly stir them both into the yogurt.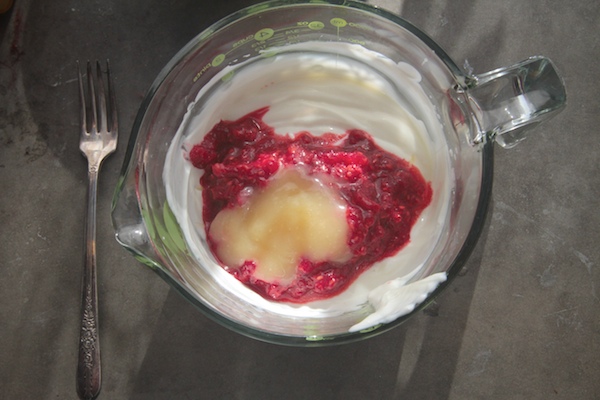 We want swirls. It's like marbling! It kinda looks like there's a mermaid tail hanging off the side.
What's that all about?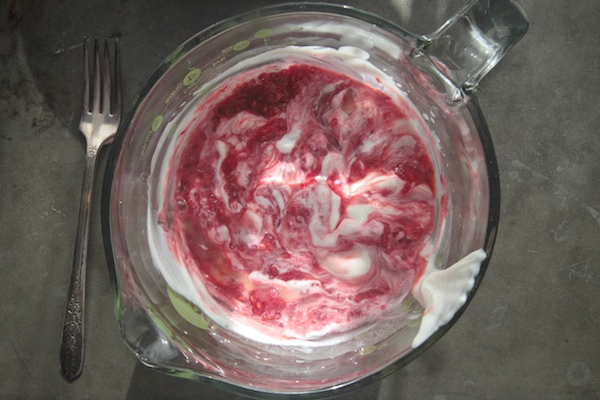 Spoon/pour it into your popsicle molds. And FREEZE.
If you're using these popsicle molds, you will want to put the sticks in after about 35 minutes.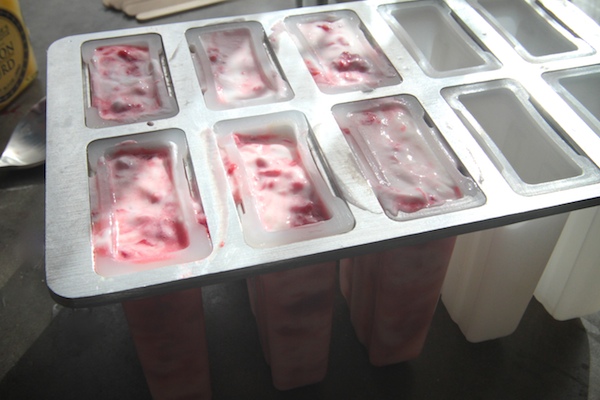 DONE DID. Takes about 4-5 hours and you're golden.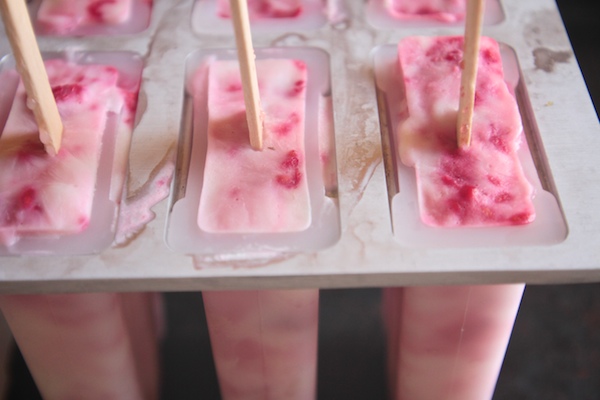 Berry beauts!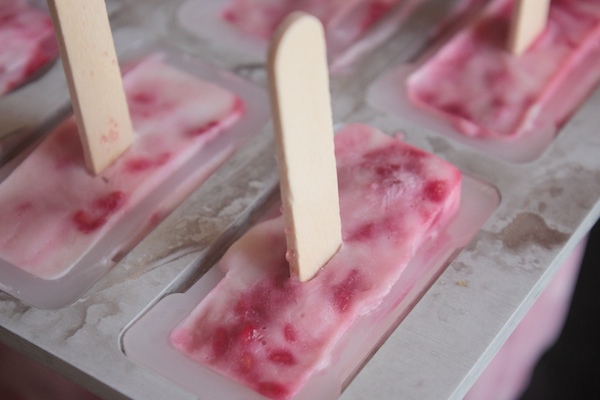 Tart, tangy, sweet, seedy, LEMONY goodness. You're gonna love that lemon curd swirl!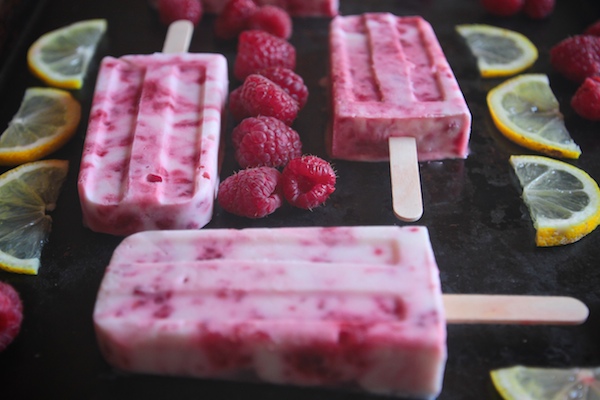 And yes, THOSE ARE RASPBERRIES.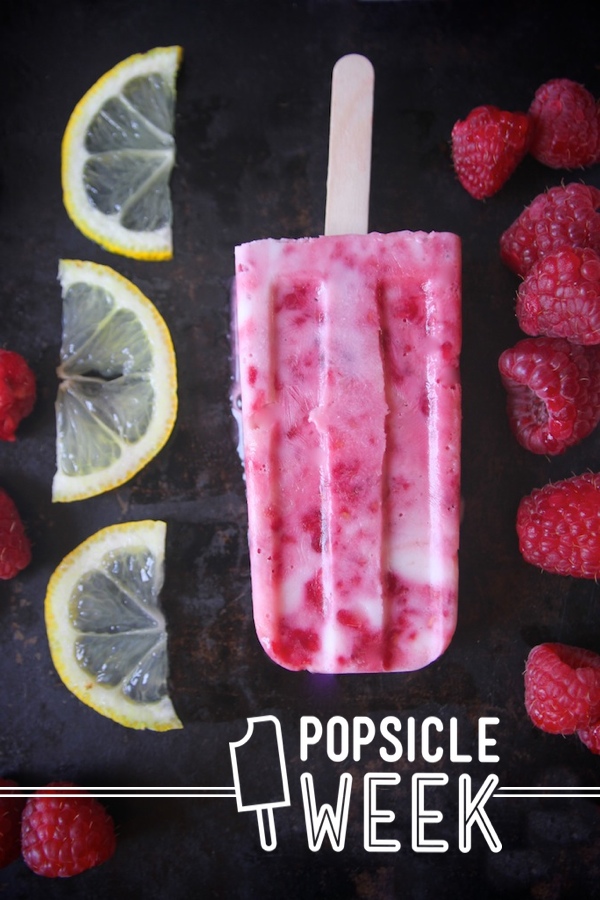 You still reading??! Cool. You made it to the part where I tell you it's POPSICLE WEEK. My friend Billy of Wit & Vinegar spearheaded POPSICLE WEEK 2014 (with a bedazzled popsicle stick).  "What's Popsicle week?"  Thirty-seven of bloggers from all around the world are joining in the fun and sharing a popsicle recipe this week.  Last year I made these Cantaloupe Campari Pops!  So, bust out your popsicle molds, make some space in your freezer and look at this animated gif.

That's the hashtag above! You can follow along on instagram & other social media outlets you're addicted to.
#popsicleweek
Raspberry Lemon Yogurt Popsicles

makes 6 popsicles

1  3/4  cups fresh raspberries
1 tablespoon sugar
1  1/2 cups Greek yogurt
4 tablespoons agave syrup
4 tablespoons milk
2 tablespoons lemon curd

In a medium bowl, mash the raspberries with a fork. Stir in sugar and set mixture aside.  In a large measuring cup with spout, mix yogurt with agave syrup until well combined. Add milk into yogurt mixture to thin out. Gently swirl in raspberries and lemon curd. You'll want to have some beautiful raspberry lemon swirls in your popsicles so be careful not to over-mix.  Transfer mixture to popsicle molds, filling up 3/4 full. Freeze for 35 minutes, add popsicle sticks and freeze until popsicles are frozen, about 4-5 hours.