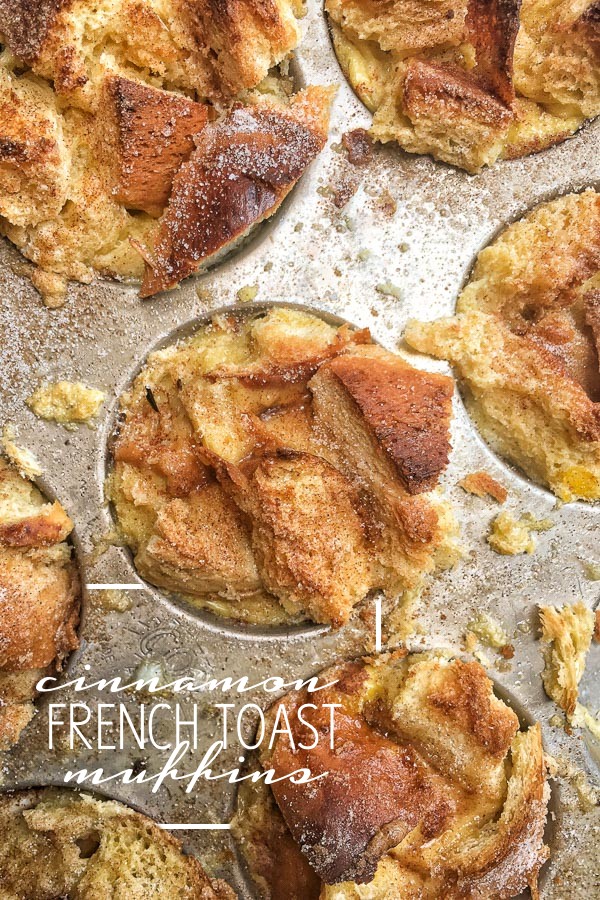 Cinnamon French Toast Muffins are a hybrid (I almost typed hybread- which would have been appropriate!) of french toast, bread puddings and muffins.  They're an alternate way to get your french toast fix. They're great for the muffin enthusiast.
I'm in it for the tops.
That's my muffin motto.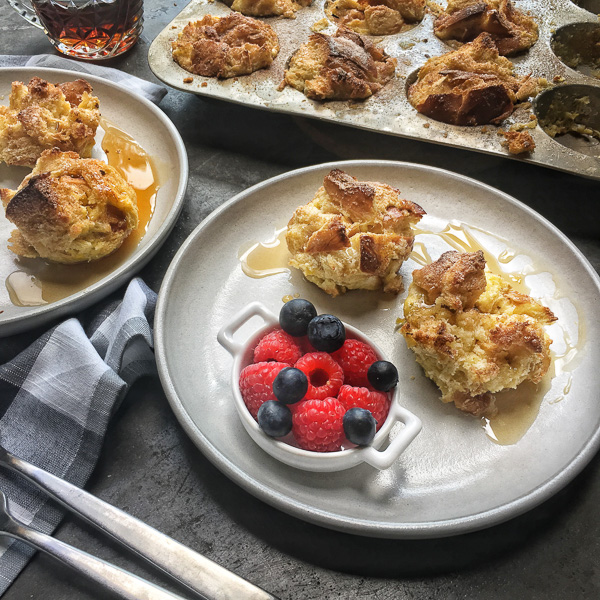 The edges get a little crispy because they've been dusted in cinnamon sugar.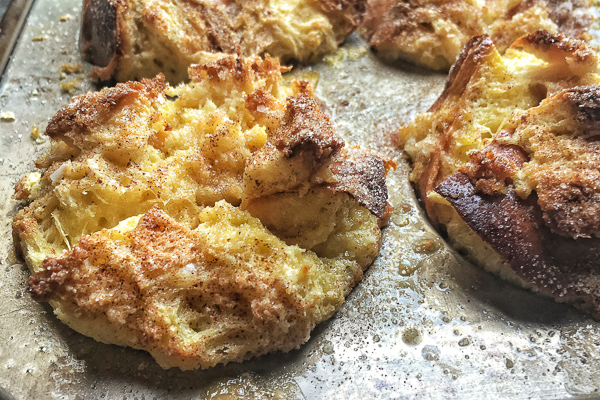 The insides are moist (sorry moist haters), fluffy and eggy just like french toast.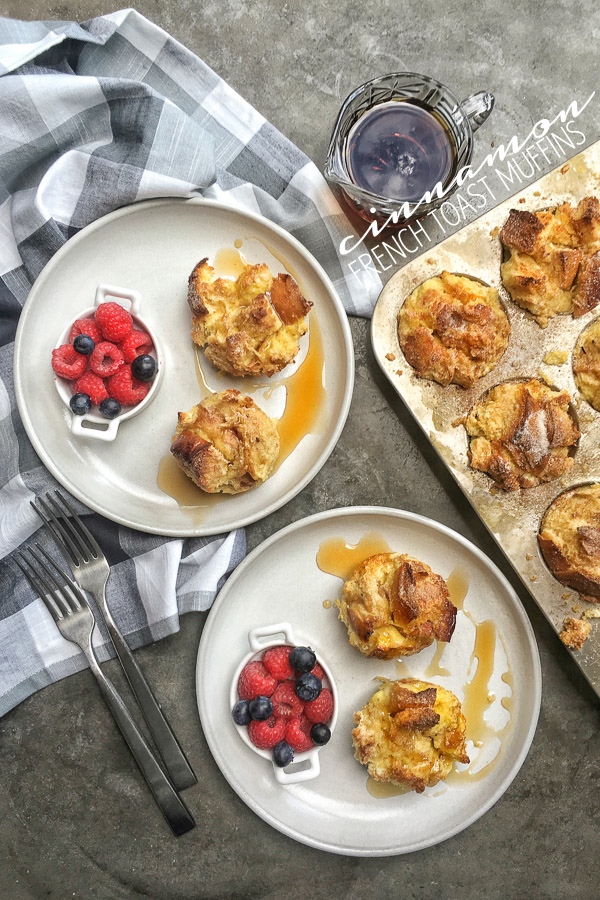 I think I will have some leftover muffins tomorrow- toasted in oven with butter and jam because that just seems like the right thing to do.
I've got company coming over this weekend for Memorial Day…perhaps these will go on the breakfast menu with a side of Candied Ginger Bacon?  Yes. That sounds like a solid plan. Also Bloody Marys because THREE DAY WEEKEND.
Let's gather our ingredients!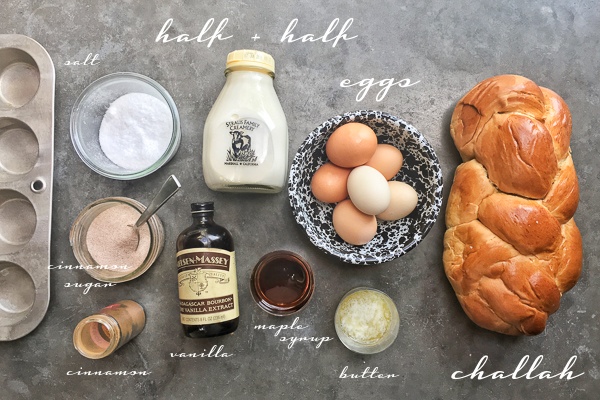 I never buy challah because I eat challah. And when I say challah…..it's not just a slice.
It's like a whole loaf.
Challah atchya girl.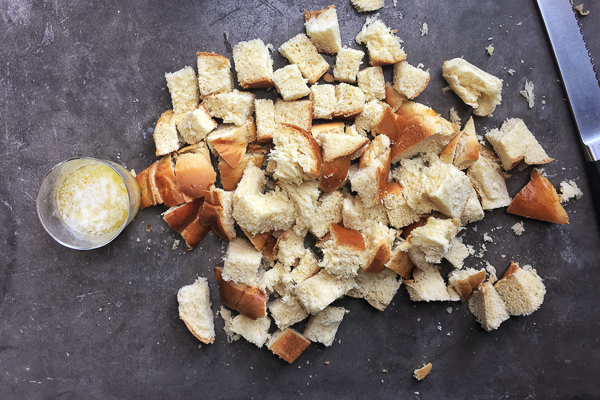 Let's make our custard situation.
I find it hilarious that my child refuses to eat eggs but he loves french toast.
And then my husband doesn't like french toast because it's too eggy.
There's no winning sometimes in life.
But if you consider I get a lot of things alllllll to myself, well I suppose that's considered winning.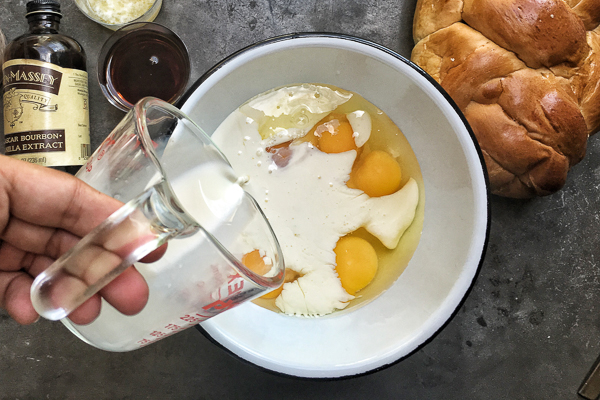 I like a lot of cinnamon. BTW.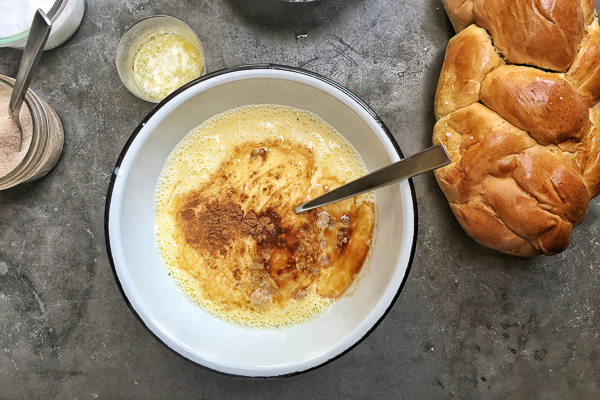 We toss the bread in butter.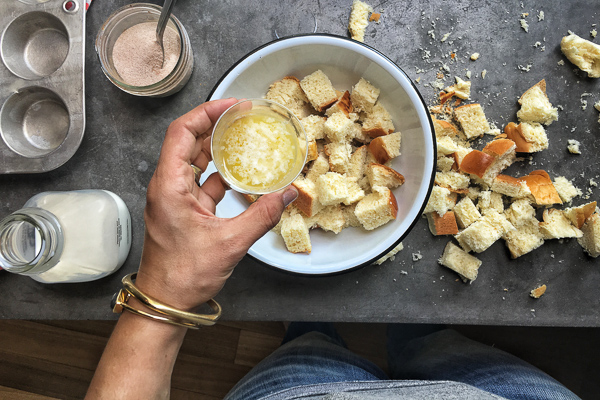 Muffins go into greased muffin tins.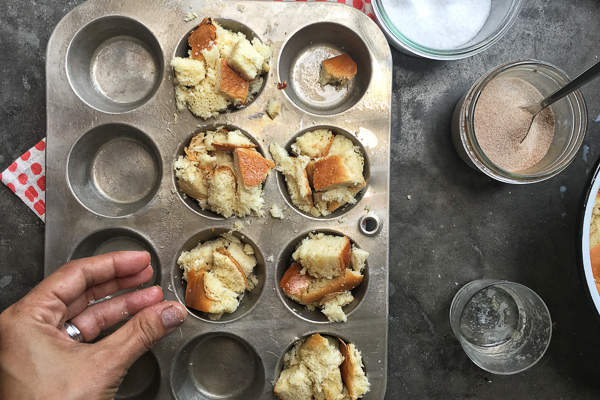 This muffin tin belonged to my grandma. Makes me so happy when I use it.
So, you can either pour the custard into the tin…or pour the custard all over the bread in a bowl and then place in the tins.
If you want a crispier top, pour the custard into the bread IN the tins. Do it this way if you also want to make a mess. Sometimes it's therapeutic. Especially if someone else is cleaning the kitchen…..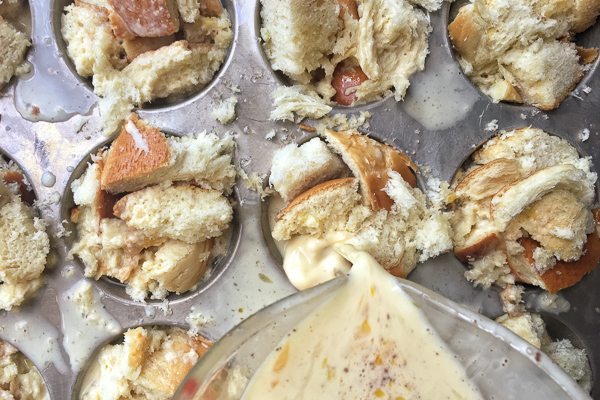 Cinnamon + sugar.
I like to have a jar of cinnamon sugar my pantry at all times.
My ratio = 1/3 cup sugar + 2 heaping tablespoons cinnamon
I eyeball it mostly. Sometimes I add more cinnamon. I like it to look like this color: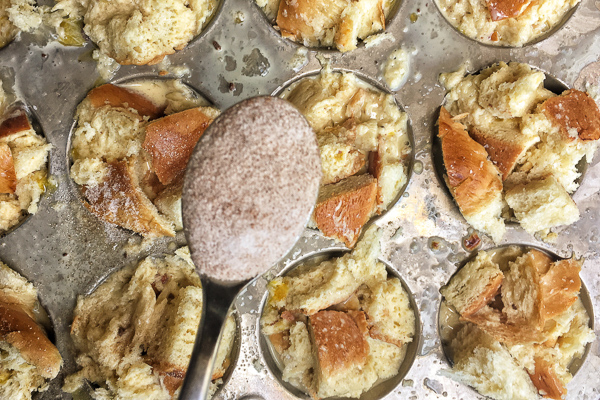 Let it sit for a few so the custard can soak into the bread.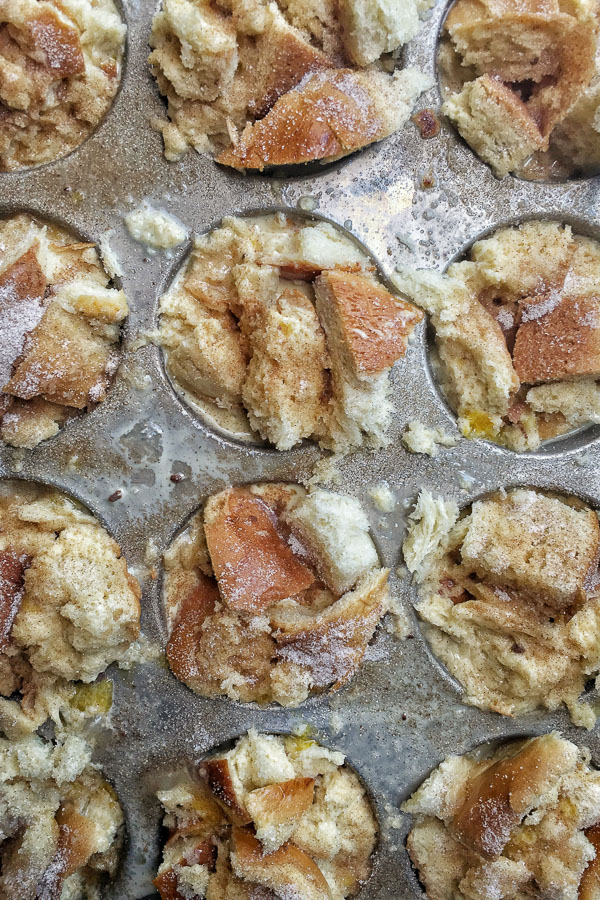 BAKE! Look how puffy they get.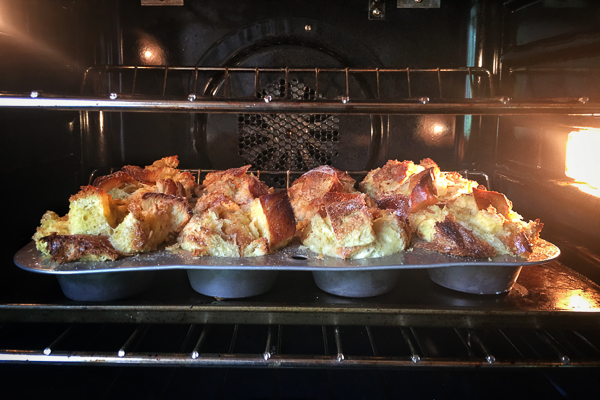 Toasted deliciousness.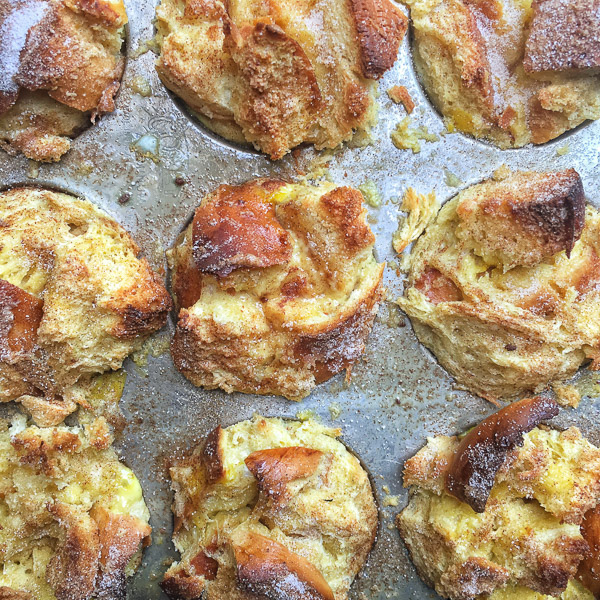 MMM.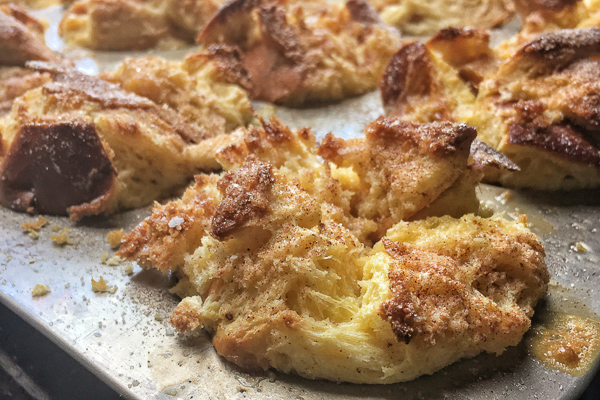 With a drizzle of maple syrup on top…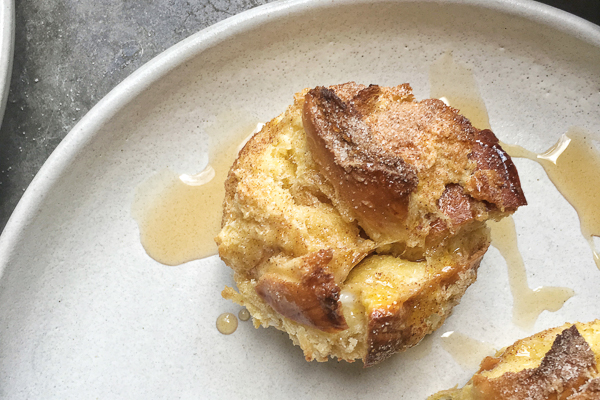 2 is enough….and then an hour later…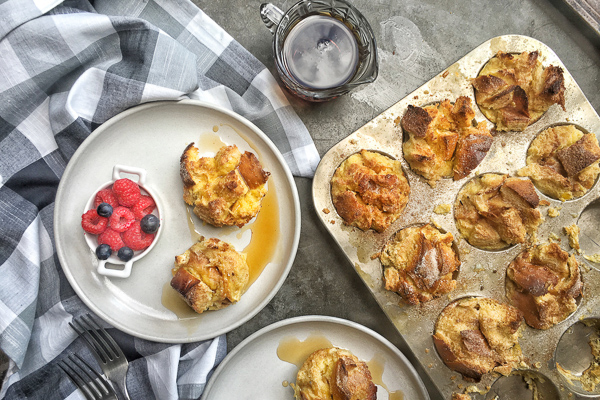 2 more?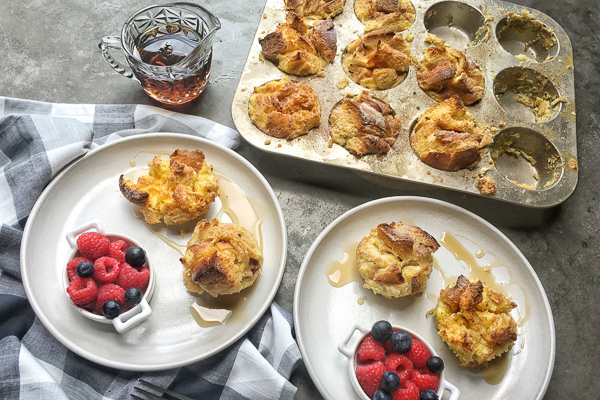 Nobody tell my kid how many eggs are in there.
Cinnamon French Toast Muffins

makes 12 muffins
recipe slightly adapted from Rachael Ray Magazine

6 eggs
1  1/2 cups half and half
6 tablespoons maple syrup
1 1/2 teaspoons pure vanilla extract
1 teaspoon cinnamon
pinch of salt
4 cups cubed challah bread
2 tablespoons melted butter
2 tablespoons cinnamon sugar
fresh berries, for serving

Preheat oven to 350F.

Spray muffin tin liberally with cooking spray, set aside.

Whisk eggs, half and half, syrup, vanilla, cinnamon and salt in a large measuring cup. Toss the bread with butter in a large bowl to coat. Divide bread among 12 muffin cups. Pour egg mixture over the bread; let sit for 5 minutes. Sprinkle tops of bread with cinnamon sugar. Bake for 20 minutes. Let cool on rack and serve with more maple syrup and fresh berries.