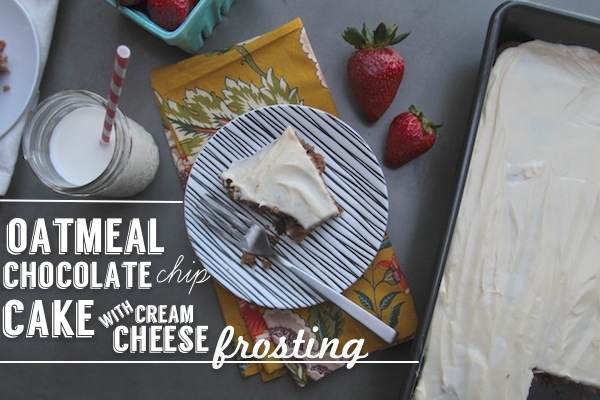 While doing a little spring cleaning around the house, I stumbled upon my copy of Baked: Explorations and decided to flip through the pages (mostly because I was procrastinating. What else is new?). I've made quite a few recipes (ahem Malted Waffles & Farmstand Buttermilk Doughnuts) from the book…and yet I keep coming back for more. I find all of their interesting combinations incredibly alluring.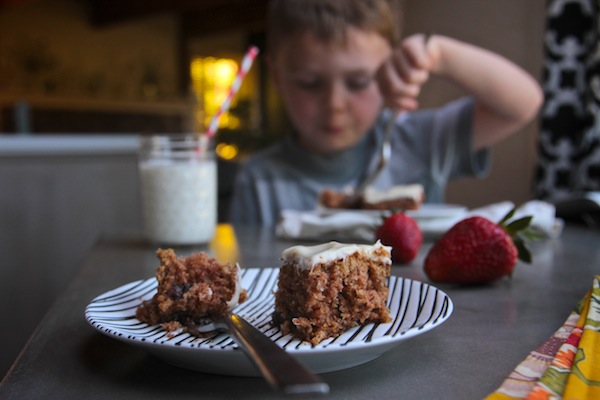 What was the hook that brought me back? A cake for the cookie lover– also known as this Oatmeal Chocolate Chip Cake with Cream Cheese Frosting! A cake that will tame the cookie & cake-loving voice inside your head that tells you YOU MUST HAVE CAKE and YOU MUST HAVE COOKIES and you MUST HAVE THEM RIGHT NOW. This voice & I go way back. The problem is this voice always wants both. Now this voice is like…Cool Tracy…This will tide me over. Now get me another slice. Make it an edge piece. What other two awesome things can we combine? Melted Cheese & Tater Tots? Cool. Cool.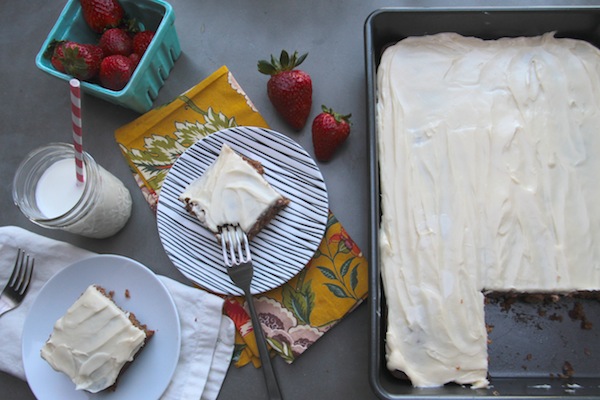 This cake is super simple to prepare. At first you think you're eating carrot cake (cream cheese frosting!) and then you think you're eating banana bread and suddenly you bite into a chocolate chip and there it is…something cookie and cake-like. A cake that tastes like cookie! It should be made & eaten on only days that end in Y.
And we're off! Get your ingredients together.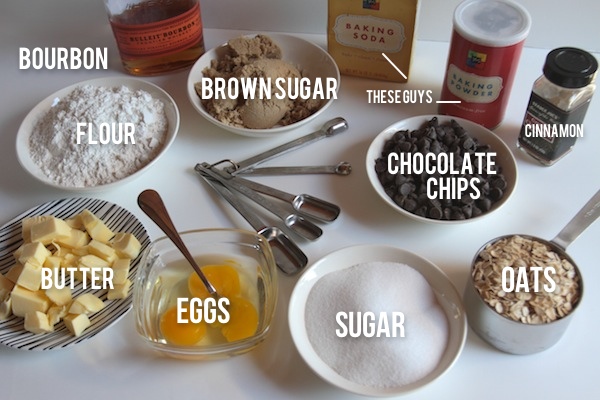 First we take the bourbon and mix it in with the chocolate chips. Now we add flour on top, stir and set aside.
This prevents the chocolate chips from sinking straight to the bottom. Any excuse to use bourbon is cool with me.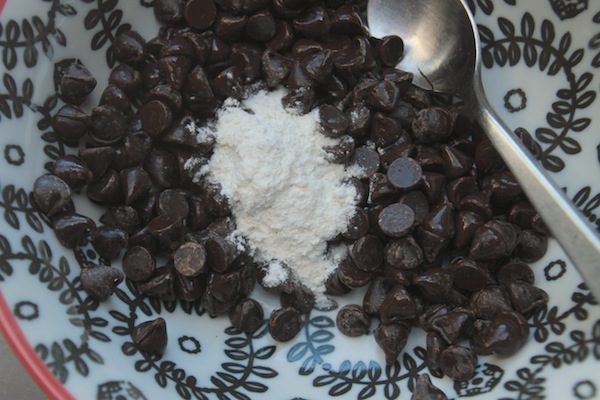 Here's a cool step. You melt the butter with the oats with hot boiling water.
Let it sit for 30 seconds. Then stir and let it sit for 30 minutes to cool. This add a little bite to the cake.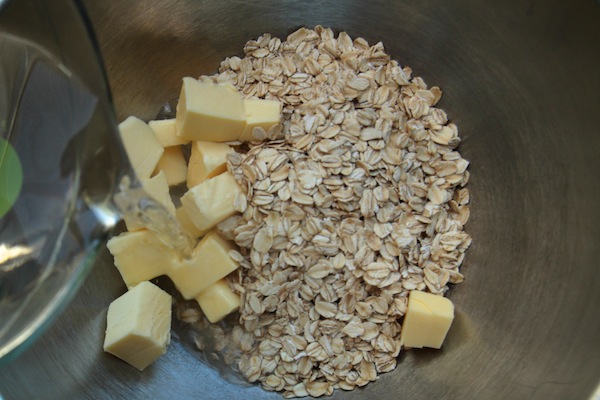 So after about 30 minutes we're going to work on the cake. Eggs & sugars get mixed.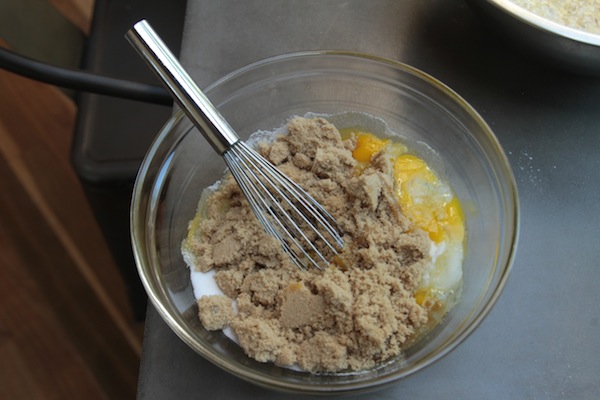 Add in salt, baking powder, cinnamon & baking soda. STIR.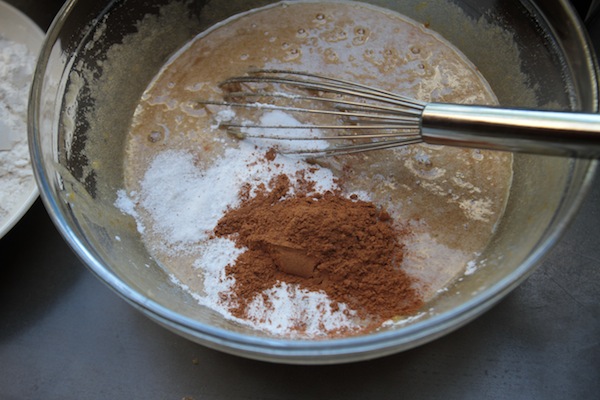 Merge the egg/sugar mixture with the buttery oatmeal. Stir. Now add in the flour. Stir.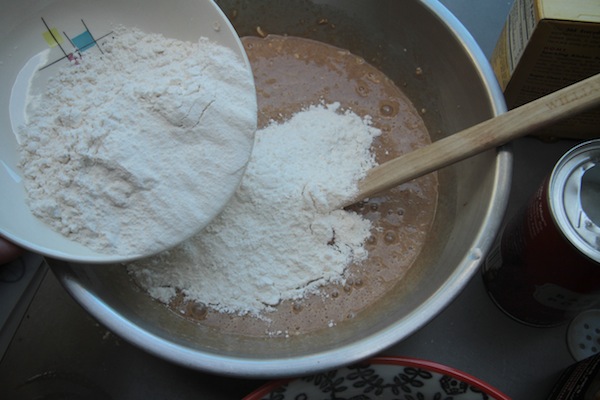 The chocolate chips get folded in and we're ready to make cake!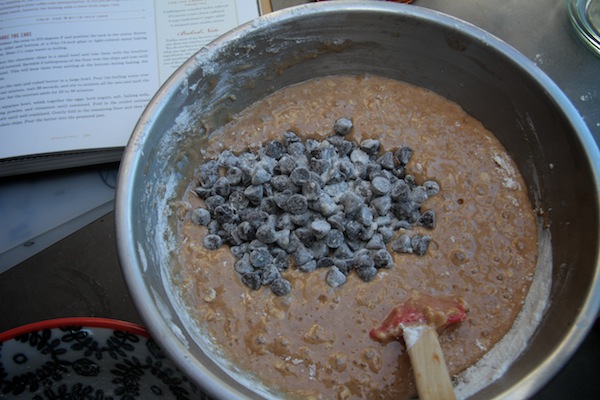 Pour the batter into a prepared 9 x 13 pan.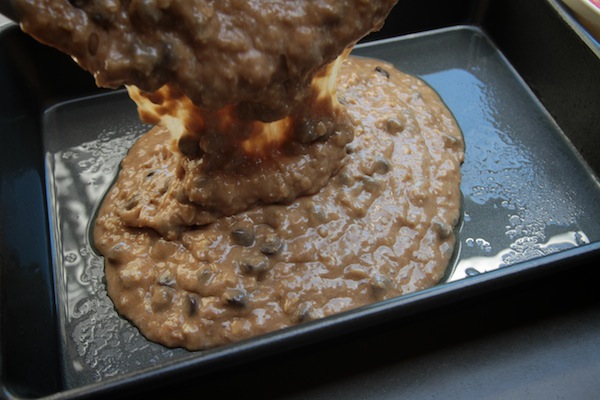 Let's get that cake in the oven.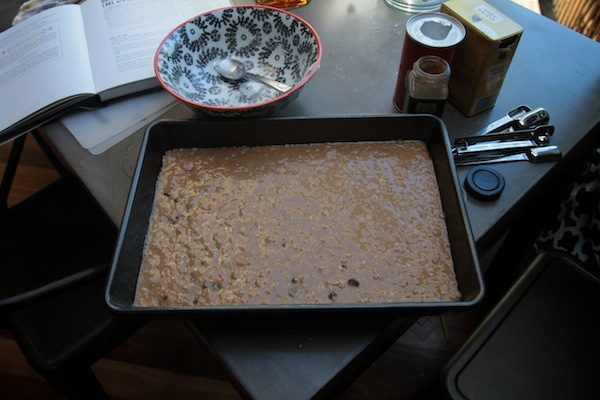 Cake is done! Let it cool. Dude…be patient.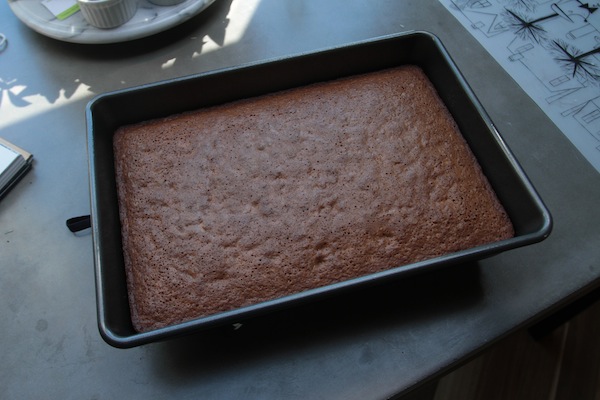 Now we get on with the cream cheese frosting.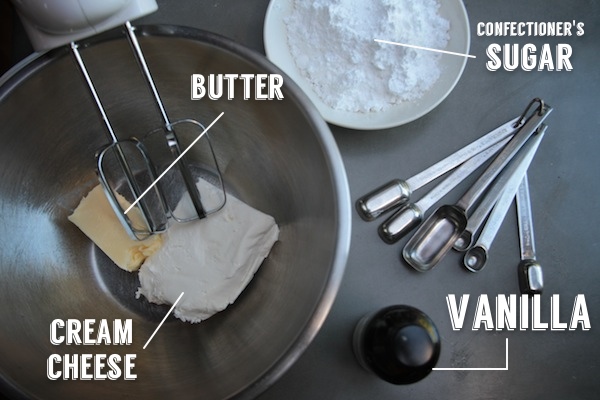 Cream the butter & cream cheese. Add in the confectioner's sugar & vanilla. BEAT.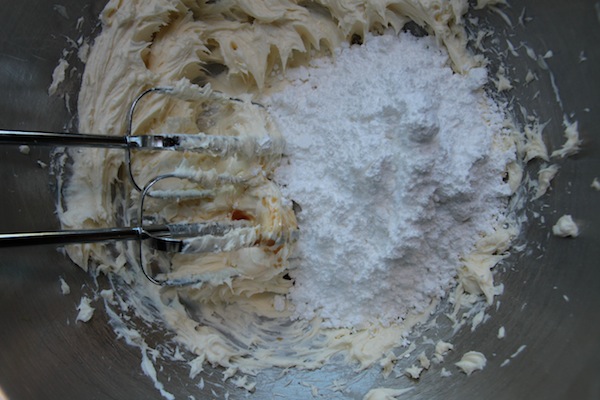 Does it get any better?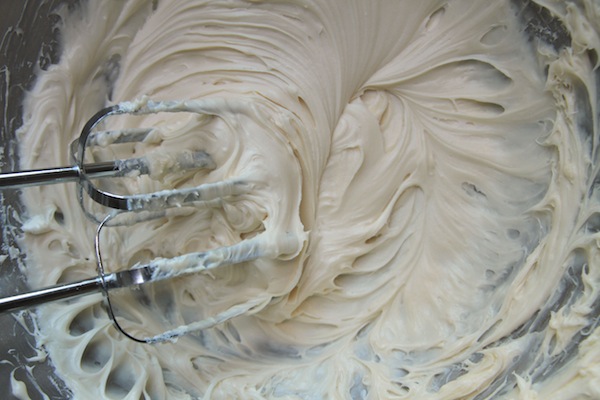 Transfer the cream cheese to the top of the cake. Spread it out!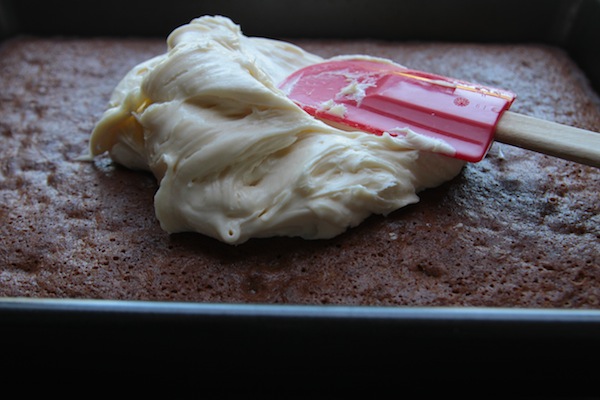 Really lather it on. This is RELAXING, isn't it?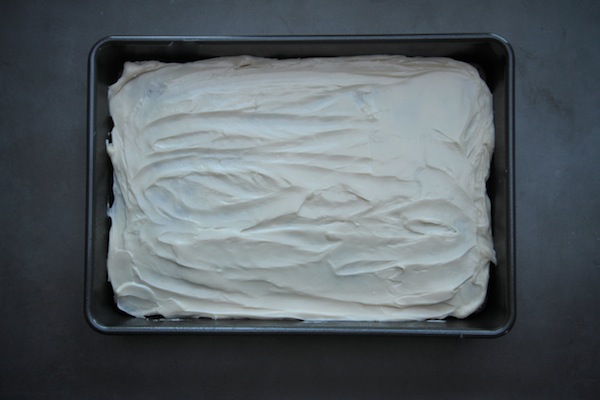 Cut out a few pieces.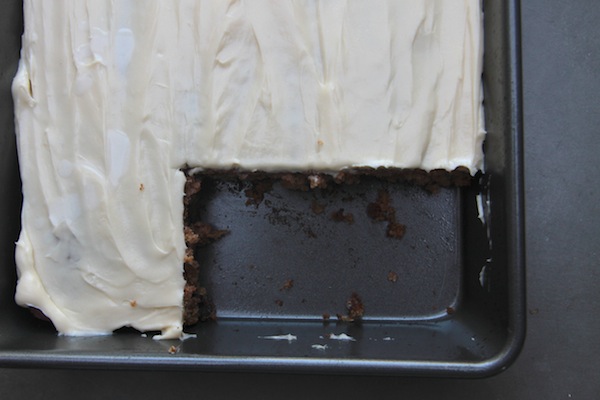 Get that fork in there.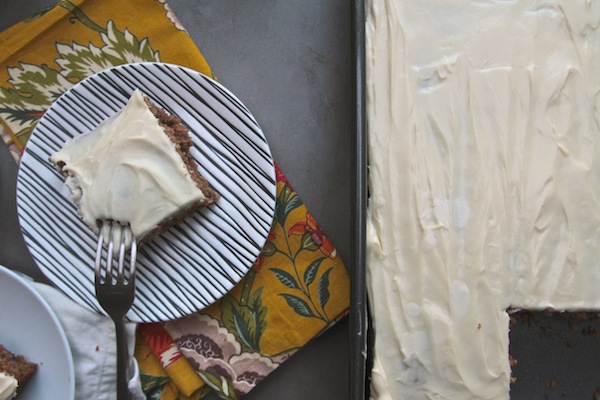 Serve it with some milk or coffee.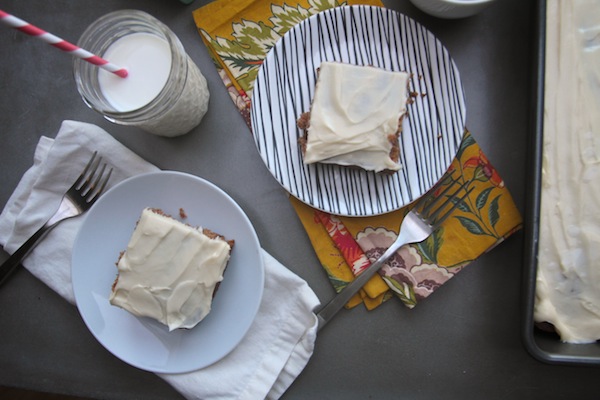 Weep a little…cuz it's SO DANG GOOD.
Oatmeal Chocolate Chip Cake w/ Cream Cheese Frosting

serves 12-14

recipe slightly adapted from Baked: Explorations

8 oz. semi-sweet chocolate chips
1 1/2 cups + 2 tablespoons all-purpose flour
1 cup rolled oats
1/2 teaspoon bourbon
1 stick unsalted butter, cubed-at room temperature
2 large eggs, beaten
3/4 cup sugar
1 1/4 cups brown sugar
1/2 teaspoon salt
1 teaspoon baking soda
1 teaspoon baking powder
1 1/2 teaspoons of cinnamon

for the frosting:

4 tablespoons salted butter, at room temperature
6 oz. cream cheese, at room temperature
1 cup confectioner's sugar
1 teaspoon vanilla extract

Preheat oven to 375°. Butter the sides and bottom of a 9″x13″ baking pan.

Toss chocolate chips with bourbon in a small bowl. Sprinkle 2 tablespoons of flour over the chips and toss until coated. Set aside.

Heat 1 & 1/4 cups water to boiling. Place the oats and butter in a large bowl. Pour boiling water over oat mixture. Wait 30 seconds, then stir to moisten oats and melt the butter. Set aside for 25-30 minutes.

Whisk eggs, sugars, salt, baking soda, baking powder, and cinnamon. Fold in oatmeal, stirring until well combined. Fold in remaining flour, and then stir in chocolate chips. Pour batter into prepared pan.

Bake 40-45 minutes until a toothpick inserted in the center of the cake comes out clean. Cool on wire rack for 30 minutes.

To make the frosting:

Beat butter until smooth. Add cream cheese and beat until combined. Beat in confectioners' sugar and vanilla extract until smooth (about 1 minute). Cover bowl and refrigerate for at least 30 minutes.

Spread a thin layer of frosting over cake. Chill for 15 minutes before serving.

Store covered cake in refrigerator for up to 3 days.