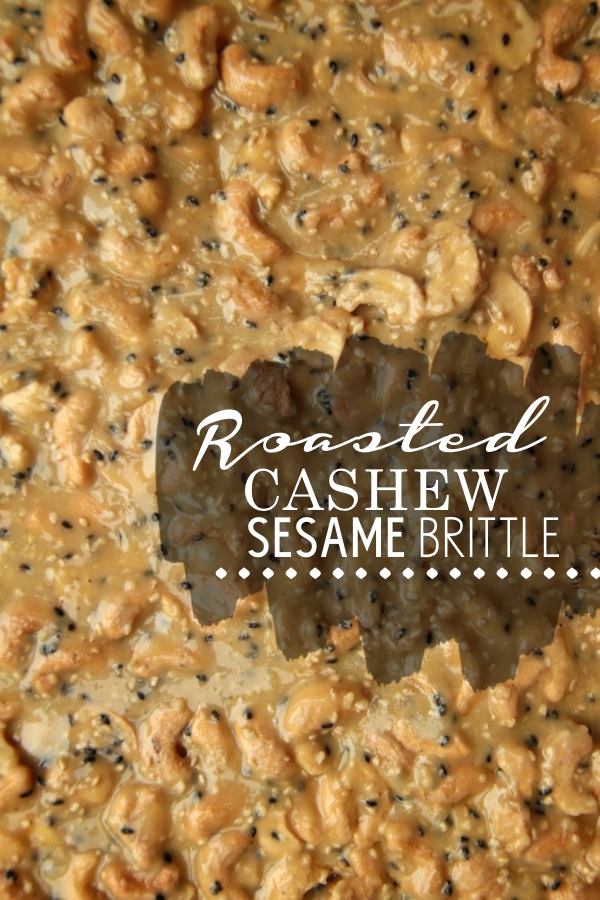 New recipe! Roasted Cashew Sesame Brittle
I hate to humblebrag but I'm really good at staying away from candy. Like…with all the Halloween candy we had in our house this year, I only ate one piece. I made sure it was a Take5 bar. Worry not!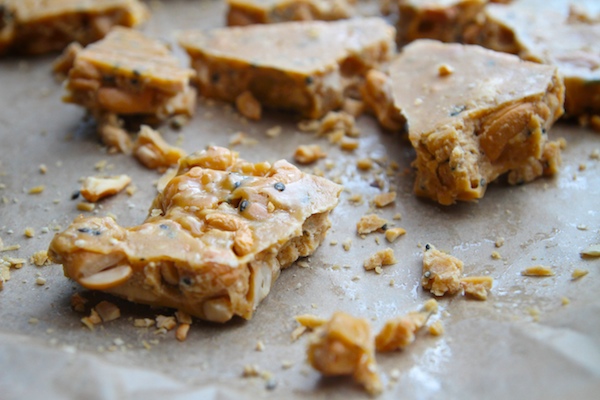 However…this brittle? I totally LOST MY FREAKING MIND eating it. There's something about the salty/sweet/ savory/ crunchy/ buttery/ nutty goodness that makes it absolutely irresistible. I polished off a good portion in record time..spurring me to make another batch. I think it's the crunch…It's all of it really.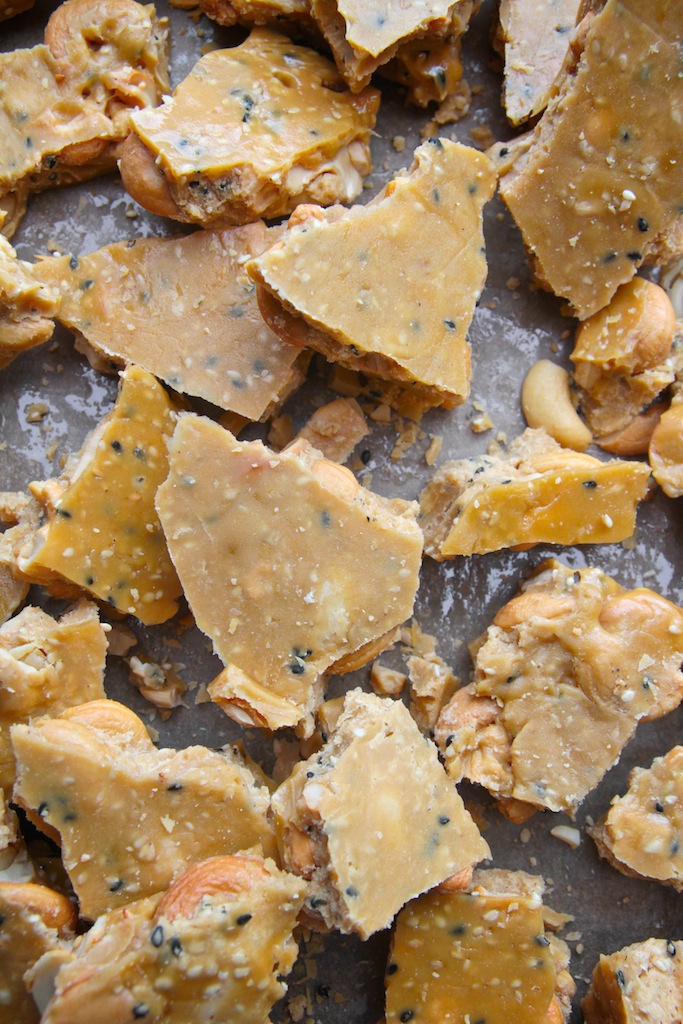 Watch out…you may not have enough left to give away this holiday season.
Consider yourself warned.
Make a double batch.
Seriously.
And we're off!
Get out your candy thermometer! You're gonna need it.
I started out with roasted cashews & toasted sesame seeds. Half the work was already done for me!
If you're going to roast your own, place the cashews & the sesame seeds on a baking sheet and toast for 10-15 minutes at 300F.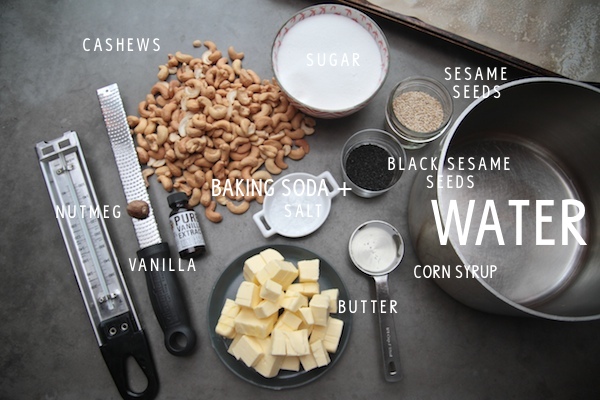 Three flavor components here. Nutmeg, Maldon salt & vanilla! We will add that in later…
(there's also baking soda in that little dish)
But it's important to get this ready ahead of time. Candy-making goes by quick at the end. One minute and your sugar is burnt!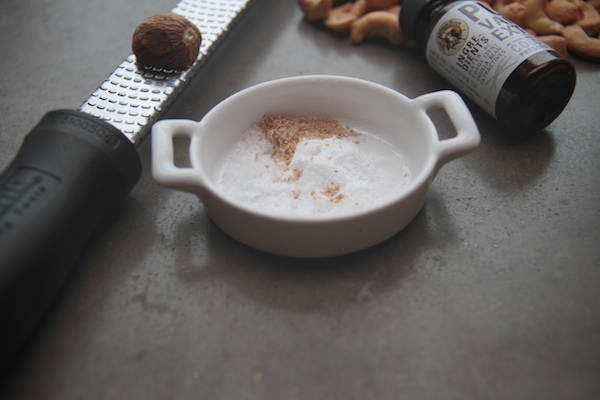 You're also going to line a baking sheet with parchment and spray it with cooking spray.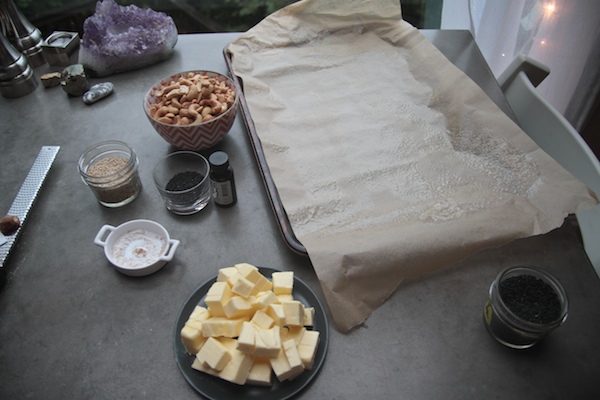 Now we're ready to boil sugar water and corn syrup.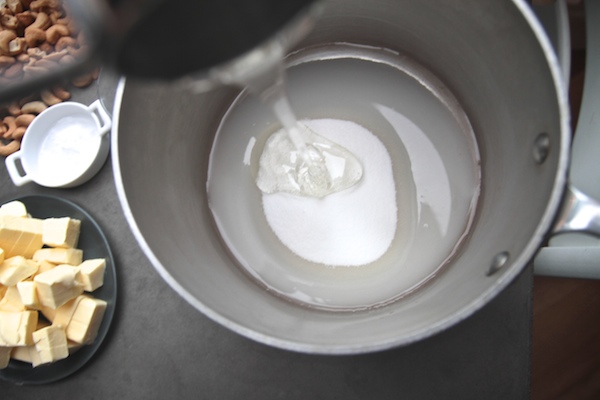 When the temp gets to 250F, we add in the butter!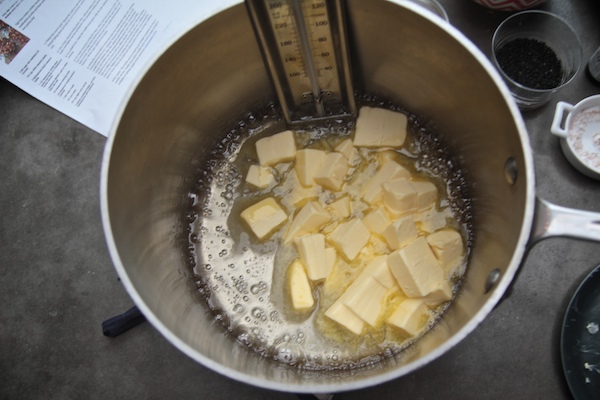 Followed by the vanilla and the baking soda/nutmeg/salt mixture.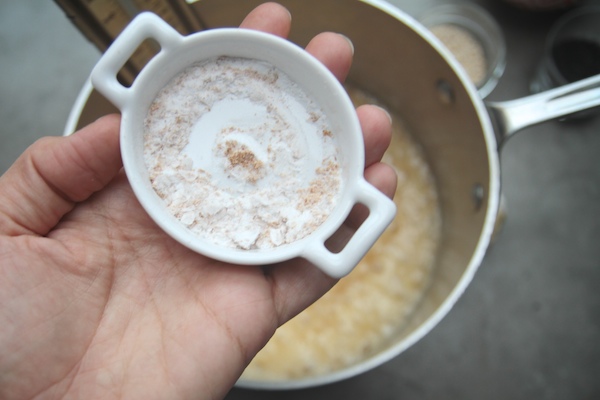 We want the sugar to be golden.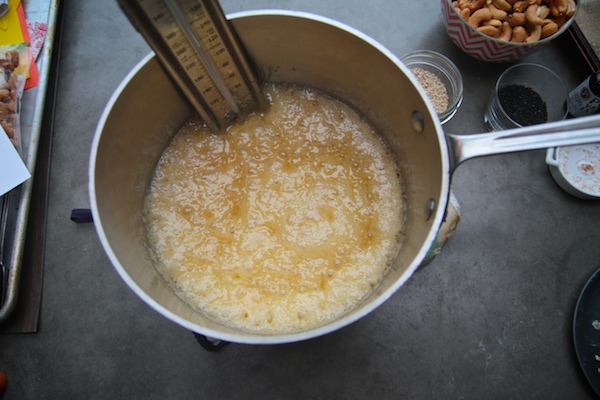 Then we toss in the nuts & sesame seeds.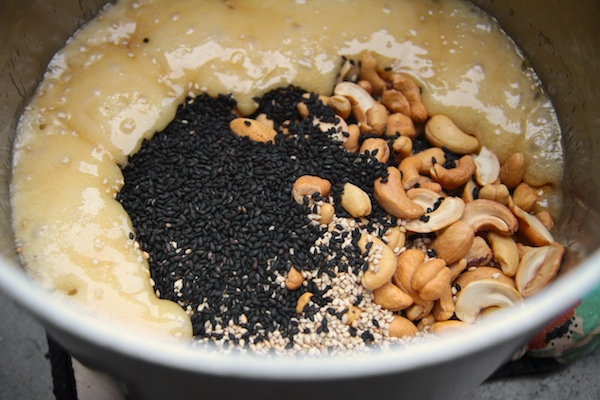 STIR.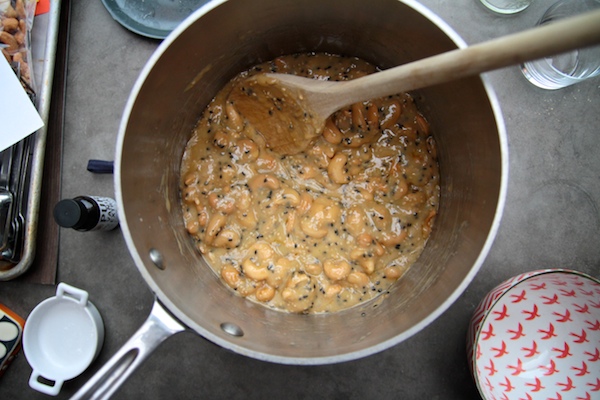 Start spreading it out on the parchment line baking sheet.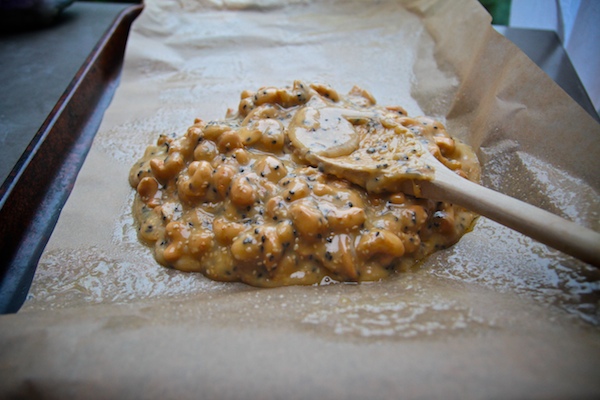 oooooooooooh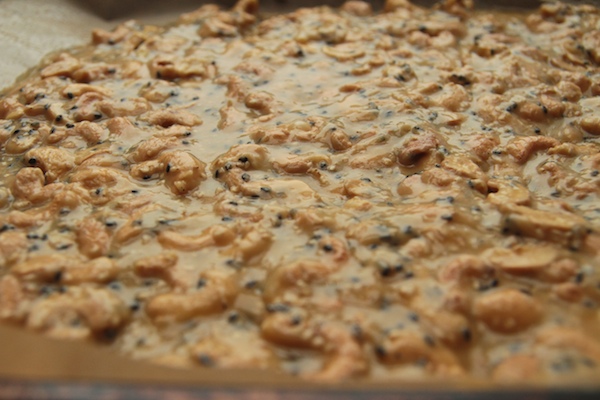 YESSSSS. Take another sheet of parchment paper and press the brittle down to flatten it.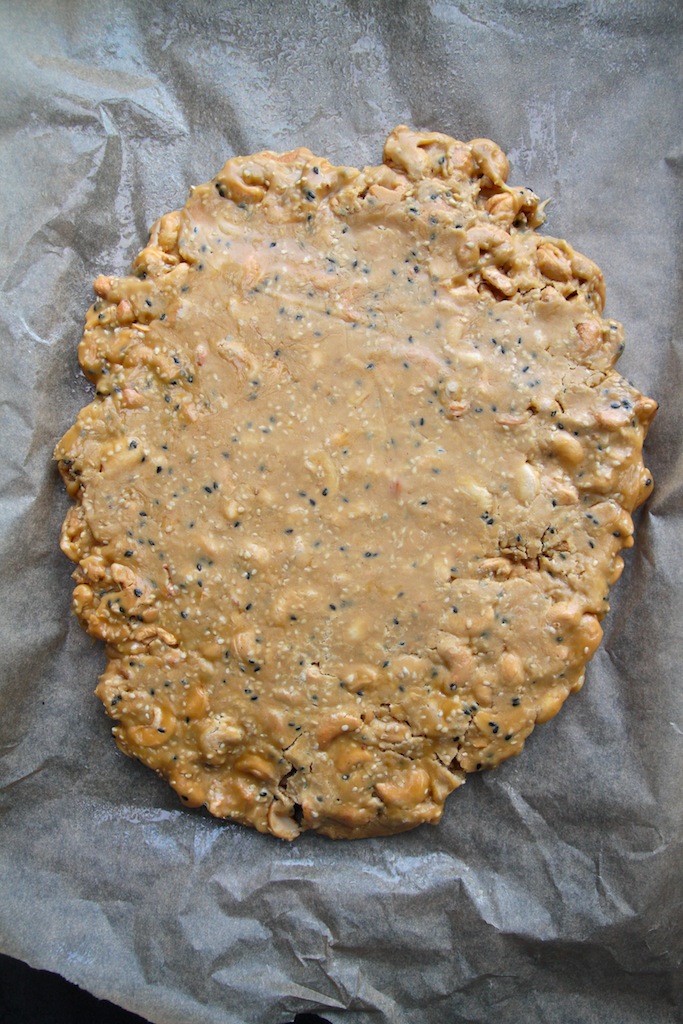 Breaking it up is the fun part.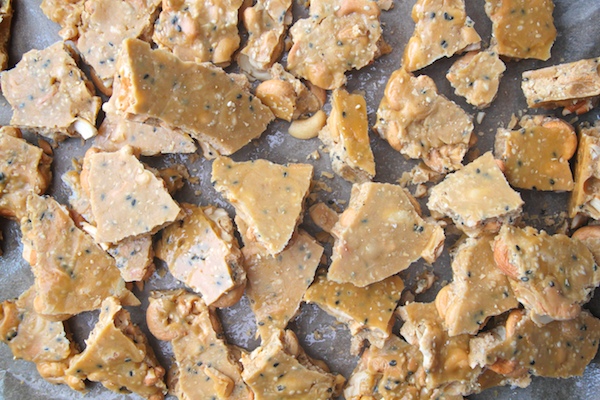 Here's how I packaged mine up for gifts.
Cupcake wrapper on TOP of the lid.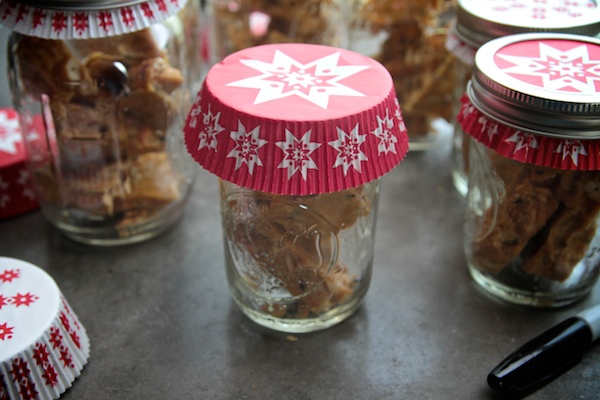 Fasten with the ring on top. Boom!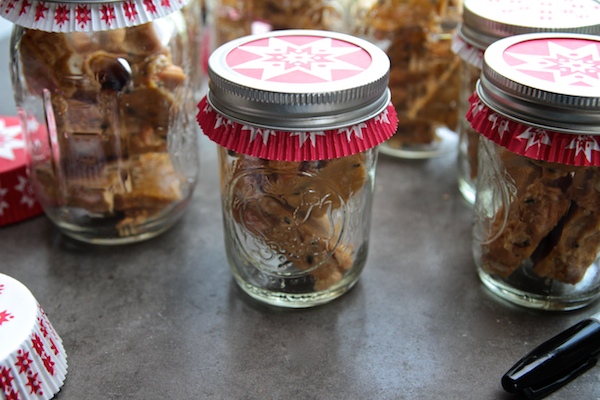 Happy gift giving….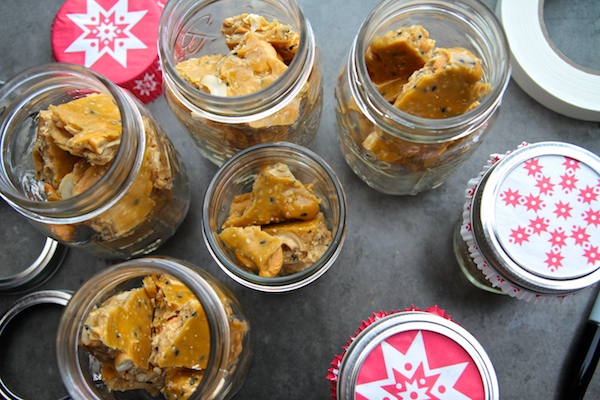 And brittle eating. Try to share!! TRYYYYYYYY.
Roasted Cashew & Sesame Brittle

makes about 2 lbs.

recipe slightly adapted from Food & Wine

2 3/4 cups roasted cashews
1/4 cup toasted white sesame seeds
3 tablespoons black sesame seeds
2 teaspoons pure vanilla extract
1 teaspoon Maldon salt or other flaky sea salt
1/2 teaspoon baking soda
1/4 teaspoon freshly grated nutmeg
1 3/4 cups sugar
1/2 cup water
1/4 cup light corn syrup
2 sticks unsalted butter, cut into cubes and softened

Line a large rimmed baking sheet with parchment paper and lightly coat the parchment with nonstick cooking spray.
In a small bowl, whisk the with the salt, baking soda and nutmeg.

In a large saucepan, bring the sugar, water and corn syrup to a boil. Cook over moderately high heat, brushing down the side of the pan with a wet pastry brush, until the syrup reaches 250° on a candy thermometer, 10 minutes. Off the heat, whisk in the butter.

Bring the syrup back to a boil and cook over moderately high heat, stirring, until golden brown, 5 to 7 minutes. Remove from the heat and stir in the vanilla, followed by the baking soda nutmeg mixture, then the cashews and sesame seeds. Immediately scrape the brittle onto the prepared baking sheet and, working quickly, spread it in an even layer with an offset spatula. Lay another sheet of sprayed parchment over the brittle and use a rolling pin to even it out. Remove the top baking mat and let the brittle cool completely, about 1 hour. Break the brittle into pieces before serving, storing or gifting.