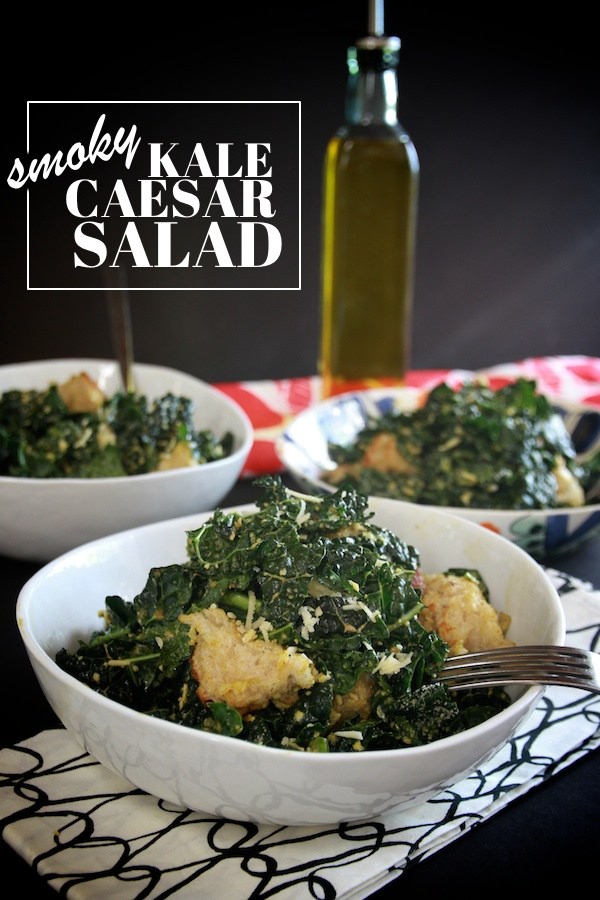 New post! Smoky Kale Caesar Salad
Kale. You either love it or you hate it. I've had a place on Team Kale since I tried Baked Kale Chips (whoa that's from 2010!). GO KALE, GO!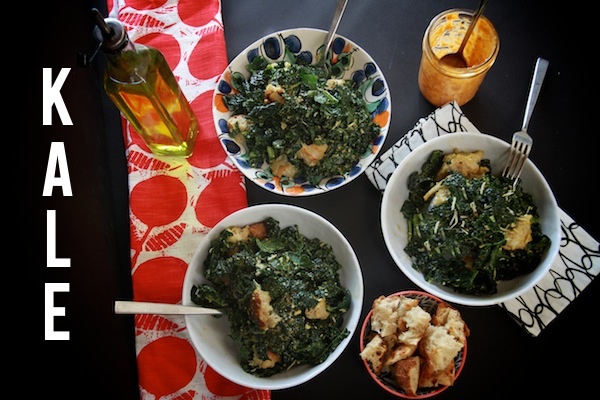 Last week I had a super tasty Kale Caesar Salad at Cowgirl Creamery in Pt. Reyes Station. It was one of those salads that made it to the top of my MUST RECREATE THIS list in my brain. The kale was supple with a slight bite. There were bits of shredded cheddar (I believe?) in the mix as well as Parmesan. The two provided a nice creaminess to the salad. Cowgirl Creamery knows what's up! And croutons…TORN CROUTONS..maybe they were cubed but I'm quite partial to torn…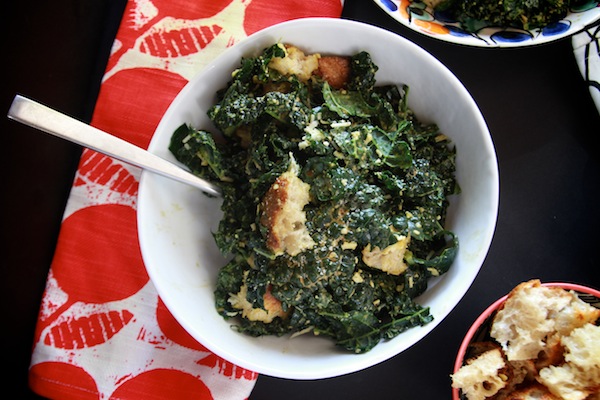 I used the Simple Caesar dressing as a base but added a bit of chili powder & smoked paprika to give it a little oomph. Loves! I can imagine that a little bit of Chipotle Tabasco would add a good smoky taste too. The best part of this salad is that it holds up over time. You can definitely take leftovers to work and they'll still be good. Just package up some extra croutons cuz you know EXTRA CROUTONS. Always with the extra croutons!
And we're off! First we start with croutons. Did you know that's the word of the day??
CROUTONS.
AHHHH.
My grandmother taught me how to make them when I stayed at her house in San Francisco. It was the only time I spent the night there and not only do I remember breaking one of her snow globes (I FINALLY ADMITTED IT!) I also remember how she taught how to make croutons; it blew my mind.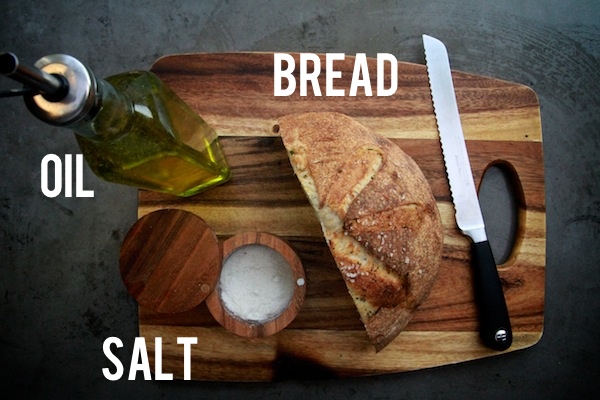 I started cubing the bread for the recipe and saw that the bottom of the 1/2 loaf was burnt. RUDE. So I turned them into TORN CROUTONS which are better anyways. They're like little unique snowflakes in bread form.
Croutons get tossed in some olive oil and sprinkled with a little kosher salt.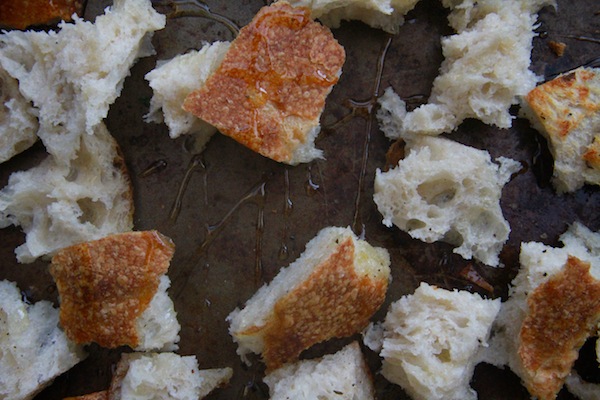 Now we get to the salad ingredients.
I sliced the garlic because HELLO it's getting blended. Do we need to add more work?
Also, anchovies are whole. Same deal.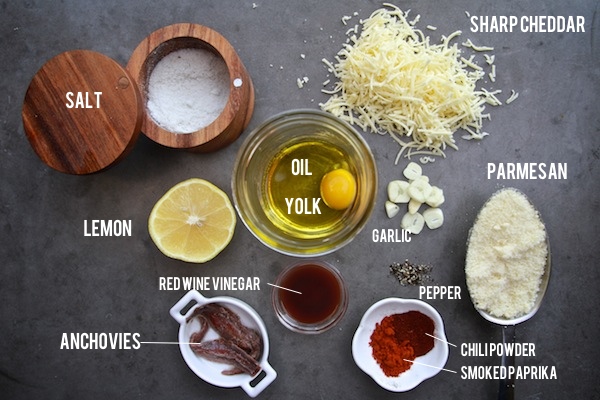 I put everything but the cheeses in a wide mouth jar.
Bust out your Immersion Blender! Alternately, you could use a mini food processor for this task.
BLEND. I seriously don't know what I'd do without an immersion blender. Sigh…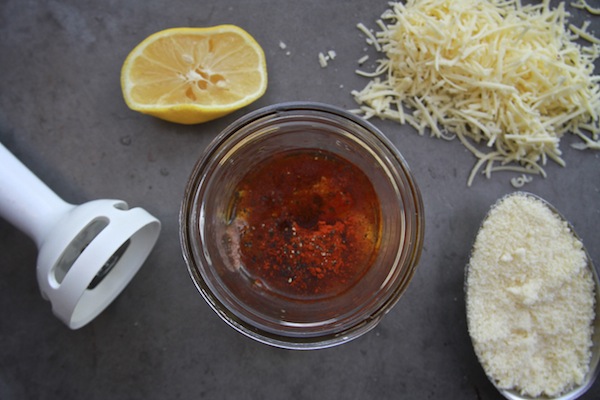 Look at that color! Now stir in half the Parmesan cheese. The other half gets tossed into the salad.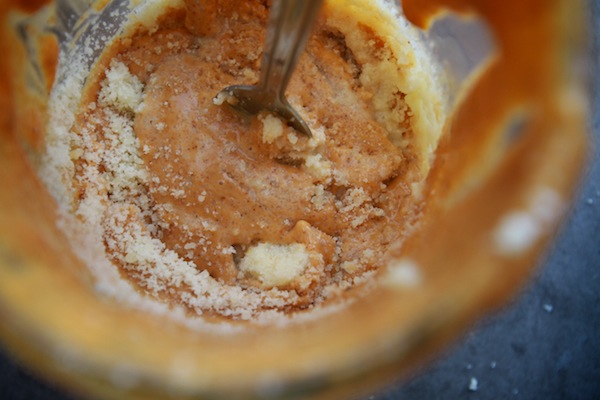 Time to chop up the kale. Remove most of the stems. And CHOP. We want pieces that won't make our mouths have to work extra hard. We want a salad that doesn't require a knife to eat it.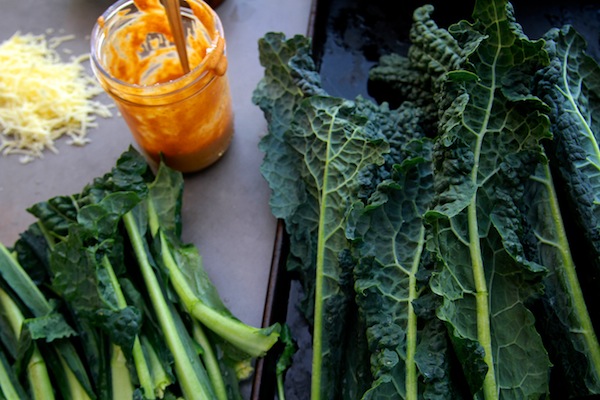 Get out the biggest bowl in your arsenal. We're gonna dress. Hello CROUTONS! I may have gotten into some…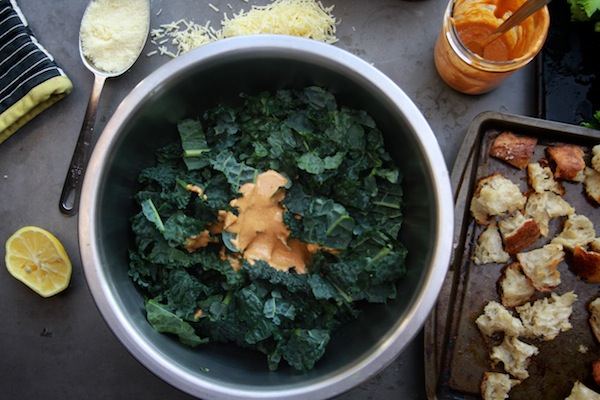 We need to massage the dressing into the kale. It helps make the leaves tender.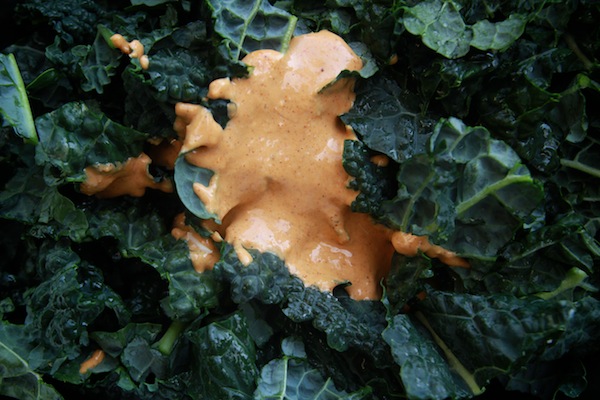 Now we add the cheese. Toss toss. If you let the salad sit for 5-10 minutes the flavors develop and the kale gets tender. Try it. You'll like it.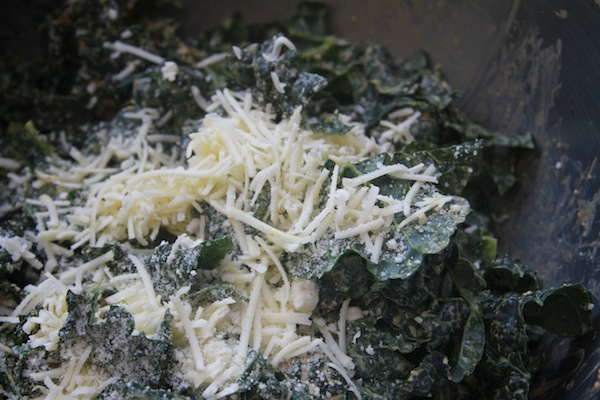 CROUTON TIME.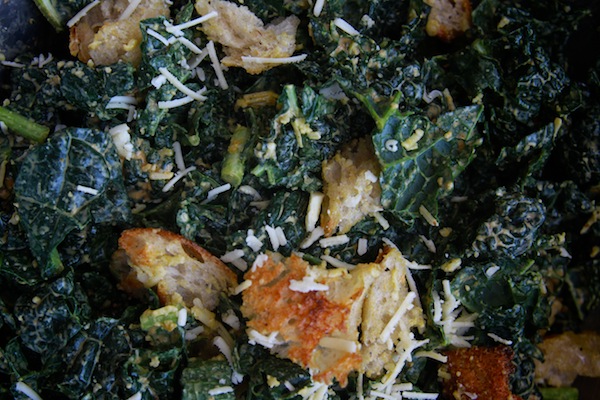 Just one of the 3-4 servings. I made three large servings and ate two large servings.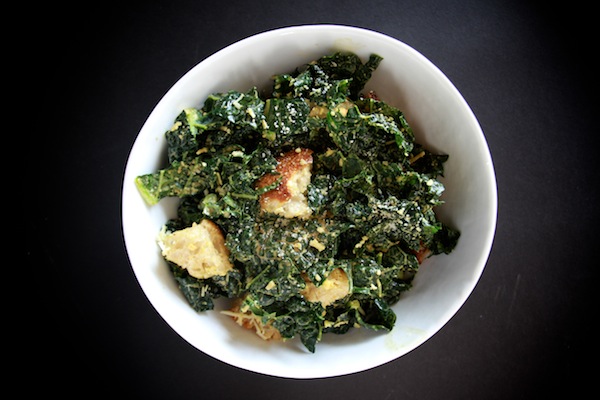 All KALE, Caesar!
Smoky Kale Caesar Salad

makes 3-4 servings

1 tablespoon red wine vinegar
1 tablespoon lemon juice
2 cloves garlic, sliced
2-3 anchovy filets, chopped
1 1/2 teaspoons dried chili powder
1 1/2 teaspoons smoked paprika
salt & pepper
1/4 cup extra-virgin olive oil
1/2 cup Parmesan cheese, grated
1/3 cup sharp white cheddar, shredded
1 egg yolk
9-10 cups lacinato kale, chopped (about 2 bunches)
2 cups torn croutons (see recipe below)

To make the dressing, mix the vinegar, lemon juice, garlic, anchovies, chili powder, and smoked paprika in a small bowl (or wide mouthed jar). Add olive oil and the egg yolk and mix the dressing with an immersion blender until well incorporated. Toss in 1/4 cup of the Parmesan cheese and add salt & pepper to taste. It's best to dip a kale leaf in the dressing to figure out if you need to add more acid or seasoning.

Put the chopped kale in your tossing bowl. Add dressing a bit at a time and mix it up with some more Parmesan and shredded cheddar. It's best to "massage" the kale to help saturate the leaves. Taste to see if it's been properly dressed. Right before serving, toss in the croutons then top with a little Parmesan cheese, and fresh ground pepper to taste.

TORN CROUTONS

half loaf of day old country bread
olive oil
kosher salt
dried herbs (I make a thyme, basil & oregano combo)
garlic powder

Preheat oven to 350 F. Tear bread into 1 inch pieces and layer on a baking sheet. Add a few glugs of olive oil and toss until oil is evenly distributed. Season with a pinch of kosher salt. Place prepared croutons into the oven and bake for 10 minutes, stir and bake another 5-8 minutes (15 minutes total) until golden brown.