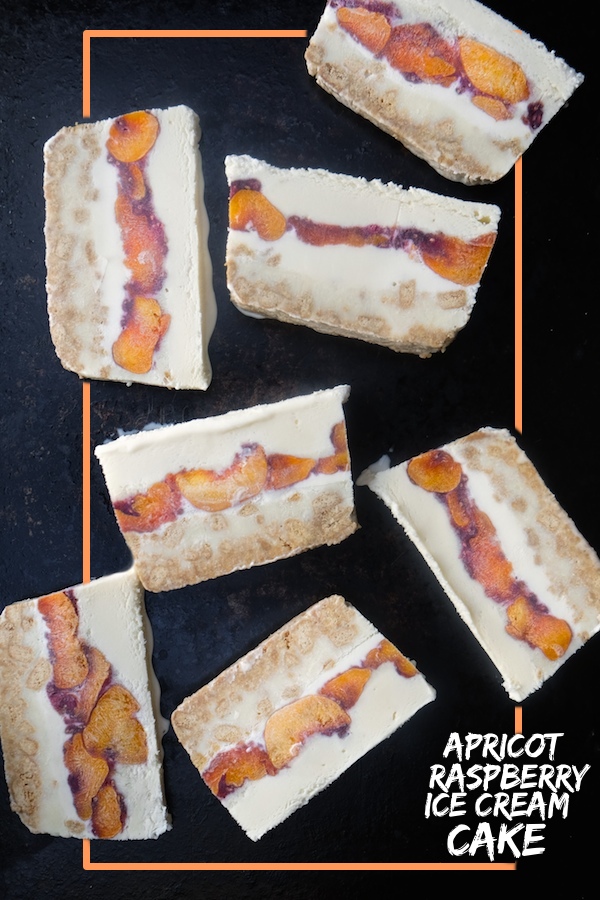 I'm back in the Ice Cream Cake Game. My first ice cream cake was Cookies & Cream  followed by a Raspberry Mango situation and my last one was this wonderful autumnal Pumpkin Gingersnap Ice Cream Cake.  I've been dreaming up combinations and plan to make a banana split cake this summer but I had fruit to roast for my weekly meal prep and so I jumped out of the gate with this beautiful Apricot Raspberry Ice Cream Cake. Ice cream cakes are so easy to make, I'm not sure why I don't make a new combination every week…Oh. I'd probably eat it all. Yeah…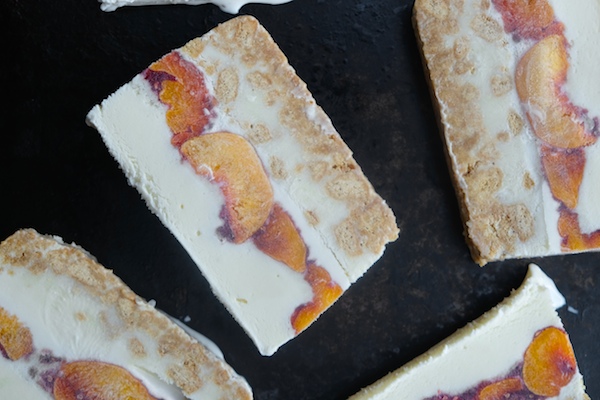 The apricots and raspberries are roasted with honey, vanilla and a pinch of salt. Graham cracker crumbs are tossed with salted butter….layered on the bottom of the cake, followed by melted vanilla ice cream, the roasted apricot raspberry mixture and finished with another layer of vanilla ice cream.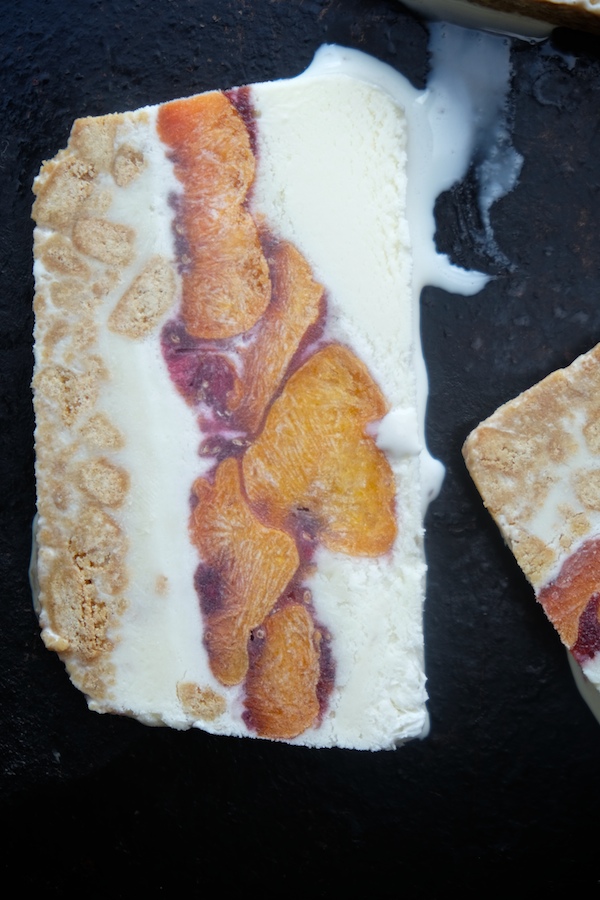 It's delicate and rich. I couldn't stop myself at once slice…. Go ahead, try it. You'll see what I mean.
And we're off!
First we start with roasting fruit.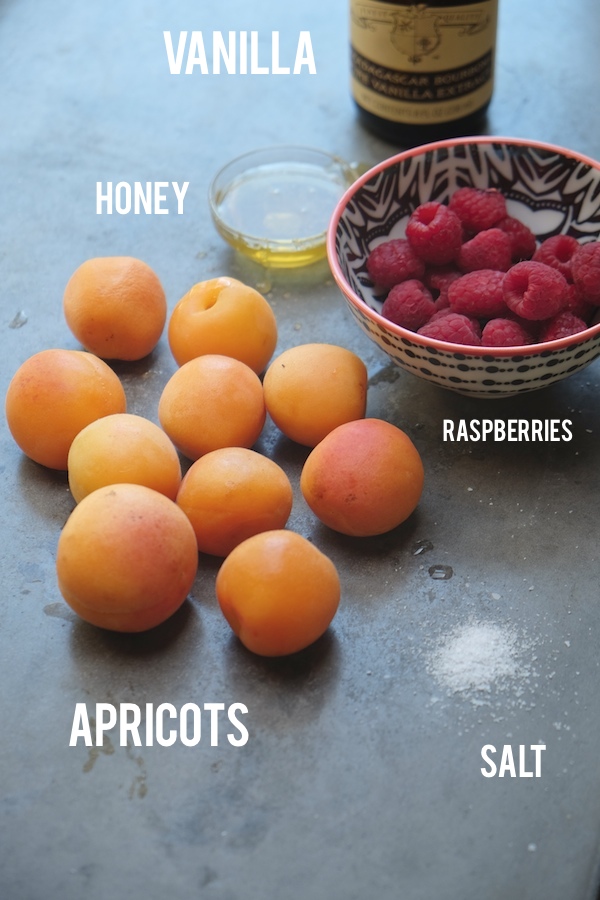 Apricots are halved. They get tossed with raspberries, vanilla, honey and a pinch of salt.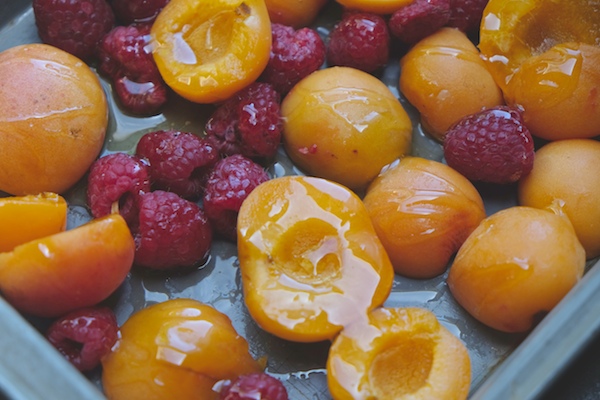 Look at that roasted goodness. Let's prep our cake part.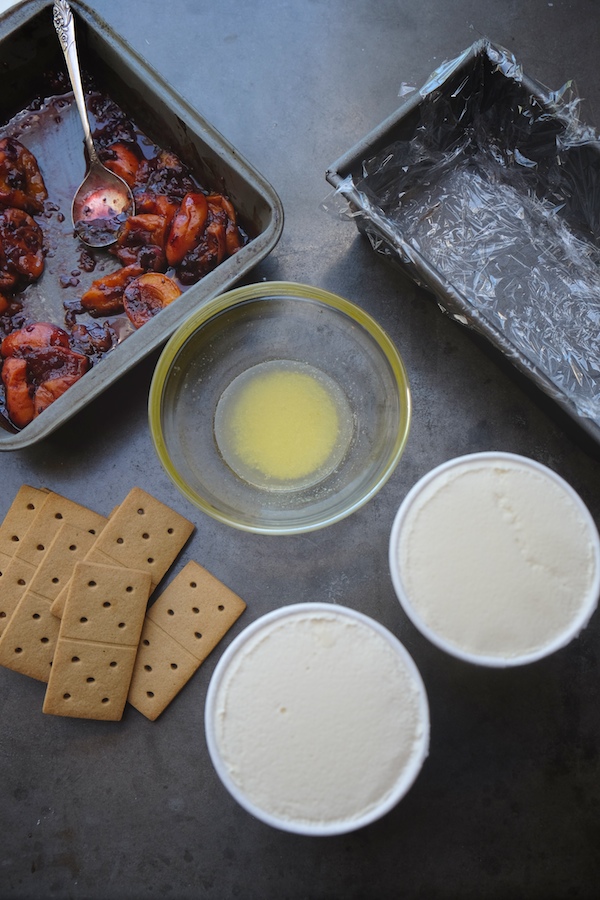 Graham crackers are crumbled. I left quite a few chunks in mine because I want a nice bite.
This cake can be made gluten free (mine was!) using gluten free graham crackers.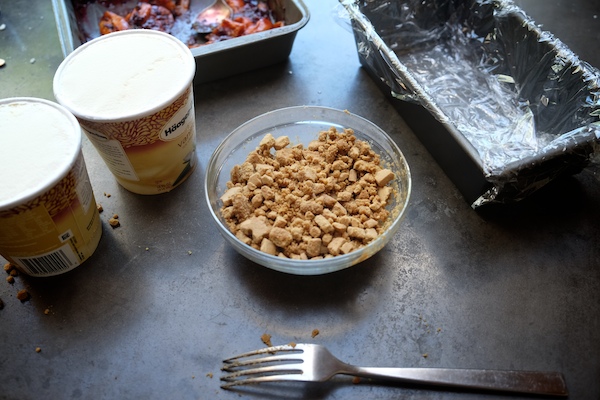 Graham crackers have been mixed with butter. They go into a loaf pan that's been lined with plastic wrap. This makes it easier for you to pull out the cake when it's ready.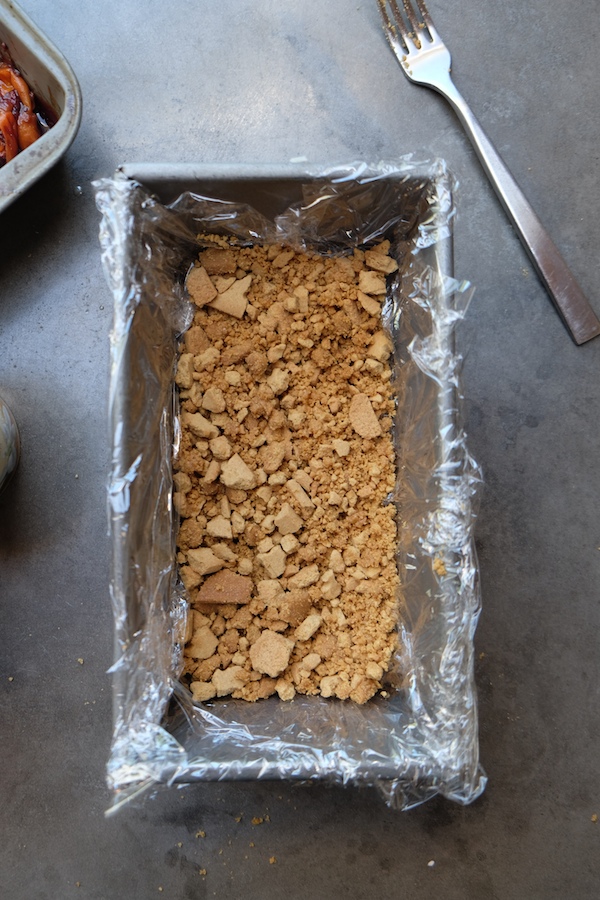 We layer melted ice cream on top of the crumbs.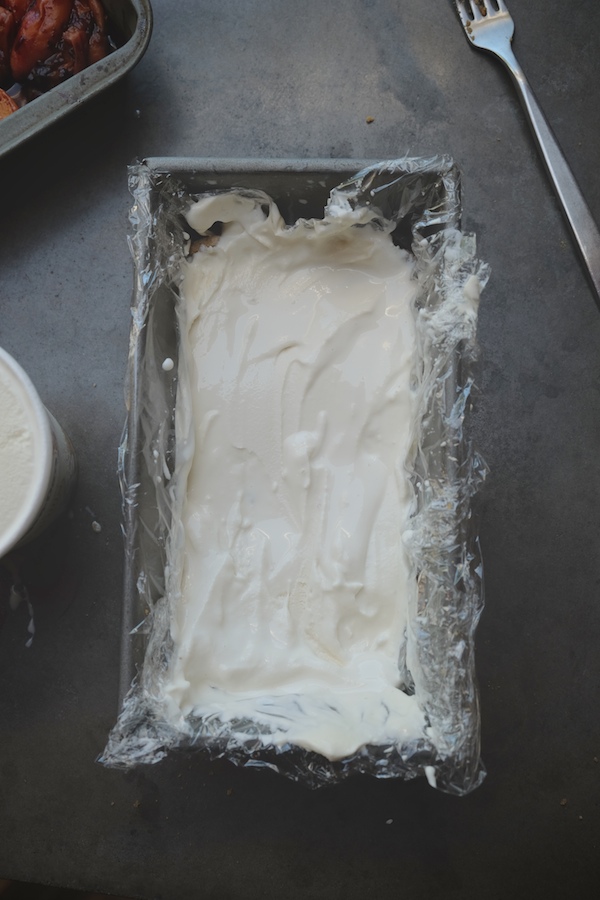 Followed by our delicious roasted fruits.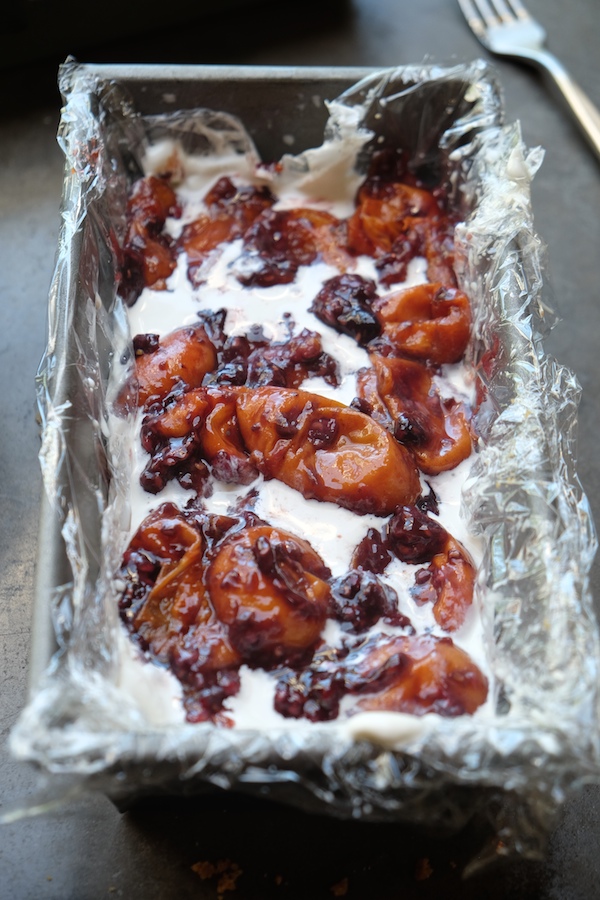 Followed by another layer of ice cream!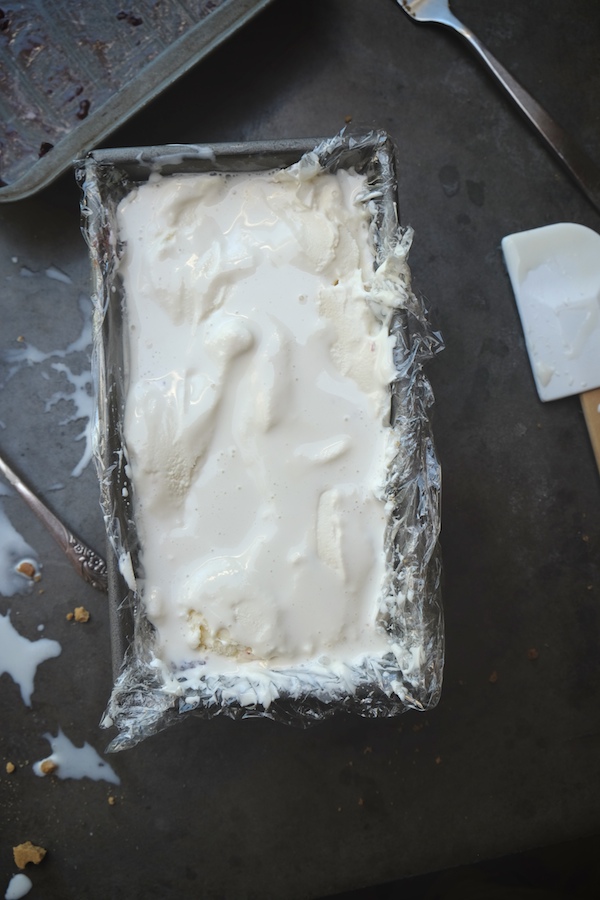 After some time in the freezer we pull it out. Take off the plastic wrap and cut into it.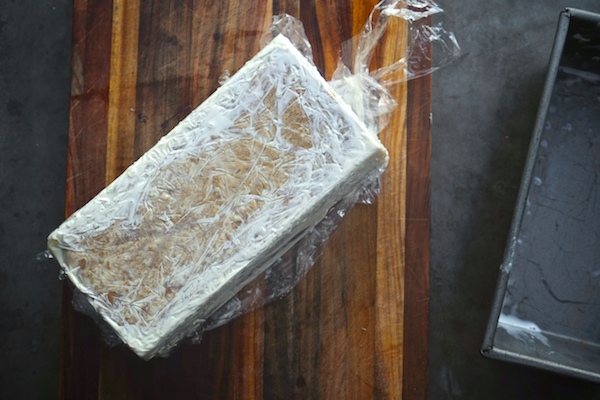 What I love about this cake is that each slice is totally unique. It's like a work of art!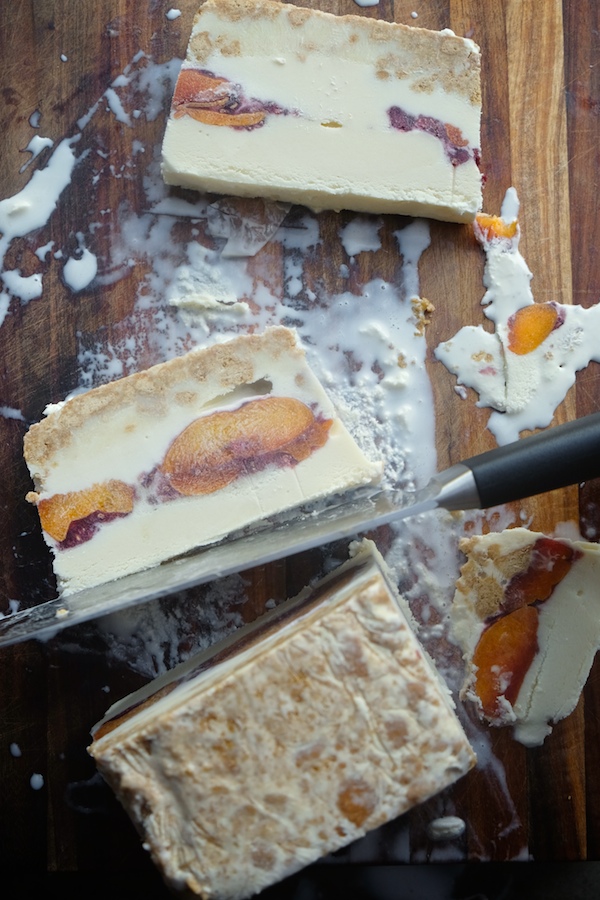 I love how some of the ice cream wen into the cookie crumbs. It's almost like white chocolate.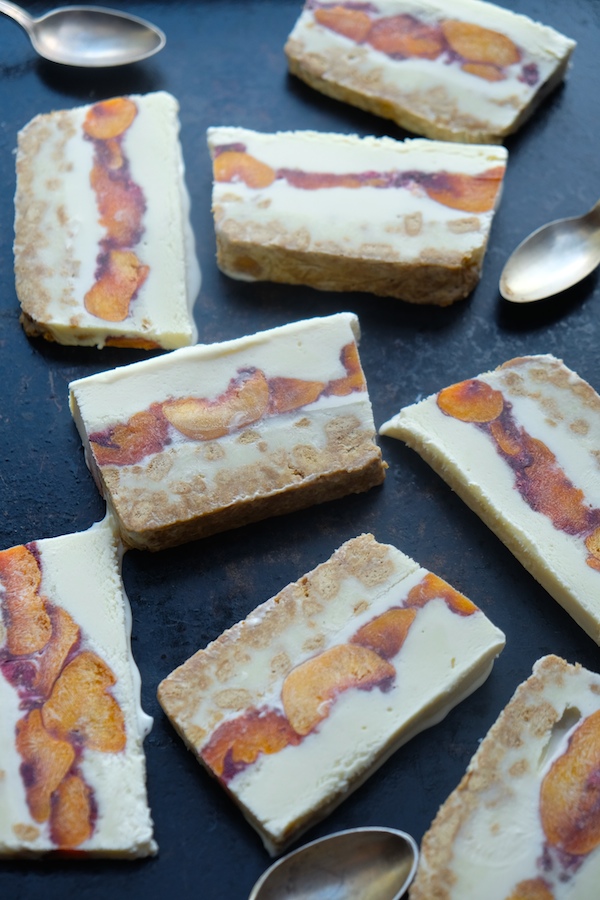 The fruit is sweet, kinda crunchy/icy and totally delicious. I ended up eating the fruit out of a few slices while Cooper finished off the cookie crumbles of the rest. We all have our priorities afterall.
Apricot Raspberry Ice Cream Cake

serves 8-10
1 lb. fresh apricots, halved and pitted (about 10-12)
2 cups raspberries
1 tablespoon honey
1 teaspoon vanilla
pinch salt
12 graham crackers, crushed
2 tablespoons melted salted butter
2 pints vanilla ice cream
Preheat oven to 400F.
Toss apricots and raspberries with honey, vanilla and salt in a 8×8 baking pan. Roast for 25-30 minutes, until fruit has softened and raspberries have released all of their juices. Set aside to cool.
Mix crushed graham crackers and melted butter in a small bowl until well combined; set aside. Let the vanilla ice cream soften at room temperature for about 15 minutes. You want the ice cream to be spreadable. Layer a plastic wrap on a 9 x 5 inch loaf pan. Layer the bottom of the loaf pan with the prepared graham cracker crumbs. Layer vanilla ice cream (1 pint) on top of the graham cracker crumbs. Spread ice cream into the pan with a spatula making sure to push ice cream to the edges.
Layer the cooled roasted fruit on top of the vanilla ice cream and follow with the other pint of vanilla ice cream. Wrap loaf pan with plastic wrap and give loaf pan a few taps to settle the ice cream into the pan. Freeze for at least 4 hours to make sure the ice cream has hardened. To serve, pull the ice cream cake out of the pan and slice into thin pieces with a sharp knife.