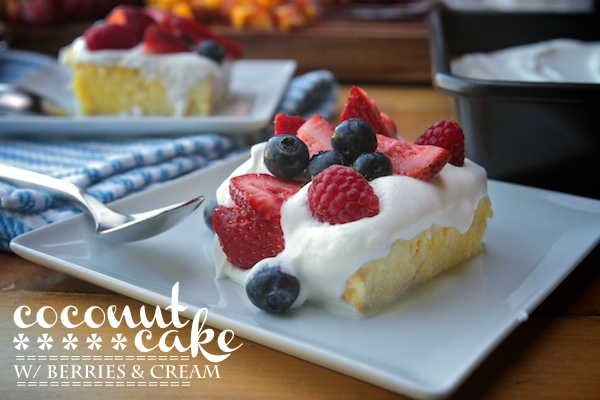 Do you ever look at the serving amount on a recipe AFTER you've made the recipe and think
UHHH…UMMM…WOOPS?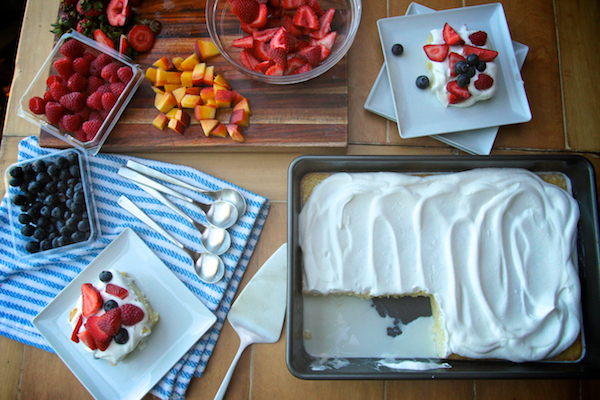 REAL TALK: I never really pay attention to serving amounts when it comes to baking. Unless I HAVE to bring something to a party and wanna make sure I have enough.  Things get difficult when I make a big batch of something (ahem, COCONUT CAKE) and realize there's only three of us actually eating it. Whhhhhyyyy are my neighbors out of town?!  If the cake wasn't so amazingly bonkers (first post using the word bonkers!) it wouldn't be a problem…but now I have the rest of the week to finish it.
And that's only a problem because I can't stop myself from eating it. It's so bad that I have a spoon in my fridge right now so that whenever I open the fridge I can swipe a bite. I'm not sure if that's me being plain lazy or straight up genius. I'm going with genius.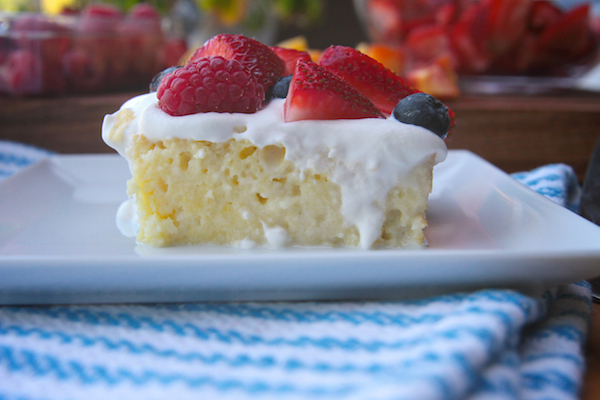 So what's it like? Imagine a tres leche cake made with coconut milk and a heavy dose of coconut flakes up in the batter. It's kinda wet, a little spongy, sweet, creamy and nicely berry topped. It's super light & refreshing because it's cold! I think I figured out what you're making for 4th of July this year. I can assure you it most certainly makes enough for a crowd! Oof.
And we're off!
Ingredients!!! I didn't use that big bowl. I did use it to store my measuring stuff.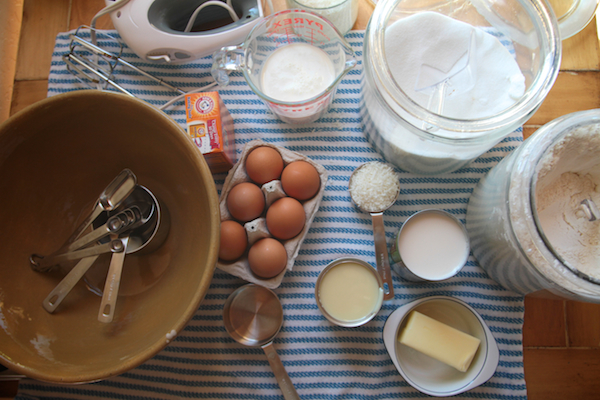 I used my favorite metal one instead. Ahh comfort. Separate the eggs. Whip up the egg whites.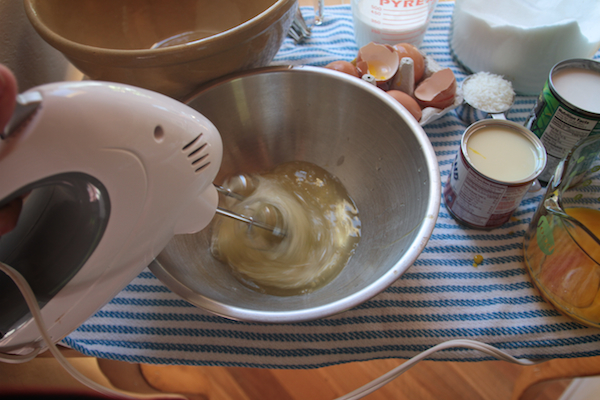 Go melt the butter! Now add in the egg yolks. Beat them in. Slowly add in the coconut flakes. FOLD.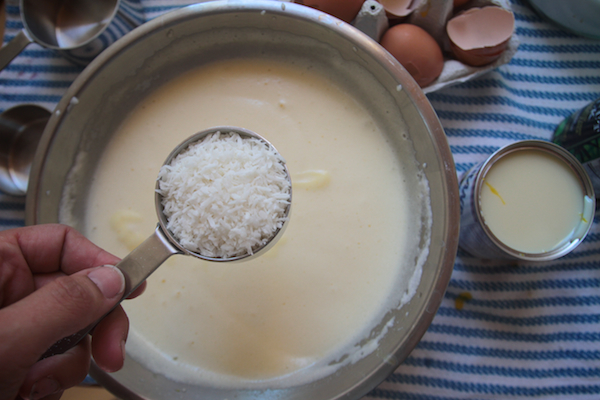 Now add in the butter. My hand is doing weird things here. Just look at the BUTTER, would ya?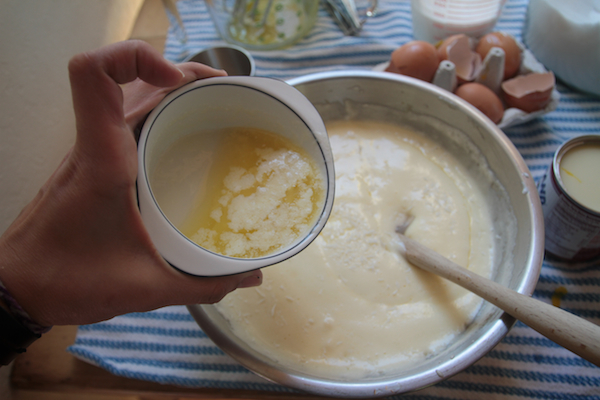 Now add in the flour. 1/4 cup at a time. Fold it in!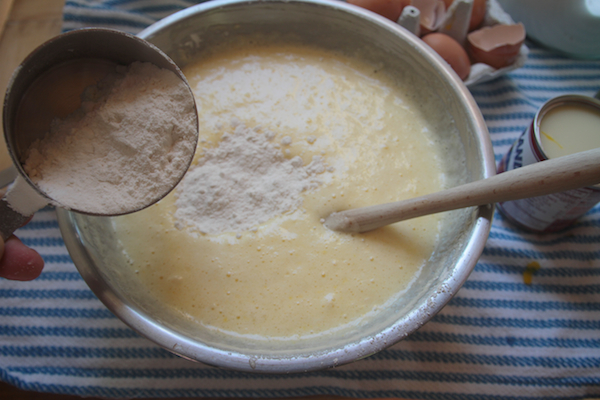 Pour the batter into the prepared pan. I used cooking spray, not butter to grease it up. Worked perfectly!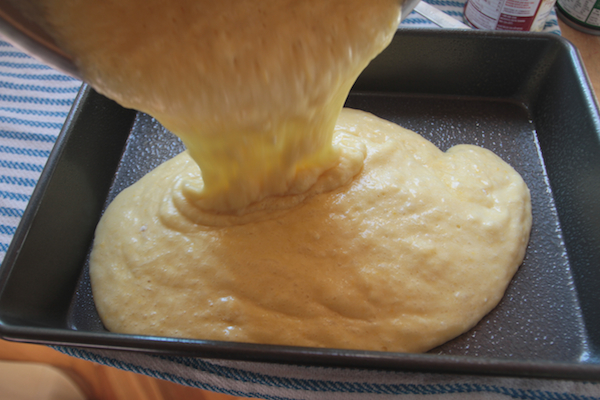 Now the cake bakes. You have to get your three milks. HELLO TRES LECHE!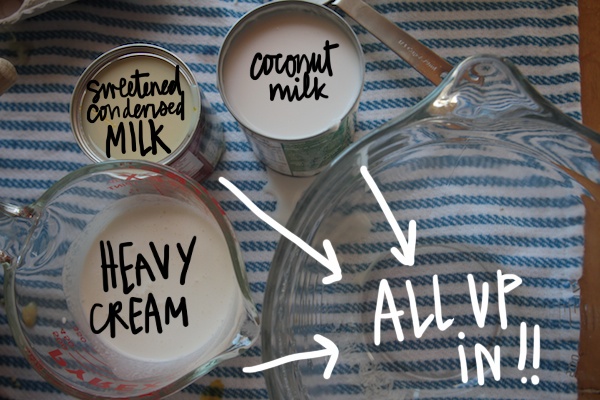 Cake is baked and it when it comes out, you pour the milk mixture on top. It all soaks in!
Let it hang out in the fridge for 5- 8 hours. You can see this is morning light in my kitchen.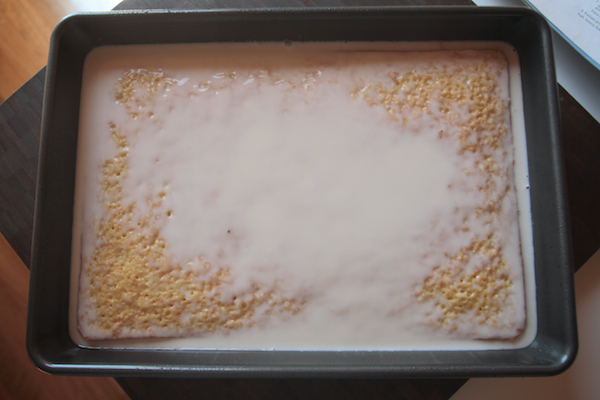 Hello afternoon light! Hello BERRY PARTY.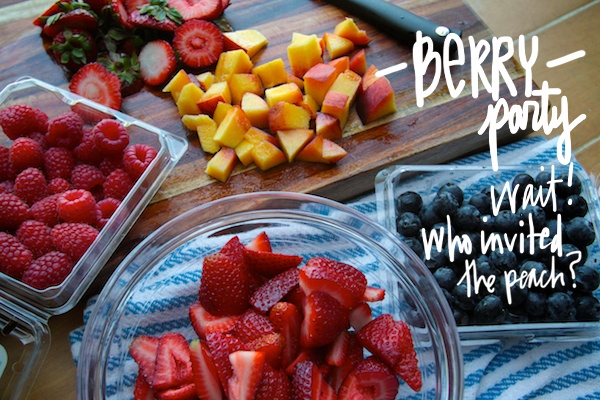 Make some whipped cream with the remaining cup of heavy cream.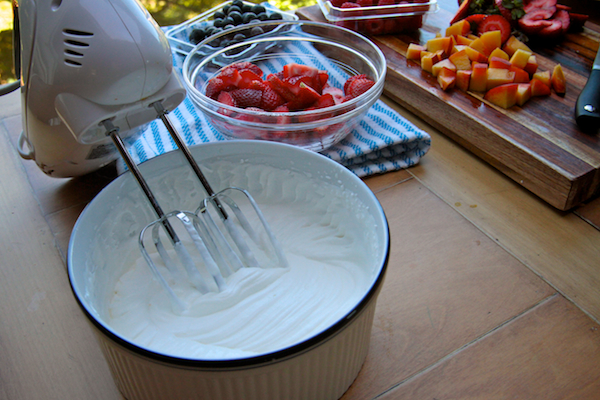 Spread the whipped cream on the cake.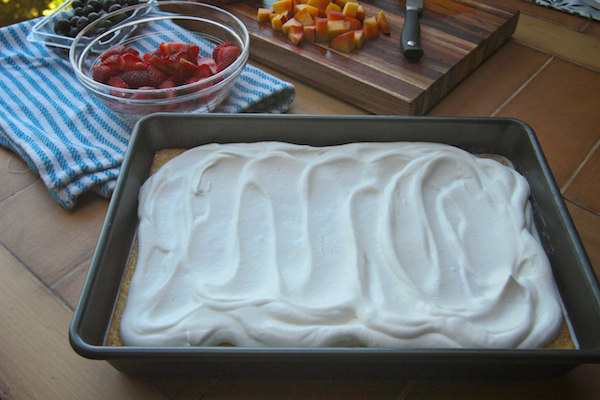 Serve it up with berries…and a peach…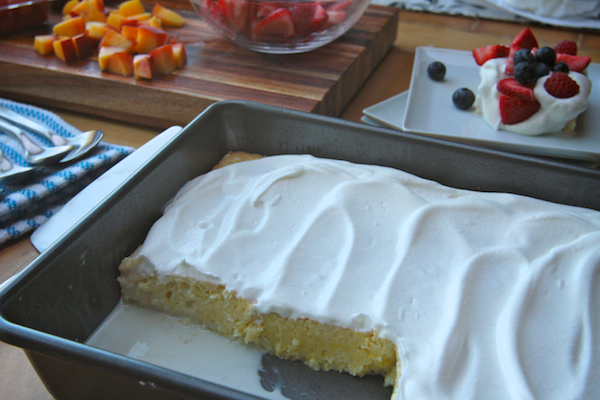 It's nice & coconuty!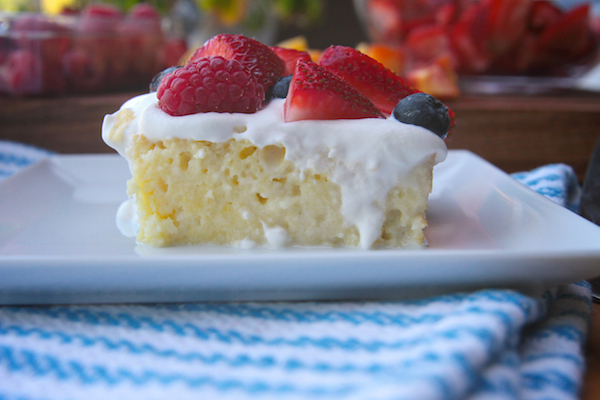 Yer gonna love eating all 12-14 servings. Haha. Just kidding. SHARE.

Coconut Cake with Berries & Cream

serves 12 to 14

(recipe slightly adapted from Martha Stewart Living)

1 stick unsalted butter, melted & cooled, plus more for pan
6 large eggs, separated
1/2 teaspoon baking soda
1/4 teaspoon salt
1 cup sugar
1/3 cup flaked unsweetened coconut
1 cup all-purpose flour, divided
2 cups heavy cream, divided
1 can (14 oz.) light unsweetened coconut milk
1 can (14 oz.) sweetened condensed milk
3 cups mixed berries for serving

Preheat oven to 350F. Generously butter a 9×13 inch baking pan. Whisk together egg whites, baking soda & salt with a hand-mixer (or stand mixer) until soft peaks form, 4 to 5 minutes.

Add yolks to egg white mixture and whisk until completely combined. Gradually add sugar, and whisk until combined. Fold in the butter and coconut with a rubber spatula.

Sift 1/4 cup flour onto mixture, fold to combine. Repeat with remaining flour, folding in 1/4 cup flour at a time. Pour batter into pan; bake until golden and toothpick inserted into the center comes out clean, 18-20 minutes.

Meanwhile, whisk together 1 cup heavy cream, the coconut milk and the condensed milk. As soon as cake is removed from the oven, pour cream mixture over cake. Let cake cool completely in pan on a wire rack. Cover cake with plastic wrap, and refrigerate at least 5 hours and up to 8 hours.

Just before serving, wish remaining cup heaving whipping cream until soft peaks form, and spread over cake. Serve with mixed berries.