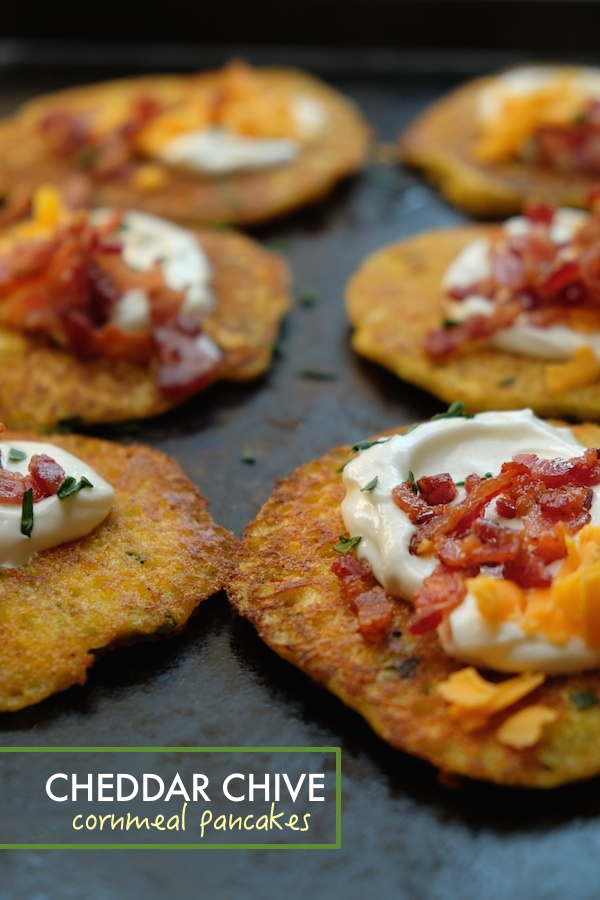 New recipe! Cheddar Chive Cornmeal Pancakes
I've never had breakfast in bed. I've also never had a surprise birthday party thrown for me.
Parts of me feel slighted by this….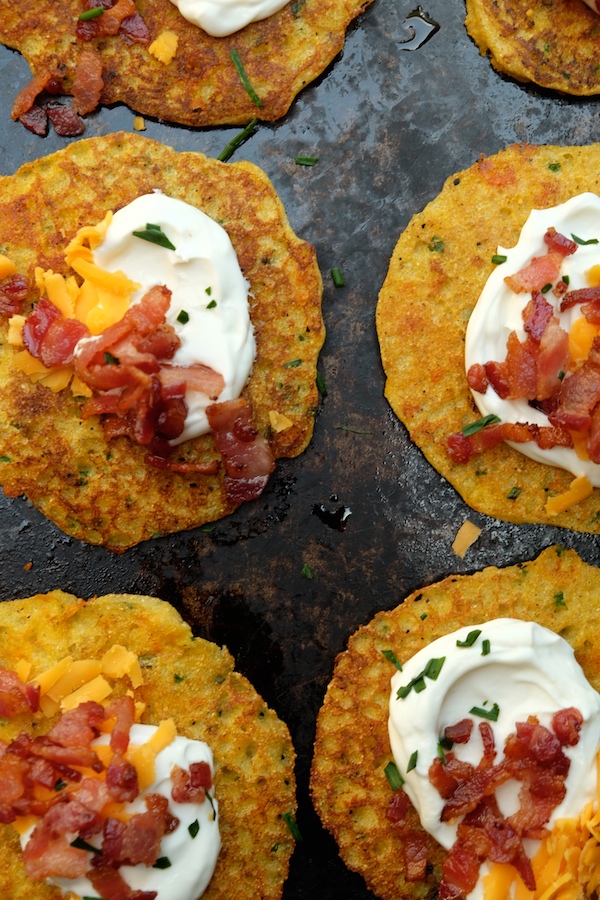 And then I feel cool about it. Because having crumbs in my bed…and spilling coffee all over my sheets (which HELLO! that's a given for a klutz like me) while trying to read the paper that I don't normally read is not my idea of a good time. Also, if I'm not wearing the cutest outfit or have good makeup during this hypothetical surprise birthday party situation, you best believe my attitude is going to ruin the night. Not in a diva way, it's just that you might not get the satisfaction you desire from throwing a surprise birthday party from me.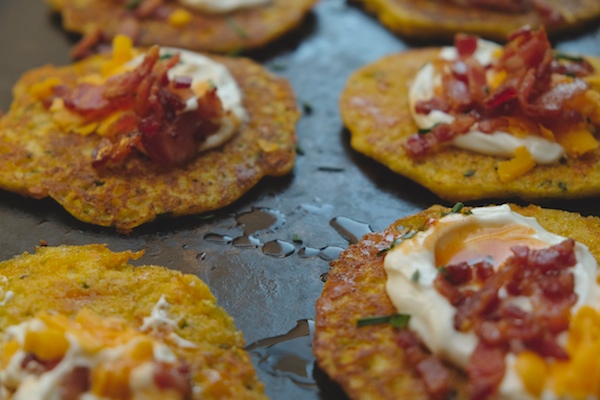 I made these cornmeal pancakes on Saturday for my blog and we had leftovers for Mother's Day breakfast. No, I'm definitely not bitter that I didn't get breakfast in bed. But maybe I am a little bitter I had to make my own coffee 😉 However, my boys did spoil me with plants + planters and that's all this crazy plant lady needs. These savory cornmeal pancakes were one of the best things about Mother's Day (besides spending the day with my Mama!). Waking up to cheesy, chivey, crispy and DELICIOUS cornmeal pancakes with bacon, Greek yogurt (I used full fat!) and smashed avocado & egg was sheer perfection. And! I didn't even have to worry about getting food on/in/between my sheets.
And we're off!
This recipe comes from my crazy talented writer friend Cheryl's new book, Yogurt Culture.
Everything you want to know about yogurt is in this book! From sweet, to savory, to yogurt mix-ins & toppings, Cheryl has you covered. There are so many recipes I want to try! I'm thinking of making her pineapple lassi very soon.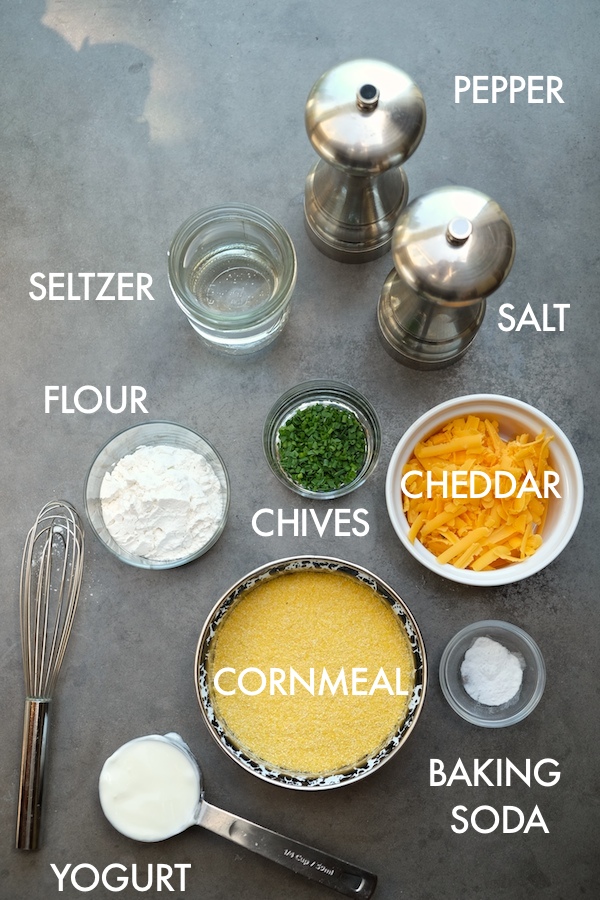 To make these cornmeal pancakes, it all starts with the batter.
You'll need some time to let this develop. The seltzer and yogurt keep them light!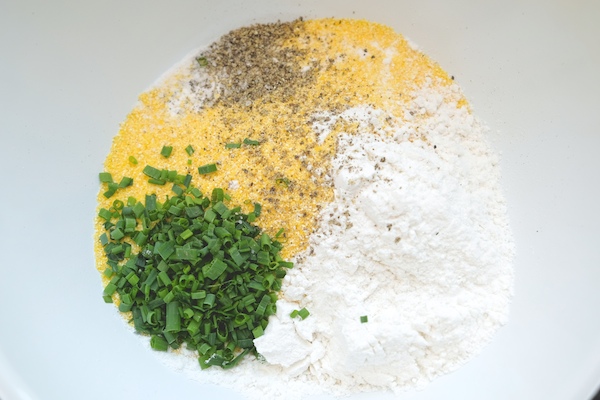 In with the seltzer. In with the yogurt. An hour…. and…..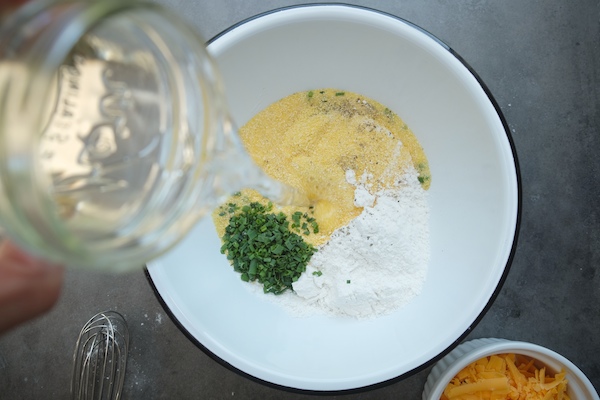 CHEESE!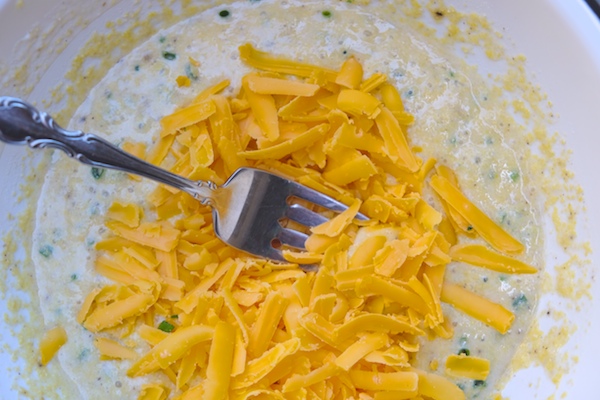 Butter a skillet. Cook each pancake. I made these larger but you can half the size of each pancake and make 16 instead of 8.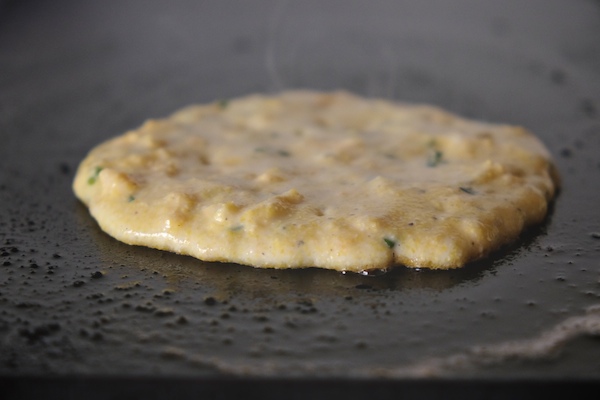 Flipped! If you look closely, you can see cheese ooooooooozing out of the pancake.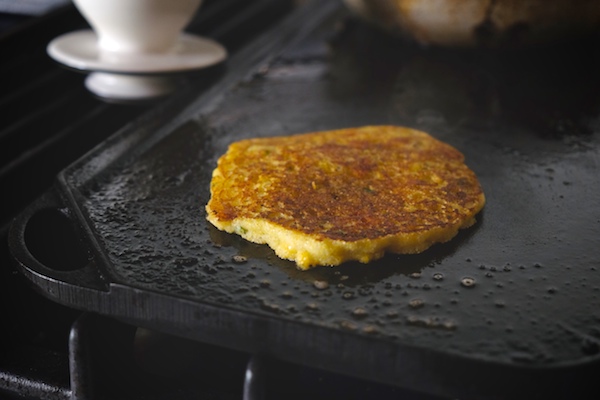 Did I mention the bacon?!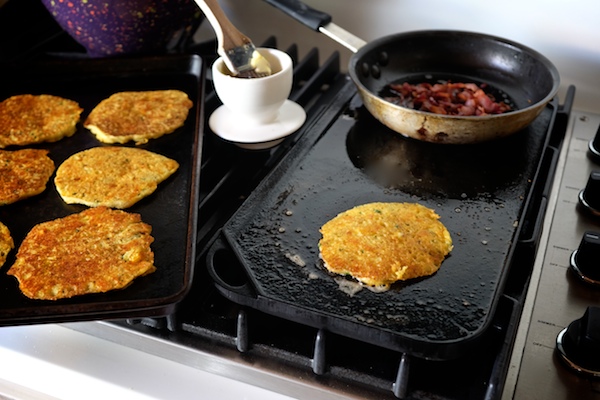 We're topping them with bacon & chives ANNNNND cheese ANNNNND hot sauce.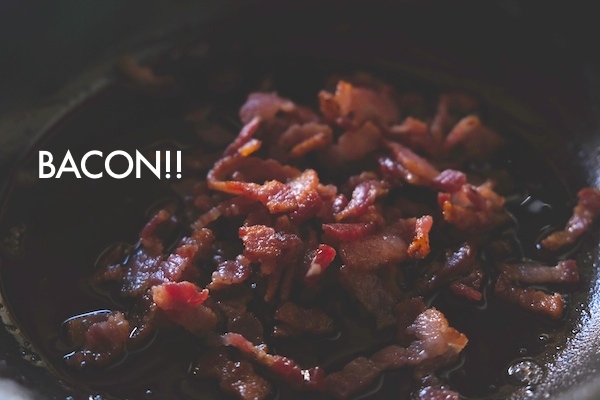 SEE?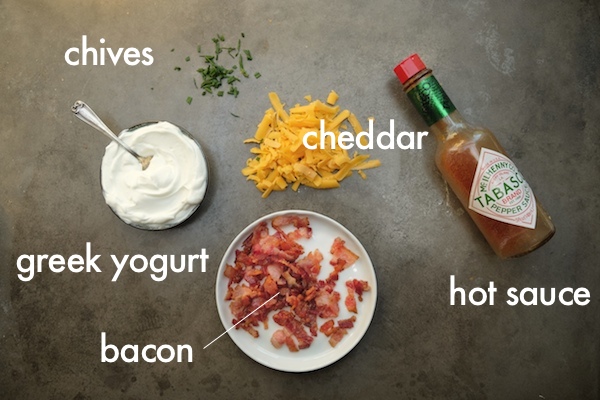 Ready to be topped.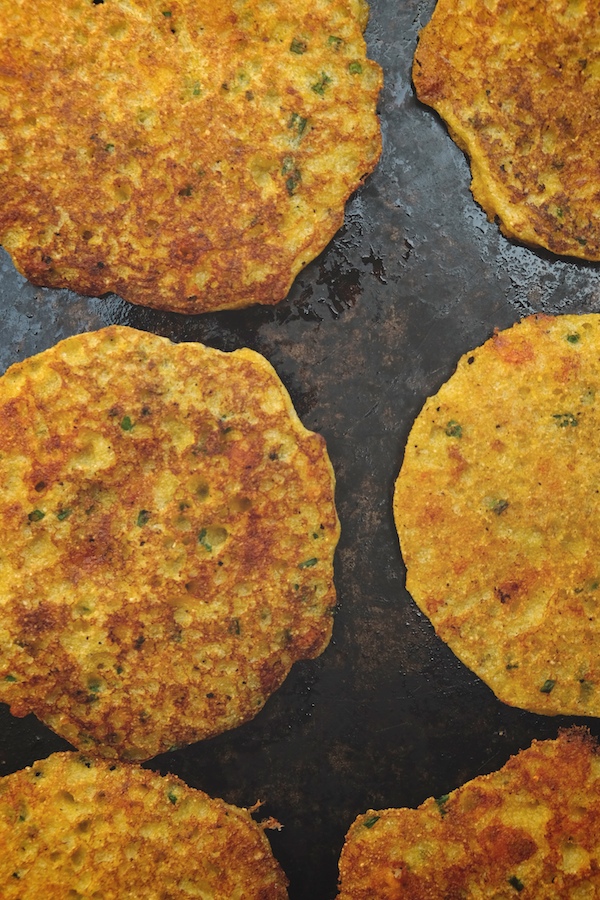 Hello Greek Yogurt. I'm so glad you're full fat.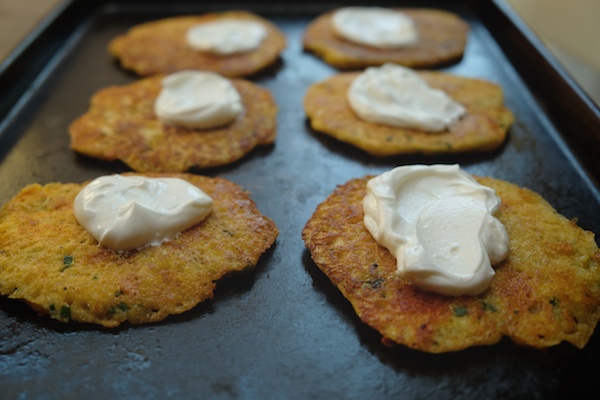 Have mercy.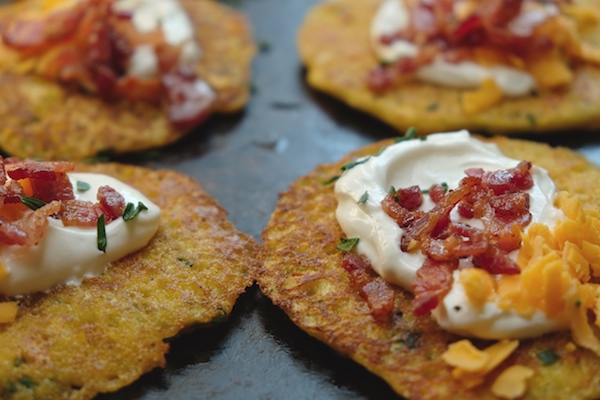 The other two? Well I ate those. Hey! At least I saved 6.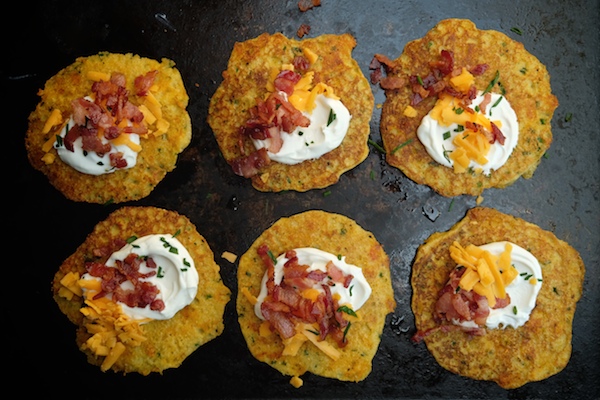 And then one by one….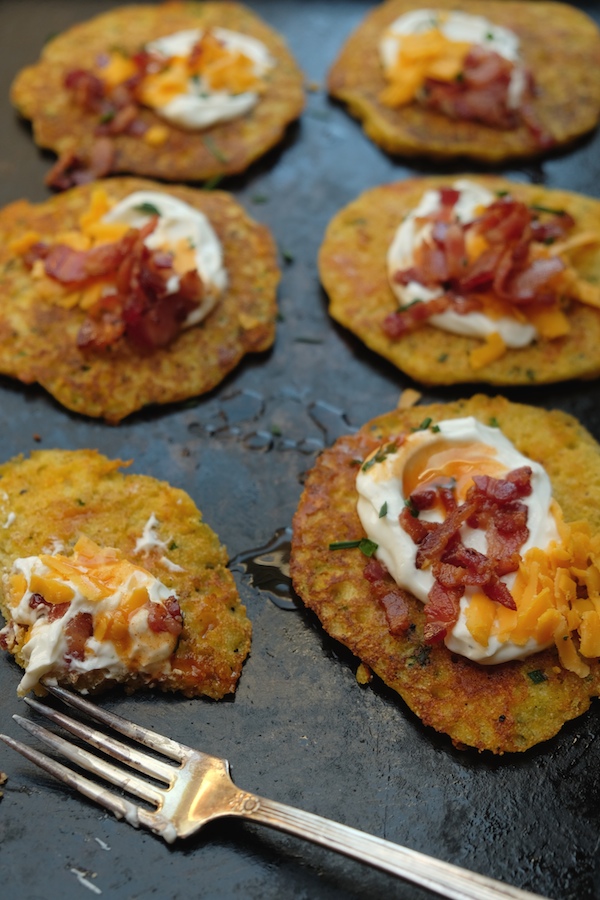 They all magically disappeared.
LEFTOVERS!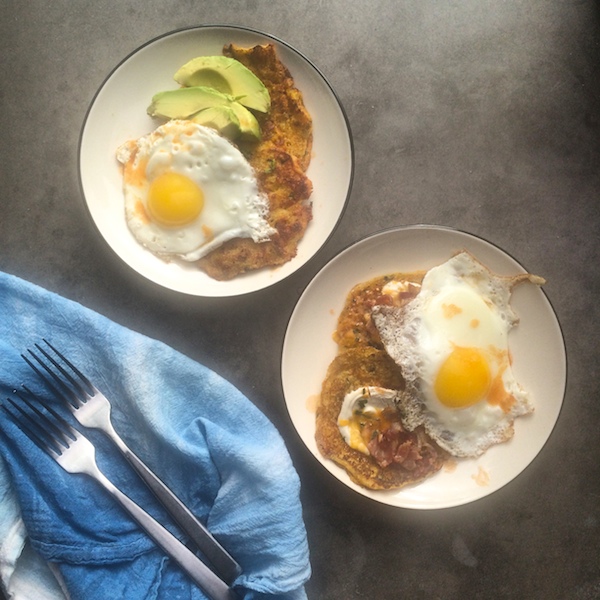 Here they are with eggs. If you make these on a weeknight, just heat them up in a skillet the next day. Add an egg! Breakfast for dinner!
Cheddar Chive Cornmeal Pancakes

makes about 8 pancakes

recipe slightly adapted from Yogurt Culture

3/4 cup medium-grind cornmeal
1/4 cup all-purpose flour
3 tablespoons minced fresh chives
1/4 teaspoon baking soda
3/4 teaspoon kosher salt
1/4 teaspoon freshly ground pepper
3/4 cup plain seltzer
1/4 cup plain whole milk yogurt
3/4 cup shredded sharp cheddar cheese
2 to 3 tablespoons melted butter, for brushing skillet
plain Greek yogurt, for topping
crumbled cooked bacon, for topping
minced chives, for garnish
hot sauce, for topping

In a medium bowl, whisk the cornmeal, flour, chives, baking soda, salt and pepper. Add the seltzer and yogurt and whisk thoroughly to combine. Cover and let stand at room temperature for 1 to 3 hours. Stir in the cheese.

Heat a cast iron skillet over medium-high heat until a drop of water on the skillet sizzles and evaporates. With a silicone pastry brush, coat the skillet generously with melted butter. Cook a test pancake to gauge the heat, using about 1/4 cup of batter per pancake. Cook the pancakes in batches until golden brown, about 3-4 minutes per side, brushing the skillet generously with butter between each batch.

To serve, dollop each pancake with Greek yogurt, sprinkle with the crumbled bacon, chives and a few dashes of hot sauce. Serve hot.