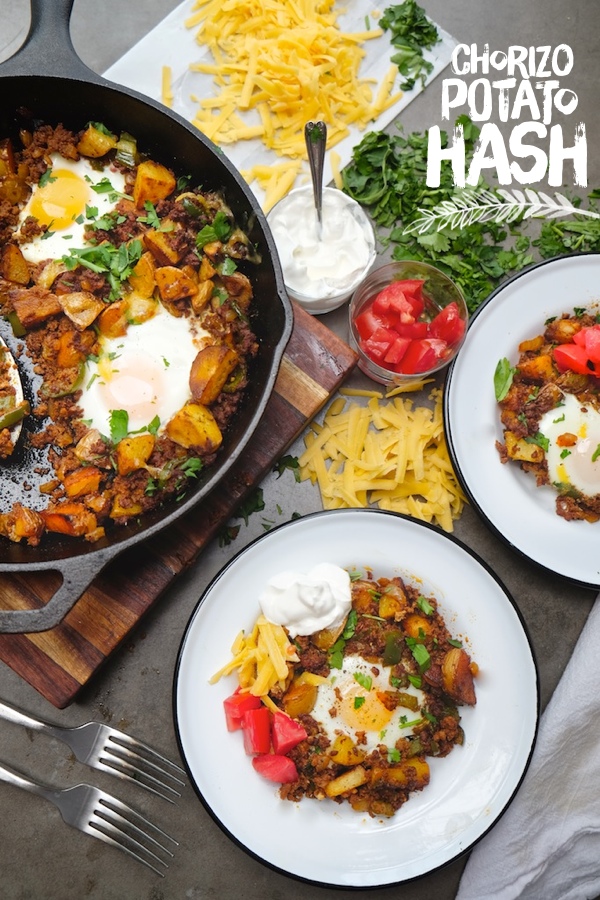 Check out this Chorizo Potato Hash!
Someone asked me what my favorite thing to make was and I said breakfast. Mostly because it's something easily served family style and if I'm eating breakfast, there's usually time to sit down and savor the morning. As working parents, my husband and I often say "Uggh, I can't wait to enjoy coffee this weekend." And when we say enjoy, it means we're not just gulping down the fuel we need to race out of the house for school drop off and the work hustle.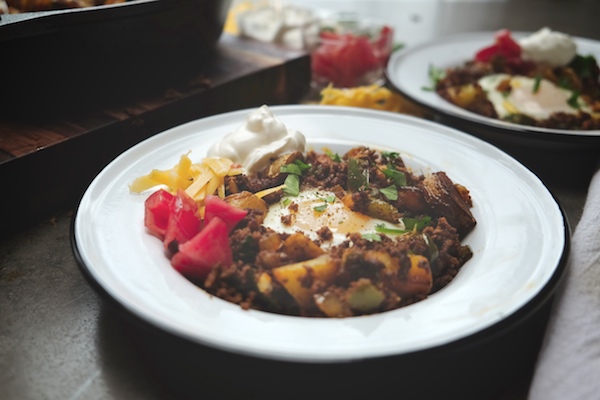 So with our second cup of coffee, we have breakfast. This is what we had yesterday.
If meat and potatoes are involved my husband is ALWAYS all in. I'm in it for the sour cream.
Let's be honest.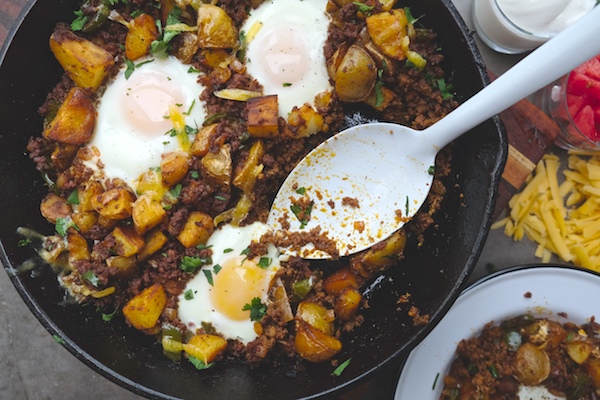 With a few simple ingredients we have an incredible breakfast (for dinner!) option. The potatoes are crispy perfection…spiced to the max with the smokey chorizo. The green pepper, onions and jalapeños have somehow added a nice sweetness to the hash while the eggs, cheese and cilantro are the fancy accessorizes needed to complete this dish. Another one to throw in the our meal rotation!
And we're off!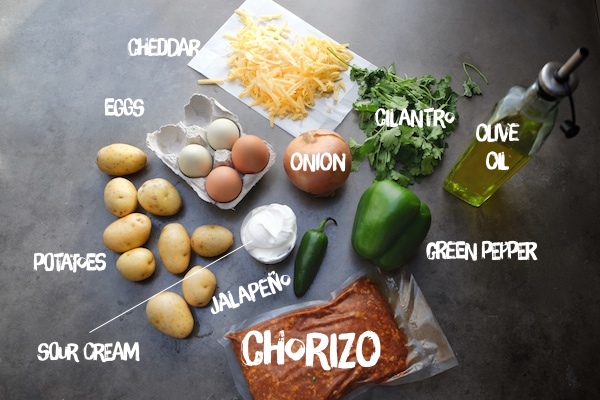 First step is boiling the potatoes. We chop them up.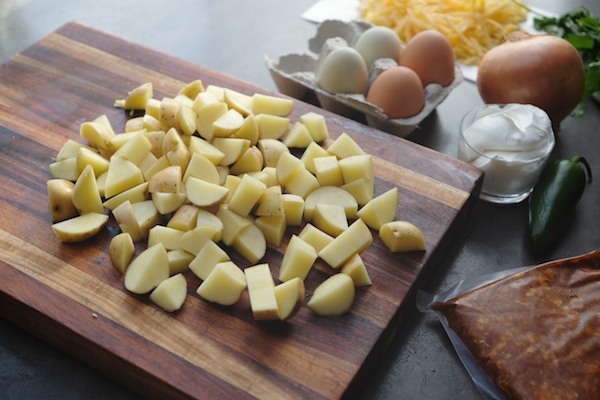 And boil them until just tender. Set aside.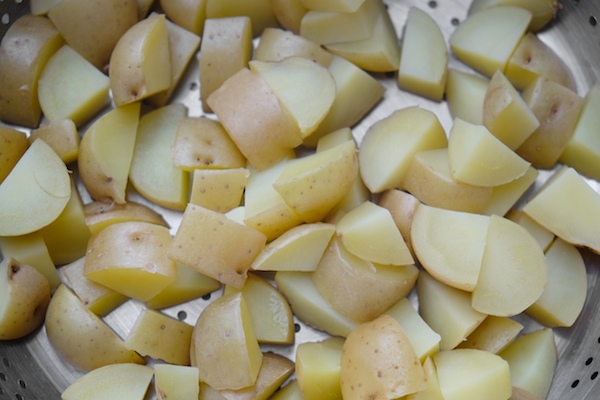 Chopped onions, green pepper, and jalapeño.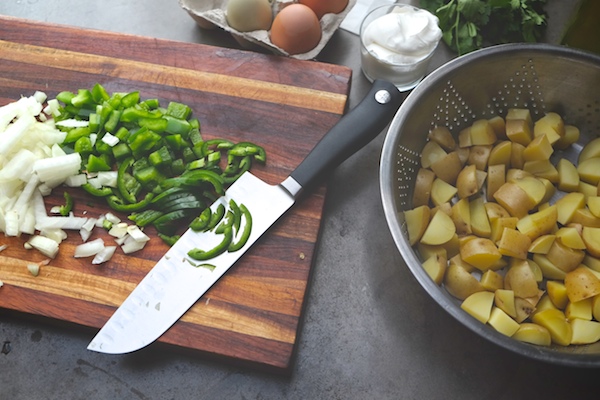 Chorizo goes into the skillet.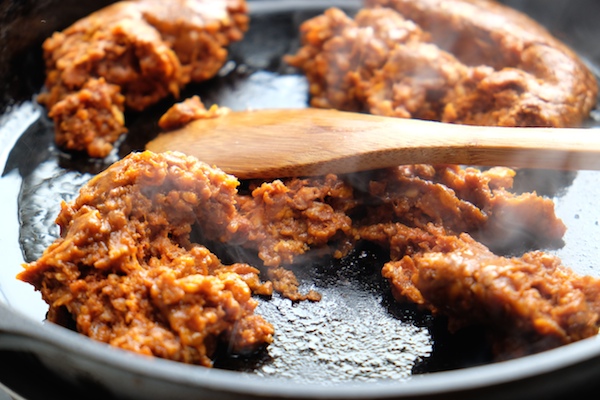 After cooking for a while we add in the onions, jalapeños, and green pepper.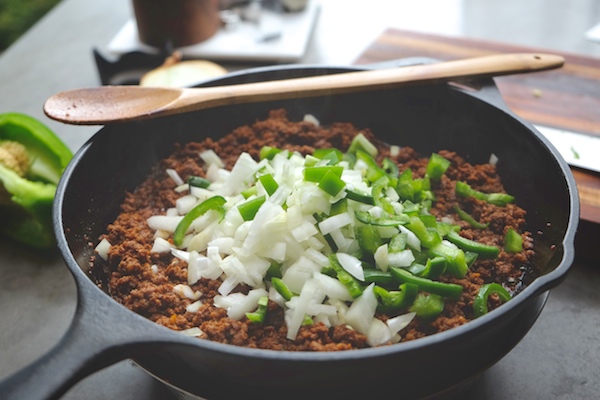 BAM!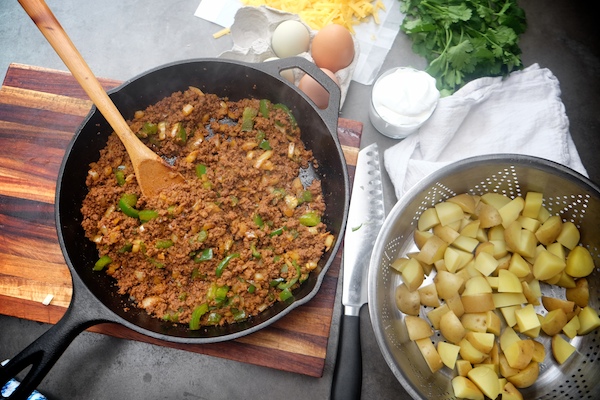 Remove the chorizo from the skillet. Leave the fat in there. Add some olive oil and cook the potatoes.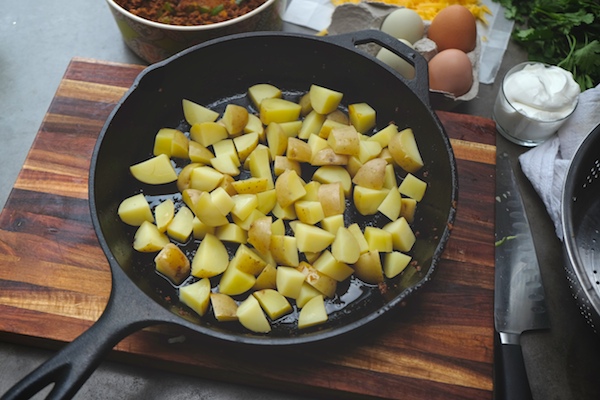 To get them nicely browned stir them ever 5 minutes or so. Add a little bit of additional oil during this process.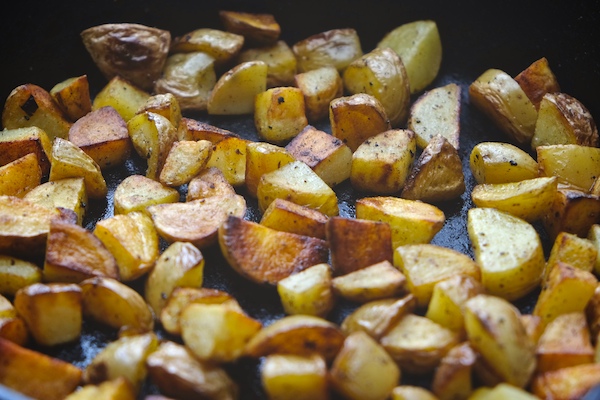 Chorizo gets mixed in with crispy potatoes.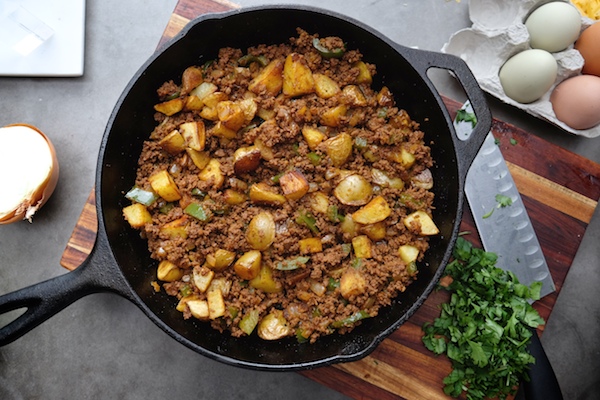 Make four wells.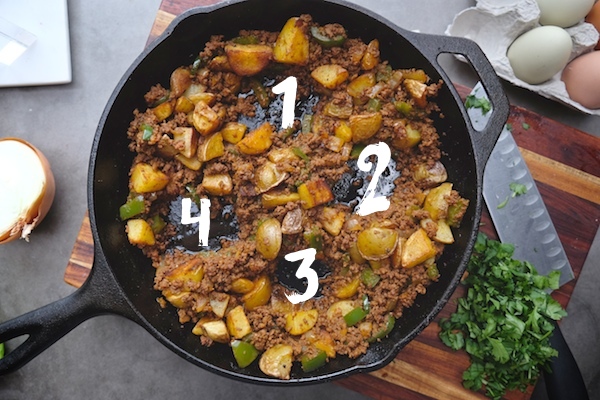 Crack an egg in each. I cracked each one in a small mug and then placed them in.
You don't wanna crack a yolk by mistake…and if you do that will save you!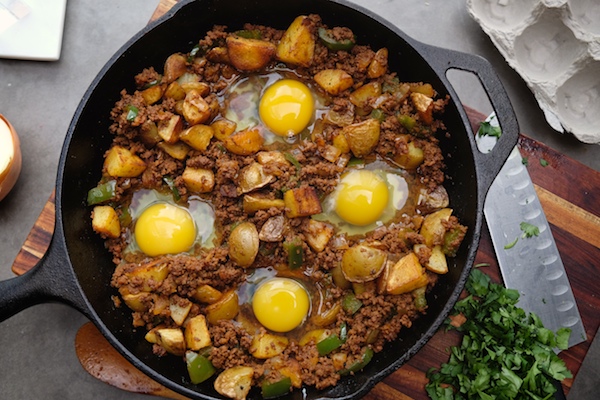 BAKED!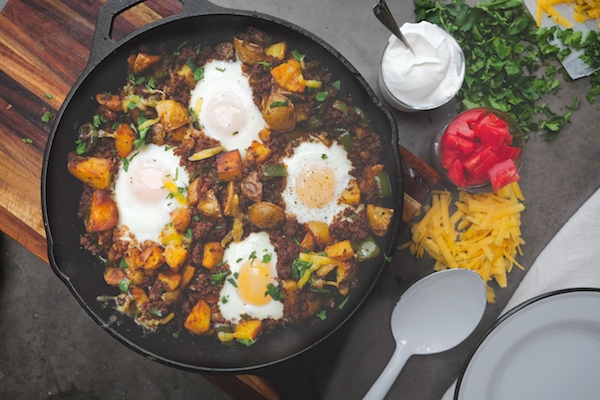 Serve it up!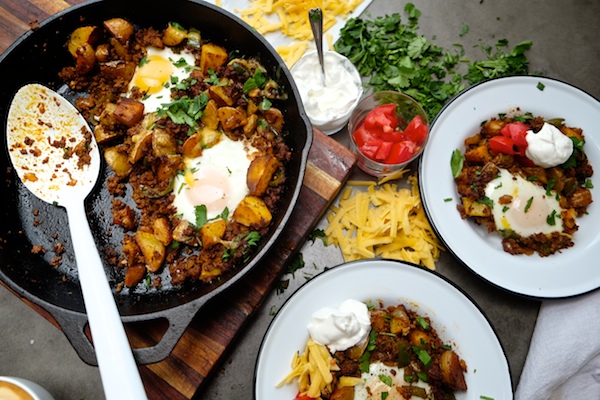 Eat it UP! Do me a favor and add avocado to yours. I WAS OUT. #sacrilege
Chorizo Potato Hash

serves 4

1/2 pound yellow potatoes, cut into 3/4- to 1/2-inch dice
kosher salt
1lb. ground pork chorizo
3-4 tablespoons olive oil, divided, plus more as needed
1/2 yellow onion, diced
1 jalapeño roughly chopped (seeds & membrane removed)
1 green pepper, cut into 1/2-inch dice
freshly ground pepper
4 eggs
1/3 cup roughly chopped fresh cilantro leaves
1/4 cup shredded sharp cheddar
1/4 cup sour cream
chopped tomatoes, for serving

Preheat oven to 375°F. Place potatoes in a large saucepan of boiling water. Cook until potatoes are just tender, about 5 minutes. Drain potatoes in a colander and set aside.

Meanwhile, place chorizo in a cast iron skillet with 1 tablespoon olive oil over medium heat. Cook, stirring and breaking up meat until some parts start to crisp, about 5 minutes. Toss in onions, jalapeño, and green pepper and cook with the chorizo until onions become translucent, about 5 minutes. Remove chorizo mixture, leaving fat in skillet and transfer to a bowl. Set chorizo aside.

Add 2 tablespoons of olive oil to the skillet. Add the potatoes and cook, stirring occasionally until potatoes are crispy browned on all sides, about 15-20 minutes. If you find any potatoes sticking add additional oil. Stir in the chorizo mixture, season with fresh ground pepper. Using a spoon make 4 wells in the chorizo hash. In a small bowl, crack each egg one at a time and transfer each to an empty well in the skillet. Place skillet in the oven and bake until whites are set, about 8-10 minutes. Remove from the oven, sprinkle chopped cilantro on top. Serve with a a generous sprinkling of shredded cheddar, a healthy dollop of sour cream, chopped tomatoes and hot sauce. It's important to serve fast as the residual heat from the skillet will continue to cook the eggs.