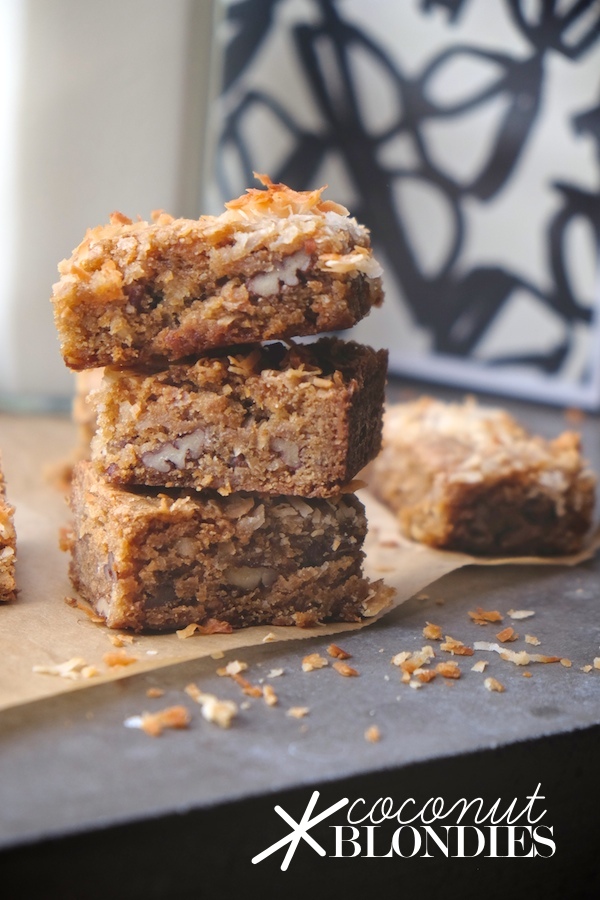 Life is all about managing expectations. After many years of doing this whole Christmas thing, I can say with confidence that things are bound to go wrong.  Last year I had a whole slew of packages stolen from our mailbox and spent hours on the phone with Amazon. This year, I rushed our holiday cards to our house, paying extra for the service and they came to our house looking perfect, except that our cards were from The Hudson Family, instead of the Benjamin Family. The situation got itself worked out. Cards come later this week and I have to rework my calendar & my expectations. It's cool though, we have it covered. I knew something would go wrong, but my reaction to these things has changed.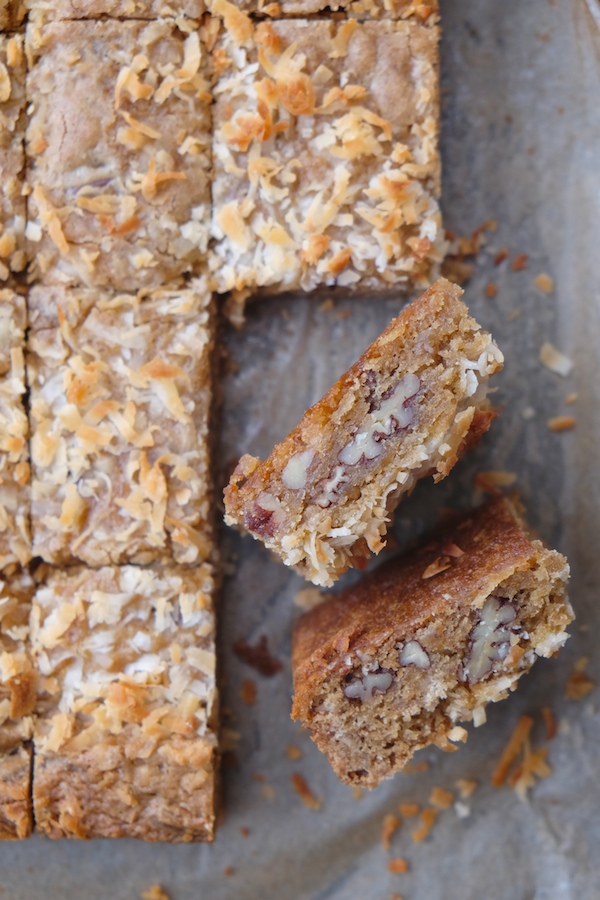 I'm all about making the holidays easier. I don't have time to pull butter out to let it soften to room temperature. I don't have the patience to scoop out cookies on a baking sheet. But I DO love being in the kitchen baking during the holidays and I DO have the time for one bowl recipes that require melted butter, no mixer and bit of oven time. I can totally make time to cut blondies into squares and eat a few while I'm at it….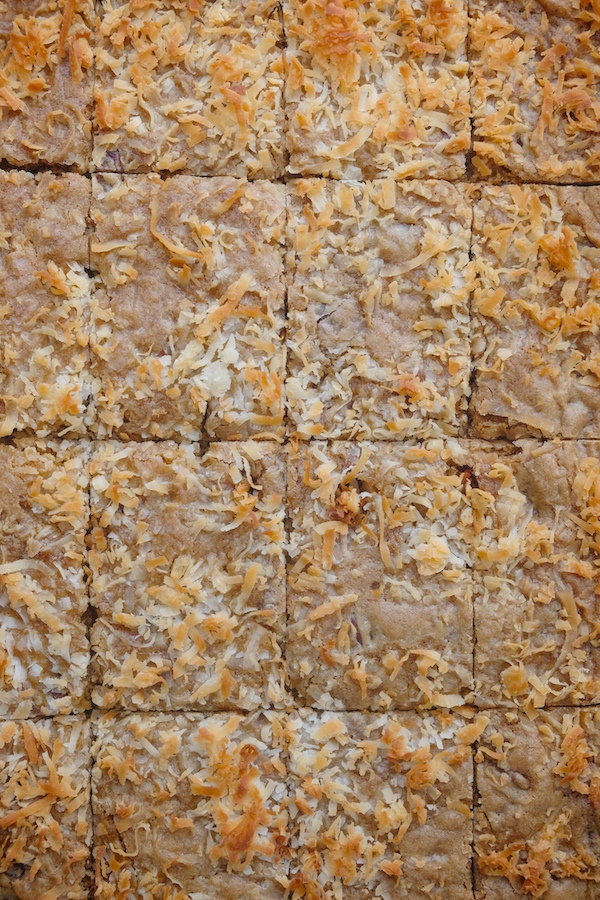 These Coconut Blondies are quite exceptional and they really don't take much time to execute. If you're a fan of German Chocolate Cake, these blondies will satisfy you. They're a cross between a cookie, a bar, a macaroon and they're so buttery they almost taste like baklava. When your cards come late and when your packages get stolen, at least you can make some blondies. Life is sweet, you just have to make it that way.
Let's gather our ingredients: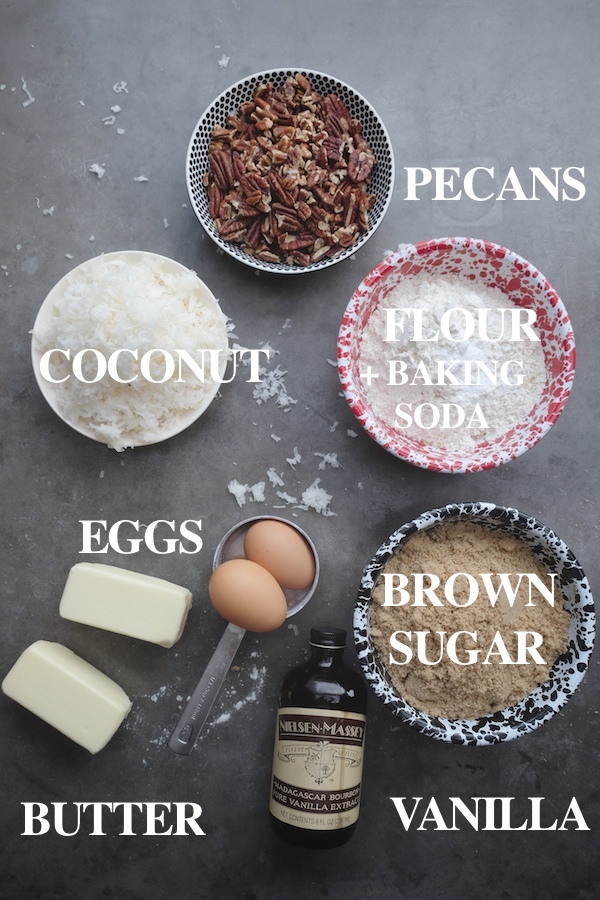 First we toast some pecans. 350F for 5-10 minutes. Done.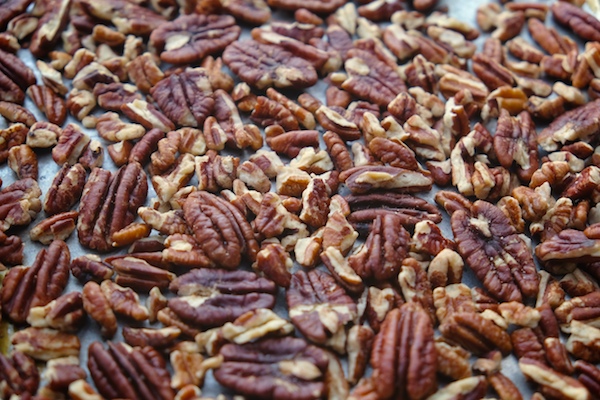 Butter is melted.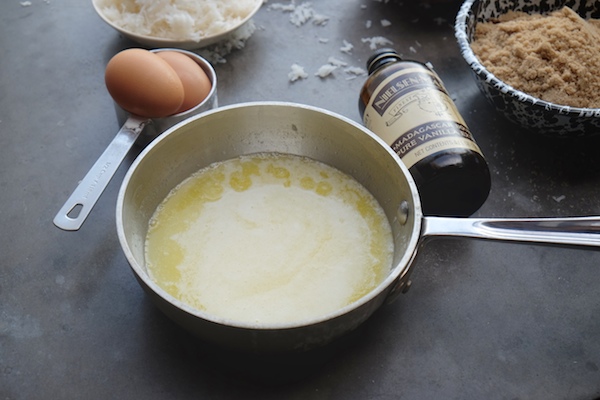 It goes into a large bowl with brown sugar & vanilla.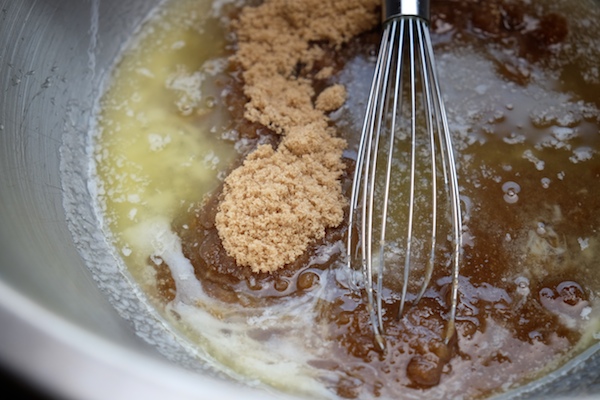 Eggs enter the picture. One by one.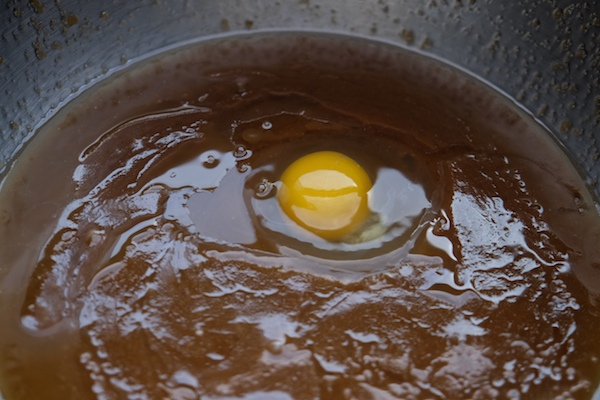 Hey pecans and coconut. WHAT UP.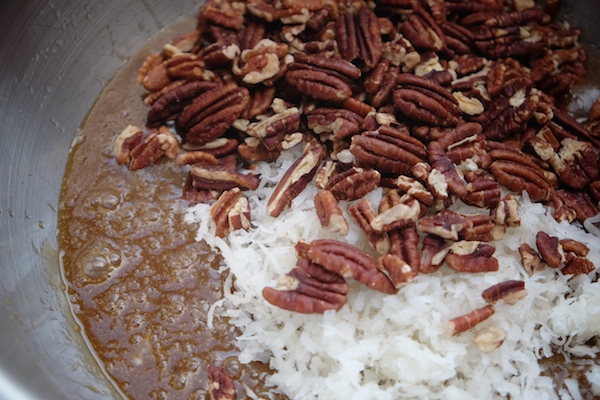 Yo, flour. How YOU DOIN'?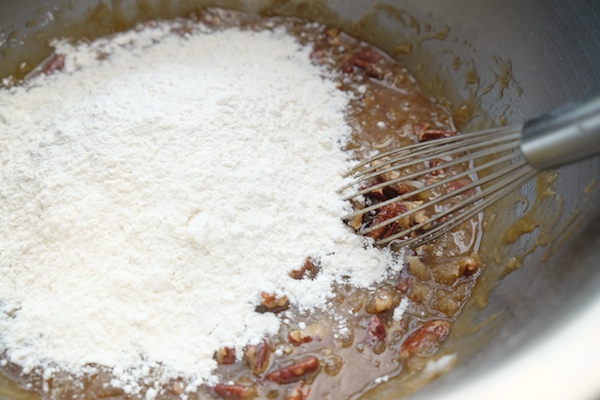 Hey batter batter. Saaaahwing batter!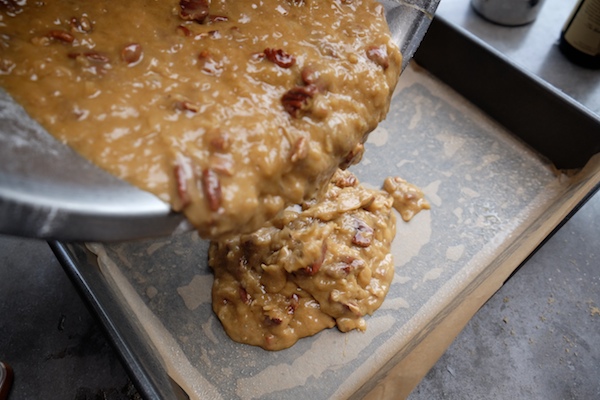 Coconut shreds on top.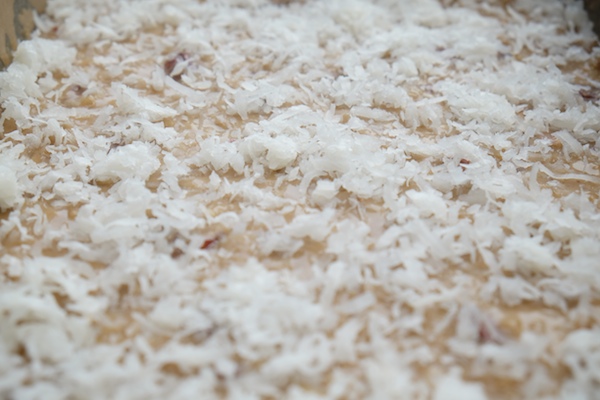 Off to the oven.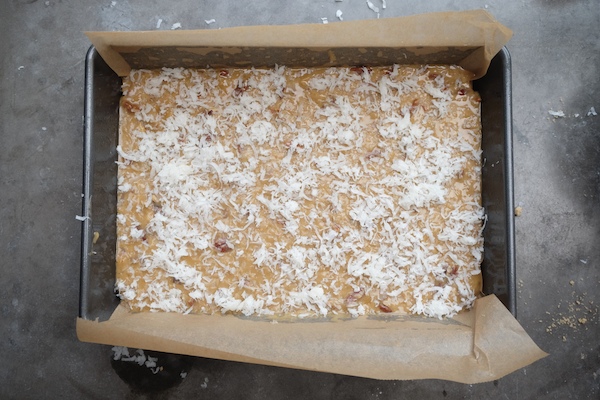 Done. I covered mine with foil half way through because I was scared of coconut burning.
If you've ever burnt coconut, you don't ever want a repeat performance.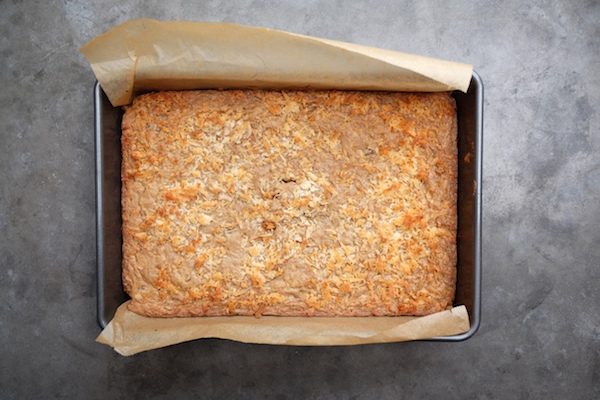 Welcome to my OCD brain. This picture pleases me just as much as cutting blondies into perfect squares.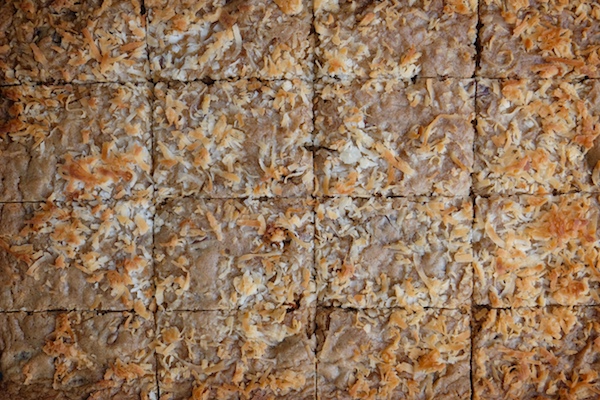 Look at that inside.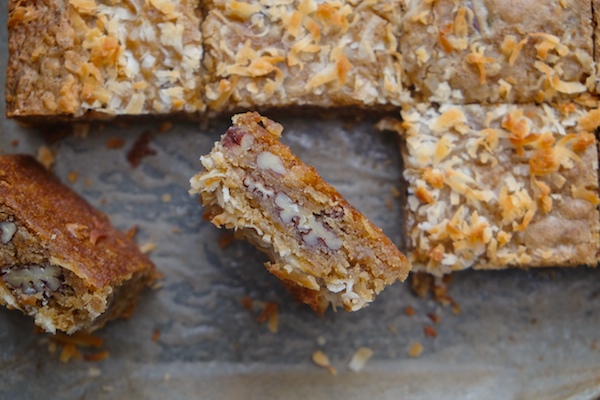 It looks like baklava, huh?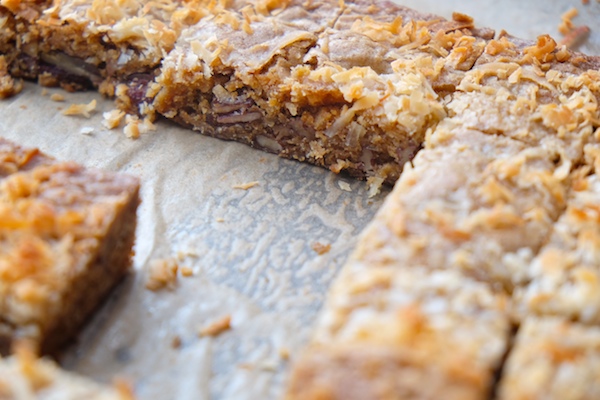 Pecan lovers rejoice!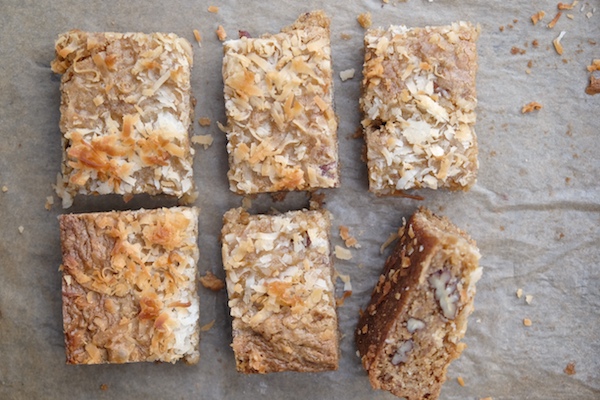 Coconut lovers too!
If you're on the blondie train this year, try these Chocolate Chunk Blondies! Coconut lovers you're gonna love these Coconut Lime Bars too!
Coconut Blondies

makes 32 squares

recipe slightly adapted from Gourmet Magazine

2 sticks (1/2 lb.) unsalted butter
2 cups packed brown sugar
1 teaspoons vanilla extract
2 large eggs
1 1/2 cups all-purpose flour
3/4 teaspoon baking soda
3/4 teaspoon salt
1 1/2 cups pecans, toasted & cooled
2 cups sweetened flaked coconut, divided

Preheat oven to 350F. Spray a 9x 13 baking pan with cooking spray, line with parchment paper and set aside.

Melt butter in a small saucepan over low heat. Remove from heat and transfer to a large bowl. Whisk brown sugar and vanilla into the butter. Whisk in eggs 1 at a time until mixture is glossy and smooth.

Whisk together flour, baking soda and salt, then whisk into butter mixture. Stir in pecans and 1 1/2 cups coconut.

Spread batter in pan. Sprinkle with remaining 1/2 cup coconut. Bake until toothpick inserted into the center comes out clean, about 35 minutes. If you find that the coconut has started to brown prematurely in the oven, cover with aluminum foil for the rest of the baking cycle. Let blondies cool in pan and cut into 32 squares.