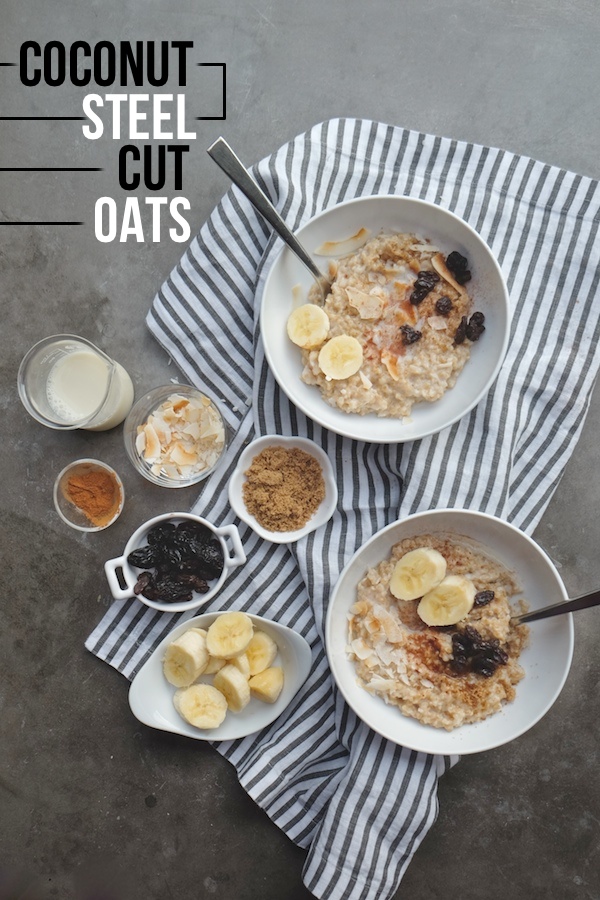 I got an email from a reader named Meghan, (Hi Meghan!) who wrote:
"I am writing from Pittsburgh, where I work downtown for a law firm. Nearby is a small cafe that serves coconut milk steel cut oats for breakfast. They. are. to. die. for. The oats are thick, but not too thick and have the perfect amount of sweetness to compliment by the nutty flavor of the coconut. Per your request they top it with mixed raisins and brown sugar. This breakfast is honestly an obsession of mine and one I would love to make myself. However, inventing  recipes is not my specialty, which leads me to the point of this email… If one day you have the opportunity, could you do a recipe on coconut milk steel cut oats (Shutterbean style)? There are recipes "on the web," but there is no food blogger I trust more than you/Shutterbean."
****THAT IS SO AWESOME!!!!****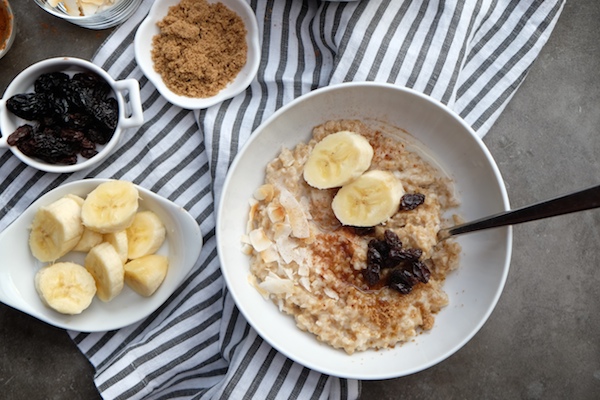 And here we are! Challenge accepted.  I have made what I think to be EXCELLENT steel cut oats with coconut milk (I used full fat!), cinnamon, and shreds of coconut. I'm not really an oatmeal fan (hate it when it's MUSHY!)  but these oats have me changing my tune. I'm on a bit of a steel cut oat kick thanks to this recipe.
The oats are CREAMY and they've got such a good bite to them. Sometimes I like to imagine that I'm eating warmn rice pudding when I have steel cut oats. That's what it reminds me of.
The coconut shreds add a little to the texture. Pair it with your favorite toppings. I like raisins, bananas and walnuts on mine. I add a little bit of brown sugar and milk to the top and we're golden. Thank you so much for the inspiration, Meghan.  I hope they live up to your expectations!
Let's gather our ingredients: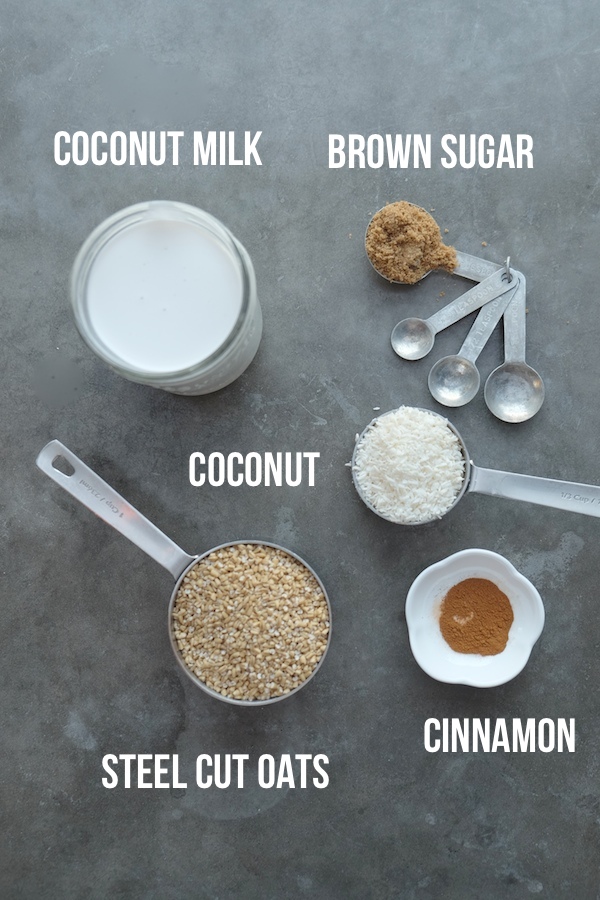 We're cooking these with a Rice Cooker .  Well, at least I am.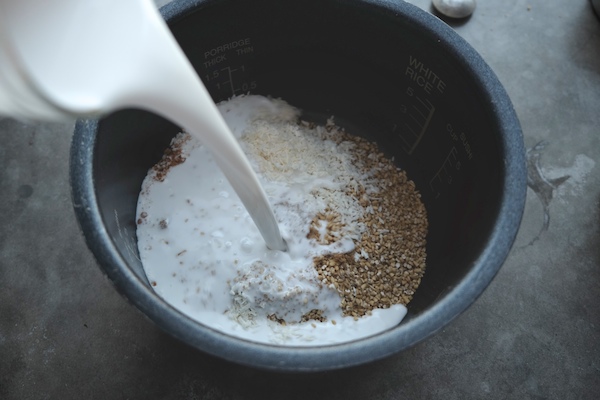 All of the ingredients sit out/covered overnight.
We do this all ahead of time so we can just turn on the rice cooker in the morning.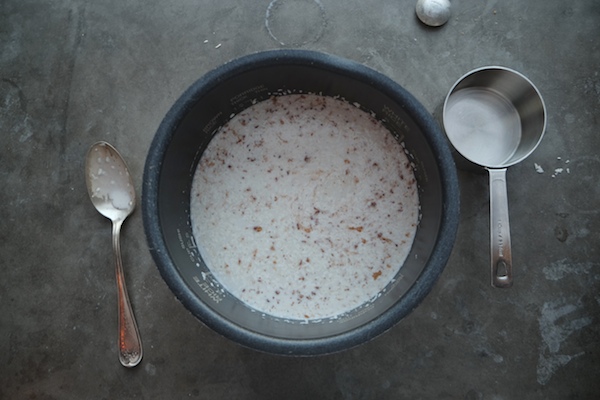 I used the QUICK setting on my rice cooker.
If you want to cook them in a pot, heat over low heat for about 20 minutes, until oats are cooked.
It's impossible to take a good picture of steel cut oats in a rice cooker btw.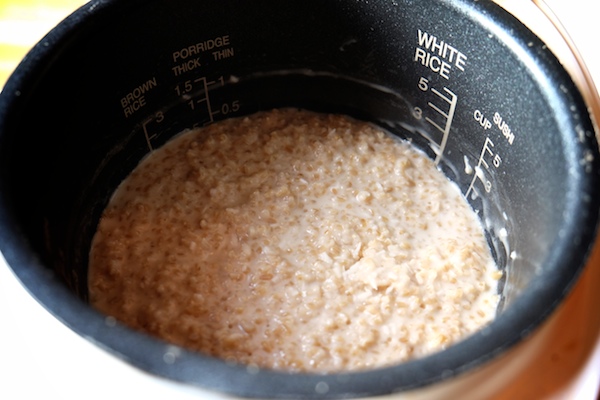 Spoon it out. You can see the coconut milk in there….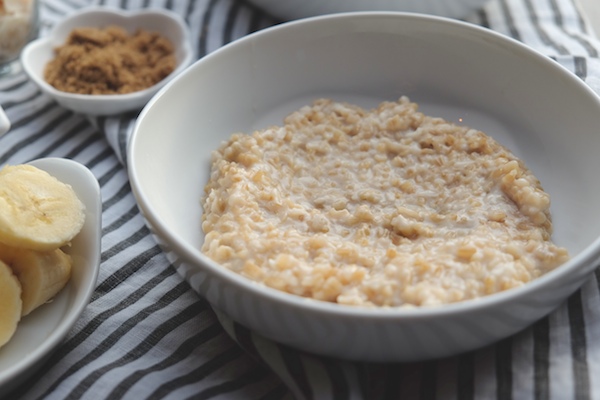 It's nice and thick and full of good texture.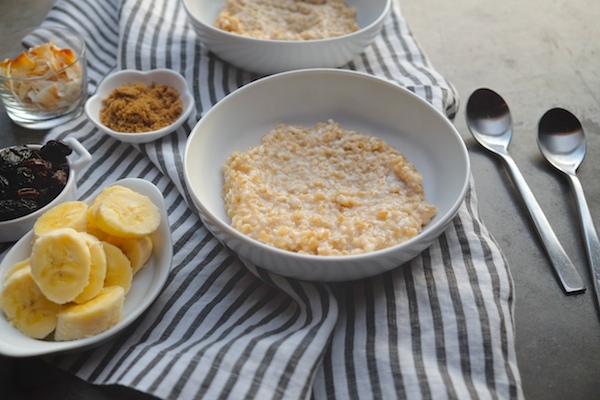 TOPPINGS PARTY.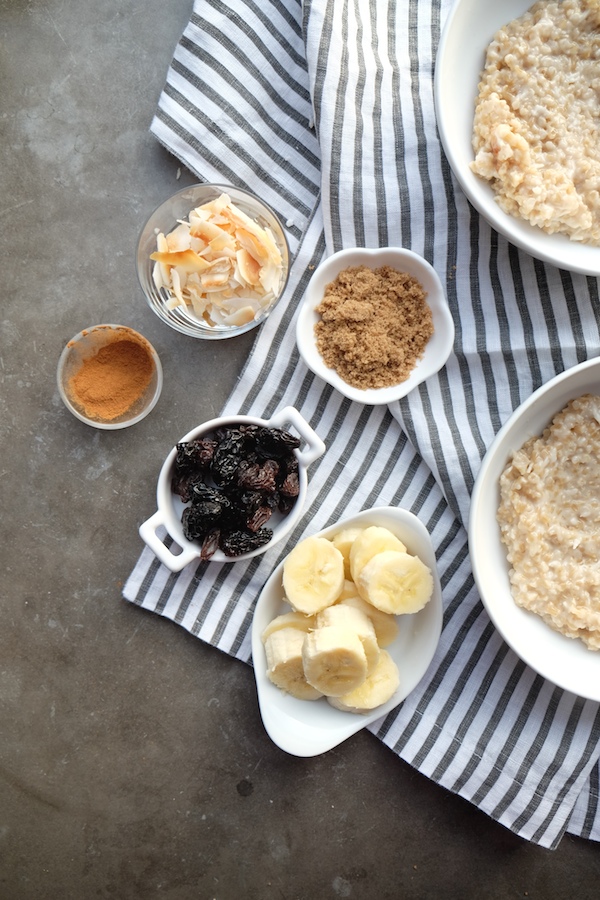 Just the way I like it.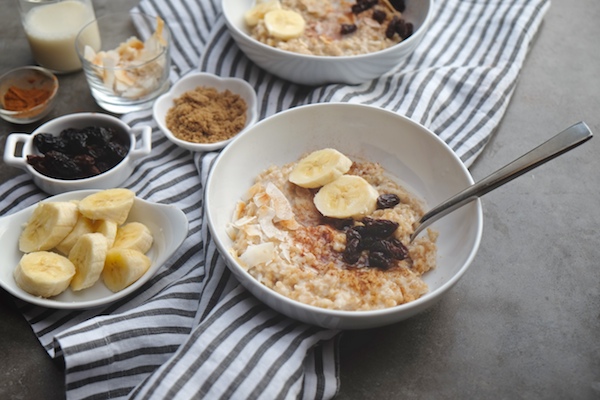 Thanks for reading Shutterbean!  If you'd like check out my everyday life, follow me on Instagram and be sure keep in touch via Facebook, Twitter,  Bloglovin,  Pinterest, or subscribe via email to get new posts delivered to your inbox.
Coconut Steel Cut Oats

makes 2-3 serving

1 cup steel cut oats
1  13.5 oz. can coconut milk
2 cups water
3 tablespoons shredded coconut
2 tablespoons brown sugar
1/2 teaspoon ground cinnamon
pinch of salt

Place all ingredients in a rice cooker (or bowl if you're cooking over the stove) and give the mixture a good stir to combine. Cover the mixture and let sit overnight.  When ready to cook, heat the steel cut oats in your rice cooker on the QUICK setting (regular setting will work too). Alternately you can cook the mixture in a pot over the stove on low heat for about 20 minutes, or until oats are thoroughly cooked. They should still have a nice bite to them. Serve warm with your favorite toppings.